blockquote>

[ continued from page 3 - Russell Carpenter ]
---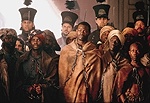 Photos by Andrew Copper
Courtesy of DreamWorks SKG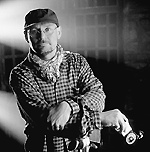 Janusz Kaminski, ASC
Amistad
A strong indictment of slavery set in America's Colonial era, Amistad presented Janusz Kaminski with the opportunity to craft impressive visual images which reflected the story's harsh realities while avoiding the clichés of the historical genre. Kaminski augmented the picture's look by combining Technicolor's ENR process with a careful application of flashing and smoke.
---
Janusz Kaminski has collaborated with director Steven Spielberg on four motion pictures: Schindler's List (see AC Jan. 1994), which earned the cinematographer both an Academy Award and an ASC Award nomination; The Lost World (AC June '97), an adrenalized sequel to Jurassic Park; Amistad (see full coverage in AC Jan. '98), for which the cameraman received both Academy and ASC Award nominations; and the upcoming Saving Private Ryan, a World War II epic centering on the D-Day invasion at Normandy (to be covered in AC's upcoming August issue). However, his diverse resumé also includes Jerry Maguire, How to Make an American Quilt (AC Dec. '95), The Adventures of Huck Finn, Tall Tale and Little Giants.
In assessing Kaminski's ability to handle a wide range of photographic challenges, Spielberg has noted, "As a cinematographer, Janusz is not 'one size fits all' he's much more of a chameleon. He takes the stories he does very seriously, and he marks up the scripts. He tells a cinematography story on top of the writer's or director's story, and he designs the photography according to the beats and measures of the narrative. Because of that, he's going to shoot differently on Jerry Maguire than he would on The Lost World. Over the course of his career, Janusz has put together a collection of amazing and completely different looks from picture to picture."
With Amistad, Kaminski's set out to simulate the Colonial era of American history, and he succeeded in spectacular fashion. The results are all the more impressive given the rigorous demands of the production. The entire film had to be shot in a mere 48 days, and some of the story's "day exteriors" scenes that take place at a Goya-esque prison were actually shot within a Universal Pictures soundstage. Further complicating matters were the picture's seabound scenes, some of which were shot on the Pacific Ocean and some of which were simulated with boat mockups on the backlot.
To keep up with Spielberg's rapid pace, Kaminski and his crew devised a series of preconceived lighting looks that could be deployed quickly and efficiently. They relied most heavily upon the "Seven-Minute Drill," which consisted of various sizes of muslin bounce fronted with a half Soft Frost diffusion frame. By aiming Fay lights or other units into the frame, the filmmakers could get a soft, pleasing and directionalized light source.
The cinematographer carefully enhanced the look of the film by using Technicolor's ENR process in combination with flashing and a judicious use of smoke. "I flashed this film because I did comparison tests for certain things with flashing and without it," Kaminski told AC. "I found that the ENR becomes very slick and elegant if you don't flash it. It's very beautiful, but if you flash 10 or 15 percent it becomes grittier, which was the look I wanted for the story. [After reading the script,] I immediately knew that the story required photography that was not too pretty. I didn't want to fall into the clichés of the historical genre. The movie is about a slave rebellion in 1830, so it would have been wrong to apply lighting that conveyed romantic notions. It's a very harsh and emotional story: these people were kidnapped; packed like cattle into a slave ship, where they spent many days before being intercepted by a Navy ship; and then sent off to a really dungeon-like prison. They were suffering from cold and starvation, and I felt that the lighting should support that storyline."
---
[ continued on page 5 - Roger Deakins ]