Filmdom's most famed forward-thinker reveals how his hands-on experiences with the cinematic medium inspired him to change the way motion pictures are—and will be—created.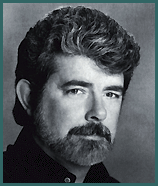 ---
This interview was undertaken by Ron Magid in behalf of American Cinematographer.
---
If you want to bring George Lucas to his knees, just ask him where you might plug in your tape recorder. Seconds after I broach the question, the Jedi Master is scurrying about his richly appointed office at Skywalker Ranch, pulling up bits of carpeting to locate an elusive outlet. "Hmm," Lucas mutters, gazing hopelessly into a subterranean tangle of wares. "So that's what's under there!"

The comic irony is obvious: Lucas, the technological wizard, is momentarily thwarted by the most common of technical requests. We eventually sit down at a wicker table nestled into a bay window (with plenty of outlets) overlooking the Ranch's verdant lawn and nearby postproduction facility.

As down-to-earth as Lucas seems, his achievements are anything but earthbound. At 52, he is arguably the most important film innovator working today. Certainly, others are more prolific; Lucas has directed just three feature films— THX-1138 (1971), American Graffiti (1973) and Star Wars (1977). Some filmmakers may have deeper artistic insight, while still others may be more deft with cinematic techniques. But no one has pushed the technology of filmmaking with his tenacity, vision and ultimate success.

Perhaps that's because Lucas, more than any other filmmaker today, loathes making movies the old-fashioned way. In countless interviews he has used grim imagery—war, handcuffs, pain—to describe the hell of creating studio films. All of this can be traced to Lucas' deep-rooted fear of compromise, and of losing creative control.

It's a fear common to directors, but while Lucas' position may not be unique, his reaction is. Director Matthew Robbins, a long-time friend and occasional creative associate (Dragonslayer), believes that Lucas' dislike of production and love of editing inexorably, if not deliberately, evolved his effects powerhouse, Industrial Light & Magic, into a facility capable of constructing cinematic characters and environments during postproduction. The results of this process, as evidenced in the TV series The Young Indiana Jones Chronicles and the feature Radioland Murders, can be visually stellar, but the impact has yet to be fully felt. Be forewarned: as the manipulation of each image becomes de rigueur, Lucas foresees an imminent demand for digital cinematography.

While preparing for his fourth directorial outing on the first of the new Star Wars films, Lucas shared his thoughts on the current state of the art and what lies ahead.

AC: After you finished Star Wars, you established the Lucasfilm computer graphics division. Did you conceive then that filmmaking could be where it is today, with virtually anything possible in post?

George Lucas: No. I put together the computer division in 1978 or '79 to develop a non-linear editing system, a laser printer, and a more efficient rendering technology. We were able to do all of that, which allowed us to actually begin using computers to do 3-D animation, rather than just wireframes, which was the level of the technology then. We were trying to develop an efficient system for getting the images in and out of the digital domain, as well as technology to manipulate the images once we got them into the digital domain, and a post system that would allow us to edit everything together and tell the story. We were basically trying to digitize the entire process, and that's where we are today.

In the back of your mind, did you ever think you'd be using computer graphics to create whole environments and characters?

Lucas: I don't know that I had a complete idea of the level at which things would shift. You take one step at a time. I knew that the editing process and the post process were very antiquated and cumbersome, and that doing it electronically was much easier.
---
[ continued on page 2 ]