Going 360 With Radiant Images
The service and rental house offers virtual and augmented reality and 360-degree systems for high-resolution cameras from Arri, Red, Sony and more.
David Alexander Willis
The service and rental house offers virtual and augmented reality and 360-degree systems for high-resolution cameras from Arri, Red, Sony and more.
Reality and panoramic, 360-degree capture has been all the rage lately in the commercial space. Heavy investments in the worlds of virtual reality and augmented reality are coming from giant tech and entertainment companies including YouTube, Hulu, Vimeo, Samsung, Dell, AMC, HP, Google and many more. As consumption of the material has been relegated largely to cell phones and home-based VR goggle systems, it's understandable that internet companies would have a large interest in pushing the multimedia capabilities of the web.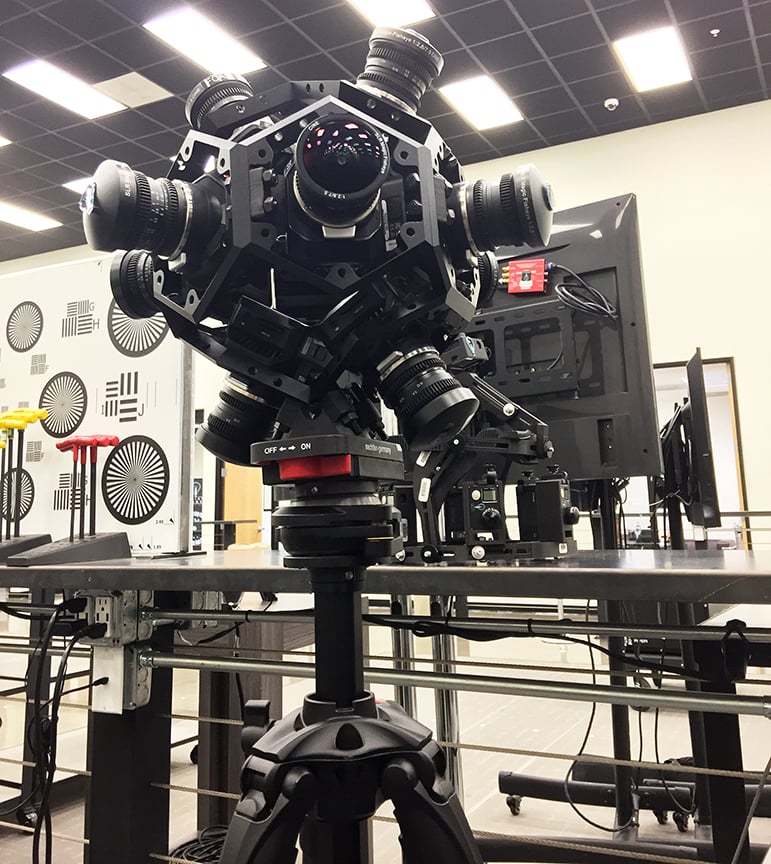 Previously, to save on costs and storage, as well as maintain consistent bandwidth for live feeds, the majority of VR setups have been based on affordable, 8-bit and 10-bit action cameras. Using back-to-back arrays, GoPros have been very popular for this purpose, for example, so much so that the company has presented the one-stop-shop Fusion 360 VR camera.
Now, with rental houses in Los Angeles, New Orleans, Atlanta and Miami, Radiant Images, founded by Gianna Wolfe and Michael Mansouri (seen at top of this page) in 2005, has been making custom-built VR, multimedia, and 360-degree rigs to achieve professional results.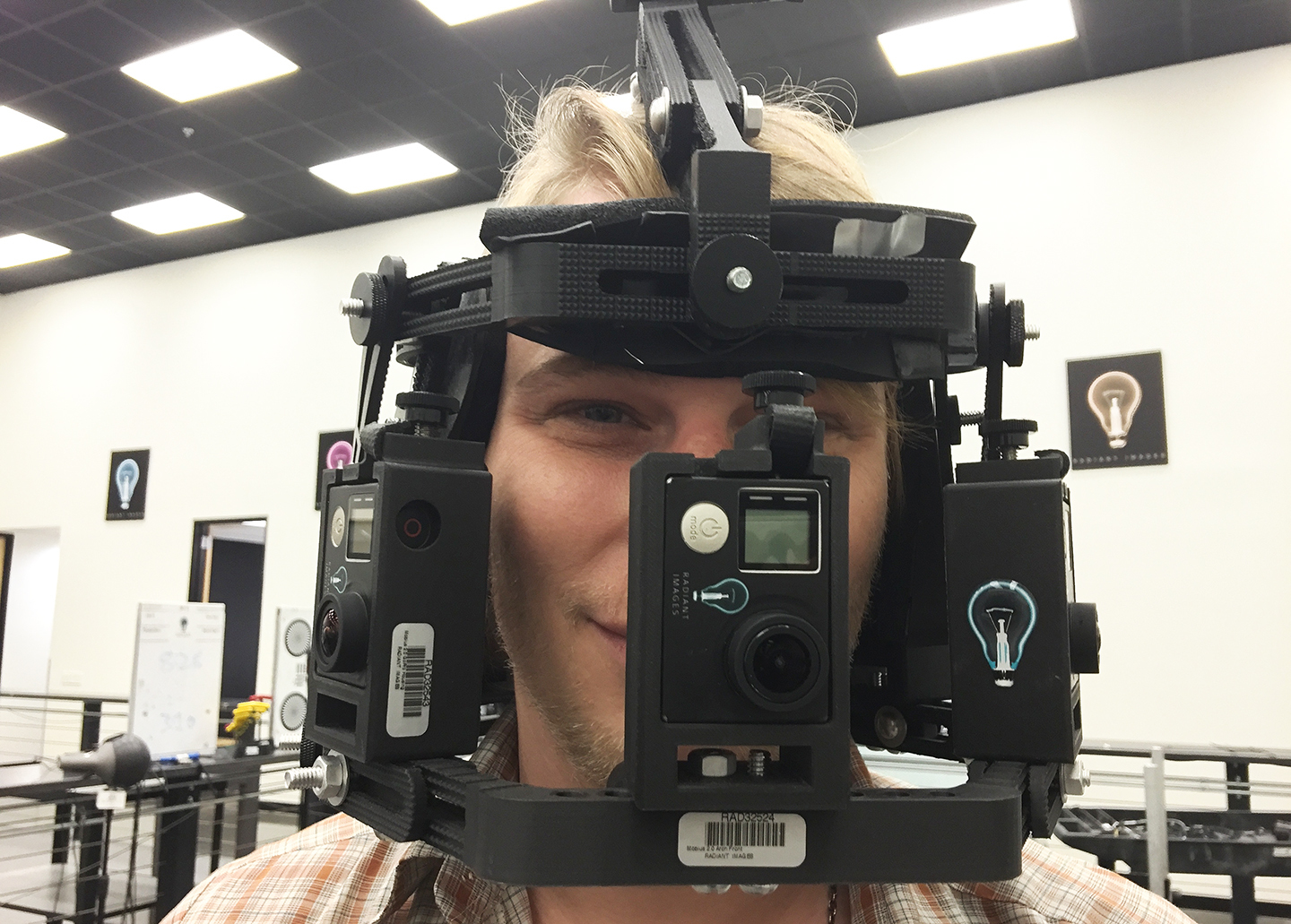 The company rents, sells and leases seductively titled models like their own Dark Corner, which houses four Sony A7s Mark II cameras, and the head-harness Mobius 2.0 POV array for smaller action cams. They also have the Kandao Obsidian R and Obsidian Pioneer 3D VR cameras, the 8K Insta360 Pro, the Z Cam stereoscopic series, and the HeadcaseVR Codex 360 rig system with RAW capture. For those familiar with other systems, Radiant Images also have hands-on knowledge for ready-to-go VR cameras like the Jaunt One, Z Cam and recently defunct Nokia Ozo.
But for professional, high-resolution, high-dynamic-range camera systems increasingly in demand, they have the Axa. Available for purchase or rental, daily or weekly, the Axa comes in three starter sizes. The largest Radiant Images Axa sphere will secure cinema cameras such as the Arri Alexa Mini. The medium and smaller versions address popular smaller cameras such as the Sony UMC-S3C (with a full-frame sensor size of 35.8 x 23.9mm) or the Blackmagic Micro Studio 4K (with Super 16mm sensor at 13.056 x 7.344mm). Both setups have a total of 12K spherical resolution.
In Los Angeles, Radiant Images updated its faculity to 28,000-square-feet in 2015. Explaining that he likes to be awed by technology — which wasn't happening with previous VR systems — Mansouri says that even fundamental needs were not being addressed, including timecode, genlock and reliable wireless operation. Radiant Image's clients were also asking to working remotely with aerials that can run the Arri, Red and Canon systems they were used to operating. Canon wanted to do "something very simple," he says while explaining the genesis of the Axa, which was to create a VR solution from their existing cameras that they could continue to use in the future.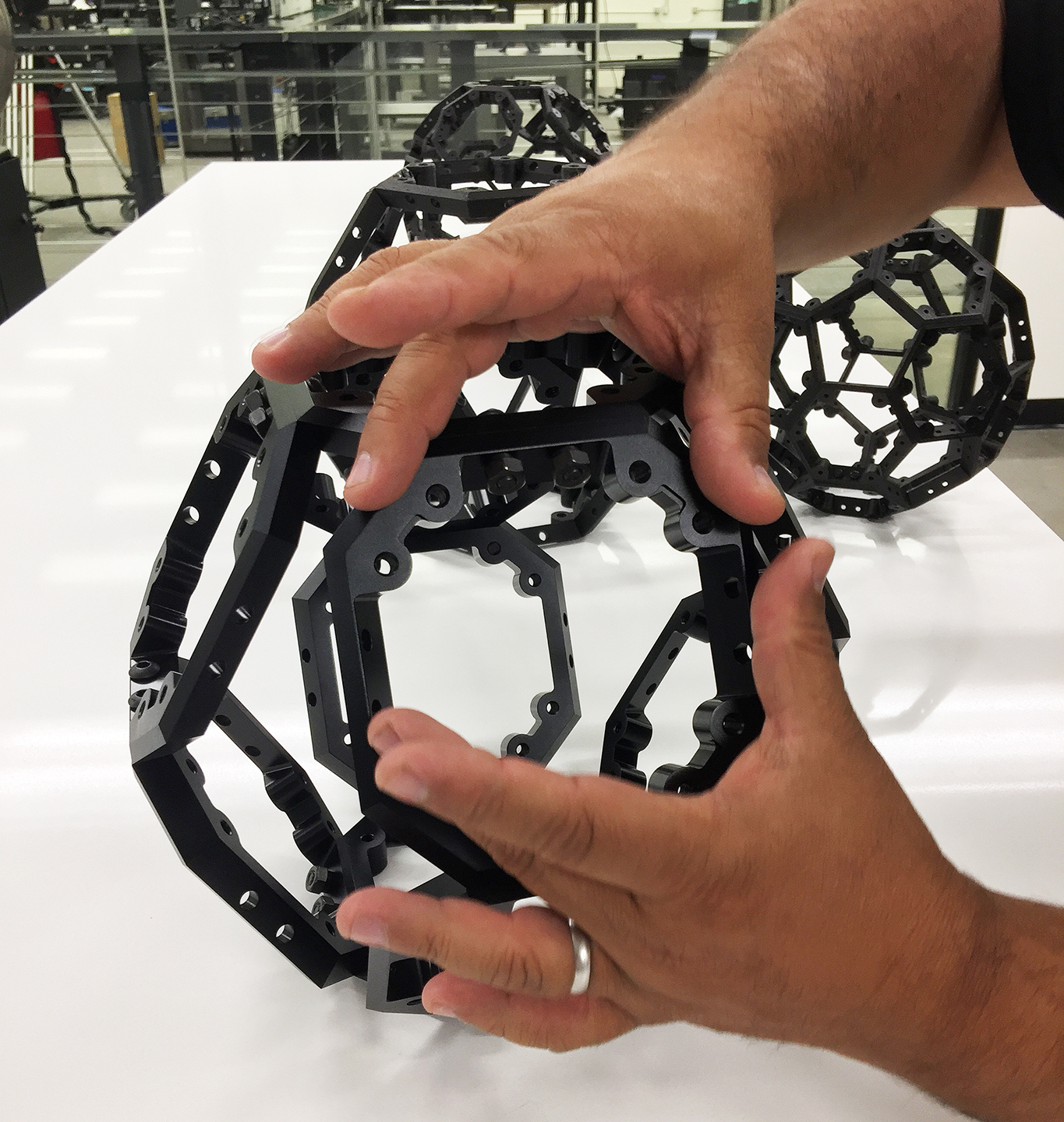 There were advanced gimbal solutions from such companies as Reality Rigs and Element-Technica, but Mansouri says they were one-size-meets-all configurations. Radiant's approach to the Axa from there was to make it camera agnostic, technology agnostic and adaptable to any manufacturer. Mansouri says that Radiant also likes to make their rigs intuitive. The Axa arrays have single, unified controls over all cameras and settings. Make a change to one model and it will also adjust the rest of the setup. "Camera operators, and other artists, don't have to learn about virtual reality, they just have to connect the cables," he explains. "When you work with our camera systems, it really acts as one camera. The patch panel on the first one says, 'Timecode.' Connect timecode to timecode of each camera, and you have synchronization. You connect genlock to genlock, you have genlock between all cameras: video, trigger, start, stop and all the remote controls. Everything is built into the rig, and it's height adjustable — it moves back and forth so that it can fit different or smaller cameras.
"On some projects, we recommend GoPros, but on others we don't," he continues. "If there's a lot of high action, a lot of movement, we would recommend cameras that genlock. As a matter of fact, we've been recommending genlock ever since we started doing virtual reality in the 2000s. VR for us, is not brand new!" Radiant Images' in-house "materials" engineer, Kurt Weijan Lin, made the AXA system hexagonal, with equidistant, 60-degree honeycomb mounts for "perfect symmetry" of multiple sensor planes. This helps eliminate geometry errors, something they learned during the days of 3D. 3D and virtual reality are in many ways natural extensions of stereoscopic 3D capture methods, and so Radiant is also able to pull stereoscopic, multimedia elements and 2D edits from 360 footage that the VR systems gather.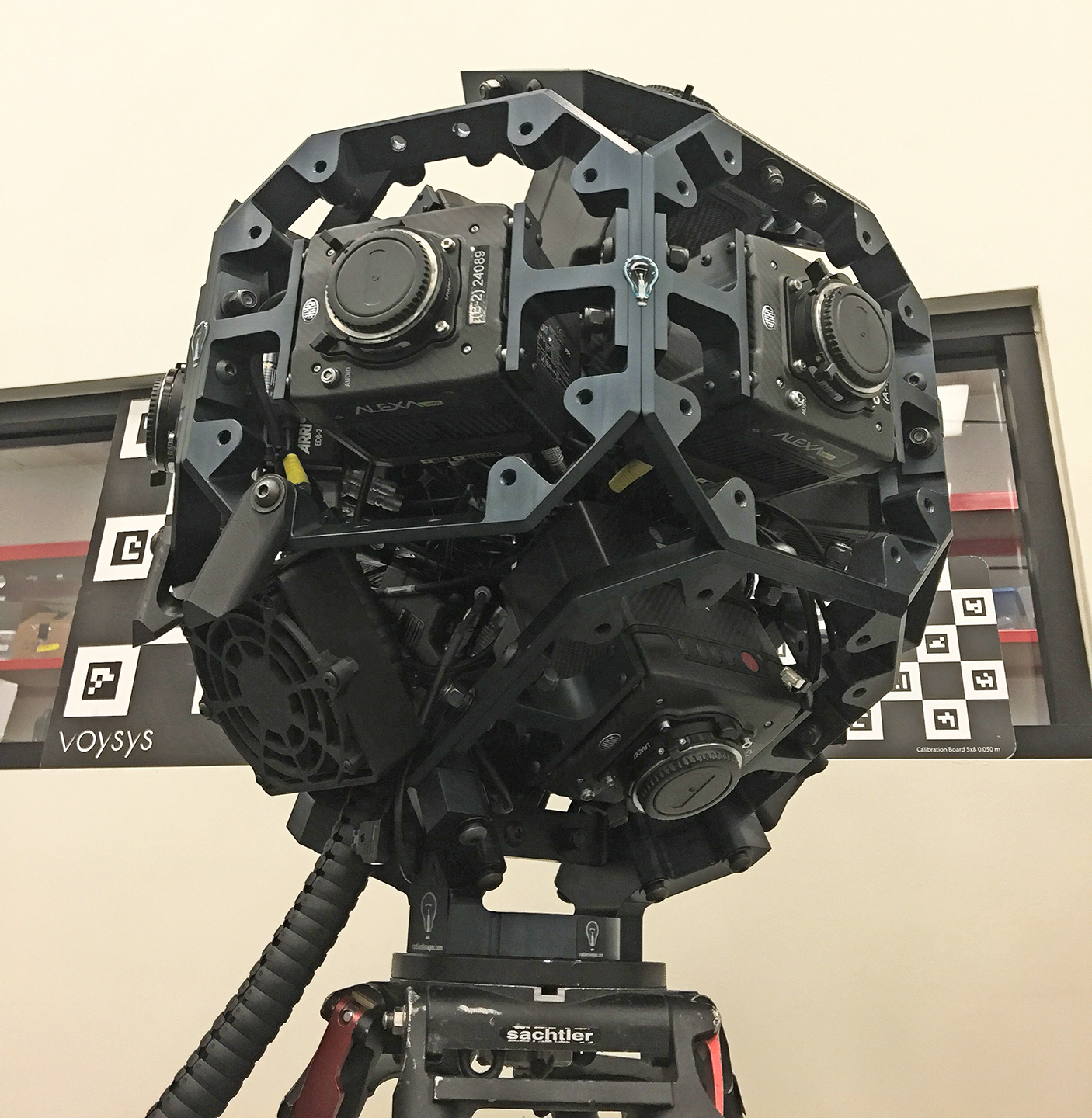 "Lesson number one in 3D was synchronization — genlock," says Mansouri. "Lesson number two was you can't fix it in post, because it's two cameras, so that's expensive." The Arri Alexa Mini, Red Weapon, and Red Epic-W cameras are popular choices for their high resolution, small form factors and versatile frame rate selections. He advises that sometimes a 360 array is overkill, and the Axa and other systems can also affix only two or three models to save on costs and processing.

Radiant Images has fiber services to mitigate upload times, which could otherwise take days when you're talking about petabytes of footage. They have Amazon Cloud servers to manage the processing and stitching, and throughput can even be managed directly to the cloud.
"A 256 gig card on an Arri Mini is going to get you about 17 minutes at 16x9 — not even RAW," says Mansouri. "Just regular 16x9 at 60 frames, and you need 10 of them, so it's almost 3 terabytes for 17 minutes of footage." Mansouri says that much data management can be intense, but just as when people are looking at an IMAX project, they aren't thinking bout the data. They're thinking mostly about the art of the film. "If someone wants to shoot at 1,000 frames with a Phantom Flex 4K, we have a rig for it. If someone wants to shoot this with broadcast cameras, we have a rig for it. If you have a great capturing system, that is simplifying the process of virtual reality. You give it to artists who work with these cameras every single day. They will understand how to use the best methods from there."
"The only thing that's been new," answers Mansouri when asked where people will be able to see this upcoming content, "is that the viewing methods are a lot more adaptive, and a lot easier to fit in your back pocket. In virtual reality, it's not about technology at all. It has very little to do with technology. It's a lot to do with methodology. Because in VR, only a few months ago, before our approach, the only thing that a cinematographer had control of was camera placement. You couldn't control aperture. You couldn't control if you want to do a silhouette. You couldn't control an Arri. It was all determined for you. The only control you had was shutter, and that was it. Now, the cinematographer has full camera control.
"So we're seeing a lot of experimentation! We're seeing a lot of things in different sectors. What's been very exciting to us, is that a lot of it is outside of entertainment. We expected everything to be commercials, or features, which we've done, but we've also done a lot of stuff in education and social causes, things that we never thought were even possible."
Using intervalometers, a time lapse shot with the Radiant Images AXA system, housing Sony UMC-S3C cameras, revealing the Milky Way
Director: Michael Mansouri
Director Of Photography: Dustin Kukuk