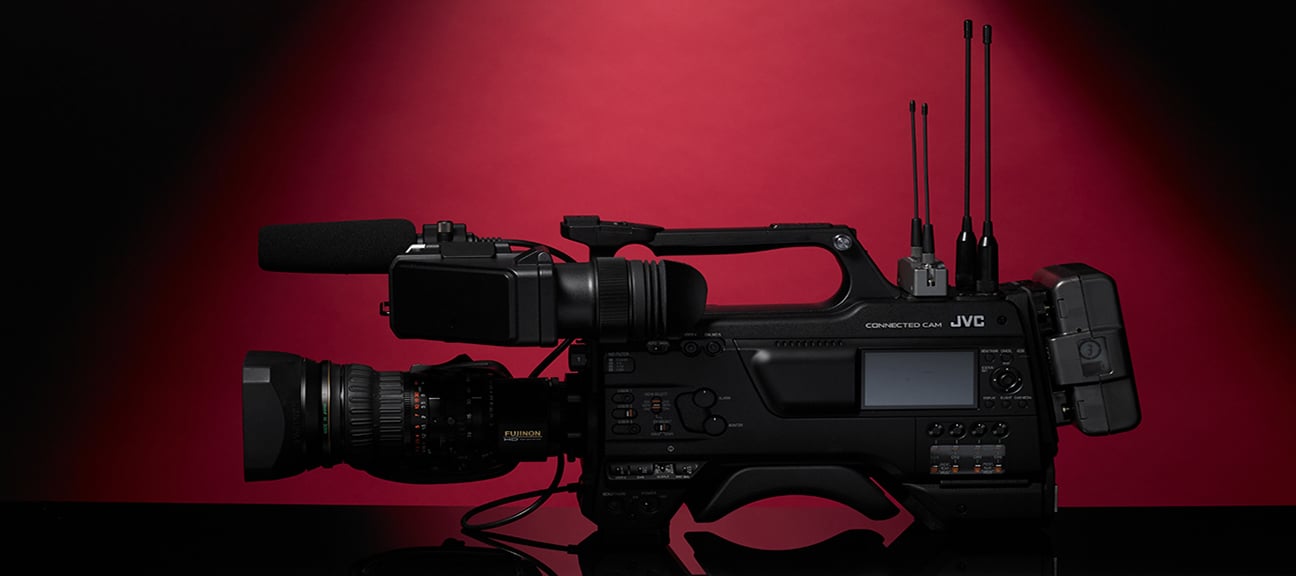 JVC's GY-HC900 Connected Cam and More
JVC's GY-HC900 Connected Cam — NAB 2018: A 2/3" broadcast model for IP workflows plus three 4KCAM cameras and six monitors
David Alexander Willis
NAB 2018: A 2/3" broadcast model for IP workflows plus three 4KCAM cameras and six monitors.
JVC Professional Video has announced three additions to their family of affordable 4KCAM class cameras as well as the latest 2/3" model, the GY-HC900 "Connected Cam," at this year's NAB Show. Offered as a versatile news-over-IP solution for working directly from the camera while in the field, the GY-HC900 has three 2/3" CMOS sensors for native MPEG-2 at up to 35 Mbps and H.264 (.MOV) files at 10 bit, 1080/60p, 4:2:2 production quality.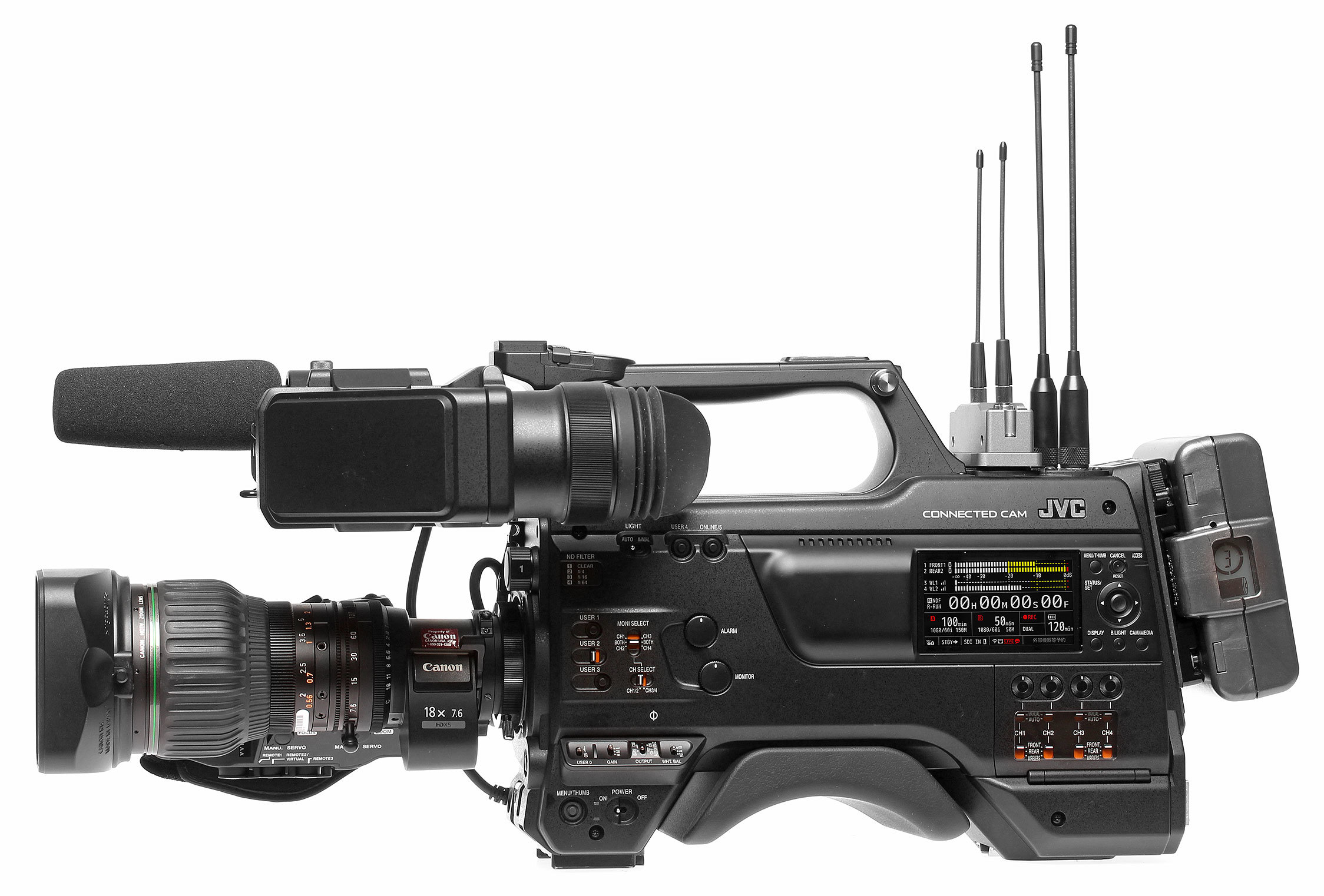 When paired with optional JVC ProHD Dockable Bridge, attaching wirelessly to the camera, or via WiFi with any JVC ProHD Bridge unit, the GY-HC900 will allow a two-way interview with return while streaming live. The first broadcast camcorder to feature JVC's communications engine, the new processor enables simultaneous capture and decoding for return video and interruptible foldback (IFB) communications as well as low latency streaming as minimal as 500ms.

"JVC's Connected Cam takes connectivity to the next level and sets a new benchmark for ENG cameras," said Joe D'Amico, vice president, JVC Professional Video, in the press release. "Its integrated communications engine truly makes news-over-IP a reality with amazing images and a cost effective, streamlined workflow."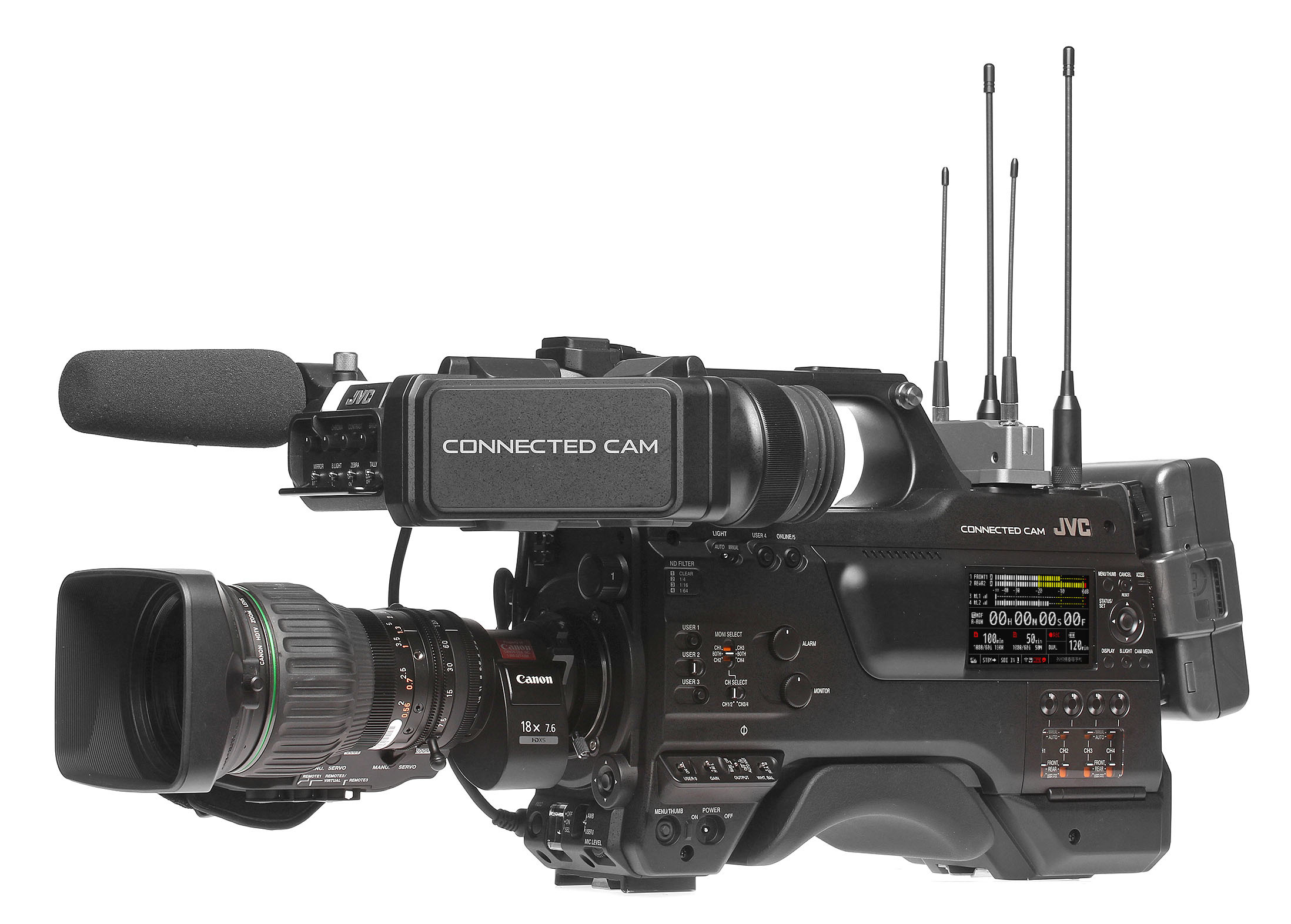 With WiFi and dual-band external atennas at 2.4Ghz/5GHz, streaming performance tops off at up to 20 Mbps. For studio- and high-end-EFP needs, the GY-HC900 will also work with the JVC FS-900 module to transmit a feed of 3G-SDI signals, control, audio, sync, and intercom to base station via fiber. It has B4 lens mount with four-position optical filter and 2/3" CMOS sensors, each housing 1920 x 1080 pixels, which combine with (f/1.4) prism for full HD imagery, HDR support, and 1080p slow-motion capture at up to 120fps.

Meeting the requirments of the Sports Exchange Standard, metadata tailored to the workflows of sports production and video coaching applications is produced internally. The GY-HC900 "Connected Cam," available in June, can be purchased at $18,500 with 20x zoom, or as GY-HC900CH model at $13,950 without a lens.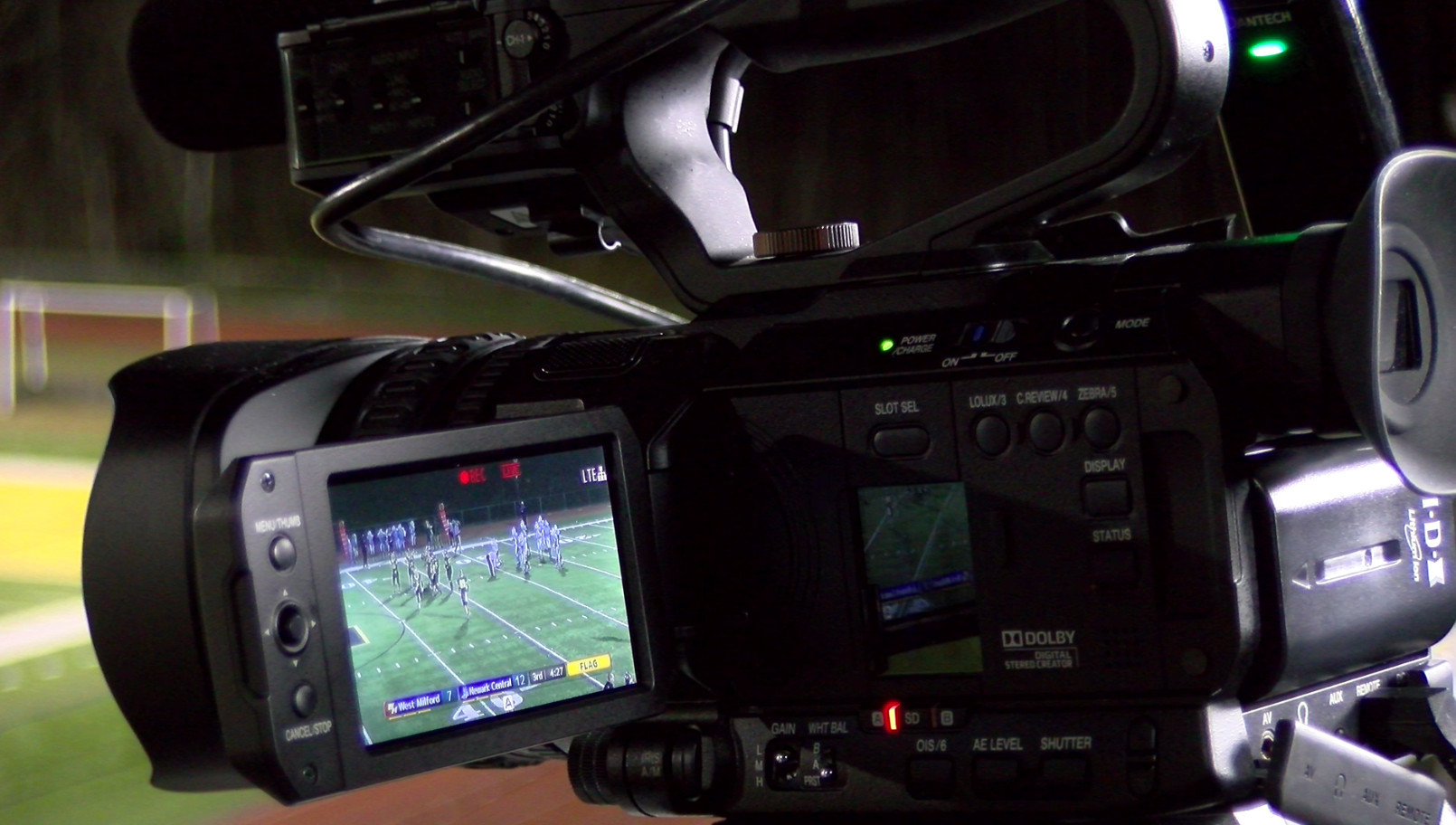 Also tailored for the needs of sports productions, JVC's $2,245 GY-HM250U has integrated graphics and live streaming. Without need for external CG or production switchers, the GY-HM250U has lower-third and full-screen titling in both capture and streaming output. Lower-third graphics overlays are generate and controlled through any browser-equipped device, including tablets, smartphones and computers.

Sistered by an otherwise twin, the $2,595 GY-HM250SP gains sports-speciifc score overlays for football, baseball, basketball, hockey, soccer and volleyball. Scores can be updated manually in the GY-HM250SP through an external WiFi connected device, or automatically when coupled with a Sportzcast Scorebot for real-time scoreboard data.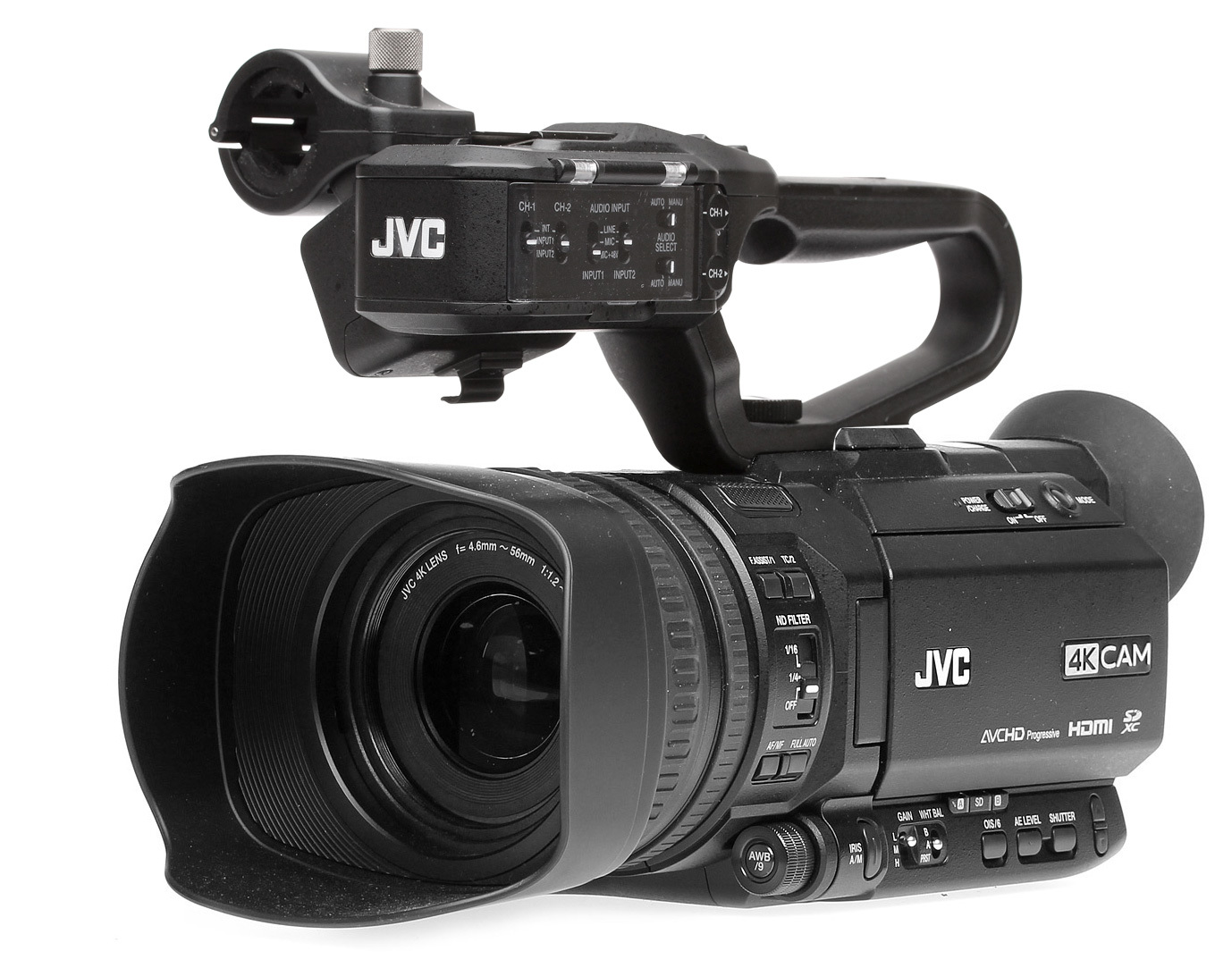 Built-in streaming with WiFi and 4G LTE connectivity provides live access to CDNs like Facebook Live and YouTube from both JVC 4KCAM cameras. They are also compatible with JVC's S.L.I.M. studio camera system and RM‑LP100 remote camera control for use in multi-camera productions. Full-screen graphics can be run manually by the camera operator, or through a slideshow that includes user-set timing.

A software utility is available to upload up to 50 JPG or PNG graphics, logos or icons that can be stored within each camera. A tele-macro shooting mode has been added for improved close focus over previous cameras, and a Zero Config function will sync camera configurations at the press of a button to other models on the same LAN.
At $1,795, the third camera, the GY-HM180U, foregoes streaming and graphics as a more economical choice with the same handheld form factor.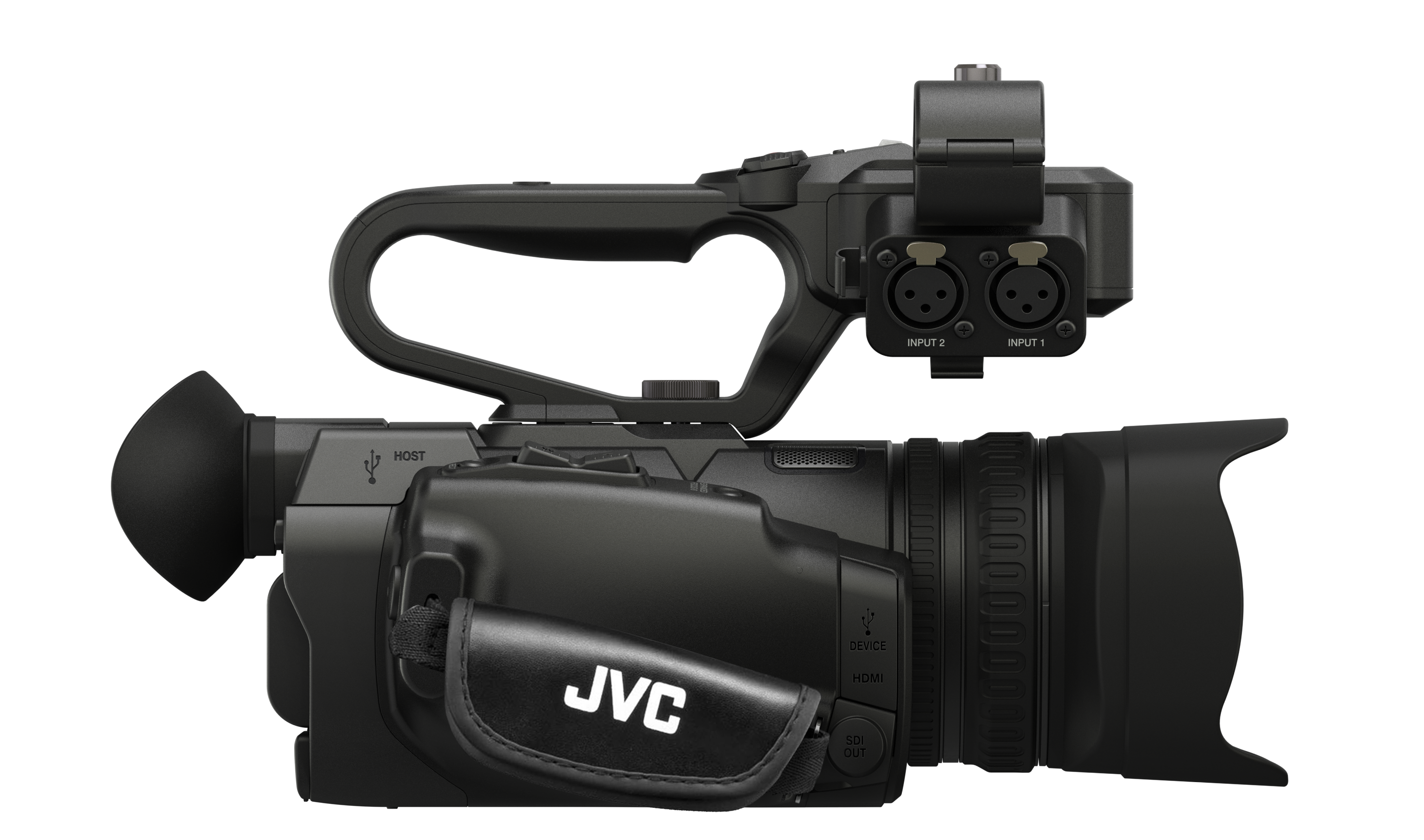 However, internally, it includes the same features as the other two new 4KCAM models with 1/2.3" BSI 4K CMOS imager, 12x zoom with optical image stablization, dual SDHC/SDXC cards for redundant or relay video, 4:2:2 recording for 4K/30p and 4K/24p, 4K/60p HDMI output, and up to 120fps slow motion. (The GY-HM180U also adds 3G-SDI output to the design of its predecessor, the GY-HM170U.) The 4KCAM models are promised for delivery by May.

Lastly, ranging in price from $2,400-$6,700, JVC introduced six LCD monitors. Seperated into two families, both with 4K support, the DT-U series has native 3840 x 2160 resolution and HDR compatibility with 10-bit color depth. Starting off the line, the 28" DT-U28U and 31.5" DT-U31U have 12G-SDI, 3G-SDI quad link, 4K/60p HDMI 2.0 and optional plug-in SFP adapter.
With four models at sizes ranging from 17.3" to 27", the DT‑G line will convert 4K (up to 60p) and 2K sources to HD resolution. The 8-bit panels have 10-bit signal processing and LED backlight. The three largest models also hold 1000:1 contrast ratio. Both DT-G and DT-U lines have remote control via web browser. With staggered release through the summer, all are promised by the fall of 2018.
Follow JVC on Facebook, Instagram and Twitter.
Stay up to date with American Cinematographer on Facebook, Twitter and Instagram.