Shotover M1 Camera Casing
SHOTOVER M1 — A new camera system joins a roster of high performance gyro-stabilization solutions for air, water and land
David Alexander Willis
A new camera system joins a roster of high-performance gyro-stabilization solutions for air, water and land.
Featuring the company's Generation5 technology, which builds on the last several years of expertise and advancements, the Shotover M1 stabilization system for aerial camera solutions provides broadcast and film productions with 2K, 4K and 8K capabilities, including live-streaming.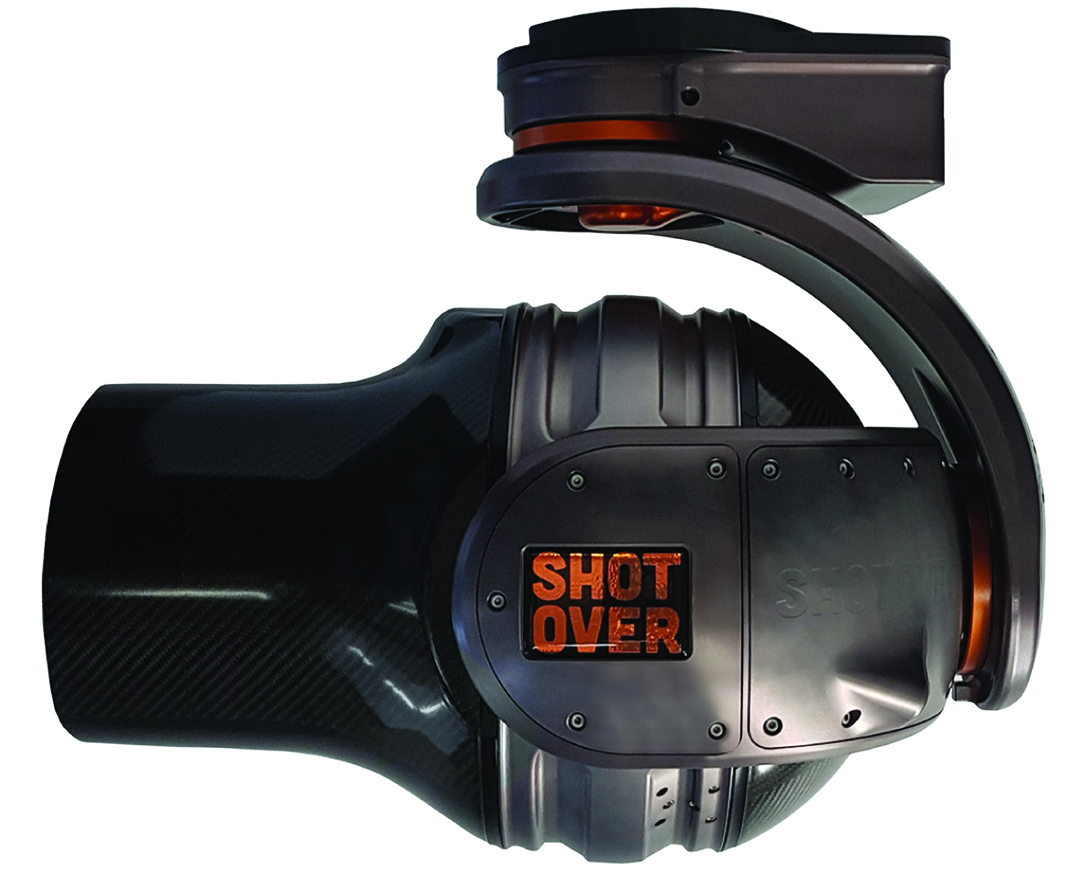 Aimed for acquisition through services including Helicopters Inc, Shotover's first customer on the M1, which operates nationwide to provide news gathering to more than 35 cities, the camera casing is designed to be more lightweight and smaller than other aerial broadcast systems. Its construction of precision-machined ultra-light 6061-T6 aircraft aluminum mitigates payload while still providing durability.
Compliant with most Federal Aviation Administration (FAA) and European Aviation Safety Agency (EASA) mount requirements, Shotover offers a variety of top plate options that also allow the M1 setups to be used for ground vehicles as well as watercraft.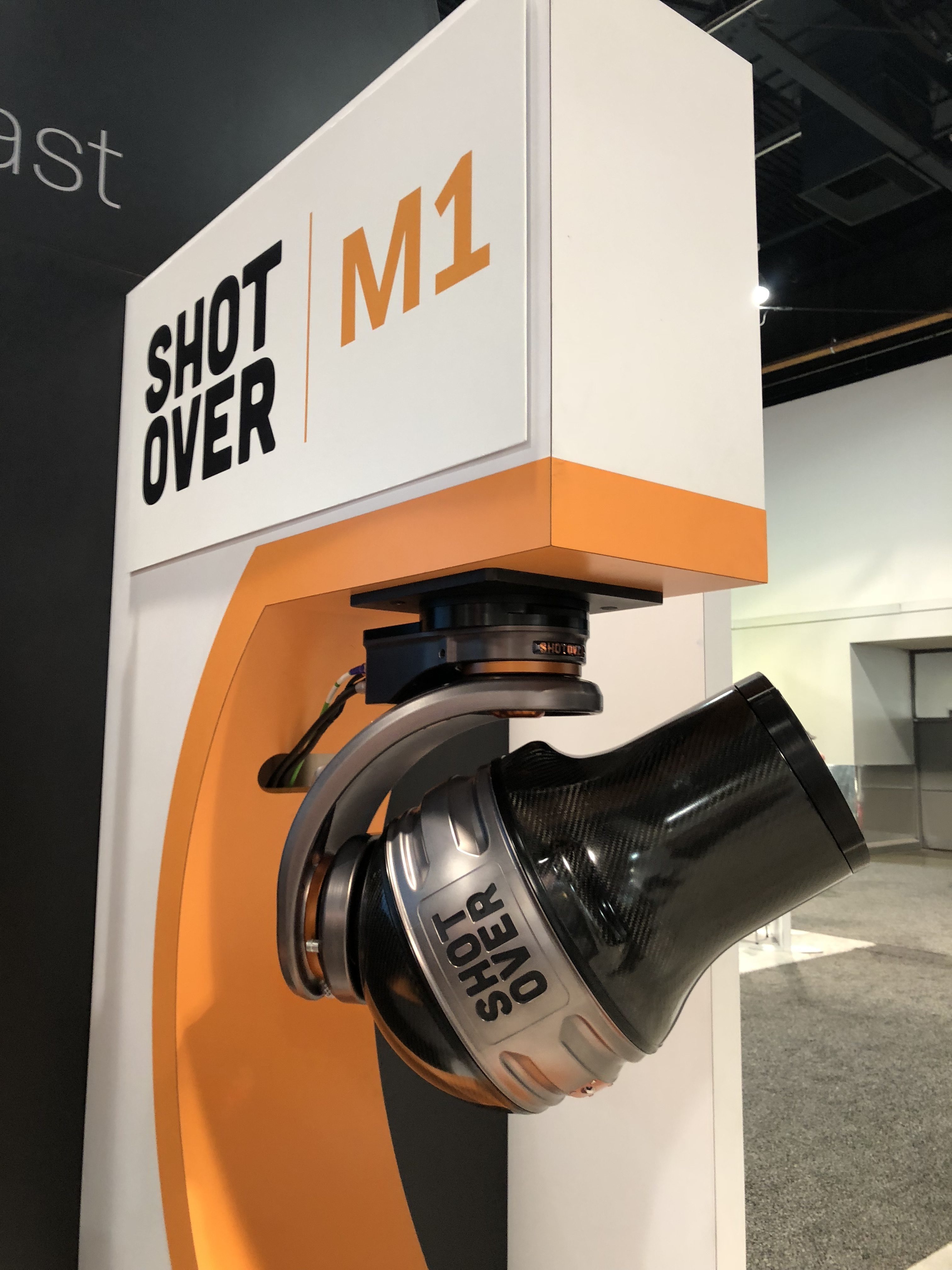 Claiming themselves as the "first and only motion picture grade aerial option with no ITAR [International Traffic in Arms Regulations] restrictions," they also have no Export Administration Regulations (EAR) licensing requirements, enabling worldwide shipping without requiring U.S. State Department approval.
So the M1 unit can be broken down into cases to meet commercial airline size and weight requirements as excess baggage, or affordably shipped through freight options. Additionally, Shotover offers cases and travel mount options that will convert the M1's shipping case into mobile gimbal stand. There is also Mitchell Mount for heavy-duty tripods and ground supports.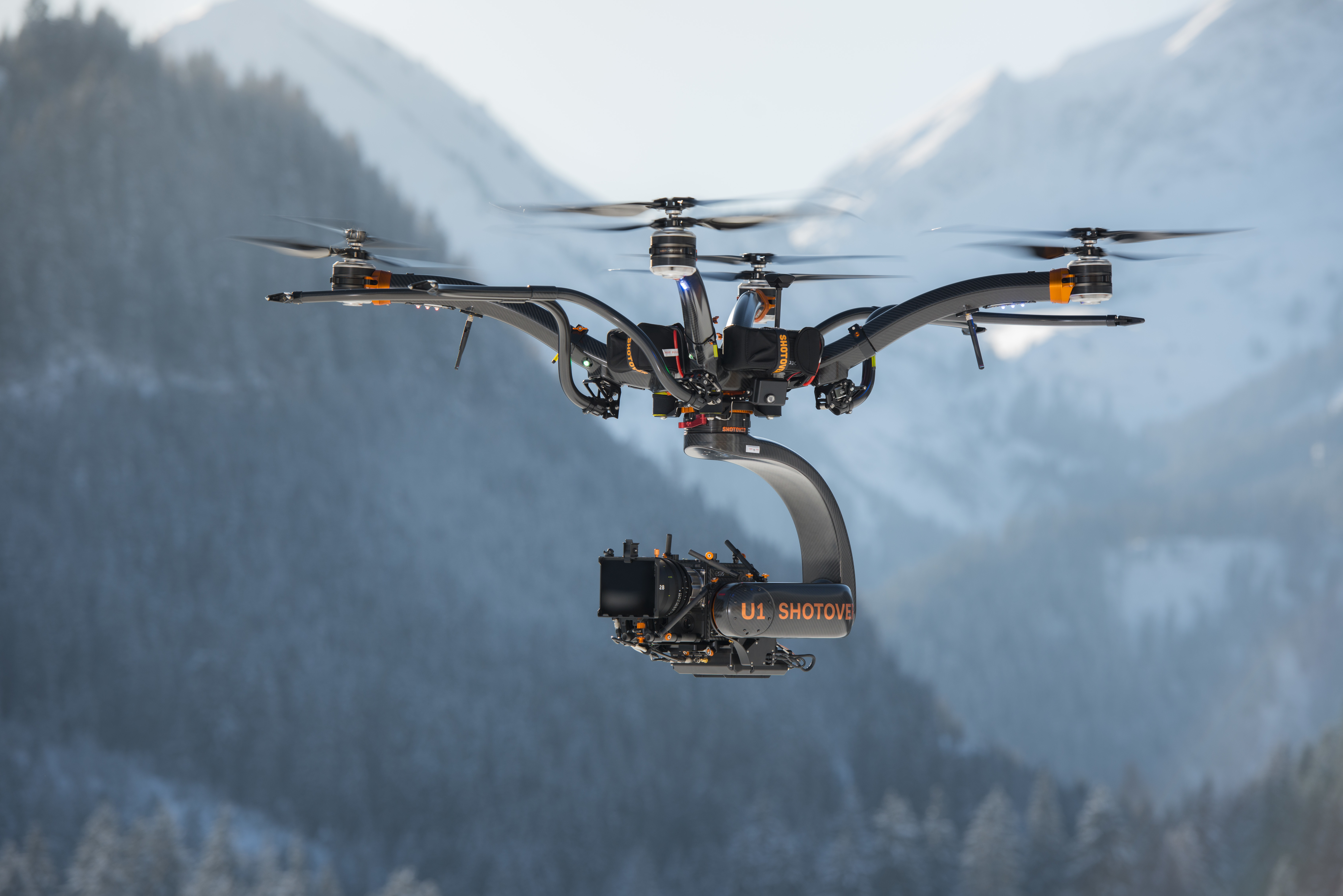 With angled front window to minimize any flare, the M1's range will pan in a continuous 360 degrees with a tilt range of +50-110 degrees and roll of +/-85 degrees. The maximum slew rate is 100 degrees per second. Alongside direct look-down, it is also capable of inverted operation through auto-position detectors.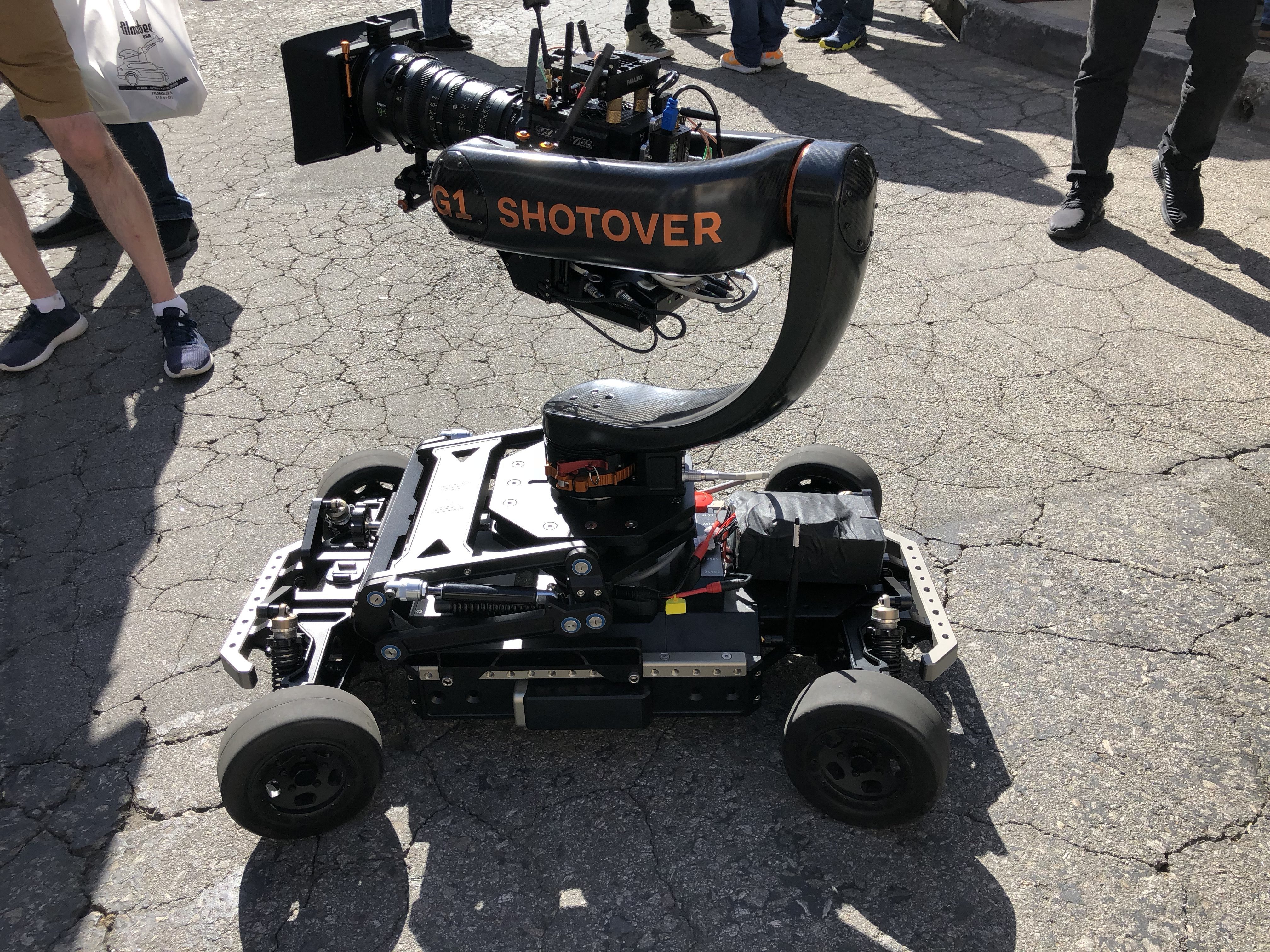 Running 3x SDI connections as well as fibre video options, the M1 has been constructed to be open platform, providing easy access to cameras and lenses for user-swaps to quickly adapt to assignments. With customizable graphics overlay available directly from the unit, it's also compatible with moving map platforms that will help broadcasters in identification of ground locations and addresses for fast-paced ENG coverage.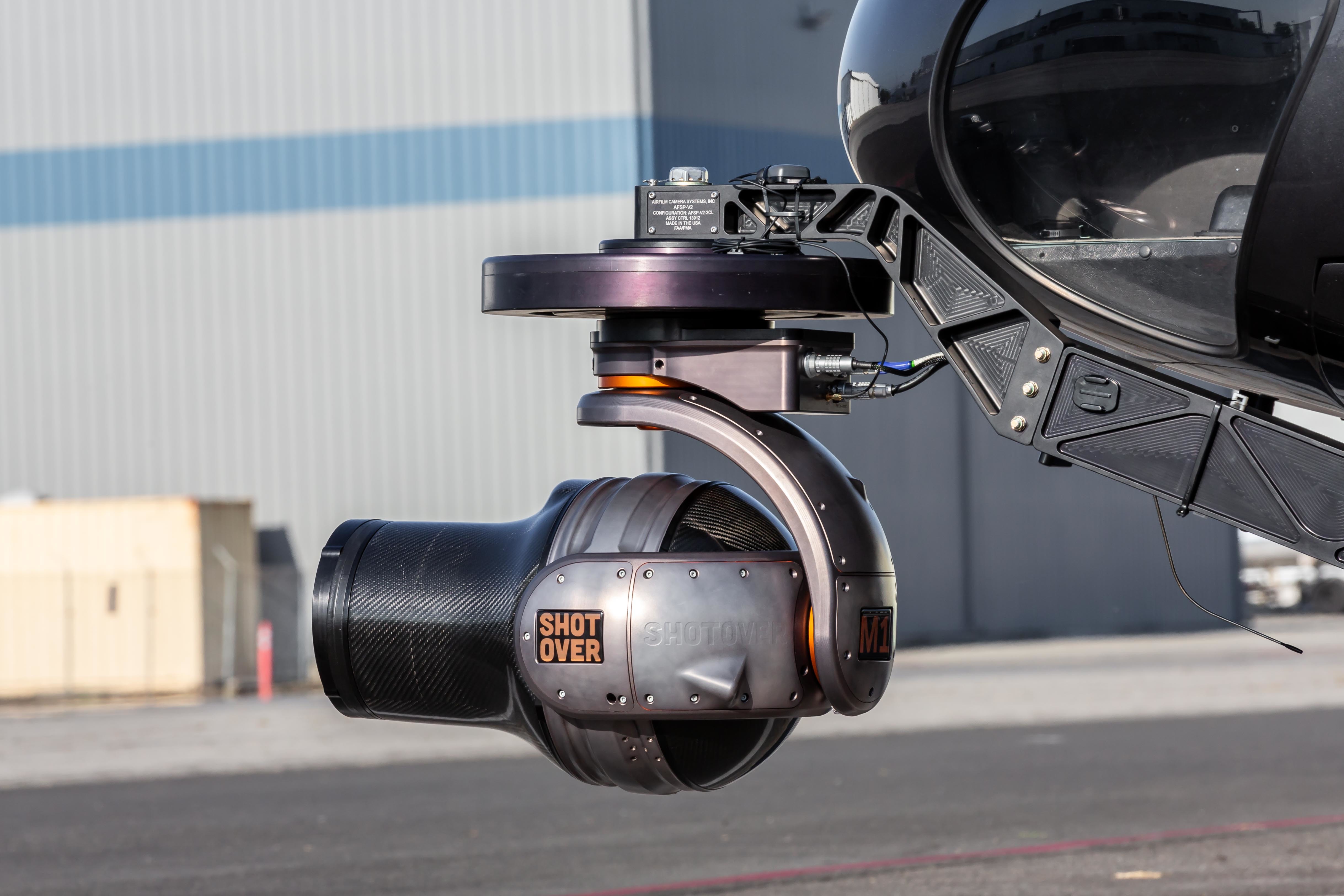 The M1 configured for helicopter use.
Fully adaptable with cables that can be used with popular remote operation panels including the Arri RCU-4, Canon RC-V100, Ikegami RM-70F, Sony RM-B750 and NEC systems, the gimbal controller in the M1 inherits a layout from the Shotover K1, itself designed to allow operators a fast transition from legacy aerial systems. Custom control layouts can be requested.

With LED display, customizable switches, and wheel for iris adjustments on the side and top of the ergonomic controller, also with disconnectable wrist support, the gimbal controller has adjustable friction for the focus knob, which also has white marking ring.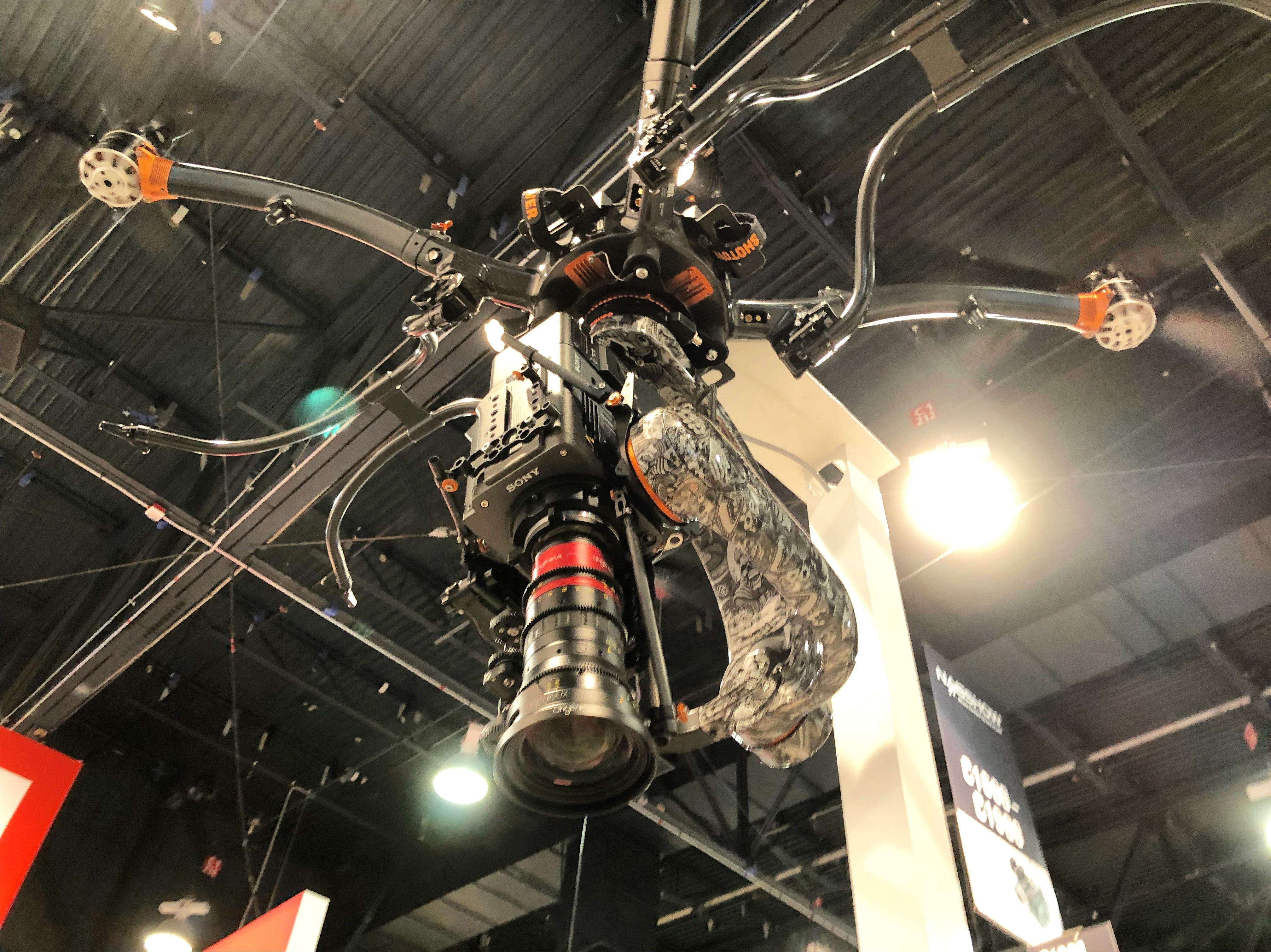 A master rate control and joystick can be upgraded to Force Joystick, boosting precision and control during high-speed shooting. It has a quick-disconnect fitting with coiled extension cable to detach from the master console for freehand operation of the gimbal.

Cable connections are recessed to save on wear and tear. At 10 Amps maximum draw, the unit runs from 24-60 DC voltage, also offering dual 5V USB ports, as well as mounting holes, to power and affix accessories such as smartphones. A monitor mount is also available.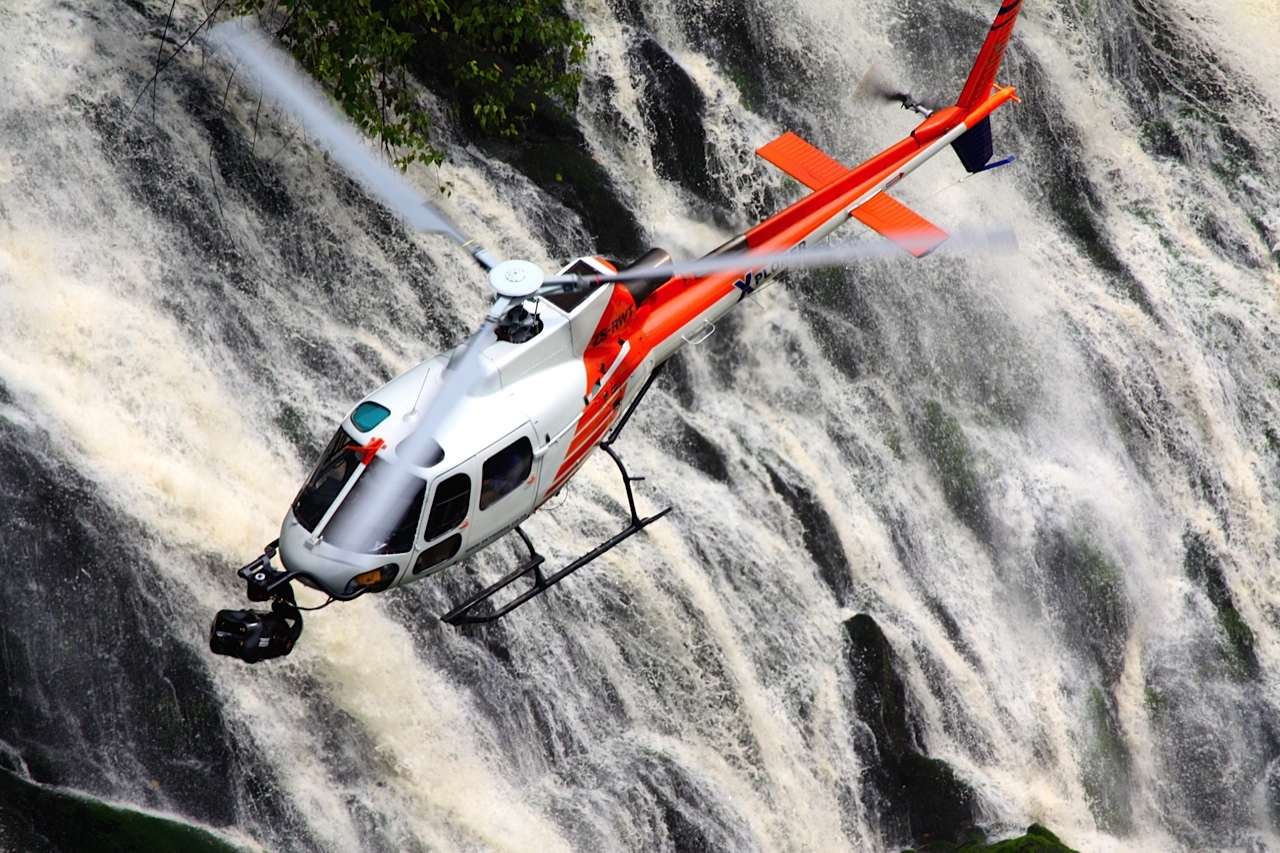 Capable for use with most popular ENG capture setups, the M1 will also house several cinema cameras, including the Arri Alexa Mini, Red DSMC2 (requiring the Jetpack SDI Expander in most cases) and Canon C300.

Shotover can configure to most 2D or 3D needs, fitting a variety of user-upgradeable cameras, lenses and accessories. Cameras can be installed and shipped directly from the factory, including exterior designs that can be customized with color schemes to match any branding.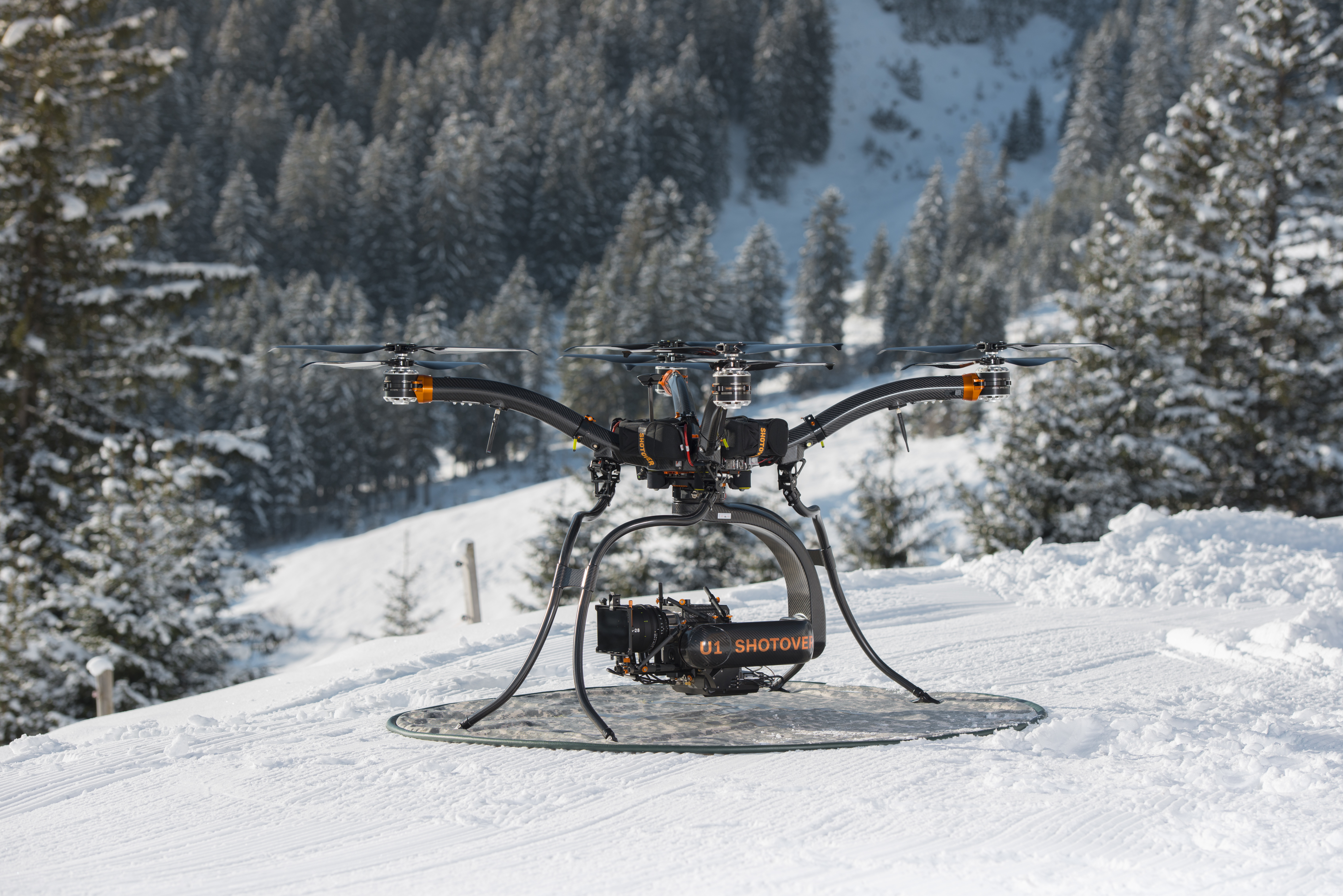 Running 24/7 service and support for every model, there are also several other options in the Shotover lines. For drone users, the Shotover U1 can host a variety of heavier cameras and large zooms, including the Red DSMC2 with 6K Weapon sensor, ARRI Alexa Mini, or Phantom Flex4K, with lenses such as the Canon 17-120mm, Fujinon 85-300mm and Angénieux Optimo 28-76mm.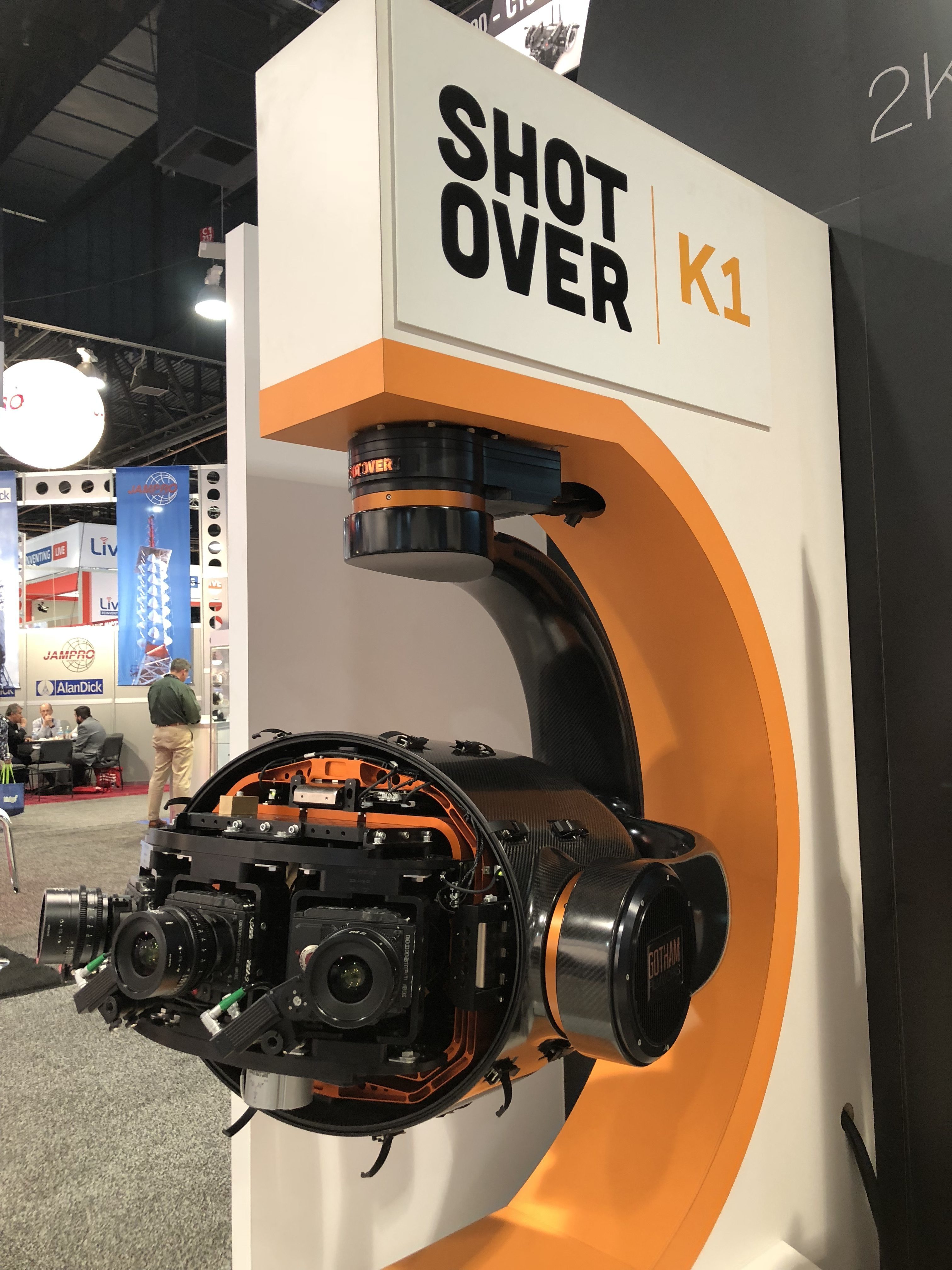 The M1 is based on the same six-axis design as Shotover's F1 and flagship K1, the latter of which received a Scientific and Engineering Academy Award this last February for its concept, design, engineering and implementation.

Stepping up to the Shotover K1 or Shotover F1 adds more extensive camera options, supporting the weight of many of the most advanced imagers available and anamorphic. Fitting payloads up to 760mm in length, the Shotover K1 will carry the Canon EOS C500, Arri Alexa XT or the Sony F55 with full AXS-R7 4K RAW extension, for example, while the M1 will only hold the F55 sans recorder.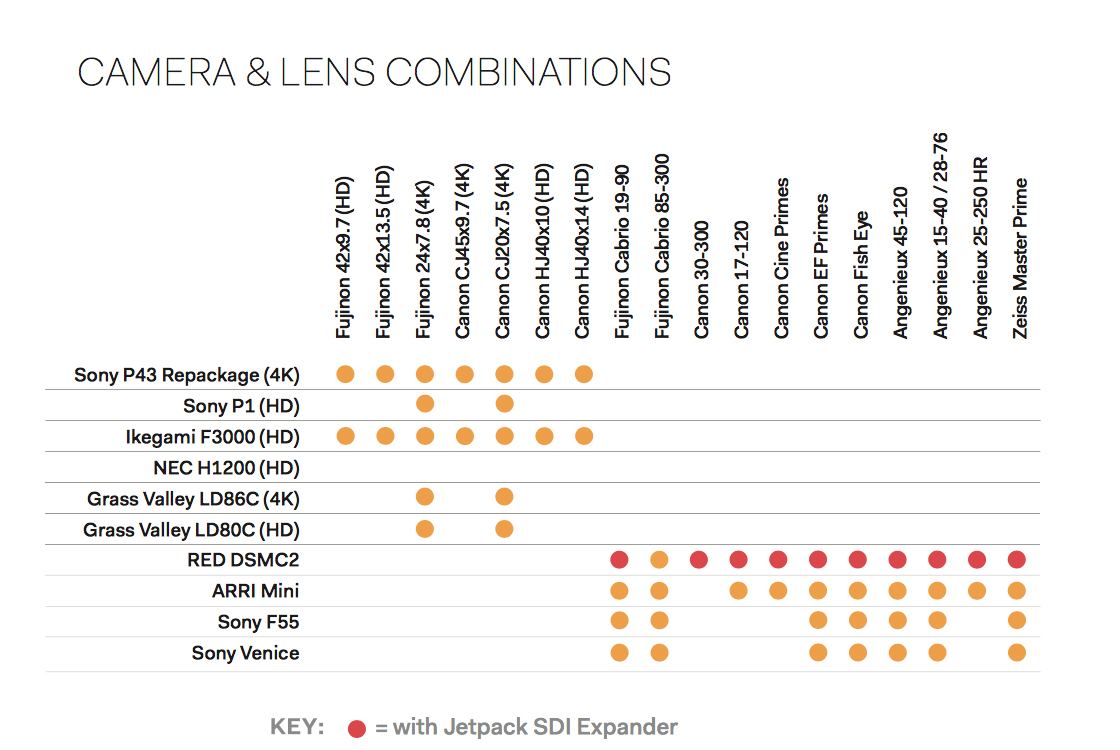 "The culmination of 10 years of research and development and fresh cutting-edge technology, has led to the creation of the M1," says Shotover CEO Brad Hurndell in the press release. "We are confident the system will allow our customers to keep up with the demanding requirements of live broadcast for years to come."

Shotover's K1 has been employed on more than 100 movies, including The Hobbit, Blade Runner 2049, Spider-Man Homecoming and the Transformers features The Last Knight and Age of Extinction.
Based in Van Nuys, California, and Queenstown, New Zealand, Shotover can be contacted through email or phone at (818) 285-1665 or +64 3 746 7531.
Follow Shotover on Facebook, Twitter and Instagram.
Stay up to date with American Cinematographer on Facebook, Instagram and Twitter.