The cinematographer discusses her career path and how it lead to shooting the prime-time CBS series East New York.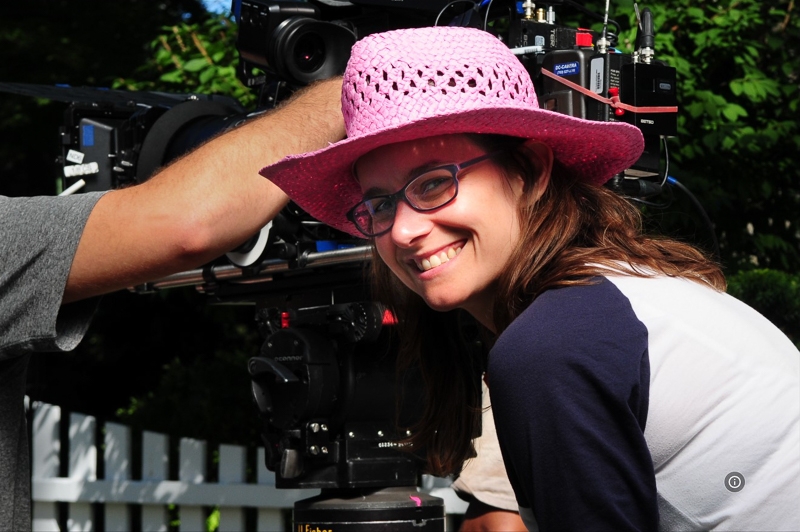 Since graduating from NYU's Tisch School of the Arts, Jendra Jarnagin has accumulated more than 25 years experience as a cinematographer, photographing a wide range of projects including feature films, episodic television and online series, commercials, music videos, documentaries, virtual reality experiences, and art films. Her work has been screened at the Whitney Museum, the UN, and numerous film festivals worldwide including Sundance, Tribeca, and Camerimage. She's photographed ad campaigns for such brands as Maybelline, Estée Lauder, Adidas, Canon and Lincoln.
And now for CBS, she's the alternating series cinematographer, along with Zeus Morand, on East New York, an ensemble drama that explores modern issues around policing.
In this conversation, Jarnagin relates the hurdles and milestones that led her to this significant opportunity, and talks about the experience and skills she gained along the way.
Also mentioned in this episode are stories from our December 2022 issue:
• Cinematographer Autumn Durald Arkapaw, ASC reflects on the career arc that led her to Black Panther: Wakanda Forever.
• Darius Khondji, ASC, AFC and director Alejandro G. Iñárritu craft mind-bending visuals for Bardo, False Chronicle of a Handful of Truths.
• Alex Disenhof, ASC details his approach to Amazon's epic fantasy series The Lord of the Rings: The Rings of Power.
• Chayse Irvin, ASC, CSC reimagines a Hollywood icon in Blonde.
Also be on the lookout for a Shot Craft on production budgets for cinematographers, a Picture Partners on the collaboration between Mandy Walker, ASC, ACS and director Baz Luhrmann for Elvis, and a Virtual World look at Disney Plus' The Book of Boba Fett, shot by society members David Klein, Dean Cundey, and Paul Hughen.

TRANSCRIPT
Iain Marcks: Thanks for being here, Jendra.
Jendra Jarnagin: Thanks for having me.
Iain Marcks: It's nice to catch up with you. I think the last time we talked was for a story in the magazine about that web series you did, Puppy Love, that you shot with the Red One, one of the first Red Ones back in 2008, was it 2009?
Jendra Jarnagin: I think that's when it was released, but we actually shot it in 2007.
Iain Marcks: It was really early in the transition from film to digital cinema.
Jendra Jarnagin: Yeah, I mean Red of course being the the first, well not the first, there were certainly some high-end cameras like the Viper and the Panavision Genesis, but up until then it was you know, HD video being appropriated for low-budget filmmaking and that was really the start of the digital cinema explosion, or digital cinema for the masses.
Iain Marcks: Yeah, I think that was the first story I did on the Red camera for the magazine. And that might have been the first time we spoke too, I think.
Jendra Jarnagin: Yeah, that was a milestone for me then, to have my first article in American Cinematographer magazine.
Iain Marcks: What was that, I guess 15... It's 15 years. Wow, almost 15 years. So what have you been up to since then?
Jendra Jarnagin: I'm mostly shooting feature films, indie features, up until now, when I recently landed my first full broadcast television series called East New York, which has been a big career milestone and goal achieved that I've been working towards for many, many years. In the meantime, I've been doing independent features, some music videos and commercials, mostly beauty and tabletop commercials, some documentaries, a little bit of everything. My most significant credit in the feature world is a film called Asking For It. It's available on Hulu, premiered at Tribeca, and got theatrical distribution by Paramount. It's a female vigilante thriller with an ensemble cast with Kiersey Clemons, Alexandra Shipp, Vanessa Hudgens, Ezra Miller, David Patrick Kelly, Radha Mitchell, Luke Hemsworth, Gabourey Sidibe. It's got quite a cast. And so that was one of my favorite projects to date.
Iain Marcks: It's great to hear that you've been so busy, and congratulations on the network gig. I know that's a big deal for you, and you've been working towards a job like that for a while now. And really, I don't know a lot of people who hustle as hard as you do. And that's kind of what I wanted to talk about today, really to begin with the work that you're, well, the work that you're doing now, but then, you know, all of the work and experience that led you up to that point, because I think what is distinctive about you, as a cinematographer, is that your reputation as a cinematographer doesn't begin and end with the camera.
I've really come to think of you as a cinematography booster. You're a regular on the festival circuit. You're involved with the ASC's Motion Imaging Technology Council. There's that homage to the World War II "We can do it!" campaign, which you said was done for your personal business card, right? But, you know, it ended up on the cover of MovieMaker magazine. And when you're not working, you're at industry screenings and events. You're online, you're in American Cinematographer magazine. You've been such a ubiquitous presence in cinematography circles, you know, particularly in New York, where we are now, I've found that even if someone hasn't met you yet, they've probably heard of you. But you know, for those who don't know, let's start with a little bit of your personal background, like what first drew you to the art of cinematography.
Jendra Jarnagin: When I was 12, I guess, in middle school, I was selected for extracurricular Gifted and Talented program an arts program where you could pick a field of study that would take you outside of school for like one day a month and go focus on something beyond what was offered in the in the regular middle school curriculum. And I don't remember or maybe I never knew who selected me for that program, but my teachers would have nominated me. And I just got a form one day in my homeroom being like you've been selected for this program. And it was just like some checkboxes of like, What are your interests? And one of the options was video production. And I'd never thought of it before. And probably what sounded interesting about it was maybe some of the other options on there did not seem to resonate with me. I don't even remember what the other choices were. But I checked a box. I checked a box for video production.
And I, you know, the program was at a local public access station for Cox Cable, and we had a mentor that ran the program. And I remember walking in there and seeing all of these people doing these really interesting jobs, like, you know, the control room and the studio and, you know, being at the age that I was, I had never considered that that was a job or a career choice, you know, when you're young and, you know, What do you want to be when you grow up? Like that. The options that are you know, you're exposed to are like, you know, lawyer, doctor, astronaut, firefighter, that kind of thing. And so, when I saw these people at this TV station, it instantly clicked that moviemaking was a profession. And I was not at a movie studio, I was at a cable access station. But it, you know, got the cylinders firing. And I loved movies, and I loved books. I really loved books as a kid. I loved storytelling, and I loved photography. And so, you know, I started in this program and really, really thrived there, like, found my calling, if you will. Really easy, really early on, like it came really easily to me and everyone in the program was just like, Wow, you are, you know, really talented in these arenas. So it took a few years. And that became my main interest and passion once I discovered it.
And so within a few years of studying, I learned about the cinematographer and that it was not the director, or the director alone, who was responsible for the aspects of filmmaking that were where my interests and talents lied. So, you know, up until then, I would— You know, this was before the internet before, you know, DVD commentaries. The only sort of exposure I had had to seeing any behind the scenes or nuts and bolts of filmmaking was like maybe a small featurette on PBS with Steven Spielberg, or you only ever saw the director and the actors being interviewed and talking about their roles. So come to find out that it was the cinematographer's duties and areas of expertise, I was quite surprised to learn that I might not want to be a director, that I might actually want to be a cinematographer.
So I kept that in mind and continued to learn about that and was like, Well, where do I go from here? And the guy who ran the program, his name is Mark Kavanaugh, told me about NYU, and I applied early decision to NYU. I considered California, but my parents were not okay with me moving so far away. I grew up with a very modest family income, and the idea of like, flying to California where my family can't come see me because I'm in California, or I don't come home often because I'm in California was really not appealing to anybody. So I grew up in Rhode Island. So I applied early decision to NYU, I had no safety school, my backup plan, if I didn't get in, was to just go to local state college and then reapply. It was like, I'll just keep— I'll reassess. If that doesn't happen. I'll figure out what to do next. And I got in. So I went to NYU for undergrad with the possibility that maybe I want to direct, but I probably want to be a cinematographer. I don't really know until I do them for real, as opposed to my idea of what I think they are. And within a year or two at film school, I was like, yep, cinematography is for me and what I want to focus on.
Iain Marcks: Right, because in that program, don't they give you the opportunity to try a lot of different aspects of the filmmaking process, like you have to grip on classmates' projects, you also have to be the electrician, then you have to do sound...
Jendra Jarnagin: And you have to write and you have to do editing, at least at the undergrad level. By the time people apply to grad school, then they're applying either for directing track or cinematography track, but at the undergrad level, you have to foundationally take all of these different classes. And then you can discover where you want to focus, so that by the time you're a junior and a senior, you can self-select the classes in the direction that you're wanting to go.
Iain Marcks: Right. So you really had a chance to try out all of these different aspects of the process and found that ultimately, in the end, it was cinematography, obviously, that that was where your heart lies.
Jendra Jarnagin: Yep.
Iain Marcks: Did you have... were there any mentors, in particular, who helped guide you through this process of understanding, you know, the kind of cinematographer that you wanted to become?
Jendra Jarnagin: Mentors for me came later in my career, you know. At the school level, Yuri Denysenko was one of the cinematography instructors that I had for several different classes, and Michael Carmine, and I'm still in touch with both of them. And my narrative filmmaking instructor, Karoly Bardosh, he showed me that he believed in me, even even though it wasn't a cinematography class, it was, you know, you were paired up with the directors who were selected for the equipment package that they were granted to go ahead and complete their films. I just remember him as being supportive and, you know, talking to me personally and coaching me personally and believing in me, but other mentors came more along the way.
You know, like you mentioned, I'm involved in many communities and very socially connected within the cinematography world, and I've developed some friendships over the years with different high-profile, if you will, or very esteemed and accomplished cinematographers that have led to mentoring friendships. A lot of people ask, like, oh, How do I find a mentor? and I did participate in— Local 600 had an official mentorship program, and I was paired with Zack Mulligan. And that was great to have that structure. Because you know, the person who signed up to be a mentor, it's like, the expectations are set that I can call upon this person. They're expecting me to. They're open to it, they said so. Whereas when you're just meeting people, socially, and it's sort of like, oh, I don't want to ask too many questions. I don't want to be too needy. I don't want to be, I don't know if this person feels like I'm asking too much of them, or having these expectations on our, on our friendship and relationships. So it's sort of like navigating that being like, Oh, I'm getting signals from this person, that they're okay with me contacting them. And when I do ask them questions, they get excited about it. And they're happy to share and happy to help. And so those kinds of friendships have developed naturally. Larry Sher [ASC] is someone I would put in that category. David Stump [ASC] has been a big mentor of mine for many, many years. He encouraged me early on to come to Los Angeles more to get involved in more ASC events, to come to the ASC Awards. [Society members] Claudia Miranda and Rodrigo Prieto are people I've crossed paths with who have been open to me calling them up and asking them questions. [Society members] Steven Poster and Alan Caso.
Jim Chressanthis [ASC] was the one who gave me my first television opportunity shooting on the East Coast — we call them tandems in New York — they call them double-ups, which is a situation on television, where it's not a second unit, it's a full-blown [additional] first unit that's shooting simultaneously to the main unit, so they have to break up the crew. And so it's shooting with the principal actors, and often on the principal sets. It is a lot of responsibility and actually hard to land those opportunities if you're not already, for example, the camera operator on that show getting a bump for the day. So Jim Chressanthis believed in me and brought me on to do some of that work for a TV show called The Family back in 2015.
Iain Marcks: So you've gone through the program at NYU, and you've decided that you want to be a cinematographer, and you've got your degree. Did you enter the industry directly, or did you work around the periphery on independent projects?
Jendra Jarnagin: Yeah, I started out in short films, you know... Getting out of film school, it's... you know, back then we only shot on film, so you didn't get a copy of most of what you had shot. So it took a long, long time to get enough material to get a demo reel as a DP. So you had to work either as a gaffer or an electrician or an AC, to support yourself while you're continuing to work for free for a much longer period of time than it takes even now.
So I tried AC'ing and I really wasn't any good at it. And lighting was much more of interest to me creatively, like it was always different, and every person that you worked with, you could learn something new. So I gravitated towards the lighting department and I was a gaffer, even for my fellow students. So when I got out of school, I was like, okay, what can I do to actually make some money? No one's going to hire me as a DP yet, to pay me for their projects. So I started working as a gaffer, first on short films and independent films. Columbia University films would pay some of their crew, and then started doing features. Actually, I didn't get to jump into gaffing features right away. I was gaffing very small projects where I really wasn't advancing or learning anything. And the DPs that I was working for, didn't really know anything more than I did, they just, you know, had a reel or a connection that allowed them to get those jobs.
So I was like, I need to learn more. So I approached several of my colleagues who had, who are now gaffing features or had graduated before me. And I was like, Hey, I know you know me as a gaffer, but I want to take a step back and be the smaller fish in the bigger pond so I can get exposure to bigger tools and bigger crews. So I started working as an electrician. And then I started gaffing non-union features. And then I ultimately joined the union as an electrician. And I worked on Sex in the City and Law & Order as a regular day player in the lighting department. But even that took several years, to get to the point to be able to work at a union level. But this was all as a game plan, if you will, as a side job where I continued to shoot short films, student films, whatever I could get my hands on for free until my reel was strong enough as a DP to be competitive, to win paid jobs.
Iain Marcks: Aside from just wanting to gain the experience and build the reel that will get you the job, what were some of your early career goals, like what kind of jobs did you want to go after?
Jendra Jarnagin: I always wanted to make movies. I wanted to shoot features. And I was surprised in film school, and we were told it takes about 10 years, after you get out of school, of you cutting your teeth and paying your dues to, you know, actually get quote-unquote, get anywhere, there are certainly the exceptions to that. And I wanted to be one of the exceptions to that. But I, you know, found out in the long run that that turned out actually to be true. But it was always movies. And, you know, by the time I had shot a few very small indie features, and was starting to get to the point where I was hoping to get bigger features was when the entire independent filmmaking financial and funding structure collapsed, or changed, if you will. So there became no more middle class films, it was like once you'd shot, you know, a few one or $2 million films, you know, it used to be there were $5 and $15, and $20 [million], you know, before you got to the $40, and now $100, and $200 million films. But those pretty much evaporated around the time that I was ready to be moving in that direction. So that's when I realized that television had taken the place of that. That once you shot a few indie movies, the next step up the rung of the ladder, if you will, was TV. So I was like, Alright, that's where I want to go next. And I've been, you know, trying to move into television for eight to 10 years, before I finally landed my own first full TV series, as a DP.
Iain Marcks: You said it takes that long to get anywhere in your career, but can you talk a little bit about the persistence, like finding the endurance, right, and the patience to wait that long for something to happen? Without the guarantee that it will ever come. Right? You just kind of have to trust that if you stick with it long enough, it'll happen, right?
Jendra Jarnagin: You have to believe in yourself, and you have to be okay with... You get to a point where it's like, "What if this never happens?" Like, what if there are no guarantees, and this is proving to be incredibly difficult to break through to this next level? And what if this is my career? What if this is all I ever get to, despite being, you know, an ambitious person and having my sights set on that? You know, can I be okay with what I'm doing now and feel satisfied with my life. So there's a lot of personal growth that goes along with sticking it out for the long haul. And a lot of questioning yourself.
I mean, one of the most valuable pieces of advice I got way back in that program, from that mentor, when I was deciding whether to pursue this as a career, and he said, You know, it's an incredibly difficult career. Your life will be hard, the chances of success are very low. You have what it takes, and I encourage you to do it, but you know, I need to tell you, if you can see yourself — If you could do anything else besides this, you should do that. And that sounds discouraging, but I don't see it that way, actually. I see it as more of asking yourself the tough questions and be like — If you ask yourself that question, and if that's able to make you change your mind, then you in fact, do not have the resolve, the commitment, the love, the passion to see this through and stick it out in the way that you're going to need to, to make it.
And I did ask myself, Could I do anything else? And the answer was No, I have to do this. This is what I was meant to do. If I do anything else, if I choose anything else to do with my life, I will be always be asking myself what life could have been like. I'm getting emotional just thinking about it right now. Like, I would be, No, what I really want to be doing is that. And so that resolve, if you will, you know, come 9/11 when, you know, in New York, the Trade Centers fell, there was no work in New York for close to two years. And my husband is also in the industry. And we were established enough at that point that we had invested our life in this direction and hadn't done anything else with our life. And there was no work, and our savings that we had saved up to go on a European trip became our living expenses. And we're like, What if it never comes back in New York? At the time Canada was thriving, it's like, Do we move to Canada? Do we move to Los Angeles? Do we pick something else to do? And we both sat down and made ourselves basically do this exercise of, What else could do with my life? What else am I good at? Or, Are my skills transferable? Or, What do I find, you know, satisfying to do? And it was so, so, so hard to pick something. And that exercise, if you will, and asking yourself those hard questions, gave us more confidence and security that we were doing what we were meant to be doing, and that we did not want to do anything else, and that we were willing to stick it out no matter what.
And, you know, the last few years for me, before I got this show, were probably the most challenging professionally of my entire life. I had four features that I was hired for that were all, you know, union films, with budgets that were moving in the direction for me to, you know— Forward momentum with my career. And after prepping to varying degrees, I prepped four films that all— I did not end up shooting any of them. So I spent an entire year working with nothing to show for it. And basically, independent film just broke my heart, like, crushed me. And I was just like, I can't take this anymore. I need a TV show. Like I need something with financial security and stability, that I know is actually going to happen, that isn't going to fall apart. I had wanted TV for a while, but how brokenhearted and beaten down I was after [losing] four [films] in a row took my resolve to a whole other level that I may have been lacking, in terms of being afraid to give my life over to television and all the sacrifice that goes along with that. I was so fed up. I was like, I need a TV show. And then I got one,
Iain Marcks: What were some of the things that kept you going? You know, you talked about that moment, where you and your husband, you made the decision that this is the path that you were going to follow. But like, while you're on that path, what are some of the highlights, some of the milestones?
Jendra Jarnagin: Yeah, I mean, I had some really good projects that were really satisfying. And, you know, sometimes after slow periods where I would just be, be in the seat, if you will, and think to myself, I'm really good at my job. Like I thrive at this. I'm good. And all of the doubts that I might have in the periods of not working, I need to remember how this feels right now, that when I am doing it, I am good at this and someone would be lucky to have me.
So like, because there's so much about convincing other people to hire you for you to get to do what you want to do. You know, you're not a writer, director, producer that launches projects. You have to find projects that exist that you think are a good fit for you, that you want to do, and can land. That job, that's like so much of our career. So that comes with a lot of insecurity, and you know, questioning. Am I good enough? You know, Do I have what it takes? Am I not as good as I think I am? Are other people better than me? And so all of that self-doubt that, you know, once I was doing it, when I would have a good and satisfying job, I would be like, Yeah, I'm really good. I need to remember that when I'm, you know, between jobs.
There's a producer named Romell Foster-Owens in Los Angeles, and her email signature has a quote at the bottom that says, As long as you don't get out of line, your turn will come. And I've always found that really inspiring. And I remember it, you know, when I get discouraged. I remember it when it looks like nothing's happening. And then one afternoon, I get a call from the line producer of Transparent the TV show, being like, Hey, we're looking for a DP for next season. And it's like, that just came out of the blue, you know? And then, you know, a couple of years later, I'm like, Oh, nothing's happening. I'm stuck. Whatever. And I get a call from one of the producers of Grey's Anatomy, like, not even through my agent, just like a direct phone call from different connections that I have. And those are the — and I didn't end up working on either of those projects. But those... Like, you never know when you could get a call out of the blue that could potentially change your life. Like, those were the kinds of things that kept me going. It's like, it could happen tomorrow. It could happen this afternoon. If you stop now, if you give up, it certainly won't happen. So just just stick it out.
Iain Marcks: Yeah, that's part of the hustle I was talking about before, which I think includes something that I've always admired about you, which are your networking skills and your ability to self-promote, to meet people and to communicate really well person-to-person. Could you maybe elaborate on the kind of skills that a cinematographer must possess apart from those related to the craft to effectively advance their career?
Jendra Jarnagin: Absolutely. One of my favorite ways of describing this job or this career, yet not even career, because they'll separate the job itself from the career aspect to it, that being a cinematographer is 1/3 technical, 1/3 creative, and 1/3 managerial. And a lot of people don't recognize that the managerial is just as strong of proportion, and just as important a skill as your craft and your artistry and your knowledge of your tools. And so that's something I think needs developing just as much as the others, You have to recognize that you're a manager, and your job is communication, how you deal with conflict, how you inspire your team, the politics of it; being, you know, savvy to the politics of the job, how to be accountable, and take ownership when you fucked up in a way that people will still respect you; how you come across to other people, how you communicate with other people, all of those things are an incredibly important part of the job. You could be the most talented, most brilliant artist out there, but if you don't have the ability to express your ideas to your team, and you don't know how to enact the approach and stay on schedule, and stay on budget, you're not going to, you're not going to get anywhere like that. Those great ideas that you have within, you are not going to be able to come forth and exist in the world if you do not excel at communication. So that is something that I encourage people to develop within themselves. If that's not something that they feel strong or confident about, that is an incredibly important part of your job that you need to work on.
In terms of networking, of course, people say it's not what you know, it's who you know. But take that a step farther. It's not who you know, it's who knows you. So if people don't know who you are, if people don't know you're out there, you know, you could be the best person for their project, and they won't find you. So you need to put yourself out there. NoFilmSchool did an article featuring me and my advice for my tips for navigating the Sundance Film Festival, which I would go to every year. And the article resurfaces every year as lasting, great advice that applies to networking in general, not just Sundance specific. And what I think is one of the most enduring tips in there about networking is to think about it, like you're just making new friends. Like I remember when I got out of school, and I was really reticent, or resistant like I know a lot of people are to this idea of schmoozing, that it was dirty, that you were gross, and you were just trying to take things from other people and people could smell that all over you. So don't do that. Don't just try to take things from other people. Don't approach your relationships as a, you know, What can this person do for me? Like, if you are giving and generous and a connector yourself and you make connections for other people, people see it as a relationship, as a mutuality, of like, this is a person that I want to know. I'm not talking about you viewing others, I'm talking about how others view you. Because it's not— You know, don't think of it like trying to convince someone that when you meet someone at a party, that you're trying to convince them to give you a job. Think of it as making new friends. And you never know, you know, which ones are going to lead anywhere. I liken it to planting seeds, you have to plant a lot of seeds and you never know which ones are going to grow. You never know how long they're going to take to grow. If you plant them and never pay attention to them, again, they're a lot less likely to grow than if you tend to them and give them attention. So I think that, you know, I learned early on the difference between the people that I knew that I saw successful, and the talented ones that were suffering in obscurity was that people knew who they were.
And I wasn't comfortable at first with this idea of marketing yourself or networking, and I realized I needed to become comfortable with it. And so I pushed myself, and it got easier. And I started to see what worked and didn't work for myself, and I came to learn that I had good results when I met people in person. When someone met me, that, you know, that interpersonal exchange of energy or, you know, maybe I left a good impression on them, or whatever, that those were the relationships that lasted over time, or those were the ones that were more likely to lead to anything in terms of work possibilities. So I've made it a point like, Okay, you need to go out, you need to go to events, you need to go to Sundance, you need to go to LA. I spend a few months a year in LA, and I have a whole life in LA, where there are people that I know in LA, who don't even realize that my permanent residence is in New York. They just think that I'm there all the time, because I'm there often enough and I see them often enough, which is, which is fine. You know, like, I had someone who was looking for a New York DP, and they're like, Oh, no, they need to be in New York local, and I'm like, I am a New York local, and they're like, Oh, I had no idea, I only ever see you in LA. So I spent a lot of time and a lot of money, getting myself to where people are and meeting people and being involved in the community, and not just as a taker, but as a giver. Can I say a little more about selling yourself?
Iain Marcks: Oh, yes, please.
Jendra Jarnagin: Because there's, you know, there's networking, which is really just meeting people. And then there is the selling yourself, the promotion aspect to it. And they're, they're both important. And I think you need to do both.
Different people have strengths and different comfort levels with different aspects to that. But I remember learning, you know, that as a freelancer, you are the CEO of you, Inc.. You are the only person who's responsible for yourself and your career. And you need to learn, you know, entrepreneurial skills, you need to learn how to market yourself, you need to learn promotion, you need to learn accounting, you need to learn how to follow up. You know, I've done a few business coaching courses and entertainment industry coaching, and you know, I've always been someone who wants to grow and develop myself. And I think that's the difference that — I see a lot of people who feel stuck and don't know what to do with like, Well, how do I find the work? And it's like, well, What are you doing now? And what could you be doing? And what are the people that you know who are succeeding in the ways that you wish you could? What are they doing? So it's a lot of questions about those kinds of things and there's no clear answer. Everyone needs to decide what works for them, how much attention and bandwidth they're going to put on it. But basically, if you're not working, or you're not working at the level that you want to be, you need to invest in getting yourself there. It's not necessarily going to happen by itself.
And self-promotion is a fine line, right? Some people find it annoying and get sick of it. But like, if you listen to everyone, if you listen to all the haters, you know, you can be just trapped in inaction. So you need to find what works for you, what pays off, what you enjoy doing, what you can tolerate doing, even if you don't like it. Like, I've found that I'm good at public speaking. So any speaking engagements that come my way, whether that's a podcast or a panel, or moderating or a masterclass, you know, I'm good at teaching. I don't want a full-time teaching position, but I'll do a workshop. I'll do some mentorship. So it's like, Okay, I have these skills, these serve me. Well, I'm gonna put my energy in those directions. And that's different for everyone. So you need to explore that, and find that for yourself.
Iain Marcks: So how does all of the foregoing lead us to your current job as a series cinematographer, as one of the rotating series cinematographers on the CBS procedural East New York?
Jendra Jarnagin: I'm going to answer that question. But first, I want to shout out to my other cinematographer, being a series cinematographer that's alternating. I'm very excited to be alternating with Zeus Morand, is the other series cinematographer on the show. And the pilot was shot by Cliff Charles, who I've known for many years. But I'll go back to the planting seeds analogy, like what seeds that I have planted that have borne fruit, that have gotten me to where I am today are interesting and varied actually.
So the line producer and co-executive producer on the show, Kati Johnston, was the UPM on Law & Order, and I was an electrician on Law & Order a very, very, very long time ago, back on the original mothership. We called it the original LnO, so I knew her from then. And when I started to set my sights on TV, one of the things that I did was like, you know, Okay, where's the gap? Where do I want to be, and where am I now, and how do I get from where I am to there? And so I asked a few people that I knew out for coffee, for like, informational interviews about how the TV world works. How does hiring work? What would you need to see for a DP candidate to feel that they are qualified to, you know, be willing to hire them? What kind of experience do I need that I don't have yet to build in that direction, if I want to get into TV? And one of the people that I took out for coffee was Kati, so she knew that I wanted to do TV. And I'm sure she gave me some valuable answers at the time, as did several other people. That gave me some direction of where I could focus my energies.
And other than that, Katie's been on several long-form television shows for many years, back-to-back, in a row, and we've not had the opportunity to work together. But she has seen me on social media. So I have posted on... I used to be very active on Facebook. And then I've moved my efforts more to Instagram, checking on Facebook every once in a while, but have my Instagram feeding my Facebook. And so she would have seen that I had a feature come out with the all-star cast and a theatrical release, or just over the years that the direction that my career was progressing. And I hadn't spoken to her, but when the show came up... It's interesting because there were three different pathways that lead to the show. One was Kati, one was my agents, and one was I ran into someone at an arts festival in Staten Island called Figment, which is like a family arts festival. And someone I knew had sent me a script. And they had they were in film school, and they'd asked if I could read it. And I told him that I was trying to get a TV show. And someone, a mutual friend, who is the stand-in on our show, who had done the pilot, overheard us talking about it, and she's like, "Oh, you..". And I didn't know her from film, I knew her from like the Burning Man community, she's like, "Oh, you work in TV. I work in TV." And I'm like, "Yeah, I'm looking to get a TV show." And she's like, "I just did this really great pilot called East New York. I haven't heard whether it's, you know, whether it's picked up yet, but it's so good, I think it probably will."
So I went home and called my agents and was like, "Hey, can you find out..." Oh, she also happened to know that the camera crew who had done the pilot, which was Cliff Charles and his team, had moved on to another show or another movie, and then they weren't going to be available for the series, and that they were going to be needing a DP. So I called my agent and was like, "Hey, can you find out about East New York?" And then he looked in with the other agents in the agency and was like, "Oh, you have been submitted for that, like, the other people on the team knew that you're trying to get a TV show." So I get a Facebook message from Kati, and she's like, "Hey, I'm queuing up for a new show, you know, what's your availability like?" And she didn't say what the show was. So I call my agent, and I was like, Do you know what show Kati Johnston's affiliated with? And he's like, Oh, that's East New York. So I interviewed for the show. At the time, I was interviewing for several other TV shows. I've been interviewing steadily for TV for several, several years, and getting very close over and over and over again. So a lot of interviewing experience at this point. But I... you know, my agents kept saying, you know, "You're getting so far in the process every time you interview, one of these is going to hit, one of these is going to decide that you're the right person for them. So you know, just keep doing what you're doing."
So I had the interview, and I got the job. And, you know, I asked about it later. And Kati told me that, you know, they were interviewing several candidates, and the producing director said to her, "I think we're in a good position that we could maybe find a candidate that's ready for the opportunity." And when she heard that, she's like, "Ah, I have someone for you." Because she knew I didn't have a TV show. I hadn't done a TV show yet, which is a huge barrier. Until you get hired to shoot TV, until you shoot TV, it's incredibly difficult to land the first show, and to have someone decide to give you that opportunity. You're competing against several other people who already have done TV shows. So like, why would they pick you when they could pick someone who's done another TV show? We have already a proven track record. In television, they need to feel that you are the right person for the job, despite the experience of the people you're competing against and that you are ready, that you're ready to step into that opportunity when you haven't technically proven yourself in that arena before, so that's a hard milestone to take or hurdle, if you will, to get over, and that took a really long time to find that show. And so I'll be eternally grateful to Mike Robin and who's our producing director and Kati for giving me that opportunity. For believing in me.
Iain Marcks: How ready were you for this opportunity?
Jendra Jarnagin: I was really, really ready. I had my... And I can say that now that I've done it. Yeah, I mean that that would be a, you know, maybe a hubristic thing to say like, How do you know if you haven't done it? Of course, you think you're ready, how cocky, but now that I've done it, I can say in retrospect, that I was incredibly ready because I'm doing it and I'm thriving, and I'm killing it. I'm killing it. So to say, as my colleagues are saying, I had several friends who I would speak to regularly, who were working in TV, who came from the same background as me, who would like... What was it like for them to get their first show? And I just kept hearing from so many people who knew me, like, You have what it takes. You have the experience. All of your experiences up until now will inform you. Basically, once you, once someone gives you the opportunity, you're going to kill it. Like, you're not going to crash and burn. Basically, you're going to do great. I heard that from so many people that I believed it, that I was— If it was one or two people, like Oh, great, so and so believes in me or, you know, This person is blowing smoke up my ass or whatever. But I heard from so many different people so many times who knew me well enough, you know, to know what my experience and qualifications were, that I believed it. And they were right.
But I was worried. You know, like, I have impostor syndrome just like everybody else. What if I fuck it up? What if I'm not as ready as I think I am? What if, you know, what if I'm in over my head? What if I crash and burn? What if I make some big political mistake? What if I'm not fast enough? What if they don't like me? You know, there's so many doubts and insecurities that we need to face, you know, all the time as artists and as freelancers. And I certainly had all of that. But it was basically like, you just need to learn how to manage that kind of negative self-talk and how to, you know, find your strength and resolve despite any of your doubts.
One of the things that I did strategically was not going first. So, being it was the season one show, and the pilot DP, as I already mentioned, was not sticking with the show. So myself and Zeus, it was both of our first TV series. And I knew that whoever was going to go first, that they were going to be under a microscope. And I would be afraid of basically pleasing people and be afraid of getting fired. So I was like, Alright, you go first, you stick your neck out. And I'm trying to learn. I mean, it was up to the producers of who was going to go first. But they hadn't decided yet. And at a certain point, I said something. I knew Zeus wanted to go first. And I knew I didn't want to go first. And Roy Wagner [ASC], one of my mentors, had given me the advice, if you have any say in the matter, don't go first. And so at a certain point, I said something. I was like, Hey, since you haven't decided yet, you know, if it helps, we were both in alignment with Zeus going first. So that helped. That, to me, was a tactic for helping me, you know, step into the unknown, and like, what is this going to be?
So now I had this partner, this other DP, who I had established a great relationship off the bat in terms of us collaborating on what direction we wanted to take the show. And I got to hear from him like, Okay, what's working, what's not working? What are the expectations? You know, what would you have done differently? What are you learning as you go and like, you know... So by the time I stepped into my first episode, I was armed with plenty of information that I felt more prepared and more brave.
But in terms of being ready, I mean, part of it is being psychologically ready, but then it's also just, you know, the skills, right? So, once I started doing it, I was like, I got this... I knew how to communicate with my crew, I interviewed people that I knew, you know. It's good to start my relationship with my keys, you know, early on and at the interview process, and, you know... Got enough prep for the show itself to, you know, know what we were wanting to do, and you know, how much time we had and, I mean, so much of it is time management, with with television, I mean, with cinematography, overall, of course, but with television especially. That was I wasn't concerned about, doing good work. I was more concerned with meeting the time restrictions and being able to do good work under the time restrictions. Like, one of the big skills you have to learn is choosing your battles and how— when to call it good enough and when to be like, Okay, you could spend forever improving and tweaking something, and you don't get forever. So it's like, when do you ask, "When do you take the time?" "When do you ask for more time?" When do you make up... How do you make up the time? When do you not? When do you let things go? That could be more perfect. But perfection can't be the goal. It's balanced, it's being you know, doing as good as you can with the time that you have, and being acutely aware of that.
Iain Marcks: Right. It's like, having come this far, how could you not be ready? So now that you're here, and you're on a show, and you've got a crew, and you're doing it— you're doing this thing that you've been working towards for so long. What kinds of hurdles do you still have to face?
Jendra Jarnagin: Yeah, the hurdles are consistently time. And then each episode, you're getting a new director. So you can get in a groove, and you know, how a certain person likes to work, and what they like creatively, and what your creative collaborative spark is with this individual and navigating that relationship. And, you know, our episodes are seven-and-a-half days, and then you get into a groove with somebody, and now you're getting somebody new, and your prep period is also very short. So getting to know that person quickly, and getting to find out what their interests and strengths are as a director, and what they need from you and listening, and everyone's communication styles being different, and everyone's way of expressing themselves visually being different, like, the adapting to new directors each week is exciting. But that's also an interesting part of the challenge of working in TV.
And the other is the longevity of it, you know, our show, we've got 21 episodes, and which, we didn't know going in, we hoped that we'd get 18. You know, it started with a 12 episode order, with the, if the show did well, the possibility of a back five pickup and we got our back five, and then they added another three. So now, you know, we're the number two new series on the network. So the show is doing really, really well. And so they extended it. So now it's like, working from July to April, and pacing yourself creatively and energetically, and emotionally and psychologically. That's been, you know, an interesting — I mean, I knew what I was in for, theoretically, but until... So I'm not complaining. But once you're in it... You can't know what it is until you do it, of course.
So that self-time management, if you will, like how much... How do I spend my weekends and maybe evenings when I'm on prep? A lot of it is, I spend it working, I spend it wanting to stay on top and abreast of you know, what's coming up the following week, and then watching the show and doing color correction, you know, so even though I have weekends off, I probably spend, you know, a bunch of those hours on things having to do with the show. And then resting and relationships and lifestyle is like learning how to navigate that in a long-term way.
When I would do a feature that was, you know, one to two months of my life, and I would give my, my 100% all of myself for that period of time, knowing that that would come to an end six weeks later, and then whatever I'd had put on pause in my life, I'd pick it up later. You know, this doesn't work that way. This goes on and on and on and on. So you, you know, I'm relating to it more like a job than a project where this is like, Oh, I have to exist in my life along with this. And, you know, this is the biggest demand on my time, and the majority of my life, but how do I keep the rest of my life going, or afloat? And what do I have to let go of? You know, I remember, just general success leadership-type of reading or workshops or podcasts or whatever that I've listened to are like, You only become more successful by learning how to say 'no' to more things. You have to cut more things out of your life in order to have the space to take on more things in your career. And so that's been a welcome challenge, because I'm really blessed and grateful to be in this position, but it's a lot of sacrifice.
Iain Marcks: Right, and then, what are some of the highlights?
Jendra Jarnagin: All of the crew that I'm working with is consistently... I'm just so so grateful to have the resources. Like I'd say, my first day out on location on my first episode was the amount of that— We shot I think, I don't remember, I wrote it down, I put it on Instagram at the time because I was mind-blown of like how many scenes, a company move, a big load-in, how many pages, and like what we were able to accomplish. Like, the level of quality and the level of... I just keep saying resources, but part of the resources is the caliber of the crew, where I'm just like, wow, these people are so good at their jobs. My gaffer Rich Neumann, my key grip Steve Paquette, our dolly grips and camera operators Peter Nolan and Dave Isern, who I met — not met, but got to work with on your music video. Just consistently, like I feel when I think about the highlights, and I think about the moments where I'm on set, and I'm just like, Wow, I feel such satisfaction right now, it has to do — I mean, sometimes, it's the actors, and the performance and the writing, and the directors, the caliber of the directors I'm working with — but a lot of times, it's the crew, where I'm just like, Wow, what, just how good, how good, I feel so blessed, I feel so grateful to be able to be working with people that are this good every day. And knowing that I get to stay here. And this isn't just some, you know, one-off feature that... I've had before amazing experiences where the crew gels and everyone's really passionate and people are talented. And it's like, Wow, we're creating something really special here. And then it's over. But to have that, to be like this is the team that I get to be a part of every day, for a long period of time, is just incredibly satisfying.
I mean, one of my favorite scenes was a parking garage shootout. I've come to learn that my favorite scenes so far have all been the action scenes. And I used to not really like doing much handheld. I don't mean as an operator, I mean, aesthetically, as a cinematographer. And now a lot of my favorite scenes are handheld scenes. Because those are the action scenes, I just have very strong opinions about what handheld is and is not appropriate for and it's definitely very appropriate for action scenes. So that, you know, whenever I get the opportunity to do something with complexity, and stunts and gunfights — I mean, I don't like violence, but there's also something very exciting and visceral to be in the midst of something where, you know, the stakes are high, and people are moving fast. And you know, it's exciting.
And I have a big night exterior coming up that I'm really excited about, because of the shift of the officers in our show, it is a daytime shift. So we don't have a lot of night work on our show, which has been really nice for the hours. But I have not yet gotten to do too many big night exteriors, and night exteriors are my favorite. And so, having the resources to you know, light up a few city blocks and you know, have a big, you know, bust or something and people coming from all directions, and a crane, and, you know, that those are the— I'm still, as someone who's new to, again, the having of resources, those are the kinds of things that I still get really excited about,
Iain Marcks: Are you thinking about at all about a roadmap for the future? Or are you really just kind of focused on the here and now and what you're doing?
Jendra Jarnagin: A little bit of both. The here and now is nice because I've spent so much of my career hustling, and like, the constant looking for work and the constant trying to get to the next stage, you know, to be able to let that go and be like, I have a job. I have a long term job. I have a job that people have heard of, that when... You know, because that was a whole thing about the indie films, is I could shoot a really great artistic indie film that no one's ever heard of it, and no one's ever seen it. And when they see it on your resume, it means nothing to them. And it's like, I've done this work. And, you know, nobody's heard of it, and people aren't watching it. And that's really not helping my career at all, sadly.
So to have a major credit, you know, that's... Even if people haven't watched the show, you know, from the advertising, you know, perhaps they've heard of the show, or at least are more likely to have heard of the show or know what it is even if they haven't seen it. Like, "Oh, you know what?" She's like, "Oh, I have this DP, you know what she's done?" It's like, "Oh, she shot, you know, a couple seasons of East New York," or whatever. And they're like, "Oh, wow. Yeah." And then that is like, legitimizing her for... You know, they know, they know what to do with you. You're not just an anonymous stranger or they, you know, people assume that you are not qualified or established. It's like this milestone, this big break, you know, this big break, I'm hoping will open doors in terms of having a whole other strata of projects available to me.
So, in that regard, I'm really hoping and glad to be letting go of the constant hustle aspect that I've lived in for so many years to, you know, just try and get a job. So yeah, I'm happy, very, very happy and I'm actually more happy in TV than I even thought I would be. And I love my show. I love my cast. I love my producers. As I've said, I love my crew. Our scripts are great. So I'm quite happy here.
Iain Marcks: Thank you so much, Jendra, for being here. And yeah, it was good talking to you again.
Jendra Jarnagin: Thanks for having me. And this was a really great experience.
American Cinematographer interviews cinematographers, directors and other filmmakers to take you behind the scenes on major studio movies, independent films and popular television series.
Subscribe on iTunes