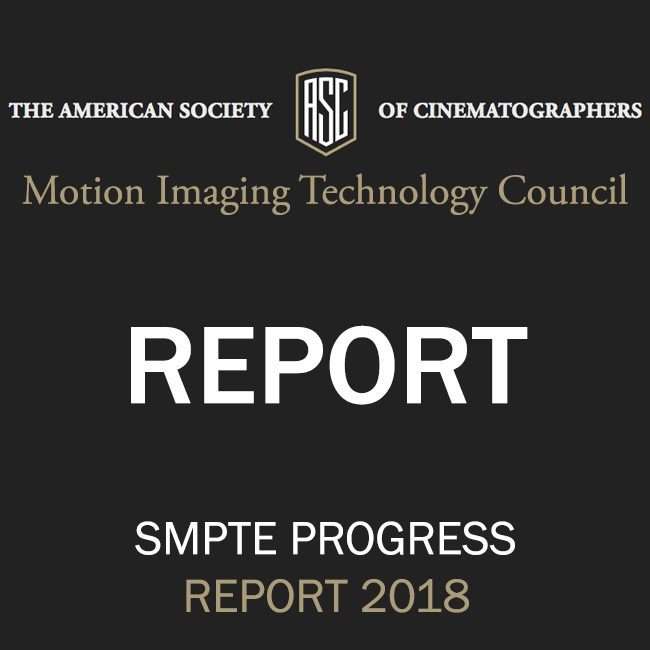 Download Report
Report Authors: Curtis Clark, ASC; David Reisner; David Stump, ASC; Bill Bennett, ASC; Jay Holben; Michael Karagosian; Eric Rodli; Joachim Zell; Don Eklund; Bill Mandel; Gary Demos; Jim Fancher; Joe Kane; Greg Ciaccio; Tim Kang; Joshua Pines; Pete Ludé; David Morin; Michael Goi, ASC; Mike Sanders; W. Thomas Wall
ASC Motion Imaging Technology Council Officers Chair: Curtis Clark, ASC
Vice-Chair: Richard Edlund, ASC
Vice-Chair: Steven Poster, ASC
Secretary: David Reisner, [email protected]
Introduction
ASC Motion Imaging Technology Council Chair
Curtis Clark, ASC
The American Society of Cinematographers (ASC) Motion Imaging Technology Council (MITC – "my tech") continues its well-established 15 year tradition of proactive engagement with the motion picture and television industry by playing a significant leadership role influencing the development of key motion imaging technologies to better support our filmmaking art form and the role of the cinematographer in its creation.
The past year has been a watershed year for advancing key motion imaging technologies on several fronts.

We continue to see the evolution of digital motion picture cameras incorporating high dynamic range (HDR) image capture in conjunction with significant developments in both spatial resolution (4K, 6K and 8K) and temporal resolution with higher frame rates, as well as large format sensors with wide color gamut (WCG). HDR enables visual storytellers to expand their creative canvas in terms of increased tonal contrast with enhanced highlight and shadow detail while maintaining dramatically improved blacks that utilize brighter image display. When filmmakers shoot and master using the wide color gamut of ACES (the Academy Color Encoding System), they can creatively make the most of this additional picture information, both color and contrast, while preserving its integrity throughout the workflow.
Parallel with these camera and workflow developments are significant advances in display technologies that are essential to reproduce this expanded creative canvas for cinema exhibition and TV (both on-demand streaming and broadcast). While TV content distribution has been able to take advantage of increasingly available consumer TV displays that support ("4K") Ultra HD with both wide color gamut and HDR, including HDR10 and/or Dolby Vision for consumer TVs, Dolby Vision for Digital Cinema has been a leader in developing laser-based projection that can display the full range of HDR contrast with DCI P3 color gamut. More recently, Samsung has demonstrated their new emissive LED-based 35 foot cinema display offering 4K resolution with full HDR utilizing DCI P3 color gamut.
Together, these new developments enable significantly enhanced creative possibilities for expanding the visual story telling of filmmaking via the art of cinematography.

We will continue to proactively engage key technology developments that are influencing our motion imaging future, including virtual production techniques, along with the evolution of virtual reality (VR).

The following reports from our Committees and Working Groups cover in detail the crucial work being done by our Council to address the growing array of motion imaging technology developments that are impacting the art of filmmaking.
As always, the ASC Motion Imaging Technology Council is guided by its primary mission to engage and influence motion imaging technology developments in ways that best serve the filmmaker's creative intent and the role of the cinematographer in realizing a creative vision that best serves that creative intent. As we traverse this radical terrain of unprecedented technology transition, it is imperative that we persevere in our mission to have a path embracing the new while preserving the artistic achievements of the past that have defined the art of filmmaking.
I would very much like to thank all those who generously devote their time and expertise to support the mission of the ASC Motion Imaging Technology Council.