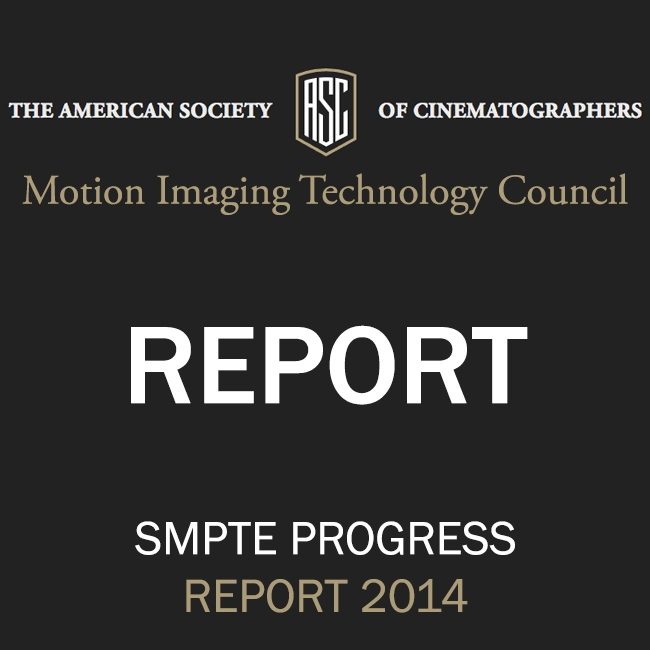 Download Report
Report Authors
Curtis Clark, ASC; David Reisner; Lou Levinson;
Al Barton; Greg Ciaccio; Gary Demos; Don Eklund;
Michael Karagosian; Garrett Smith; Michael Friend;
David Morin
ASC Technology Committee Officers
Chair: Curtis Clark, ASC
Vice-Chair: Richard Edlund, ASC
Vice-Chair: Steven Poster, ASC
Secretary: David Reisner, D-Cinema Consulting
---
From its inception in 2003, the American Society of Cinematographers (ASC) Technology Committee has been guided by its primary mission to engage and influence motion imaging technology
developments in ways that better serve and protect the filmmaker's
creative intent and the role of the cinematographer in realizing a
creative vision that best serves that creative intent.
In the year that has passed since our last ASC Technology Committee progress report for the SMPTE Motion Imaging Journal, we have
experienced an array of motion imaging technology developments
that provide a promising view of our filmmaking future, but also
present a challenging road map to achieve it. Central among these
developments are technology advances in laser projection; new
enhancements to digital display technology, i.e., High Dynamic
Range (HDR) Reproduction aka Extended Dynamic Range (EDR)
Reproduction for both monitors and laser projection; Ultra-high-definition-television (UHDTV), aka Quad HD, aka 4K TV; a new
wide gamut color space, Rec. 2020, to accompany UHDTV; and,
of course, Academy Color Encoding System (ACES) development.
Details of the work being done by our ASC Technology Committee
to address these developments is contained in our subcommittee
reports that follow.

Digital camera technology continues to evolve with various vendors entering the production scene offering new 4K cameras. Although 4K workflow solutions have also been evolving, there is
still the challenge of deploying high-capacity storage integrated
with greater bandwidth for SAN and NAS infrastructure to manage large file sizes that accommodate 4K RAW. The transition to
4K workflows for both Digital Cinema and "4K" TV has generated
renewed interest in highest quality compression codecs.

I'm delighted to report that our ASC CDL (Color Decision List)
was recognized by the Academy of Motion Picture Arts and Sciences (AMPAS) with Academy Technical Achievement Awards presented at this year's Sci-Tech Awards ceremony to five ASC Technology Committee members: Joshua Pines; David Reisner; Lou
Levinson; David Register; and me. This was a tremendous honor to
add to the 2012 Primetime Emmy Engineering Award that the ASC
received from the Academy of Television Arts and Sciences for ASC
CDL development work done by our ASC Technology Committee. These awards should also acknowledge valuable contributions
from numerous ASC Technology Committee members to ASC CDL
development.
ASC Technology Committee member David Stump's important
new book "Digital Cinematography" has recently been published.

I would like to thank all those who devote their time and expertise
to support the mission of our ASC Technology Committee.
Curtis Clark, ASC

ASC Technology Committee Chair