All Videos
Clubhouse Conversations — The Mandalorian
In this 87-minute discussion video, Emmy-nominated cinematographers Greig Fraser, ASC, ACS and Barry "Baz" Idoine — detail their approach to shooting the Disney Plus series The Mandalorian for interviewer Larry Sher, ASC.
A live-action Star Wars television series was creator George Lucas' dream for many years, but the logistics of television production made achieving the necessary scope and scale seem inconceivable. Fans would expect exotic, picturesque locations, but it simply wasn't plausible to take a crew to the deserts of Tunisia or the salt flats of Bolivia on a short schedule and limited budget. The creative team behind The Mandalorian solved that problem.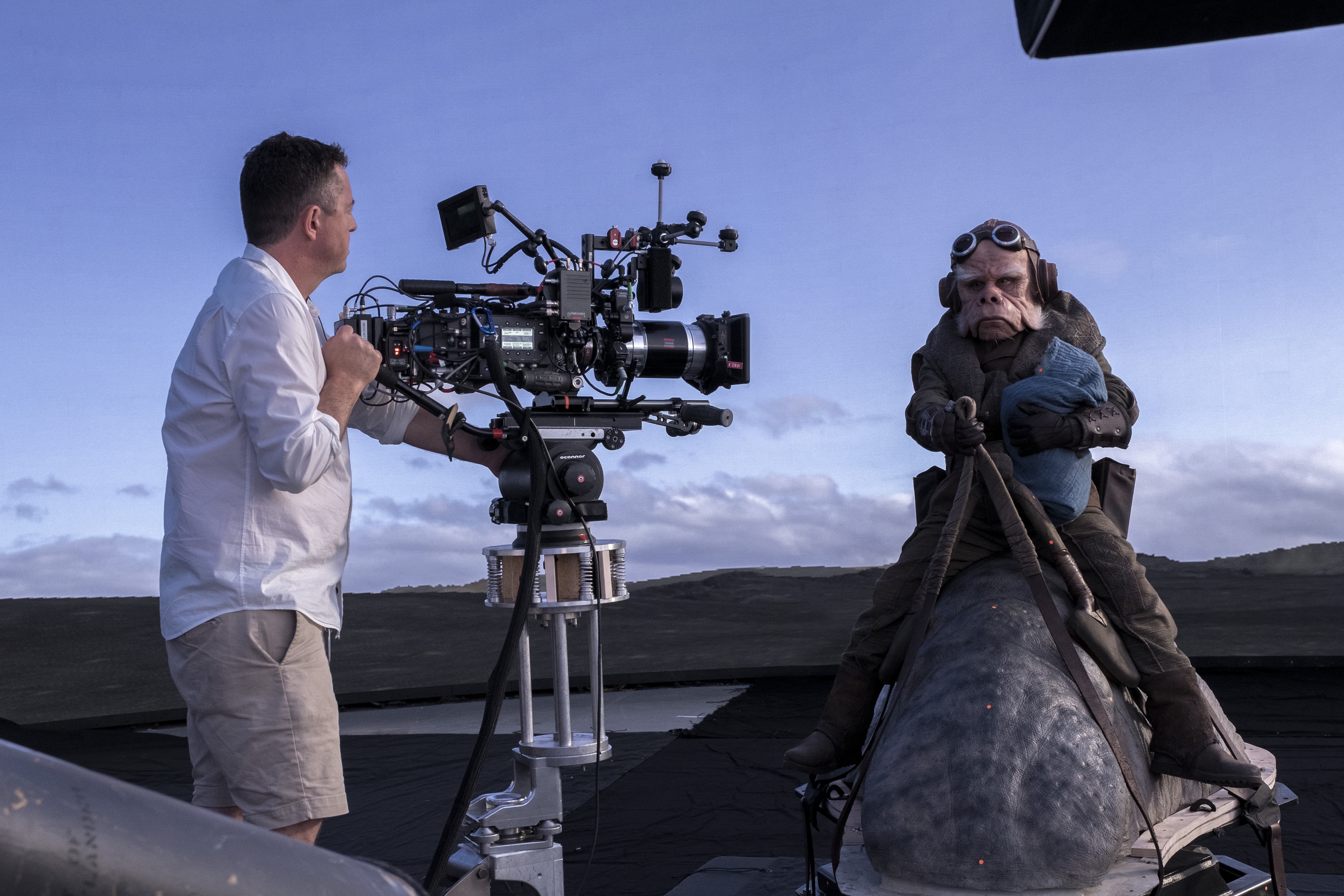 Greig Fraser, ASC, ACS sets a shot.

In order for The Mandalorian to work, technology had to advance enough that the epic worlds of Star Wars could be rendered on an affordable scale by a team whose actual production footprint would comprise a few soundstages and a small backlot. An additional consideration was that the typical visual-effects workflow runs concurrent with production, and then extends for a lengthy post period. Even with all the power of contemporary digital visual-effects techniques and billions of computations per second, the process can take up to 12 hours or more per frame. With thousands of shots and multiple iterations, this becomes a time-consuming endeavor. 
The Holy Grail of visual effects — and a necessity for The Mandalorian, according to co-cinematographer and co-producer Greig Fraser, ASC, ACS — was the ability to do real-time, in-camera compositing on set, by employing high-resolution LED screens coupled with game-engine technology to create interactive virtual exterior locations and interior sets. (You'll find AC's in-depth feature story on this process here.)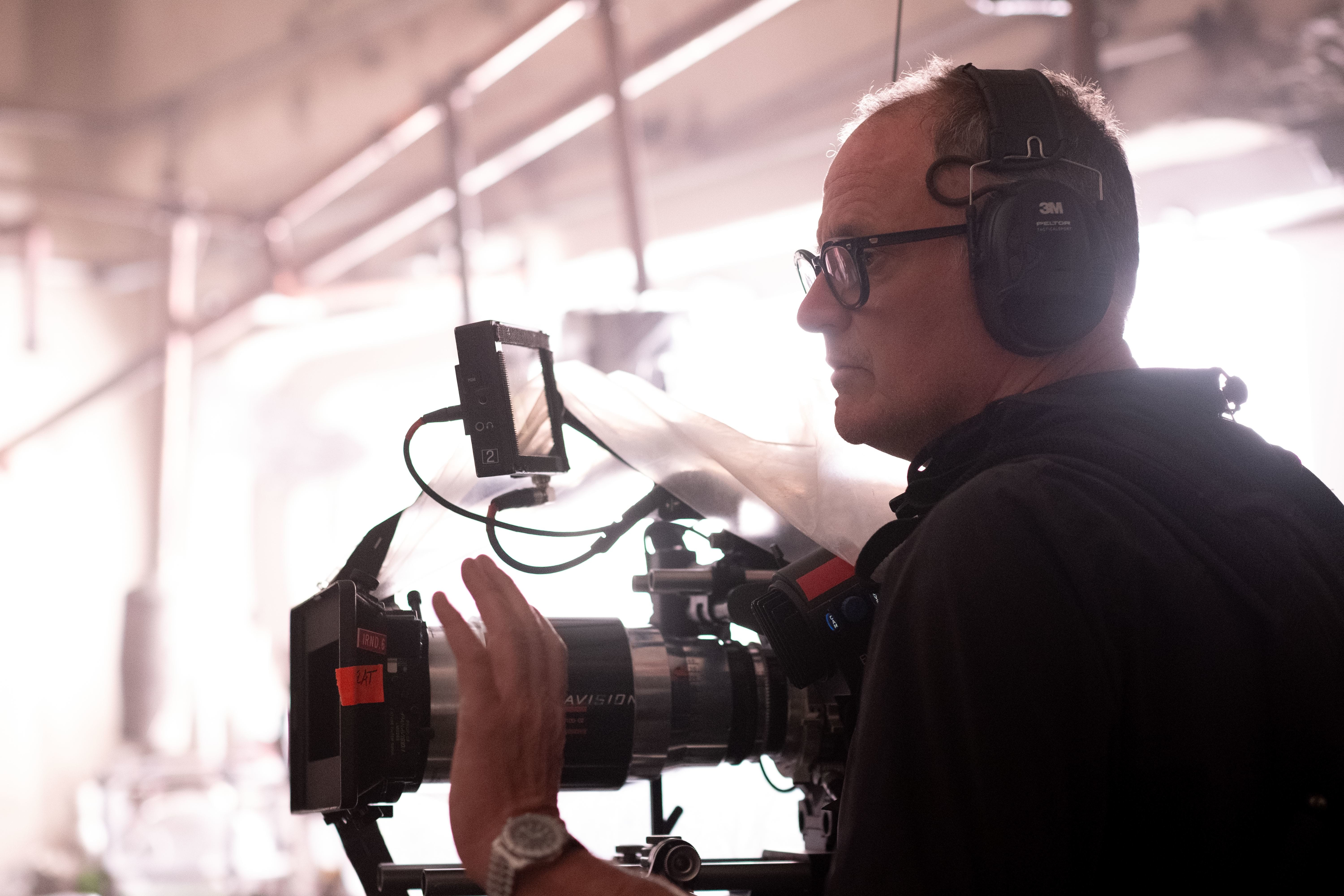 Barry "Baz" Idoine checks a composition.

A native of Australia, Fraser studied at the Royal Melbourne Institute of Technology and then focused on commercial still photography at the University of Melbourne. He later transitioned into shooting commercials and music videos and then narrative shorts. A break came when he was assigned to shoot second unit for Mandy Walker, ASC, ACS on the period drama Australia. One of his first Hollywood credits was the atmospheric thriller Let Me In, followed by such features as Killing Them Softly; Snow White and the Huntsman; Zero Dark Thirty; Bright Star, Rogue One: A Star Wars Story; Lion (for which he earned an Oscar nomination) and Mary Magdalene. He is currently shooting The Batman for director Matt Reeves.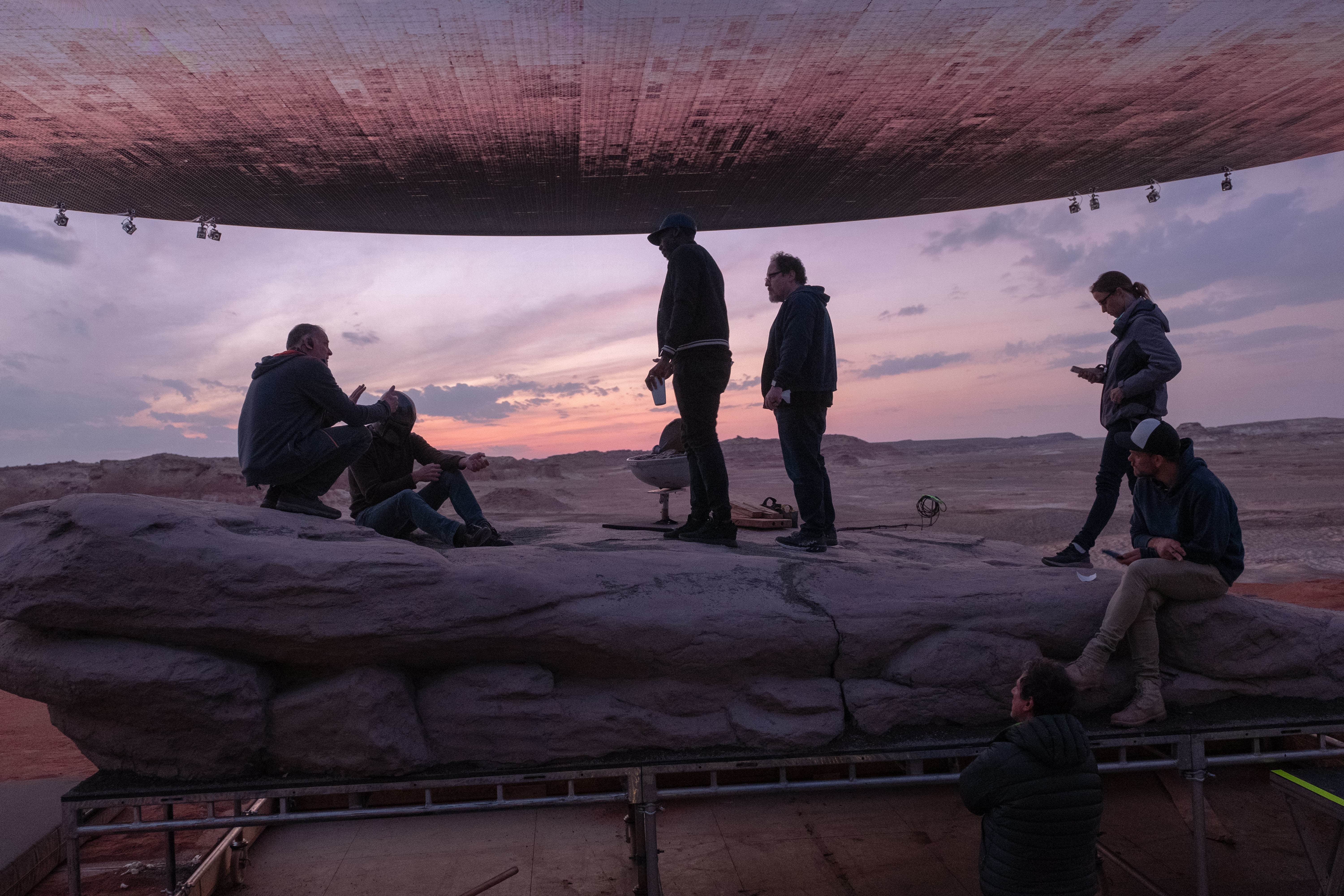 Idoine previously worked with Fraser for several years as a camera operator and second-unit cinematographer on features including Rogue One and Vice. He assumed cinematography duties on The Mandalorian when Fraser stepped away to shoot director Denis Villeneuve's upcoming sci-fi feature Dune. 
Idoine learned the art and craft of cinematography by rising up through the crew, starting as a clapper/loader, then camera assistant and operator, working with mentors including Dean Semler, ASC, ACS; Edward Lachman, ASC and Robert Elswit, ASC.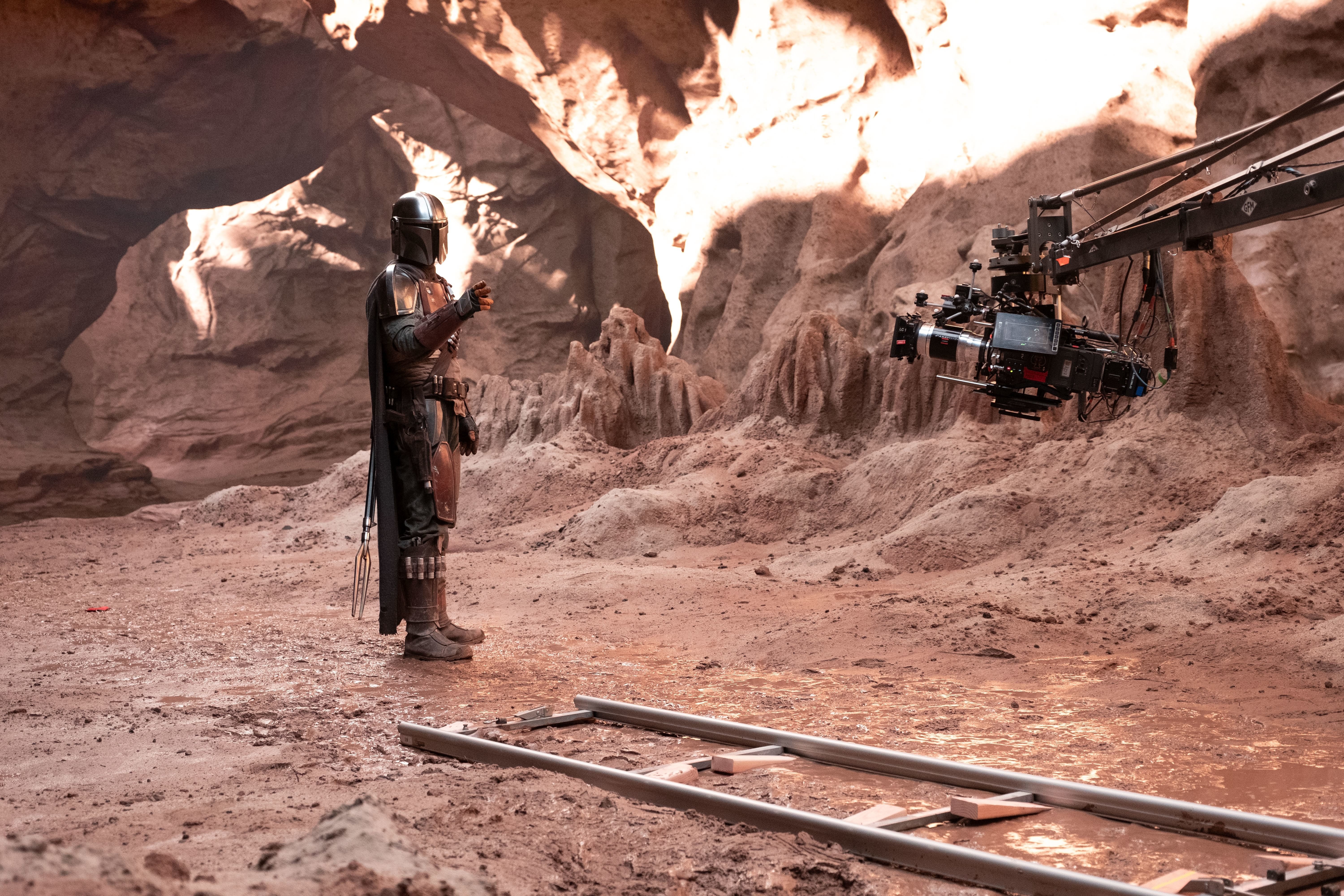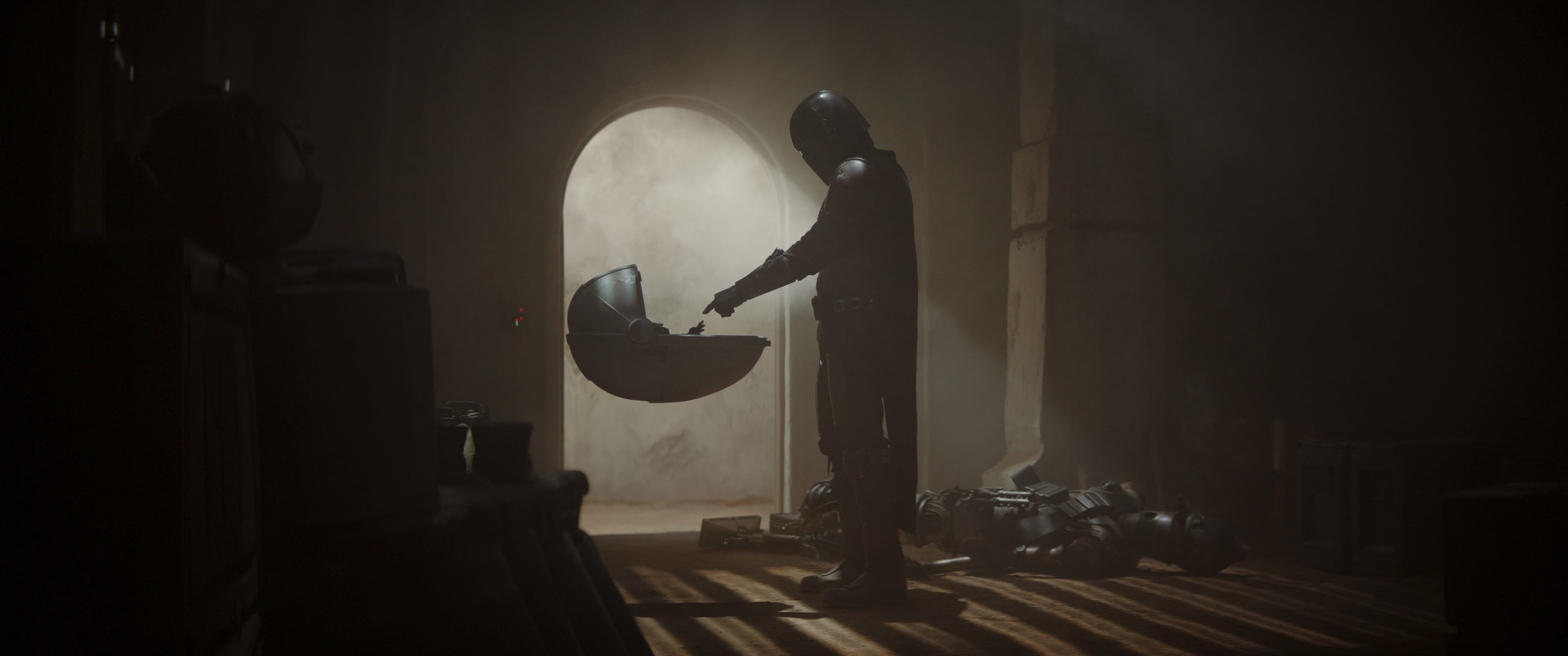 Born in New Jersey, interviewer Larry Sher's credits include Kissing Jessica Stein; Garden State; I Love You, Man; Paul; The Dictator and Godzilla: King of the Monsters. His most recent feature, Joker, marked the sixth collaboration between Sher and director Todd Phillips, following The Hangover trilogy, Due Date and War Dogs. For his camerawork on Joker, Sher earned the Golden Frog at Camerimage and Academy and ASC Award nominations.


You'll find more episodes in this discussion series here.