Canon Intros EOS 6D Mark II And EOS SL2 Cameras

Canon has updated two entry-level HD-video-only models in their lines of DSLR cameras: the full frame $1,999 Canon EOS 6D Mark II and the APS-C $549 EOS Rebel SL2.  
David Alexander Willis
At $1,999 for body only, Canon has announced the second generation to their lowest-cost full-frame DSLR model, the Canon EOS 6D Mark II, as well as a new update to the popular consumer family of interchangeable-lens, APS-C sensor Rebel cameras, the $549 Canon EOS Rebel SL2. Both will street in late July. Priced as gateway models to the world of swappable lenses, as such, both are only capable of a somewhat miserly maximum video resolution of full HD at 60p with MPEG-4 AVC H.264 compression.

Announced at Photokina in September of 2012, the original EOS 6D was the first DSLR in Canon's line to bring full frame near the $2,000 price bracket. While a maximum resolution of 1920 x 1080 at up to 30fps was a hallmark of the times, the new EOS 6D Mark II gives the system only a slight overhaul by doubling that rate at 60fps, surprisingly, eschewing 4K entirely. It does offer an internal HDR-capture mode. Internal time-lapse is also available in up to 4K on the 6D Mark II and HD on the Rebel SL2.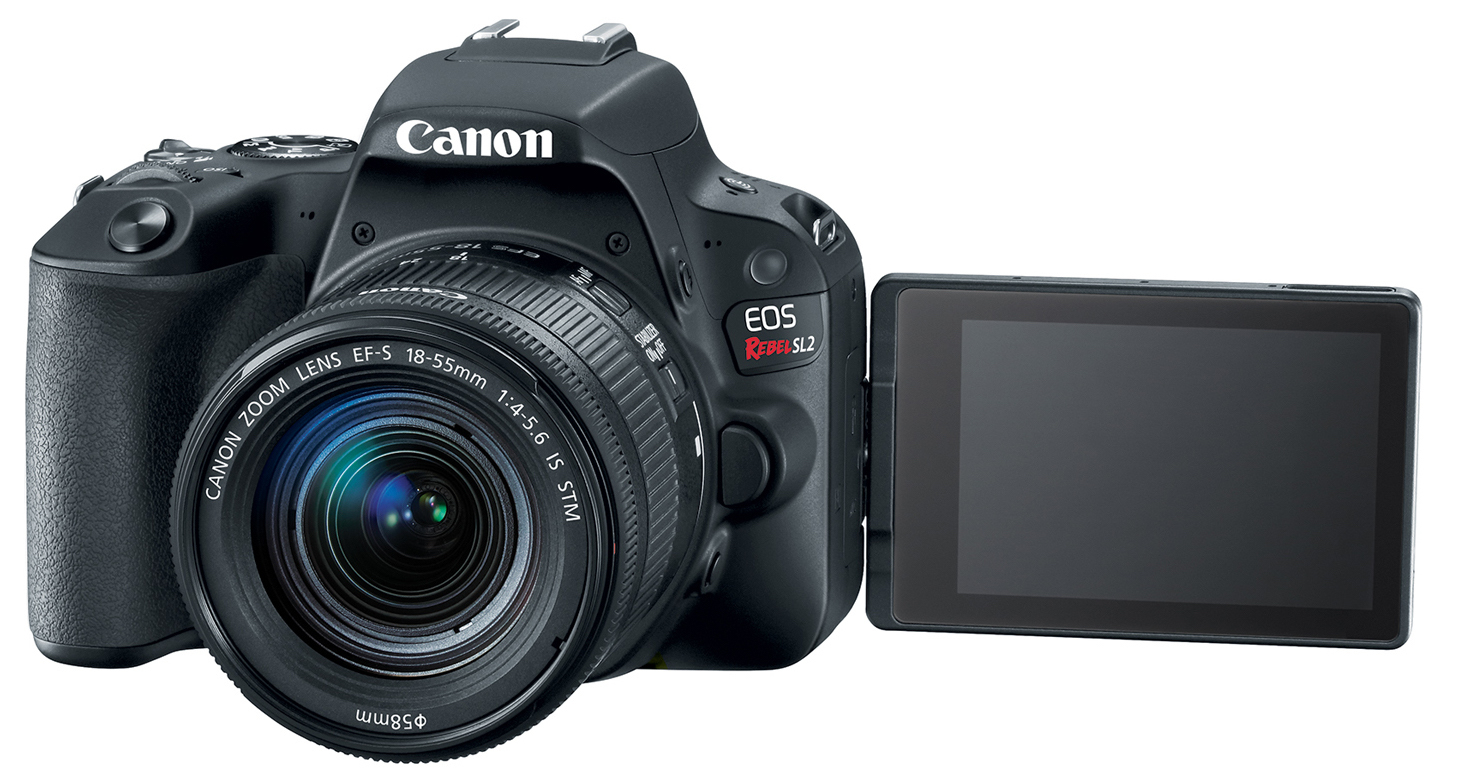 Both models have an articulating 3.0-inch Vari-angle Touch Screen, which is pretty handy for video, as well as Canon's well-liked Dual Pixel CMOS AF autofocus tracking system. There are several boosts to the still-shooting capabilities of EOS 6D Mark II, like a maximum 6.5fps burst rate, which was 4.5fps in the EOS 6D, 45 all-cross-type autofocus points over the previous offering of 11, and a native ISO range of 100-40,000, up slightly from 100-25,600, with expandable available up to ISO 102,400.

The EOS 6D Mark II will also be available as kit purchases; $3,099 with the Canon EF 24-105mm (f/4) L lens and $2,599 with the Canon EF 24-105mm (f/3.5-5.6) STM lens. The EOS Rebel SL2 with Canon EF-S 18-55m (f/4-5.6) IS STM lens are bundled at $699. Find out more at www.usa.canon.com.