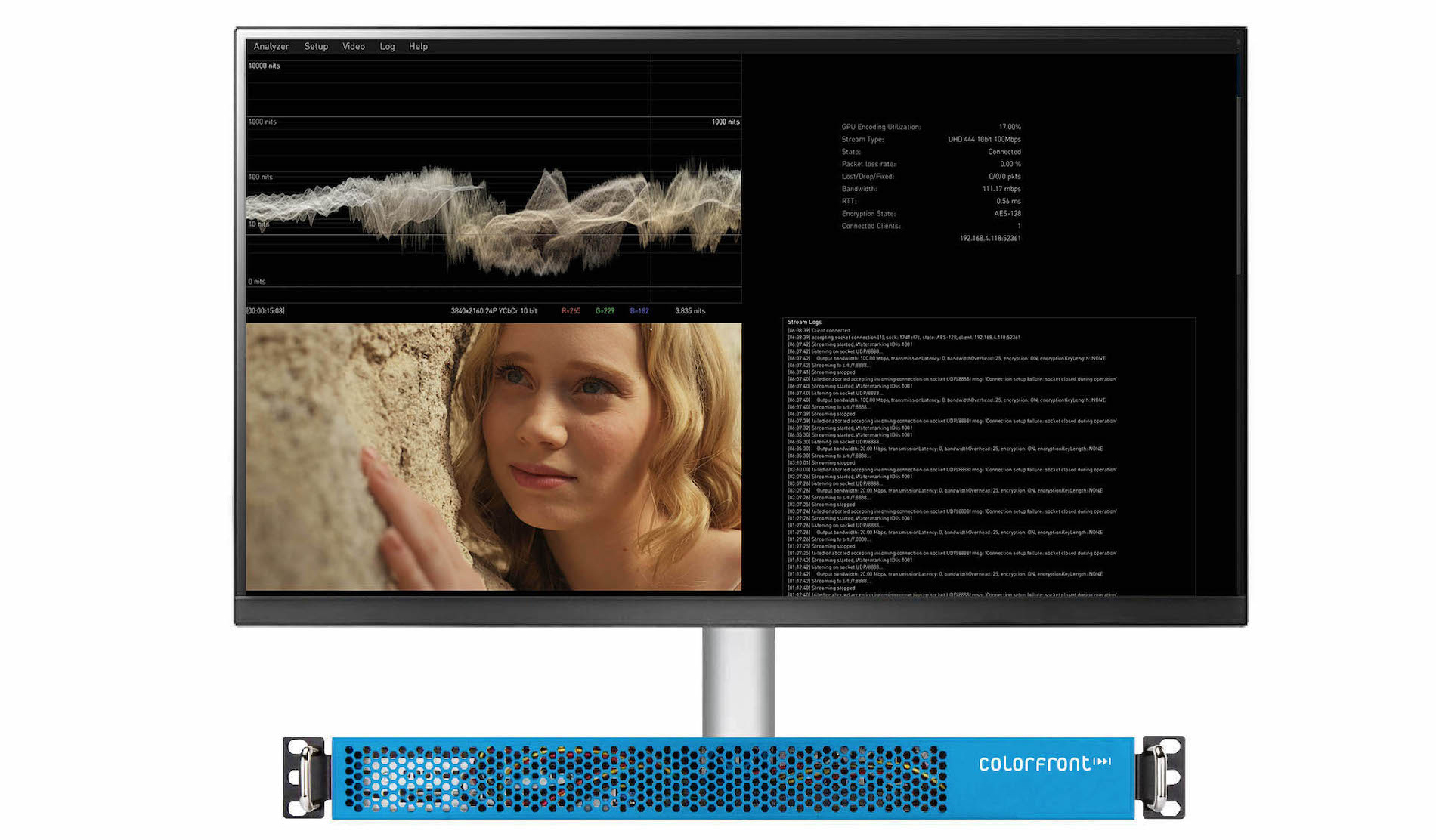 Colorfront Announces Advanced Streaming Gateway
The private, user-owned/operated SRT gateway supports secure livestreaming to many destinations simultaneously.
ASC Staff
The private, user-owned/operated SRT gateway supports secure livestreaming to many destinations simultaneously.
Colorfront has announced Advanced Streaming Gateway, which enables secure livestreaming to multiple destinations.

Advanced Streaming Gateway is a private, user-owned/operated SRT gateway that is available on AWS cloud or data center of choice. It supports secure streaming to many destinations simultaneously when using Colorfront systems or third-party SRT streaming servers or clients. Along with advanced security and frame- and color-accurate reliability, it provides usage reporting and service telemetry and integrates with Colorfront Broker global scheduling and management service.
Colorfront's live-streaming systems have been deployed in the post pipelines of major features such as Being the Ricardos (Amazon Studios) and The Unbearable Weight of Massive Talent (Lionsgate).
Colorfront Streaming Server is an 1RU server appliance powered by Colorfront Engine to deliver color-managed pipelines with guaranteed color integrity on SDR/HDR materials. Streaming Server can simultaneously stream up to four channels of 4K 4:4:4 or 4:2:0 256-bit AES-encrypted, reference-quality video (including DolbyVision and high-frame-rate 3D Stereo), plus up to 16 channels of 24-bit AAC or uncompressed PCM audio, to remote clients anywhere in the world over public internet.
Colorfront Streaming Server Mini is a software product for Mac/PC workstations that artists can use to encode and livestream, frame-/color-accurate, reference-quality work in progress over the public internet to multiple production stakeholders in any location directly from their NLE, compositing and color-grading systems.
Colorfront Streaming Server Mini is installed on host workstations with AJA or Blackmagic video i/o and works in real time with HD/2K content, in SDR/HDR, supporting Dolby Vision and multi-channel audio. Secure Reliable Transport Protocol and 256-bit AES encryption are used to ensure content remains protected. Streaming Server Mini software is available for download today from Colorfront's website.
Colorfront Streaming Player is video-receiver software for critical remote viewing and QC. It decodes the encrypted HEVC live stream from Streaming Server and Streaming Server Mini, as well as Colorfront's Transkoder and Dailies products, and supports color-accurate, professional video output at target luminance levels on different HDR-capable consumer and prosumer displays and professional monitors. Security includes Touch ID and Face ID biometric authentication, enterprise-level Single Sign-On and Multi-Factor Authentication.
Streaming Player is available as an app from the App Store for iPhone, iPad and the Apple TV, and also runs on Windows and Mac platforms, for which a range of monitoring options are available. AJA T-Tap Pro allows users to connect to prosumer OLEDs and review in Dolby Vision, PQ, Hybrid Log Gamma and HDR10; Blackmagic Design's UltraStudio 4K Mini enables 4K HDR output via both SDI and HDMI, and Apple Mac Studio, M1 Mac Mini and MacBook Pro allow connection to an Apple XDR Pro display directly via Thunderbolt 3 or to a prosumer OLED monitor via the HDMI output.
Follow Colorfront on Facebook and Twitter.
Follow American Cinematographer on Facebook, Twitter and Instagram.