Range of New Rokinon Optics Available
Additions include "Special Performance" manual-focus 14mm (F2.4) prime, which offers full-frame as well as Super 35 coverage on Nikon F-mount cameras.
David Alexander Willis
Additions include "Special Performance" manual-focus 14mm (F2.4) prime, which offers full-frame as well as Super 35 coverage on Nikon F-mount cameras.
Lots of new glass has been coming out lately from Rokinon, which makes a variety of affordable primes for several popular lens mounts. (See previous update here.)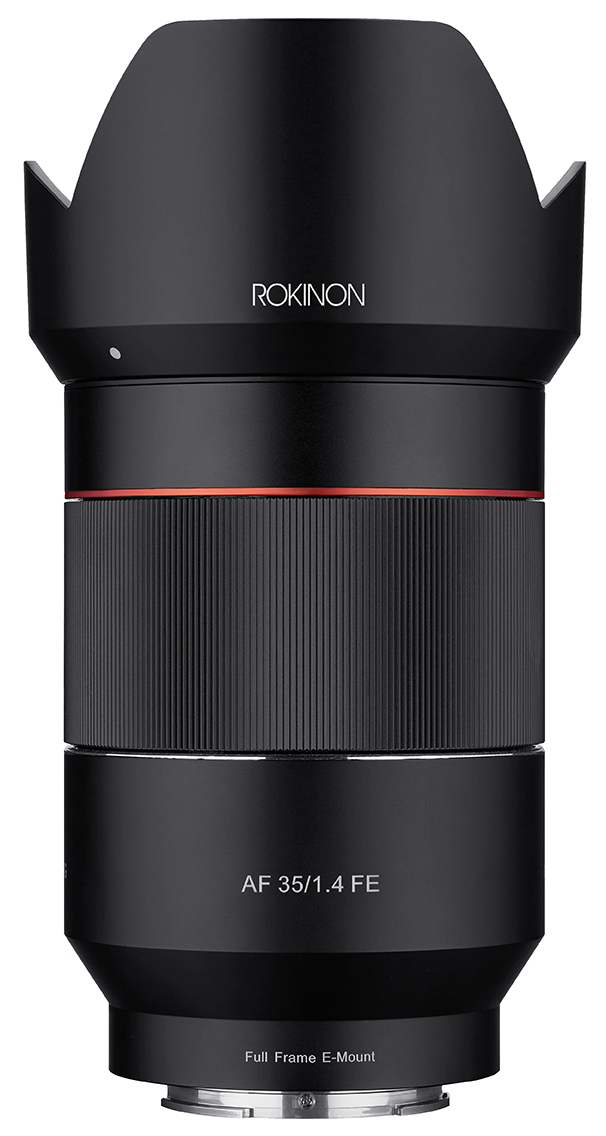 Their latest is the Rokinon 35mm (F1.4) AF for Sony E-mount cameras. Priced at $799, it joins three autofocus full-frame lenses already available in the line: 14mm (F2.8) AF, 35mm (F2.8) AF and 50mm (F1.4) AF.
The 35mm lens has 9-blade diaphragm and a "new, quiet, fast, and precise" IF (Internal Focusing) autofocus system. Construction includes two aspherical and two High-Refractive Index lens elements plus an Ultra Multi lens coating for minimized aberrations. The full-frame lens will also work with APS-C E-mount cameras from Sony for an equivalent 52mm field of view.
Joining the already available Canon EF-mount Rokinon SP 14mm (F2.4) and 85mm (F1.2) lenses, their new Rokinon SP 14mm (F2.4) is also now available for Nikon FX full-frame and DX Super 35-sized APS-C cameras. Supporting Nikon's F-mount, which will accommodate to FX- or DX-format cameras accordingly, the lens joins the other two Rokinon SP focal lengths as the third of three currently available models in the company's new SP family of "Special Performance" lenses.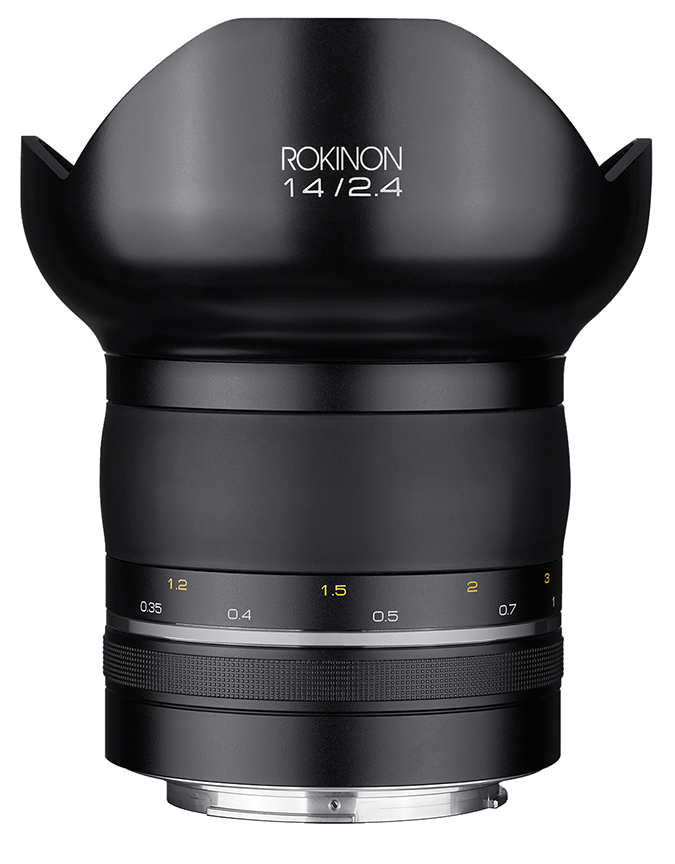 With AE autoexposure chip support, company claims that "the SP series has raised Rokinon's acclaimed image quality to the next level necessary for 50 megapixels photo and 8K video productions."
In the Rokinon SP 14mm (F2.4), there are 18 lens elements in 14 different groupings, including two aspherical, two ED "Extra-low Dispersion," three high-refractive-index, and an hybrid aspherical. Elements in the design feature an Ultra Multi-Coating applied to minimize ghosting, aberrations and flaring, while also heightening sharpness and color fidelity.
Notable at the price point of only $1,299, nine diaphragm blades are included for smooth bokeh to background elements. Listing at $999, the Rokinon SP 85mm (F1.2) is available for Canon EF. With one aspherical and two high-refractive-index elements, the portrait lens has 10 elements in seven groups. At 2.31 lbs and 3.87" in length, the minimum focus is 2.6'. Filter thread is the commonly used 86mm diameter. With eight-blade aperture and nine elements in seven groups, the comparable Rokinon 85mm T1.5 Cine DS is available for $399.
Also available for full-frame Nikon F coverage as well as Canon EF, Sony E, and Micro Four Thirds, Rokinon announced the Rokinon Cine DS 16mm (T2.6) in late May. At $599, the Rokinon Cine DS 16mm (T2.6) has nine-blade aperture with 14 elements in 11 groups. Featuring a minimum focus of 11.02", the angle of view on 35mm is 106.9º. There are now 12 primes in the Cine DS line.
The Nikon AE chip on the new Rokinon SP 14mm (F2.4) will work with EXIF metadata and camera metering for autoexposure and control modes to shoot in Auto, Program, Aperture-Priority, Shutter Priority and Manual.
Rokinon, manufactured through Samyang, produces several lines of lenses, including the roughly twice as expensive Xeen Cine Prime family for PL, Nikon F, MFT and Canon EF mounts.
A Rokinon six-lens carry-on OEM case (model XNCASE-CO) accomodating Xeen lens sets was released in August: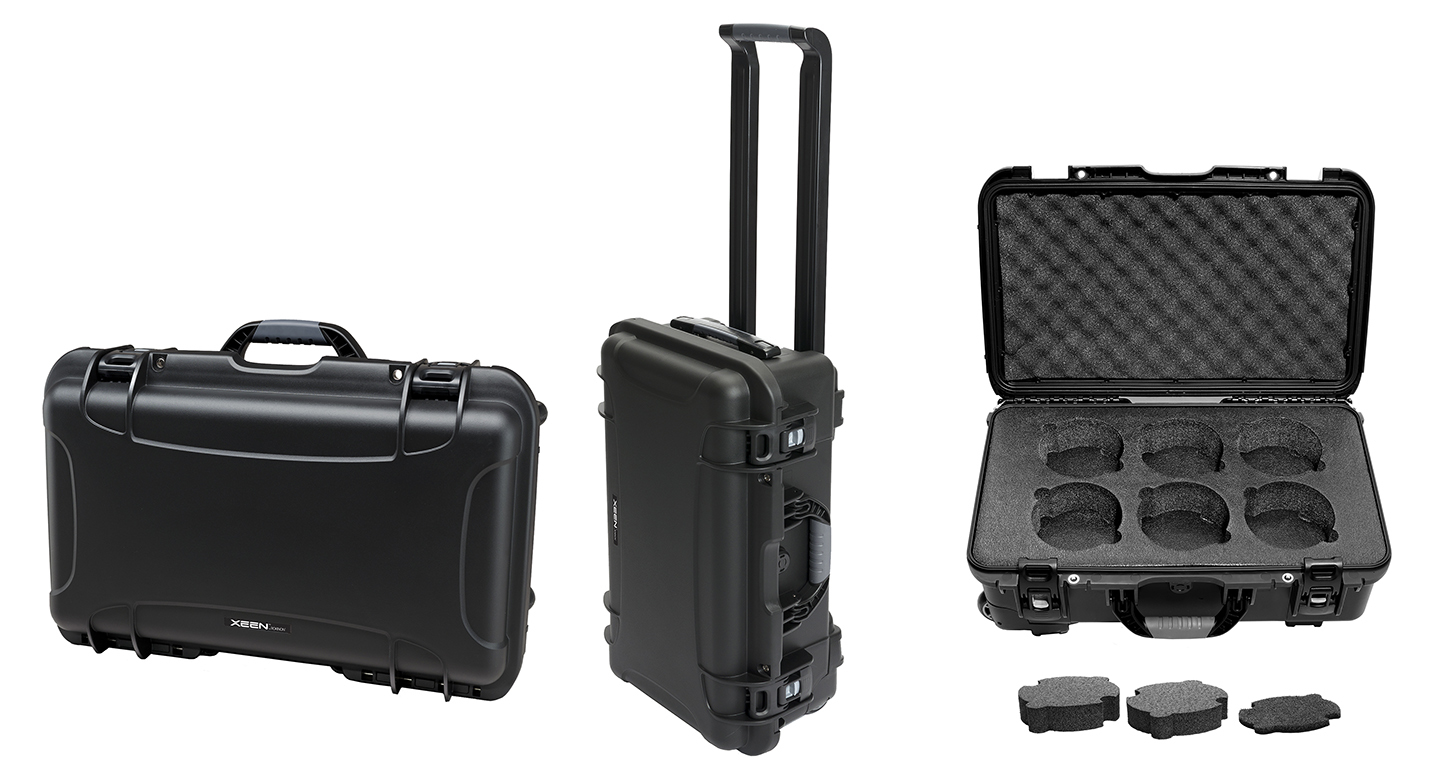 The much more affordable and compact Digital Photo and Cine DS lenses are offered as third-party choices for DSLR and smaller camcorder solutions.

Find out more at rokinon.com and samyanglensglobal.com.