DJI Mavic 2 Pro and Mavic 2 Zoom Camera Drones
Collapsible for easy carrying, DJI's latest flagship consumer drones fly for 4K.
Both at backpack-sized dimensions of 84mm x 91mm x 214mm, DJI has updated their Mavic Pro family with the $1,449 Mavic 2 Pro and the $1,249 Mavic 2 Zoom. With 3-axis gimbal capable of stabilization all the way up to the top available flight speed of 72kph (44mph), DJI says the flight time of up to 31 minutes per charge is the longest available in a consumer drone.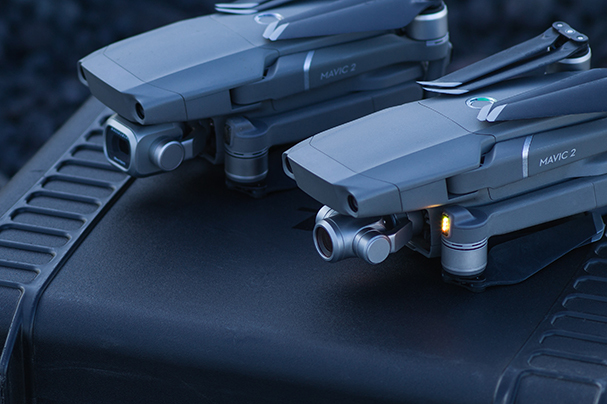 The Mavic Pro 2 expands the light-gathering real estate of the original Mavic sensor by 4x. This results in much better dynamic range and signal-to-noise ratio as well as enhanced low-light performance over previous versions. Supporting HDR-grade video, the Mavic Pro 2 is centered around a 10-bit, 20-megapixel 1" CMOS and Hasselblad L1D-20c camera.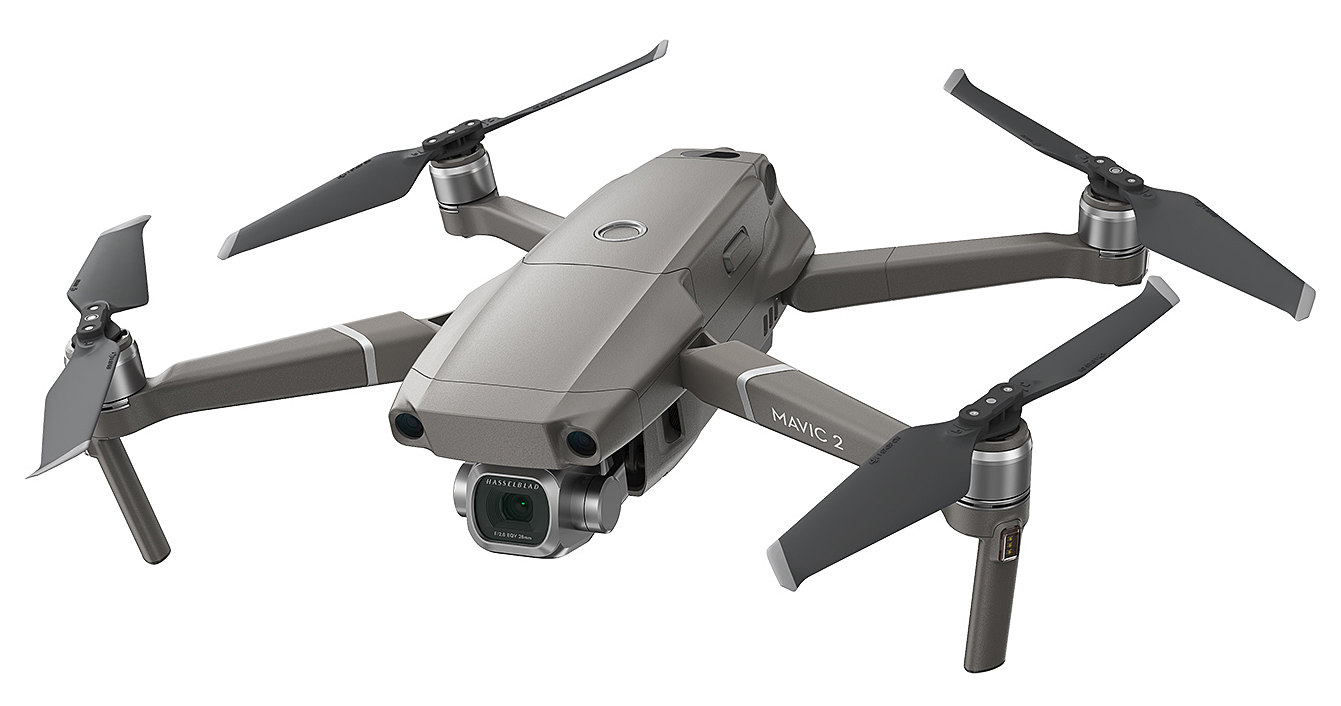 Employing Hasselblad's Natural Colour Solution (HNCS) as color science and Dlog-M for color profile, the Mavic Pro can be played back without any color grade using 4K HDR monitors and televisions equipped with Hybrid Log Gamma (HLG). Capable of 20-megapixel aerial stills, the integrated 28mm lens (FOV: about 77 degrees in 35mm equivalence) has adjustable aperture of f2.8-11 and was co-engineered in partnership with Hasselblad. (In 2016, DJI purchased a minority stake in the Swedish company, which is renown for its medium-format photography cameras and lenses.)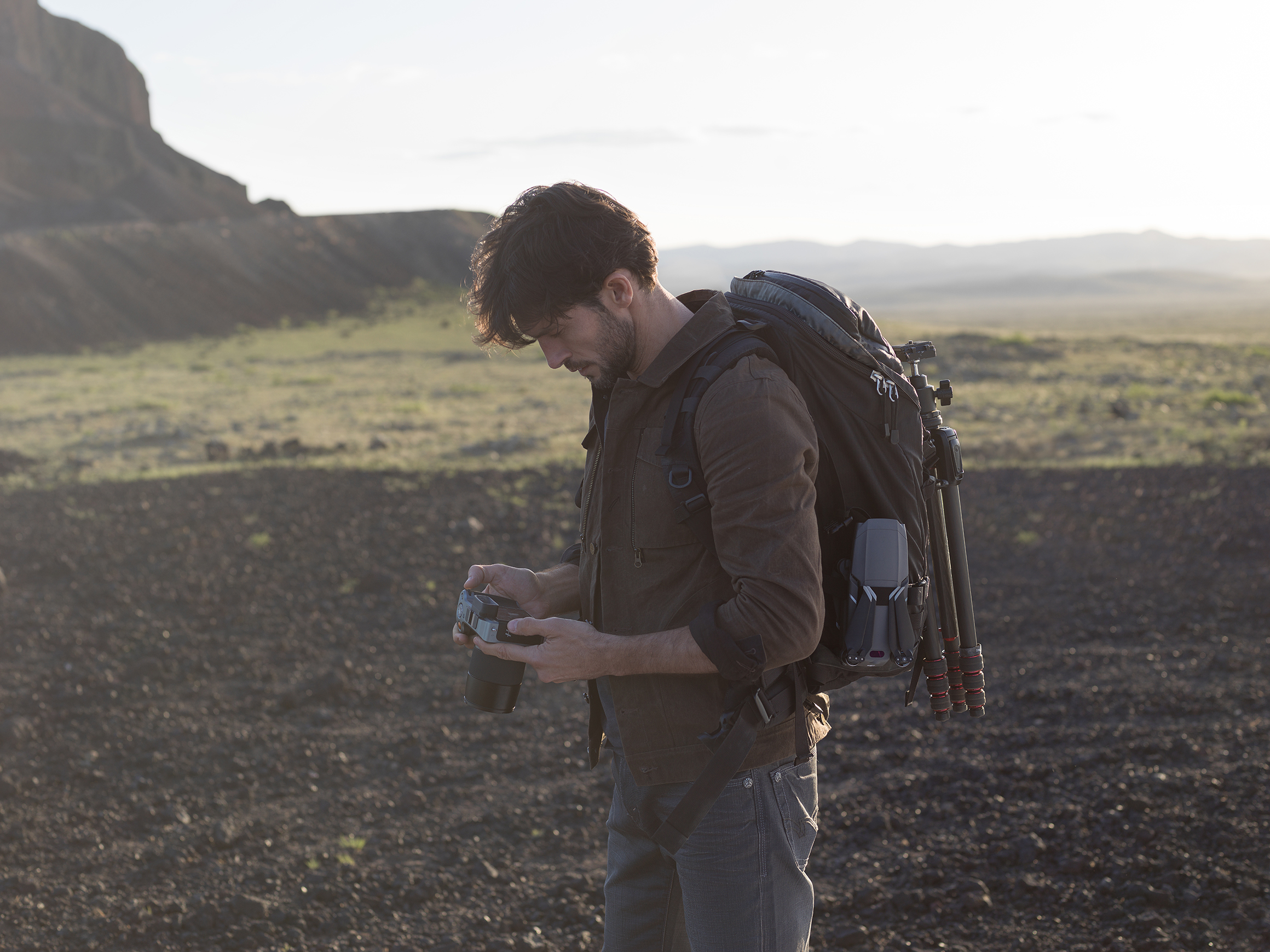 The f2.8 24-48mm focal range (FOV: about 83 degrees at 24mm to about 48 degrees at 48mm) is the key feature on the Mavic 2 Pro's sister-model, the Mavic 2 Zoom, which is also the first foldable drone from DJI with incorporated zoom lens. With a smaller 12-megapixel, 1/2.3" CMOS 4K sensor, the 2x optical zoom can be combined with digital zoom for a 4x "Lossless Zoom," as DJI refers to it, giving equivalent crop of a 96mm telephoto in FHD resolution.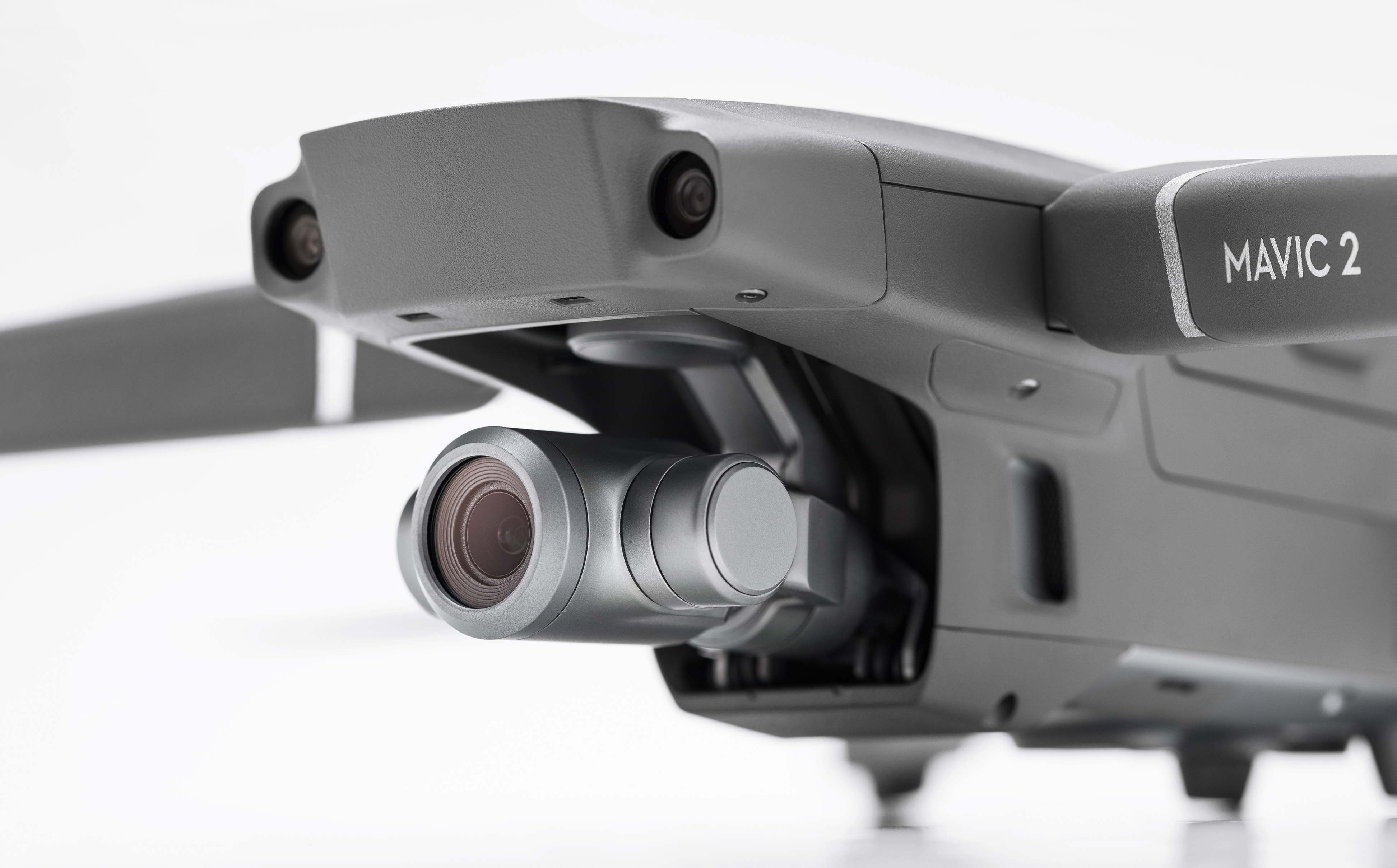 Unique to the Mavic 2 Zoom, DJI's new Dolly Zoom is a QuickShot mode that couples automatic focus with variable speed values to create adjustable warping visual effects. For landscape and cityscape photography, a 48-megapixel "super resolution" photo can also be composited though the Mavic 2 Zoom, which takes nine plotted 12-megapixel captures at 24mm and combines them automatically.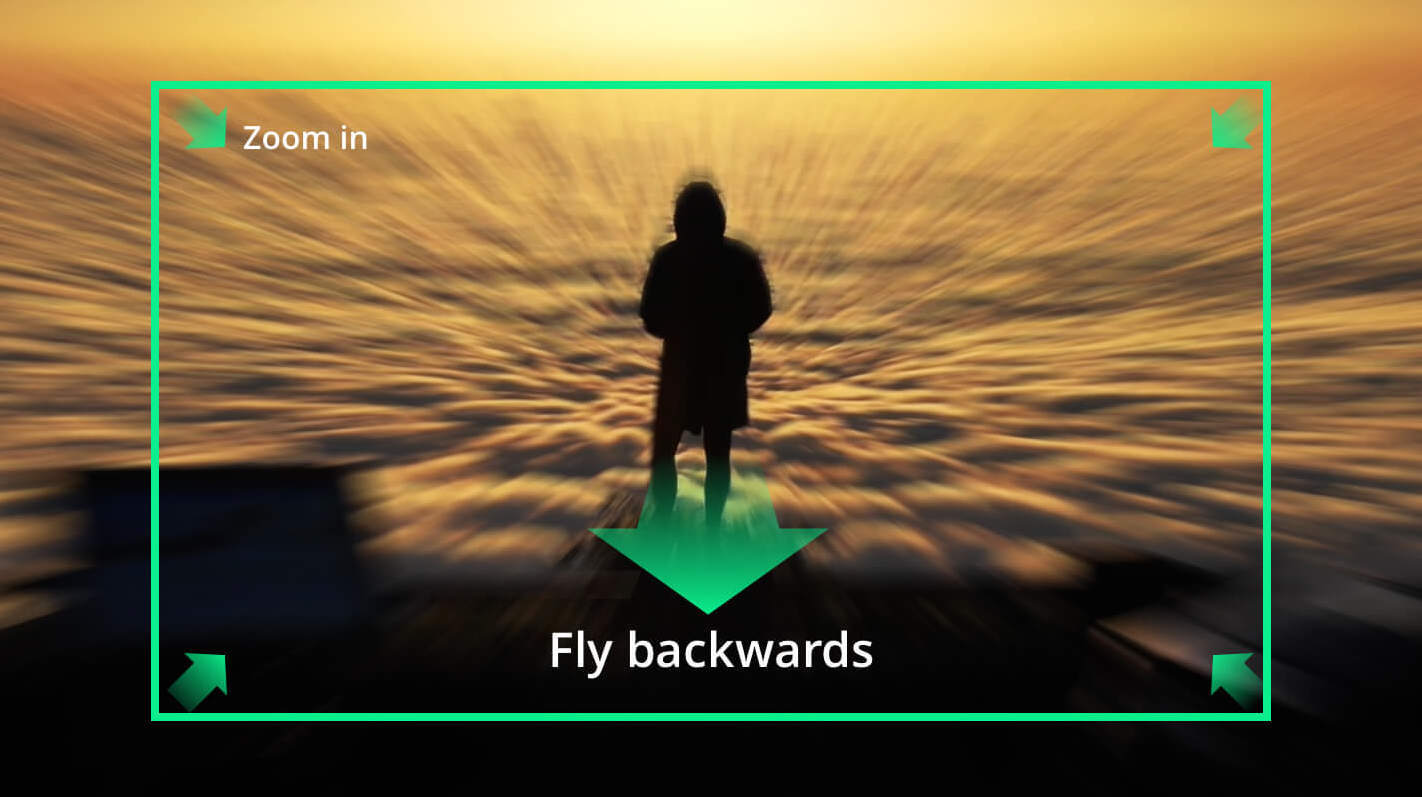 Both Mavic Pros offer more creative possibilities, like HyperLight setting for shooting in low-light scenes, or Hyperlapse video to produce establishing shots using JPEG or RAW sequences that will show the passage of time. A Task Library can save and repeat these and other flight paths. From simpler flight patterns to more advanced, standard timelapses are also available in Circle, Course Lock, Waypoint, or Free flight. There are four panorama modes: Sphere, 180º, Horizontal and Vertical.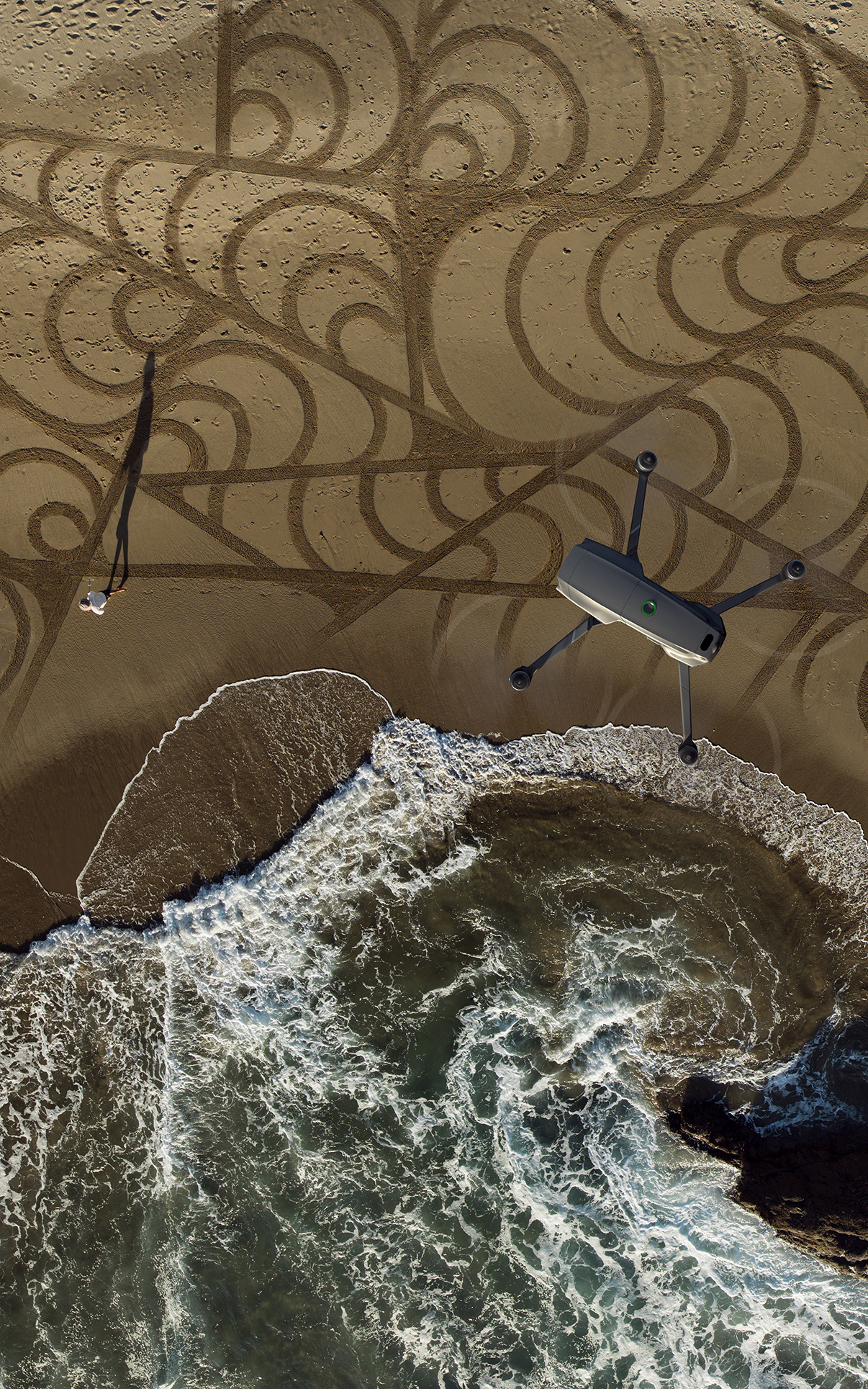 For stills, an Enhanced High Dynamic Range setting will blend photo sequences to achieve a "ghost-free" dynamic range of 14 stops in the Mavic 2 Pro, or 13 with Mavic 2 Zoom. With trajectory predictions, ActiveTrack 2.0 will act as camera assistant to follow a subject by using 3D mapping triangulated from the two forward sensors and main camera. Hybrid autofocus combines both phase and contrast detection techniques for accuracy and an increased focusing speed of up to 40 percent over the original Mavic Pro.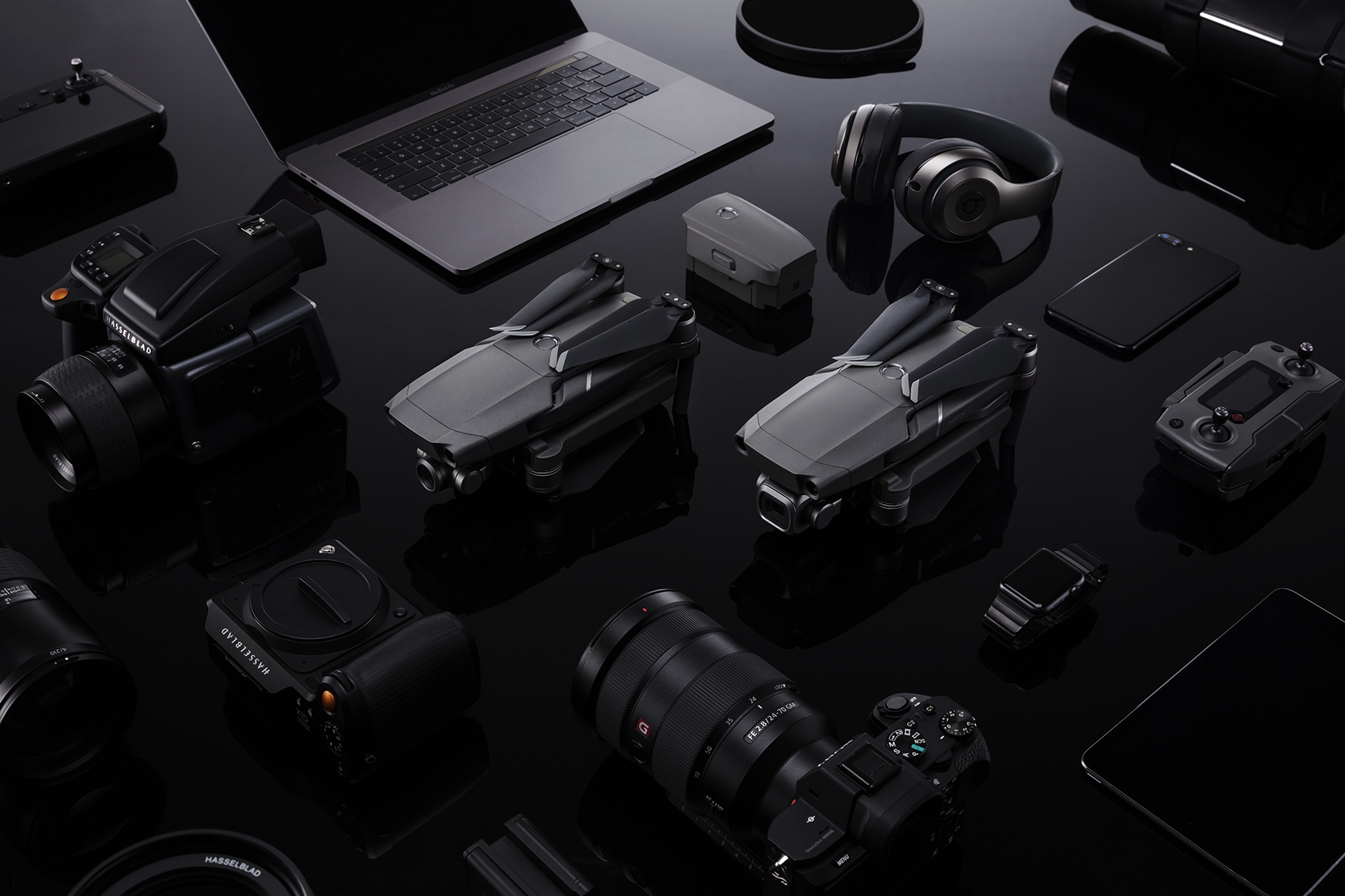 In addition to Advanced Pilot Assistance Systems (APAS) that assist in avoiding obstacles to the front and stern, safety is assisted through DJI's FlightAutonomy data system and Omnidirectional Obstacle Sensing. With ten sensors addressing all sides of the Mavic 2 aircraft, auxiliary light is provided at the base to assist during conditions with poor sight. The Mavic 2 drones also have a low-noise construction, muffled propulsion, and propellers designed for silent flying.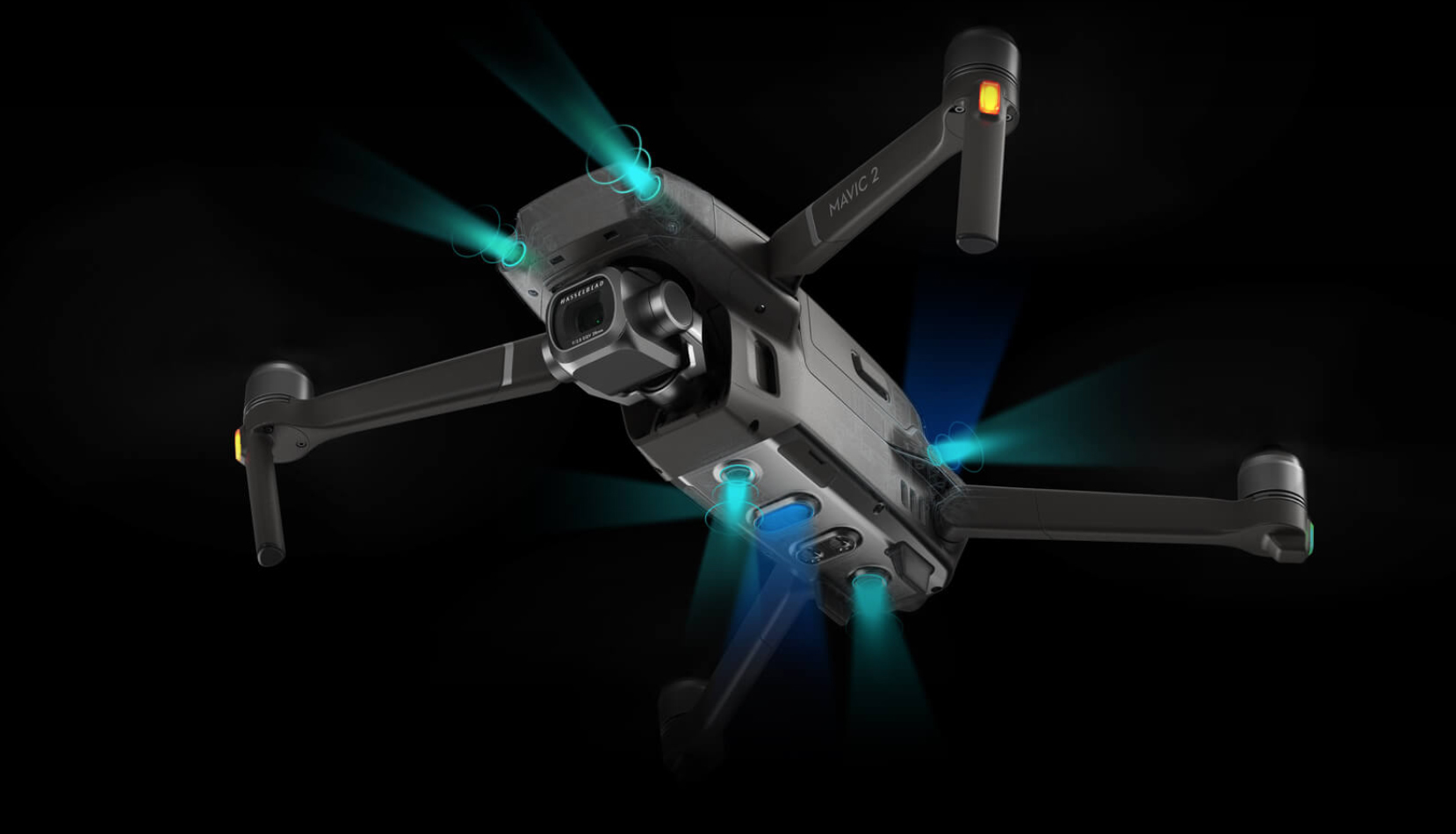 With H.265 at a maximum bitrate of 100 Mbps, the latest iteration of the HEVC compression gives up to 50 percent more image information than preceding H.264/AVC video, which is also available. The OcuSync 2.0 video transmission network can send 1080p at 40Mbps up to 8km over auto-switching 2.4GHz and 5.8 GHz channels for a low latency of only 120ms.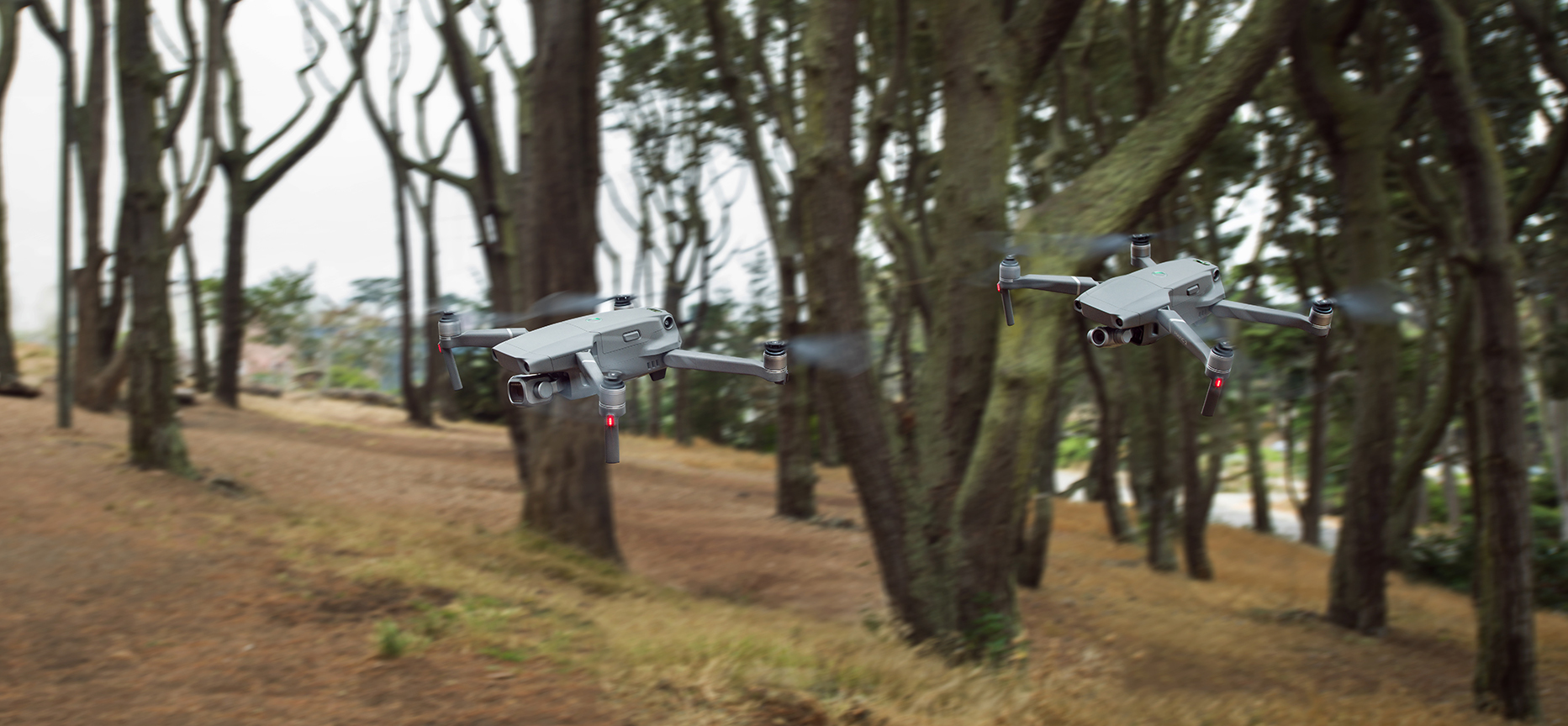 "When the Mavic Pro was launched two years ago, it redefined the way people looked at a drone and expanded possibilities for creators around the world," said Roger Luo, President at DJI, in the press release. "Today, we enter a new era of aerial photography with the introduction of DJI's new flagship product, the Mavic 2 series."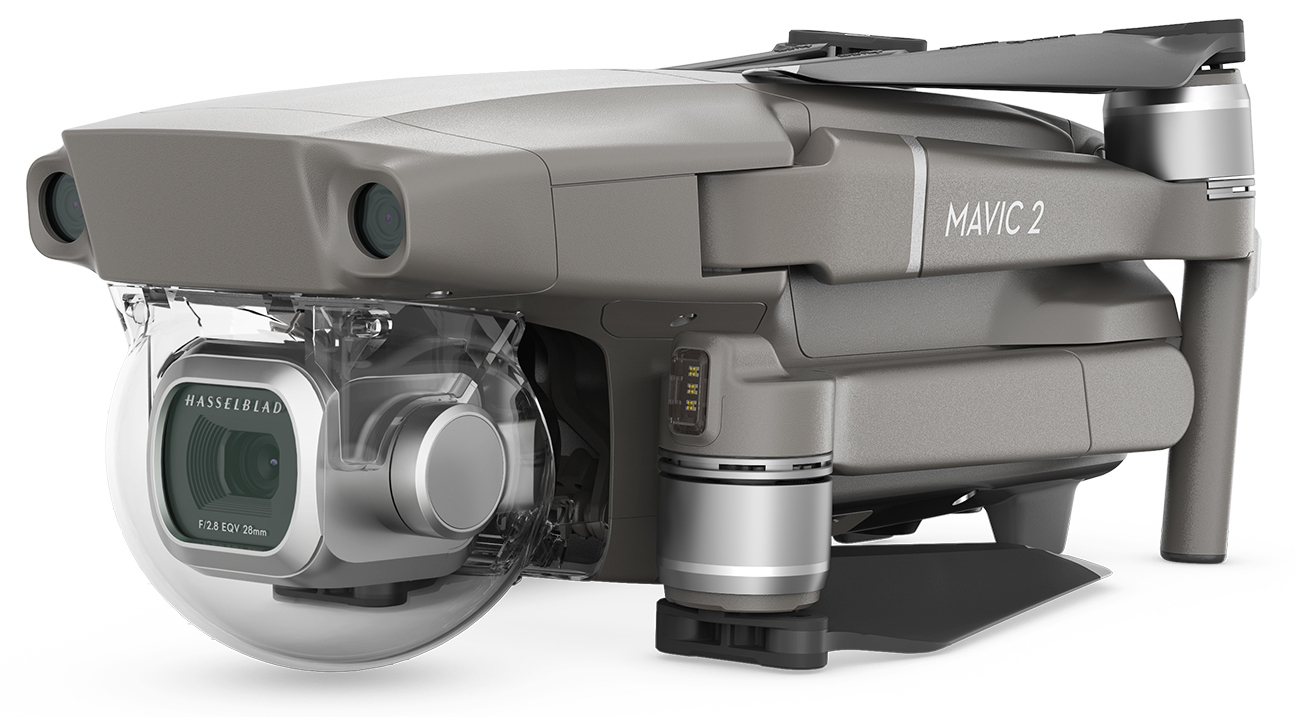 Four pairs of propellers, battery with charger, and remote controller are included with the Mavic 2 Pro and Mavic 2 Zoom. The systems come with fitted shoulder bag and a set of ND filters from DJI that are equal to 2, 3, 4 and 5 stops in light reduction. Alongside 8GB of internal capacity, they support SD cards for capture.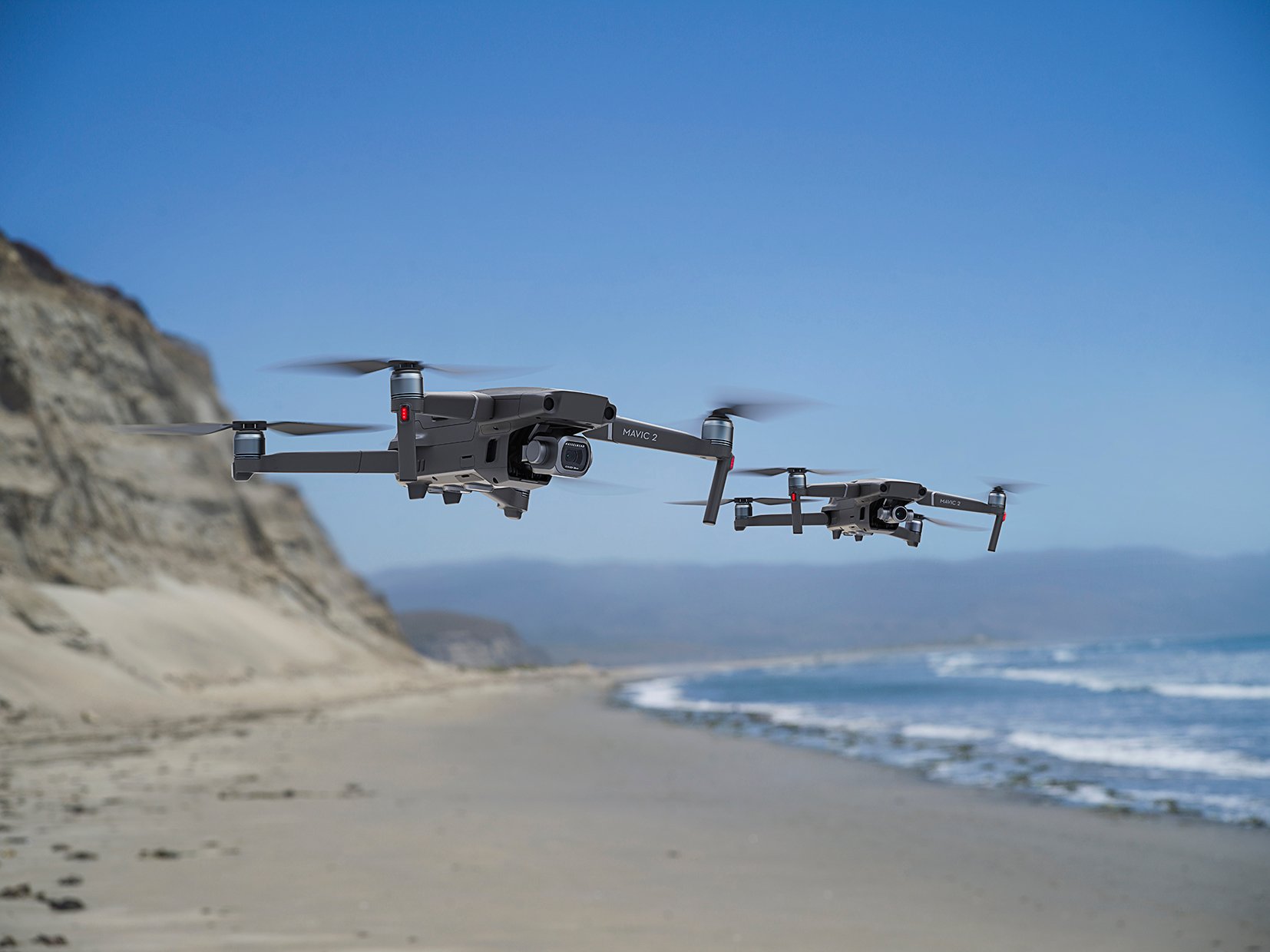 Compatible with the DJI Goggles Series for a gimbal (yaw) control range of up to -75-degrees– +75-degrees in Head Tracking mode, the Mavic 2 Pro is also available with the DJI Goggles RE as a kit purchase at $1,998 list. A $319 Fly More Kit adds two additional batteries, multi-charging battery hub, car charger, power bank adapter, two additional pairs of backup propellers and a carrying bag.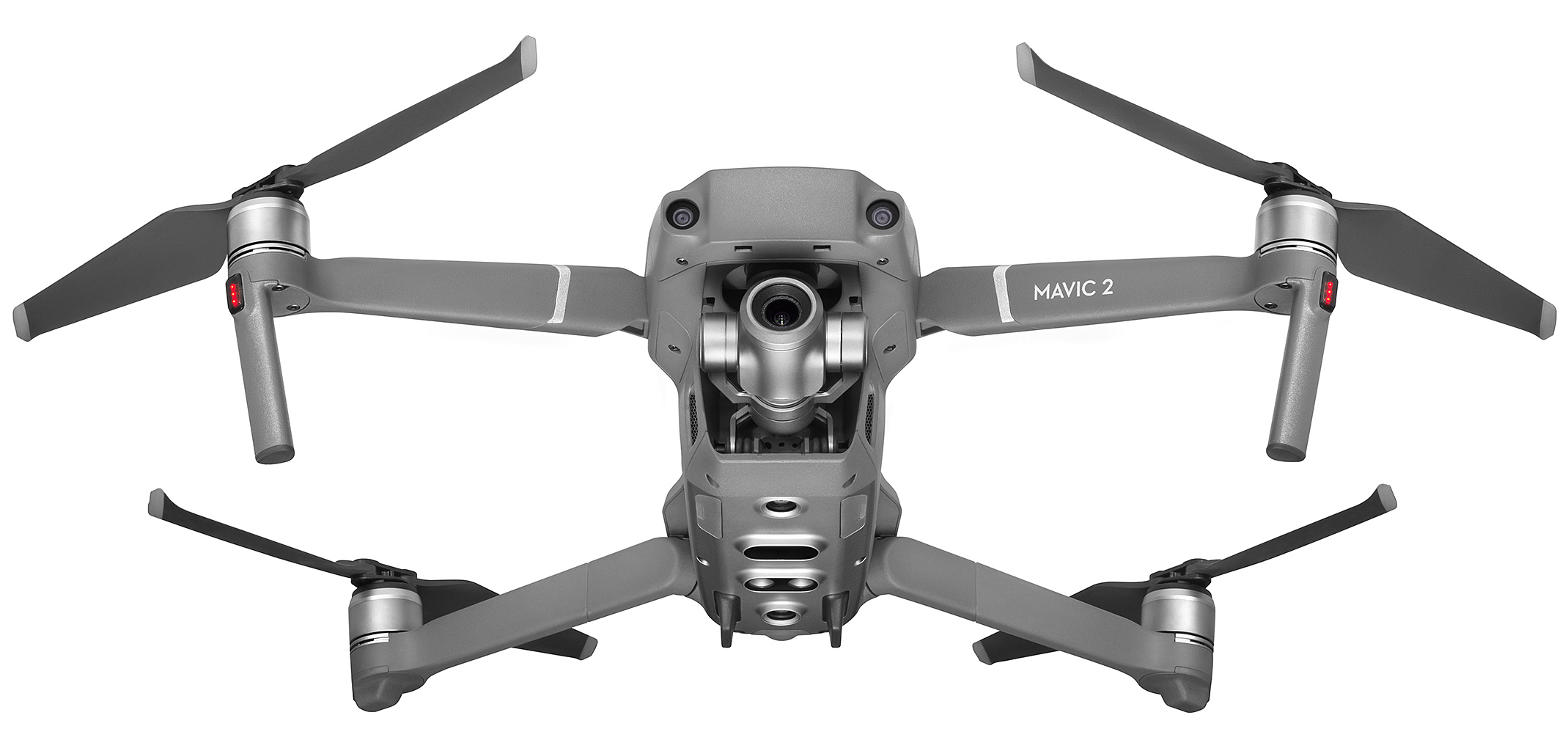 This last year saw several new offerings from the company, starting off at CES in January with the DJI Ronin-S for DSLR solutions and the Osmo Mobile 2 for smartphones. At NAB in April, they showcased two new offerings in their "Pro" line of drone accessories, the Force Pro and Master Wheels control sets, tailored to the high performance needs of production and cinematography. In July of 2017, DJI debuted the DJI Ronin 2 to Hollywood with a special presentation at the ASC Clubhouse.

Follow DJI on Twitter, Instagram and Facebook.

Stay up to date with American Cinematographer on Facebook, Instagram and Twitter.