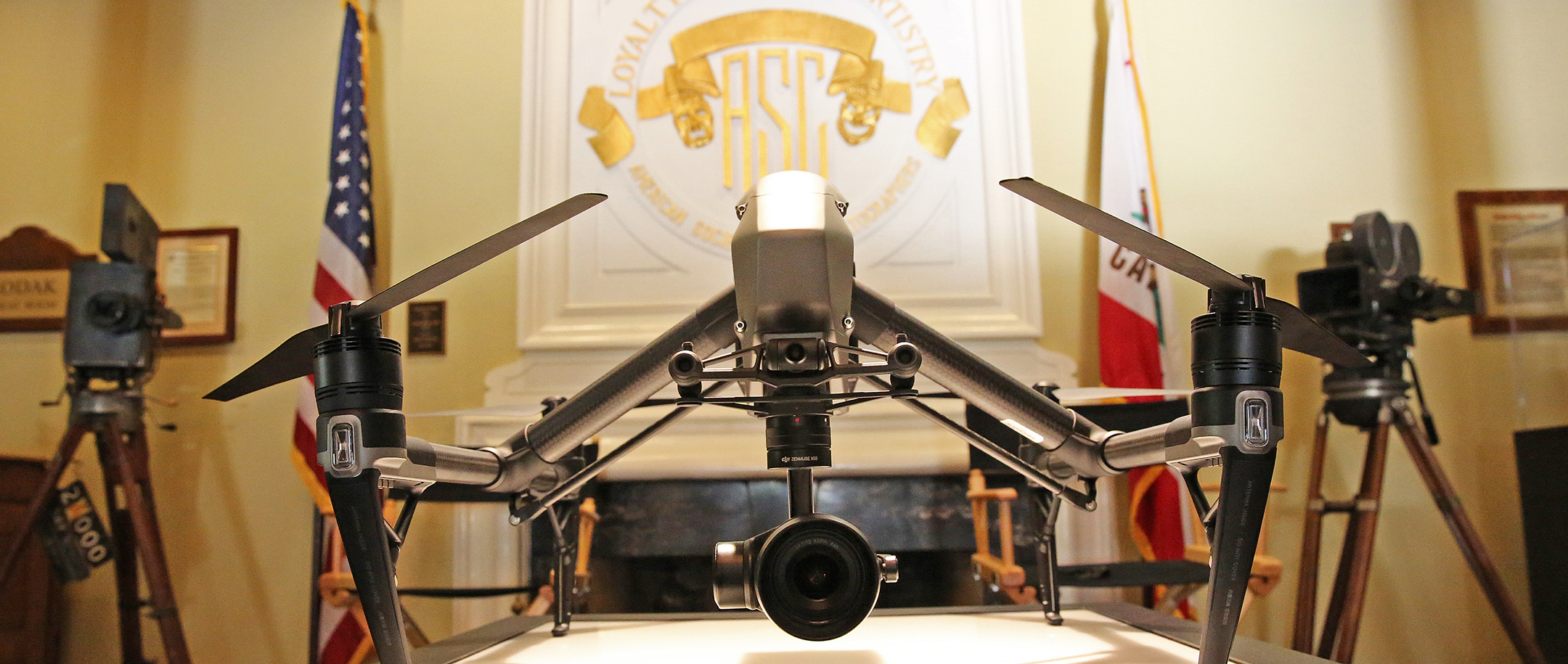 DJI Ronin 2 Makes Debut at ASC Clubhouse

As sequel to the incredibly popular Ronin gimbal, DJI has updated the stabilization system with a variety of enhancements and payload support at up to 30 lbs.
David Alexander Willis
As sequel to the incredibly popular Ronin gimbal, DJI has updated the stabilization system with a variety of enhancements and payload support at up to 30 lbs.
Event photos by Herman Jimenez

On Thursday, July 18, DJI held an exclusive event at the ASC Clubhouse showcasing a variety of drones, stabilization systems and even cable cameras. Orchestrated to highlight the numerous new possibilities with the latest, much stronger gimbaling system, the DJI Ronin 2 was announced at NAB as an update to the three-year-old Ronin. In addition to a big boost in load capacity that make it far more convenient for use with larger camera systems, the design also sports a number of subtle enhancements and a streamlined design.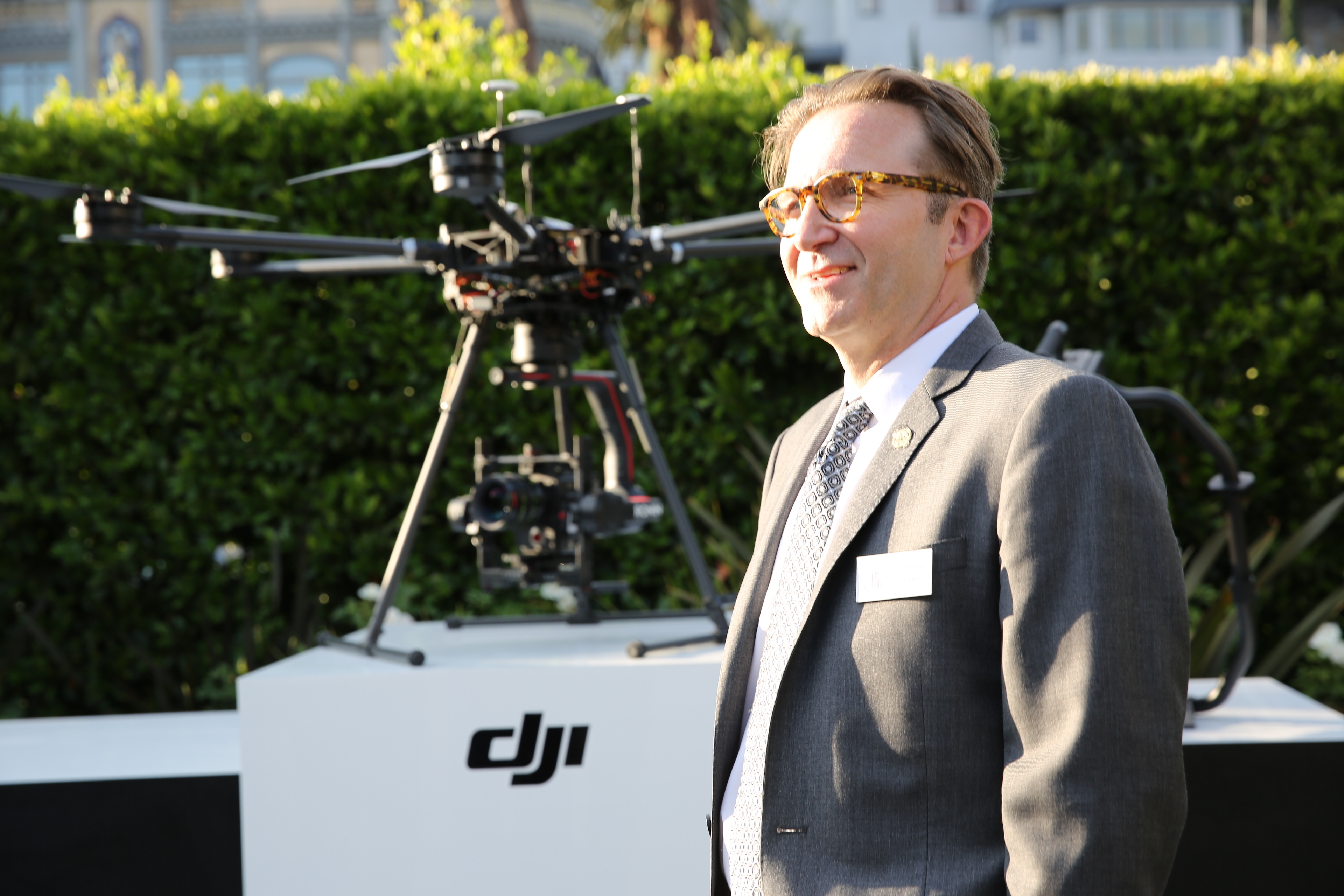 Steve Gainer, ASC, who talked about his experience in capturing an entire feature film using only two Ronins and Sony PMW-F55 cameras, laughed at the reaction of his crew when he told them his plans for the shoot. "There was no dolly, there was no Steadicam, and there was no handheld, there were only the Ronins," he explained, going on to say that his camera operators balked at the idea initially, but by the end of filming, they were often trying to outdo each other with shots. "We found out that when people were running, we could haul ass and catch up with them and even take over. Allowing the operators to come around the actors was kind of a godsend… In my opinion, what we realized on that $2.5 million dollar budget looked more like a $10 to $15 million budget due to the way the camera was able to move."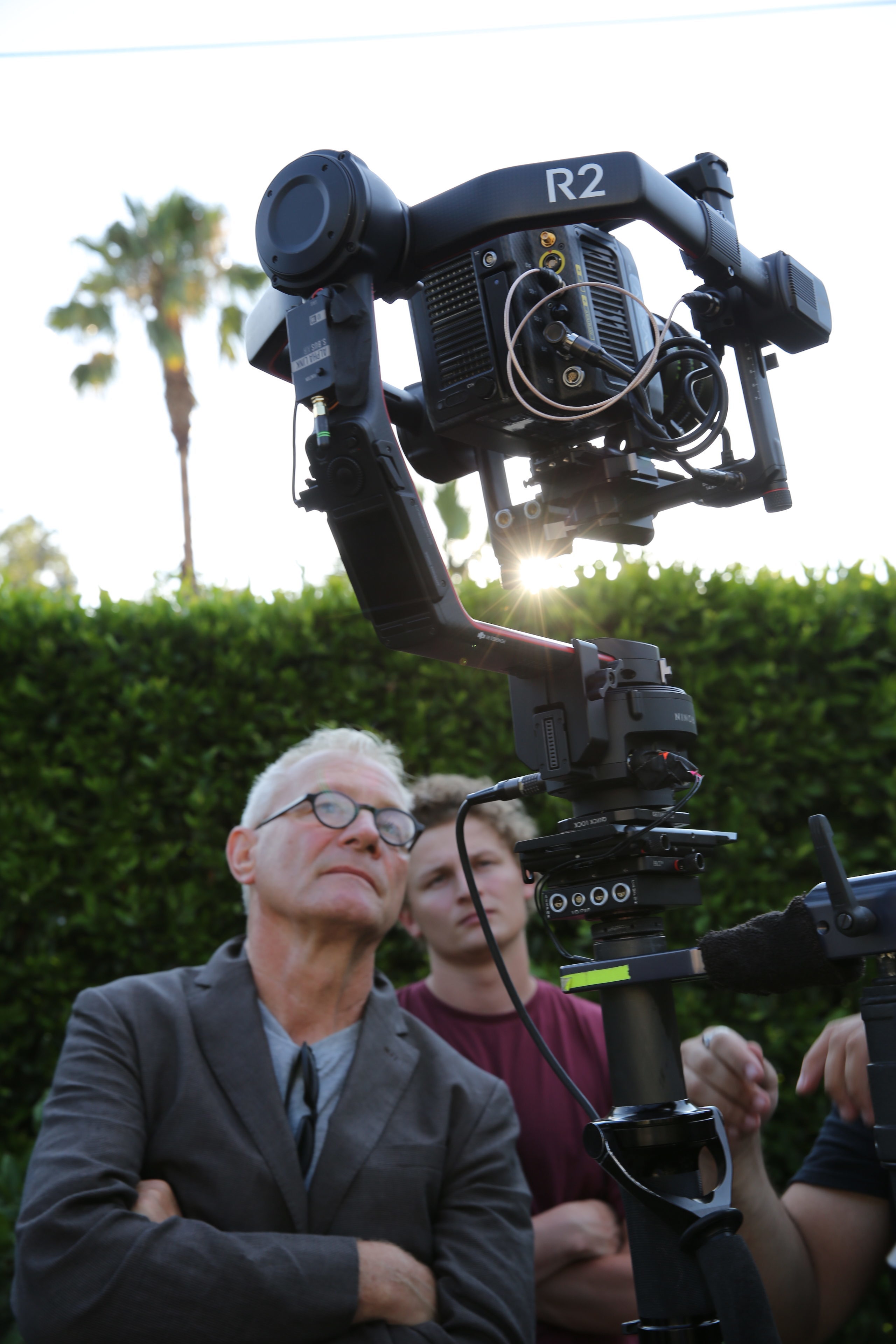 Gainer also spoke in-depth on the differences between the new Ronin 2 and the original product, mentioning the higher payload of 30 lbs. as well as more give in the cage, which now allows for matte boxes as well as longer lenses. While the first Ronin could only be operated through WiFi devices, a monitor has been integrated into the Ronin 2 for direct control from the rig. Internal GPS has been added to better maintain horizons, and Gainer says that much stronger motors have made the Ronin 2 capable of taking a windspeed of up to 70mph when mounted to vehicles. "Where I'm from, in Alabama, that's important," he laughs. "With the stronger motors, you can actually whip-pan, now."

Gainer's presentation was followed by equipment demonstrations from Ready Rig and CineMilled, companies that both produce peripherals for the original Ronin supports in addition to the Ronin 2.
The Ready Rig GS is a backpack stabilization system that can be used with the Ronins for longer handheld takes or heavier systems. It can also support up to 30 lbs. The Ready Rig GS will couple with the CineMilled Pro Ring handlebars. Previously available as a separate purchase for the Ronin, DJI liked it so much that the Pro Ring has now been incorporated directly into the design of the DJI Ronin 2. CineMilled also manufactures a number of CNC-machined solutions for stabilization systems, like mounting plates, arm extensions, handheld rings and more.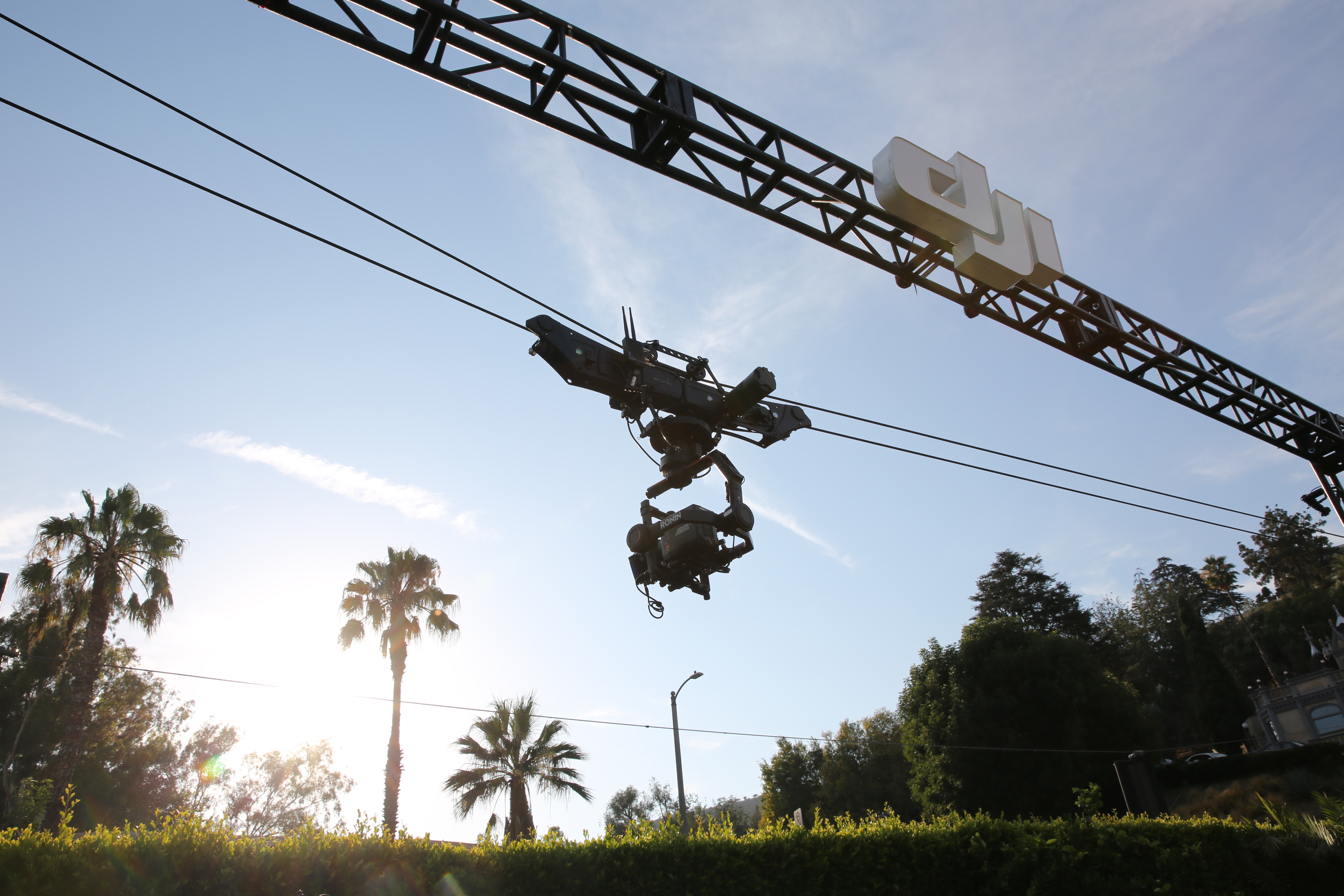 Camera and SteadiCam operator as well as CineMilled product designer Pedro Guimaraes, SOC showed off the quite impressive capabilities of the Ronin system when using a Steadicam-like system. Capable of 390 degrees of rotation in both directions, he said the Ronin 2 can "approximate" setups like the Arri Trinity stabilization rig, if used carefully. "You can do nearly everything that you can do with Trinity," Guimaraes explained while rotating the Ronin 2 on a GPI PRO II stabilization arm and vest. "I can do everything that I used to be able to do with the AR Revolution on Steadicam. It allows me a lot of shot possibilities with only one tool."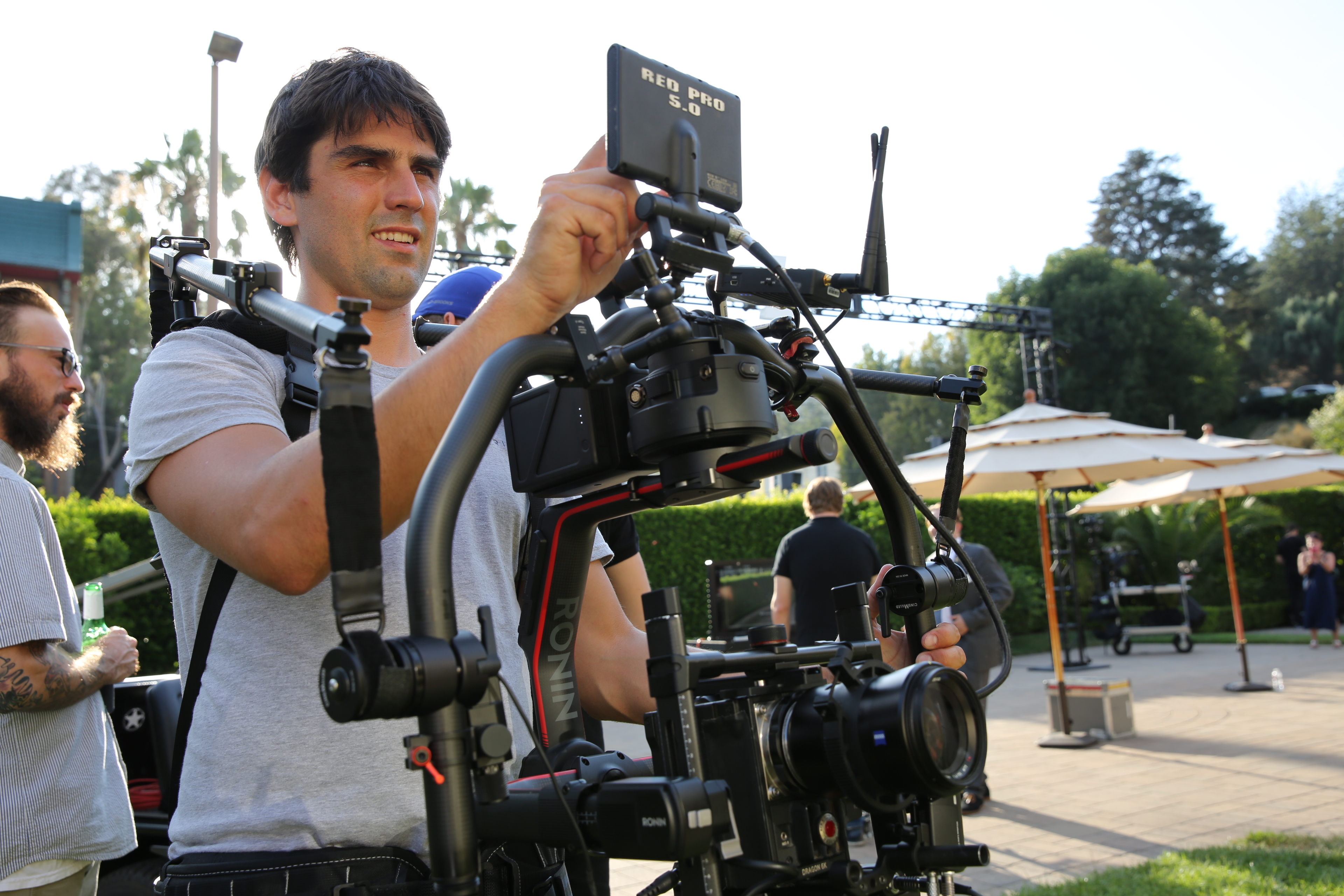 DJI had quite a few demonstrations in the front of the ASC Clubhouse, as well. Though it was not yet active, they had a new "heavy lift" beta drone on hand that has been built specifically to be able to support the Ronin 2 with a full payload. Literally on top of that, they also had camera cabling with a remote-operation Ronin 2 head, as well as numerous handheld setups to try the system on.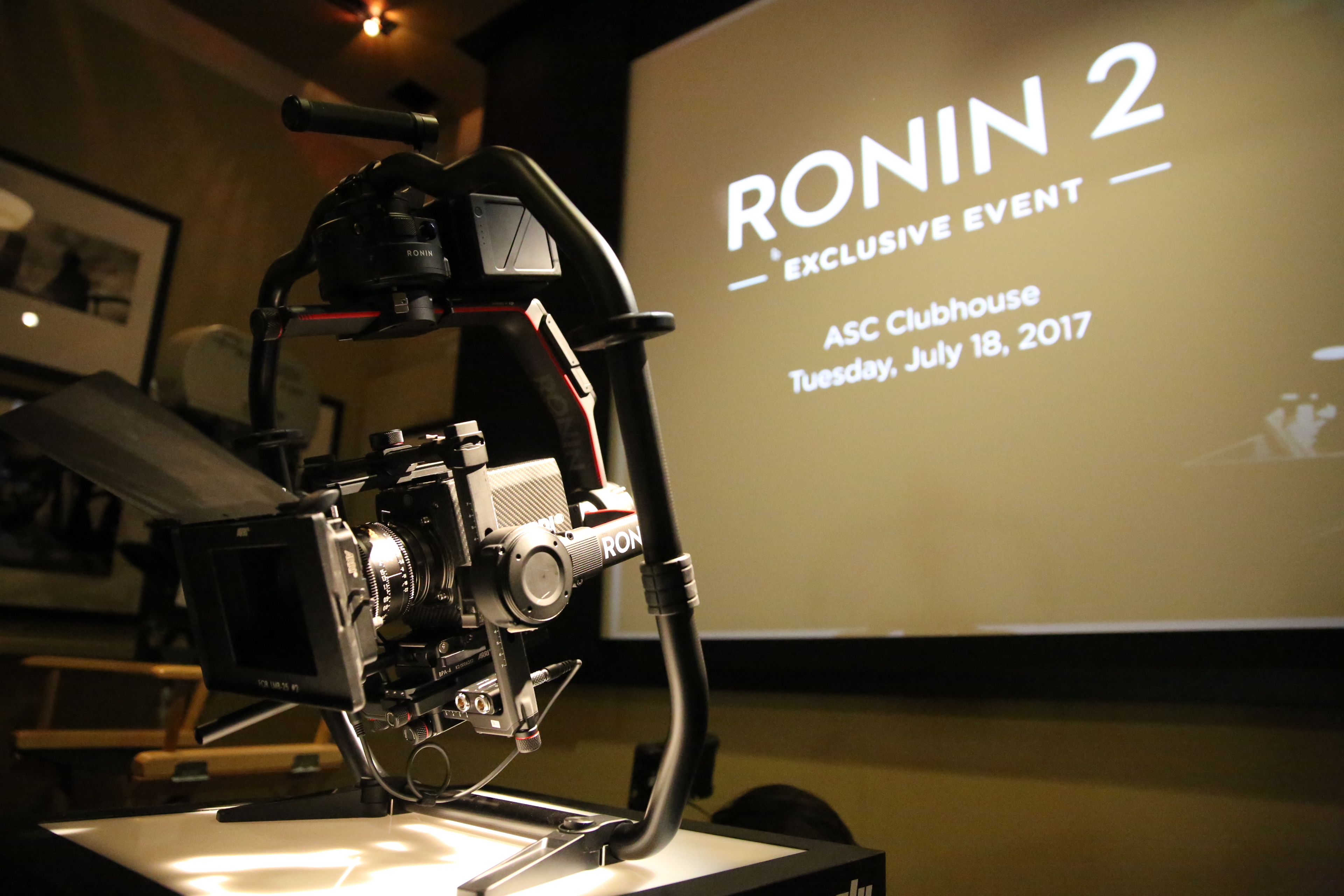 I spoke to Paul Pan, Senior Product Manager at DJI, on the new features and enhancements that have been added to the Ronin 2.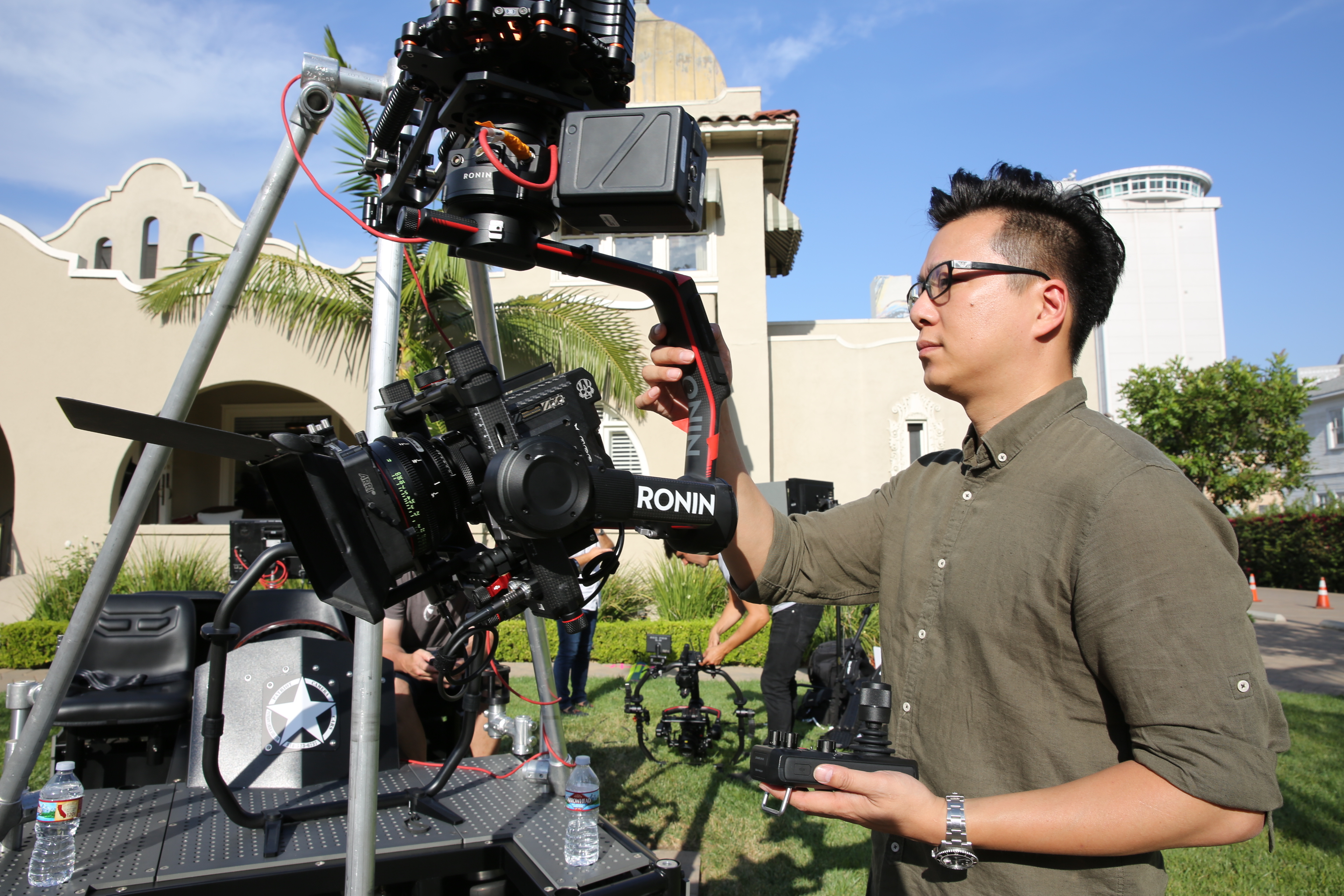 American Cinematographer: Would you explain the key differences between the Ronin 2 and the first Ronin system?

Paul Pan: The first Ronin, when we launched it about three years ago, we launched primarily as a handheld system. Something that you would be able to take a higher end pro camera with some lighter lenses. But then from that point on, when we launched it, we then started seeing people take it beyond the handheld system. So they were taking it and mounting it to the stuff you see outside here [at the ASC], like the cable cams, mounting it to car rigs, but we never really designed the Ronin to be used in those formats. They were still successful, but there were still things that they were wanting to do, like putting on bigger cameras and bigger lenses.
Then third party companies started to release extension arms, counterweights, different powering solutions, but then it was still something that was still kind of Frankenstein-ed together. So we took all of that feedback, and went back to the drawing board and said, "What can we do for the next generation of Ronin?" So what you see is the Ronin 2 here!
We've increased the capacity, basically now it's able to take a 30 lb. camera build. You are no longer restricted on the weight. Based off of the types of cameras and sizes of cameras as well as lenses that people were putting on, we found that they were constricted by the actual physical size of the original, and so we increased the camera cage area, as well. The arms extend an additional 50mm when needed, so the entire system can spread out further.
This negates the reason for counterweights, because you couldn't slide the camera back far enough, previously. We increased the motor strengths all around. The strength of the motors are now about five times stronger than the original. We also implemented a dual battery system which allows you to continue shooting and continue to keep the camera up and running with all accessories, and you're able to hot-swap batteries with the whole system on. The batteries are able to power an Alexa or Red for about two-and-a-half hours recording. With three sets of batteries, you can pretty much run all day.
The other things that you'll notice are all these additional ports all over the place. These are all power ports plus data ports, which allows stuff like monitors and video transmitters. On the bottom, you have power for camera, and power for focus systems, so it's all a complete, integrated package. With SDI on the bottom camera tray area coming up to the top so that you don't have wires running all over the place.
Besides that, we have implemented this [CineMilled] ring which allows for a much easier, ability to grab here, to grab there. Your freedom to manipulate the system has opened up with the ring. We implemented an ultra bright touchscreen on the back. Before you had to connect a smartphone to be able to get access to the menus to set up the gimbal. Now everything can be done right from the system.
It seems like adding all of this would add a lot of weight to the setup.

It did add a little bit of weight, however the entire system is about 500% stronger. The system is now designed for beyond just handheld.
So is this the result of three years of technologies advancing, or did you have specific purposes in mind with these modifications?
It was looking at what our customers needed and what they were asking for.. We pretty much tried to answer all of their asks, and this is the result! From what we've seen, based off of the feedback that we've been given from industry leaders, our partners, and our beta testers, they're all using this, and they've all been successful in using it.
For one, your speed to balance the system has increased with all of the micro-adjustments everywhere, because you're not having to push and slide the camera physically. You can also easily transfer it from a car mount back to handheld, and then mount it to a drone! You're not buying different systems for different types of use. You're doing everything with one camera system and one gimbal.
Which feature do you think people will be looking forward to the most?
My favorite is the ability to mount cameras and not be so much limited to say, hey, do I have to choose a compact prime? I can just go directly to an Ultra Prime or a Master Prime. I don't have to worry about how to power stuff. I have everything power-ready. It's the ability to take whatever camera that fits physically in here, and mount it. The thing that people have been asking for the most, is basically the freedom to put whatever camera that they want on the Ronin without having to say, "Oh, it's for a gimbal, so we'll have to size down.