POV CAM 4K Underwater Housing for Panasonic
Gates Underwater Products provides remote operations at 75m depth and up to 20m from the head.
David Alexander Willis
Gates Underwater Products provides remote operations at 75m depth and up to 20m from the head.
Created as a "glove-fit" purpose-built underwater motion imaging shell for the Panasonic AG-UMR20 Recorder and AG-UCK20GJ 4K Camera, the POV CAM Point Of View system from Gates Underwater Products separates operator and subject by up to 60'.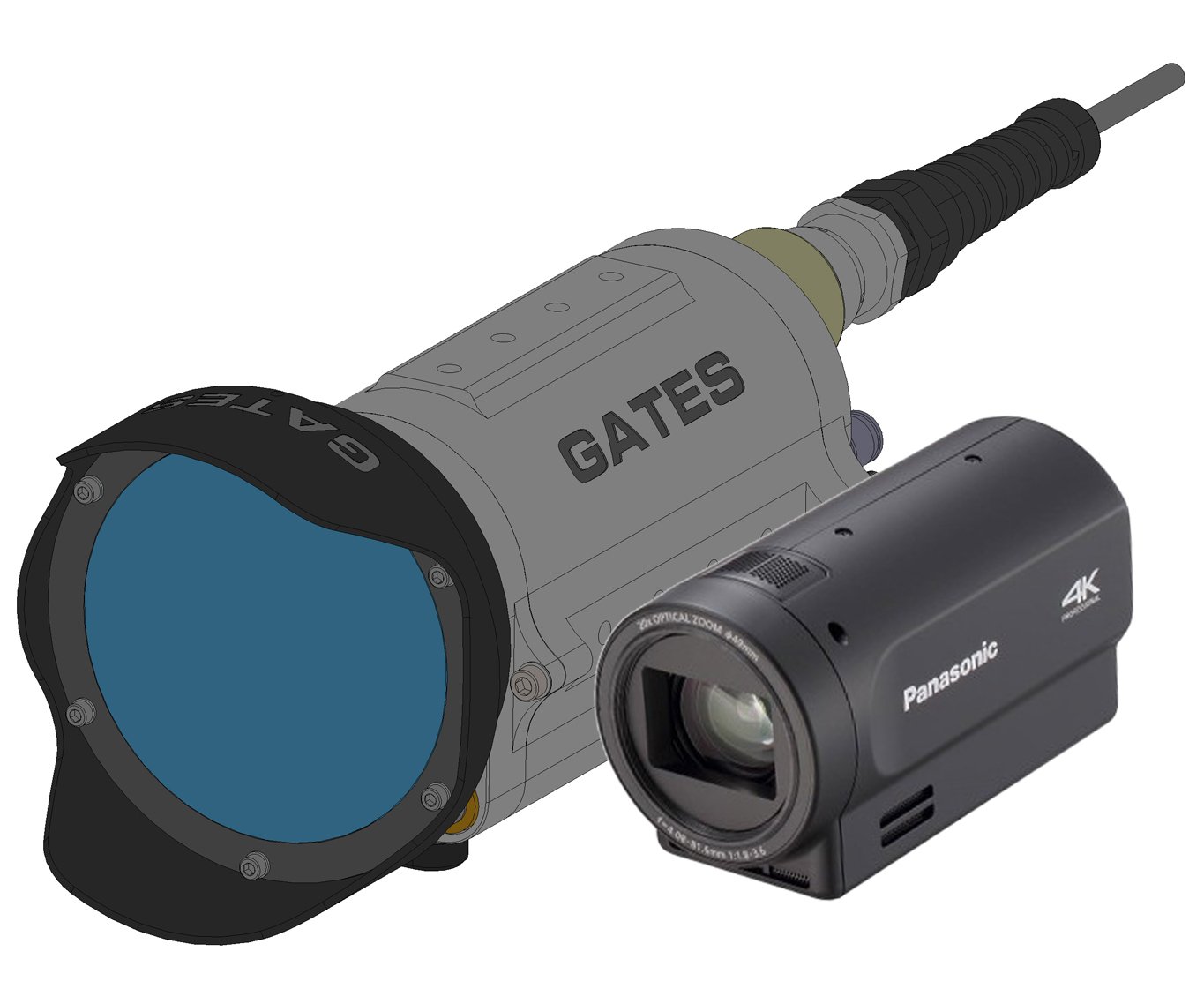 For working with dangerous animals from afar, such as sharks or polar bears, for example, or close-up with more docile, skittish marine life, like eels and jawfish, the Gates UCK20 Camera Head is mounted to polecam.
With adjustable grip handle, it can provide dynamic center-of-the-action or nimble up-close-and-personal shots. Useful for surf shots and other aquatics, with depth rating to 250' (75m), it can also be employed for exploratory dives requiring an advance POV for tight passages ahead, or narrow crevices where animals may be.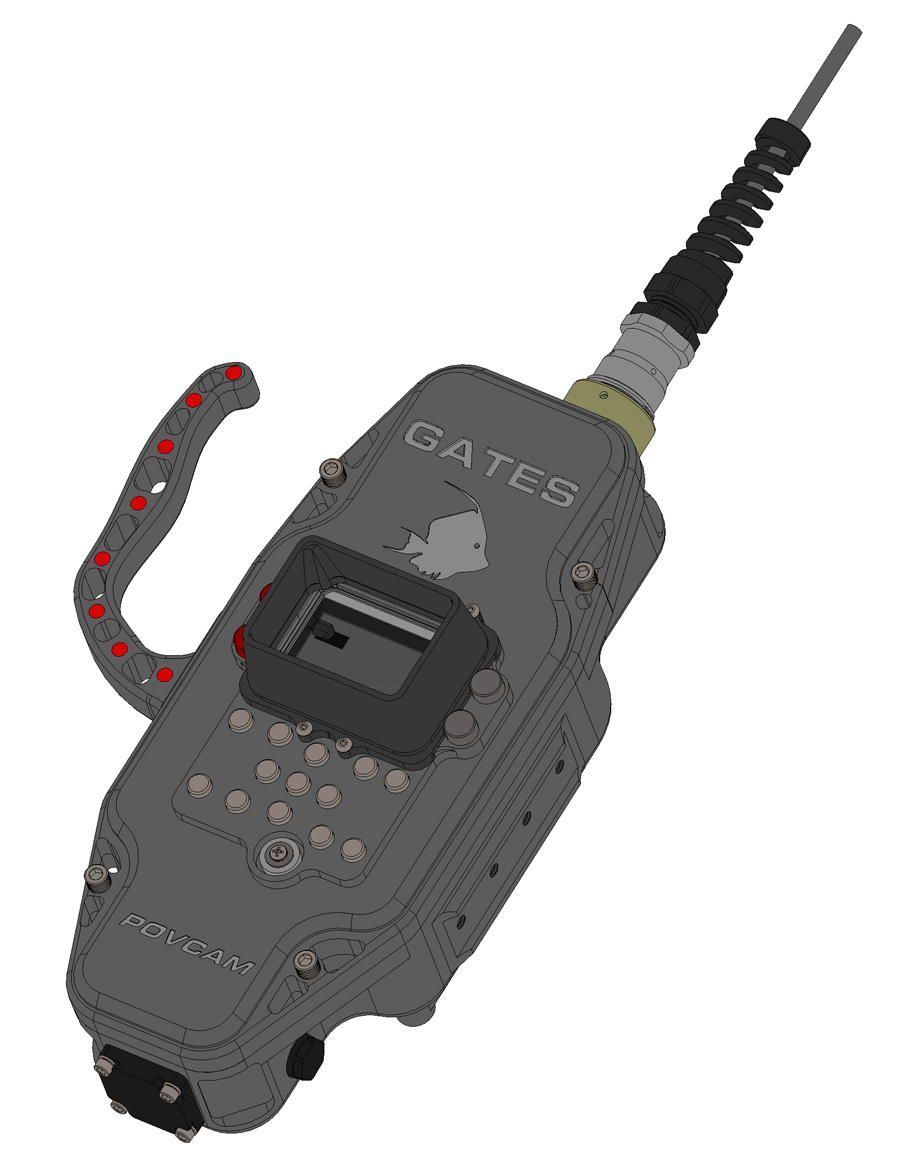 "Gates POV underwater systems have seen extensive use with Natural History productions at BBC Earth, Atlantic Productions and Silverback Films," according to their website. "It's a versatile tool for unusual shooting situations."

Packing tight and traveling light for transport, the Gates Underwater POV CAM housing was built around the Panasonic AG-UMR20 portable recorder and AG-UCK20GJ camera with progressive MOS sensor thanks to their compact sizes, full feature set, microphone line and infrared mode.
Combined with the SDI input/output which supports 3G-SDI, there is IP control through LAN connection for real-time monitoring and live streaming via PCs or tablets, or HDMI for UHD monitors and TVs. That's simultaneous output to three seperate systems.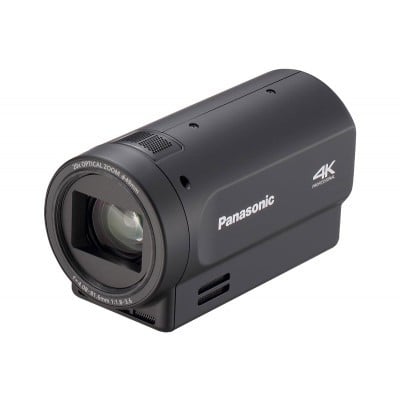 Internally, the AG-UMR20 recorder has dual SDXC cards for large capacities, relay recording, and ease of availability. The cabling between AG-UMR20 recorder and AG-UCK20GJ camera head been protected against jagged edges and "shark teeth".
Panasonic batteries up to 11800 mAh battery can be used. With 29.5mm (35mm equivalent) wide-angle optical 20x zoom, the AG-UCK20GJ camera has remote operation over start/stop, focus and iris.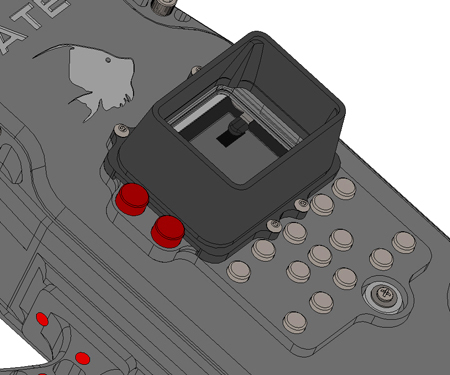 Succeeding the HMR10/HCK10 POV HD Housing, there are three versatile lens port options. The GP32A Wide Angle Port has 90-degree field of view on the POV CAM UCK20 housing. Corrected for underwater usage, the 1:1 SP32A Standard Port is also available, as are the FP32A or FP32B macro Flat Ports that will allow additional diopter.

With 100% mechanical controls, their housings are made from machined aluminum with Type III "hard" anodization, and nickel-acetate sealing. Remote controls include power, start/stop, mode, and +/- for adjustments and menu navigations.
At the same dimensions, the Gates POV CAM 4K is compatible with the 4K Panasonic AG-MDC20GJ camera with surgical light mode and similar specifications, as well. The company offers an optional Seal Check Lite service, so that housing integrity is checked prior to submergence.
Gates Underwater Products has been in business since 1969, producing "bulletproof" machined aluminum camera housings for commercial divers, imaging professionals, marine researchers, salvage operators and military personnel.
Based in Poway, CA, south of Los Angeles, follow Gates Underwater Products on Facebook. Contact them for sales, rentals and customizations here.
Stay up to date with American Cinematographer on Facebook, Instagram and Twitter.