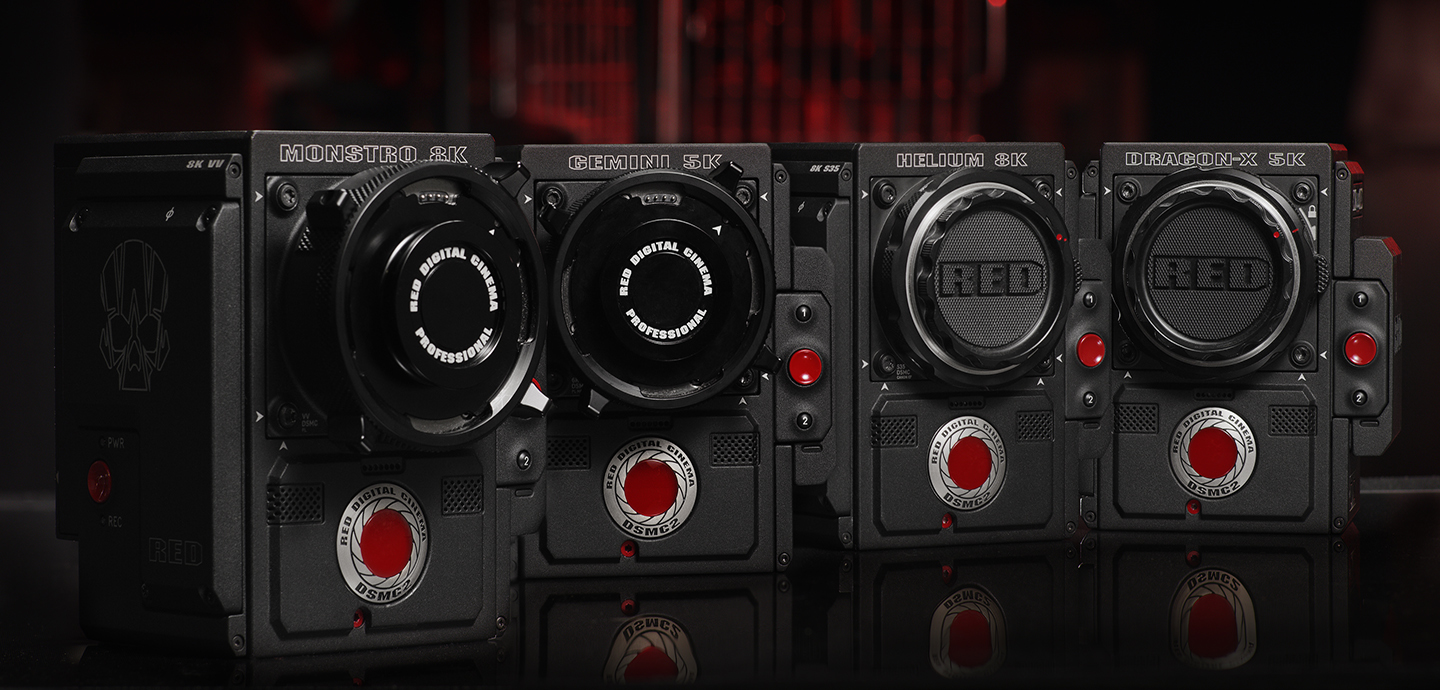 Red DSMC2 Dragon-X plus Promised 8K Direct Edits
The DSMC2 line is joined by a new 5K Super 35 camera, DSMC2 Production Module and DSMC2 Production Kit.
David Alexander Willis
Following a move to streamline their cameras to only three models last May, the DSMC2 line is joined by a new 5K Super 35 camera, DSMC2 Production Module and DSMC2 Production Kit.
Red Digital Cinema has added a fourth sensor option to their drastically simplified line of DSMC2 cameras. Joining the Monstro 8K VV full frame, Helium 8K Super 35, and Gemini 5K Super 35, the latest DSCM2 Dragon-X is a Super 35 camera with 5K sensor. It begins at $14,950.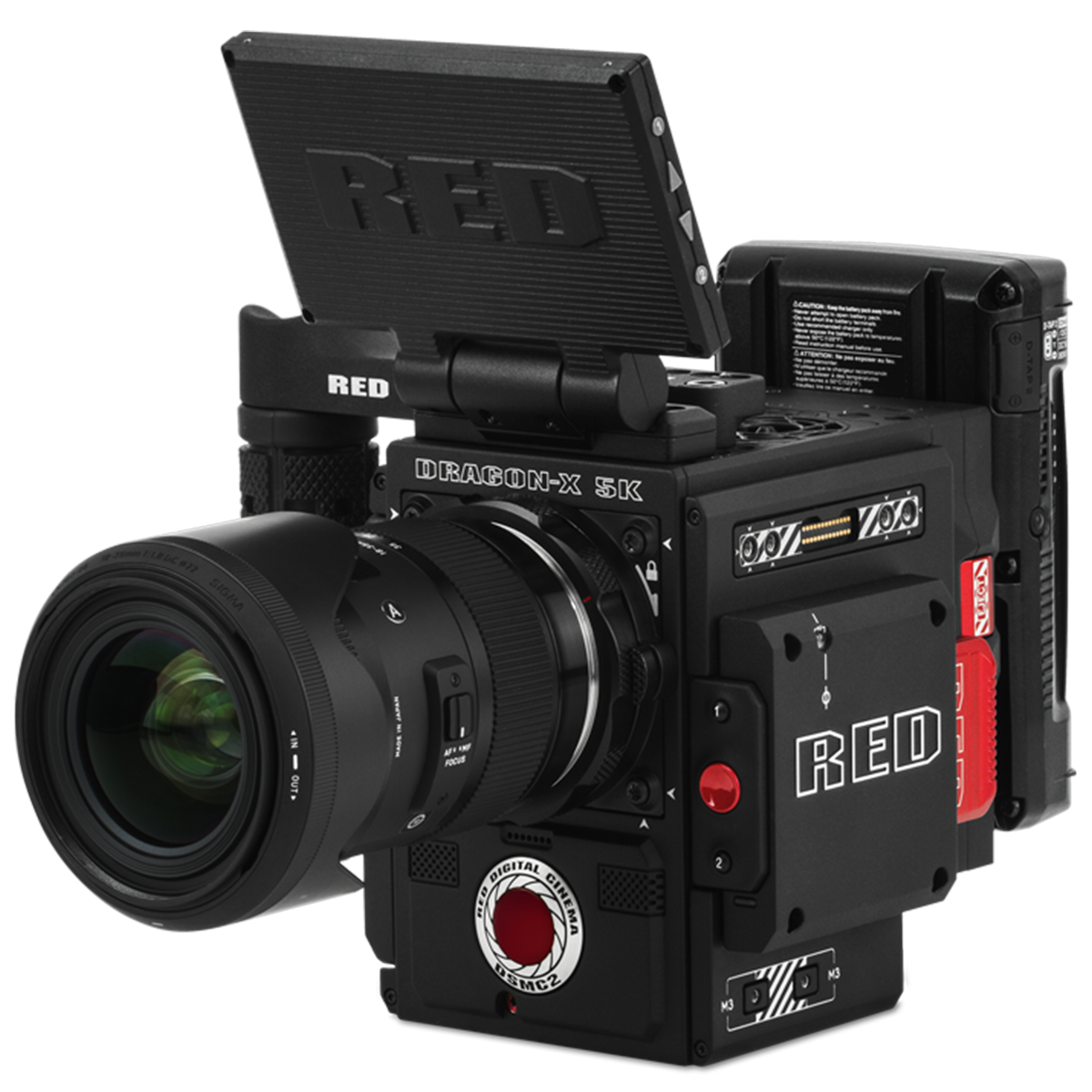 The DSMC2 Dragon-X camera houses an "evolved" sensor board based on the RED lineage of 5K Dragon sensors to run RED's IPP2 image processing pipeline, released with the RED Weapon 8K Super 35 Helium sensor in October of 2016. IPP2 was offered as a color science solution from RED built specifically for HDR capture.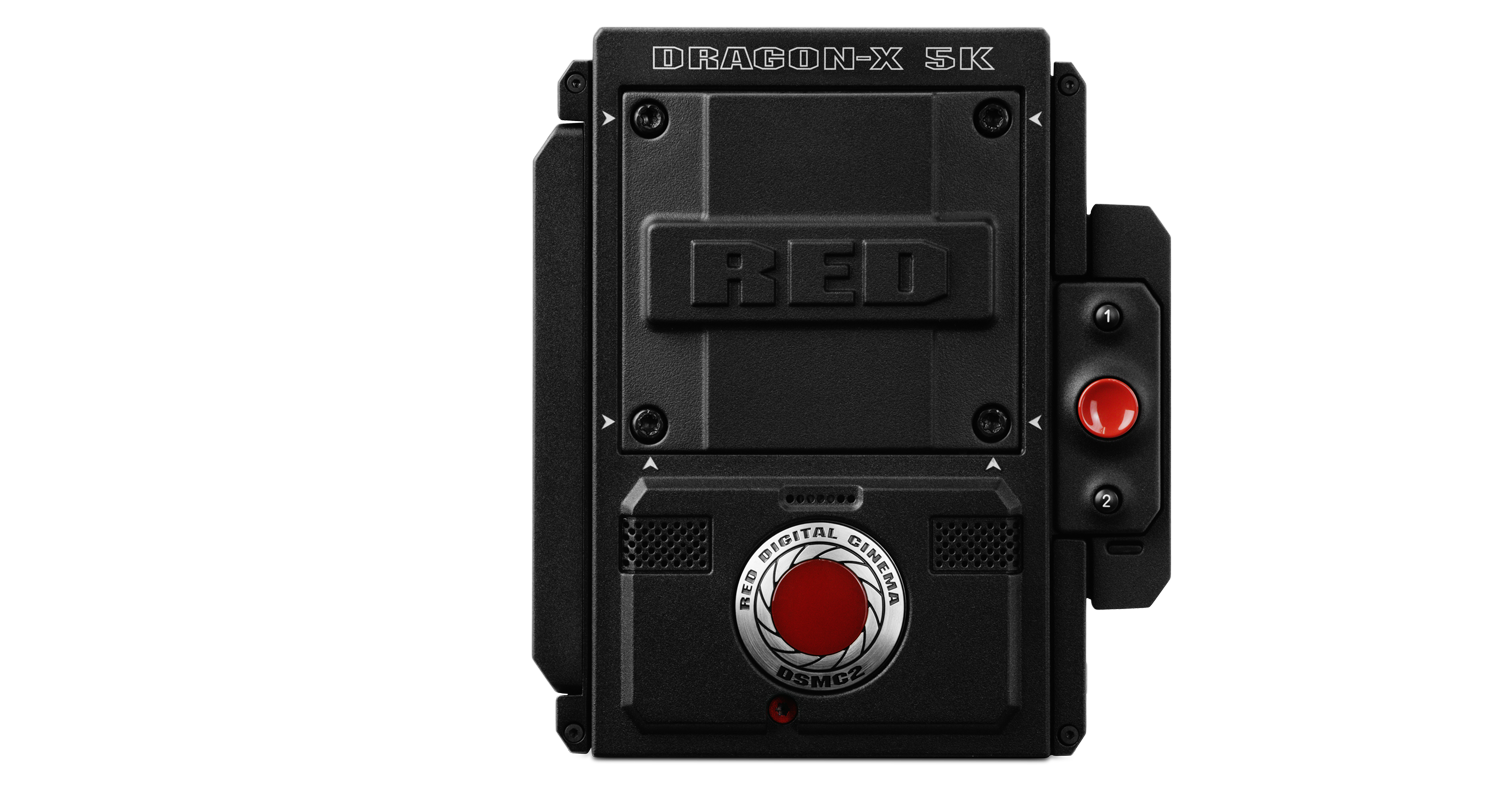 With 16.5 stops of dynamic range, 5K resolution at up to 96 fps in full format, and 120 fps at 5K in 2.40:1, the RED Dragon-X is fully-configured at $19,950. The bundle price adds 480GB RED Mini-Mag, Canon EF lens mount, 4.7" touchscreen LCD monitor, outrigger handle, V-Lock I/O expander, two IDX batteries, G-Technology ev Series RED Mini-Mag Reader, Sigma 18-35mm (F1.8) DC HSM Art lens and Nanuk camera case.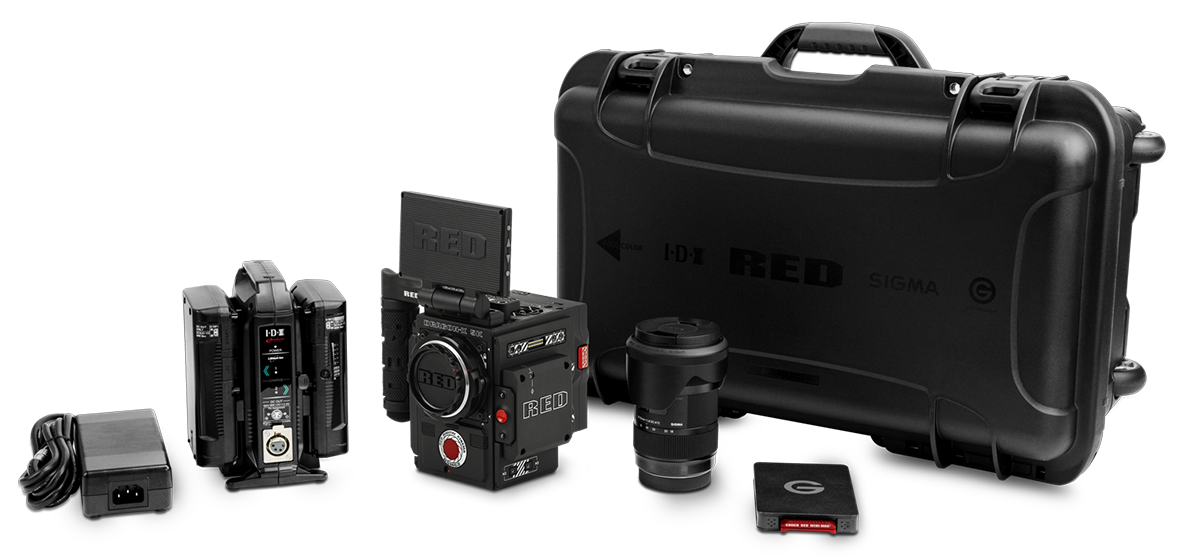 With unified form factor, the RED DSMC2 cameras—3.35 pounds (1.52 kg) starting weight — also have 300 MB/s data transfer and simultaneous capture of REDCODE RAW and either Apple ProRes or Avid DNxHD/HR.
RED concurrently announced a DSMC2 Production Module and DSMC2 Production Kit for release in early 2019.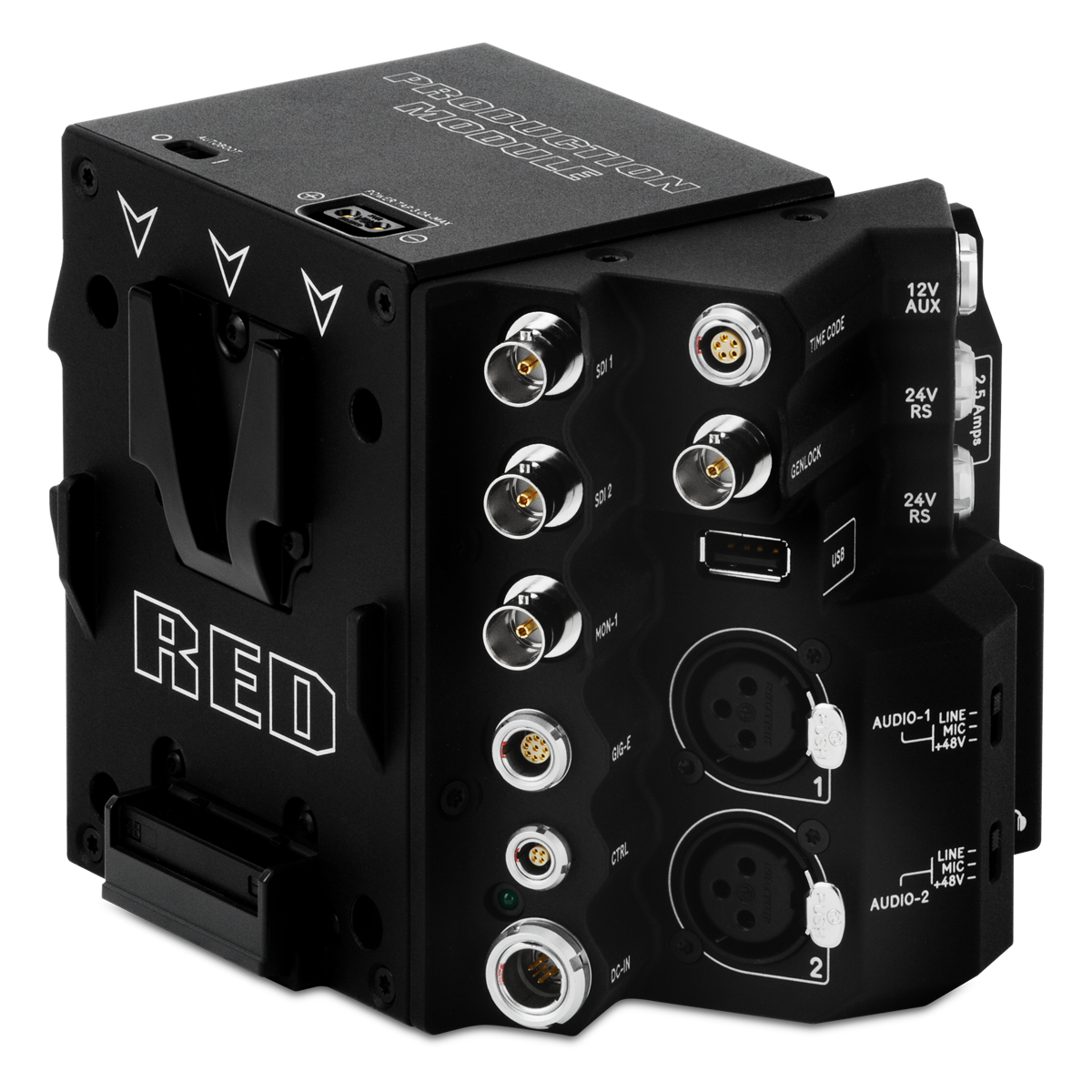 For expanded I/O options, the DSMC2 Production Module — $4,750 expected list — attaches to a DSMC2 camera body to affix a V-Lock Mount with P-Tap for 12V and 3-pin 24V accessories. WIth XLR, power, and communication ports, it's smaller and lighter than their RedVolt Expander.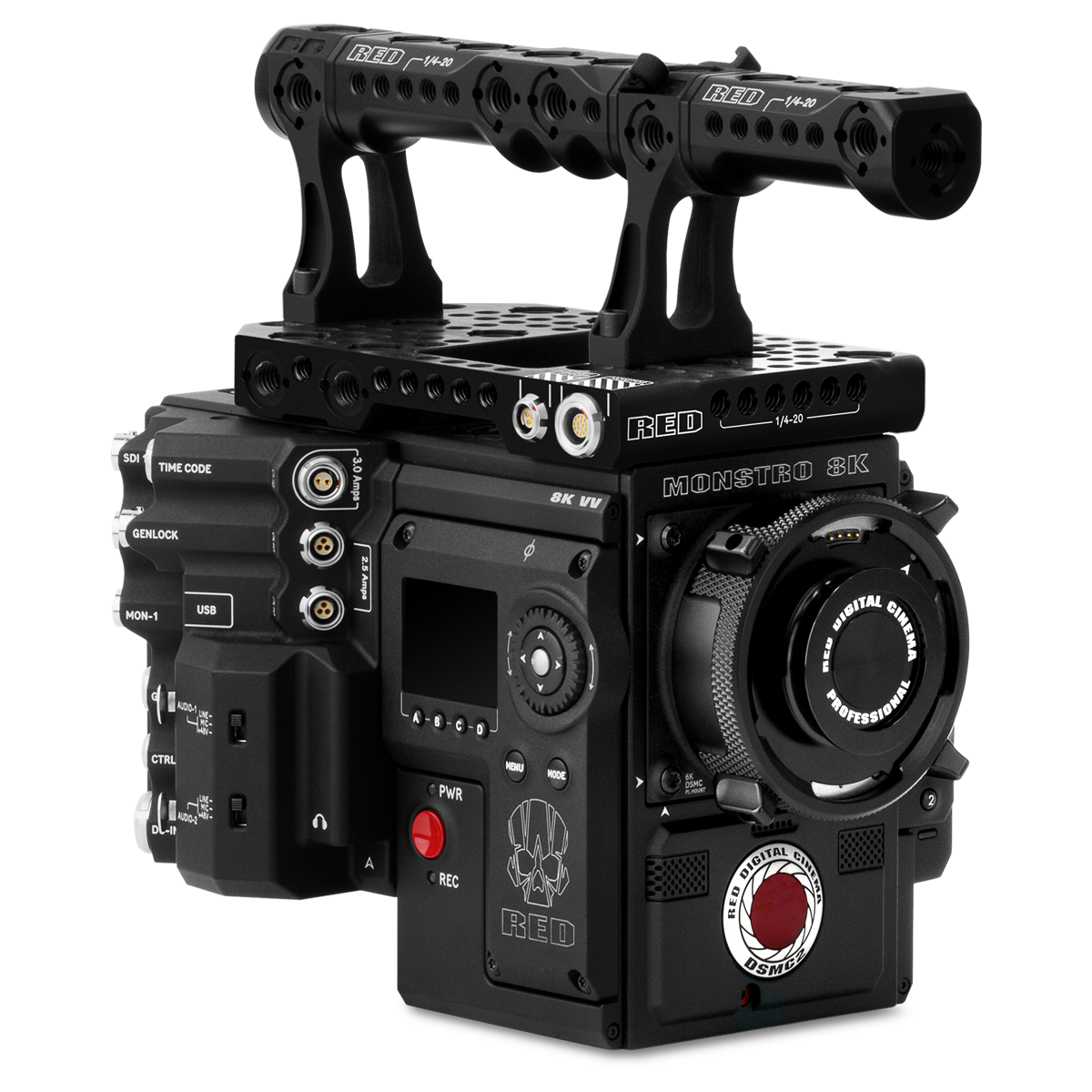 At $6,500, the DSMC2 Production Kit combines DSMC2 Production Module, Production Top Plate, and Production Top Handle for 1/4-20 and 3/8-16 mounting points and integrated LCD/EVF LEMO port and 3-pin Fischer port for remote start/stop. An upgrade for Scarlet-W owners to the DSMC2 Dragon-X is available at $4,950.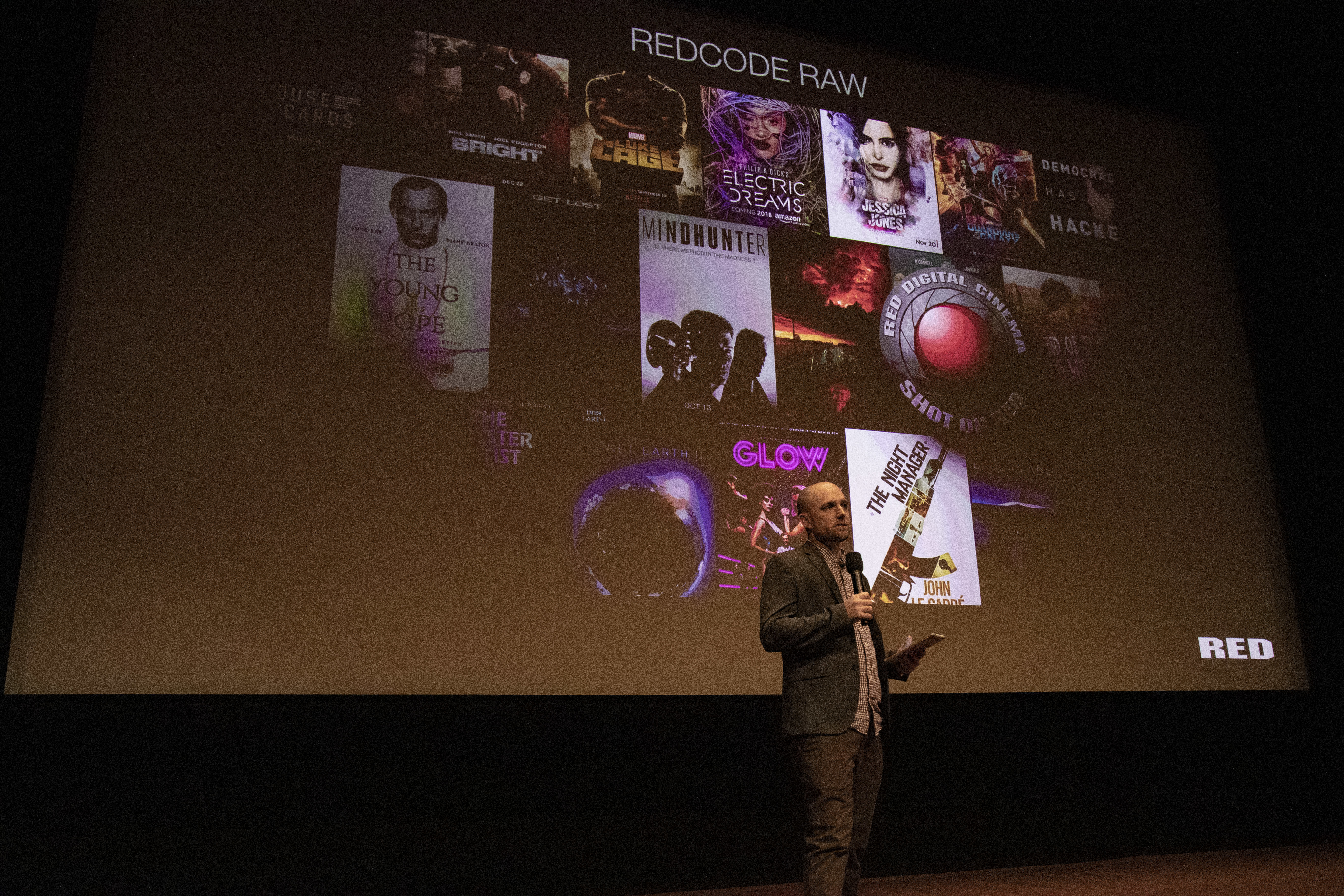 With a presentation from Nate Heartt and Dan Duran, Red Digital Cinema and NVIDIA also had an evening event release for their new NVIDIA RTX-powered REDCODE RAW SDK (software development kit) at the Linwood Dunn Theater in Hollywood on December 13.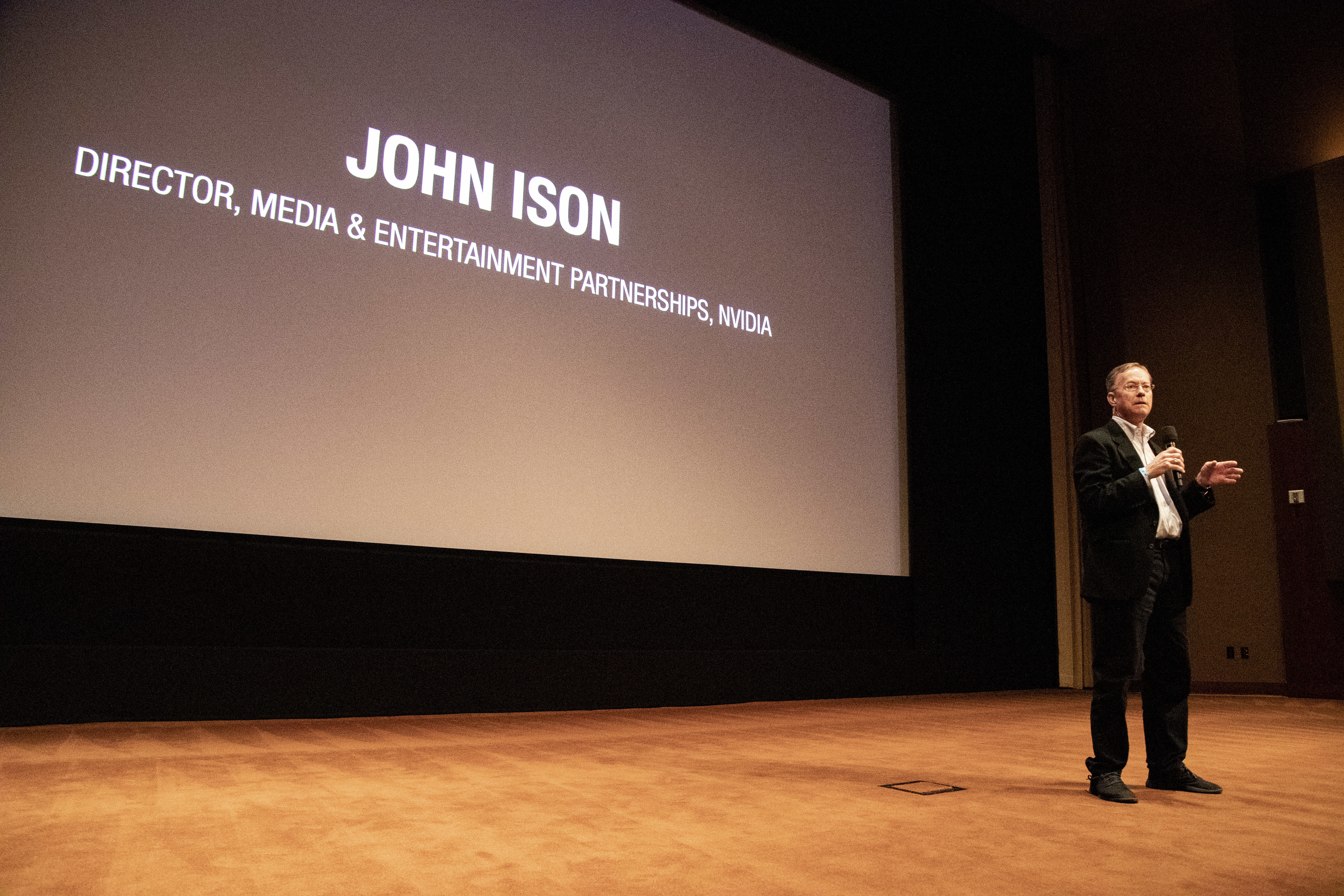 Capable of powering up to 8K edits in real time, the REDCODE RAW decode utilizes NVIDIA CUDA-acceleration, bringing the brunt of processing needs to the GPU rather than the CPU. "The compute intensive portion of the application runs on thousands of GPU cores in parallel," says the NVIDIA website, who announced current compatibility with two of their current models: the TITAN RTX and GeForce RTX 2080 Ti GPUs.
"A week later we had hit the objective of 24 frames-per-second on a single latest generation Nvidia Gpu, the VRTX series," said John Ison, Director Media & Entertainment Partnerships, NVIDIA, who mentioned that they had begun the majority of the work on the project only this last August. "This is one of the best, closest, shortest duration partnerships that I've been part of."
Colorfront had a "faster-than-realtime: RAW processing with 8K playback in HDR display. The demo used a single-CPU Z4 workstation from HP. Freeing full 24fps at 8192 x 4320 from pre-cache or proxy, the REDCODE RAW SDK can also be utilized with NVIDIA's GeForce, TITAN and Quadro desktop and notebook GPUs for enhancements to 4K, 5K and 6K workflows.

"With the new RED SDK allowing wavelet decompression on NVIDIA GPUs, Colorfront can do all the RAW processing in GPU and output 8K video (up to 60p) using AJA Kona5 video cards. With this latest advance — faster-than-realtime Debayer and decompression of 8K RAW footage, with simultaneous display of the 8K image on an 8K HDR monitor," said Colorfront managing director Aron Jaszberenyi, via a blog post from NVIDIA.

RED's R3D SDK and the REDCINE-X PRO software are planned for release in the late first quarter of 2019. There is a private developer beta available to appropriate parties.
Follow Red Digital Cinema on Twitter, Instagram and Facebook.

Stay up to date with American Cinematographer on Facebook, Instagram and Twitter.