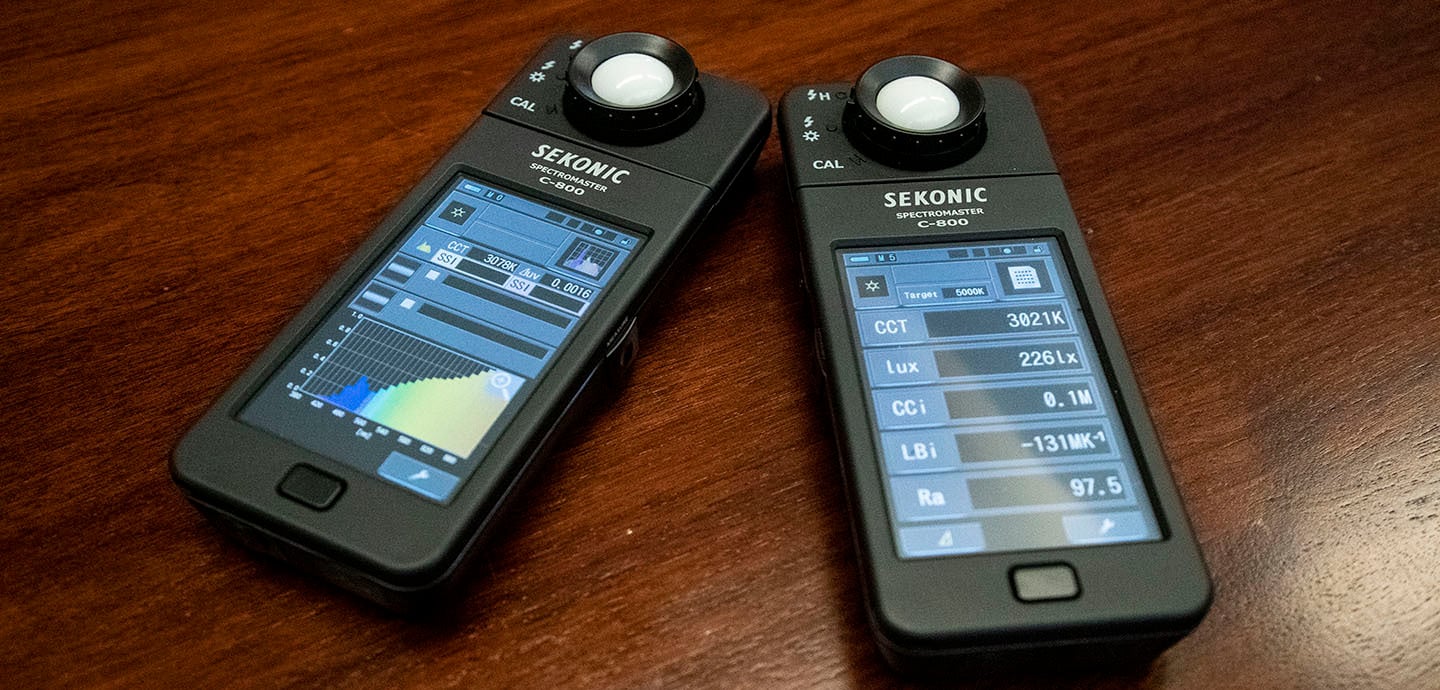 Sekonic C-800-U Spectromaster
A new spectrometer tailored for highly specific color and light information.
Developed specifically for leading lighting manufacturers, filmmakers, and photographers, the C-800-U Spectromaster from Sekonic gives precision color and lighting measurements. Designed with input from The Academy of Motion Picture Arts and Science and Technology Council, Sekonic says that the C-800-U has more Color Rendering Standards (CRI — Ra, R1 through R15), measurable singularly or in two-light comparison mode, than any other available field meter.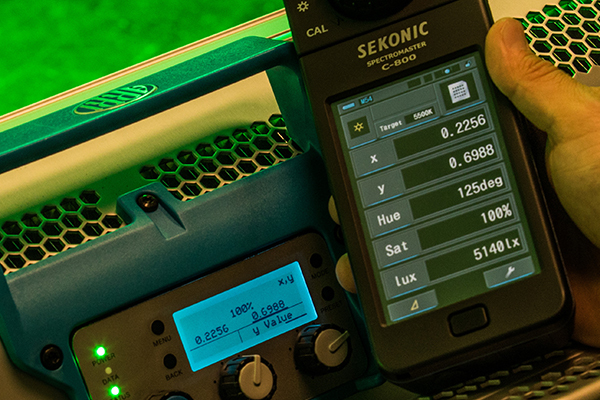 "In 2014, we launched a new C-700 SpectroMaster," explained Yasuko Kuroi, Sekonic Product Manager, during a special presentation of the new C800 given to ASC members this last July, several months prior to its announcement at Photokina. "It was designed for both digital and film, and we changed the filter to a CMOS imaging sensor for spectral distribution reading. This makes this meter able to read every light, including LED, fluorescent lamp, HMI, plus flash, correctly."
Offering Spectral Similarity Index (SSI) readings for the first time in a consumer light meter, the C-800-U Spectromaster can set lights or predefined standards such as CIE D55 to match the SSI score to location lighting. Ratings are also given in Television Lighting Consistency Index (TLCI), Technical Memorandum (TM-30-15) and Television Lighting Matching Factor (TLMF). Hue and Saturation units of measurement have been incorporated for the new class of RGBW LEDs.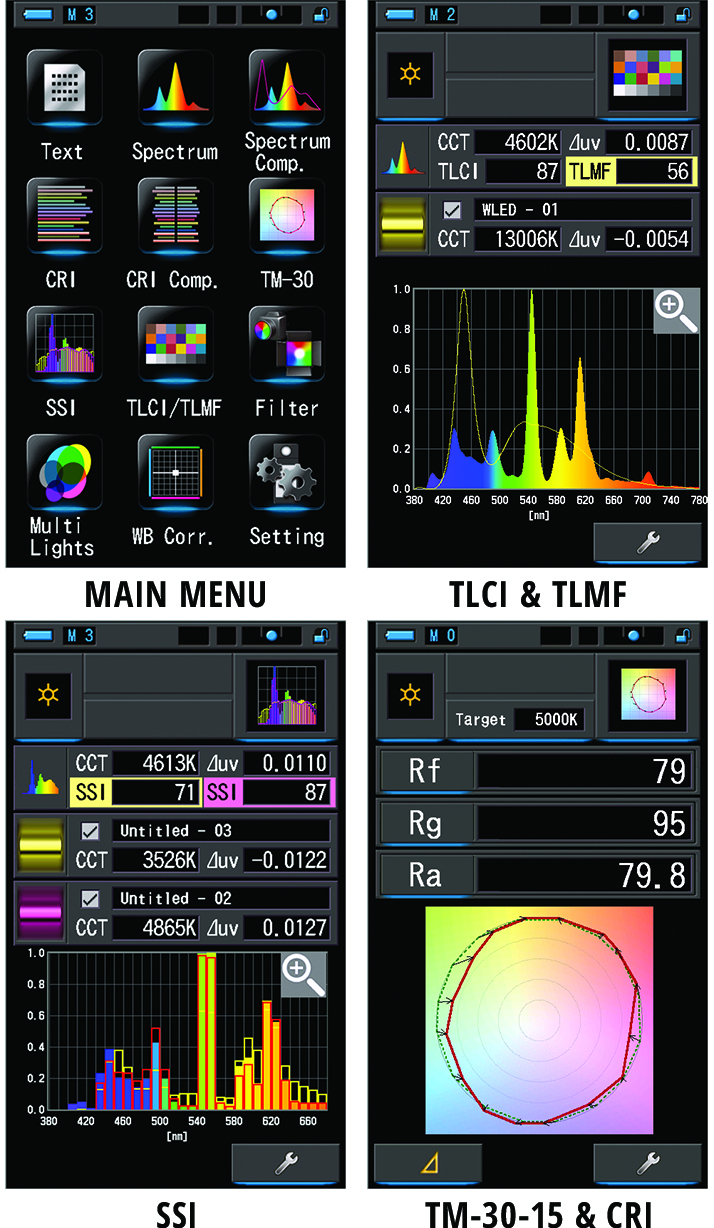 CIE1931 (x, y) is added for dialing in chromaticity coordinates in lights from such major brands as ARRI. Ninety-nine data presets can be stored in memory. Compatible to the degree with LED, HMI, fluorescent, tungsten, natural and flash lighting from 1,600-40,000K, with CMOS linear imaging sensor, incremental changes as small as a single nanometer (from 380-780nm) can be detected, useful for locating any spikes with fluorescence or LED wash.
"We have a wider range of color temperature," continued Kuroi, regarding advancements in the C-800-U Spectromaster over other SpectroMasters. "We have a wider range of illumination in lux and foot candle. We have more measurement of units. In the past, they had only Kelvin change, or green shift. However more recent things have been added. They have hue and saturation changes; and ARRI's SkyPanel has x,y-coordinates, so have we added those in the new C-800."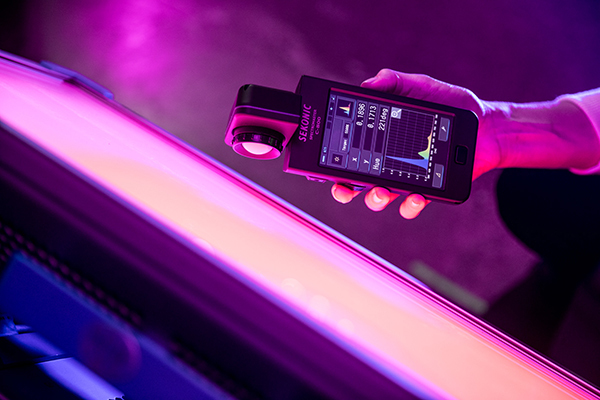 The light meter works from 1-200,000 lux in ambient light. Cycling through the supported displays gives access to dedicated menus like Text, Spectrum Graph, Spectrum Comparison, CRI, SSI, TLMF (Television Luminaire Matching Factor — a companion metric to TLCI), TM-15, Lighting Filter for Rosco and LEE, Camera Filter for Kodak Wratten, LEE and Fuji filtration and White Balance Correction.
New to the line, CRI Comparison, TM-30 (Rf, Rg, Ra) for enhanced red channels, SSI and TLCI have been added. TM-30-15 is an evaluation of light source color rendering from the Illuminating Engineering Society (IES) that uses 99 color samples to characterize the differences between test and reference sources.
Using similar rating classifications as CRI, Spectral Similarity Index (SSI), defined by the Science and Technology council of the Academy of Motion Picture Arts and Sciences, is a new index that addresses shortcomings in the Color Rendering Index, originally designed for hot lamps and non-digital technologies.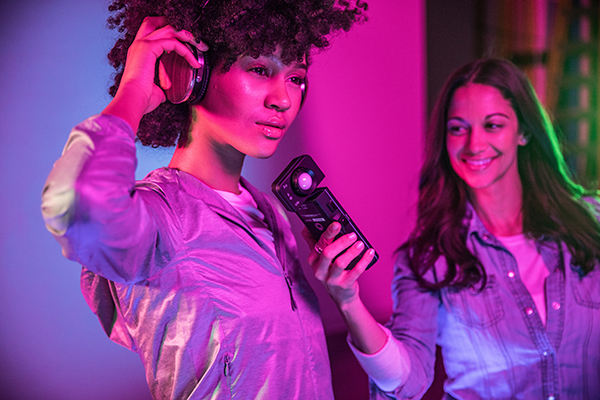 "CRI is based on human-eye sensitivity. At the beginning, they used only eight color patches to see the color rendering, and later they added, from 9, than to 15. They use only 15 patches for color rendering. So everyone in this market knows that CRI is okay, but not for LED or newer lighting sources. Now, new TM-30-15, this is a new standard. Again, this is based on human eye sensitivity, but they have used 99 current patches to see that color reproduction."
"CRI and TM-30 is based on human eyes, and TLCI is based on camera sensitivity. So now we remove the sensors, and just compare the light source and color temperature degrees. So SSI defines how close a test of spectrum is to a reference spectrum. You can measure your light source with SSI, store it in memory, and then compare a light source to that measurement."
Building on the advantages of the previous C-700, the C-800-U carries over the 4.3" touchscreen, customizable button ergonomics, 270-degree swivel head, and internal dark slide for black calibrations without a seperate lens cap.
"The enhancements to the new C-800-U show our commitment to leading the category with regards to new and emerging trends in the color control industry, while also responding to the changing needs of our end users," says Kenji Sawai, Executive Officer and General Manager, Sekonic, Japan, in the announcement.
"The new Spectromaster C-800-U was developed to provide increased confidence to filmmakers and photographers working with a range of lights; with a focus on rendering true to life skin tones, realistic color, and matching lights better than any other meter on the market. The Sekonic C-800-U empower everyone focused on color control to light better."
As a starter light meter, Sekonic released the Sekonic Flashmate L-308X-U at $219 in March.
Founded in 1951 and based in Japan, Sekonic is distributed by the Mac Group in the US. Follow them on Facebook, Instagram and Twitter.
Stay up to date with American Cinematographer on Facebook, Instagram and Twitter.