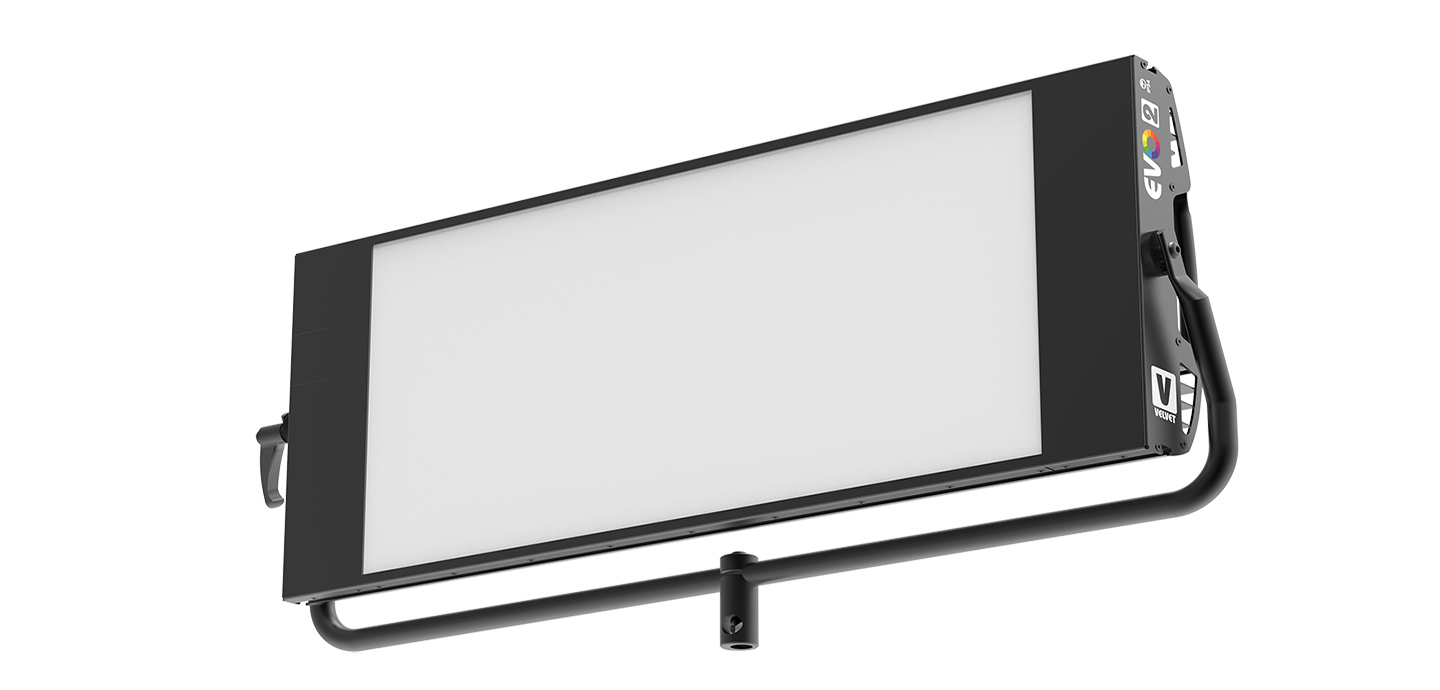 Smooth as VelvetLight: A new 2' x 1', rain-resistant, color LED panel.
With a 100% aluminum, "weatherproof" body, the Evo 2 Color is a new luminaire from VelvetLight, offering low weight and conversely strong output. Measured at 900 lux at 10' (83 fc at 3m), the unit draws only 200W of power and can be used with standard V-Lock or Gold Mount batteries.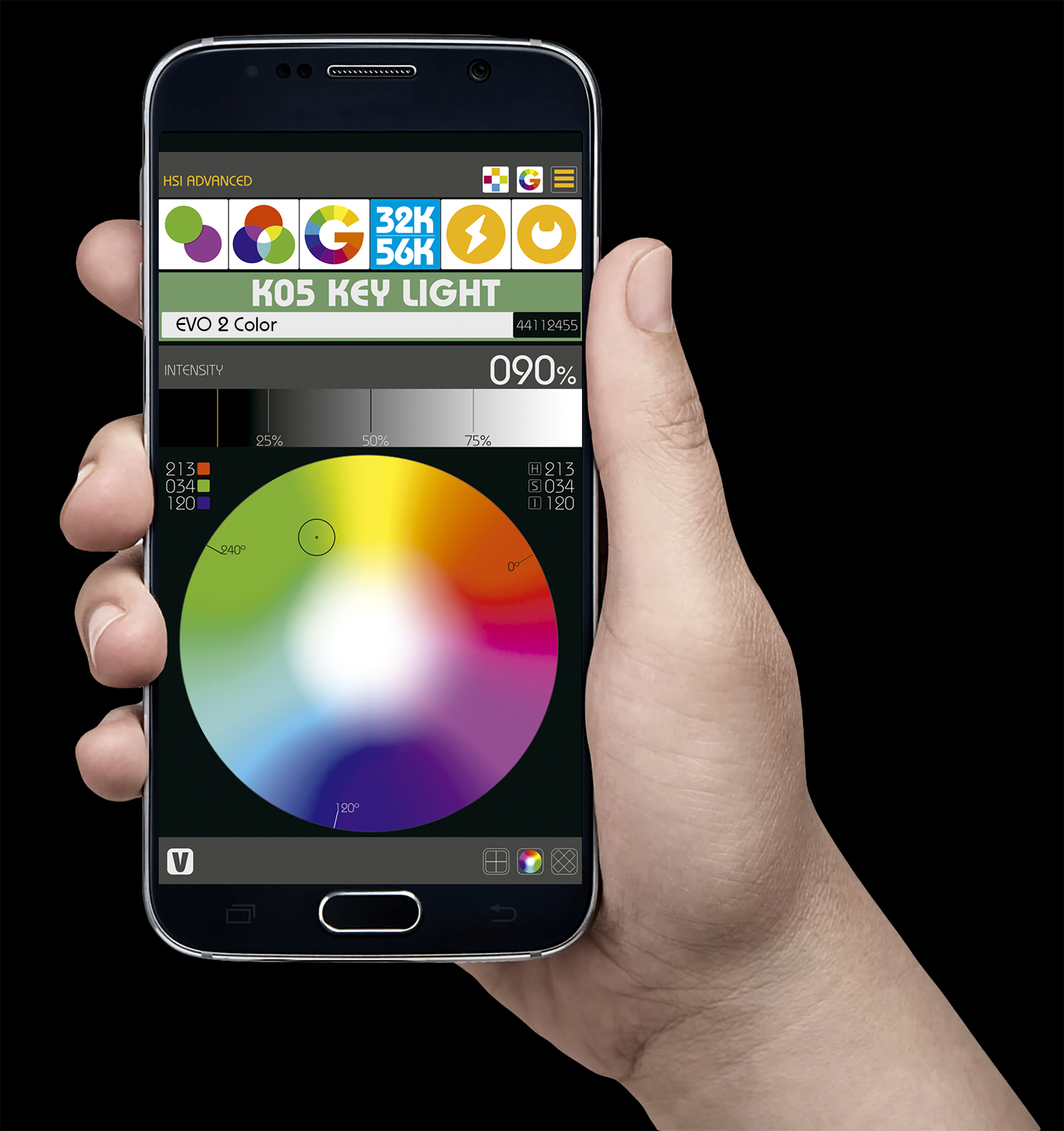 A good choice for remote installations, the Evo 2 Color is controllable through the Velvet Color Master app (Android or iOS). The Velvet Evo Color Master app also has a color-picker to recreate colors from photos or to upload or work with lighting design presets.

At 60 x 30cm (1.97' x .98'), the body weighs 15.5lbs and is passively cooled without fans, making it ideal for environments with rain or dust. It can also be operated from XLR-5 connection, LAN ethernet or wireless DMX with incorporated RDM wireless transceiver from LumenRadio.
Externally, the on-board color display has shock-resistant buttons to access four modes of operation. Internally, the light houses a five-chip LED with Red, Green, Blue, White and Cool White. Tested to a cumulative CRI 97, it has several different operational modes.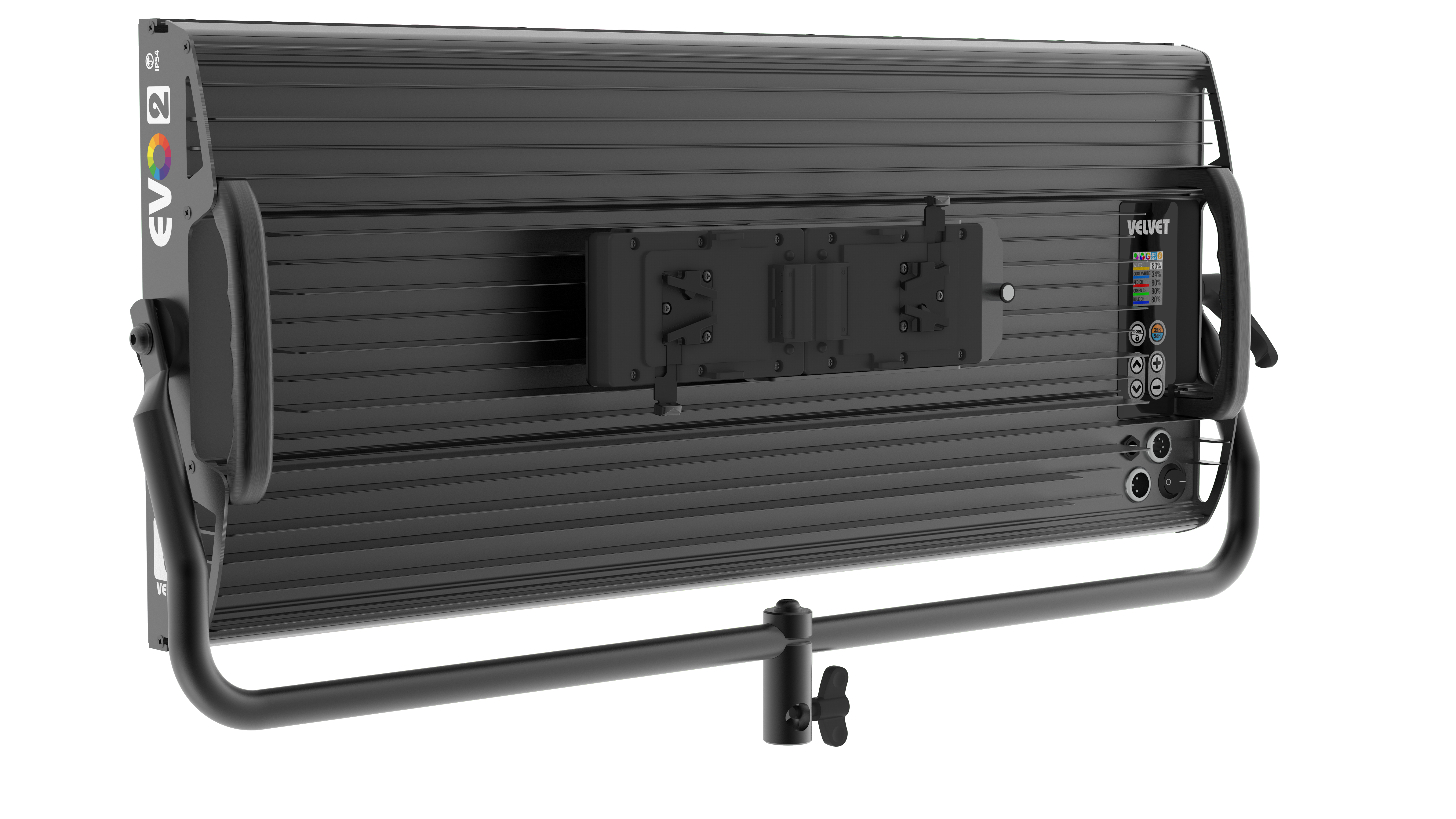 CTT mode is a "white" mode with 0-999% dimming, green/magenta shift for skin tone, and color temperature that is adjustable between 2,500-10,000K. The HSI selection is a "color" mode with control over saturation and intensity as well as choice of Kelvin color temperature for setting base white color temperature, and digitally "gelling" from there. It also has a range of 0 to 360 degrees for hue adjustment.

For faster, simplified gels, the Gel mode has a selection of Velvet presets, which can be saved or loaded from elsewhere. Finally, the expert RGB+W+CW mode has individual adjustment of the five LED chips. With speed and frequency settings, there are also several effects modes including TV, emergency, lights, fire flicker, hue bursting, paparazzi, fireworks, party lights, pulsations and strobes.
This fixture is planned for availability in September of 2018. Accessories will include center ball mount, PO yoke, double panel yoke, louvers, barn doors, soft bag, flight case, Cinelex wireless DMX transmitter and SnapGrid and SnapBag from DoP Choice.
With rental house exclusives available, VelvetLight solutions can be bought or rented worldwide.
A Spanish company, VelvetLight (formerly known as TheLight) can be followed on Facebook, Instagram and YouTube.
Stay up to date with American Cinematographer on Facebook, Instagram and Twitter.