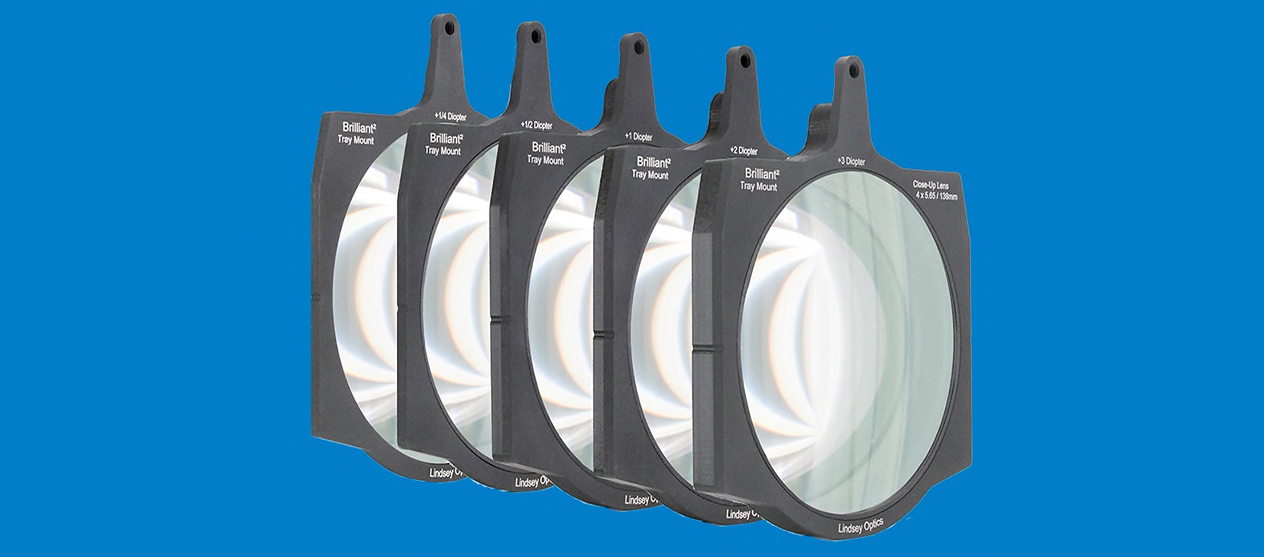 Tray-Mount "Close-Up" Diopter Lenses From Lindsey Optics
Five new 4" x 5.65" "close-up" diopter lenses join macro adapters, filters and other lens solutions.
David Alexander Willis
Five new 4" x 5.65" "close-up" lenses join macro adapters, filters and other lens solutions.
Available as a complete set for $2,750 or individually at $550, five new 4" x 5.65" Brilliant² Tray Mount "Close-Up" Lenses from Lindsey Optics offer values of +1/4 diopter, +1/2 diopter, +1 diopter, +2 diopter and +3 diopter.
Magnifying field of view, ranging from a slight bump of size for small objects at +1/4, or a more exaggerated field of vision in full strength at +3, the lenses are constructed from the "finest" optical glass. With broadband, multi-layer, anti-reflection coatings, the Brilliant² Close-Up lens system is built around 138mm diopters that have been permanently mounted in proprietary Brilliant² 4" x 5.65" trays.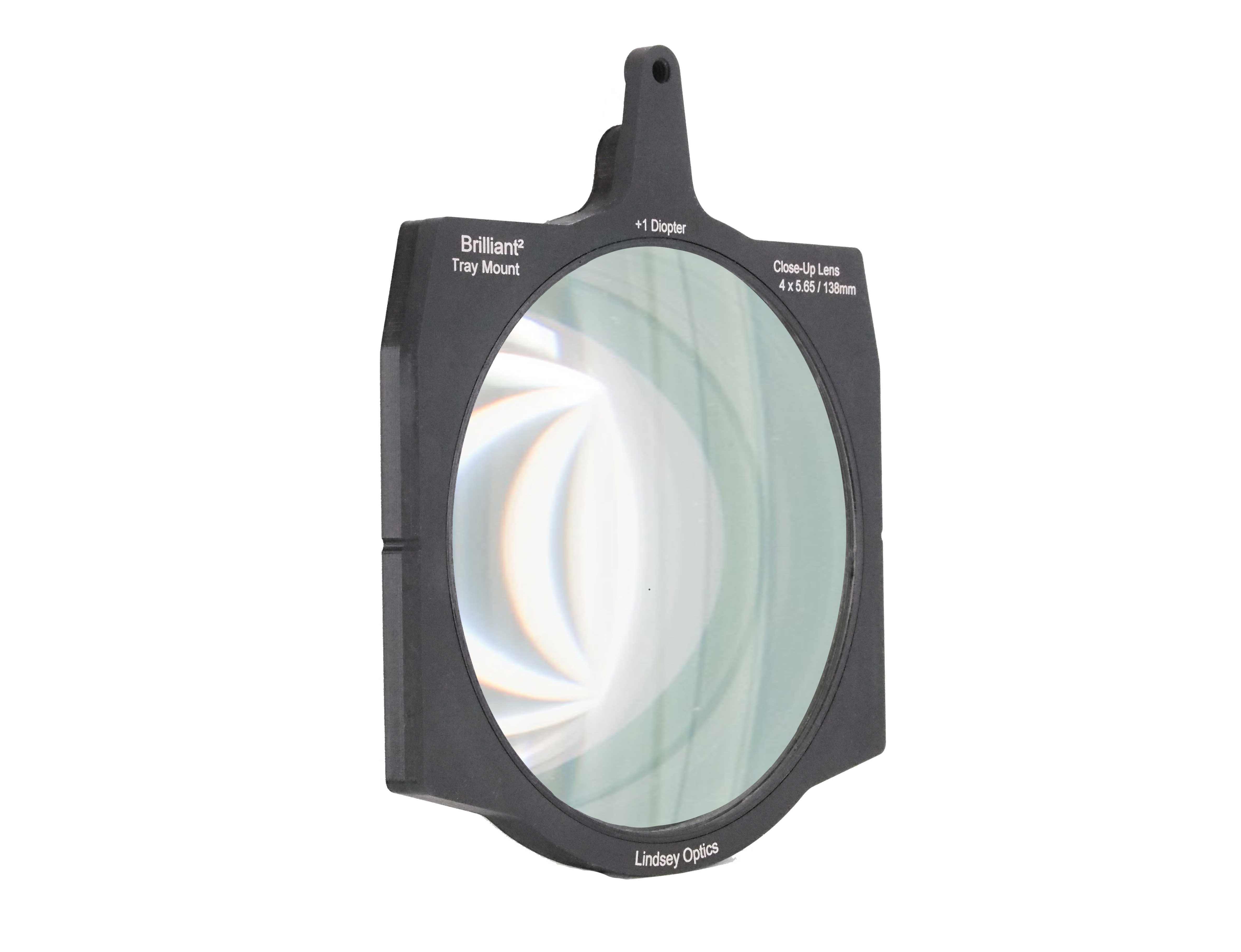 The Lindsey Optics Close-Up lenses have an expansive 5.1"-diameter for wide-angle lenses and models with a large front element. The Brilliant² tray mount itelf is designed for easy insertion into existing clip-on or rod-mount 4" x 5.65" matte boxes from Arri, Bright Tangerine, Chrosziel and Vocas.

The +1/4 diopter and +1/2 diopter values will fit in one matte box slot, while the +1 diopter and +2 diopter values use two slots, and the +3 diopter uses three. "A lens with a power of one diopter has a focal length of one meter. A lens with a power of two diopters has a focal length of 500mm," explains President of Lindsey Optics, Dwight Lindsey, who includes tenure as CEO of Schneider Optics during 40 years of experience working with cinematography and photography solutions.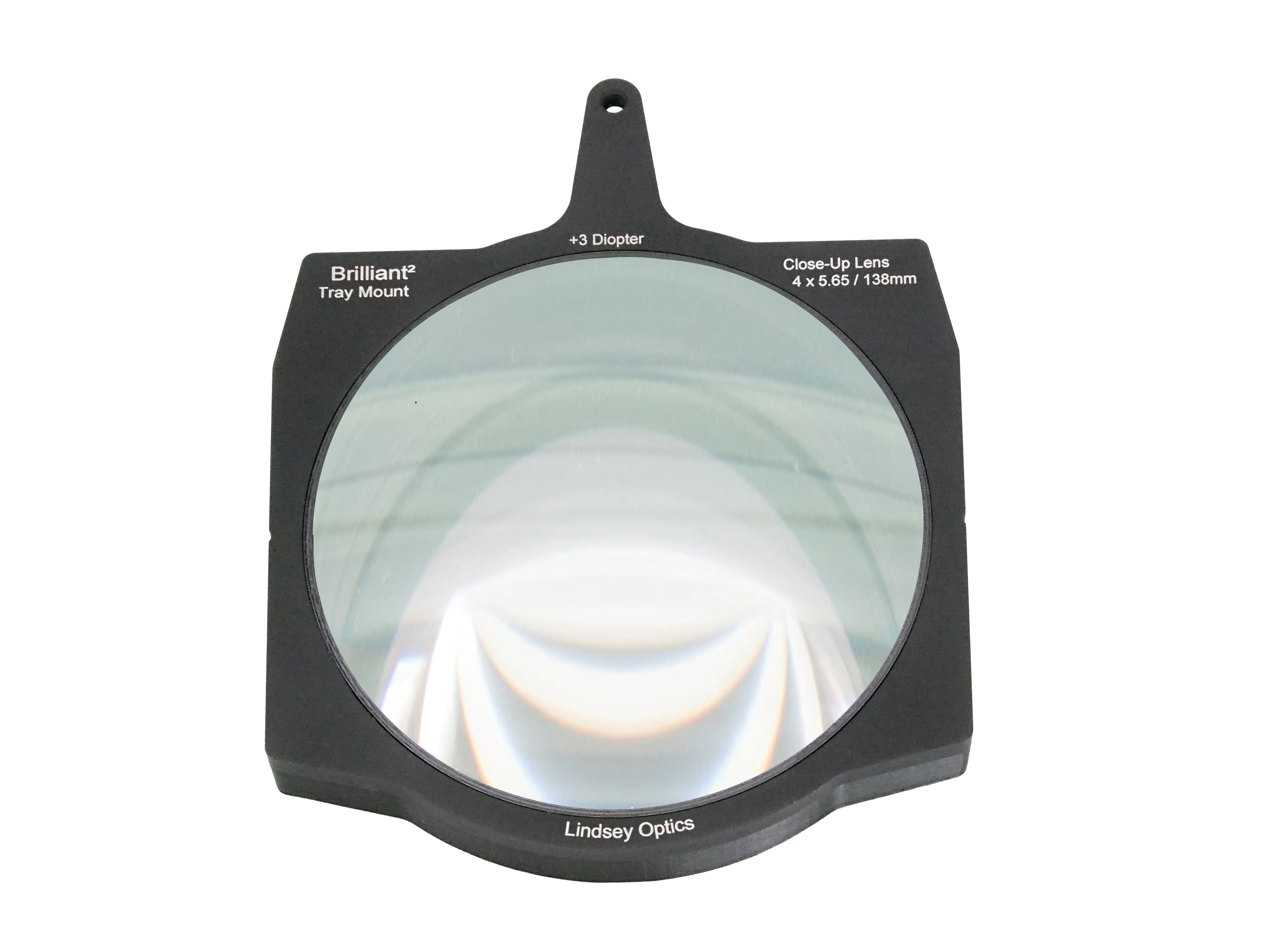 "An uncoated piece of glass reflects something like 4% per surface or 8% per filter. If you put only three filters in a matte box, 24% of the light is going somewhere else, somewhere you don't intend. It's mostly ending up as stray light, killing contrast and color saturation," he continues. "We chose the 'Brilliant' part of our filter names because of the Anti-Reflection coating. All of our filters have a seven-layer AR coating, what is often called 'multi-coating' or 'MC coating'. The top layer is Silicon Dioxide (SiO2), which is as hard and durable as quartz."

"Recently, we started producing round filters that are mounted in rectangular filter trays. We have a new Rota-Pol and a new Variable ND as well as the Brilliant² Tray Mount Close-Up Lenses, our new diopters. So Brilliant² — pronounced 'Brilliant Squared' — refers to the rectangular shape of the filter trays."
Lindsey Optics also creates a number of other customizable optics accessories. Attaching to cine primes and compact zooms, their Brilliant Macro Lens attachments will support full frame optics at up to 36 x 24mm. Adaptable to Zeiss, Cooke and Schneider Optics, they will also attach to prime lenses of between 50mm and 100mm focal lengths.
Available at $1,950 each or $5,893 for the set of three, with one supporting aspheric, the Brilliant Macro Lens attachments also hold focus throughout a zooming range. Stackable for even higher magnification, claiming no light-loss, they support compact zooms like those made by Canon, Zeiss, Sigma and Tokina, including the work Zeiss 70-200mm Compact Zoom CZ.2 for a macro-zooming solution.

Useful for reducing reflections and saturation of color, Lindsey Optics has circular and linear polarizers in 4.5" Round Drop-In, 138mm Round Drop-In, and 4" x 5.65", all with anti-reflection coatings. Constructed from Schott B270 "water white" optical glass, they have 38% transmission, resulting in a 1.5 stop light reduction.

Compatible with 4" x 5.65" cine matte boxes, even those without a rotating filter stage, the $599 Brilliant² Rota-Pol can be rotated by spinning either of the two thumb wheels by hand or remotely with a motor using the Delrin thumb wheels. With 138mm diameter lens for wide-angles and zooms, the system is available as a linear polarizer by request.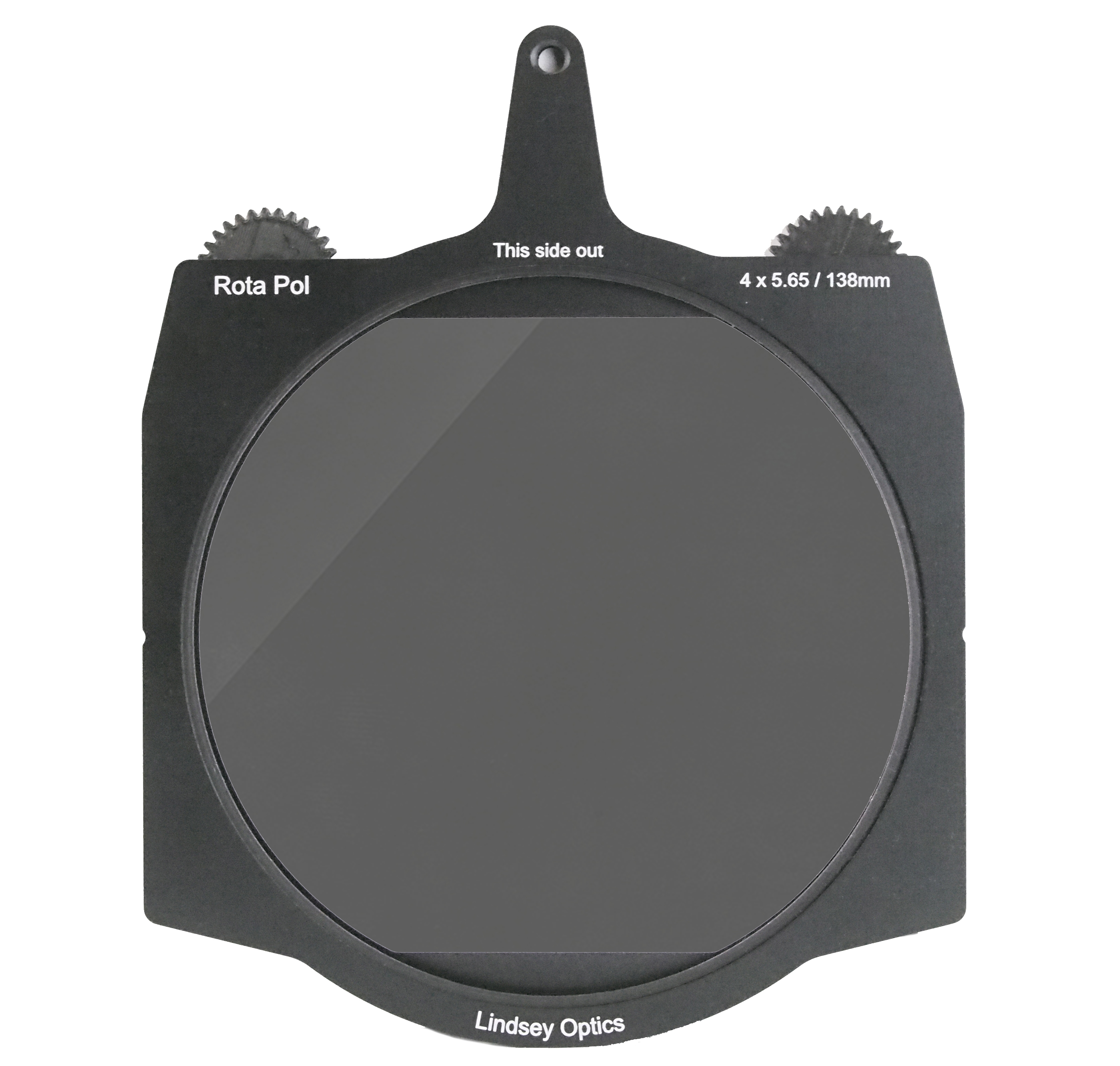 At $899, their newest ND filter available is the Brilliant² Variable Neutral Density for 4" x 5.65" matte boxes, occupying two matte box slots. Constructed from two 138mm linear polarizers, one rotates while the other is fixed. The handle has standard 1/4"-20 threading for motors to create fading effects or variable depth of field. Providing ND values between ND 0.6 (2-stops) and ND 2.4 (9-stops), other combinations are available.

To achieve plano-parallel surfaces, their filtering solutions are tested for flatness and hence sharpness throughout by using a phase-shift Zygo laser interferometer that can test to within fractions of a wavelength of light.
Alongside included one-year warranty against defects, the company offers two-year 'No Fault' warranty on filters as a separate purchase. "No Questions Asked . . . Scratch it . . . Break it . . . We replace it," according to their guarantee. The company manufactures from Lancaster, California, located just north of Los Angeles.
Contact him for more information via email, or phone at (661) 522-7101.
Follow Lindsey Optics on Twitter, Instagram and Facebook.
Stay up to date with American Cinematographer on Facebook, Instagram and Twitter.