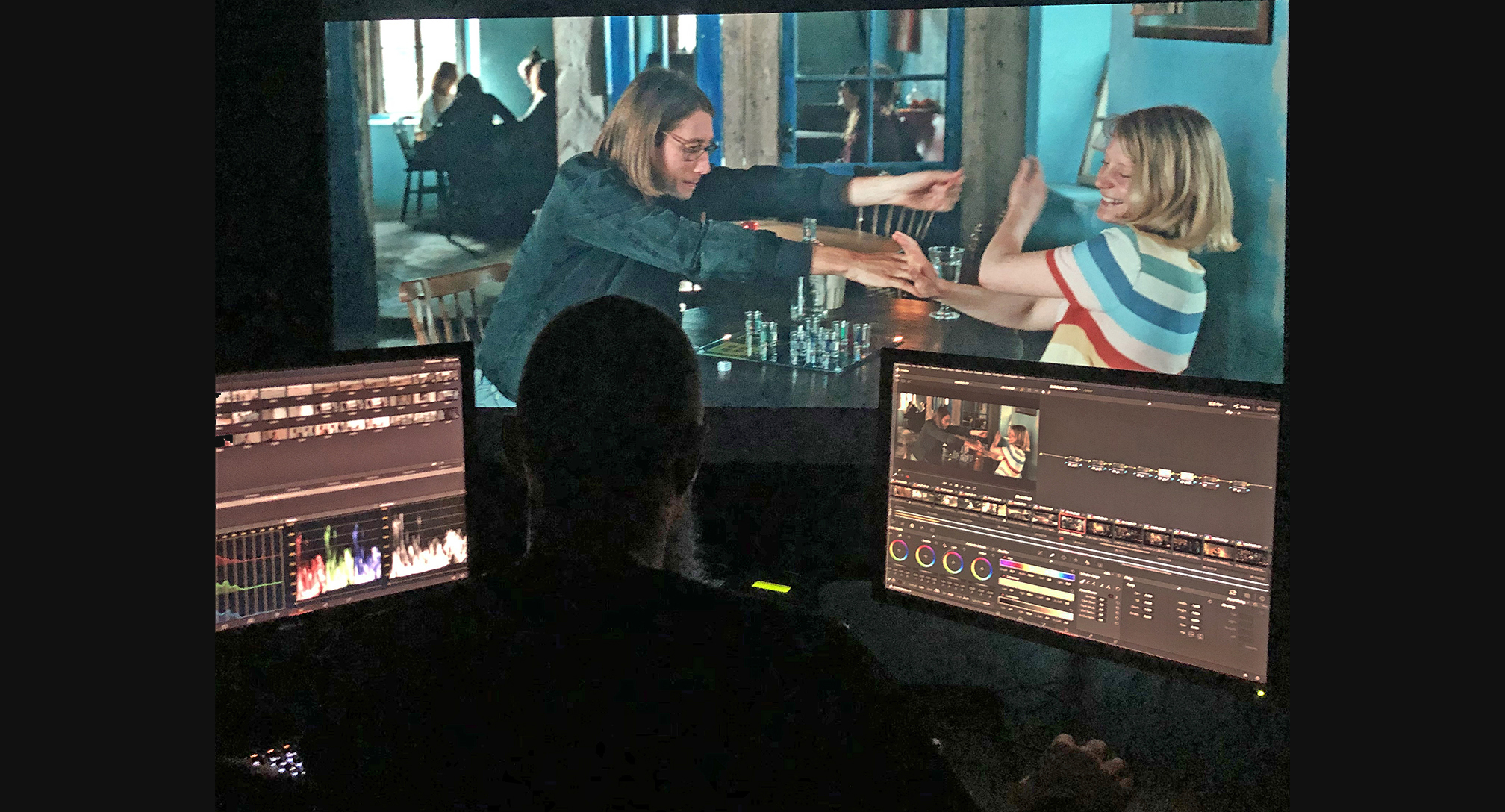 Bergman Island Journal — Part X
The cinematographer's final update on the making of this unique project set on Fårö, the Swedish island where Ingmar Bergman shot four features, lived, died and is buried.
Denis Lenoir, ASC, AFC, ASK
The cinematographer's final update on the making of this unique project set on Fårö, the Swedish island where Ingmar Bergman shot four features, lived, died and is buried.
Production image courtesy of the author

Editor's note: This production diary unfolded in 10 parts (starting here), while a more formal interview with the cinematographer can be found here.

Post-Production, 2020
Tuesday, February 4, 2020
In Berlin for two weeks to color time the film with Peter Bernaers at The Post Republic facility. I discover the 2.9K scan, which has been made in Brussels, looks OK. Even though I like on every project to put some warmth in the highlights and some blue in the blacks, this time I discover already in the first exterior shots that the highlights are cold, almost on the cyan side. (Is it from development?) I decide not to fight that. I justify this to myself a) by remembering what I always say to students: go with your images, whatever they are, not against them, an b) it is Summer, yes, but we are in Sweden, so it not absurd to keep some kind of coolness, even in the sunlight.
Thursday, February 6
Peter and I have spent two full days, starting from scratch, making some kind of workprint to present to Mia, who arrived last night. We don't show her that film, but start instead at the beginning, working on it with her scene-by-scene. Soon I understand that she will want an image that is way less contrasty than what we had quickly put together. To her, it looks otherwise too "digital" — fake. I understand what she feels and what she means, but at the same time I am fearing, of course, we are going to end with a very flat and boring image. So I try to add some contrast in the mid-range, but this not always possible, not always efficient.
The first scene was inside the plane (the shaking is great, no need to add anything in post), the second one is our first exterior day, Chris and Tony exiting the plane and walking on the tarmac. Mia finds it too warm — "like it was shot in a tropical country" — and we cool it quite a bit. I feel relieved to have already decided to go this way, I can see the torture it would be if I had mentally kept to my love for warm highlights!
Friday, February 7
Mia and I are often strongly disagreeing, sometimes she is the one yielding, but more often I feel it is me. (But she could disagree on that !) The truth is that we are talking of very small differences, nuances the audience would probably never perceive. We end the week having done our first pass on reels 1, 2 and 3.
Sunday, February 9
Yesterday, Mia and I went to the Gemäldegalerie, the museum of ancient painting, a very pleasant experience due to the richness of the collection but also (Mainly?) to the fact that there was almost no visitors — a true delight. Back to work, which is not easy as Mia and are disagreeing on many things. It seems I am more focused on the skintones when she cares also about the color of the grass or the sea. But there is sometimes another problem due to the workflow: the lab which made the dailies at had the bad habit of bringing up the midtones (instead of respecting the neg S curve). During the edit, Mia and Marion (the editor) have often found the images too bright and have brought them down on the Avid. But by doing so, they have actually created quite a lot of contrast, crushed blacks and weird colors.
Now at the final coloring, Mia's genuine taste is to be very naturalistic, which means a rather low contrast, which makes the colors (blue of the sky or blue of the sea, for instance) that she loved in the edit to disappear. And this gets her quite frustrated. My own frustrations are coming from an image which I find sometimes too flat by lack of contrast and absence of blacks. Fortunately, I know we are not arguing about much difference and at the end it will be fine.
Monday, February 10 (my birthday)
Last night I received an email from Mia. She was complaining of the tone I sometimes use when arguing with her about contrast and color, finding it — rightfully so, I would say — too harsh, unpleasant and authoritarian. It made me feel bad — rightfully so again — and I had a hard time sleeping. We met at breakfast this morning, when I apologized and told her I would be more careful in the future. Today went fine.
We are not yet done with what is our first pass, Mia leaves on Thursday night, we need to be done by then. I'm starting to worry: Who knows how we are going to find this first pass when looking at it tomorrow afternoon ?
Tuesday, February 11
We finish working on reel 7 and then we look at the whole film. We're rather pleased with what we see: there are many, many corrections to still make, but we don't feel we went in a wrong direction. We are not questioning our main choices of contrast and color saturation.
After a quick lunch in a nearby vegetarian restaurant, we start color correcting reels 1 and 2, mostly lessening the contrast and "replacing" it with more density. There is a shot of Chris visiting the church with Hampus that I find too bright at some point. I ask Peter to use a dynamic to darken it at this moment, and, suddenly, I remember! This is a shot we filmed on day 1, August 7 2018, and the following night I thought about it, angry with myself for not having cut some frontlight coming over the camera from one of the church windows. And now, 18 months later, I can correct it. Yeah!
Wednesday, February 12
We manage to finish the second pass, Mia and I converging on almost every decision, her being able to keep the warm feeling she loves and me able to get rid of too much red in the skin tones.
Thursday, February 13
Marion, the excellent film editor, came from Paris to visit. I wasn't much in favor of her presence in the coloring suite but couldn't keep her away. Afterwards, she commented on the lack of red in the Bergman house at the end of the movie, when myself I had reluctantly agreed on the huge amount we have now. Following this screening, we start to make what will be our final corrections. It goes rather smoothly till we reach the Bergman house. To my eyes, it is already very red, way more than what I would have done. To Mia's, encouraged by Marion's comments, it is not enough; she would like to find back what she liked in the dailies as it gives her a feeling of warm summer light on the pine-paneled walls. At her request, Peter adds more red. At this point, knowing I may be compromising my working relation with Mia, I express what I feel, finding the colors atrocious, with the overall image as covered with a brown-red juice, the skin tones the color of red wood. Mia is hurt by my comments.
It is really two different conceptions here. On one hand, a director (All directors?) entering the coloring process with the desire, conscious or not, to stick to the film they have given birth to in the editing room. Yet for me this is the moment to discover the film which exists without us knowing yet, away and possibly even against what I had in mind when filming, away and possibly against the workprint they were editing with. As a footnote, it means not to go against the negative (or the recorded data), not trying to make a scene shot under a gray sky looking sunny (or vice versa). It means after having found the right — for this project — amount of contrast and amount of color saturation, not to drift too far from it.
Friday, February 14
Mia and Marion are gone, Peter and I are spending the day doing little necessary technical tweaks. I am not very useful, but at some point we are working on smoothing Mia W.'s skin, and even though I trust Peter's taste, I want to be present, as it is always a fine line between too much and not enough.
Thursday, February 20
At the Max Linder movie theater in Paris with Anne-Sophie Henry-Cavillon, who is supervising postproduction. She wants me to see the short DCP test Peter and I had already checked in Berlin — and which was perfectly conformed to our grading — before next week's sound work in Brussels, where Mia will be present. I am judging from memory, not the most accurate test, but I find the images good in luminosity and contrast though colder than what we had done. It means one of three things: I am wrong and the colors are actually spot-on, or the Max Linder projection is too cold, or — worst-case scenario — the Post Republic setup in Berlin was too warm. I email to Peter, as the last thing we want is for Mia to have second thoughts upon what we did in Berlin. I ask Anne-Sophie to send this DCP test to Brussels so Peter can check it in a lab he knows and trusts. I also let Mia know about all that.
PS: It was the Post Republic setup…

---
Bergman Island went on to premiere at the Cannes Film Festival on July 12, 2021 — earning a nomination for the Palme d'Or — and then going on to play at film festivals around the world.
Catch up with Part IX here.
A more formal interview with the cinematographer can be found here.