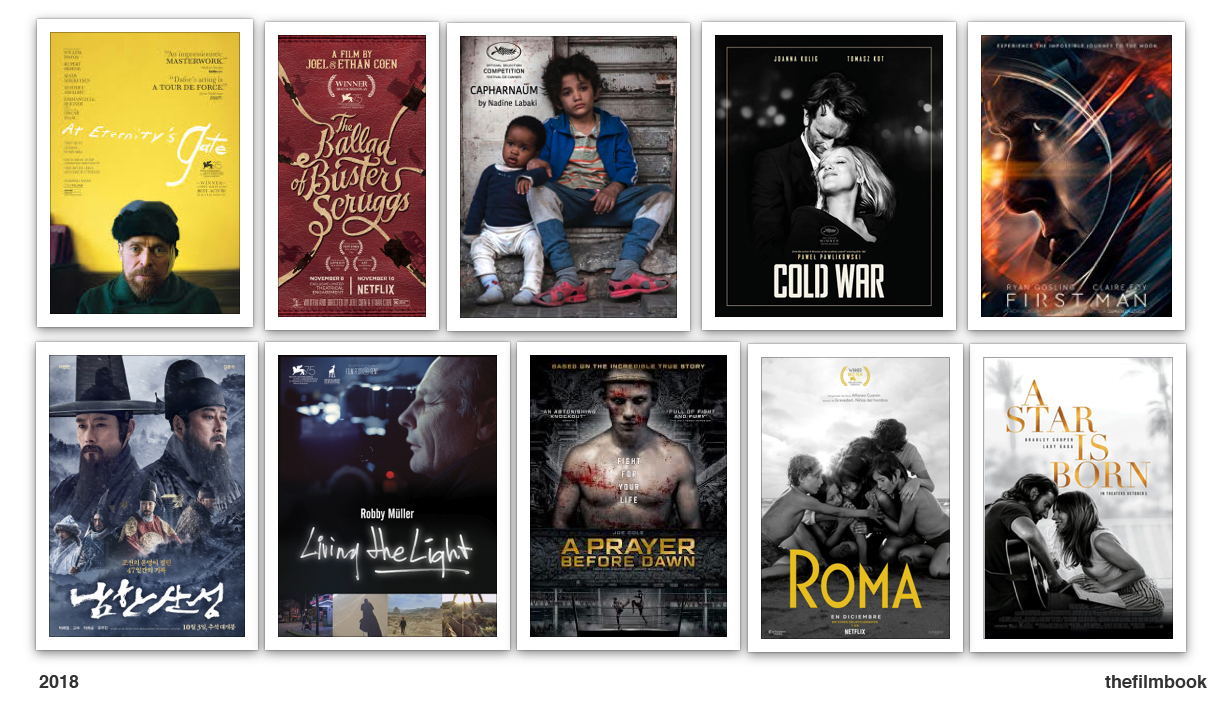 2018 Cinematography - 10 Strong Films at Camerimage
Camerimage was the occasion for noting 10 films in 2018 with strong cinematography, and to appreciate the aesthetics and filmmaking tools involved.

Benjamin B
This post recalls 10 films presented at the 2018 Camerimage Festival that struck me with their powerful cinematography, and the aesthetics and tools evoked.
+++
Art and Technology
In past posts, I have noted different aesthetic approaches in contemporary cinematography and filmmaking; the films below include:
-- New Naturalism - seeking naturalism and authenticity with one-shot scenes, natural lighting and serendipity to immerse the audience in a world that feels organic and true.
-- Neo Vérité - seeking a cinéma vérité documentary feeling with handheld camera movement, real locations, and non-professional actors to bring the audience into a realistic world.
-- Cine Expressionism - seeking to convey the hero's inner world with strong looks, vivid colors or unusual camera movements that express his or her subjectivity.
-- Variations - Of course, today's cinematography is not so simply categorized. Most cinematographers combine stylistic variations to portray the hero's journey. Cinematographers also create different looks to highlight different periods, locations or characters in the story.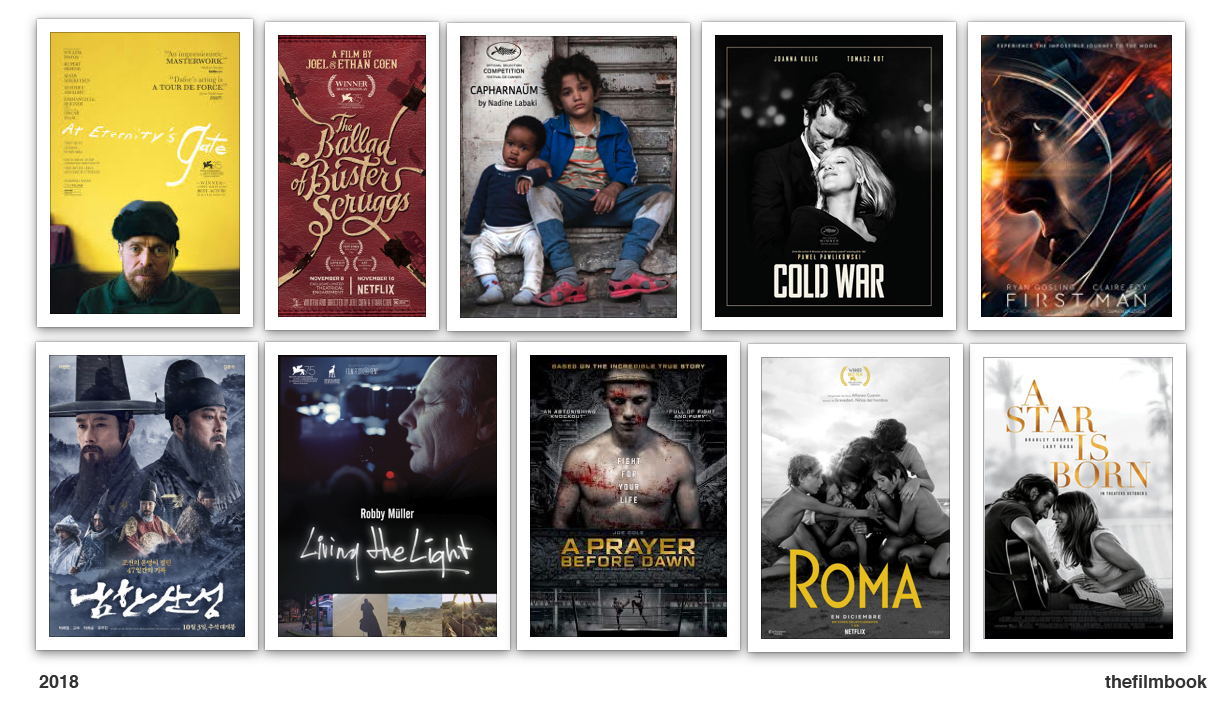 Cinema is a technological art form, so today's diversity of aesthetic approaches is expressed with a diversity of technological tools; the films below included differences in:

-- Camera formats including 16mm, 35mm, 65mm, Imax negatives, and digital sensors in Super-35 and large format Alexa 65, offering different perspectives and textures.
-- Lens choices ranging from vintage to modern, with spherical and anamorphic Kowas; Mark II, Ultra Prime and Master Prime Zeiss; zooms from Angénieux, Canon and Fujinon; vintage Cooke and Vantage C-series anamorphics; and large format Arri Prime 65s and Imax Hasselblads. Some cinematographers mixed different lens sets on the same movie. Most of the filmmakers here favor wider angle lenses, often close to the actors.
-- Color choices from monochrome to strong colors. Many cinematographers designed a color palette for each movie, in collaboration with the production designer, which is refined in collaboration with the colorist in DI.
-- Camera movement with dollies, cranes, jibs, shouldered or hand-grasped cameras, Steadicam, gimbals and drones to guide the viewer through the story.
-- Elastic frames including aspect ratios of 1.37, 1.85, and 2.40 to 1. It's noteworthy that seven of the ten films below are framed in 2.40:1 format.
This broad artistic and technological range illustrates the richness of contemporary cinematography, when accompanied by strong directors and stories.

Please note that the sequence of films below is a loose progression from naturalism to expressionism. This is not a top ten list.


+++
<= New Naturalism =>
+++
ROMA -- Family Epic
Director and
Cinematographer: Alfonso Cuarón
Camerimage Bronze Frog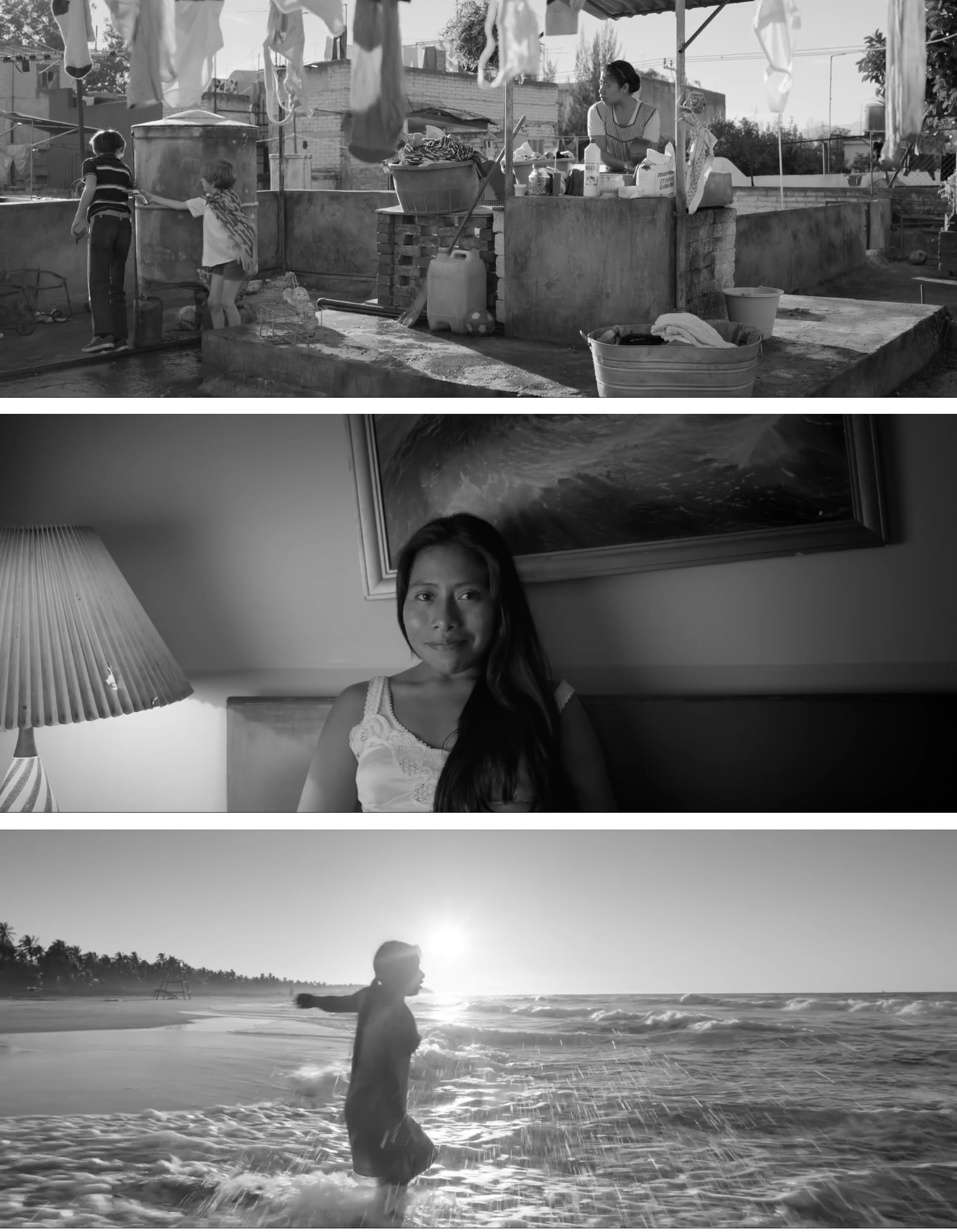 Roma is a prequel of sorts to Alfonso Cuarón's wonderful teenage story, Y Tu Mamá También. Here, Cuarón's gutsy premise is to recall his childhood in the affluent Roma neighborhood in Mexico City, through the eyes of Cleo, the live-in nanny and maid (played by Yalitza Aparicio). Although the film portrays Mexico City and the 1960s era, Cuarón keeps us grounded in empathy for Cleo's unnatural and untenable position as both a servant and a member of the family. Roma's filmmaking seeks authenticity with long takes and wide shots, and serendipity with non-professional actors. I was especially blown away by two plano secuencias (one-shot scenes): a static birth scene in a hospital and a dollying crane into the ocean.

The choice of black and white fosters the distance needed for a non-sentimental period piece, while majestic dolly and crane moves create an epic quality that permeates both the exteriors and interiors. As a cinematographer Cuarón favors natural light, and he embraces the clean digital look of the large format Alexa 65 with Arri Prime 65 lenses, offering intricate vistas of great clarity and depth, and a rich tonal range. It's clear that the director has learned much from his longtime collaborator Emmanuel Lubezki, ASC, AMC -- and what better teacher!


Alfonso Cuarón has earned a place among this year's leading cinematographers with his masterful large-format film.


+++
COLD WAR -- Intimate History
Director: Pawel Pawlikowski - Cinematographer: Łukasz Żal, PSC
Camerimage Silver Frog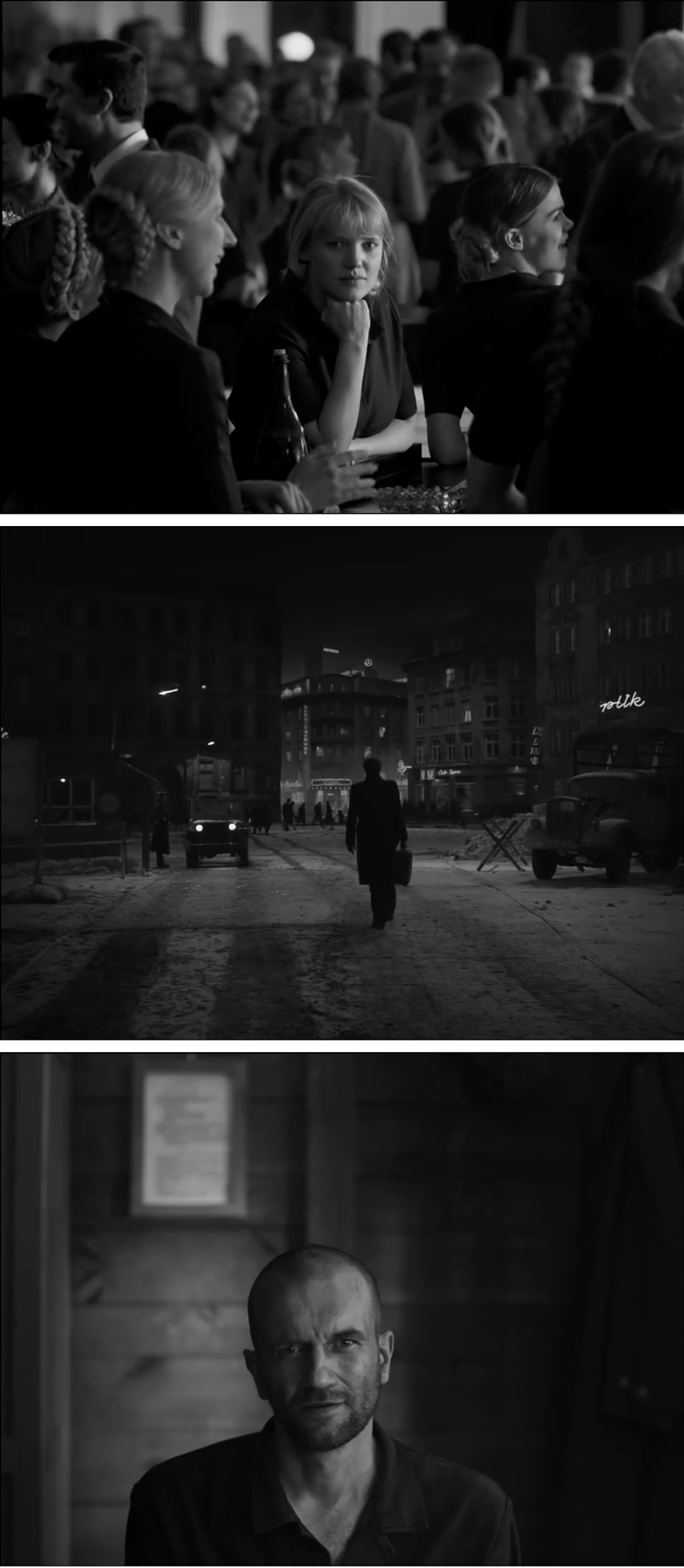 Director Pawel Pawlikowski and Cinematographer Łukasz Żal created a masterpiece with Ida in 2013. Cold War is a companion piece to Ida, also in black and white and also framed in 4 by 3, but with a more complex story whose sweep takes us from rural Poland to East Berlin, Paris and Yugoslavia in the Nineteen Fifties and Sixties. Tomasz Kot plays Wiktor, a musical director who falls in love with Zula, played by Joanna Kulig, who is at the heart of this film as a Polish chorus girl who becomes a Parisian jazz singer.


Cold War follows the impossible love of this tumultuous couple as each one pursues different ideals of personal or political freedom, together and apart on both sides of the Iron Curtain. Pawlikowski's dazzling mise en scène is a formal mélange, starting with austere stationary shots in Stalinist Poland, then moving the camera as the story progresses to bohemian Paris. I was struck by a long dolly shot crossing the Berlin border, and a memorable handheld one-shot scene of Zula dancing to Rock Around The Clock. Cold War continues with the 4 by 3 format first adopted in Ida, but, rather than head room, the compositions now appear to me as constructions around the frame's center.

Łukasz Żal's beautiful cinematography on Cold War is the result of a series of sophisticated choices. Łukasz shot with an Alexa XT, but designed the film's look to match that of Kodak Double X black and white film negative, but with a greater penetration of the blacks. As with Roma, the black and white creates a period piece feeling, but with a contemporary aesthetic. Łukasz' lighting creates an image with a range of rich tones. He lit some scenes for T8 or T11 to bring great depth to Pawlikowski's intricate frames.

It's wonderful to see Łukasz Żal develop and extend the cinematography of Ida to achieve the superlative level of Cold War.


+++
<= Classic Naturalism =>
+++
THE FORTRESS -- Classical Period Piece
Director: Dong-Hyuk Hwang
- Cinematographer: Ji Yong Kim, KSC
Camerimage Golden Frog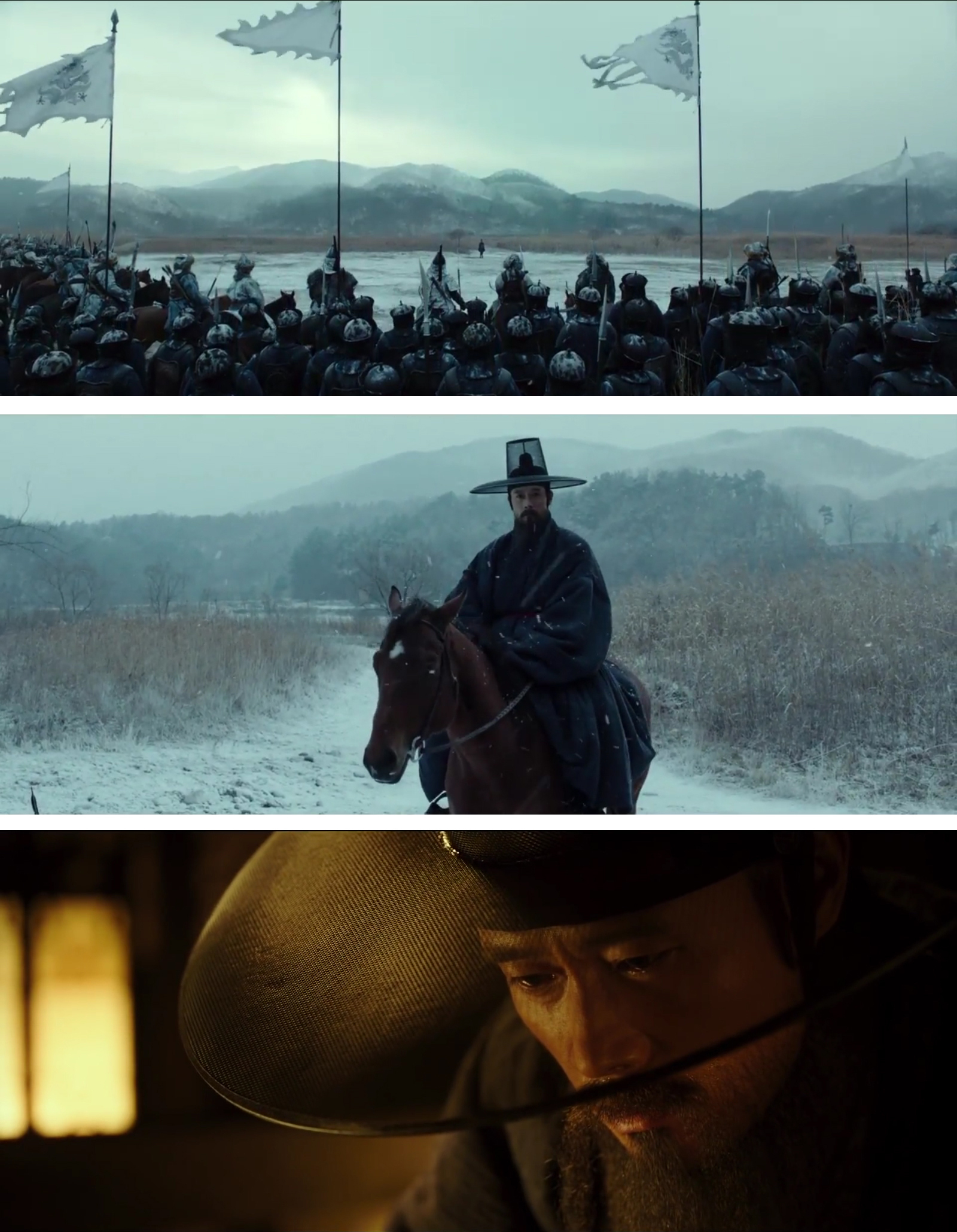 The Fortress was a huge critical and box office success in South Korea. The story recounts the 17th century siege of the Korean king and his army by an invading Chinese army with vastly superior forces. Director Dong-Hyuk Hwang has stated that the historic siege story was a metaphor for Korea's contemporary geopolitical situation.
Ji Yong Kim's naturalistic lighting and beautiful compositions serve the story with a classical elegance. He fluidly combines long, medium and wide lenses to shift perspectives as he goes from epic action scenes in day exteriors and more intimate orange-toned interiors where the king and his court debate whether to fight or surrender to the mighty invaders. The cinematography of The Fortress is sophisticated and beautiful, with a masterful control of look, continuity and contrast.
I look forward to seeing Ji Yong Kim's future work.
+++
<= Neo Vérité =>
+++
CAPERNAUM -- Anamorphic Vérité
Director: Nadine Labaki - Cinematographer: Christopher Aoun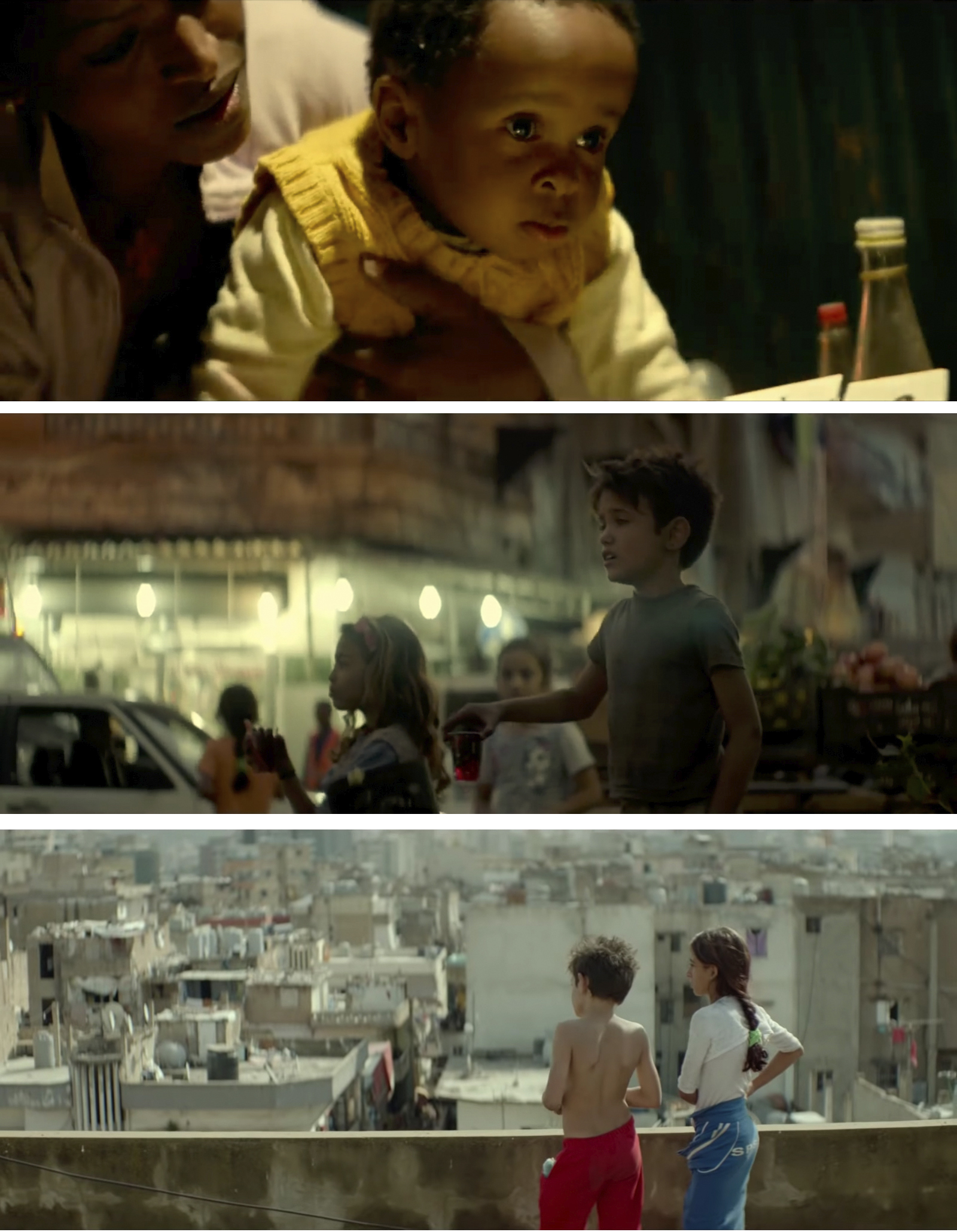 Nadine Labaki's moving film is powered by extraordinary non-professional actors. The heart of the film follows, Zain, a 12-year old Beirut street kid (played by Zain Al Rafeea) who finds himself alone and penniless with a 1-year-old toddler in the slums of Lebanon. The boy's struggle to survive and tend for the baby brother he has adopted is riveting. Labaki succeeds in telling her story about children and immigrants who are invisible to society, with authenticity and humanity.
Christopher Aoun's dynamic, fluid cinematography grounds Capernaum in a cinema vérité style that reveals the Beirut environment as it follows Zain. Chris used Hawk C-Series anamorphic lenses to add touches of poetry to this childhood story, with bokehs and colorful flares. Chris lit the tight locations by bouncing outside lights on reflectors placed inside (a system invented by Christian Berger, AAC, BVK). Chris shot most of the film with the Alexa Mini on his shoulder, with help from 2nd unit DP Marco Müller.

The cinematography of Capernaum creates a poetic documentary style that reveals the stark childhood world of a Lebanese street kid.


+++
A PRAYER BEFORE DAWN -- Vérité Realism
Director: Jean-Stéphane Sauvaire - Cinematographer: David Ungaro, AFC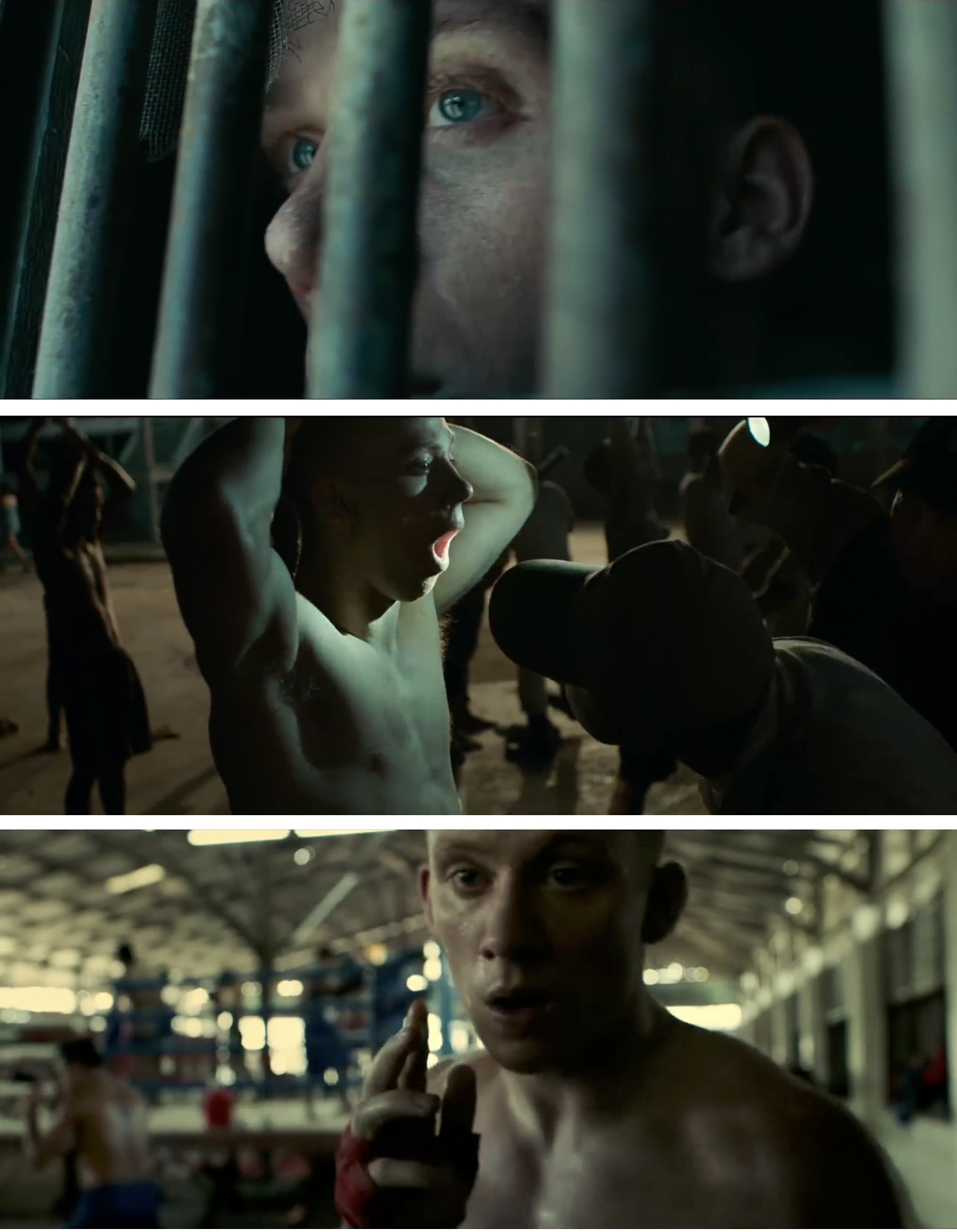 Jean-Stéphane Sauvaire's film follows Billy Moore, a British expatriate (intensely played by Joe Cole), as he goes to prison in Thailand after a drug arrest. Billy finds himself in a dangerous alien world, and doesn't even speak the language. He finds his way by kicking drugs and joining the prison Thai boxing team. The director chose to work with non-professional actors, many of whom were ex-convicts, and to shoot on location in a recently abandoned prison in Thailand. There is very little dialogue. Prayer is a simple story of redemption in a strange land that is given great authenticity by its Thai cast, its real prison location, and its documentary aesthetic.
David Ungaro's powerful cinematography is based on a camera that follows the hero closely, bringing us into his subjectivity. David shot most of the film with an Alexa Mini on a custom Stabe One gimbal unit, giving a fluid documentary feel to the film that is a mixture of handheld and a dolly. He used Zeiss Mark II lenses. His contemporary lighting approach integrates a plurality of practical sources that are true to the realism of the prison location.
A Prayer Before Dawn is a film whose quality comes not from its simple story, but from filmmaking and cinematography that stays true to the authentic actors and settings.

+++
<= Variations =>
+++
FIRST MAN -- Film Textures
Director: Damien Chazelle
- Cinematographer: Linus Sandgren, ASC, FSF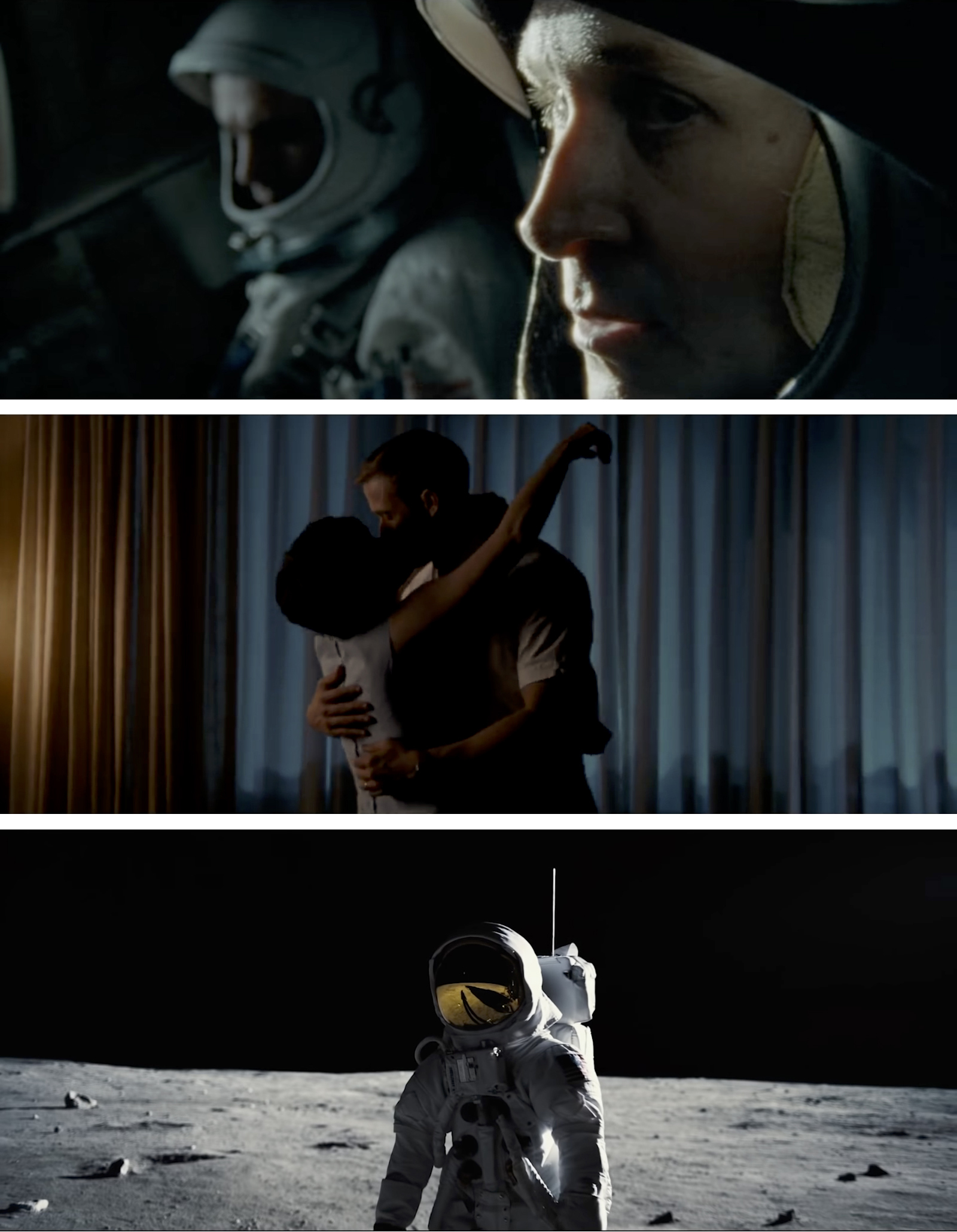 In First Man Damien Chazelle frames the historic 1969 moon landing through the personal story of an astronaut grieving the death of his young daughter from cancer. Ryan Gosling underplays Neil Armstrong, the first man to walk on the moon, as a stoic hero, and the audience is invited to peer into his soul by watching him in the tense situations of training, tests and flights, as well as his restrained interactions with his wife and two boys.
Linus Sandgren's cinematography charts Armstrong's emotional journey with the full range of different film negative textures. Linus shot the claustrophobic space capsule interiors with grainy Super 16, NASA and the family at home with 35mm, and the film culminates with 65mm Imax footage of the dusty lunar landscape, shot in studio. The lenses used have a similar diversity, with Canon and Fujinon zooms, Kowas, Camtec Ultra Primes and Hasselblads. Linus' lighting is naturalistic, and he stays true to the singular solar source for the scenes in test flights, in the capsule, and even on the moon set, where he used a specially-made 200K bulb.
The cinematography of First Man is a wonderful modulation of a story with artful lighting, film formats and lens textures.


+++
THE BALLAD OF BUSTER SCRUGGS -- Homage Collage
Directors: Ethan and Joel Coen
- Cinematographer: Bruno Delbonnel, ASC, AFC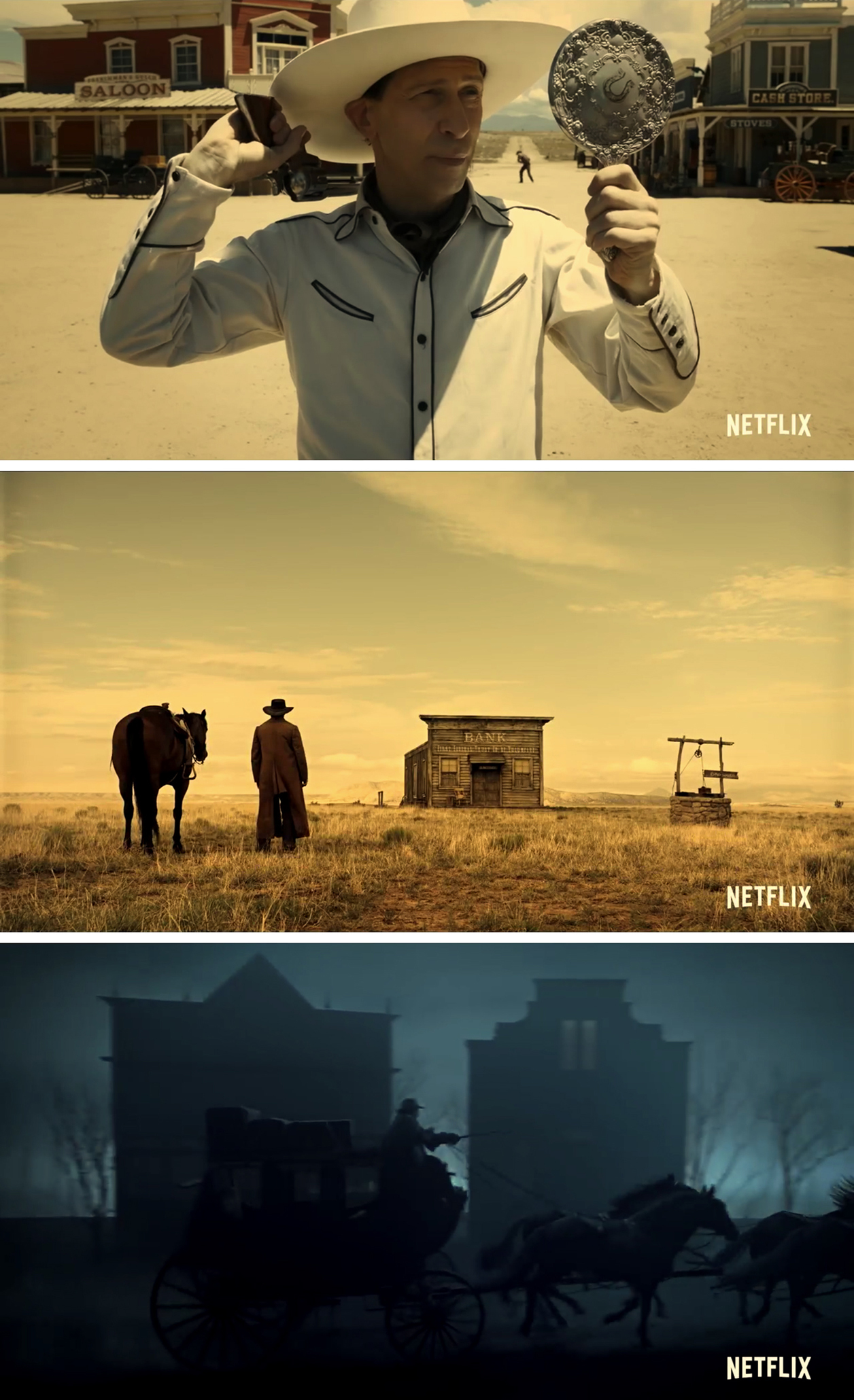 In The Ballad of Buster Scruggs, the Coen brothers combine 6 shorts to create a post-modern homage to the violent American genre of the western, with all the clichés: the saloon brawl, the gunfight, hangings, savage Commanches, the prospector, a wagon train and a stage coach. But the film is also a series of different perspectives on death and dying, laced with dark biting humor and old-fashioned grandiloquence. Spoiler alert: there are a lot of deaths in the film, several graves, and two very different images of an after life, one comical, and another less so.
Cinematographer Bruno Delbonnel told me that he sought to give each story a distinctive "atmosphere", with its own allusions and feeling. The filmmakers' visual references included musicals, Sergio Leone, other westerns and even The Night of the Hunter. Ballad was shot mostly on location, and each story is visually informed by its landscape. The final variety of textures is the result of Bruno's work in DI with his longtime collaborator, colorist Peter Doyle, with the participation of the directors. I was struck, for example, by the imagery of the traveling-show actor during his night-time performances, or how a desolate bank building blends into the desert landscape.

Bruno shot with an Alexa Studio XT and Mini, with Zeiss Master Primes. Ballad is the first film the Coens have shot digitally, and they were quick to appreciate the capability of digital for very long takes and its facility for VFX. Bruno feels that shooting digital also helped him deal with the bad weather that plagued the production, which, to his credit, it is not visible on screen.

The Ballad of Buster Scruggs is a masterful example of creating cinematic variations to give six different tones to six different stories.


+++
<= Cine Expressionism =>
+++
A STAR IS BORN -- Vivid Anamorphic
Director: Bradford Cooper
- Cinematographer: Matthew Libatique, ASC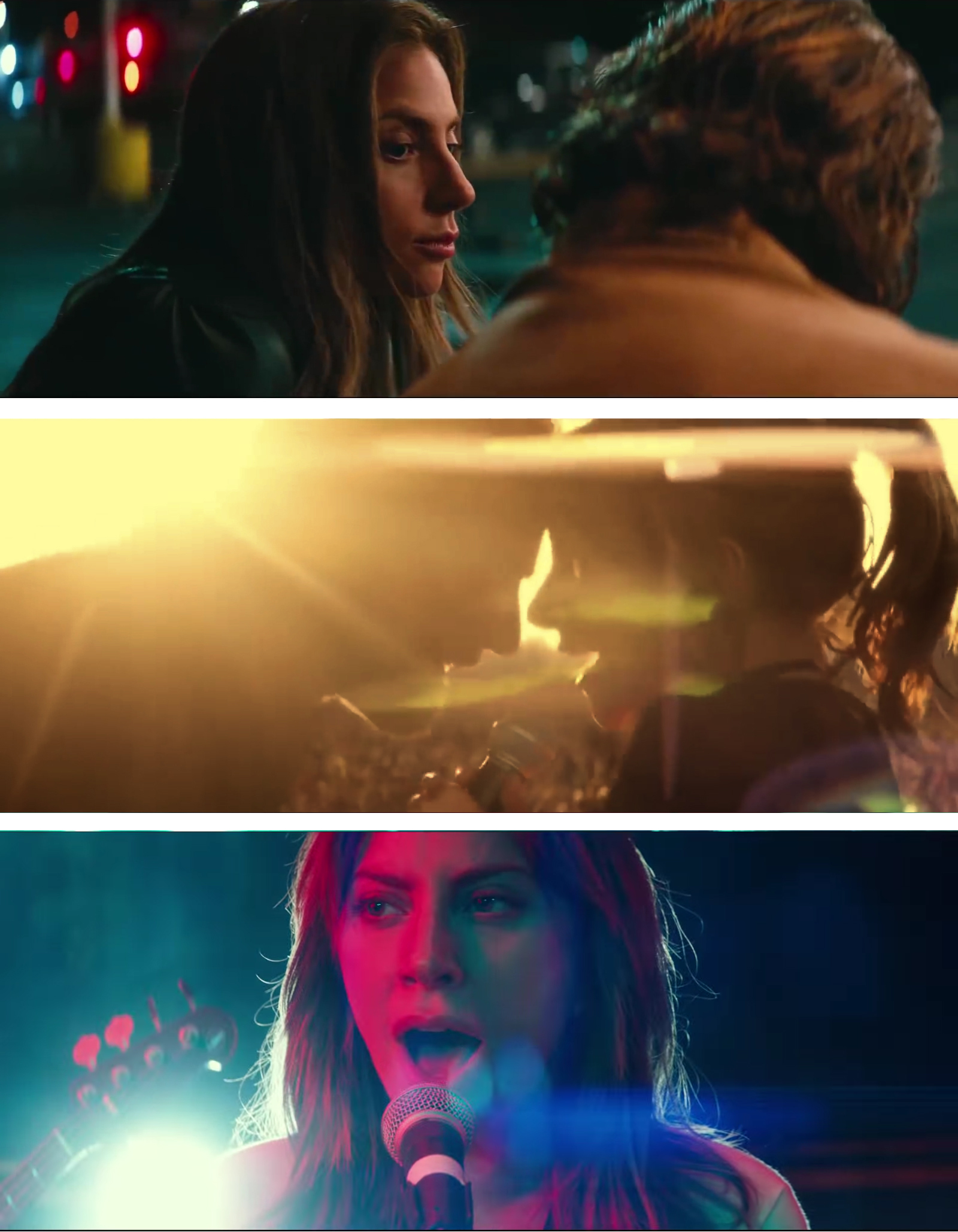 Director Bradford Cooper plays the lead opposite Lady Gaga in his remake of the perennial Hollywood story in a contemporary mold. The love story between Jack, an alcoholic music star, and Ally, a talented newcomer, is powerfully punctuated by Lady Gaga's emotional musical performances. One of the director's key choices is to shoot the concert scenes from the stage, rather than from the audience, bringing us into the performers' world. The scene where Gaga comes on stage for the first time to sing Shallow is stunning, moving, beautiful.

Cinematographer Matthew Libatique fashions a potent admixture of visual worlds, with very different styles on and off stage. Off-stage scenes, like the courtship scene at night outside a supermarket, are shot with saturated naturalism. In the on-stage scenes Matthew uses DMX-controlled lighting to create swirling colors during shots, shifting palettes as Cooper's character descends and Gaga's ascends. Matthew starts with cyan and red to mark Jack's world, adding the spectacular flares of Kowa anamorphic lenses to create a visual expression of the singer's intoxicated viewpoint. When Ally comes to the forefront, the colors shift to blue, magenta and red, with less flashy vintage Cooke anamorphics, which were also used for dialogue scenes. The film ends with the sobriety of white light for Gaga's final performance.

A Star Is Born is a dazzling showcase of colorful anamorphic cinematography that blends painterly palettes and dynamic lights on stage with more subdued off-stage moments.


+++
AT ETERNITY'S GATE -- Caméra Pinceau
Director: Julian Schnabel
- Cinematographer: Benoît Delhomme, AFC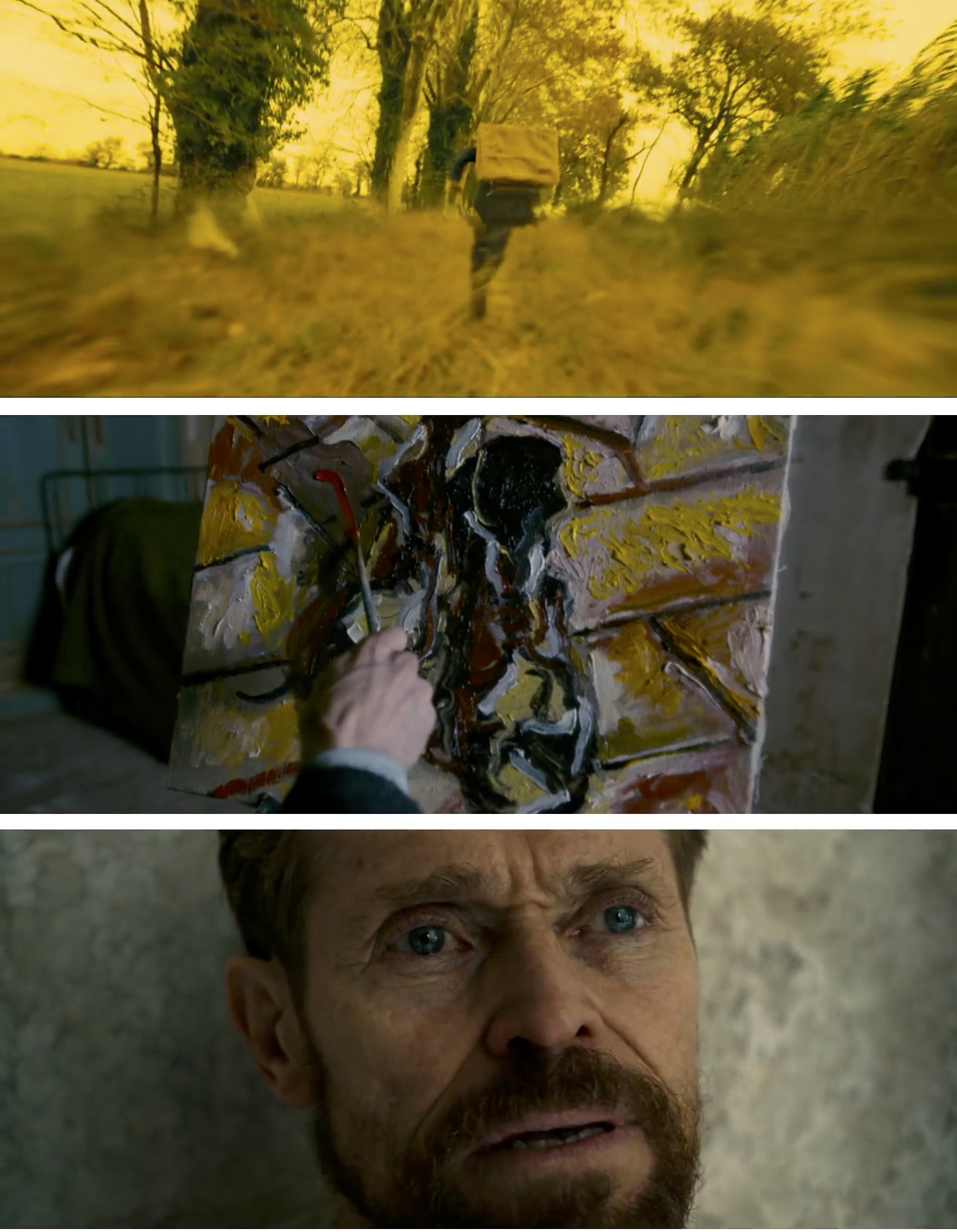 Julian Schnabel has succeeded in creating an artistic movie about Vincent van Gogh from the inside out, perhaps because the director is a painter himself. Willem Dafoe offers an amazing authentic performance as Van Gogh in the last two years of his life, a period of a personal and artistic explosion that still resonates for all artists and art lovers.
Cinematographer Benoit Delhomme is also a sometime painter, and he suffuses the film with color, including Vincent's trademark yellow. The film's unique imagery combines a high-resolution Red Helium with vintage Kowa spherical lenses, sometimes with a diopter added to break up the image. Benoit shot the film almost entirely with the camera on his shoulder, or grasped between his hands in a custom rig, often very close to the actor. Benoit's organic operating gives a unique, painterly gesture to the filmmaking. This gesture is also felt in a gently sweeping jib arm shot of Vincent and Theo speaking on a bed, and even in relatively still head-on portraits of people in Vincent's entourage. In 1948 Alexandre Astruc prefigured the Nouvelle Vague with his concept of a caméra stylo -- a pen camera. Here we have a caméra pinceau -- a brush camera.
Watching this movie is seeing someone paint.
+++
LIVING THE LIGHT - ROBBY MULLER --
A Cinematographer's Notebook
Director and Cinematographer: Claire Pijman,NSC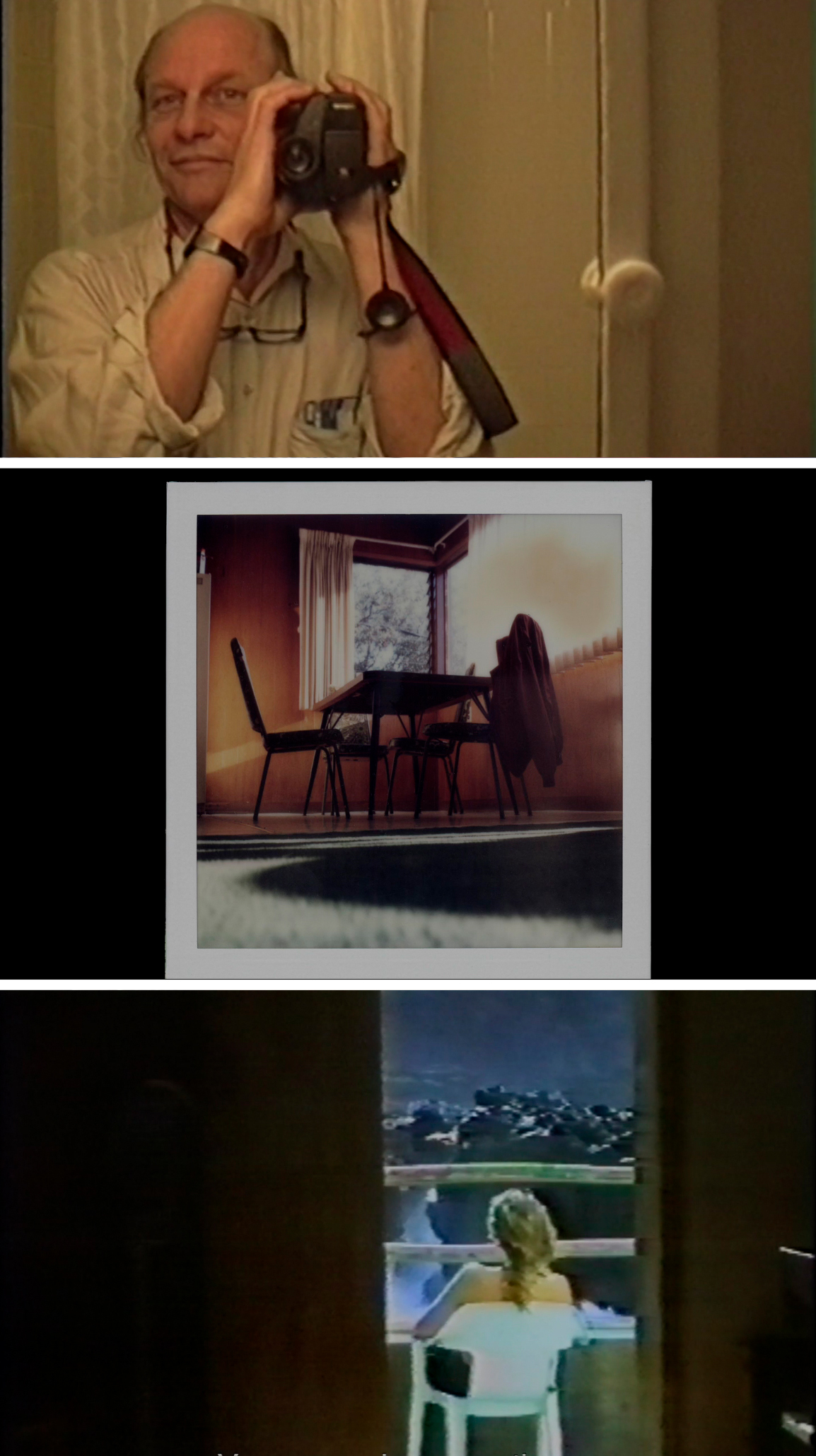 A cinematographer herself, director Claire Pijman has created a beautifully poetic documentary about the late Robby Müller's creative process. Living the Light interweaves footage from Müller's Hi8 video diaries, photographs and polaroids with footage from some of his iconic features, and comments by collaborators Wim Wenders, Lars von Trier and Jim Jarmusch, who also contributed to the soundtrack.
Claire succeeds in presenting Müller's footage in a way that invites the viewer to put himself or herself in the shooter's shoes... and soul. You are not just watching Robby Müller's video sketches and diaries, you are imagining what he's feeling as he's filming them. Living the Light is a wonderful, intimate homage to a great cinematographer.
Watching this movie is seeing someone shoot.

+++

LINKS
TRAILERS
Living the Light - Robby Muller
+++

thefilmbook: Cinema 2018 - 9 Key Trends/Challenges
thefilmbook: 2017 Year in Review - Films and Themes

thefilmbook: 2016 in Review - 9 Trends
thefilmbook: 2015 in Review - 6 Trends
thefilmbook: Almost Famous - 6 Extra 2015 Cinematography Nominees
thefilmbook: Cannes 2015 - Women Warriors and Sexual Emancipators
thefilmbook: Cannes 2014 - Freeform Filmmaking
thefilmbook: Cannes 2014 - Women Filmmakers
thefilmbook: Cannes 2013 - The Gay Palme
+++