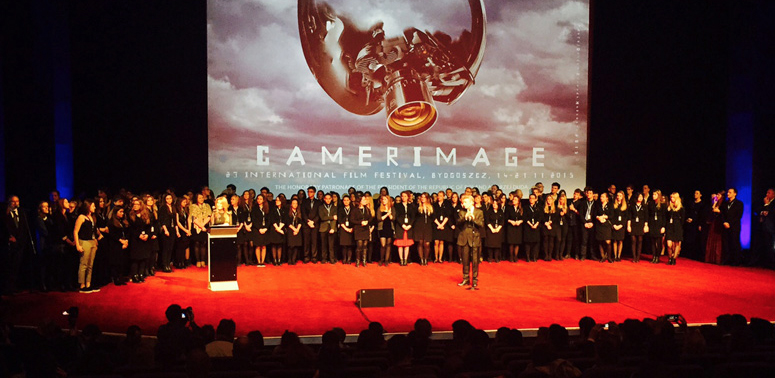 Camerimage 2015 Photo Journal
This photo album serves as a journal of my experiences at the 2015 Camerimage International Film Festival, the biggest and best cinematography festival in the world.
Benjamin B

Happy Thanksgiving to my American readers!

I am posting the photos below as a journal of my experiences at Camerimage, the biggest and best cinematography festival in the world.
+++



3 Frogs
The winners of the Main Competition get statues of gold, silver and bronze frogs. This year the winners were:

-- Ed Lachman, ASC, for his exquisite work on Carol by Todd Haynes;

-- Sturla Brandth Grøvlen, DFF, for the beautiful rural comedy Rams by Grímur Hákonarson;

-- Mátyás Erdély, HSC, for the powerful Son of Saul, a close-focus drama set in Auschwitz by László Nemes.

Photos above courtesy of the Camerimage Festival
+++



5 Presentations
This year I organized and moderated 5 events at Camerimage, a record for me. Unfortunately this meant that I didn't get to attend many other events.

---


On Tuesday I organized and moderated a Formats Workshop, sponsored by Panavision, comparing Super 35, anamorphic and larger sensor formats, with cinematographers Markus Förderer; Eduard Grau, AEC; Ellen Kuras, ASC; and comments by Panavision optics maven Dan Sasaki. This was the most complex workshop I've ever put together, presenting three cameras and four formats in three hours, emphasizing differences in perspective, bokehs and flares. I then had the pleasure to moderate a wonderfully incisive presentation by Dan Sasaki on anamorphic and large format cinematography.

---


On Wednesday, I moderated a very lively and practical panel, sponsored by K5600 Lighting and Transvideo, about The Image Crew, with gaffer James Plannette; ASC associate Garrett Brown; and ASC cinematographers Reed Morano and John Seale. The panelists were funny, wise and brutally frank about the realities of production.

---


On Thursday I moderated an AFC Master Class for my friends at the French society of cinematographers. Three AFC cinematographers – Jean-Marie Dreujou, Claire Mathon and Patrick Duroux – presented scenes or commercials they have shot. An unexpected theme emerged from the very different clips: the approach to shooting dusk and night, with more or less natural light.

---

Tribute to Conrad Hall panelists and moderator (Credit Iain Marcks)

On Friday, I moderated a Tribute to Conrad Hall, ASC, which I organized with my friend Stephen Pizzello, the publisher and editor-in-chief of American Cinematographer. The tribute featured clips from Conrad's films with insightful comments by ASC cinematographers Ellen Kuras, John Seale and John Toll, as well as gaffer James Plannette. We also screened brief video tributes by Haskell Wexler, ASC, and Garrett Brown.

+++



3 Interviews
I was fortunate to shoot interviews with three filmmakers during Camerimage. I had a wonderful exchange with Steadicam inventor Garrett Brown about the Steadicam, composition and the shot. I had a discussion with cinematographer Mátyás Erdély about his important work on Son of Saul. Finally, I spoke with editor and sound designer Walter Murch, who described his job as a combination of cook, surgeon and orchestra composer.

+++



Lots of People
Although there are great screenings, workshops and seminars, Camerimage is mostly about people, seeing old friends and meeting new ones. Below are photos of some of the people I encountered; most are taken by me, some are shot and credited to others, including my friends Jean-Noël Ferragut, Iain Marcks and Stephen Pizzello. There are many people missing. You know who you are, and I'll snap you next year!