Carne y Arena at the Cannes Film Festival. A piece of the border wall is on the left of the giant poster
Carne y Arena part 1 - VR by Alejandro G. Iñárritu with Emmanuel Lubezki, ASC, AMC

This virtual reality installation by Alejandro Iñárritu with Emmanuel Lubezki, ASC, AMC, was the signature event of 2017 Cannes Film Festival.
Benjamin B

Carne y Arena, the Virtual Reality installation by Alejandro Iñárritu with Emmanuel Lubezki, ASC, AMC, was the signature event of 2017 Cannes Film Festival.
Cinema history books will remember this masterwork as the first VR movie entered in the festival's Official Selection -- albeit out of competition. Underscoring the importance of this event, Cannes' Director Thierry Frémeaux likened Carne y Arena to a "Lumière moment", perhaps referring to the first public film screening by the Lumière brothers in 1895.

Carne y Arena means "Flesh and Sand". The installation is now visible at museums in Milan and Los Angeles (see the links for reservations below).

This post is simply my personal account of an extraordinary VR experience. My colleague Noah Kadner will be covering this installation in detail for American Cinematographer magazine in a few months, so I did not reach out to the filmmakers or ILMxLAB for detailed technical information.
In part 2, I continue with some notes on the design of VR Cinema evoked by Carne y Arena.
+++
Iñárritu & Lubezki
Carne y Arena is an art installation created by Alejandro G. Iñárritu in collaboration with Emmanuel Lubezki (aka Chivo) and ILMxLab.
Chivo made history recently by winning three cinematography Oscars and three ASC Awards in a row, the last two for Birdman and The Revenant, for which Iñárritu also earned Best Director Oscars and DGA awards.
This formidable cinematic duo teamed up with ILMxLAB, a new unit specialized in immersive entertainment to create Carne y Arena, with the support of Legendary Entertainment and the Fondazione Prada in Italy.
+++
Cannes Venue
In Cannes, the installation is by invitation only, with on-line reservations for a limited number of fifteen-minute slots during the festival that quickly filled up.

I am picked up with a fellow journalist and driven by car to the small Mandelieu airport, a twenty-minute drive from Cannes. The installation occupies an entire airplane hangar there, a gigantic space. Inside that space is a walled-off area for the VR experience.



While my colleague goes in first, the staff allows me take some photos of the entrance area, starting with Alejandro's artist statement in Spanish, French and English.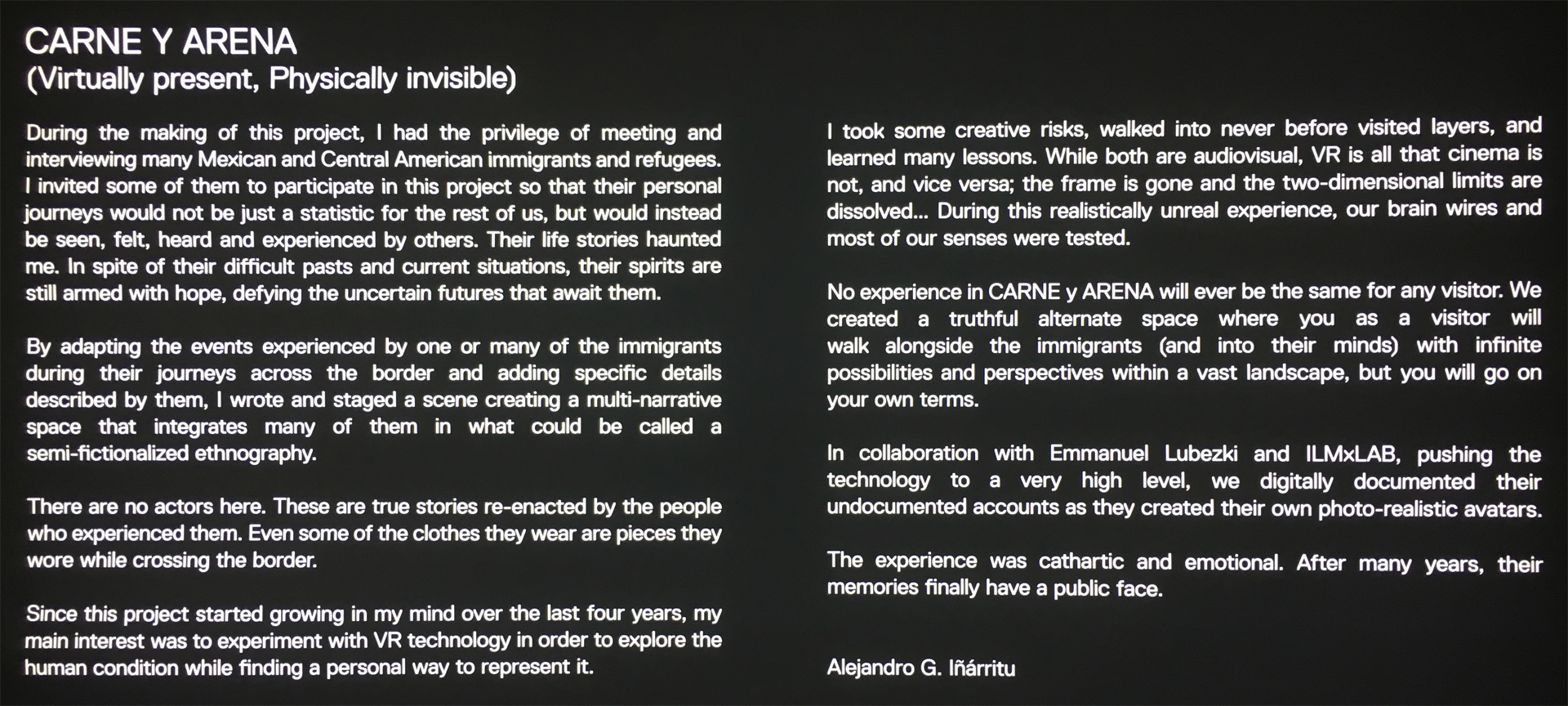 One striking element is an actual piece of the border fence between Mexico and the United States. This large rusty memento is a part of history, a part of this story and dramatically illustrates the current American political debate on "building a wall".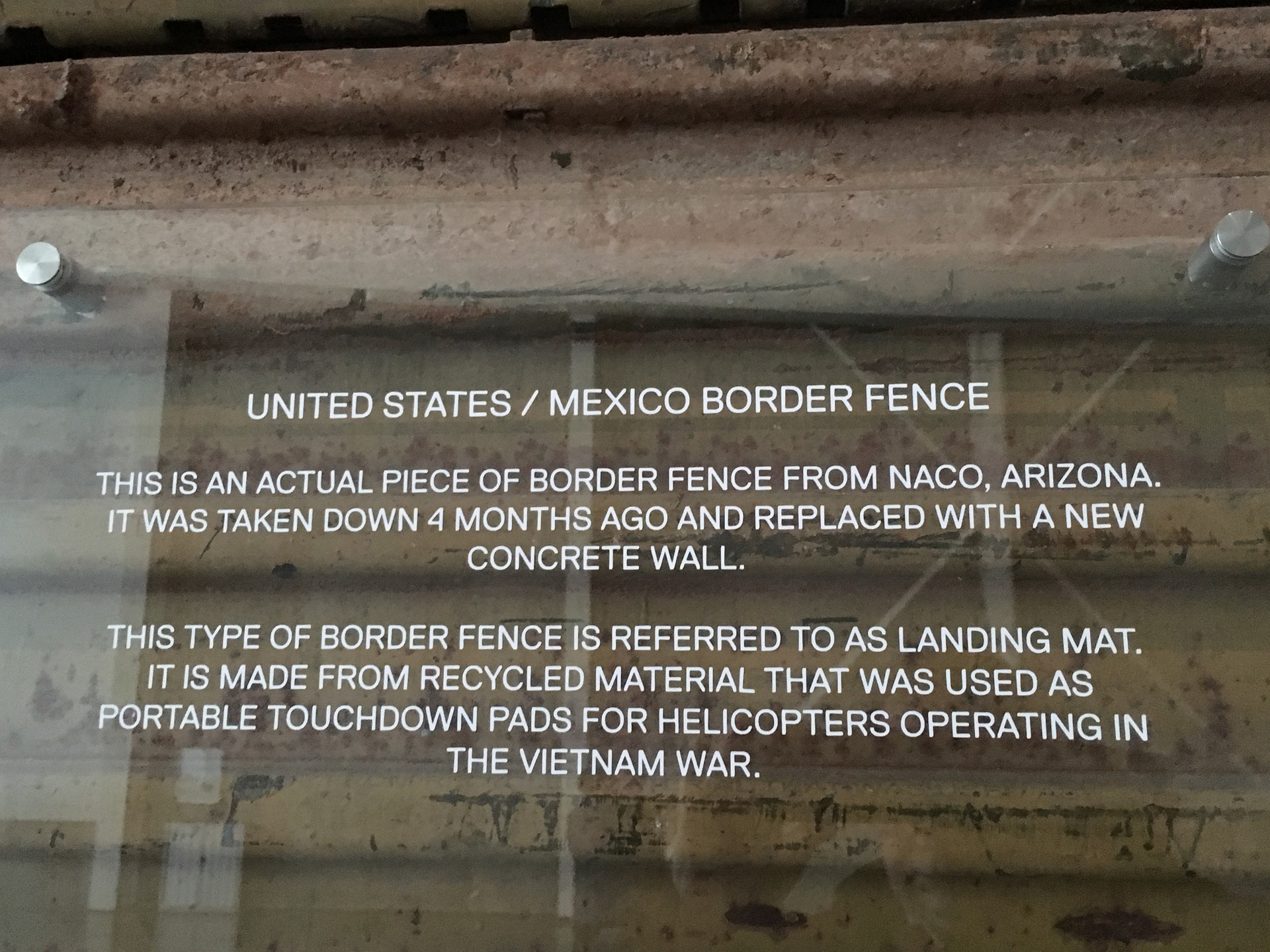 By chance Alejandro Iñárritu is here as well, engaged in an animated discussion with his friend director Guillermo del Toro. I don't want to bother them, and photograph in silhouette from afar.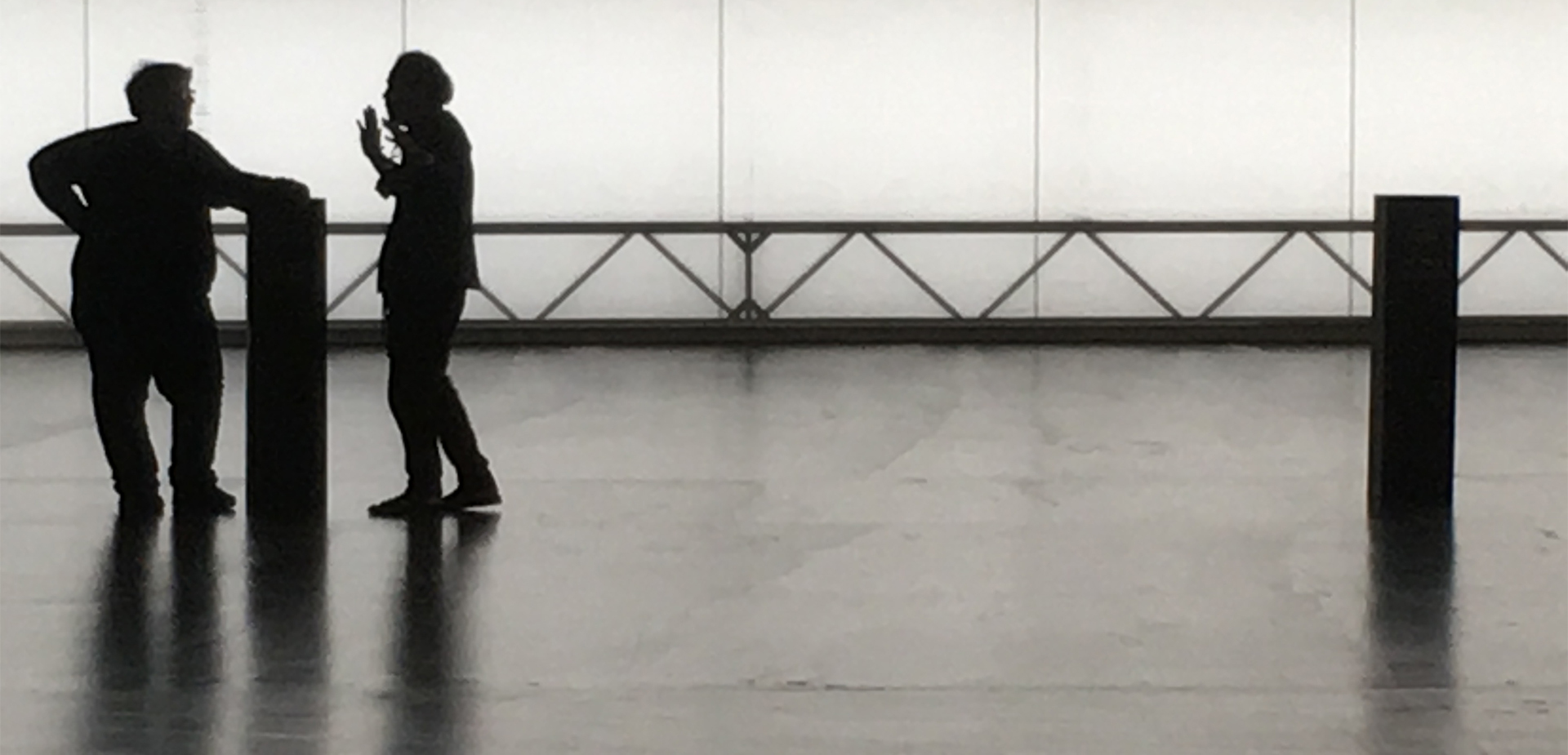 +++

Entering
Soon it is my turn to see the installation, after surrendering my jacket and phone. I enter into a cell-like holding room, there are a bunch of old shoes in the corner, from actual immigrants. I hold some of the shoes in my hands, they are real, not virtual.
Signs instruct me to take off my own shoes, and wait for an alarm to ring. I sit with bare feet on a cold metal bench, I have a moment to feel imprisoned, then a loud institutional buzzer beckons me through the door.
When I enter the VR area, I am surprised by how large it is: about two thousand square feet. The first thing I feel is the sand -- arena -- beneath the flesh of my feet -- carne. This is a key, brilliant concept of the piece, to marry the VR with that most primitive sensation of my feet walking on the earth. In Carne y Arena the virtual world literally touches your body.
I am greeted by three technicians, who give me the rules:
- don't run
- don't touch your headpiece as it may interfere with the location sensor
- when you get near the edge of the space we will give you a little tug, as a signal to back off.
I am then outfitted with a VR headset, with headphones and a backpack with electronics linked by an umbilical cord to the middle of the ceiling.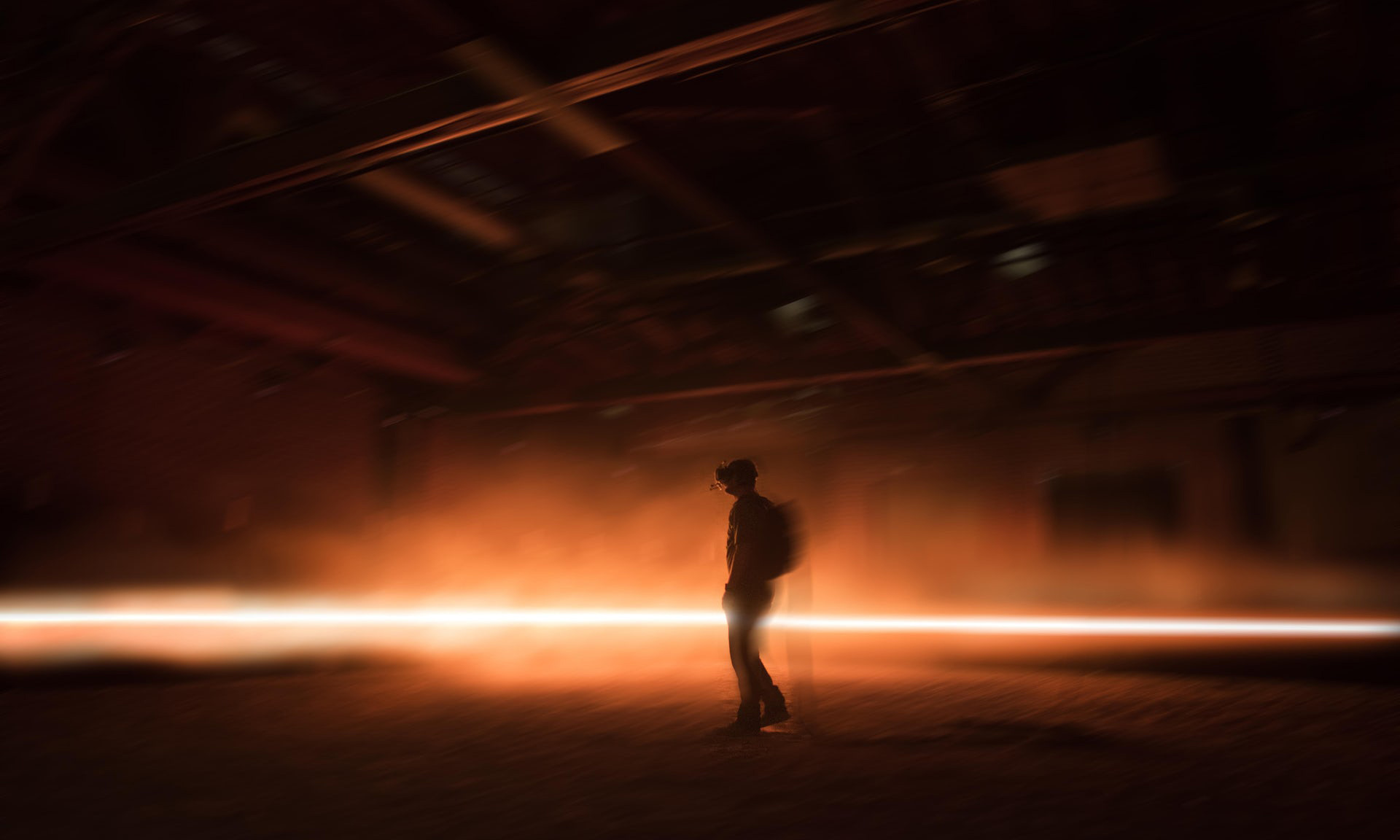 And it begins...
+++
The Experience
I am now in VR, and wander around a flat desert landscape in a gentle magenta twilight with soft twinkling stars. Though not ultra-sharp, the image has enough definition to invite me into the illusion, the audio is very good, and the stereo 3D is extremely comfortable to the eye, which helps a lot.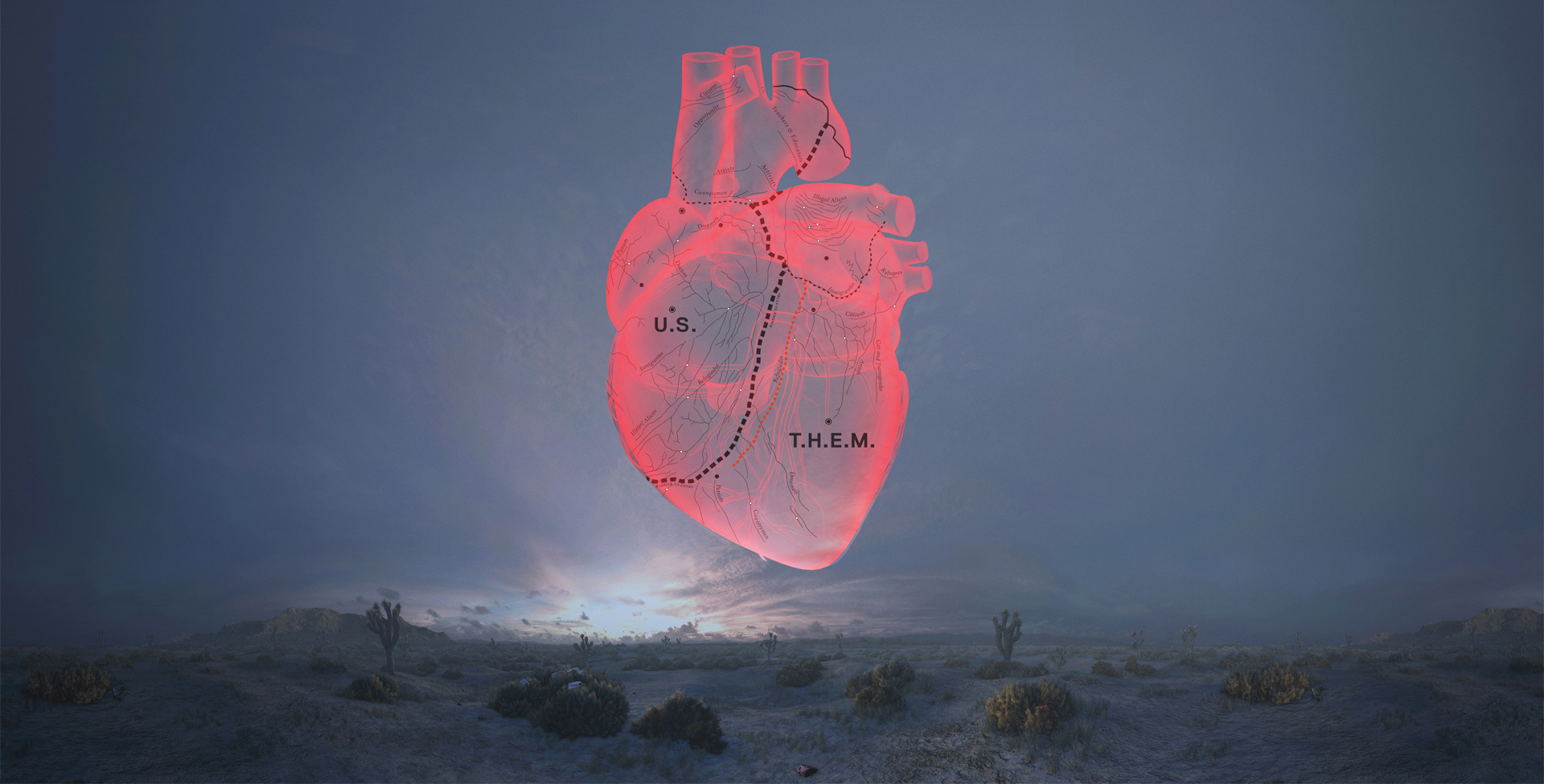 I walk through the sand, it feels very real. I even detect a faint shadow on the ground below me. But when I reach out to touch something, my hand goes right through it. I am a ghost.

Soon a group of some ten Latino immigrants walk into the space. The huddled figures feel real, they have a human presence. And I have a natural inclination to respect their personal space.
As I decide to approach one of the immigrants, a helicopter appears above me. The searchlight blinds me, the noise is deafening, and there is a blast of wind. Then a US border patrol drives up in big SUVs, uniformed men come out and order everyone to kneel on the ground. Instinctively, I too kneel on the sand, right next to one of the immigrants. But as I look closely into his face, the eyes are unreal, and briefly break the spell.
I am brought back into the experience as the border patrol guys bark their orders, and speak to us aggressively. An immigrant speaks back to the officials, saying he is a lawyer. Another immigrant is taken ill, I rise up and walk towards him right through one of the officers like an immaterial ghost. Suddenly I feel a gentle tug, to alert me that I have reached the edge of the walkable space.
There are some changes of imagery in the VR movie, brought in by wisps of smoke, and before I know it, the 6 1/2 minute VR movie is over. As the technicians help me take off my headset, I feel dazed, awoken from a dream. I thank them as they show me the way out.
+++
Thanks to carne-y-arena.com for last two images, all others are photos by Benjamin B
+++
Presences
As I walk out I ponder the impact of the VR. After all the public discourse about illegal immigrants in the media, Alejandro and Chivo have succeeded in having me walk briefly, elusively, on an immigrant's path. This theme of social justice continues the vein of Iñárritu's masterpiece, Biutiful.

On the way out, I go into a long dark corridor with a dozen monitors at eye-level. Each monitor displays the face of one of the immigrants who inspired Carne y Arena. I see their faces with wonderful naturalism, accompanied by texts that tells part of their story.

To me the exit passageway is a very important part of Carne y Arena. After putting me alongside virtual immigrants, it's essential for me to see their faces, and feel the presence of these very real people.
+++
A Future of Cinema
In his statement, Alejandro writes:
"While both are audiovisual, VR is all that cinema is not, and vice versa; the frame is gone and the two-dimensional limits are dissolved".
I respectfully disagree. My extended view of cinema is emotion created by all forms of moving images. As I note in part 2, the design of Carne y Arena favors the audience's experience, by literally putting them in the position of illegal immigrant. Carne y Arena is a brilliant art installation that humanizes the burning issue of illegal immigration, but it is also a dazzling demonstration of one of the futures of cinema.

I continue my notes on this important VR piece in part 2:
CARNE Y ARENA PART 2 - NOTES ON VR CINEMA DESIGN
+++
LINKS
You can see Carne y Arena at the LACMA (Los Angeles County Museum of Art)
or at the Fondazione Prada in Milan.
All reservations are made online on the links listed below.

MILAN show
Tickets for "Carne y Arena" in Milan

LACMA show
+++

WIKIPEDIA

+++

REVIEWS
Carolina A. Miranda - LA Times
+++
thefilmbook
VR Cinema 1: Google Cardboard
VR Cinema 2: Image Spheres

VR Cinema 3: Cameras

VR Cinema 4: Content

VR Cinema 5: Futures

Carne y Arena PART 1 - VR by Alejandro Iñarritu with Emmanuel Lubezki

Carne y Arena PART 2 - Notes on Design of VR Cinema
+++