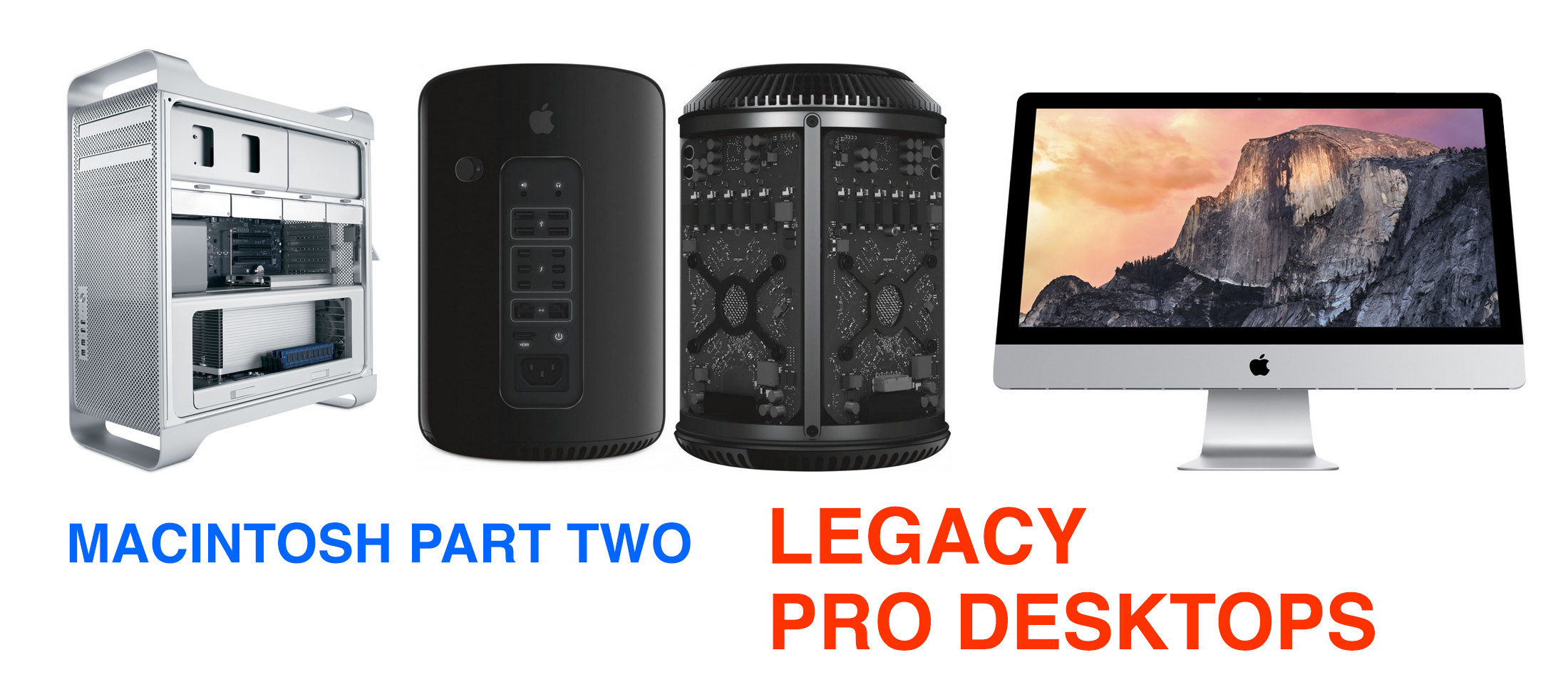 Macintosh Part 2. Legacy Pro Desktops

Benjamin B continues his investigation into Macintosh tools for filmmakers looking to upgrade their system for 2018. What Mac desktops are video pros using now?
Benjamin B
This is my second post about Macintosh tools for filmmakers.
Many film industry professionals will need to buy a new desktop computer in the coming year to work with 4K video, and other demanding technologies, like RAW, VFX and VR.
What Mac desktops are video pros using now?
In part 1, I detailed the process that led to my buying a laptop PC for the first time in my life.
In this post, I look at existing Macintosh Pro desktops.
In part 3, I detail some possible video system configurations for 2018.
+++
PART 2:

Steve Jobs' 4 Quadrants
Legacy: Silver Mac Pro 2010
Legacy: Black Mac Pro 2013
Legacy: 5K Screen iMac 2015
Rebuilt Silver Mac Pro
April 2017: Apple Reassures Pro Market
Thunderbolt: Thinking Outside the Box
LINKS
+++

Steve Jobs' 4 Quadrants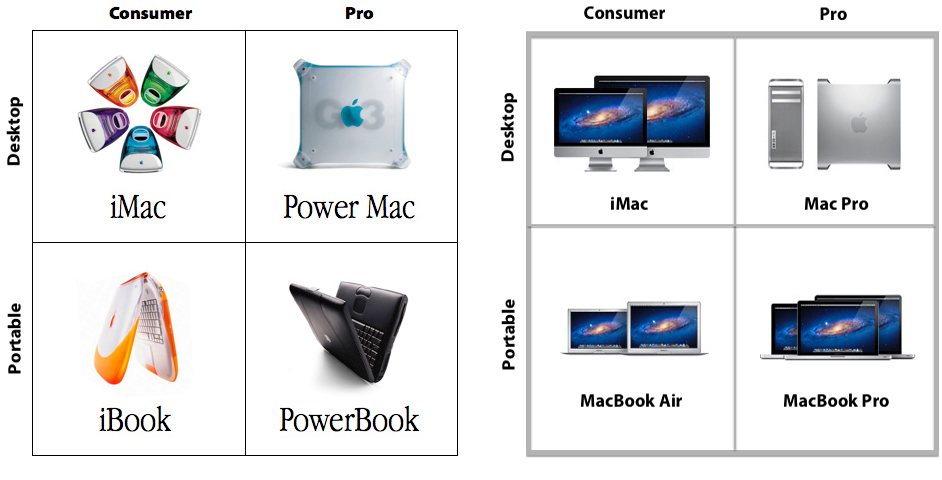 In 1998, co-founder Steve Jobs returned to head Apple, and he started by simplifying the product line by offering a four-quadrant grid defined by two dualities: portable/desktop and consumer/professional. Part 1 was about the bottom right quadrant. This post and Part 3 are about the top right quadrant: desktop Macs for professional use, and for video work in particular.

Let's start by looking at the 4 "legacy" desktop Pro Macs, systems that professionals presently use to edit or process video. In each case I note whether or not the system is upgradable, that is, whether you can change its RAM (Random Access Memory), its Drive (spinning hard disks or Solid State Drives) or GPU (Graphic Processing Unit chip on a graphics card).
+++

Legacy: Silver Mac Pro - 2010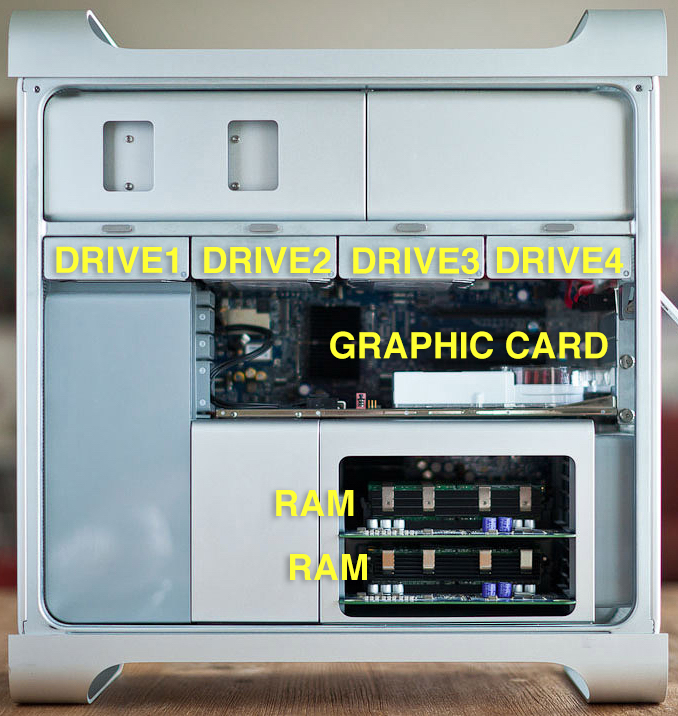 I have been using my silver Mac Pro tower – aka "the cheese grater" -- for almost a decade. It's a wonderful computer that was designed for easy upgrades. Apple has not offered a computer with an equivalent modular design since its introduction 10 years ago. The last version dates from 2010.
The silver Mac Pro's side panel comes off easily to reveal its modular innards which simply slide out for upgrades. Over the years I have installed bigger disk drives, a fast SSD (Solid State Drive), more RAM (Random Access Memory), and a better graphic card.

-- Upgradable? ABSOLUTELY !
RAM / DRIVE / GRAPHIC CARD
All easy upgrades
+++
Legacy: Black Mac Pro - 2013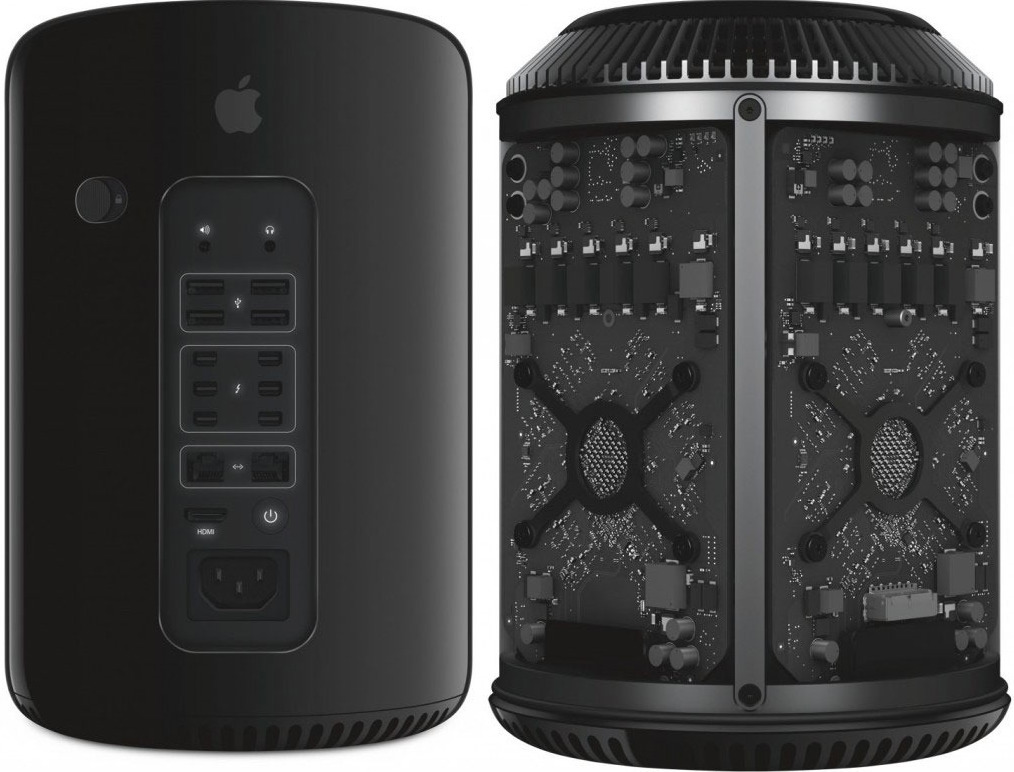 I have used the cylindrical black Mac Pro – aka "the trash can" -- on a few projects, and I must admit that it is a marvel of design: small, quiet and very fast. But unlike the silver Mac Pro, it is not built for upgrading. This innovative design dates from 2013, although Apple did offer a minor revision in 2017 with a slightly better CPU and graphic card.

The Black Mac Pro was designed with customized dual graphic cards, on Apple's hunch that future software would take advantage of multiple GPUs (Graphic Processing Units) to increase power. But this is not what happened: recent software is designed for one very powerful GPU.

-- Upgradable? NO
+++

Legacy: 5K Screen iMac - 2015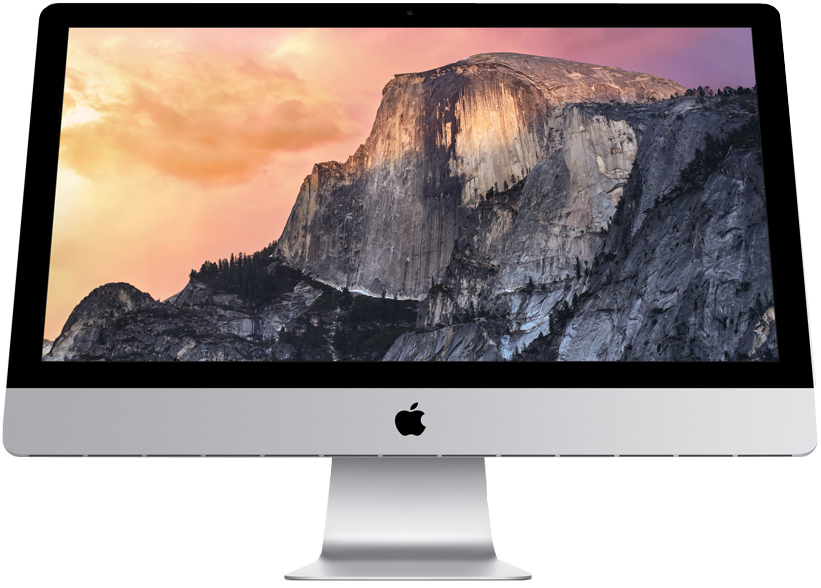 iMac computers were initially designed for the consumer market, offering a screen with a computer piggy-backed behind it. The 2015 iMac with its 5K retina screen, was positioned for the professional market, but at a much lower cost than the expensive black Mac Pro, and many film professionals turned to the iMac for web movies and off-line video editing.
In other words, once the iMac was outfitted with a recent CPU, decent graphics and a great screen, it was moved from the consumer to the Pro quadrant by professionals seeking a current, affordable system.

The iMac has a rear trap door that makes upgrading the RAM easy. Changing the drive requires a more work -- and two suction cups to lift the screen :)
-- Upgradable? YES and NO
RAM / Easy
DRIVE / Difficult
GRAPHIC CARD / No
+++

Rebuilt Silver Mac Pro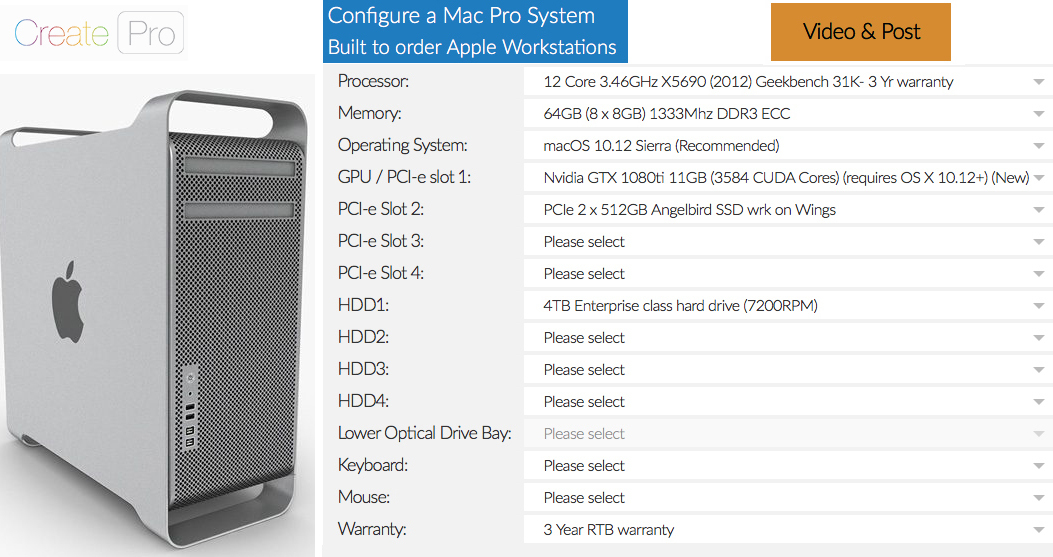 For pro users yearning for modular, upgradable Macs, several companies continue to propose upgraded versions of the silver Mac Pro, dating back to 2010, but filled with top-notch current components. Create.pro's proposed video configuration pictured above offers a lot of power for under $4K (64 GB RAM - Nvidia 1080Ti GPU - 11 GB VRAM (video memory) - 512 GygaByte SSD).

Upgradable? Yes, but… This is a powerful upgraded video machine. However, the 2010 Mac Pro uses slower internal connections to the CPU, RAM and GPU than contemporary machines do, so new components are handicapped by outdated protocols. And there is the danger of possible incompatibility with future versions of Macintosh OS (Operating System) or video applications.
+++
April 2017: Apple Reassures Pro Market

In the past 7 years, Mac professionals have felt increasingly neglected, if not abandoned, by Apple, which was focusing on iPhones and iPads. Some, like me, even bought PCs.

In April 2017 Apple executives organized a roundtable meeting with selected journalists to reassure professionals by hinting at future products – something Apple never does. Executives Phil Schiller, Craig Federighi and John Ternus acknowledged the frustration felt by Mac professionals, and announced the iMac Pro, which was released 8 months later in December 2017 (which I detail in my next post).
Phil Schiller, Senior VP for Worldwide Marketing, also hinted at two exciting pro products: a modular Mac Pro and and a Pro Display.
Phil Schiller: We are in the process of what we call 'completely rethinking the Mac Pro.' We have a team working hard on it right now, and we want to architect it so that we can keep it fresh with regular improvements, and we're committed to making it our highest-end, high throughput desktop system, designed for our demanding pro customers.

Phil Schiller: As part of doing a new Mac Pro -- it is, by definition, a modular system -- we will be doing a pro display as well... We think it's really important to create something great for our pro customers who want a Mac Pro modular system, and that'll take longer than this year to do.
+++
Thunderbolt : Thinking Outside the Box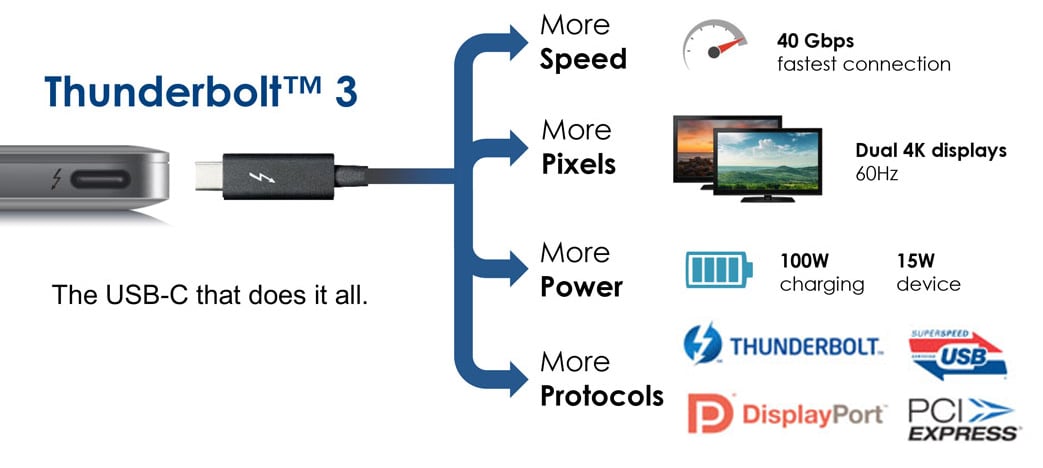 Traditionally, devices inside and outside your computer have very different access speeds; for example internal drives on the computer's SATA or PCIE bus are much faster than external drives connected via Firewire or USB 2.
Intel's Thunderbolt 3 appeared in 2016 on both Windows and Apple laptops, essentially extending the internal PCI Express 3.0 bus to outside devices, at a dazzling theoretical speed of 40 Gigabits/second (or 5 GigaBytes/second). I must add that a system is only as fast as its slowest link. Actual connection speeds will depend on the quality of the interface electronics currently available for your drives, monitors and GPUs.
Nevertheless the promise of Thunderbolt is to create external connections that rival internal ones. This could allow professionals to extend their computer system outside their Mac, towards external boxes like speedy disks, high-resolution monitors, and external graphics units (which I discuss in my next post).

In the near future, Thunderbolt 3 may very well offer one key to upgrading your Macs.

+++
continued in
MACINTOSH PART 3 - PRO DESKTOPS FOR 2018

+++
LINKS

YouTube.com: Steve Jobs: "focus on 4 great products"
casestudyinc.com: Apple's Four Quadrant product grid

wikipedia.org: Mac Pro
macrumors.com: Apple Obsoletes 2010 Mac Pro

wikipedia.org: iMac

support.apple.com: Black Mac Pro specs

macrumors.com: Apple Obsoletes 2010 Mac Pro

create.pro: Configure a Mac Pro

YouTube/Zed ProMedia: Ultimate 12 core Mac Pro Upgrade for 2017! - in 4k
mashable.com: The Mac Pro is Getting a Major Do-Over
techcrunch.com: Transcript: Phil Schiller, Craig Federighi and John Ternus on the state of Apple's pro Macs

wikipedia.org: Thunderbolt
thunderbolttechnology.net: products

+++
thefilmbook:
MACINTOSH PART 1 - THE LAPTOP DILEMMA

MACINTOSH PART 2 - LEGACY PRO DESKTOPS
MACINTOSH PART 3 - PRO DESKTOPS FOR 2019
+++

A special thanks to the friends I consulted in preparing this series of posts:
-- Tom Fox, filmmaker
-- Patrick Leplat, cinema technologist
-- Peter Marsden, DIT
-- Luc Martinez, sound designer and composer
-- Bernice Schneider, editor

-- Moe Shore, editor

-- John Thompson, software creator, artist

+++