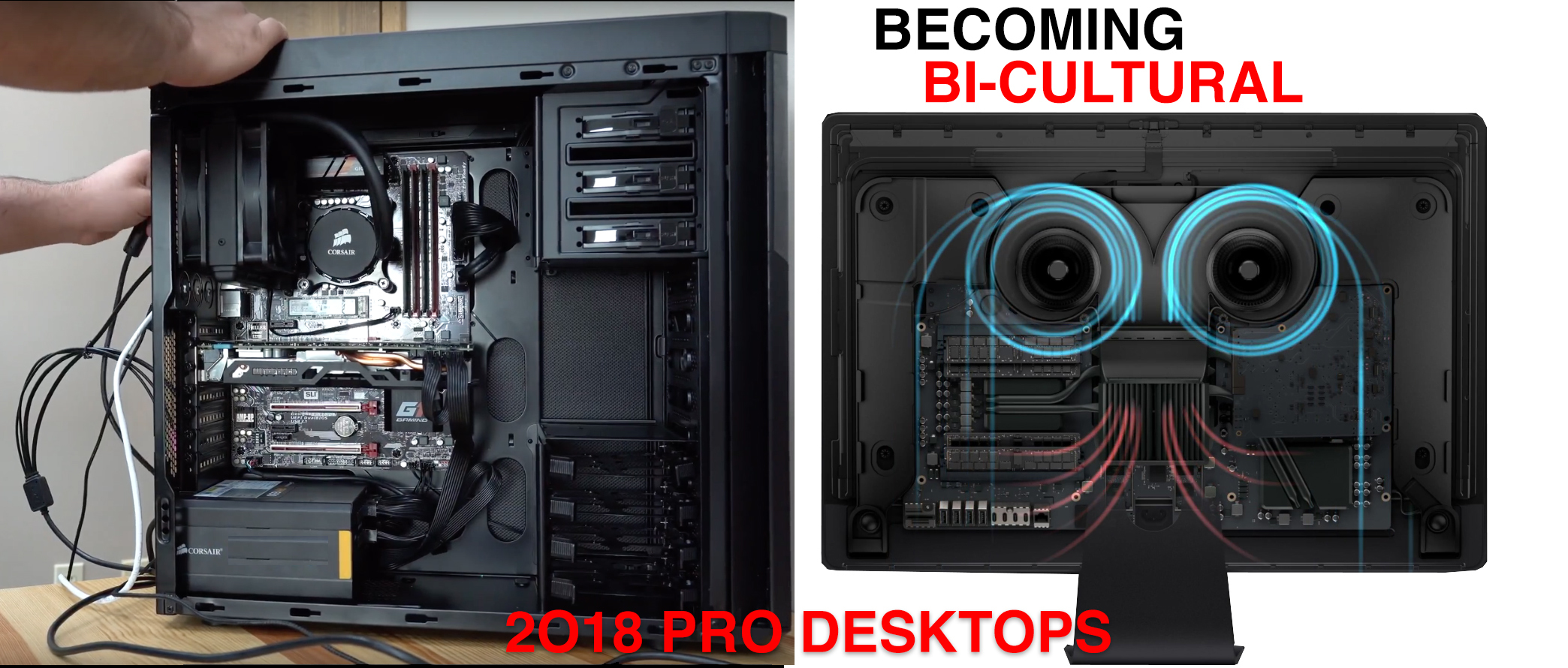 Macintosh Part 3. Pro Desktops for 2018-'19
Benjamin B completes his investigation into desktop solutions for filmmakers looking to upgrade their system for 2018. 
Benjamin B
Many in the film industry use Macintoshes for their video work. In the coming year, some of us may need to buy a new desktop computer to work with 4K video, and other demanding technologies like RAW, VFX and VR.
I've spent my life with Mac desktops, and I hope to buy a new one soon. In this post, I share my personal research of options for a powerful video editing and processing desktop Mac for 2019. You can find links to the sites I consulted below, if you're thinking of doing your own research.
+++
PART 3:

- Questions
- Minimum Specs

I. 2017 5K iMac
II. Brand-new iMac Pro
III. eGPU
IV. Hackintosh
V. PC desktop

VI. 2019 Unknown Mac Pro

- Conclusion: Become Bi-Cultural
RESEARCH LINKS

+++

Questions
This is the third and final post in my series about the Macintosh.
Part 1 explained my decision to buy my first laptop PC after a lifetime of Macs.
Part 2 described the 2018 "legacy" desktop Mac systems for video work.
This post details 6 options for a powerful desktop video machine for Mac aficionados in 2018. In each case I ask the following questions:
-- Upgradable?
Can it be upgraded over time? The ability to easily upgrade a desktop system has a big impact on its initial cost and expected longevity.

-- Longevity Estimate?
How long can I hope for a desktop system to stay useful for my applications? This is obviously a highly speculative personal estimate. Your evaluation will be different from mine.
As described in part 2, Thunderbolt 3 connectors should increase longevity, by allowing for future connections to fast external storage and graphic devices.

-- Initial Cost?
What is the initial cost be for a powerful machine that I can use now? Of course, the configuration you will need will be different from mine.
The initial cost depends on how upgradable the system is. A system that can't be upgraded later has to be outfitted with its future desired performance in mind.

+++
Minimum Specs
My system choices are based on my personal requirements for working with Adobe Premiere and After Effects, and my own sense of the minimum specs needed to do so:
-- CPU (Central Processing Unit) - Intel i7 or equivalent
-- RAM (Random Access Memory) - At least 32 GB (GigaBytes),
with the ability to upgrade to 64 or 128 GB in the future.
-- GPU (Graphics Processing Unit) with at least 8 GB of VRAM (Video memory)
-- SSD (Solid State Drive) of at least 512 GB,
with the ability to upgrade to 1 or 2 TB (TeraBytes) in the future.
+++
I. 2017 5K iMac

Most of the media attention lately has been on the iMac Pro release in December of 2017, but the summer release of the "ordinary" iMac with a 5K screen is also worth considering. Its most upscale version above includes a 27 inch screen.

Initial Cost? $3K to $4K
The configuration I depict above includes a 1 TB SSD (iMac drives are difficult to upgrade) for a total of $4K. You can save money by buying a model with minimum RAM from Apple, and installing additional cheaper RAM yourself.

Upgradable? Yes and No
RAM / easy - Drive / difficult - GPU / No
RAM can be easily upgraded via a small hatch door on the back (64 GB maximum). Changing the drive involves a complicated disassembly. The GPU cannot be upgraded.

Longevity Estimate? 5+ years
The GPU is the weakest part of this system, but two Thunderbolt 3 connectors might allow for future connections to storage, and graphic devices as described below.

+++
II. 2018 iMac Pro

The iMac Pro was released in December 2017. Apple's hardware engineering VP, John Temus, called it "the most powerful Mac we've ever made." It's an impressive video machine with a great monitor.

The editor and blogger Thomas Carter wrote a rave review about using the iMac Pro, with an upper-echelon configuration (best CPU - best GPU - 128 GB RAM - 2 TB SSD) which costs some ten thousand dollars. The starting price for the iMac Pro is half that.
Initial Cost? $6K to $9K
To me, the fact that the iMac Pro is not upgradable means it's more expensive. Let's say that I hope to use this computer in five years, it would therefore be prudent to buy a configuration that includes the upgrades I might want in the next five years (128 GB RAM - best GPU - 2 TB SSD), specs that lead to a price tag close to $9K. This will be a great option for some video professionals, but, for me, it's too big an investment for a locked-in system.

Upgradable? Not by user
RAM / It's complicated
The deal-breaker for me is that everything indicates that this Mac cannot be upgraded by the user. MacSales posted a revealing video (linked below) of a teardown that is daunting (they also announced a RAM upgrade service for those who can send their unit in).

Longevity Estimate? 5+ years
The reason many professionals want a modular design is that they want to be able to evolve their computer system to grow in power, and to include future innovations. With the iMac Pro, you are expected to lock in to the current version of a powerful system.

+++
III. eGPU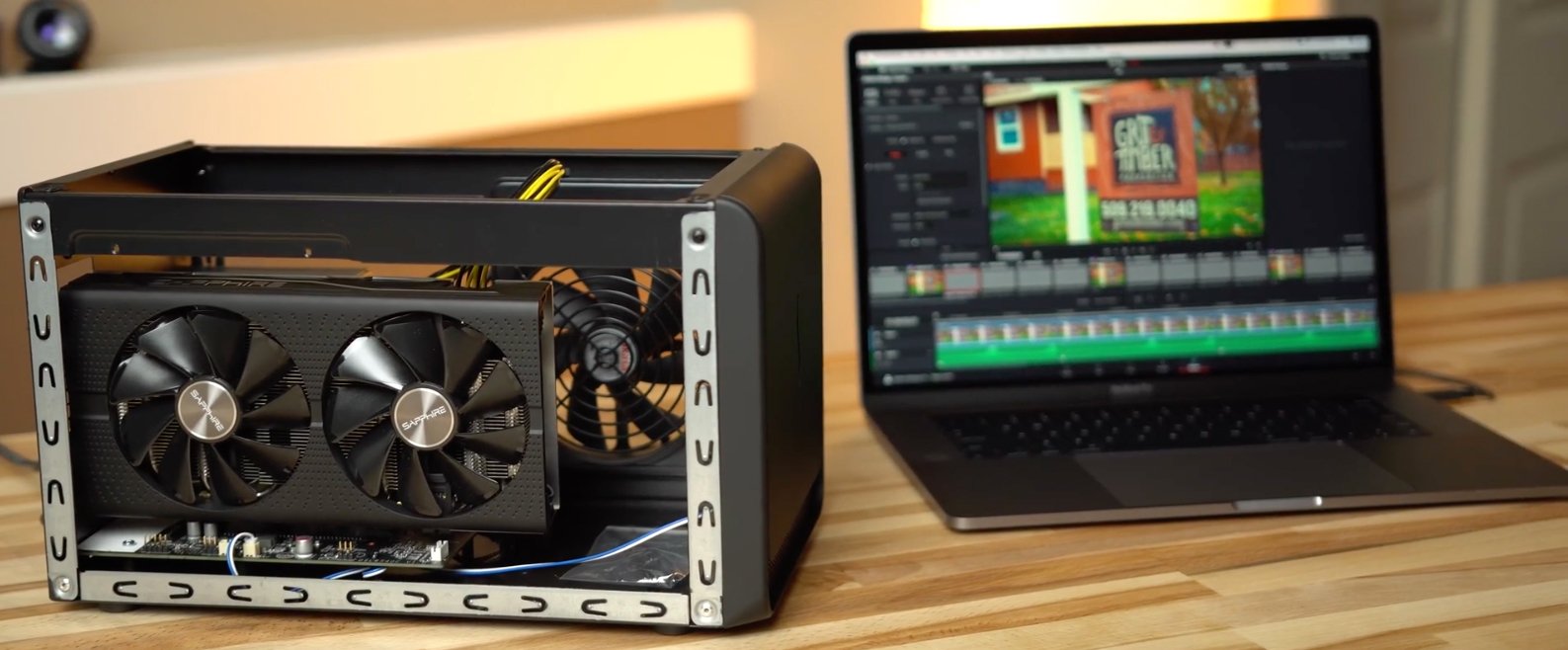 eGPU (External Graphics Processing Unit) is an external box with a great graphics card inside it, to replace a less stellar graphics card inside your laptop. eGPUs have been driven in part by gamers seeking high-performance. It's a very elegant concept, and with high-speed Thunderbolt 3 connections, it could possibly transform a laptop into a desktop.

Apple released an eGPU kit for developers earlier this year, but Apple won't have full Thunderbolt 3 support until the spring of 2018. eGPUs might offer a form of future upgrade to closed Mac systems, like laptops and iMacs. If you're thinking of buying one, I'd wait until the dust settles, as the technology is still fairly new.

-- Upgradable? YES
The eGPU box is designed to be upgradable. You simply swap out graphics cards.

-- Longevity Estimate? To be determined
eGPU is a relatively new technology, so we need to see how it plays out with the dominant software players (that means you, Adobe)

-- Initial Cost? $600 on up
Apple's $600 developer kit (Sonnet external chassis, RX580 GPU) is a pretty good deal, but it's only available to members of the developer program ($100 per year). Otherwise an eGPU box runs about $300, to which you add the price of your selected graphics card.
+++
IV. Hackintosh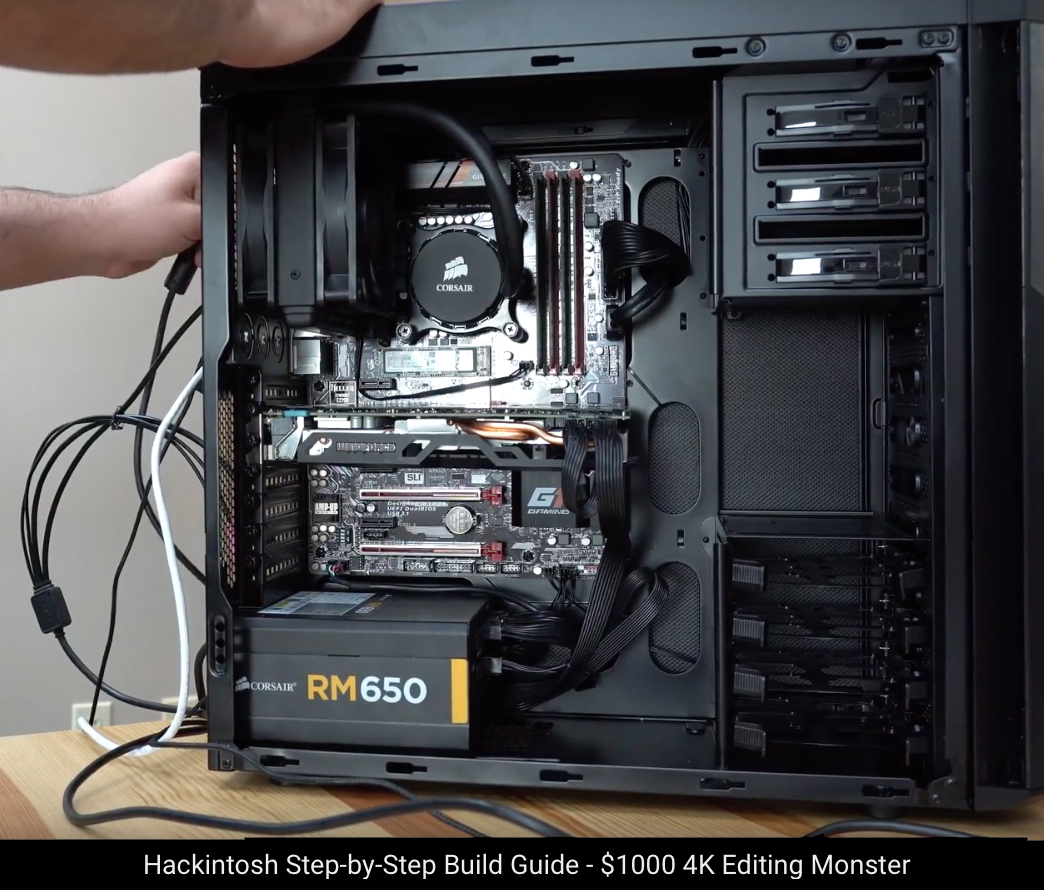 My research for a new computer now takes me to PC desktops, which is unchartered territory for me. Thankfully I can consult the YouTube technologists :)
A Hackintosh is a PC that runs the Mac OS (Operating System). It's legality is unclear, because Apple does not license its operating system. Hackintoshes are for those who are not afraid of getting their hands under the hood, and tinkering with operating system software.

-- Upgradable? YES

-- Longevity Estimate? 5-10 years

The risk with a Hackintosh is that a future Apple operating system could create a new incompatibility with one of the elements of your Hackintosh. If you're building a Hackintosh, it's therefore prudent to have several Operating Systems (say, Mac OS, Windows and Linux) on different start-up disks.
-- Initial Cost? $1K and up
Technologist Max Yuryev posted a very clear 75-minute YouTube video showing how to build a thousand-dollar Hackintosh, using the same CPU used in the iMac 5K above
( i7 7700K- 32 GB RAM- 250 GB SSD- used Radeon GPU).
+++

V. PC desktop
If you don't like the uncertainties of the Hackintosh, you can buy a PC workstation, or assemble one yourself, which will cost less than a Macintosh. If you like to work on both Macs and PCs, you can use the same Adobe software account on both platforms -- I do that now with my Macs and laptop PC.
In an hour-long YouTube video, Max Yuryev shows us how to assemble a thousand-dollar PC system (AMD Ryzen CPU- 32 GB RAM - Radeon RX 480 - 8 GB VRAM - 275 GB SSD). In a shorter video, Max cites performances for Adobe Premiere and da Vinci Resolve that are comparable to Mac systems worth three times as much (although there is no monitor included in this pricing).
Cinematographer/blogger Philip Bloom has shared his enthusiasm for the editing speed of his first PC system, which cost $3.5K (i9 CPU - 64 GB RAM - GTX 1080 - 256 GB SSD). Zed ProMedia demonstrates a comprehensive $6K PC system for Red 5K RAW footage (2 TB SSDs - 10 TB Hard Disk - 4K monitor).
-- Upgradable? Absolutely

-- Longevity Estimate? 5-10 years
-- Initial Cost? $1K to $6K

+++
VI. 2019 Unknown Mac Pro
As noted in part 2, Apple executive Phil Schiller has told journalists that Apple engineers are working on a new Mac Pro that will be "modular", as well as a separate "pro display". When will this come? Sometime in 2019.

Should we wait? Technologist Marques Brownlee mused on YouTube that the iMac Pro may be a "trap", comparing it to the black ("trashcan") Mac Pro: "lots of workstation parts crammed into a small space with a completely new thermal architecture and new fans to make it all possible". Marques did go on to give a glowing review of the iMac Pro, after a week of testing.


Here's my take: many video professionals don't need a faster version of the black Mac Pro. Many of us need a better version of the silver Mac Pro, and it sucks that Apple is making us wait nine years to get one! The Mac for professionals should be modular and upgradable. We shouldn't settle for less than a system that we can be customized and evolve to fit our changing needs and projects, especially at these prices.

So I'm hoping that the new Mac Pro will be a beautiful, dark, quiet, fast, powerful, modular, upgradable marvel of Apple engineering designed for professionals. I really want to love it.
-- Upgradable? YES

-- Longevity Estimate? 5 to 10 years
Initial Cost? Unknown
How much will the third generation Mac Pro cost? Definitely more than the iMac Pro. However if the 2019 Mac Pro is truly modular, I should be able to buy a less expensive "base" configuration without a monitor, and then build it up over time by purchasing new RAM, SSD or GPU. The folks at Curved/labs imagined a good model of a swivelling, modular Mac Pro.
Conclusions: Become Bi-cultural
-- Apple messed up... twice
One unavoidable conclusion for me is that Apple has failed their professional video users twice. The first failure was the black Mac Pro, where brilliant, expensive design was chosen over the practical needs of the video pro for a modular, upgradable machine. It's telling that the 2013 announcement of the black Mac Pro was marked by the humorous hubris of VP Phil Schiller's memorable line: "Can't innovate anymore, my ass!"
Everyone makes mistakes, and this was a very elegant one. But Apple's second failure was taking too long to fix the problems of the first failure. Instead of listening to its die-hard professional users, Apple waited some seven years before it apparently started designing a new modular system. Apple didn't innovate!

In the meantime, professionals migrated to PCs or made do with the all-in-one design of the iMac, which was slowly transformed from a consumer product to a "Pro" device... And Apple upgraded iPhones and iPads every year.

-- Waiting for Pro

So I will try to wait another year for the Mac Pro I really want. I suspect that many video professionals may do the same. And I'm hoping that it will be truly modular, so that I can buy an affordable configuration which I can upgrade over the years.
-- PC while you wait?

It's clear that there are cheap, powerful PC solutions out there now, on which professionals can use the same Adobe and DaVinci software that they use on the Mac. And if one of my projects requires a more powerful machine before the fall, that may be the best way for me to go.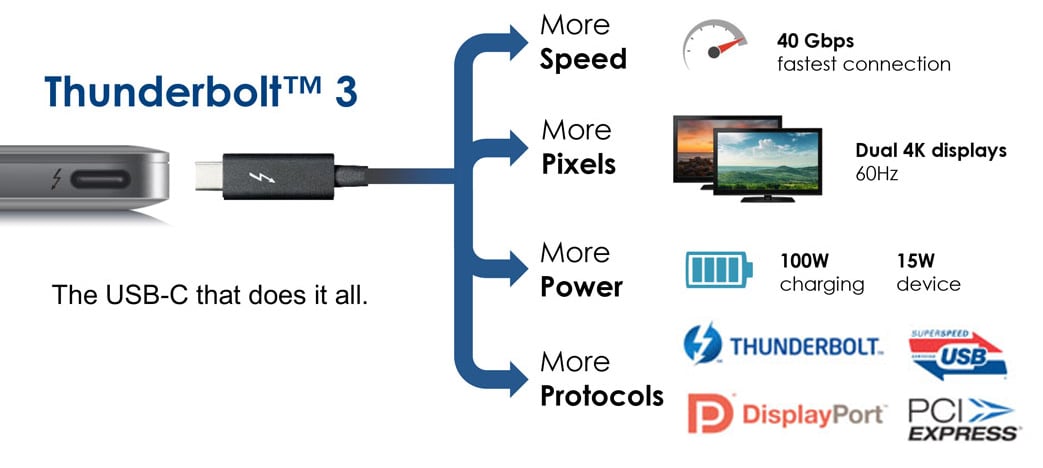 -- Becoming bi-cultural
It's looking like the desktop future is requiring video pro users to become bi-cultural, to be conversant with both PCs and Macs, and to easily navigate from one to the other depending on the needs of their projects. The irony is that becoming bi-cultural may be the beneficial end result of Apple's lack of love for its professional aficionados.

Bi-culturalism is facilitated by the growth of two fast interconnection standards: USB-C and Thunderbolt 3 (discussed in Part 2). Imagine that you could just as easily connect your eGPU to a Mac or PC, as you can to a drive or a monitor... Imagine taking the card from your eGPU and easily putting it in your new Mac Pro -- or is that going too far? :)

-- ProRes Export Issue
Up until December 2019 there was one video issue with the PC option: if you had to create ProRes deliverables, you had a problem using PCs, because Apple had not licensed its technology to Adobe.
What this meant practically is that you could import ProRes files into Adobe Premiere (or After Effects), but you couldn't export ProRes files using Apple technology.
Note that there are PC software products to create ProRes, but they are reverse-engineered solutions that output very big files, and may have unexpected side effects.
The ProRes issue changed in December of 2018, when Adobe announced support for ProRes 422 and 4444 export in its latest versions of Premiere Pro, After Effects and Media Encoder. Bravo to Adobe for negotiating this with Apple!
At present the exclusivity issue with ProRes still applies to some ProRes flavors, and also to the recent ProRes RAW format, a promising technology that, for the moment, is only readable by Apple's Final Cut X editing software. So if I decide to buy a PC, I might still end up using my Mac for ProRes Raw conversion from PC files in DNxHR or Cineform -- in true digital bi-cultural fashion.
+++
+++
+++
RESEARCH LINKS
iMac 5K
arstechnica.com: Mini-review: How much faster have high-end iMacs gotten in the last 5 years?
support.apple.com: iMac RAM replacement
YouTube/Max Yuryev: iMac Pro vs 2017 5K iMac - Video editing with Final Cut X - FCX
iMac Pro
postperspective.com: First Impressions: Apple's new iMac Pro
YouTube/Marques Brownlee: 1 Week Impressions!
YouTube/macsales : 2017 iMac Pro Teardown + OWC Memory Upgrade Announcement
digitaltrends.com: The most expensive iMac Pro costs over $13,000, and here's what you could get on a PC
Unknown Mac Pro
tech crunch.com: Apple's 2019 Mac Pro will be shaped by workflows
mashable.com: The Mac Pro is Getting a Major Do-Over
techcrunch.com: Transcript: Phil Schiller, Craig Federighi and John Ternus on the state of Apple's pro Macs
YouTube/Marques Brownlee: iMac Pro: Is It A Trap?
curved.de: Curved/labs The Modular Mac Pro
Thunderbolt
Wikipedia: Thunderbolt interface
nofilmschool.com: Dell, Seagate, and Sandisk Debut Portable SSDs
eGPU
egpu.io: macOS High Sierra launches with official External GPU support
appleinsider.com: Official Apple user support for external Thunderbolt 3 GPUs not coming until Spring 2018
developer.apple.com: External Graphics Development Kit
YouTube/AppleInsider: Apple eGPU developer kit tested with a 15" MacBook Pro!
YouTube/9to5Mac : AMD RX Vega 64 eGPU + macOS High Sierra beta [9to5Mac]
appleinsider.com: Nvidia releases beta Mac graphics drivers for Pascal-based video cards
YouTube/9to5Mac: Hands-on: MacBook Pro + GTX 1080 Ti eGPU = POWER!
gpunerd.com: External Graphics Card Buyers Guide: Round-Up Of The Best eGPUs of 2017

Hackintosh
tonymacx86.com
YouTube/Max Yuryev: Hackintosh Step-by-Step Build Guide - $1000 4K Editing Monster
PC
YouTube/Max Yuryev: $998 AMD RYZEN 4K video editing BEAST! Premiere & Resolve
YouTube/Max Yuryev: Ryzen Step by Step Build Guide - $1000 4K editing MONSTER (70 minutes)
YouTube/Philip Bloom: Is it time to switch to Windows for video editing?YouTube/Zed ProMedia: $6000+ Editing workstation for editing RED 5k-8k footage
YouTube/Max Yuryev: 8K Video Editing BEAST! - 16 Core ThreadRipper for Premiere Pro and Resolve
ProRes on PCs
blog.frame.io: Why ProRes on Windows is Still Not a Good Option for Editors
theblog.adobe.com: Adobe Pro Video Apps Now Support ProRes Export on Windows
atomos.com: ProRes RAW
YouTube: "Can't innovate anymore, my ass"
+++

thefilmbook:

MACINTOSH PART 1 - THE LAPTOP DILEMMA
MACINTOSH PART 2 - LEGACY PRO DESKTOPS
MACINTOSH PART 3 - PRO DESKTOPS FOR 2018
+++

A video of Curved/labs imaginary modular Mac Pro
watch on YouTube