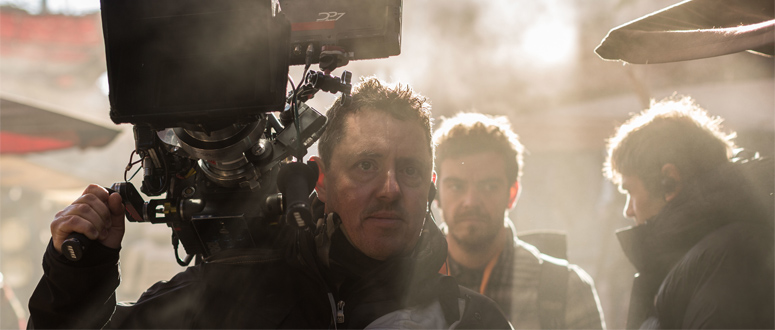 Rogue One Set Visit with Greig Fraser, ASC, ACS - Part 1
An expanded version of my article about Rogue One in the February issue of American Cinematographer, with additional illustrations and comments that we couldn't fit in the print version.
Benjamin B
This post is an expanded version of my article about Rogue One in the American Cinematographer, with additional illustrations and comments that we couldn't fit in the print version.
Greig Fraser, ASC, ACS on the set of Rogue One
1. Greig Fraser
2. Pinewood Set Visit - Day 1

3. Ultra Panavision 70 & Arri Alexa 65

4. "Action"

5. LED Lighting
6. The 5230 Look
7. The Lenses
+++



1. Greig Fraser
Greig Fraser, ASC, ACS is a leading cinematographer whose credits include Bright Star, Let Me In, Killing Them Softly, Foxcatcher and Lion. Greig has had a great year, in addition to the global success of Rogue One, he received the Golden Frog at the recent Camerimage International Film Festival, and the ASC Award for theatrical release for Lion.

Rogue One marks Greig's largest production to date, and his first collaboration with director Gareth Edwards.

+++



2. Pinewood Set Visit - Day 1
Security is tight as I set out to visit Greig on the Rogue One sets at Pinewood Studios near London. After showing my ID and signing the non-disclosure form, I am given a piece of tape to blindfold my iPhone lenses. As I enter into the Lucas Film area, I run into two friends from Panavision: Lee Mackey from UK Technical Marketing and VP of Optics (and AC Associate member) Dan Sasaki.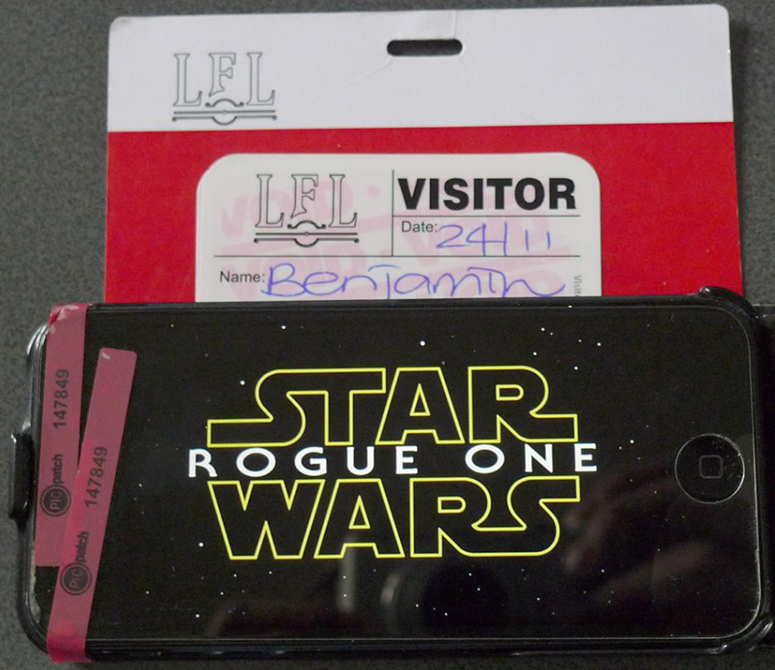 Visitor pass and blindfolded iPhone (Benjamin B)
We are led to a staging area filled with a dozen white-clad imperial storm troupers casually eating on their break, and are outfitted with waist-high boot pants -- like those used for fly fishing. We then proceed to a vast dark sound stage with a water-covered floor. This "wet set" represents the Edau planet, where the rebel characters played by Felicity Jones and Diego Luna are eluding storm troupers.

During a break between set-ups, Greig comes to greet us and show us some high-res footage on a 4K monitor. The images have a remarkable clarity and finesse.

+++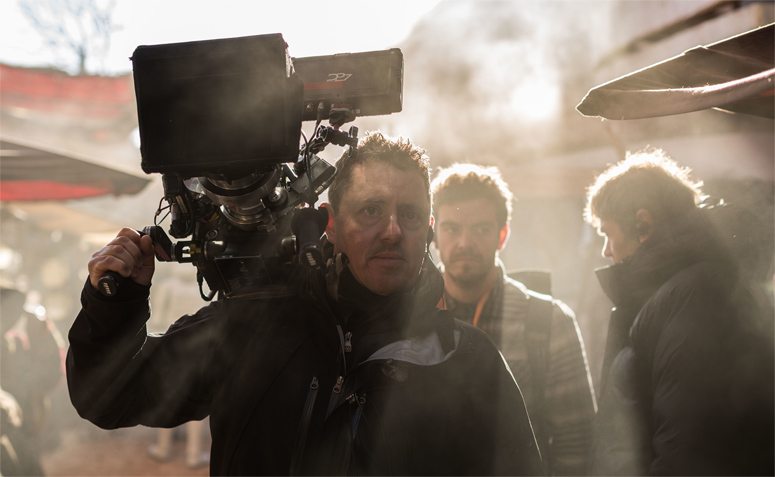 Greig Fraser, ASC, ACS on the set of Rogue One


3. Ultra Panavision 70 & Arri Alexa 65
Rogue One was shot with Ultra Panavision 70 lenses — updated versions of Panavision's vintage Ultra Panatar anamorphic primes — on Arri's Alexa 65 camera. Greig praises the quality created by this unique combination of 50-year old anamorphic lenses with a large-format digital camera before he is called back to shoot.

I later contact Mike Blanchard from Lucasfilm who gives me an overview of the Rogue One workflow. The Alexa 65 was shot in its open gate format of 6560 x 3100 pixels (or "6K"); full resolution frames were pulled with pixels at the 1.25 ratio (the anamorphic squeeze of the Ultra Panatars); the ILM working resolution for most VFX shots was 2253 x 944 pixels (with 10% padding for repositioning and 3D conversion); ILM then delivered shots for the DI at 4506 x 1888 pixels. The DI was done at 4506 x 1888 with center crop extraction for a final delivery of 4096 x 1716 pixels.

Back on the set, DIT Dan Carling explains that Codex Vaults are used to down-res the footage to 4K by the Pinewood Post company for later use in DI. Greig chooses the camera color temperature setting for every scene, and then a LUT and a CDL are applied to the Arriraw log signal to create the 2K dailies for the filmmakers.

+++



4. "Action"
The hilly terrain on the set with dark lighting has a gloomy, dangerous mood to it. Firehoses are regularly turned on to keep the mist level up, and, later, for a torrential rain sequence. A 10-foot fan with a V8 engine is churning a strong headwind at the actors. The pyrotechnics crew have laid trigger wires, and cordoned off the upcoming explosion areas with small red traffic cones.

Director Gareth Edwards yells: "Action".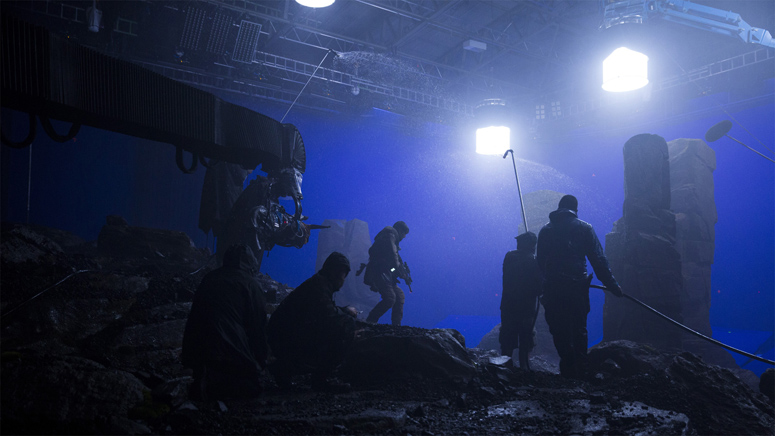 The camera is on a crane handled by key grip Gary Hymns, and follows Felicity Jones and Diego Luna as they run over a hill pursued by storm troopers, with small explosions in the background. A flashlight passes through the frame, creating a distinctive, complex Panatar flare. As they come over a hill, our heroes are illuminated by a very bright shaft of light, as if from a descending spaceship. "Cut".

First AC Jake Marcuson runs into frame, positions himself where the actors were, and aims a laser pointer at the camera to double check the distance. We're 80 days into the shoot, and Jake tells me: "So far, we've only done two static shots". He adds: "There are a lot of shots of people running towards the camera" – a difficult action for a focus puller.

Jake tells me that the most commonly used lenses on Rogue One are the 65 and 75mm, along with the 50 and 100. At Greig's request, Dan Sasaki has modified the 65 mm for close focus distance of only 19 inches, another challenge for this talented AC.

***



5. LED Lighting
Gaffer Perry Evans explains that Greig made the unusual choice to shoot the entire film with LEDs, including units made by Digital Sputnick, Creamsource, LiteGear and Arri Lighting.

The walls of the sound stage have a painted background sky. The set is lit by some 30 Creamsource Sky units in a grid above at 12000 degrees Kelvin, with Arri SkyPanels used as cyc lights on the side. Digital Sputnicks create red and green laser effects. The "spaceship" beam is created by a Digital Sputnick unit with 9 powerful panels of 4x4 LEDs pointed by an electrician on a crane.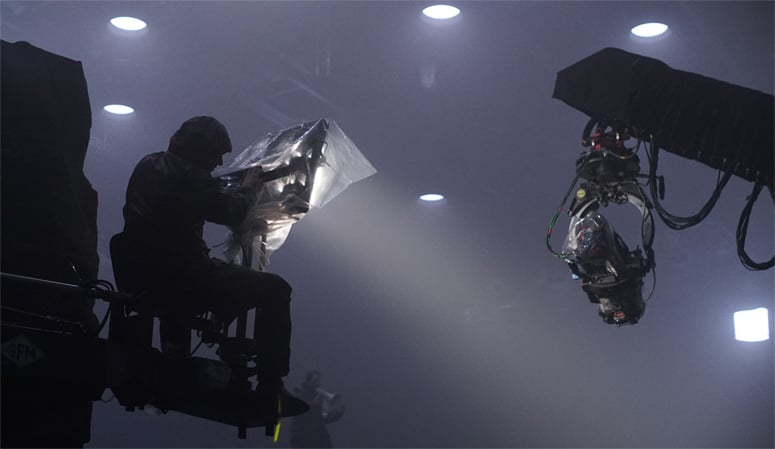 Aiming the Digital Sputnick beam
Perry explains that just about every light source on the film is controlled by DMX, with the help of desk operator Will Burns. The gear is provided by Pinewood MBS Lighting.

Greig introduces me to Kaur Kallas from Digital Sputnick. Kaur explains that, unlike most manufacturers, they use current control instead of pulse width modulation to dim the LEDs. He adds that a multi-dimensional LUT allows the units to compensate for color shifts as they dim. Kaur also states Digital Sputnick's units have a spectrum with RGB peaks that matches the peaks of digital cameras.

Greig introduces me to director Gareth Edwards, who has been doing a lot of handheld operating on the film. I ask him how it feels to handhold the Alexa 65 with Ultra Panatars on it. He replies with a smile: "I don't feel any pain during the shot… but I really feel it as soon as I cut".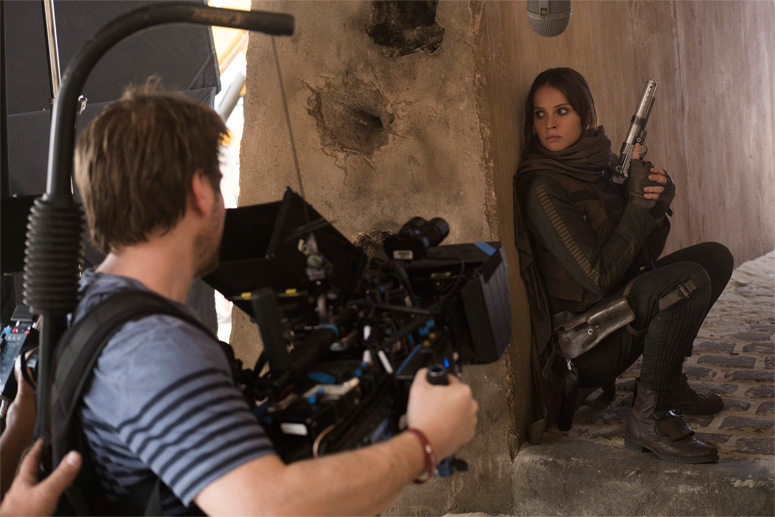 +++



6. The 5230 Look
Months after my visit, I spoke to Greig about Rogue One when we met at Camerimage. We continued our conversation via Skype in the weeks that followed.

Benjamin B: What's it like working on a Star Wars movie?

Greig Fraser: Of course its incredible! I was able to work with the best technicians in the world, and the best equipment in the world. With Gareth Edwards, we wanted to be attentive that the look be consistent with A New Hope, which is seared in our brains.

BB: So you were trying to recreate the look of that movie, but with very different tools. It's like old wine in new bottles?

Fraser: Yes, because those old bottles are not available anymore! The film stock is no longer there and film prints have disappeared.

BB: Were you trying to recreate the look of a film stock release print?

Fraser: No, and that's the tricky part. We weren't trying to reproduce what it actually looked like, but how we remember it. There's a difference between reality and the remembrance of reality. If you saw the original release print today you might be disappointed.

Part of our research was to look at the 4K scanned versions of A New Hope and The Empire Strikes Back. They look fantastic, but they don't look how I remember them.

BB: I understand that the Rogue One LUT was based on the Kodak 500T 5230 negative that you used on Killing Them Softly and Foxcatcher.

Fraser: That's right. The blacks are milky and creamy; it's a low-contrast stock, so when you add a little bit of contrast in the DI, it doesn't feel digital, it still feels very filmic. It's my go-to look.

It's a funny story, because after Foxcatcher I gave some short ends to an Australian film student at NYU. Then, when I was prepping Rogue One, John Knoll told me that ILM could make a LUT based on sampling any film stock. That 5230 Kodak stock didn't exist anymore, so I called the student and said, 'Do you have any of that film stock left?' He checked and said he had a 100-foot short end in his fridge — and that's what ILM used to make the LUT. That's the kind of exchange that filmmaking is all about.

+++



7. The Lenses
BB: Can you talk about your daring choice of pairing the Alexa 65 camera with Ultra Panavision 70 lenses?

Fraser: We tested a lot of combinations, and that seemed the best choice for the movie. But it really was a bold choice. I love Lucasfilm because we said to them, 'Here's a camera no one's ever shot a feature film with, and some 50-year old lenses, which are kind of funky, and we want to shoot the movie with them.' A lot of more conservative studios would say, 'Nah, let's use what we used on the last movie.' But Lucasfilm has the integrity and artistic vision to say yes. And the guys at Arri and Panavision made it happen; they made the mount and the flange distance work.
BB: What focal lengths did you tend to use?

Fraser: We mostly shot with the 50, 65, 75 and 100. We used the 75 a lot, usually around T2 and T2.3, which gave us the right feel with soft lighting. Because we had such a large format, we could crop into the image, so that a single lens allowed for every emotion between 75 and 95. For example I could call out for an 80% crop and it would become a 90mm, with the quality that we wanted.

BB: The Ultra Panavision lenses are far from optically perfect.

Fraser: A lot of people are terrified about 65 digital being too sharp, but if you combine it with the right glass, it can be more forgiving than 35mm with sharp lenses. So you end up with 65 that is more flattering, and in my opinion, it mimics the human eye. The eye sees flaws, but we gloss over them.

If you're speaking to an older person, you're not sitting there looking at their crow's feet, you're absorbing their character and their aura. As filmmakers we need to ensure that that's what our equipment does: that it absorbs the aura rather than the minutia. And these lenses on this camera see the world that way, like no other system.

BB: So you're not looking for technical perfection in a lens, but for personality and emotion?

Fraser: Exactly. I sat with Gareth and said: 'This is what I think the lens is good and not good at'. But I had to hear his emotional response, because it's all about emotion.

You know, I'm a lens geek. And these lenses are the most beautiful, extraordinarily exquisite lenses I've ever seen and shot. They're warm — but not in a color sense. Whenever I put them on the camera I feel this love, this warm glow. They are a work of art!

+++



LINKS
theasc.com: John Knoll on Rogue One's Visual Effects: Part 1 - by Jon Witmer

theasc.com: John Knoll on Rogue One's Visual Effects: Part 2 - by Jon Witmer

theasc.com: Doug Chiang on Rogue One's Production Design: Part 1 - by Jon Witmer

theasc.com: Doug Chiang on Rogue One's Production Design: Part 2 - by Jon Witmer

theasc.com: Killing Them Softly article by Benjamin B

thefilmbook: Large Format: Ultra Panavision 70
+++

In Part 2, Greig discusses his use of LED lighting:
thefilmbook: Rogue One Set Vist with Greig Fraser, ASC, ACS - Part Two
+++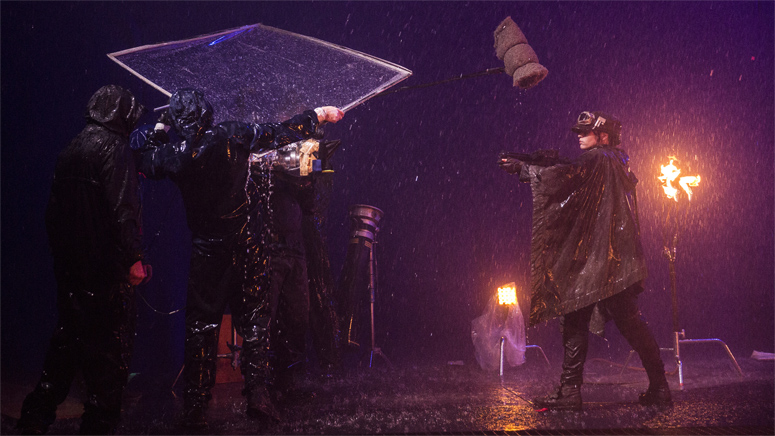 +++

Unit photography by Jonathan Olley, Giles Keyte and John Wilson.

Photos and frame grabs courtesy of Lucasfilm Ltd.

Thanks also to Greig Fraser

+++