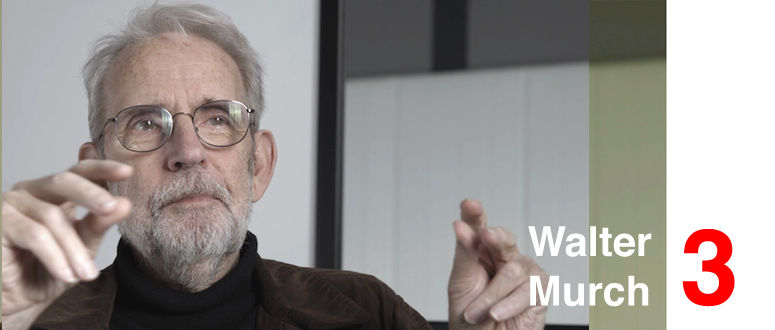 Walter Murch - 3. Jump Cuts, Sequences, The Entire Movie
This is my third and final video interview with Walter Murch, the legendary editor, sound designer and cinematic pioneer. 
Benjamin B

This is my third and final video interview with Walter Murch, the legendary editor, sound designer and cinematic pioneer. I met with Walter at the 2015 Camerimage Festival, where he received a Special Editing Award.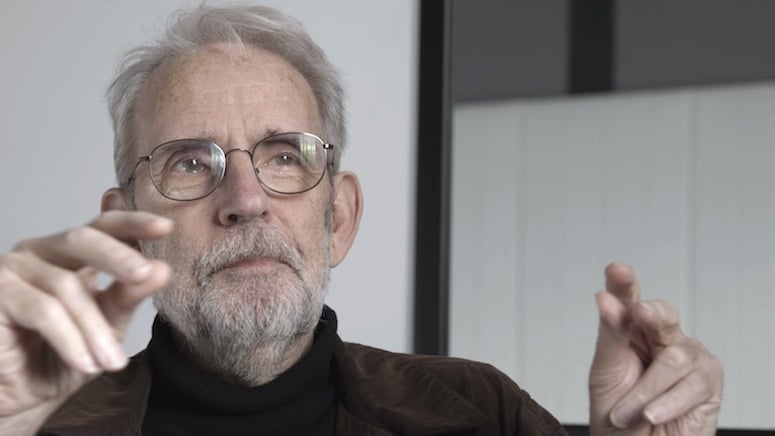 In my first post, Walter presented the editor's job as a combination of cook, surgeon and orchestra conductor, and he discussed, among other things, standing versus sitting, micro-dancing and cutting on the upbeat.
In my second post, Walter explained why he always hits the editing point in real-time playback -- on the fly, and discussed his approach to image editing.

+++



Walter Murch
Walter Murch is a distinguished filmmaker whose credits for editing, sound montage and sound design include classics like American Graffiti, The Conversation, The Godfather, The Godfather Part II, Apocalypse Now, The Unbearable Lightness of Being, The English Patient and Cold Mountain. He also wrote and directed Return to Oz. Walter has won three Oscars, one for the ground-breaking multi-channel mix of Apocalypse Now, and two Oscars for his editing and sound mix work on The English Patient.

Walter is a true cinematic pioneer, and a technological artist. He is credited for coining the expression "sound designer", and has always been at the forefront of technology. He was among the first to use a computerized sound board, and to try digital editing technology: he was an early adopter of Avid, then Final Cut Pro, and recently Premiere for feature films.

+++



The Interview
In this third video segment, Walter speaks about jump cuts, editing sequences made up of groups of scenes, and the mysterious process of comprehending an entire feature film. I was particularly interested in Walter's take on jump cuts, because, as some of you may have noticed, I like to use them to add rhythm to my video interviews.

watch on YouTube

+++



Sequence from The Godfather
During the interview Walter describes his work building sequences from scenes shot. He states that feature films typically have "roughly between 36 and 50 sequences". When I ask Walter for an example of a sequence, he speaks about Michael's assassination of Sollozzo in The Godfather.

Most sequences are made up of a group of scenes. In this example the 8-minute night sequence is made up of 5 scenes:

1. Michael is picked up by a car outside the Broadway Bar

2. Michael in the car with Sollozzo, his bodyguard McCluskey and a driver

(including sound stage car interior and car exteriors)

3a. The car arrives at Louis' restaurant (exterior)

4a. Inside the restaurant, Sollozzo speaks with Michael.

5. Michael goes to the toilet and gets the gun hidden there.

4b. Michael kills Sollozzo and McCluskey in the restaurant.

3b. Michael leaves the restaurant.

watch on YouTube

The Godfather was edited by William Reynolds and Peter Zinner; Walter served as post-production consultant. The cinematography is by the late, great Gordon Willis, ASC.

+++



Walter at work
These images evoke the themes discussed in my three interviews with Walter. Here we see him working standing up, with finger poised to hit the edit point during playback in real time, and a glimpse of his index card organization of groups of scenes into sequences. (The photos are from qualitative-research.net who credit Charles Koppelman's book Behind the Seen).

+++



LINKS
thefilmbook: Walter Murch - 1. Cook, Surgeon, Conductor
thefilmbook: Walter Murch - 2. Editing in Real Time
thefilmbook: Walter Murch - 3. Jump Cuts, Sequences, The Entire Movie
wikipedia: Walter Murch

imdb: Walter Murch

jump cut

wikipedia: Breathless by Jean-Luc Godard, cinematography by Raoul Coutard, edited by Cécile Decugis & Lila Herman

wikipedia: Grok

wikipedia: shipbuilding

wikipedia: Rhapsody in Blue by George Gershwin

YouTube: Rhapsody in Blue by George Gershwin - performed by Leonard Bernstein, New York Philharmonic (1976)

wikipedia: 32 Short Films About Glenn Gould by François Girard

YouTube: 32 Short Films About Glenn Gould by François Girard - part 1 of 13

qualitative-research.net: Video Analysis: Lessons from Professional Video Editing Practice by Eric Laurier, Ignaz Strebel & Barry Brown

ckoppelman.com: Read the first chapter of Behind the Seen by Charles Koppelman

wikipedia: In the Blink of an Eye a book by Walter Murch

filmsound.org: Walter Murch articles

+++

Credits:

Interview by Benjamin B

Cameraman: Julian Sojka

Editor: Benjamin B

+++
thefilmbook: Walter Murch - 1. Cook, Surgeon, Conductor
thefilmbook: Walter Murch - 2. Editing in Real Time
thefilmbook: Walter Murch - 3. Jump Cuts, Sequences, The Entire Movie
+++