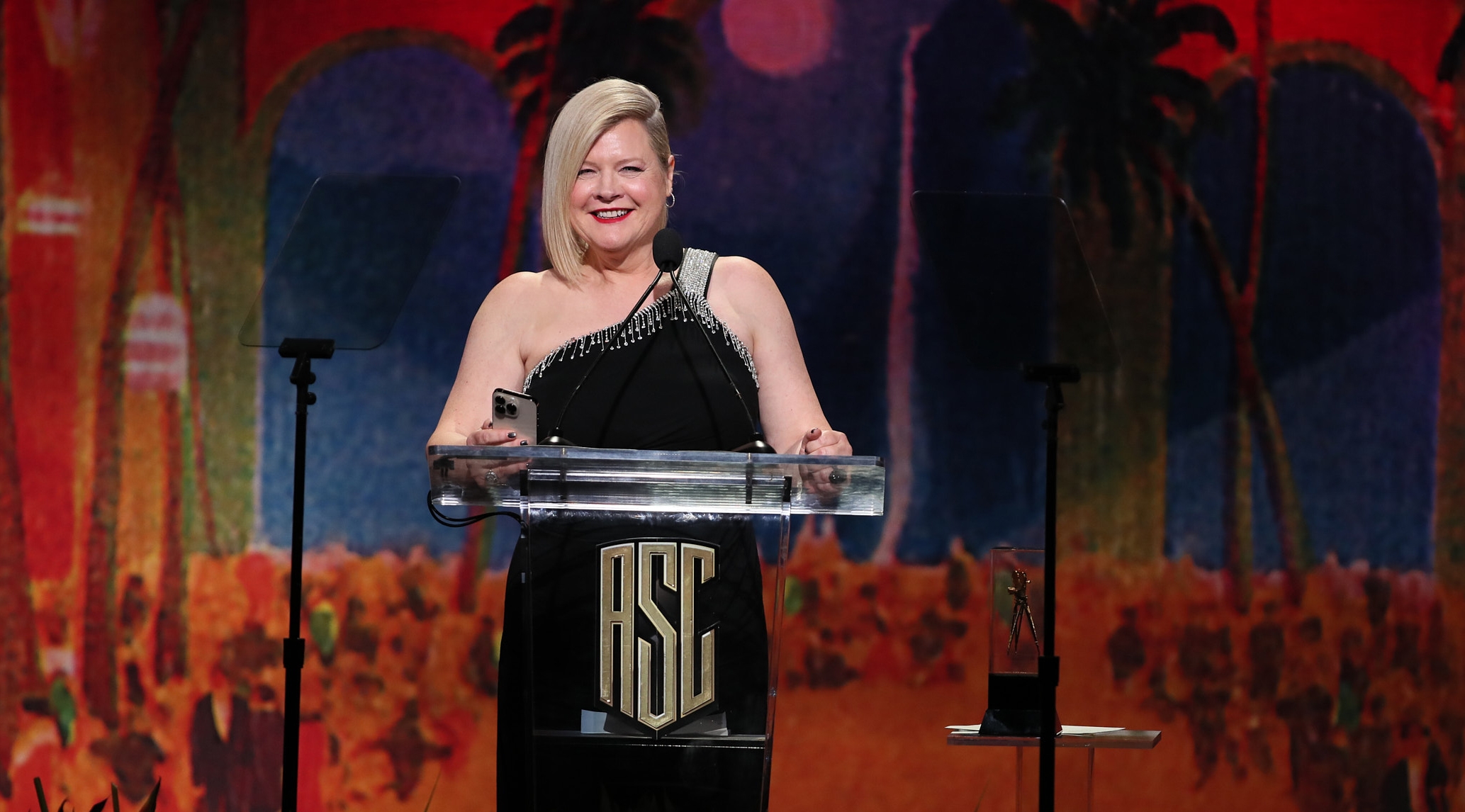 Elvis cinematographer Mandy Walker, ASC, ACS. (Photo by Danny Moloshok)
37th Annual ASC Awards: Walker Rocks Win for Elvis
Mandy Walker, ASC, ACS is first woman to win for feature film; War Sailor captures Spotlight Award; All That Breathes garners Documentary Award; The Marvelous Mrs. Maisel, The Old Man and Barry honored in TV categories.
David E. Williams
Event photography by Josh Lefkowitz, Danny Moloshok, Fernando Nava, Hector Sandoval, Al Seib, Daniel Woiwode, Daniel Mejia, and Andrew Rogers.

The 37th ASC Outstanding Achievement Awards, held on the evening of March 5 at the Beverly Hilton in Beverly Hills, Calif., celebrated exceptional camerawork in television and feature films. With some 900 nominees, honorees and attendees seated in the International Ballroom, all were welcomed by announcer John Simmons, ASC.
Awards Committee Chair Chuck Minsky, ASC soon took the stage and offered an observation about the venue's bold tropical décor, reminiscent of a famed Hollywood hot spot of yesteryear. (Within the video embedded above, starting at 00:31.)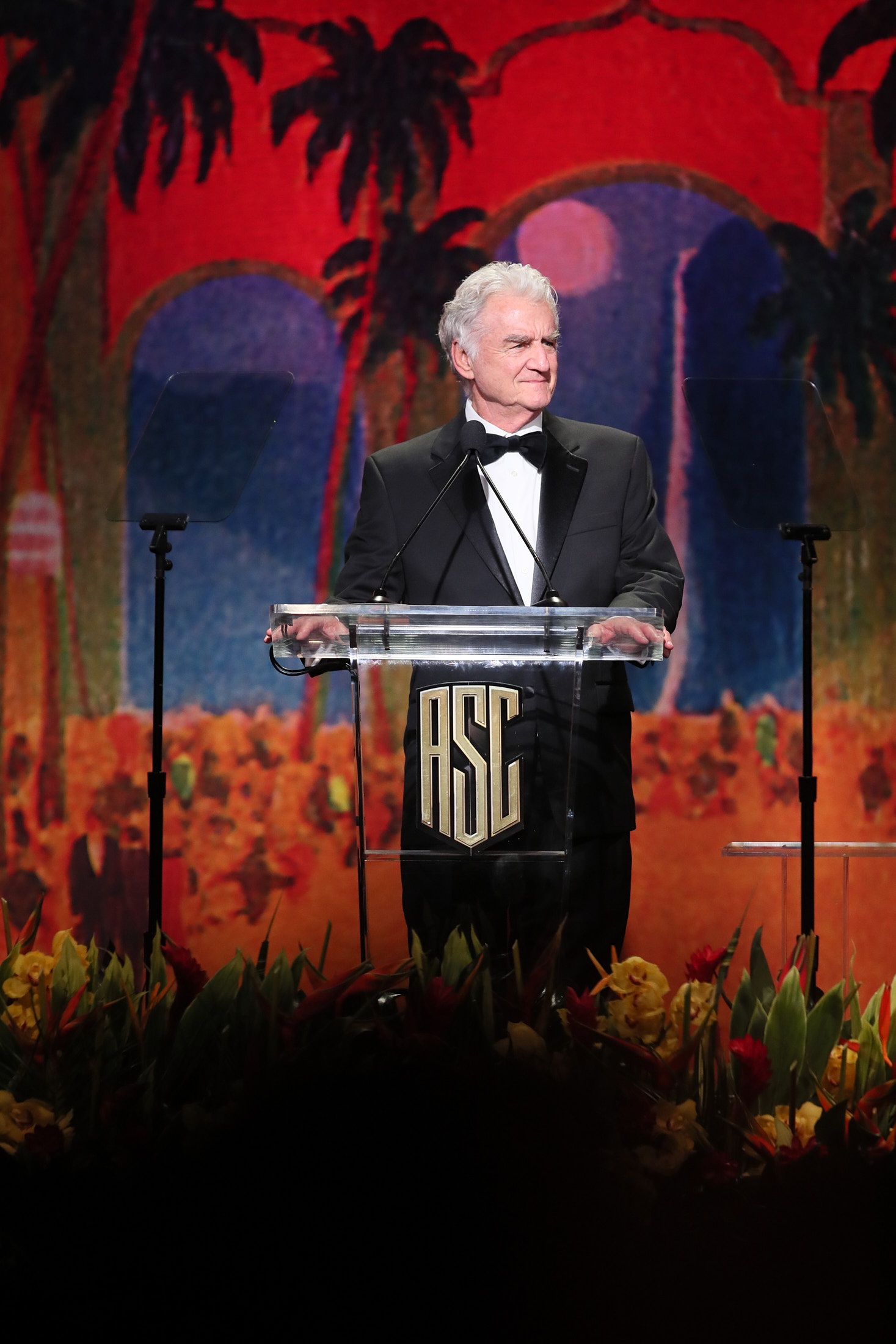 "I got a call from Woody Omens, ASC last week who, along with Michael Margulies, ASC began the Awards 37 years ago," Minsky began. "Woody told me the late Stanley Cortez, ASC would be proud of us, because we are in fact carrying on his original tradition of holding an annual ASC Anniversary Gala, which celebrated the artistic contribution of cinematographers to the art of making movies Tonight we are carrying the torch of this tradition forward into the changing. landscape of our business."
"This beautiful backdrop behind me is inspired by the 25th ASC Gala, which was held at the Coconut Grove nightclub in the Ambassador Hotel in 1946. I wasn't at that event, but here we are tonight, continuing the Gala tradition. Let's begin the show."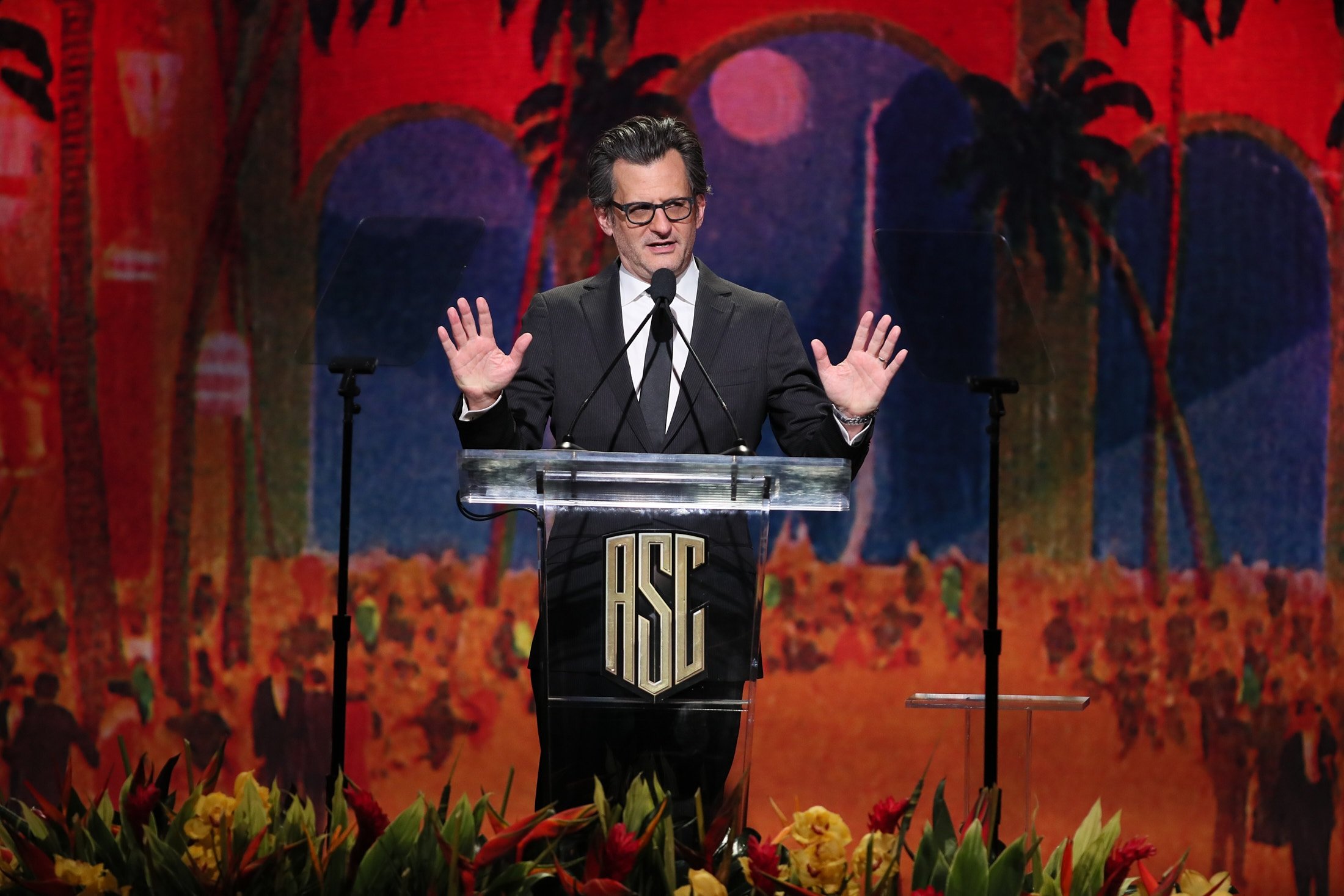 Following a clip reel of exceptional camerawork by ASC members (starting at 1:37.), Minsky introduced event host Ben Mankiewicz of Turner Classic Movies. His self-deprecating monologue (starting at 00:5:40) noted that the event was no longer being held at the far more modest ASC Clubhouse, as it was in 2022 during Covid restrictions: "Look at us. No more Clubhouse — the ASC Awards has upgraded to the swanky five-star Beverly Hilton. Which raises the question — why the hell am I still hosting? When you upgrade, you're supposed to ditch basic-cable C-listers like me."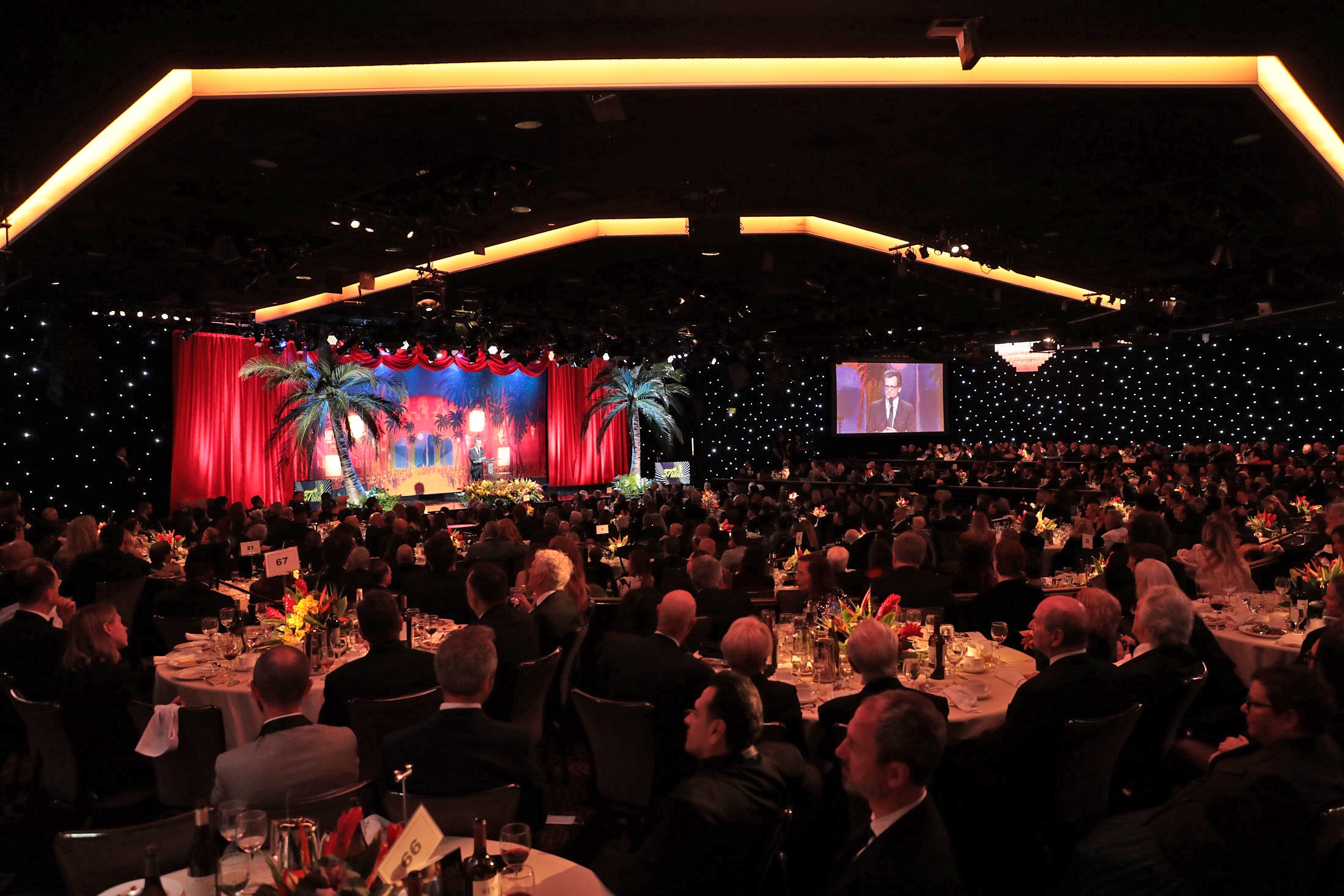 Following Mankiewicz, actors Roselyn Sánchez and Harry Shum Jr. introduced the night's first competitive category: Episode of A Half-Hour Series Award (sponsored by Picture Shop, starting at 00:9:51.)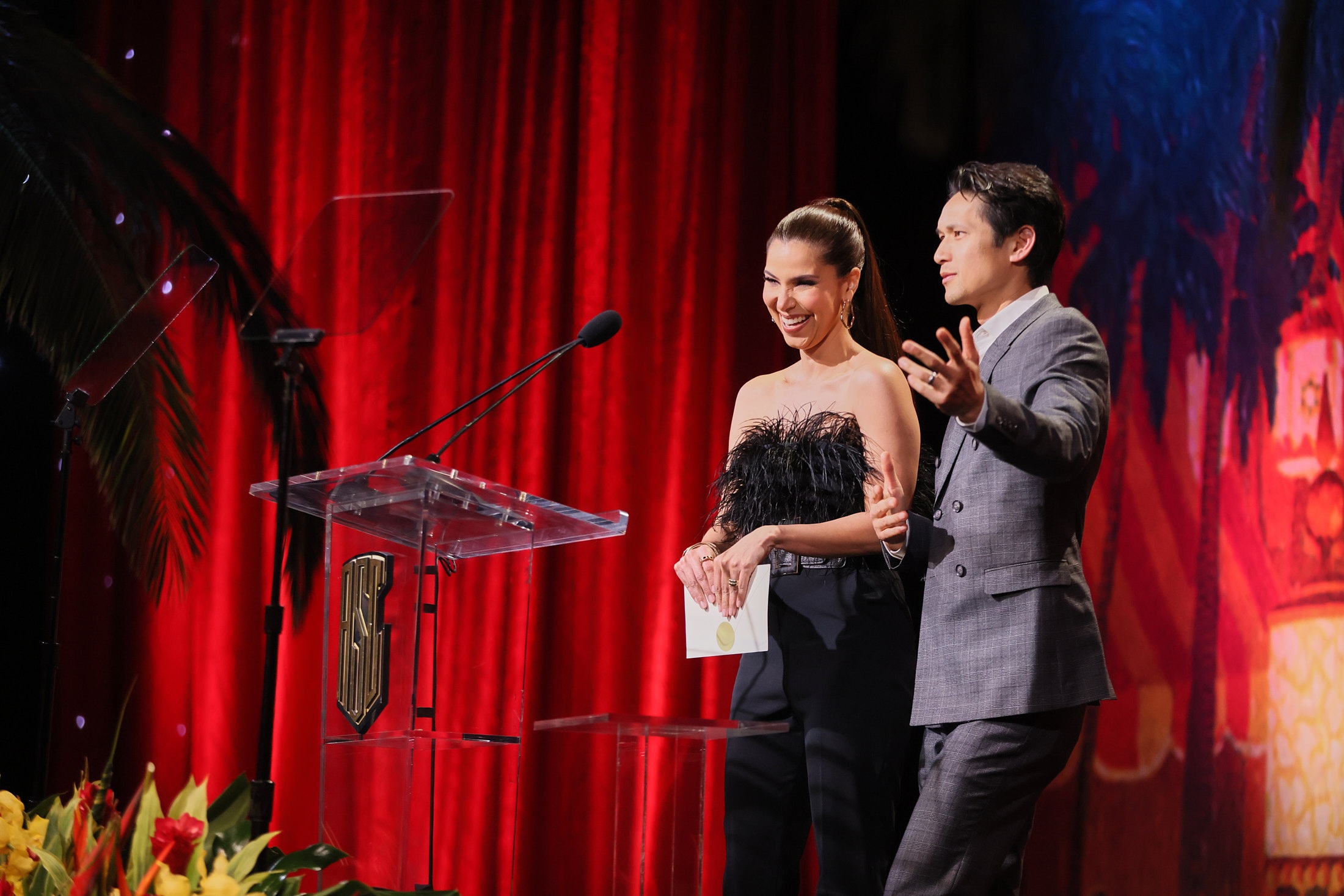 And the nominees were:
Adam Bricker for Hacks – "The Click" (HBO/HBO Max)
Carl Herse for Barry – "Starting Now" (HBO/HBO Max)
Stephen Murphy BSC, ISC for Atlanta – "New Jazz" (FX)
Ula Pontikos, BSC for Russian Doll – "Matryoshka" (Netflix)
Christian Sprenger, ASC for Atlanta – "Andrew Wyeth. Alfred's World." (FX)
The winner was Carl Herse for Barry. (Speech starting at 00:14:47.)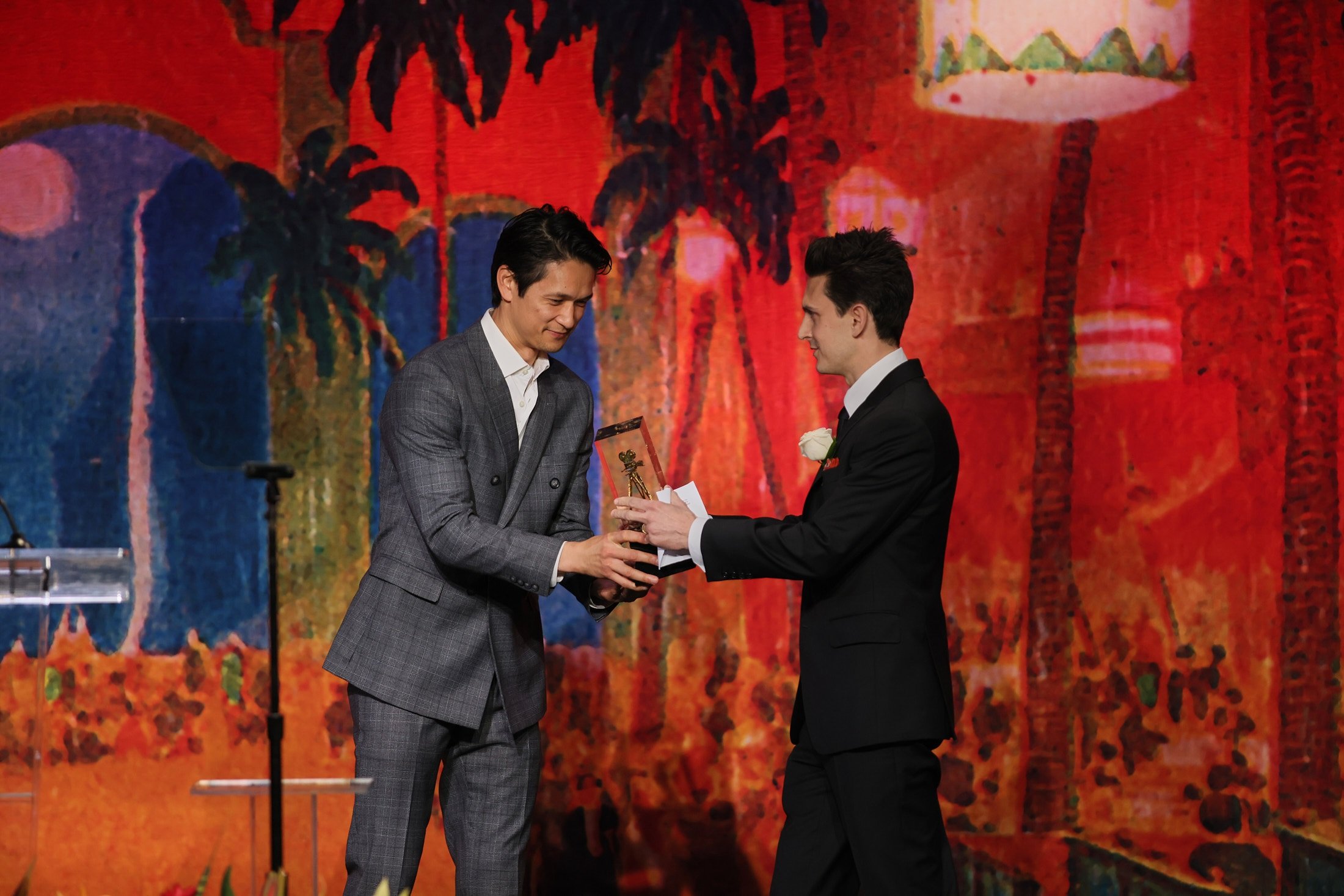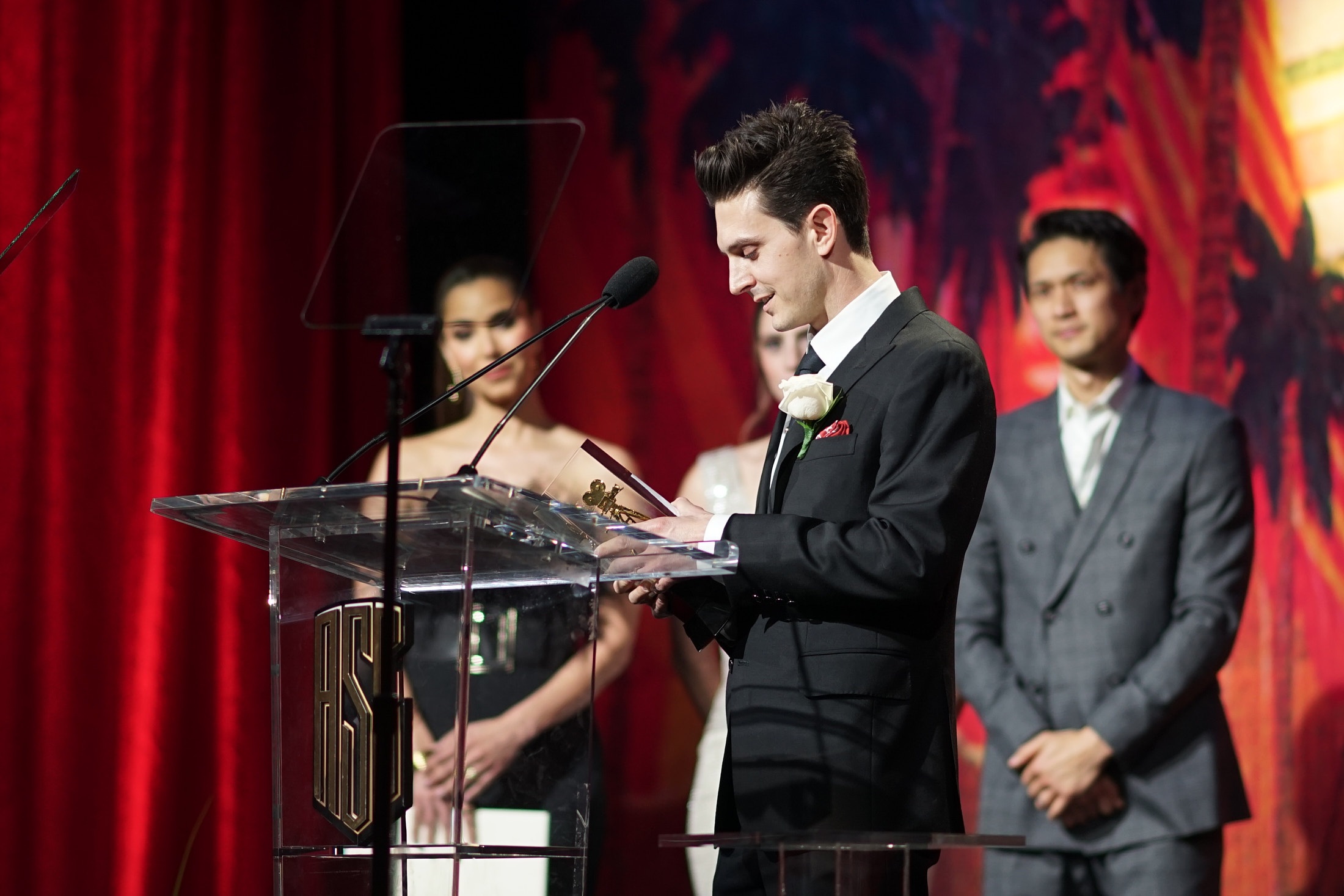 The cinematographer studied film at Columbia College in Chicago, after which he worked in set lighting while building up his resume. His television credits include Nathan for You, The Last Man on Earth, Moonbase 8, Black Monday and The Afterparty. He earned an Emmy nomination for his work on this same episode from the third season of the wry comedy Barry. This was his first ASC Award nomination.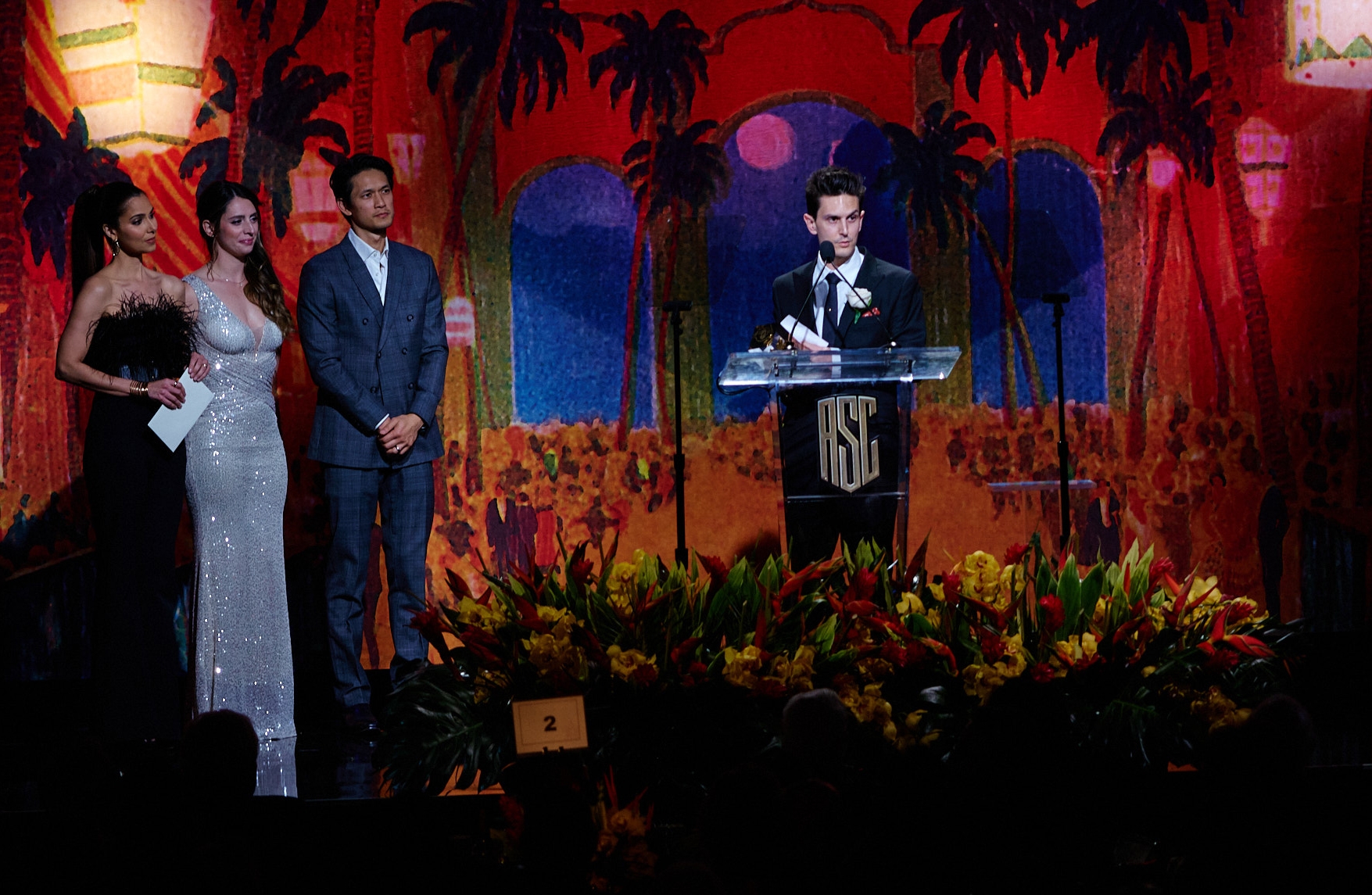 Herse later spoke about his win backstage on the red carpet with AC contributor David Heuring:
Director Gina Prince-Bythewood then presented the ASC Board of Governors Award to Viola Davis, her star and producer on the historical drama The Woman King. (Starting at 00:15:45.) "To see Viola Davis in a closeup is to see the alchemy we infinitely chase as storytellers — truth," Prince-Bythewood said. "It is a rare gift she possesses, honed by trauma, and courage, and vulnerability, and empathy and an insane work ethic. And an even rarer understanding of how to use that gift."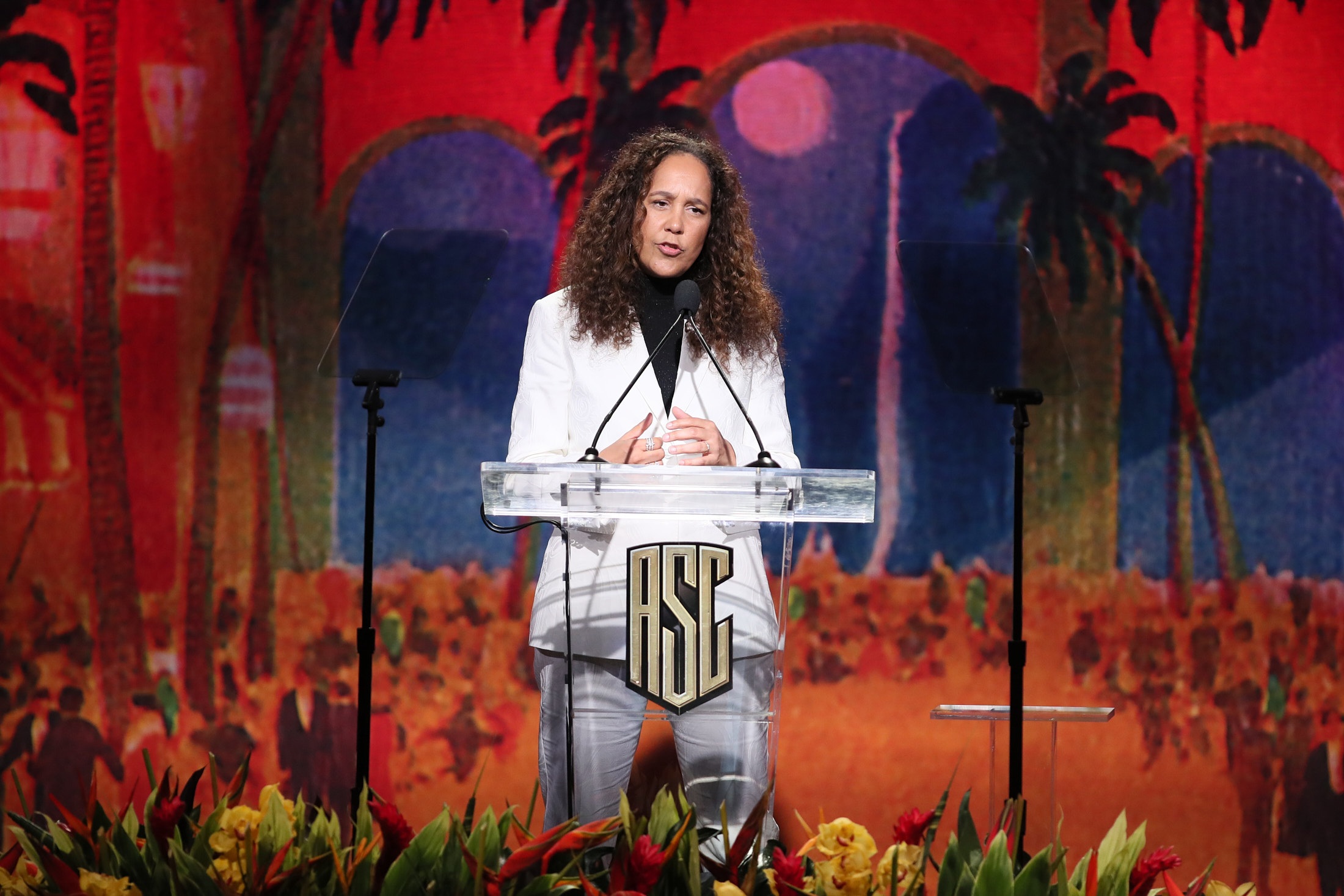 Davis' passionate acceptance speech (starting at 00:23:50) touched on her personal struggles and how she uses past trauma to not only empower her screen characters, but to drive her work ethic — a message that clearly resonated with the audience, which responded with rousing applause.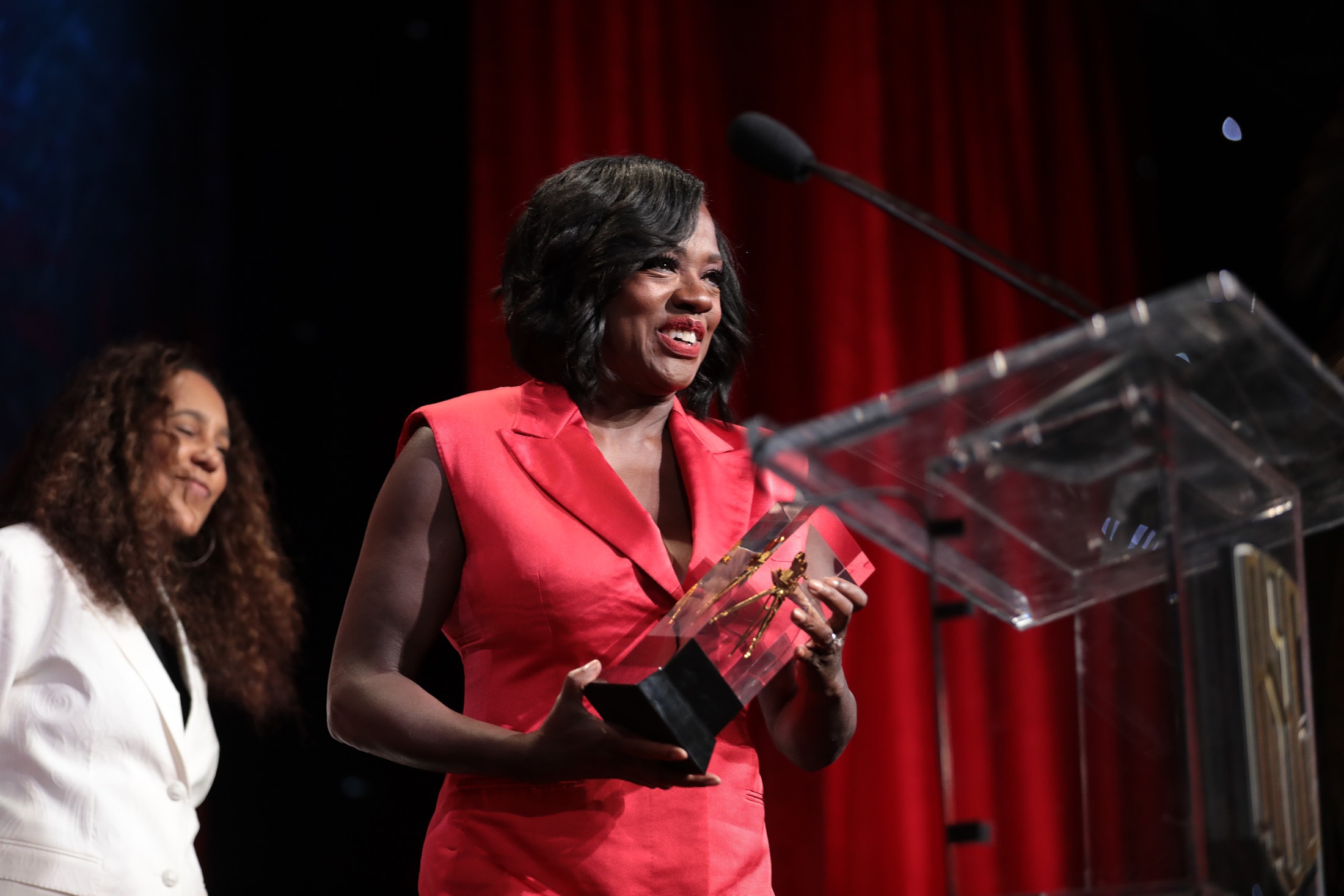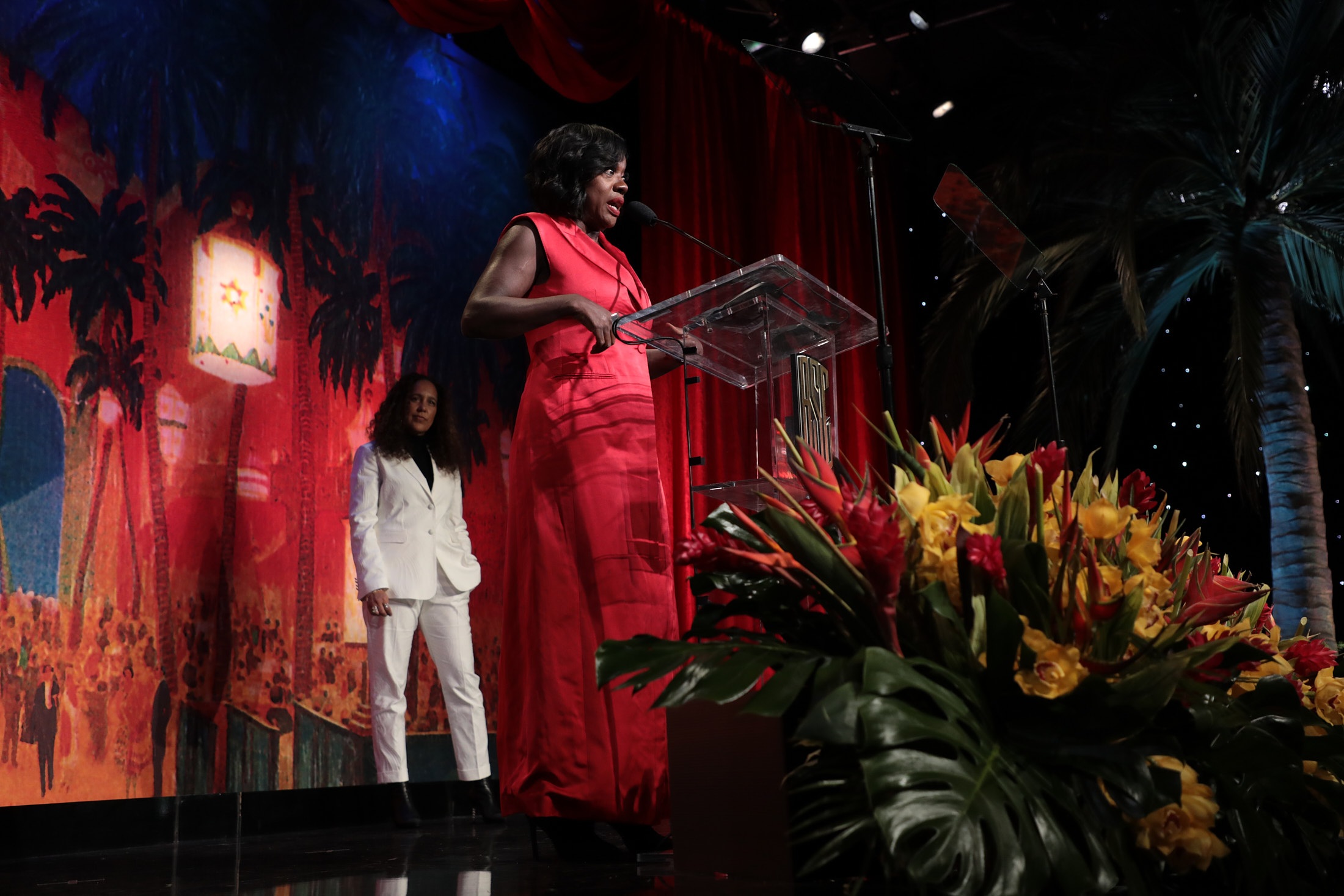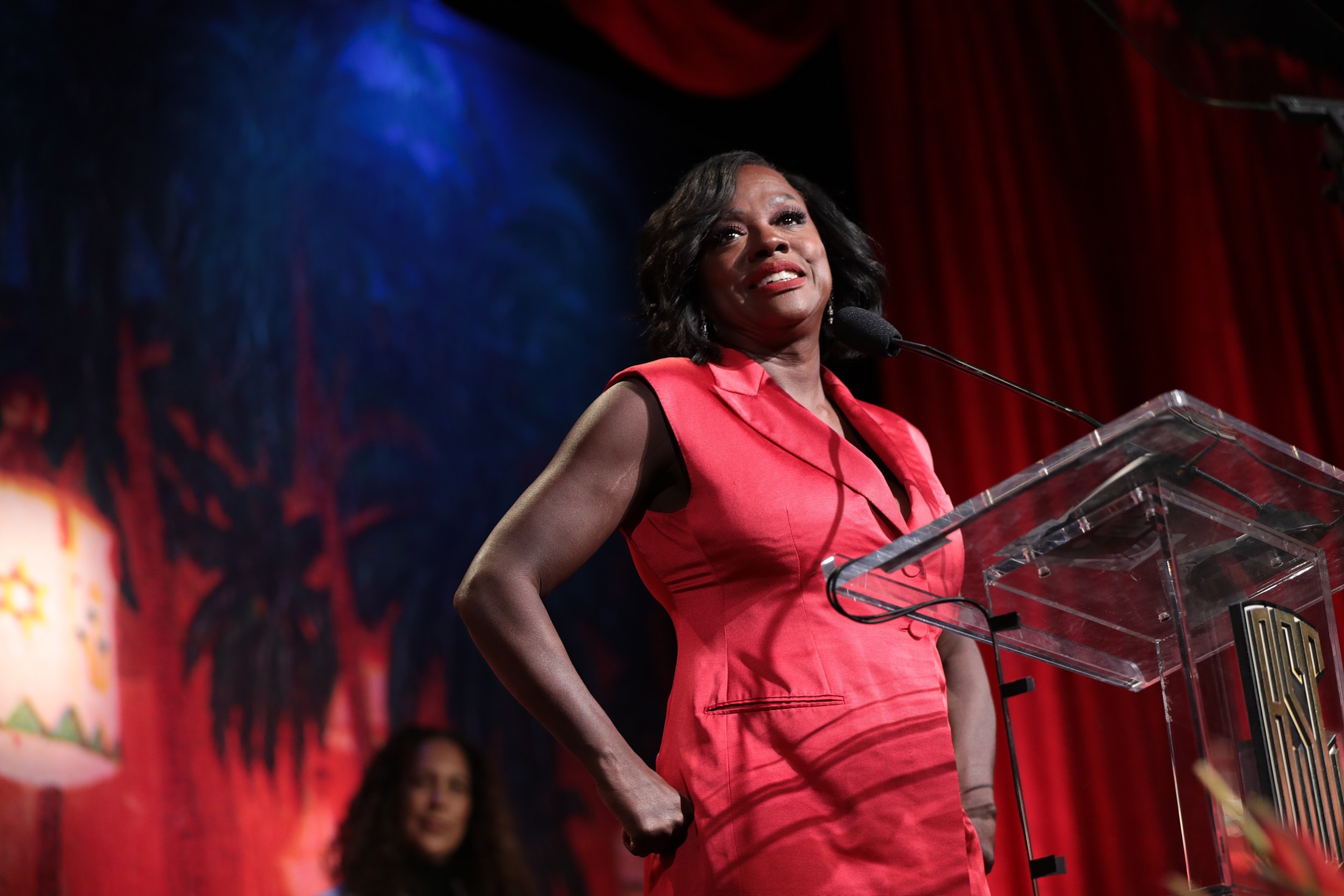 The Documentary Award was then presented by director S.S. Rajamouli and M.M. Keeravani — collaborators on the international hit RRR (starting at 00:35:54). "Cinematography can make or break a documentary," said Rajamouli. "And unlike on a feature film where you can control lighting, sound and your subjects, a documentary cinematographer is afforded none of these advantages."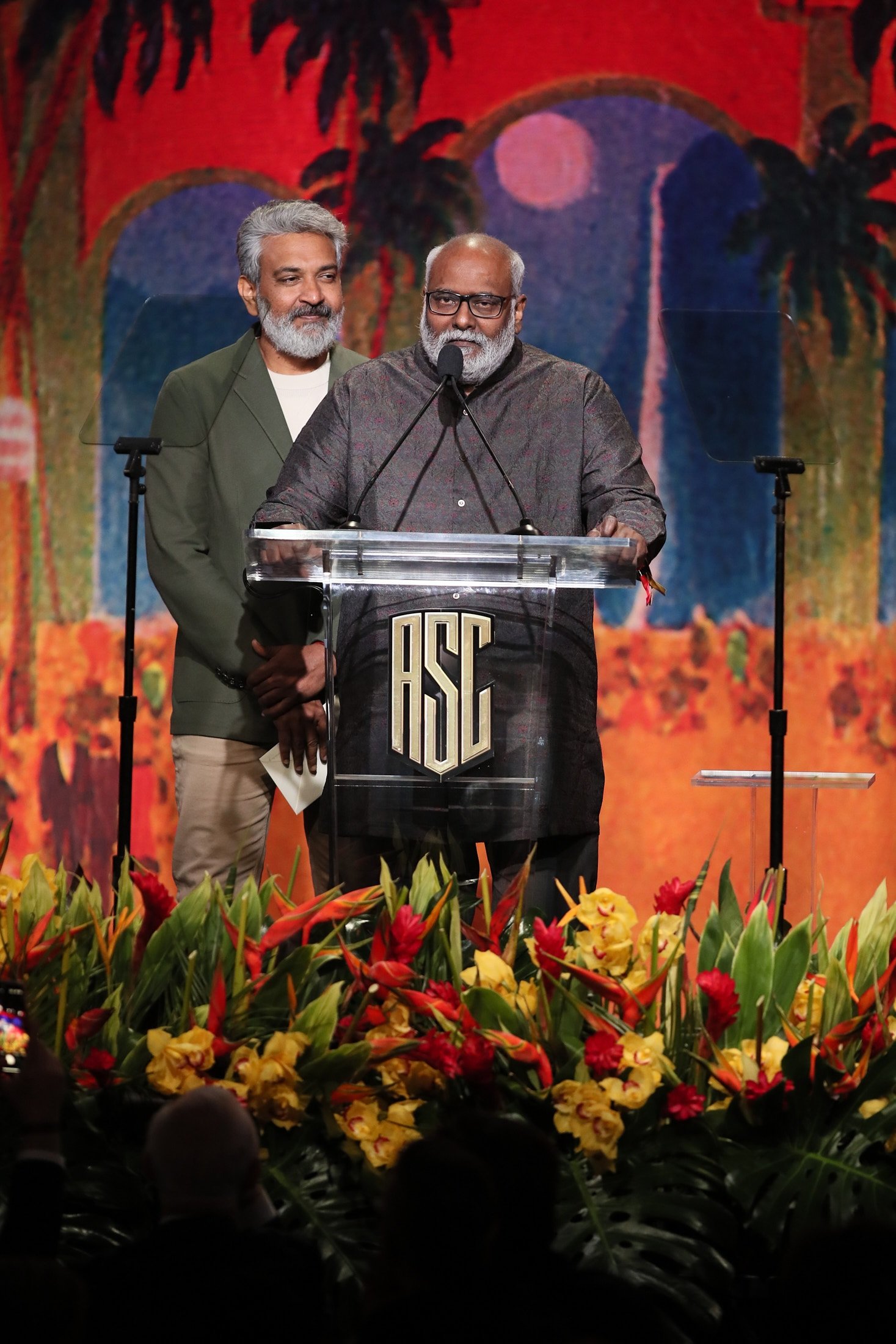 This category was sponsored by Creamsource, and the nominees were:
Ben Bernhard and Riju Das for All That Breathes (HBO/HBO Max)
Adam Bricker for Chef's Table: Pizza – "Franco Pepe" (Netflix)
Wolfgang Held, ASC for This Stolen Country of Mine
The winners were Ben Bernhard and Riju Das for All That Breathes. This film previously won the Cinema Eye Honor Award for Outstanding Cinematography, the DOC NYC Cinematography Award, and the Documentary Prize at the Cannes Film Festival. It is nominated for the Best Documentary Feature Academy Award. This marks the first ASC Award nomination for both cinematographers.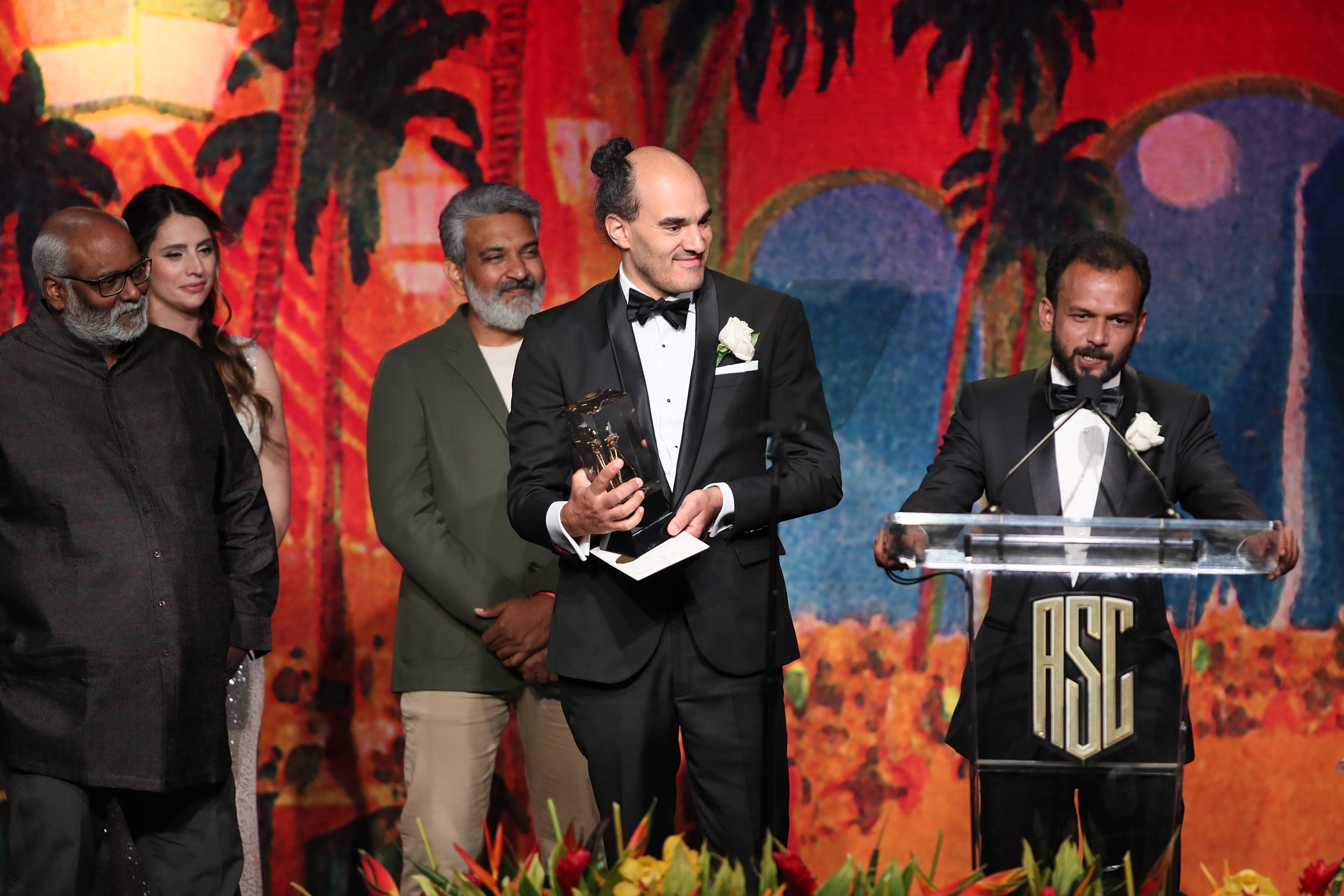 Bernhard received his Masters degree in Cinematography at the Deutsche Film-und Fernsehakademie Berlin. His previous work includes the feature documentary Aquarela, the feature drama Talking About the Weather, and the Netflix docuseries Neymar: The Perfect Chaos.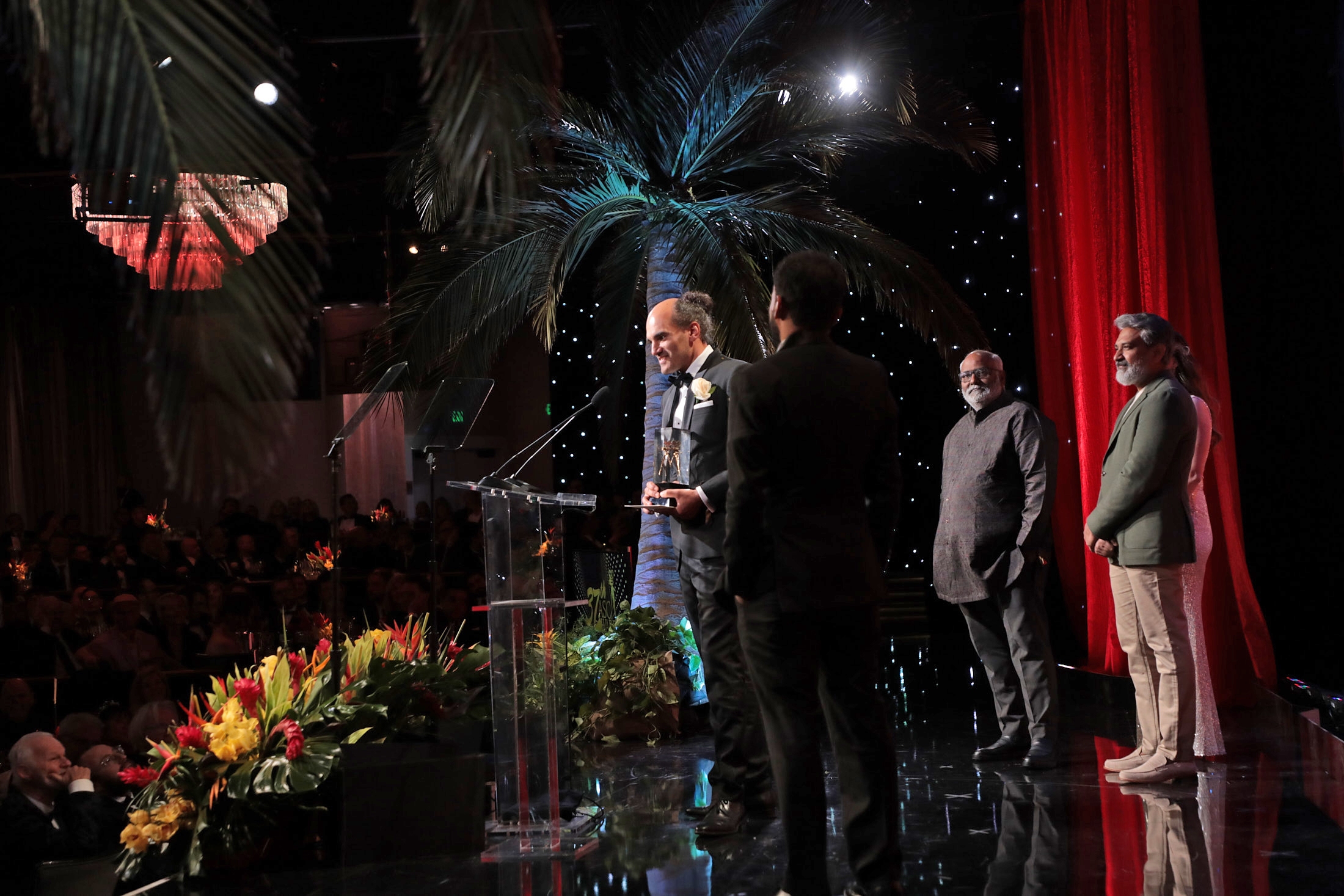 Born and raised in Calcutta, India, Das studied cinematography at the Film and Television Institute of India, Pune. His credits include the Marathi language features Gachchi, Home Sweet Home and Habaddi, which received an award for Best Feature Film Cinematography at the Yellowstone International Film Festival. His documentary work includes Battle of Benaras and National Geographic's The Great Indian Election.
The two cinematographers gave their acceptance speeches (starting at 00:40:07) and later spoke to Heuring backstage:
In one of the most heartfelt moments of the night, presenter Jake Gyllenhaal explained the meaning of collaboration and friendship in recalling his experience as a young actor while shooting the 1999 period drama October Sky, his first feature film, and working with cinematographer Fred Murphy, ASC. (Starting at 00:45:41.)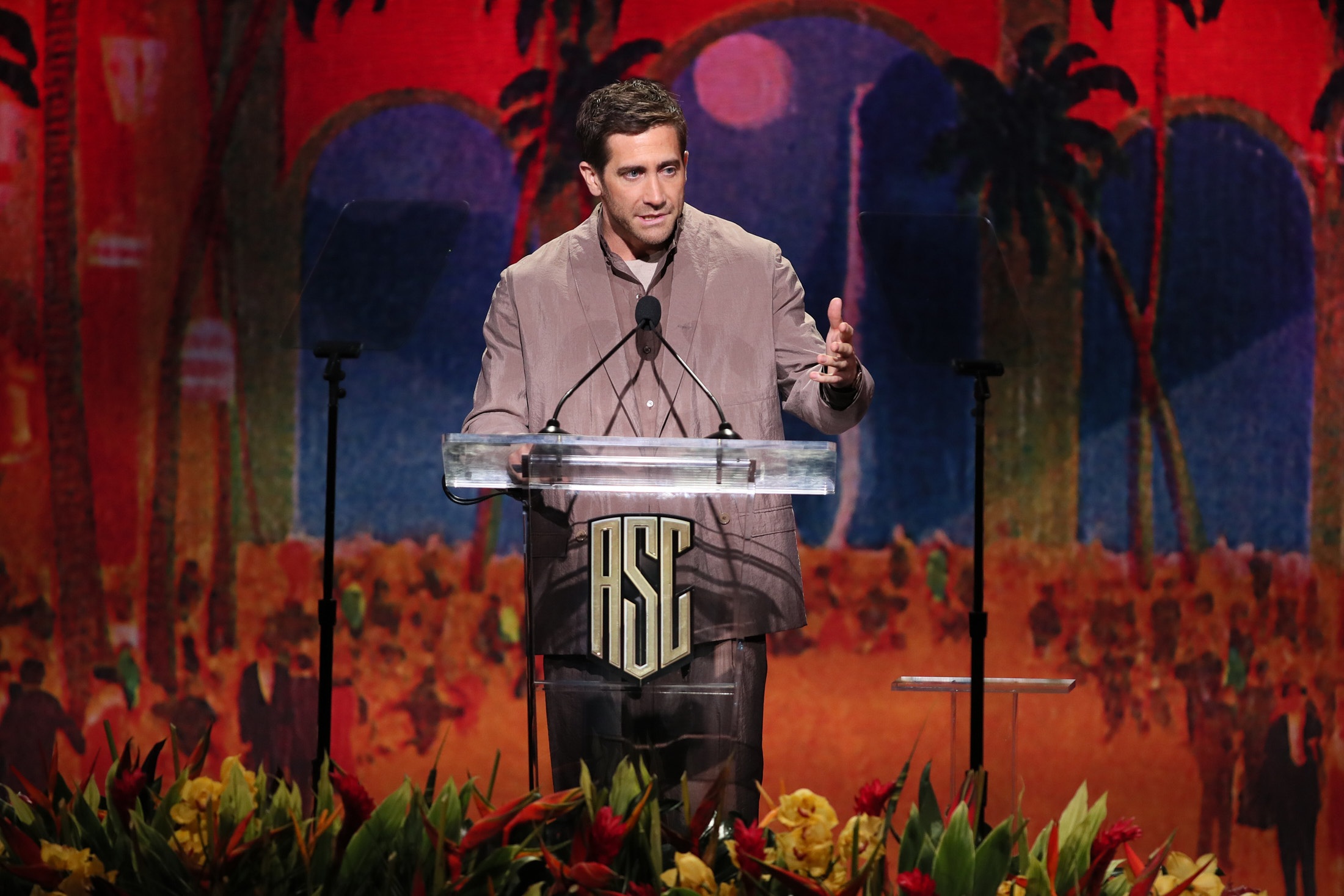 "I'm in pretty much every scene. And, even though I've dreamed of this moment for as long as I can remember — I'm scared outta my mind," Gyllenhaal remembered. "So, there I am, in Knoxville, Tennessee — shooting for West Virginia — on set, surrounded by a crew of 100 people. I have this scene with a ton of science jargon, and I have it in my mind that I have to deliver it all in one breath, in one take. That I can't make a mistake. I look up and see Fred Murphy standing over me, smiling. He can see I'm petrified, and he says with his uniquely beautiful mix of New York swagger and mad scientist: 'You're okay to make some mistakes, I got you.' As if to say, there's plenty of space in my frame for the imperfect. Nobody is interested in the perfect anyway.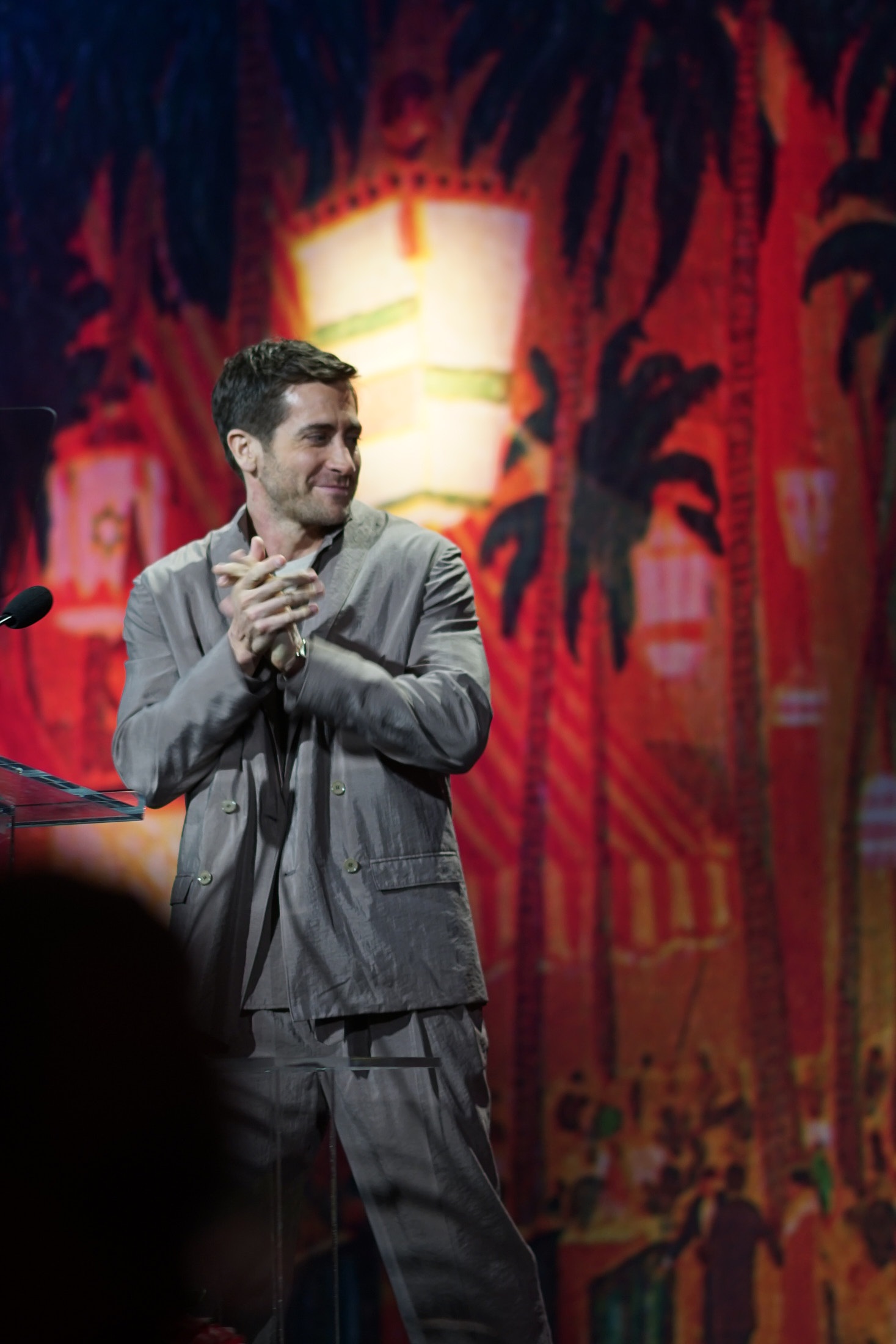 "All of you incredible people here tonight know beyond anything I could fathom, what it means to be a cinematographer. How you all do what you do is my favorite mystery of the storytelling process. How you wrap a schmuck like me in light. How you make space for the human, imperfect people in your frame. It is a dance. A very delicate dance that requires a mutual respect."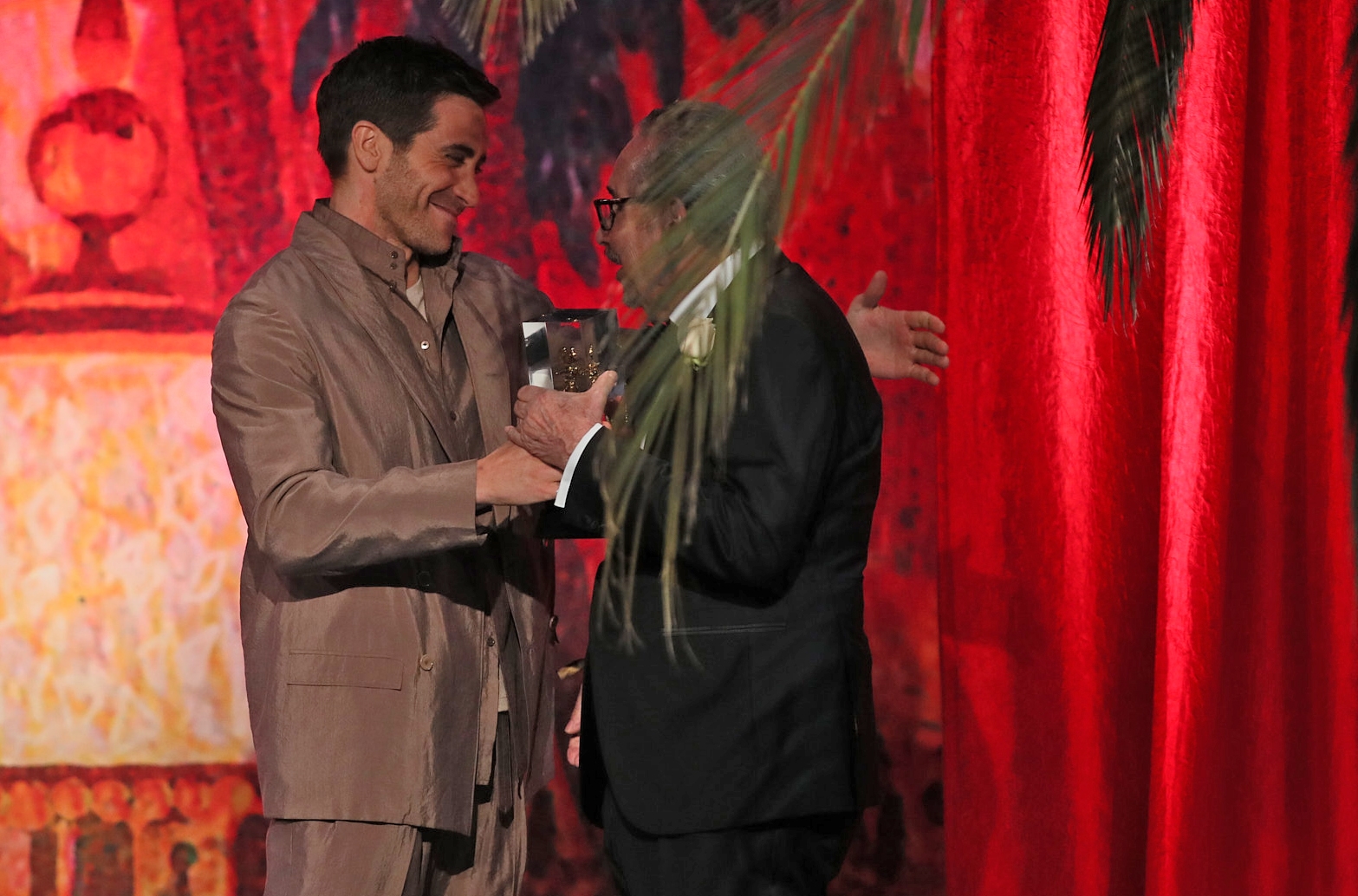 Handing Murphy the ASC Career Achievement in Television Award, Gyllenhaal's smile was that of an old friend, and the cinematographer is clearly touched. He noted in his acceptance speech, "One of the beautiful things about being a cinematographer is all the people you collaborate with... directors, designers, actors, gaffers, grips, operators, assistants. Some become lifelong friends, others wonderful collaborators. I am only going to name some, forgive me if I don't mention you all.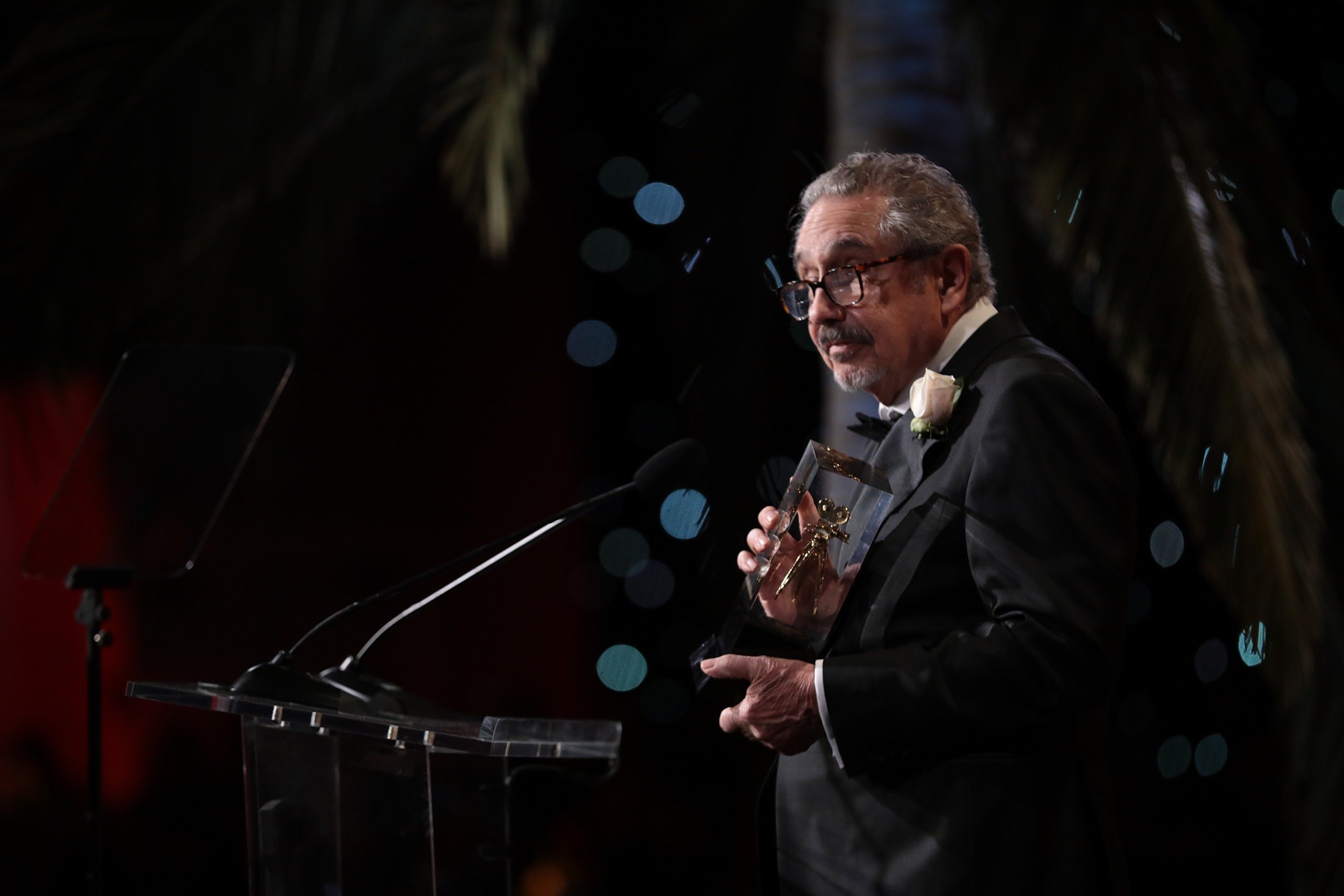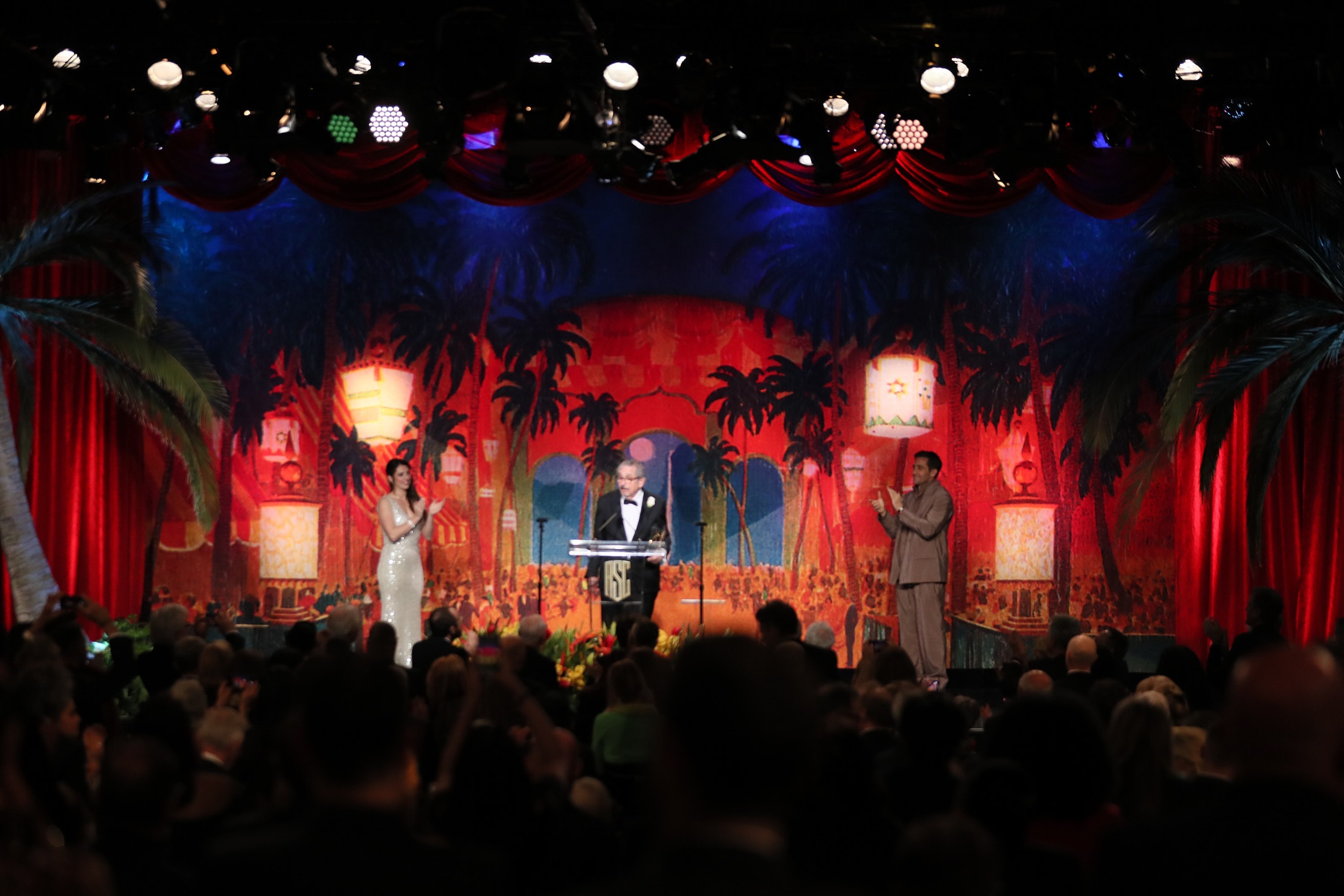 "The thing I love about the ASC besides friendships and advents is it puts me in touch with the history of cinematography and motion pictures. I feel it connects me to the past and to all the movies I watched growing up and the people who photographed them. Just being in the Clubhouse make me think of Gregg Toland, Lee Garmes, James Wong Howe, Vilmos Zsigmond, Haskell Wexler, and Conrad Hall. It is an honor to be in their company. Thank You ASC for this great honor."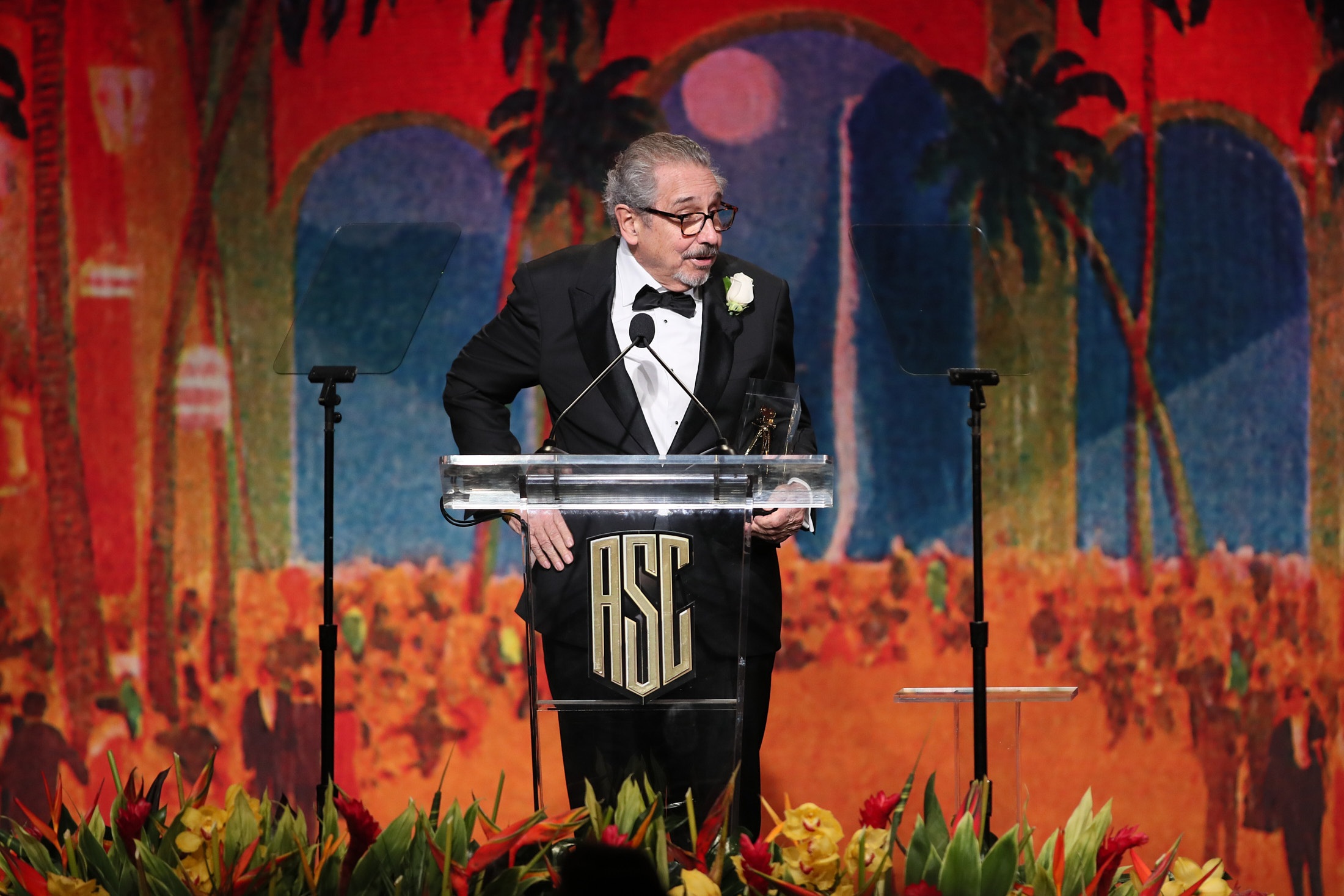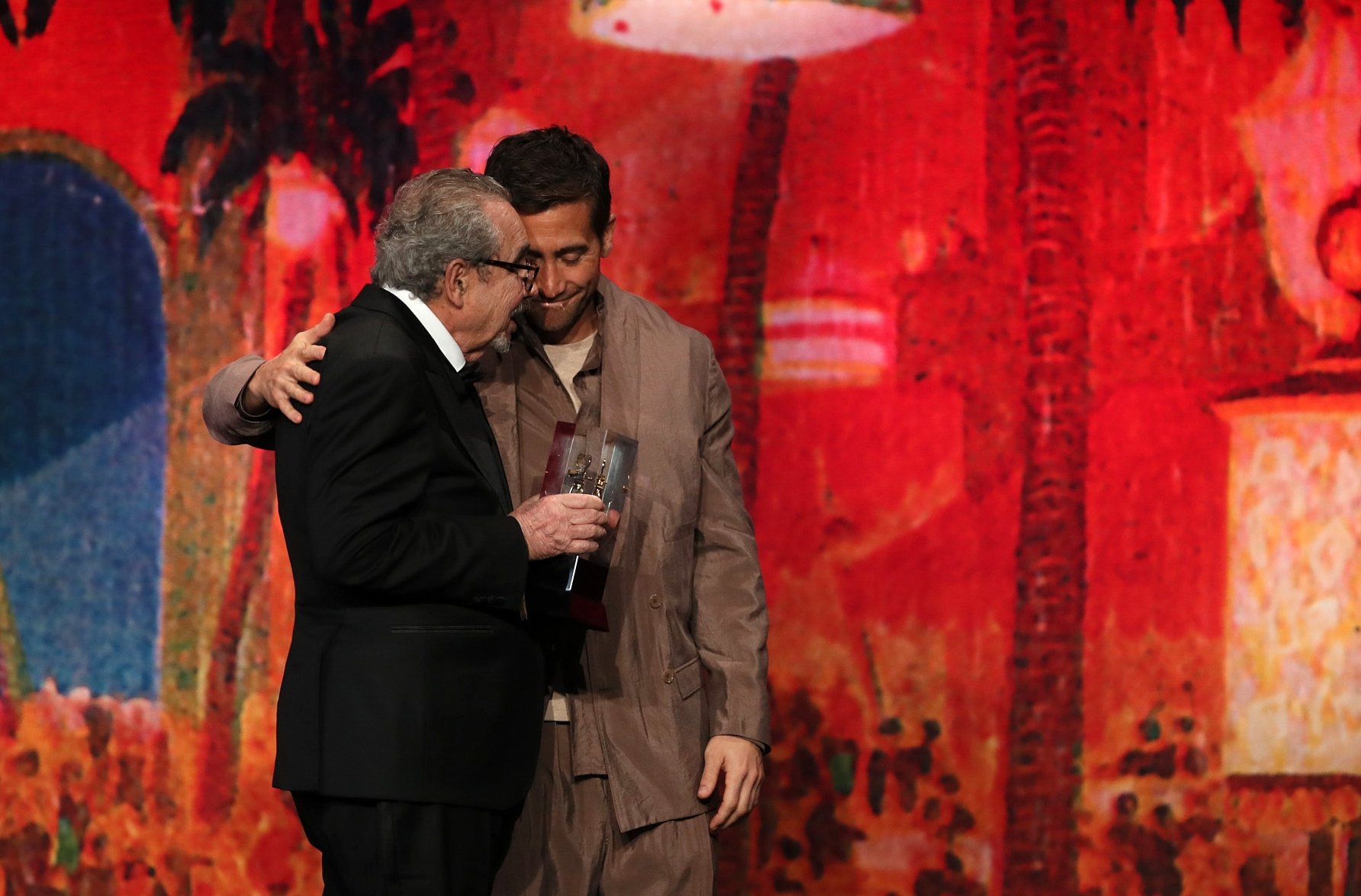 The award for Episode of a One-Hour Commercial Television Series was sponsored by William F. White and presented by Melissa Rauch.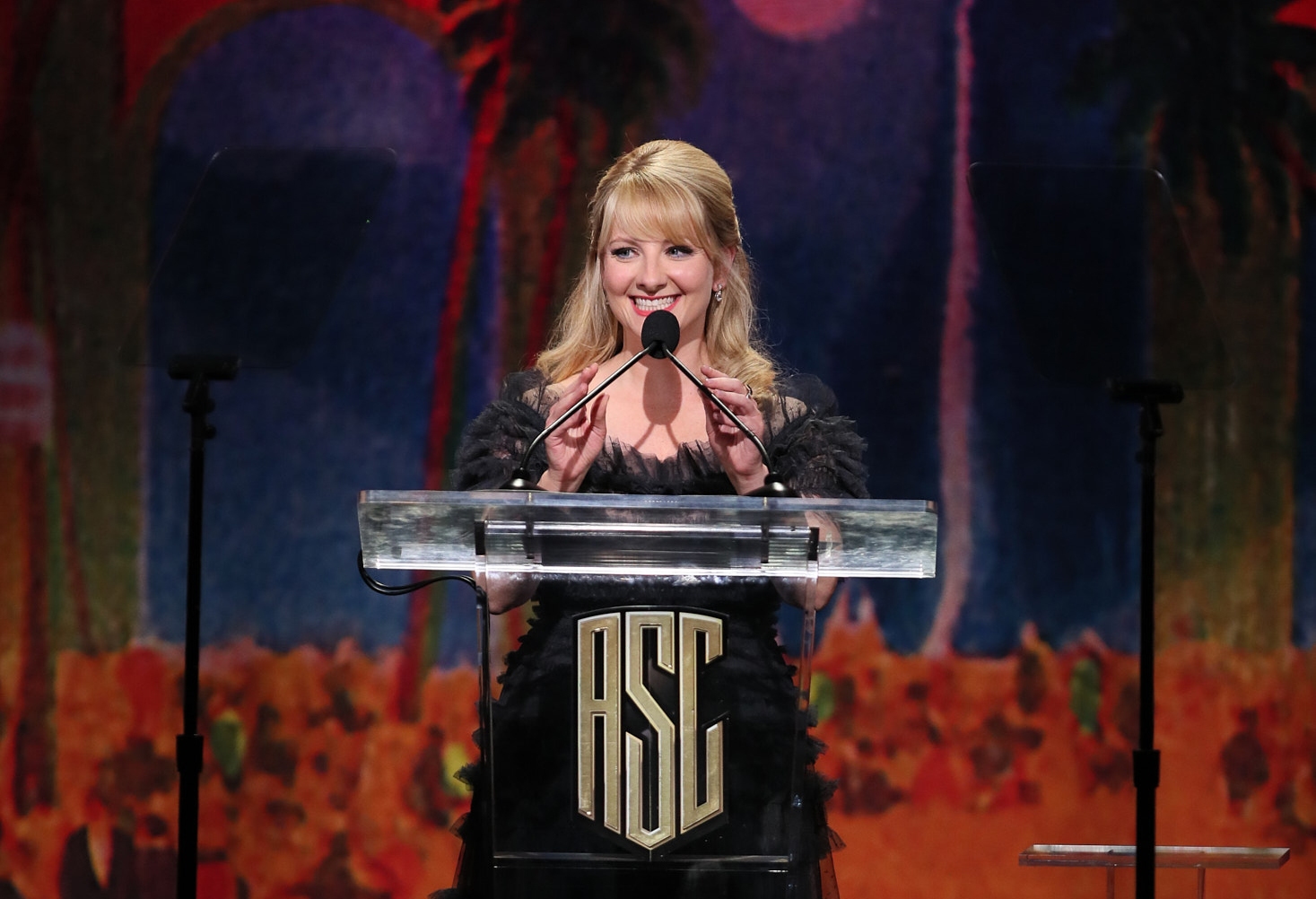 From the podium, she announced the nominees (starting at 00:59:00):

Marshall Adams, ASC for Better Call Saul – "Saul Gone" (AMC)
Jesse M. Feldman for Anne Rice's Interview with the Vampire – "Is My Very Nature That of the Devil" (AMC)
Christian "Tico" Herrera, CCR for Snowfall – "Departures" (FX)
Jules O'Loughlin, ASC, ACS for The Old Man – "IV" (FX)
Jaime Reynoso, AMC for Snowpiercer – "Bound by One Track" (TNT)
Rauch soon announced Jules O'Loughlin, ASC, ACS as the winner for The Old Man.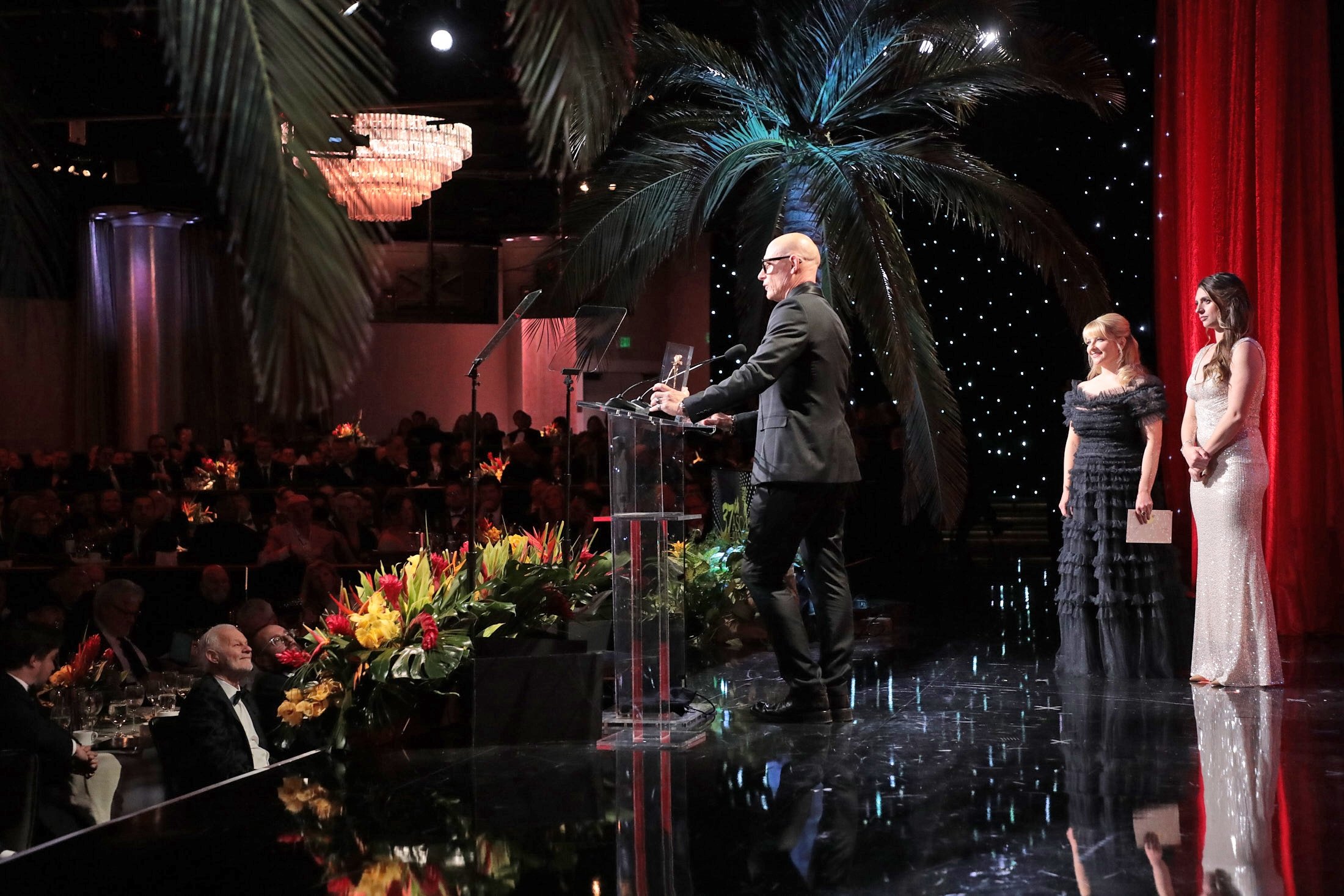 A native of Australia, O'Loughlin graduated from the Australian national film school, AFTRS, in 2004. His credits include the series Black Sails and the features Wish You Were Here, Sanctum, Krampus, The Whole Truth, The Duel and The Hitman's Bodyguard. He is a 12-time winner of the Australian Society of Cinematographers Award, a three-time Australian Academy of Cinema and Television Award nominee and became a member of the ASC in 2016. This was his first ASC Award nomination.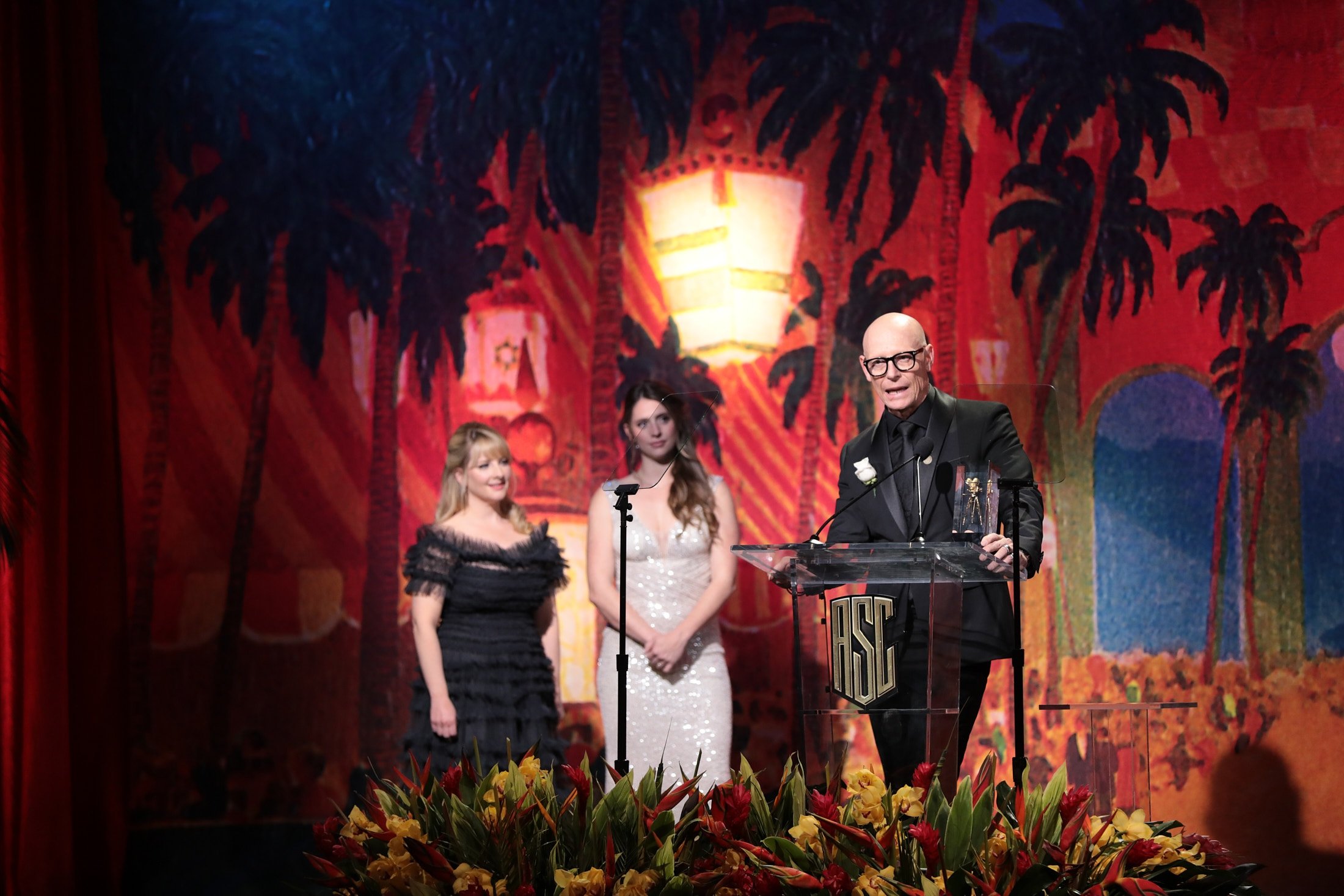 O'Loughlin soon spoke to us on the red carpet:
Director Alejandro G. Iñárritu next presented the International Award to his friend and collaborator Darius Khondji, ASC, AFC, plainly speaking about his admiration for the cinematographer and his exceptional talent in presenting new and often surprising — sometimes shocking — perspectives to the screen. (Starting at 1:07:00.)
And it was exactly this vision that Iñárritu sought for his dreamlike feature Bardo, False Chronicle of a Handful of Truths. He remembered, "In less than 20 minutes during our first call [to discuss the project], Darius and I were already talking about lenses, formats, cameras, and dreaming as two old new friends. Without reading the script, he committed to fly to Mexico City in the middle of the pandemic. There were no agents or lawyers involved. His word was enough. Our mutual excitement and passion were enough to start flying and make this dream come true. If you have seen Darius' films, I dare you to find a bad or ugly frame in them. It's an impossible task."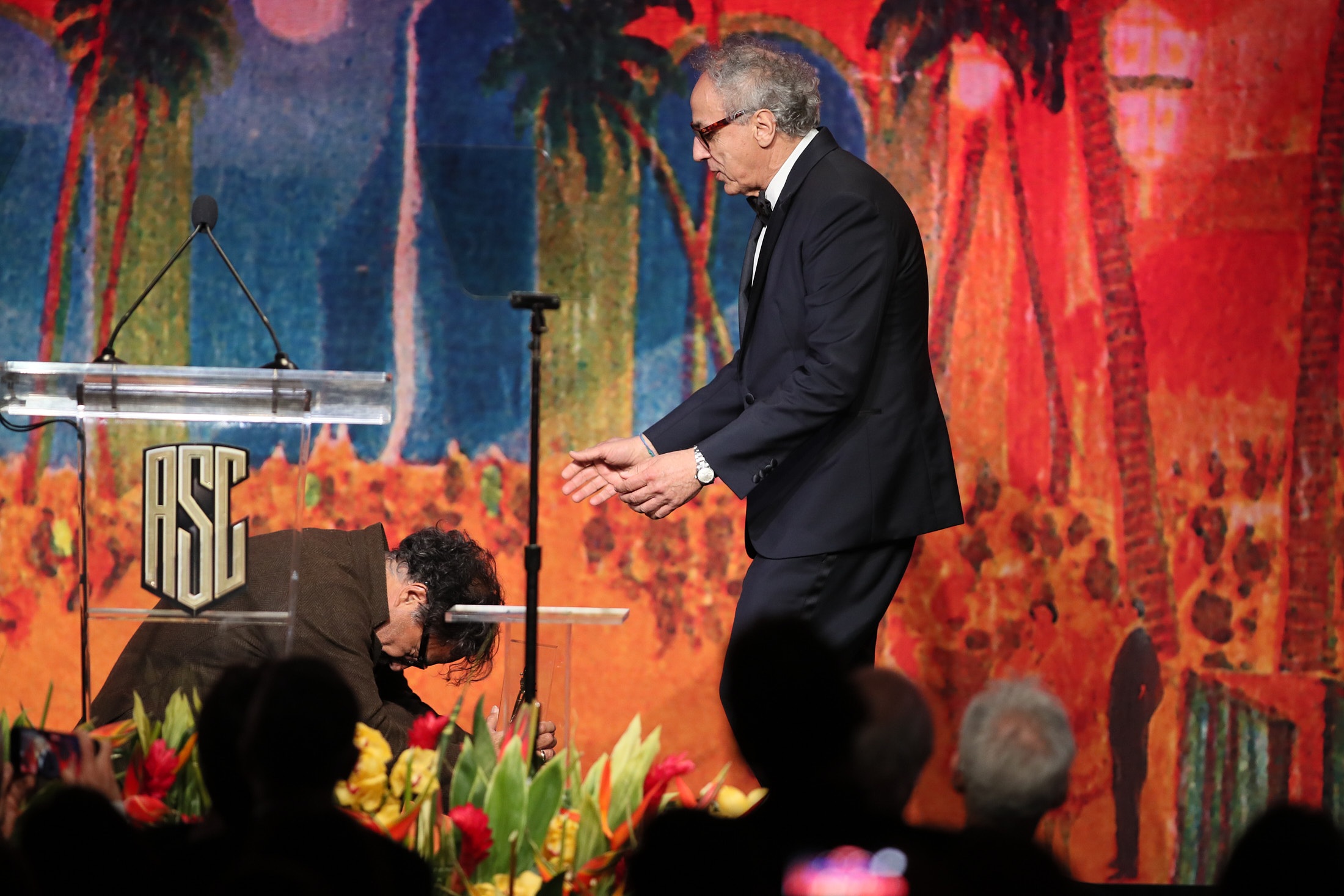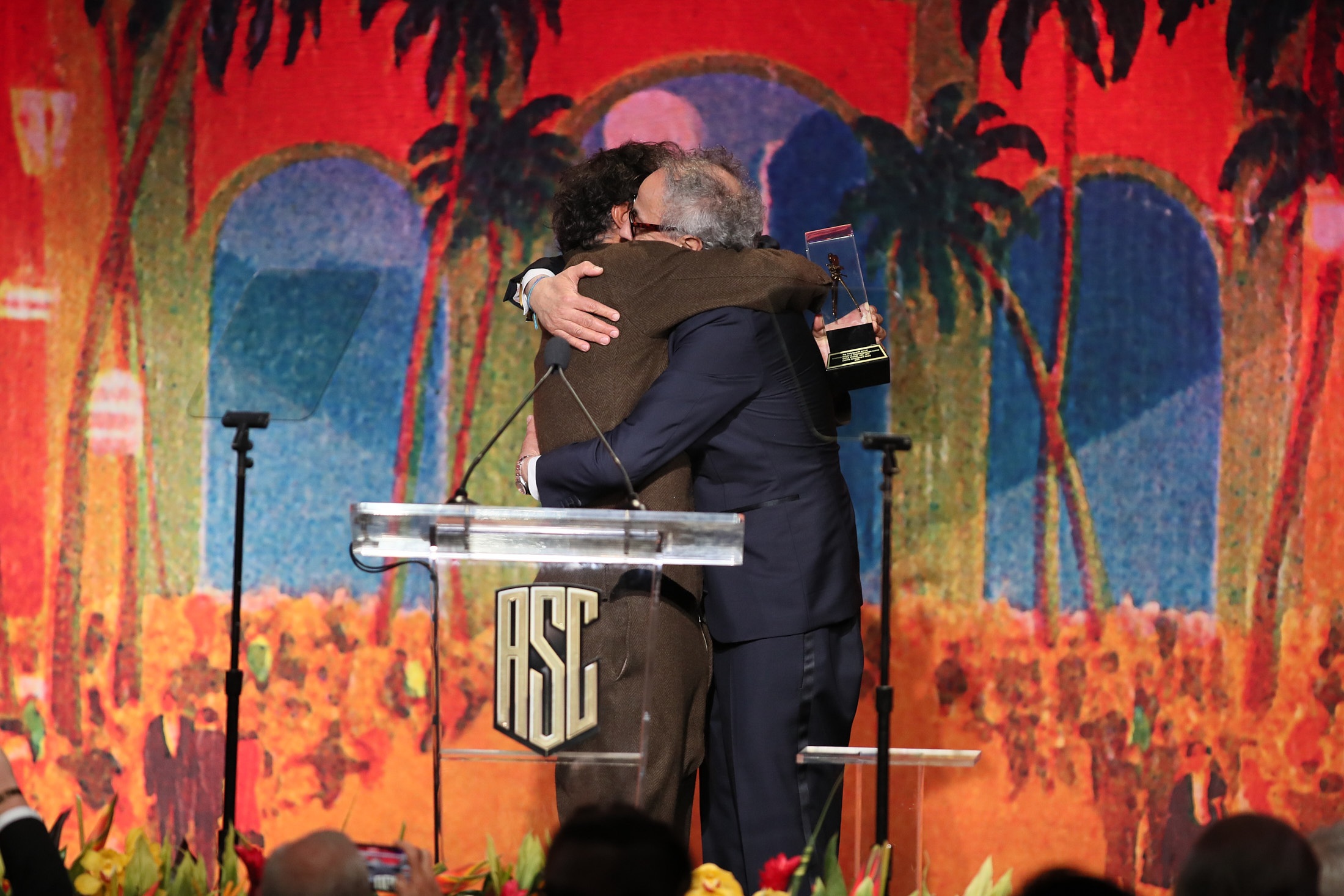 In accepting the award, Khondji noted, "I want to thank the members of the ASC for this award. It means a lot to me. Nothing is more important than being recognized by the people we respect. This, for me, is a way to really measure a true achievement. It's about the work and nothing else. That's why it makes me so grateful, proud, and honored to receive it.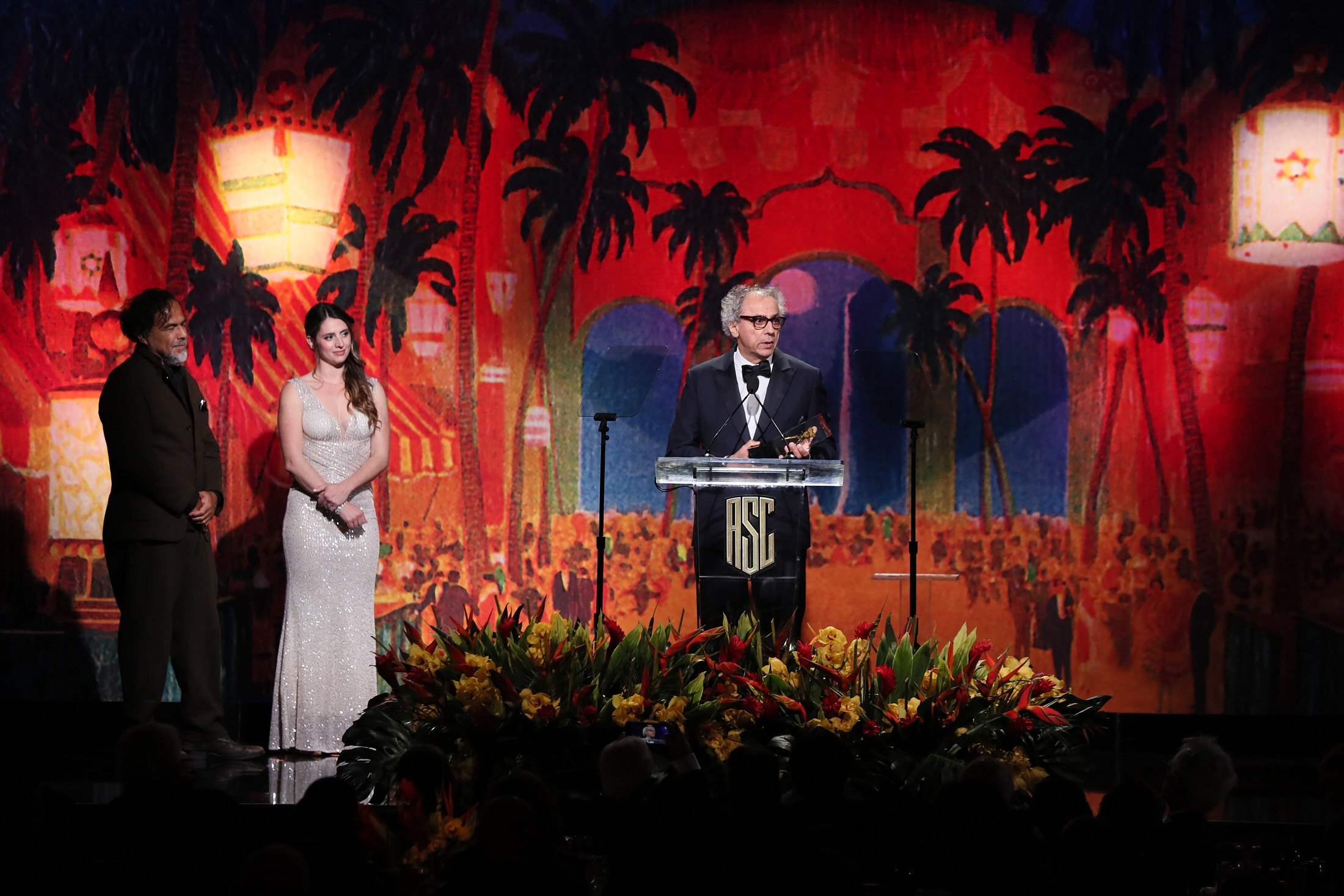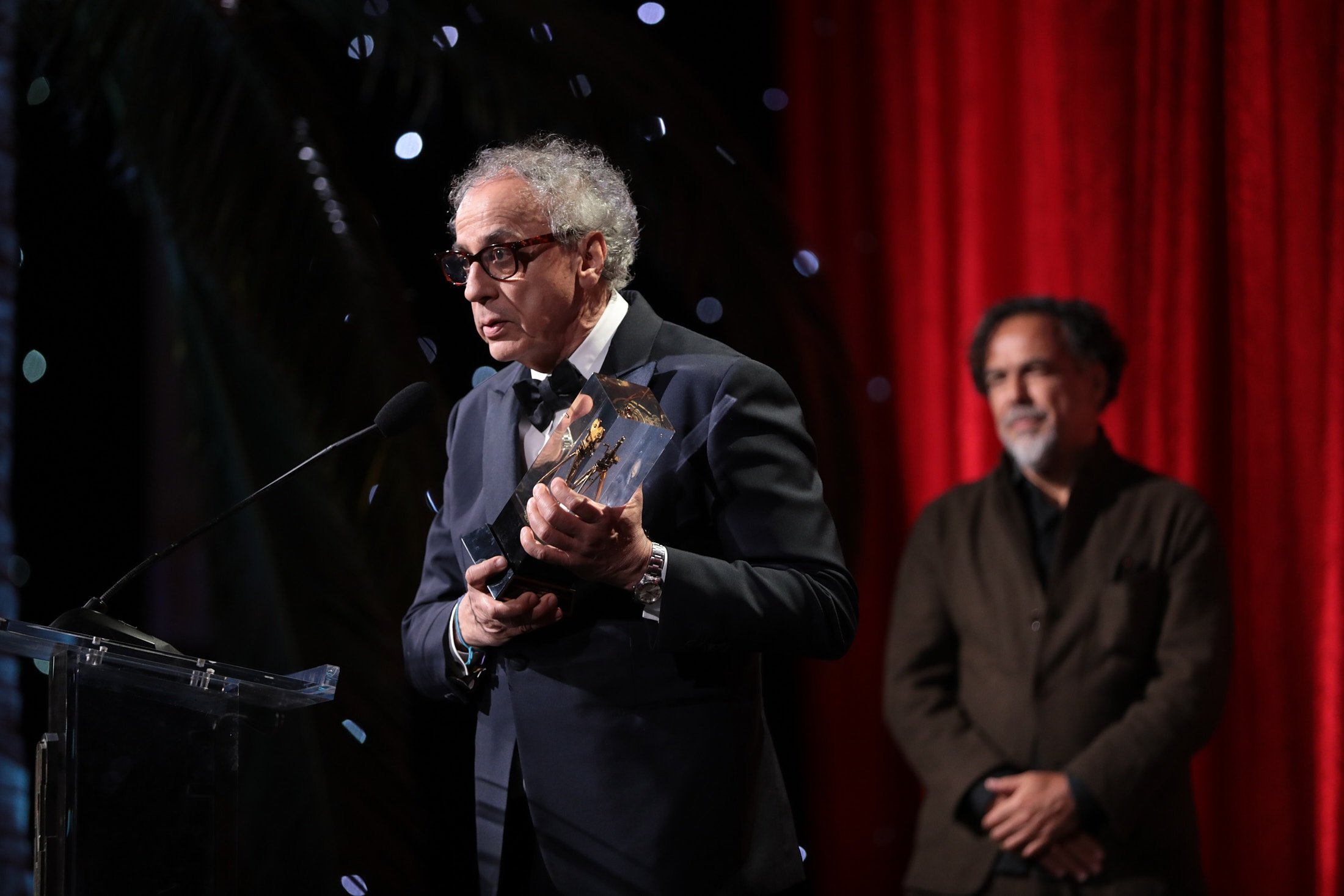 "Each film, each director, each project is — for me — a new experience where we help each other and sometimes challenge the limits of our craft. Sometimes we are pushed out of our comfort zone, and each time we discover a part of ourselves that we did not know. I feel so grateful for these incredible adventures. Human adventures. Artistic adventures. Emotional adventures. Each one is a love story that filled my life with inspiration and excitement. I am very proud to have helped exceptional artists and friends achieve their visions."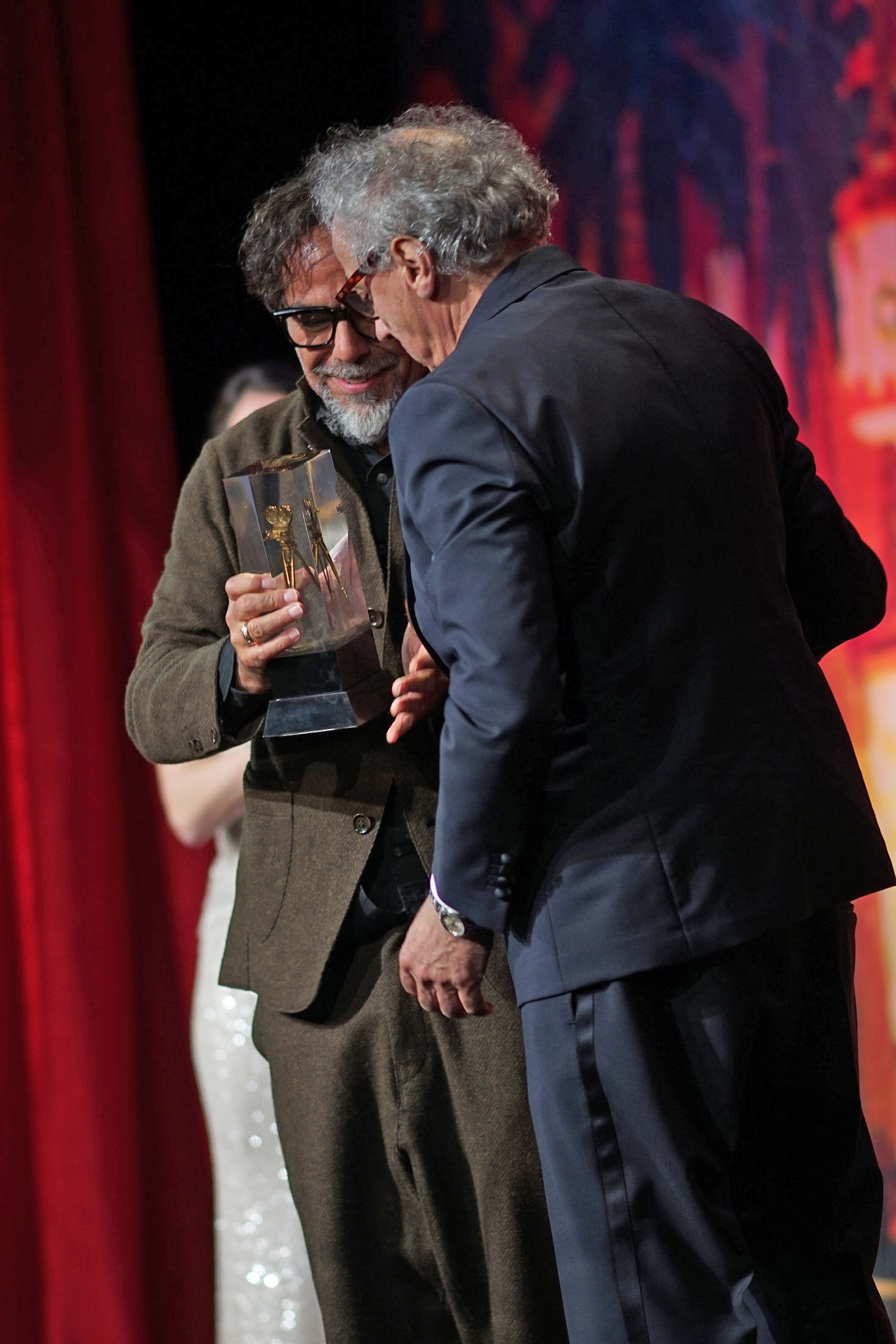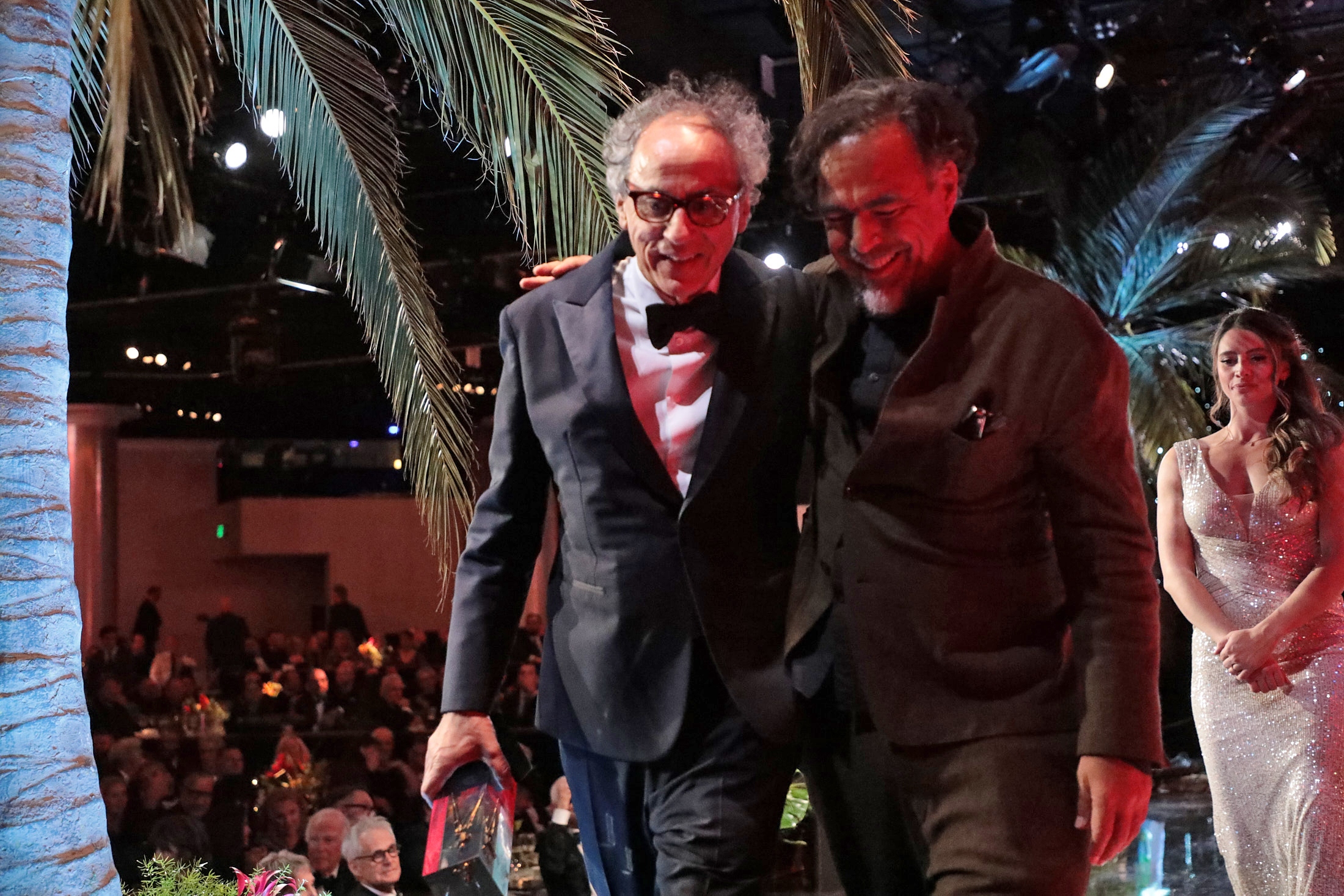 Intended to shine a light on smaller feature productions that might not otherwise get the attention they deserve, the Spotlight Award category had three contenders:
Sturla Brandth Grøvlen, DFF for War Sailor (DCM Film)
Kate McCullough, ISC for The Quiet Girl (Super)
Andrew Wheeler for God's Country (IFC Films)
Sponsored by Panavision, the award was presented by Lawrence Sher, ASC — who put a spotlight on himself with an impromptu Elvis impression after explaining that actor Austin Butler was originally scheduled to present the prize. Sher's commitment to the joke (starting at 1:21:10) quickly had the audience laughing and cheering as he launched into an a cappella version of "Fools Rush In."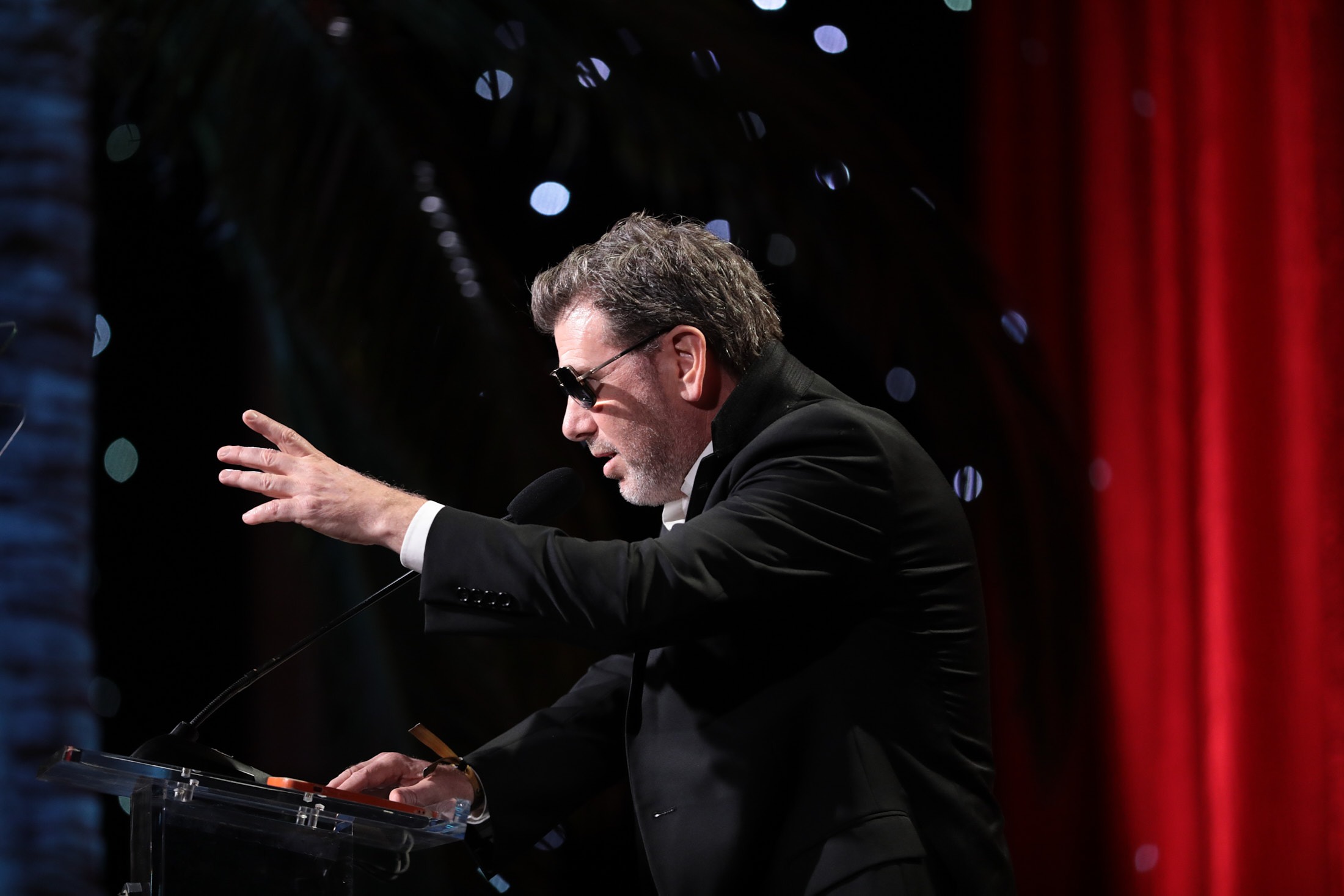 But then turning on a dime to his serious side, Sher announced the winner: Sturla Brandth Grøvlen, DFF for War Sailor. However, due to a schedule conflict, the cinematographer was working in Europe, and had asked friend Edu Grau, ASC to accept on his behalf.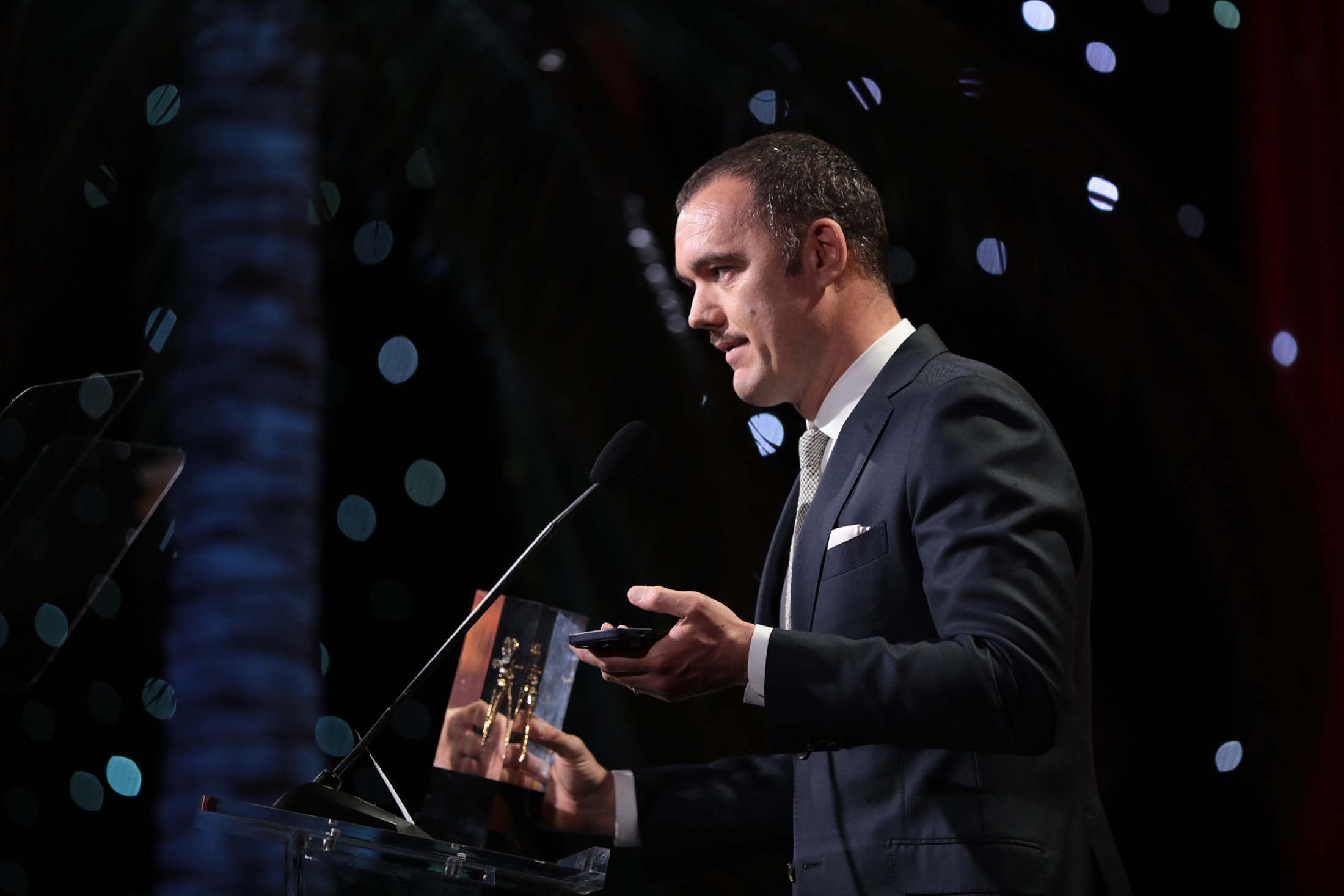 Born in Trondheim, Norway, Grøvlen graduated from the Bergen Academy of Art and Design and The National Film School of Denmark and now lives and works in Copenhagen. His credits include the single-take thriller Victoria, for which he received the Silver Bear for Outstanding Artistic Contribution at the 65th Berlinale in 2015. That same year, he received the Silver Frog at Camerimage for Rams. His additional feature credits include Wendy, Shirley, Before the Frost, Another Round and Beautiful Beings. His work on The Innocents earned the Sven Nykvist Cinematography Award at the 2022 Göteborg Film Festival. This was his first ASC Award nomination.

Grau briefly spoke to Heuring on the red carpet:
Presented this year by John Simmons, ASC, the President's Award is given to a Society member who performs admirable service to the organization. As Simmons explained in his speech (starting at 1:31:00), Charlie Lieberman, ASC exemplifies this spirit of giving back through his diligent work as the co-chair of the ASC Master Class program and as chair of the ASC Photo Gallery Committee — not to mention is own work behind the camera.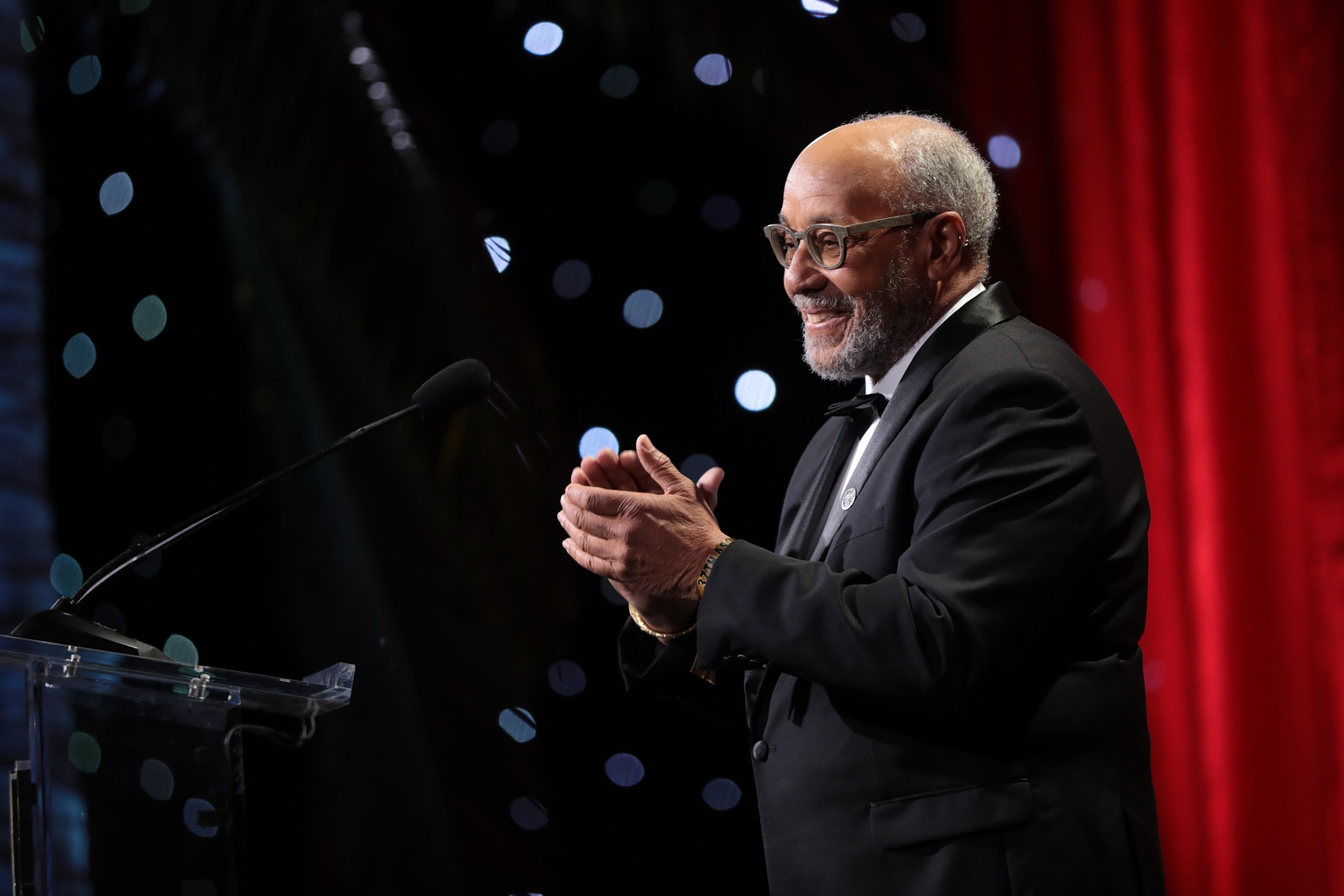 "Tonight, we celebrate our 37th Awards show," Simmons began, "and this year, the ASC will be 104 years old. That historic legacy is due to the strength and service of our membership. For over a century, we have made an indelible mark on the motion-picture industry because of the dedication of our members. And because of our past, current, and future members' devotion to the craft and our society, the ASC will remain at the forefront of progress and artistic excellence well into the next century."
"One of my best friends is a very special member who lives and breathes the ASC. He sincerely takes our motto — Loyalty, Progress, Artistry — to heart. Tonight, we honor him with the ASC Presidents Award. This distinction is bestowed upon a member who, in addition to excelling in their craft, has made significant contributions and service to the Society and the art of cinematography. Without a doubt, this says everything about Charlie Lieberman, ASC. Tonight is his night and it is certainly well deserved."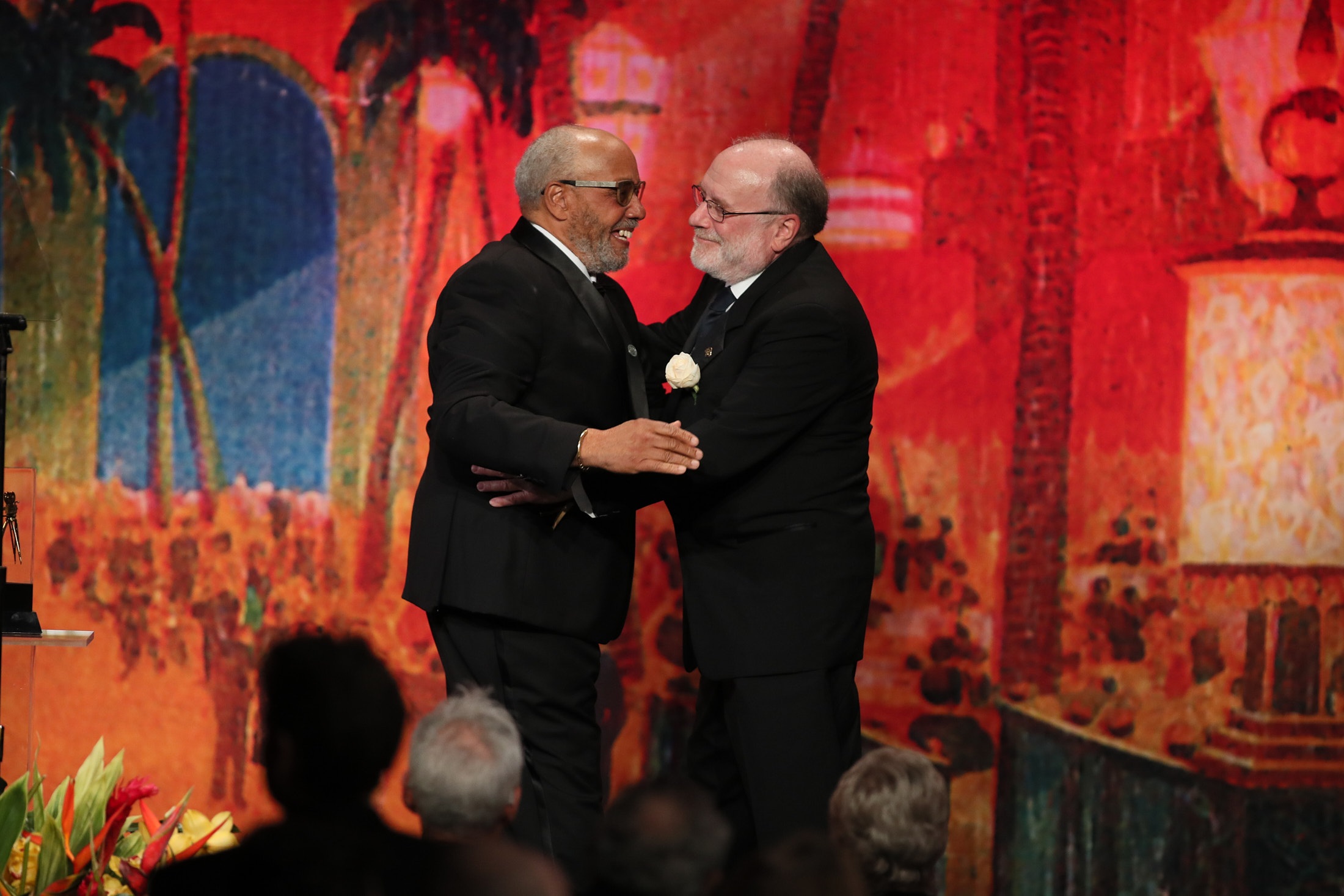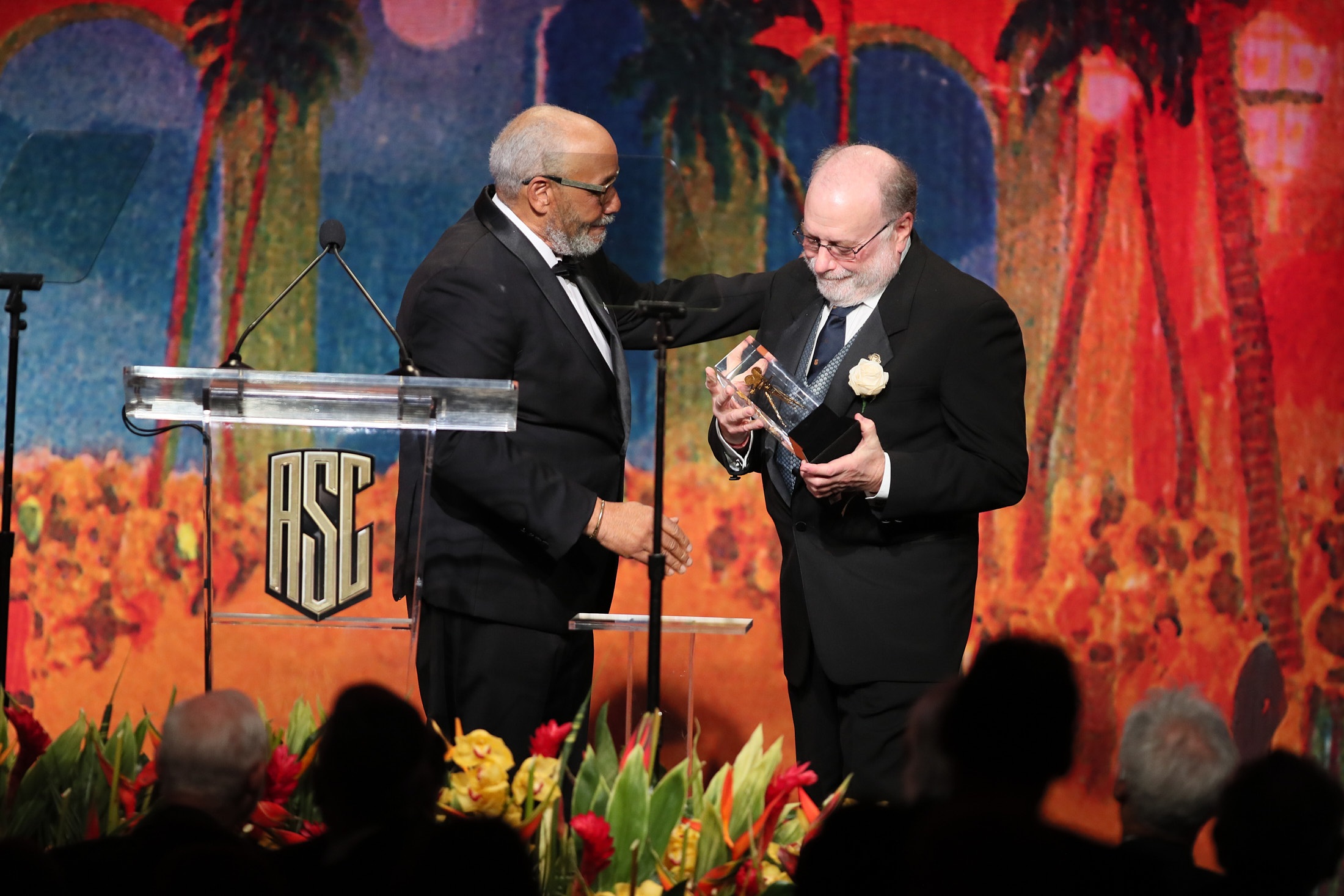 Taking the stage, Lieberman thanks his many friends and collaborators who have helped him on his professional path — and his gratitude to the Society was on full display: "The ASC is much more than just an organization. For many of us members it is a sanctuary, a home. That essence of warmth and kindness begins with, and emanates from, our longtime staff. You are more than just people I work with. You're more than friends. You are my family. I love you all! Thank you to my Master Class co-chair and co-conspirator, Shelly Johnson, ASC. Your commitment to advancing our art form and passion for education continually inspires and motivates me."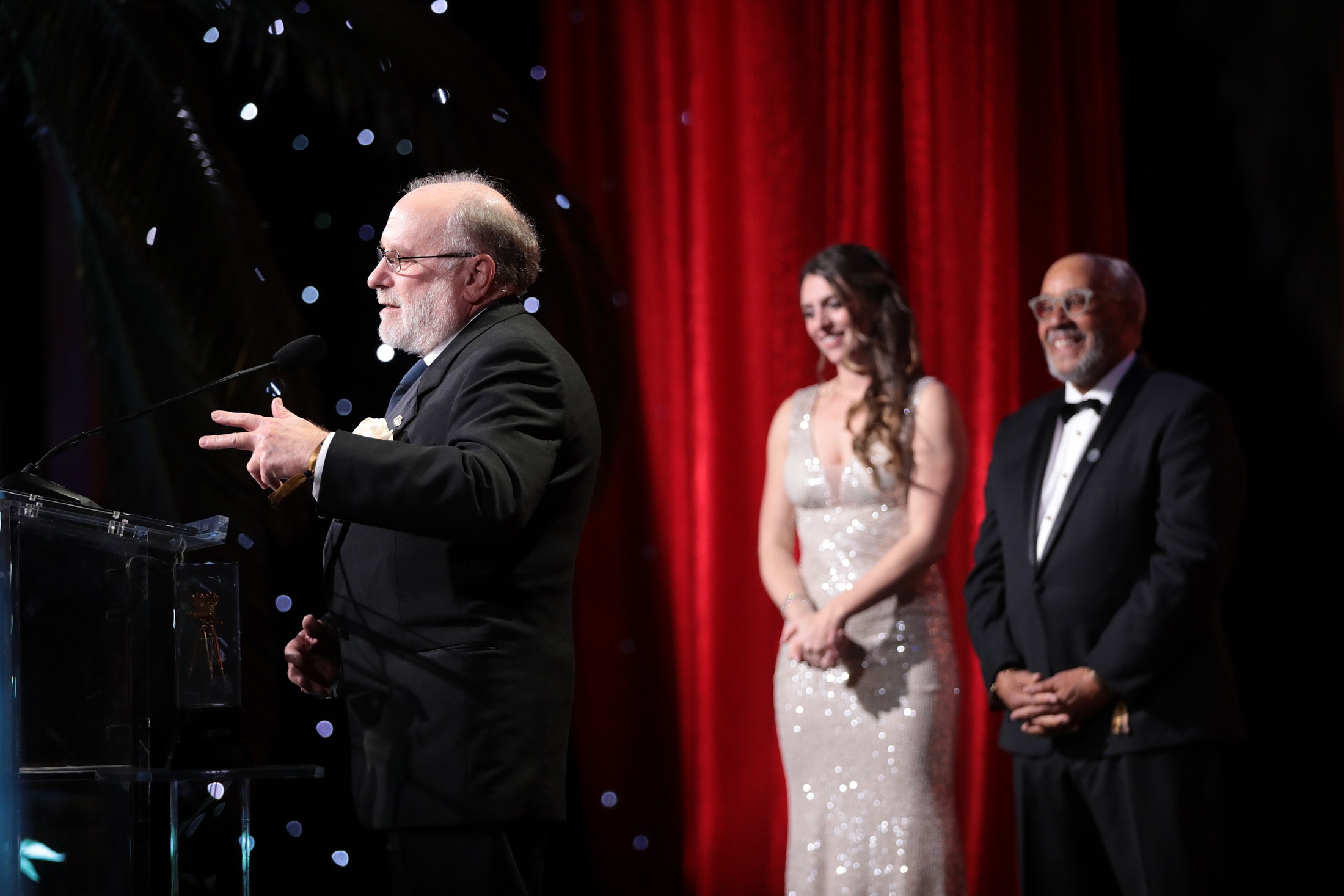 He then turned to Simmons: "I don't have the words to say how much your friendship means to me. Me being a member of the ASC is a miracle. Me being honored with this award is beyond a miracle. Thank you!"

The award for Pilot, Limited Series, Or Motion Picture Made For Television — sponsored by Arri — was presented by Mckenna Grace (Starting at 1:43:50.)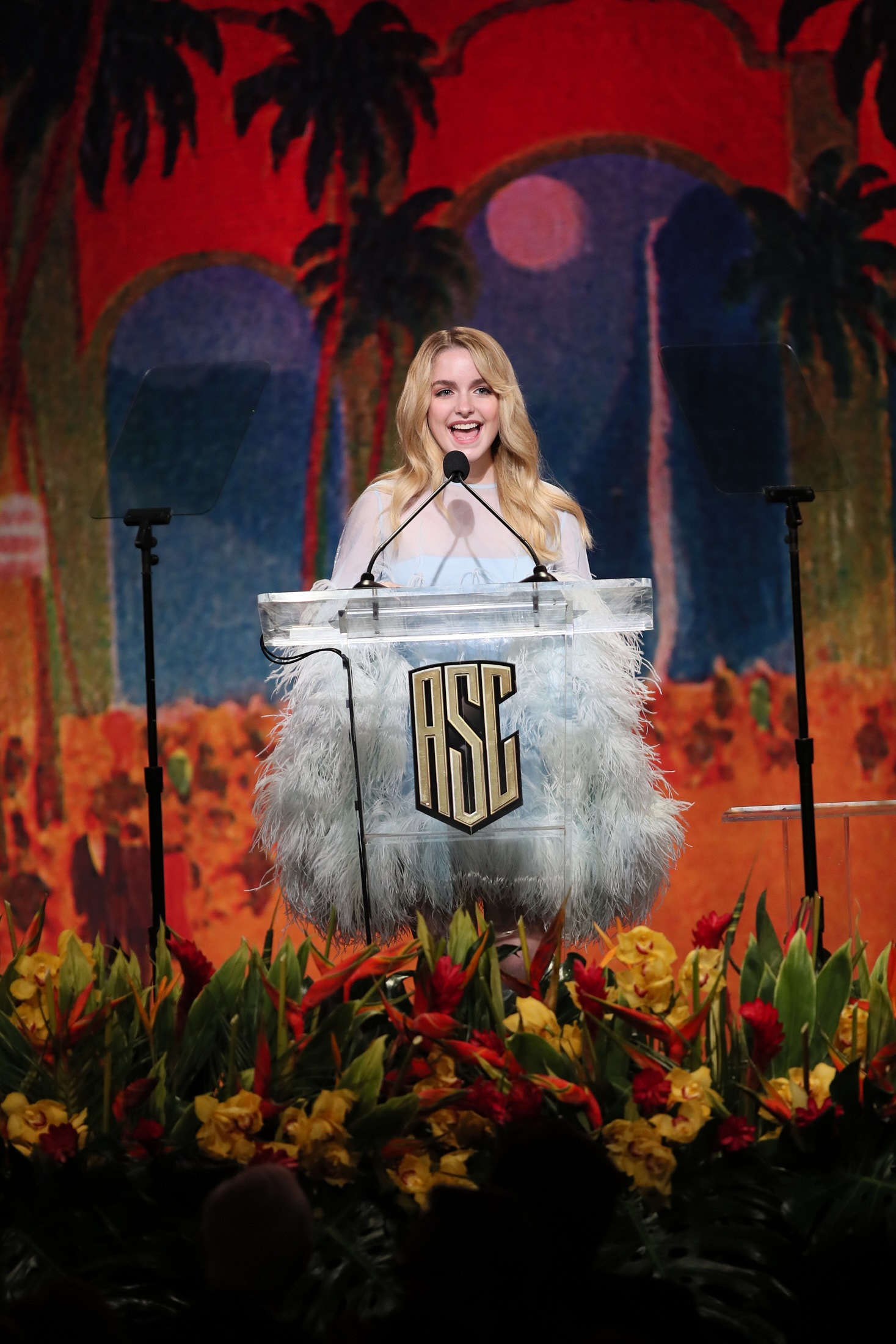 And the nominees were:
Todd Banhazl, ASC for Winning Time: The Rise of the Lakers Dynasty – "The Swan" (HBO/HBO Max)
Jeremy Benning, CSC for Guillermo del Toro's Cabinet of Curiosities – "The Outside" (Netflix)
Anastas Michos, ASC, GSC for Guillermo del Toro's Cabinet of Curiosities – "The Autopsy" (Netflix)
C. Kim Miles, ASC, CSC, MySC for Lost Ollie – "Bali Hai" (Netflix)
Sean Porter for The Old Man – "I" (FX)
With his name announced, cinematographer Sean Porter took to the stage (starting at 1:48:24) and gave a humble acceptance speech. His show The Old Man had just been honored for the second time this evening.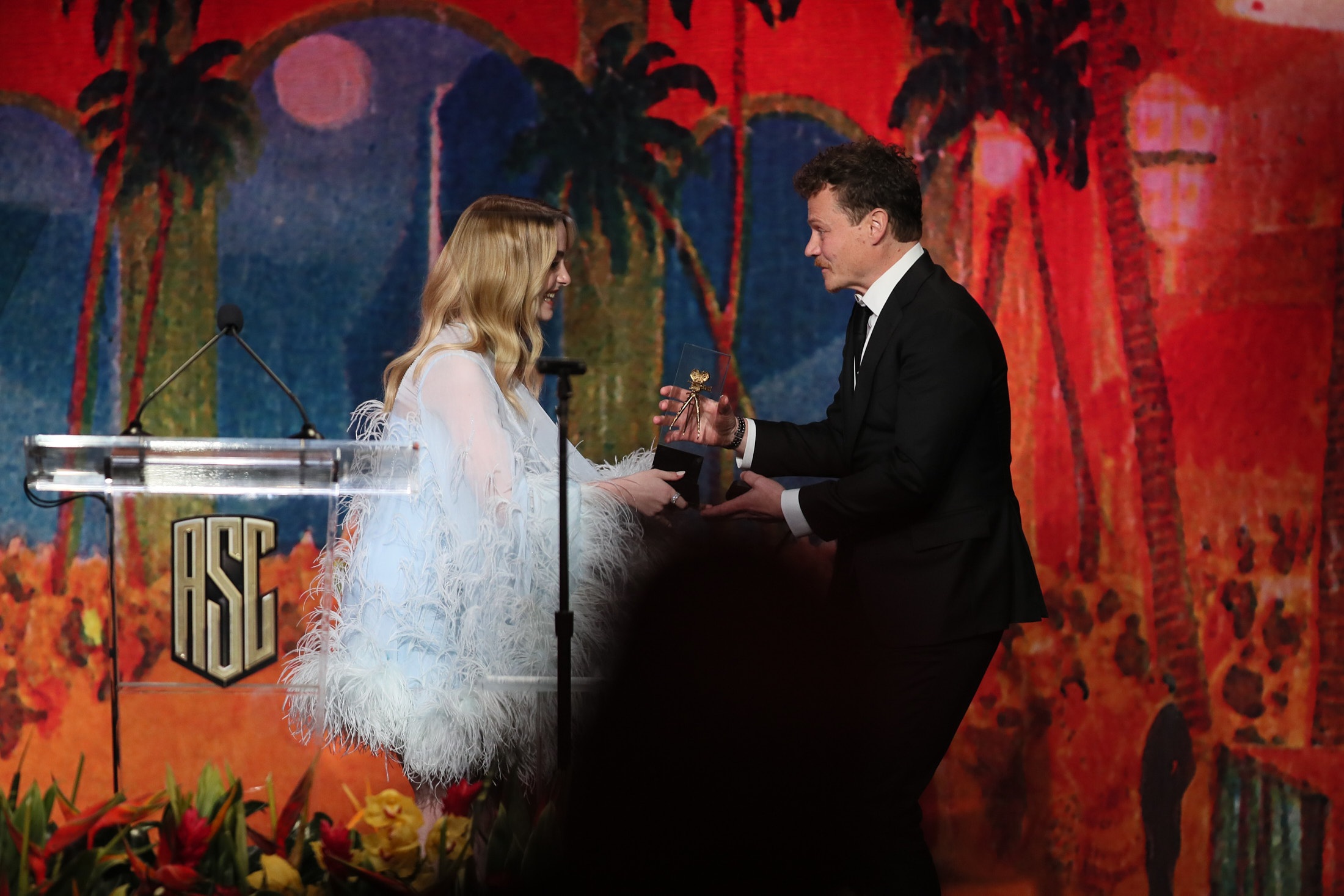 Launching his feature career with films including Bass Ackwards, Eden and It Felt Like Love, (the latter earning an Independent Spirit Award nomination for Best Cinematography), Porter's other feature credits include Kumiko, the Treasure Hunter; Green Room; 20th Century Women; Rough Night; the Best Picture Academy Award-winning drama Green Book; and, most recently, The Greatest Beer Run Ever. This was his first ASC Award nomination.
He also later spoke to us backstage:
Taking the podium, Richard Crudo, ASC presented the Bud Stone Award of Distinction — the night's only honor that is kept completely secret until the moment it is announced. (Starting at 1:53:08.) The award is given to ASC Associate Members "who have gone above and beyond in their support of the ASC," Crudo explained. "Out of a thousand people present, there are two in particular whose amazing careers have been intertwined for a very long time.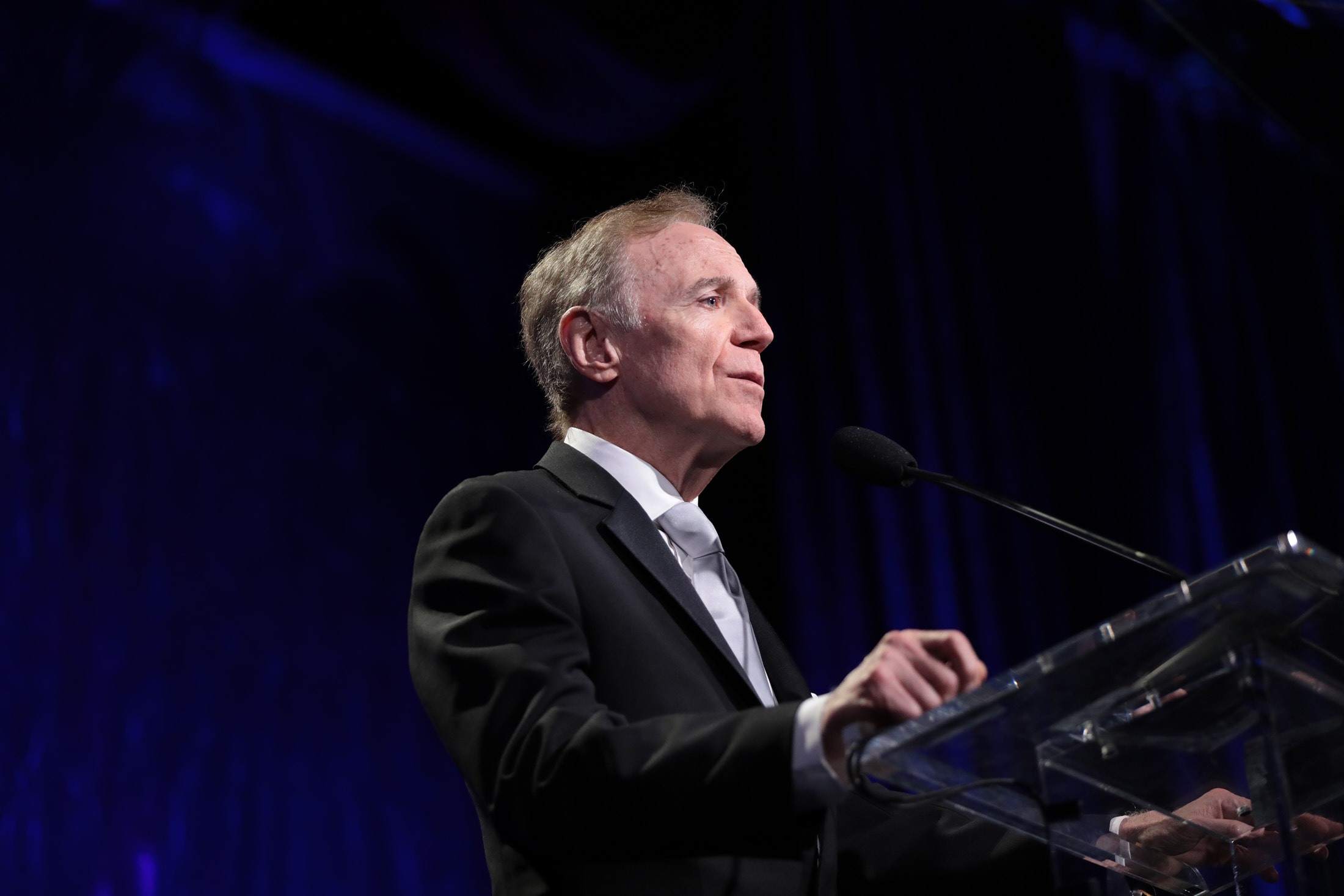 "Besides being the world's number one full-service motion-picture laboratory, FotoKem has been an enthusiastic patron of the ASC for decades. First, under the leadership of Bill Brodersen, then followed by his son, Chief Strategy Officer Mike Brodersen. Mike's guidance through challenging of times and transitions has seen the company flourish in greater ways than ever. Customer service has always been their number one priority, and as cinematographers we've been their greatest beneficiaries. So has the ASC. Naturally, he's been supported by some outstanding people, one of whom is Mark Van Horne. As FotoKem's resident film expert, his keen eye and talent with the Hazeltine has not only given us amazing images but saved the hides of many of us in this room, not least of which myself!"
With that, Crudo invited Broderson and Van Horne to the stage to accept their awards (starting at 1:55:00).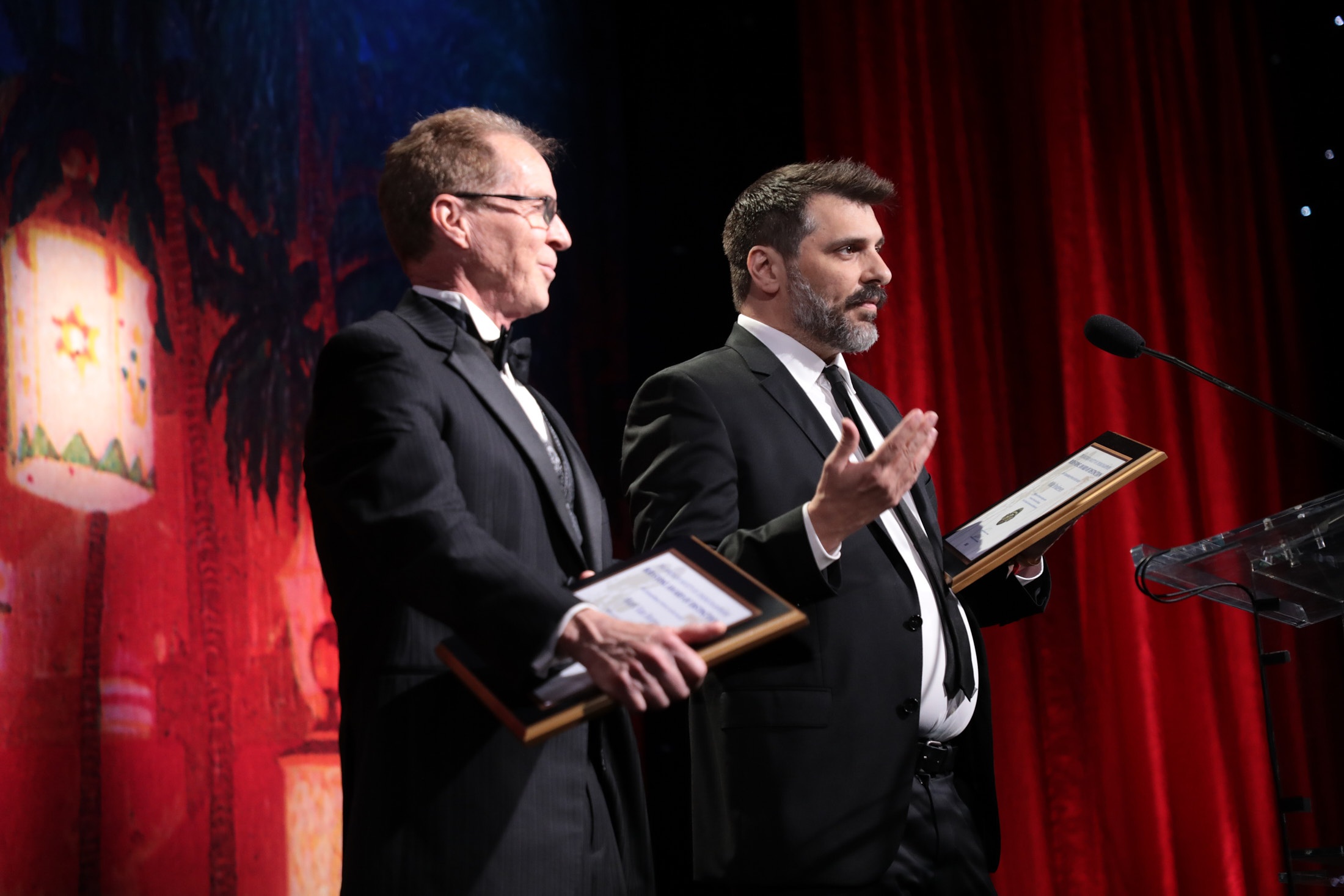 They later spoke to Heuring on the red carpet:
Cinematographer, visual effects artist and future technologies expert Sam Nicholson, ASC took home the second annual Curtis Clark ASC Technical Achievement Award, which was presented by ASC President Stephen Lighthill and sponsored by Unreal Engine.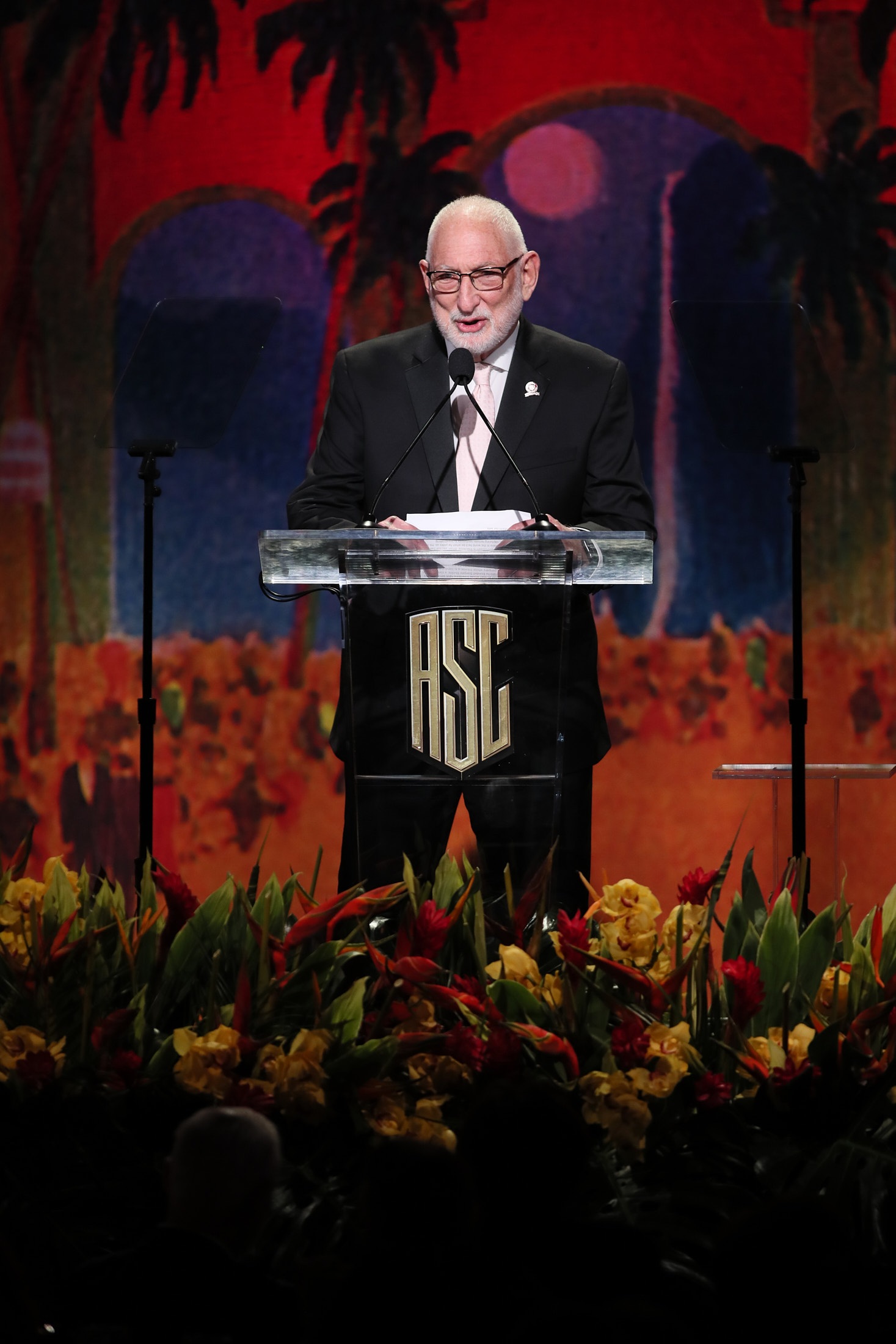 "One of my greatest pleasures as president is having a front row seat to the constant innovations that reshape our industry and reimagine what's possible in the art and craft of storytelling," Lighthill noted in his intro (starting at 2:00:00).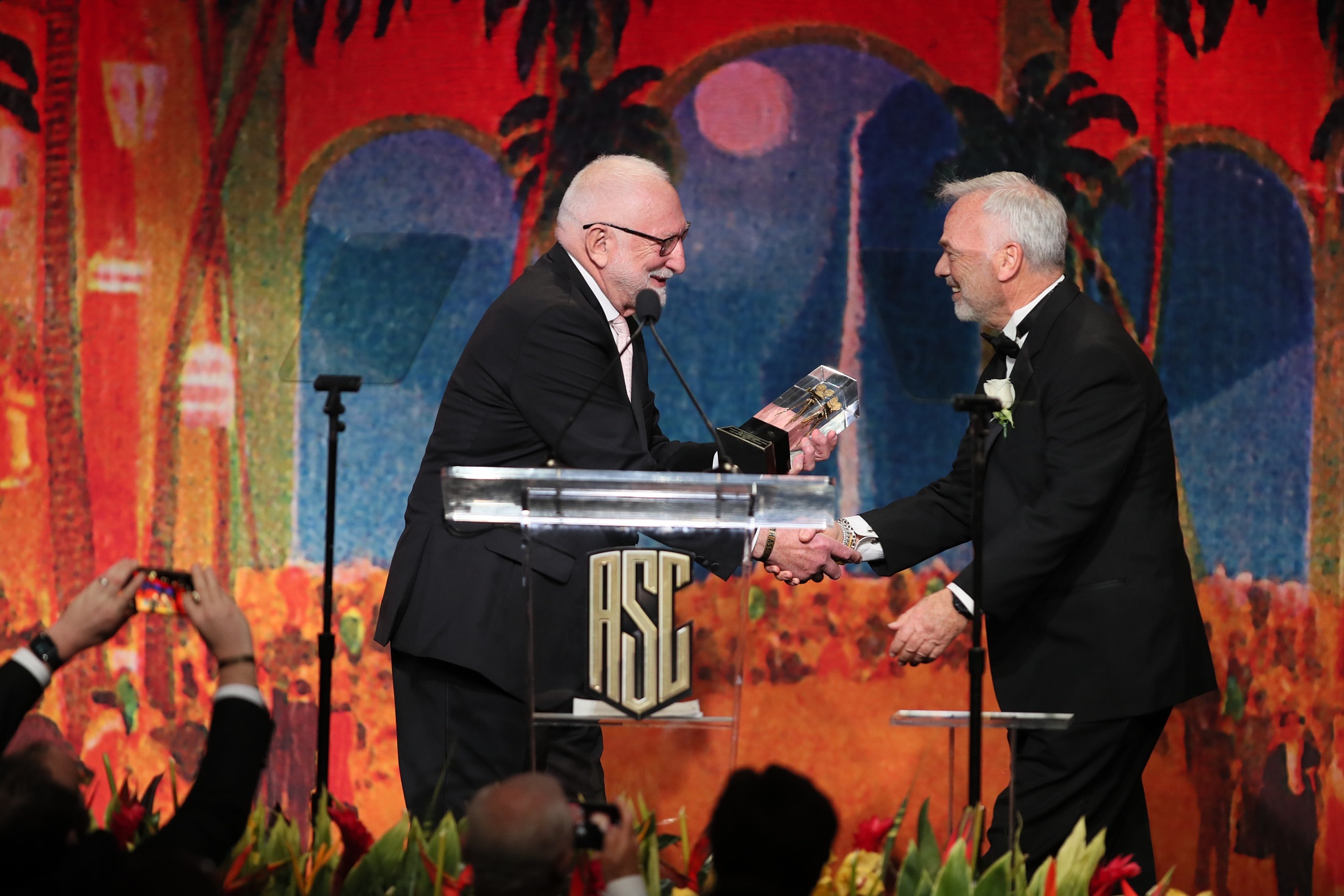 "Many thanks are due to our Awards Committee for encouraging the creation of this award. Everyone who steps on this stage tonight will credit their filmmaking teammates, because filmmaking is a team sport. Ten years ago I visited Sam Nicholson at work and was introduced to the concept of LED backgrounds to replace green- or bluescreen, thereby driving a nail in the coffin of the phrase "fix it in post."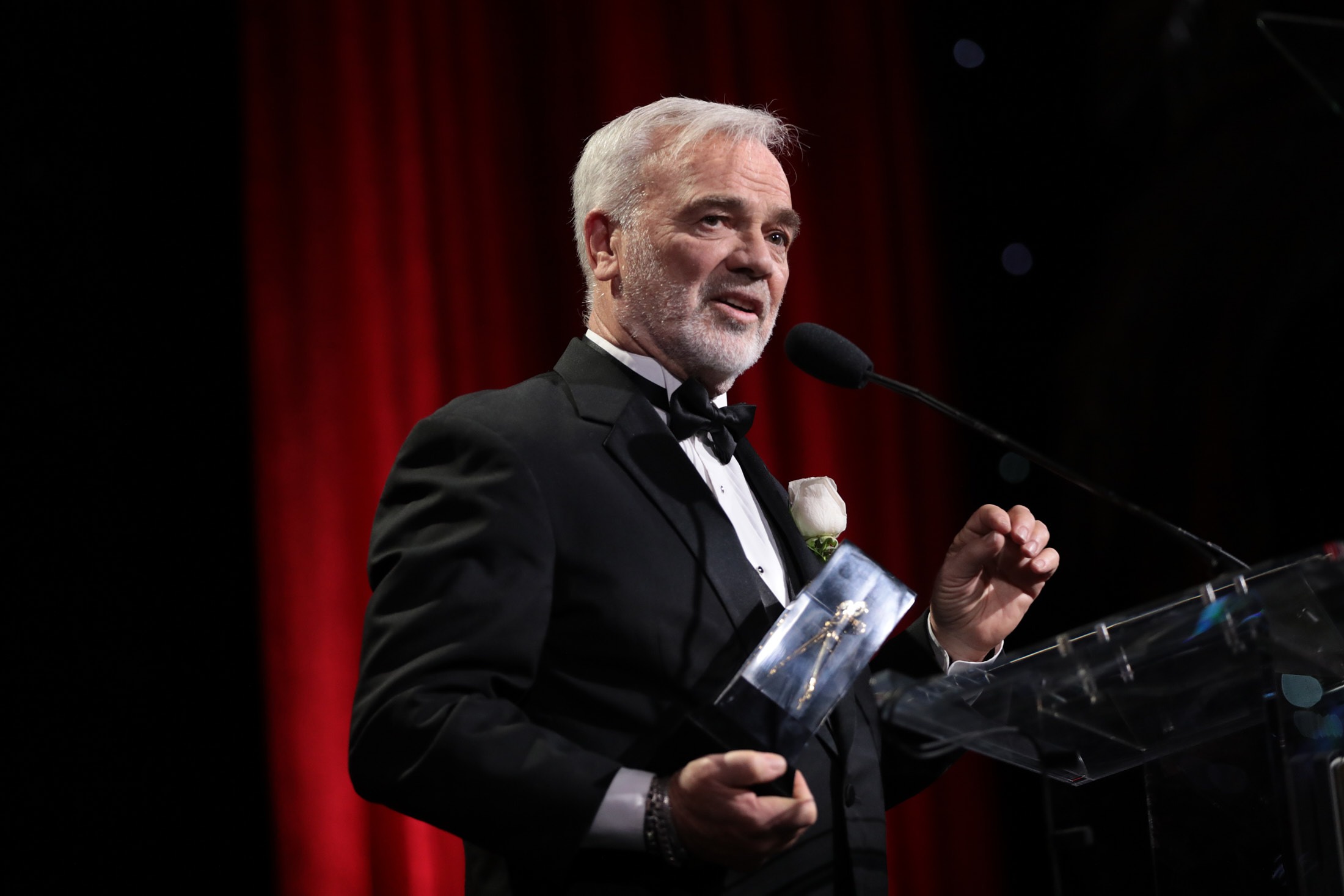 Following a reel showcasing his exceptional visual effects work, Nicholson noted, "I'd like to thank the ASC for this great honor. The level of artistic talent and technical knowledge here tonight is simply amazing. I am truly humbled by your recognition."
Backstage, he spoke to Heuring at length:
The competitive category Episode of a One-Hour Non-Commercial Television Series was sponsored by Panavision and presented by actor Jabari Banks (starting at 2:12:40) — and featured very stiff competition, with two nominations each for the series House of the Dragon and The Marvelous Mrs. Maisel.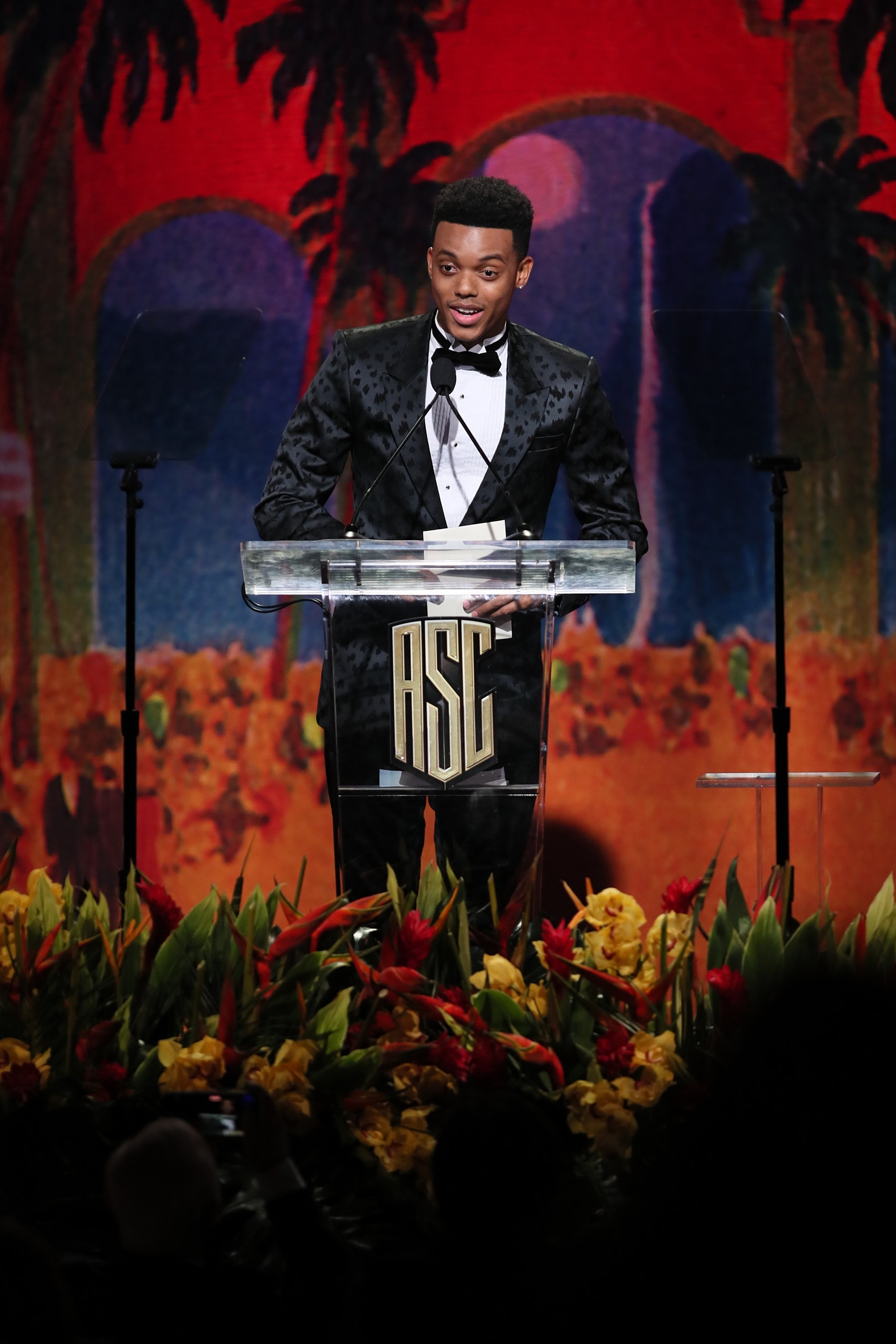 The nominees were:
John Conroy, ASC, ISC for Westworld – "Années Folles" (HBO/HBO MAX)
Catherine Goldschmidt for House of the Dragon – "The Lord of the Tides" (HBO/HBO MAX)
Alejandro Martinez for House of the Dragon – "The Green Council" (HBO/HBO MAX)
M. David Mullen, ASC for The Marvelous Mrs. Maisel – "How Do You Get to Carnegie Hall?" (Prime Video)
Alex Nepomniaschy, ASC for The Marvelous Mrs. Maisel – "Everything is Bellmore" (Prime Video)
Nikolaus Summerer for 1899 – "The Calling" (Netflix)
As Banks announced winner M. David Mullen, ASC, the audience erupted in applause, in part as the cinematographer was previously nominated in this category for Maisel three time before (and also earned two Emmy Awards). He is the only winner this evening who has been previously nominated for an ASC Award. (His acceptance speech begins at 2:19:34.)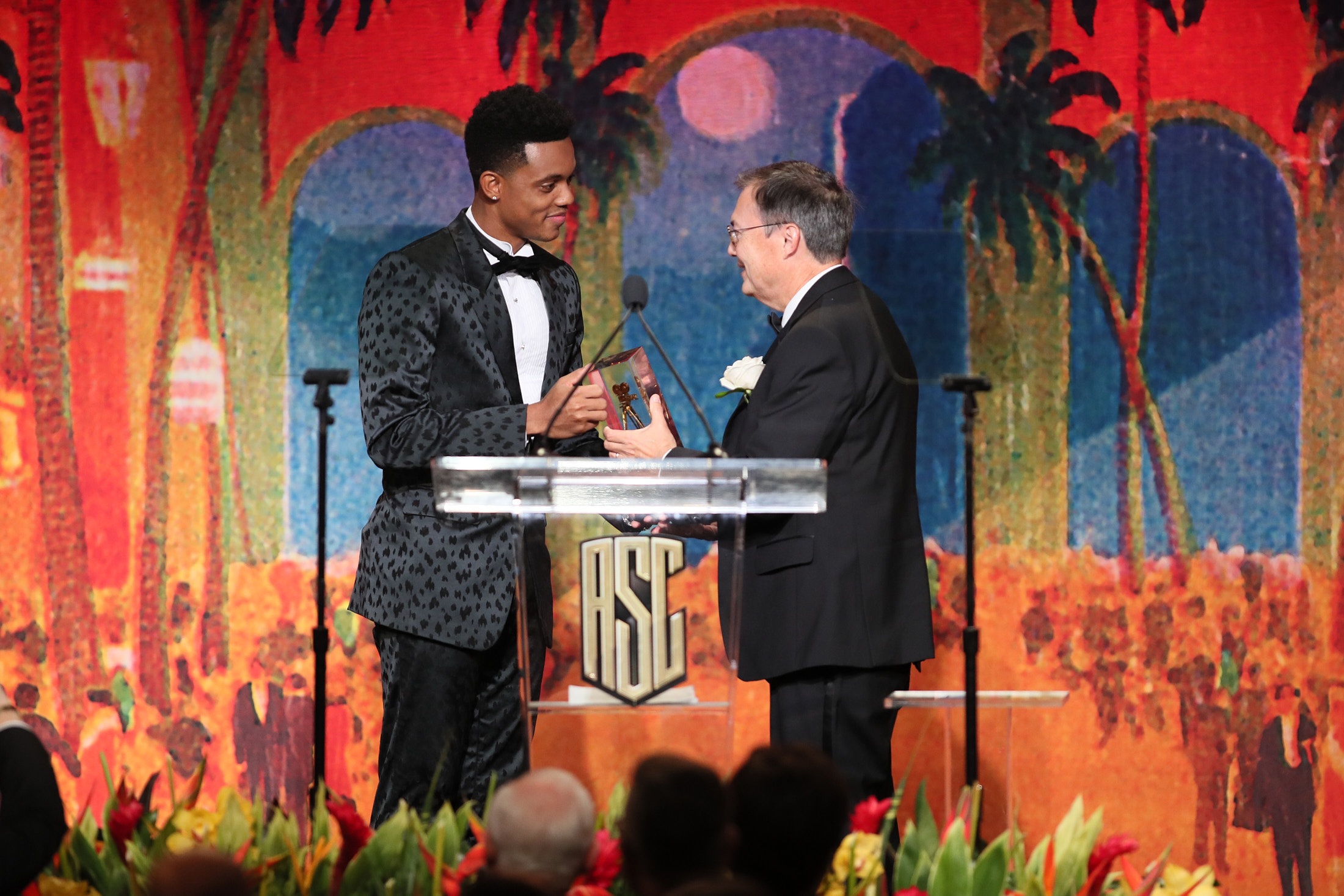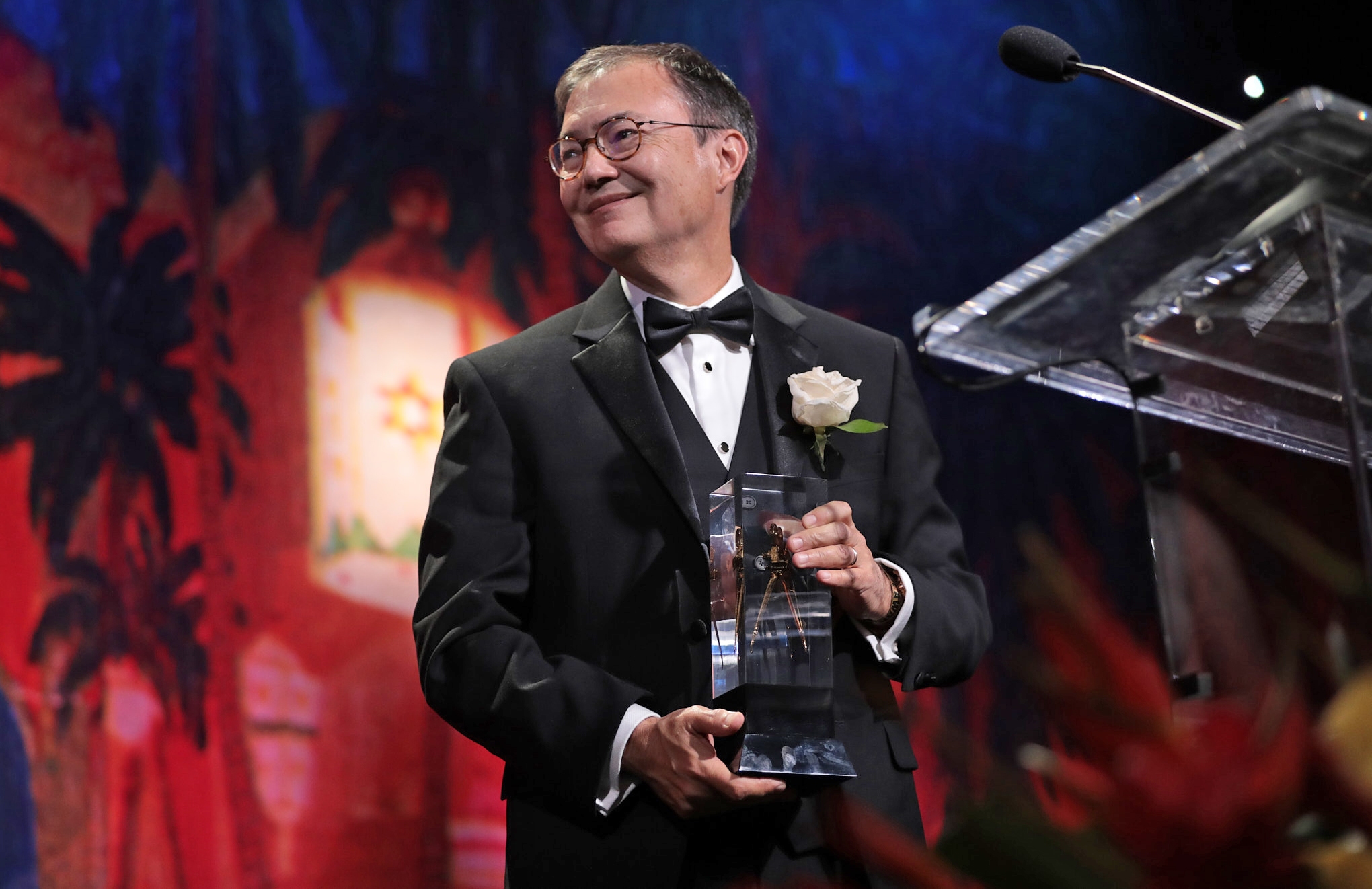 Born in Iwakuni, Japan, Mullen's feature credits include Twin Falls Idaho (earning a Film Independent Spirit Award nomination), Jackpot, Northfork (again earning a Spirit Award nomination), The Astronaut Farmer, Jennifer's Body and The Love Witch. His other series credits include Big Love, The Good Wife, United States of Tara, Smash, Extant, Get Shorty and Westworld.

Mullen later spoke with Huering on the red carpet backstage:
The ASC Lifetime Achievement Award is one of the most prestigious honors that can be bestowed upon a cinematographer, and presenter Octavia Spencer has plenty to say about honoree Stephen Goldblatt, ASC, BSC, which whom she worked on the 2011 period drama The Help (starting at 2:21:16). Notably, she recalled how he kindly explained to her — in great detail — why it was important for her to hit her mark in a particular scene — a professional courtesy and interpersonal collaboration she never forgot.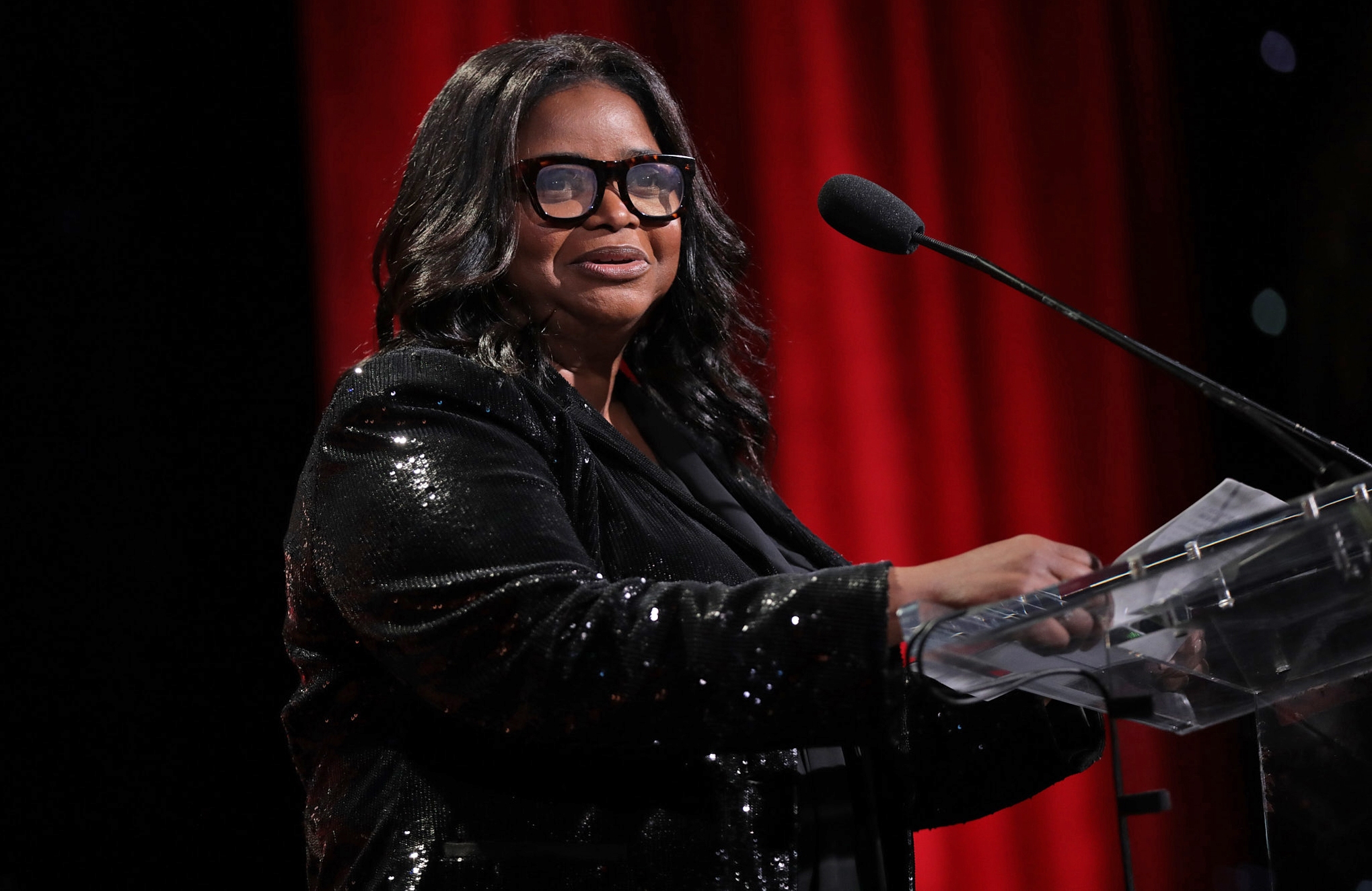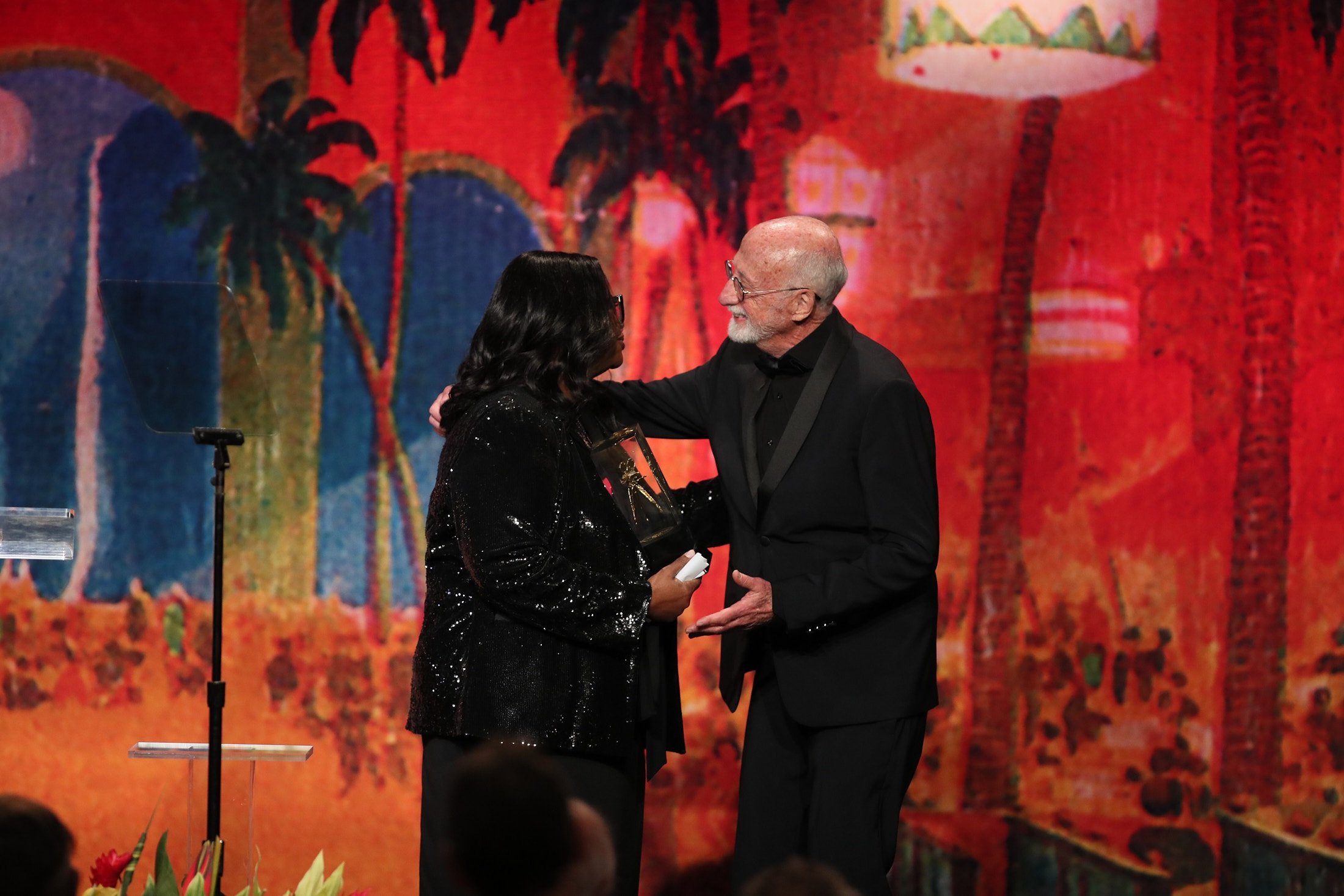 In his acceptance speech (starting at 2:32:00), Goldblatt focused on the many collaborators who helped him along the way in his professional journey, from directors including Mike Nichols, Richard Donner and Tate Taylor to operators including Ray De La Motte, Will Arnot and Henry Tirl, to gaffers including Martin Evans, Colin Campbell and Jim Planette — his words were clearly from the heart.
"However, beyond all colleagues and collaborators my wife Deborah's strength, insight, courage, patience and love have meant everything to me."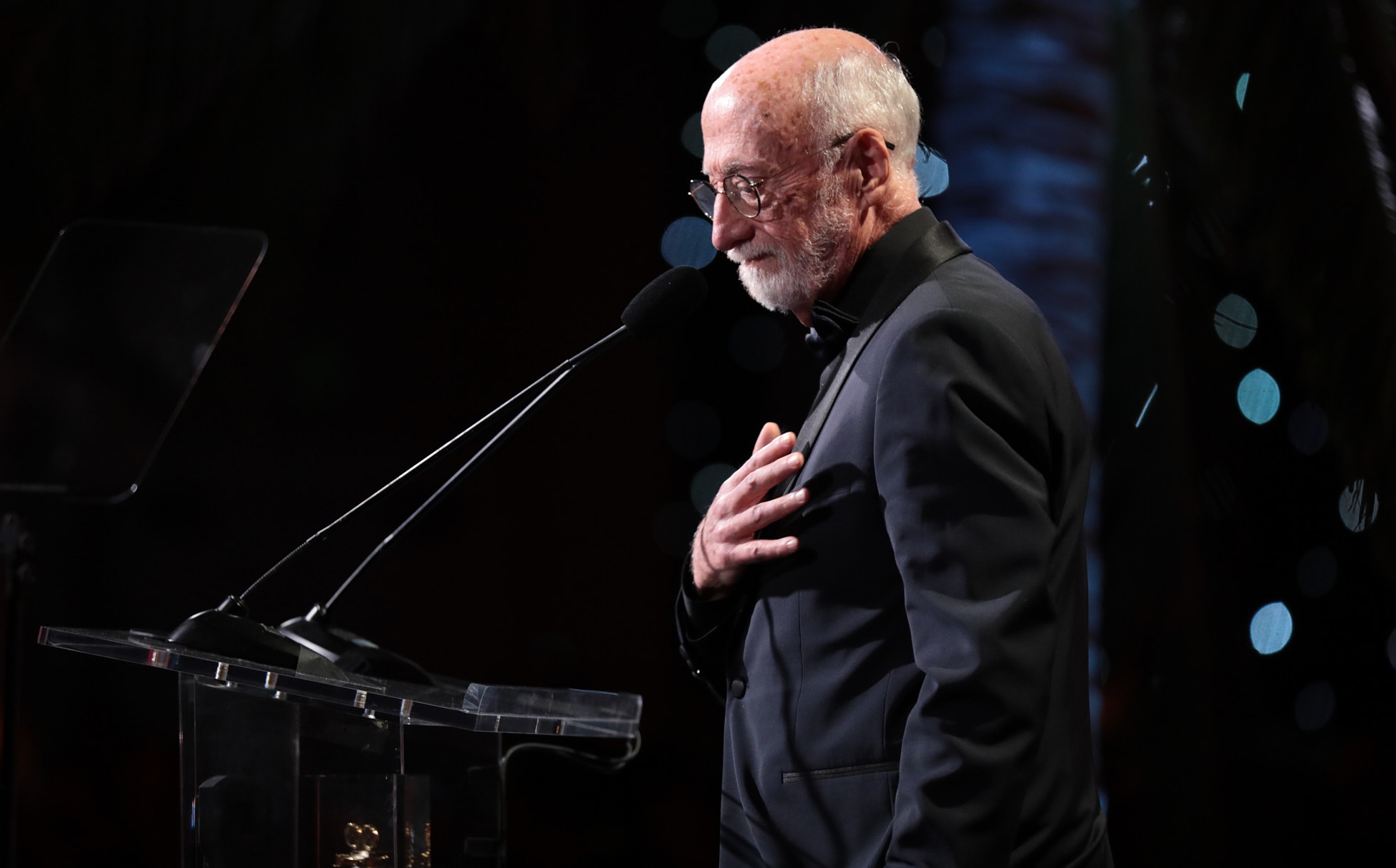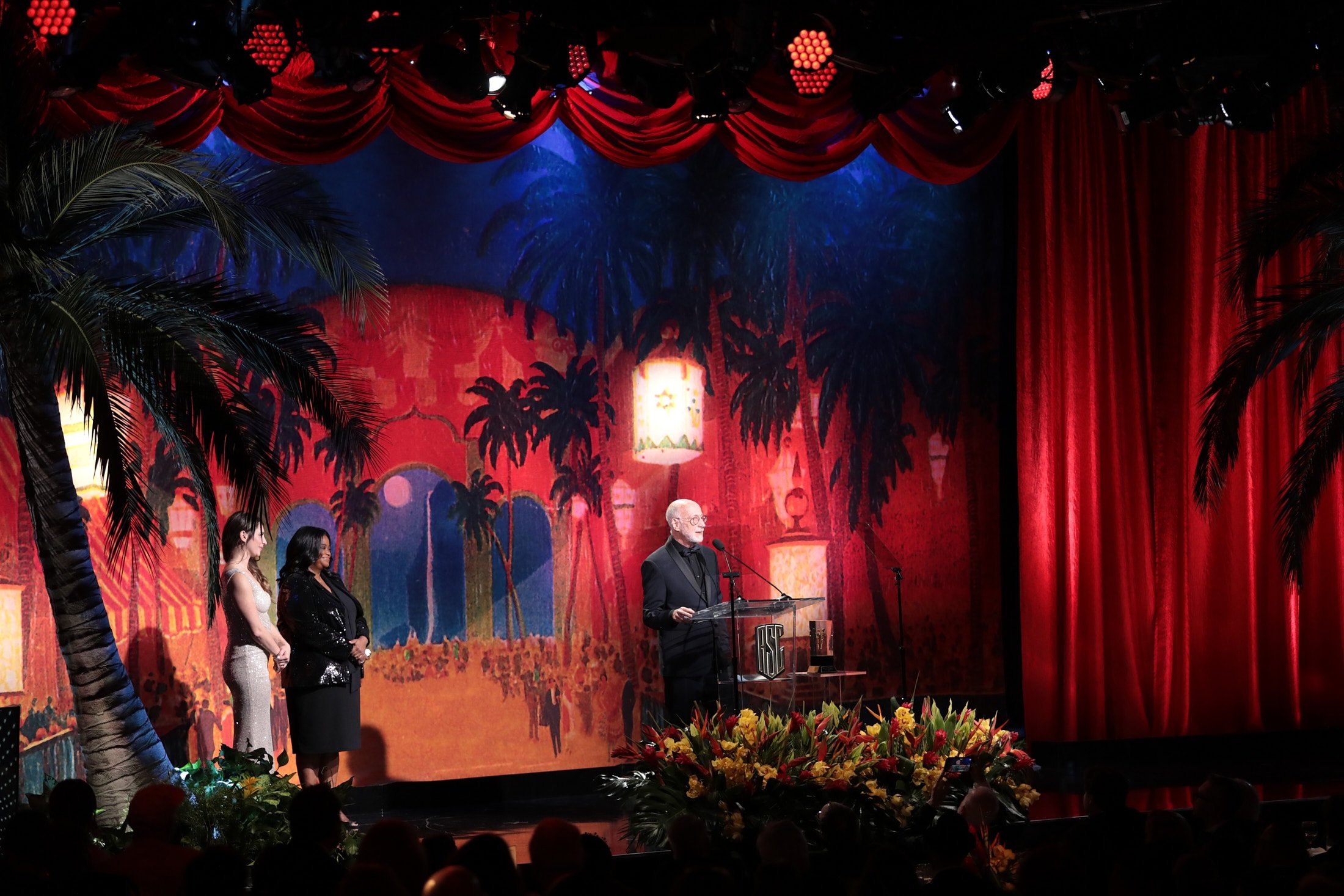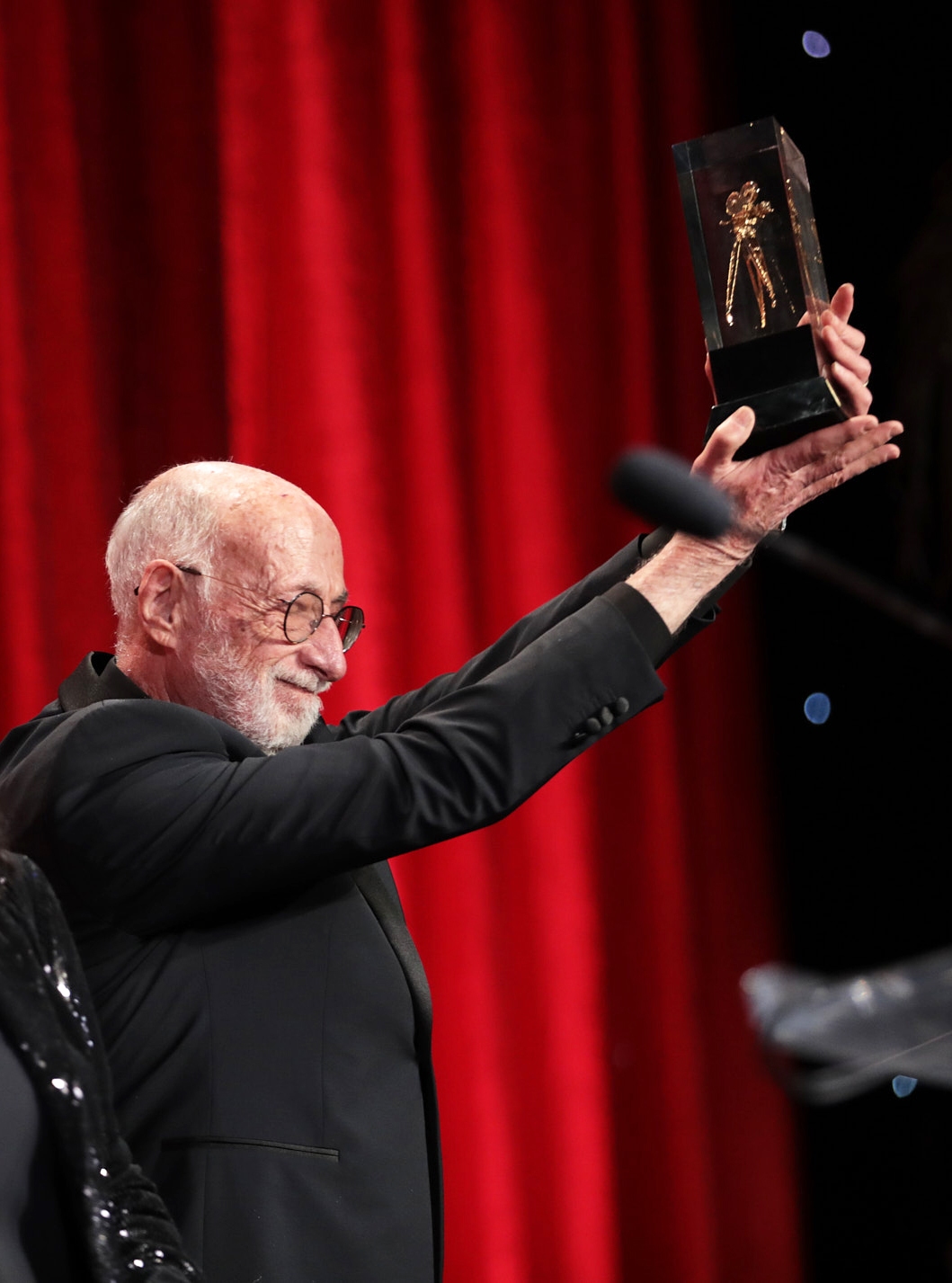 Goldblatt soon spoke to Heuring on the red carpet:
The last competition category of the night was for Theatrical Feature Film (starting at 2:44:42), sponsored by Keslow Camera, and presenter Hong Chau announced the nominees: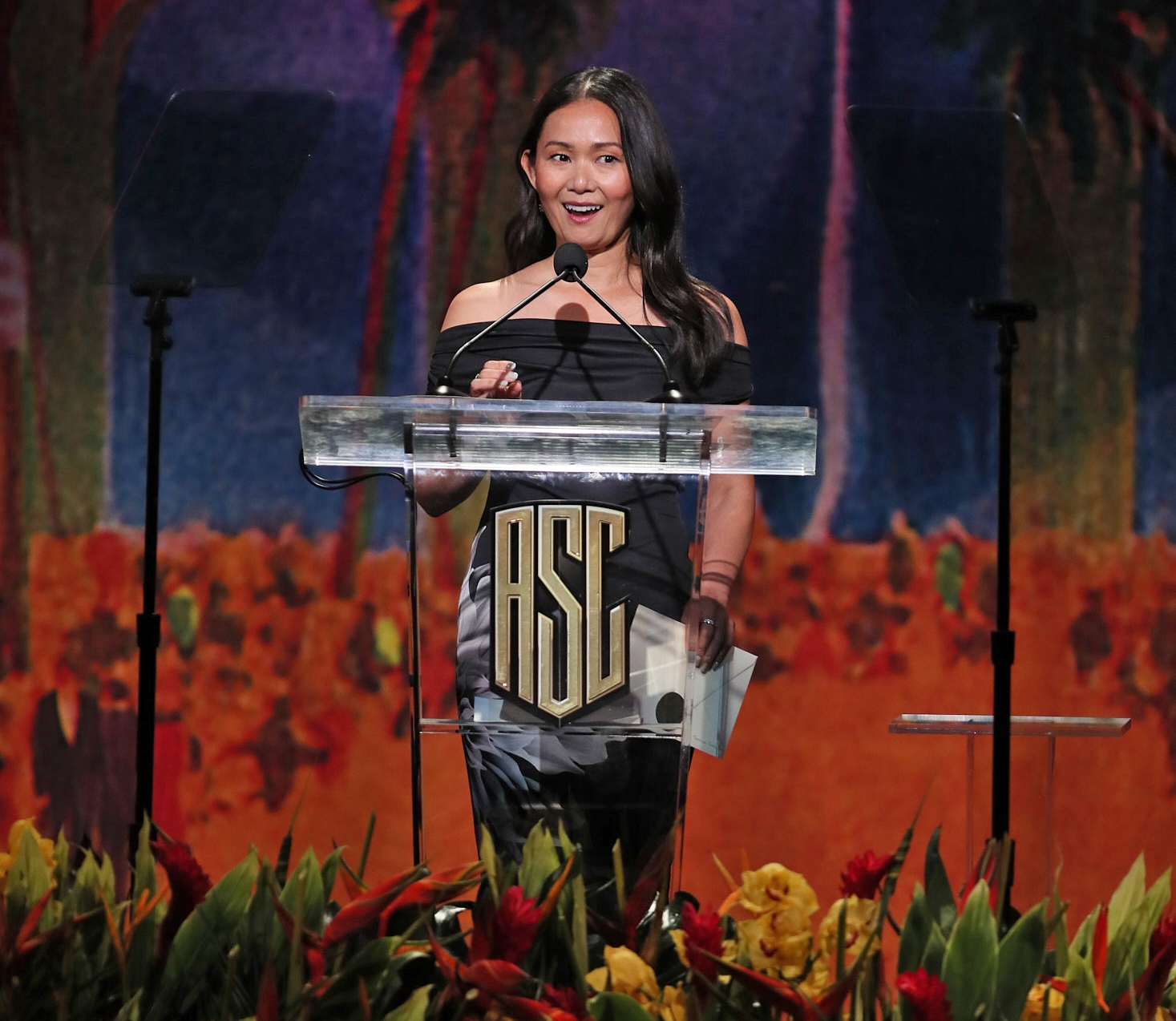 Roger Deakins, ASC, BSC for Empire of Light (Searchlight Pictures)
Greig Fraser, ASC, ACS for The Batman (Warner Bros.)
Darius Khondji, ASC, AFC for Bardo, False Chronicle of a Handful of Truths (Netflix)
Claudio Miranda, ASC for Top Gun: Maverick (Paramount Pictures)
Mandy Walker, ASC, ACS for Elvis (Warner Bros.)
As Chau read the winner's name — Mandy Walker — the crowd erupted in applause, acknowledging not only their pleasure in hearing that her fine cinematography had earned her the prize, but that history had been made: She is the first woman to win the ASC's coveted award. This was also Walker's first ASC Award nomination.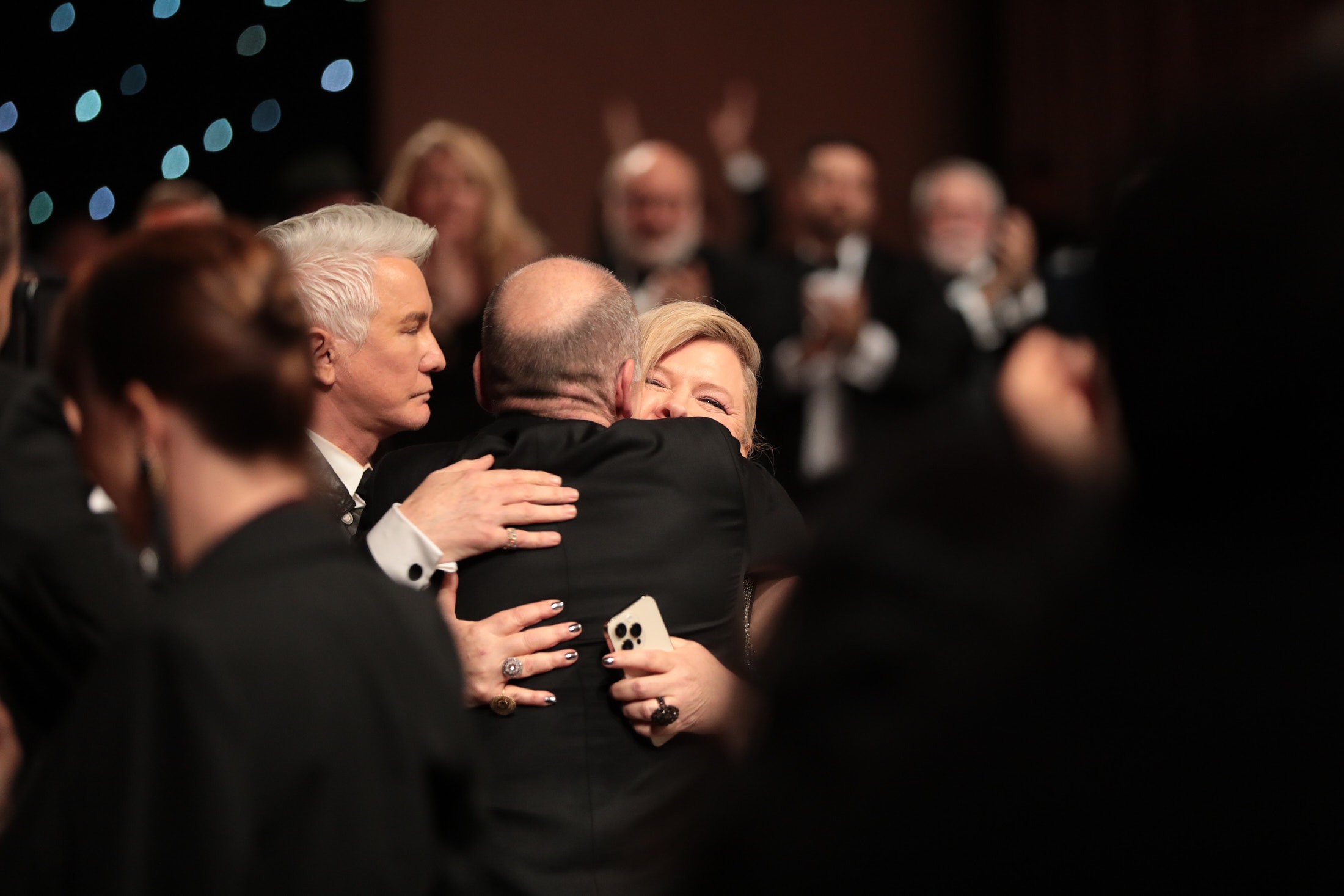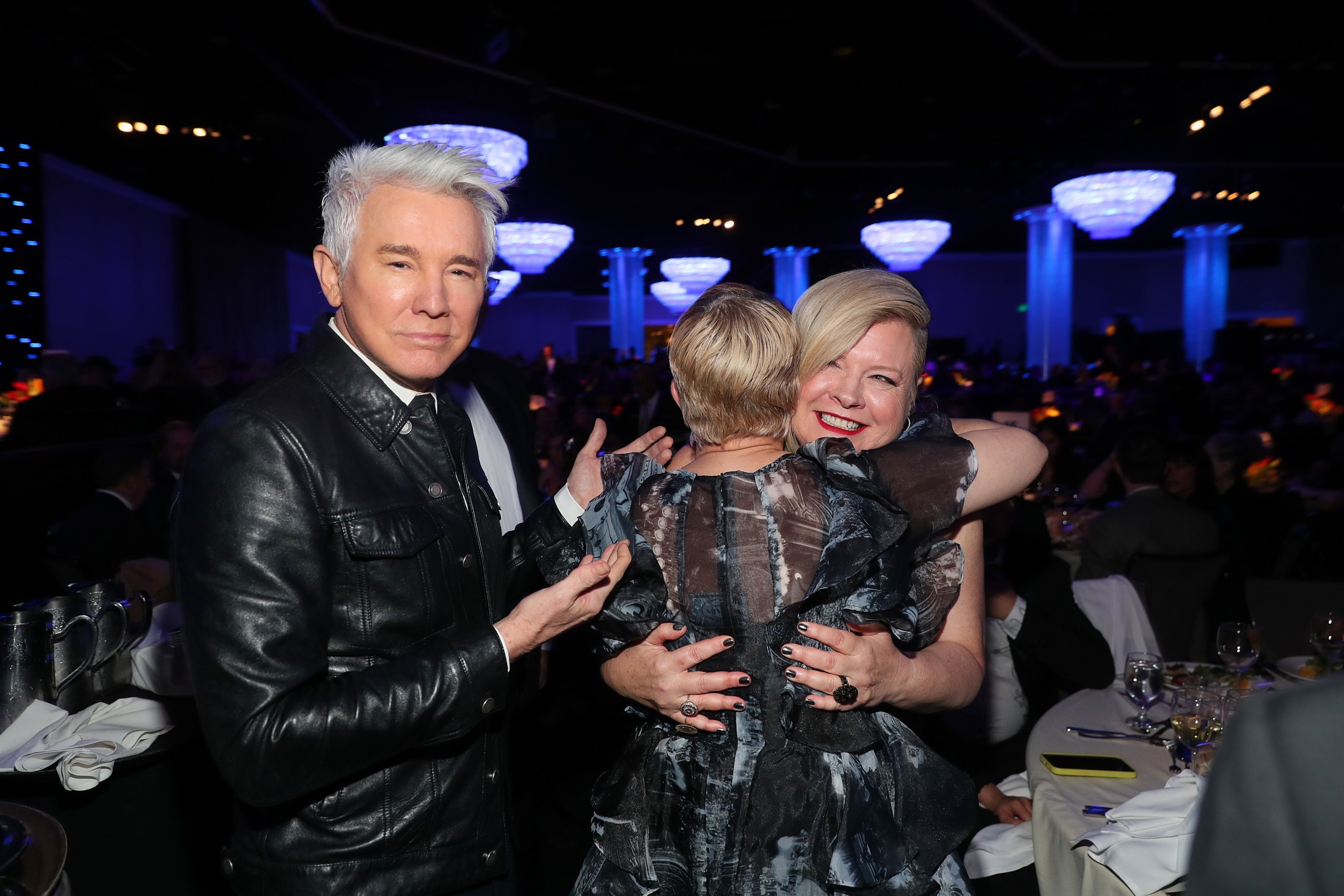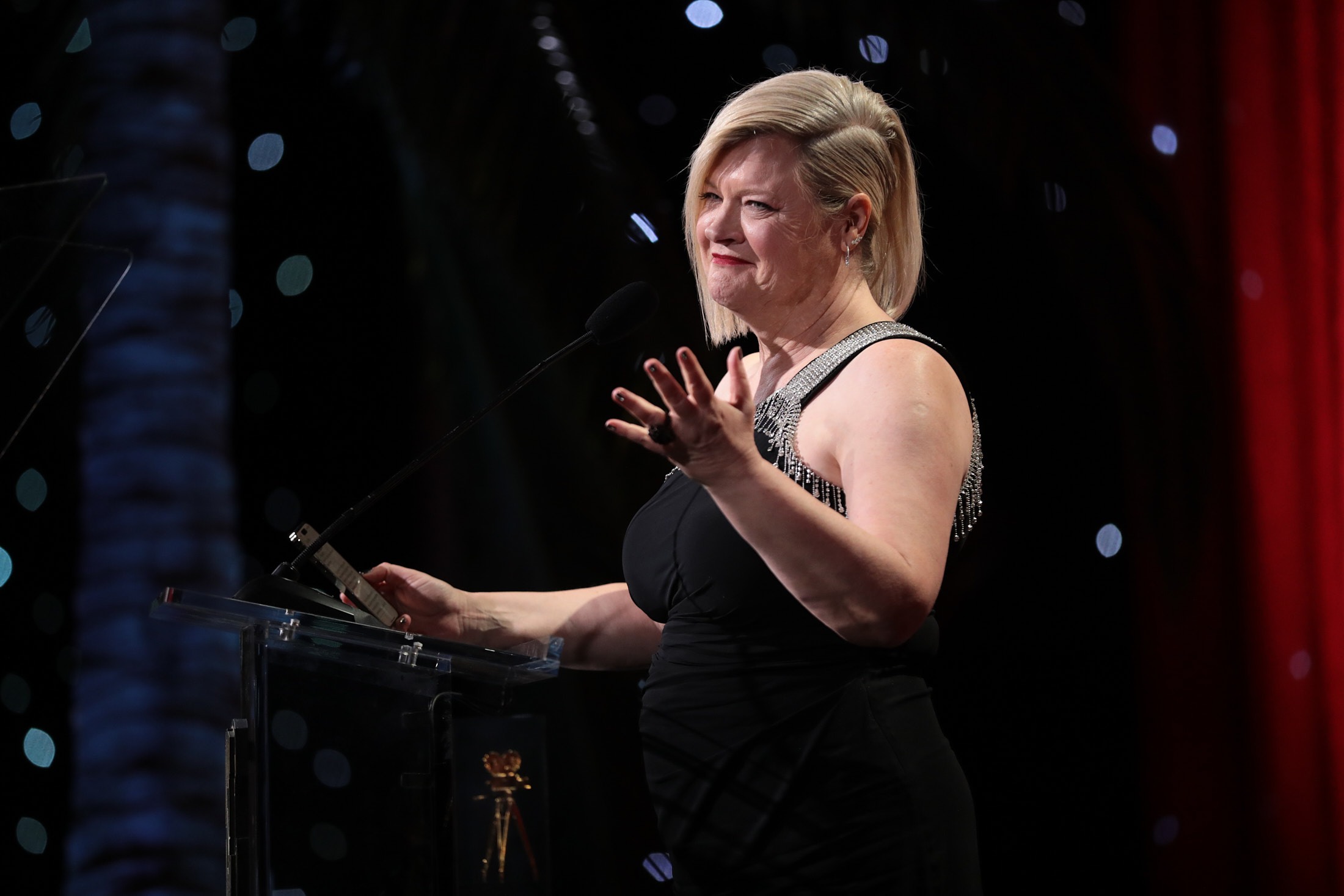 Her acceptance speech (starting at 2:51:00) was gracious, with special thanks to her Elvis collaborators — including director Baz Luhrmann and production designer Catherine Martin (both on hand at her table) — as well as a strong statement regarding this milestone, as she notes "this is for all the women who will win this award after me, and all the cinematographers who will break all the other glass ceilings."
She later spoke to us on the red carpet:
This last official awards moment became an emotional cap to the formal portion of the evening, with attendees then letting loose at the afterparty held nearby in the Beverly Hilton, closing out the ASC Awards until our 38th annual event — which is already in the planning stages and scheduled for the spring of 2024.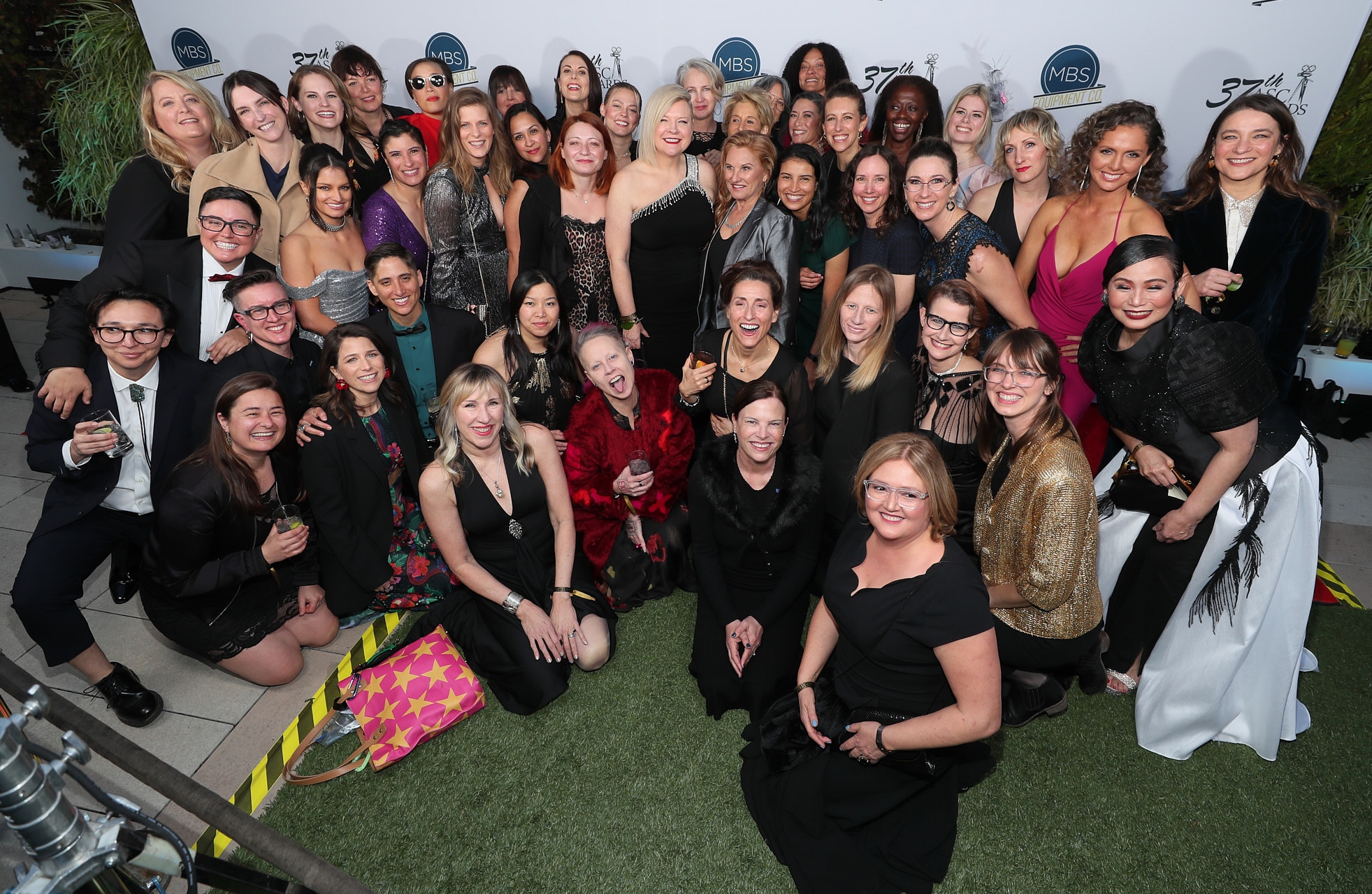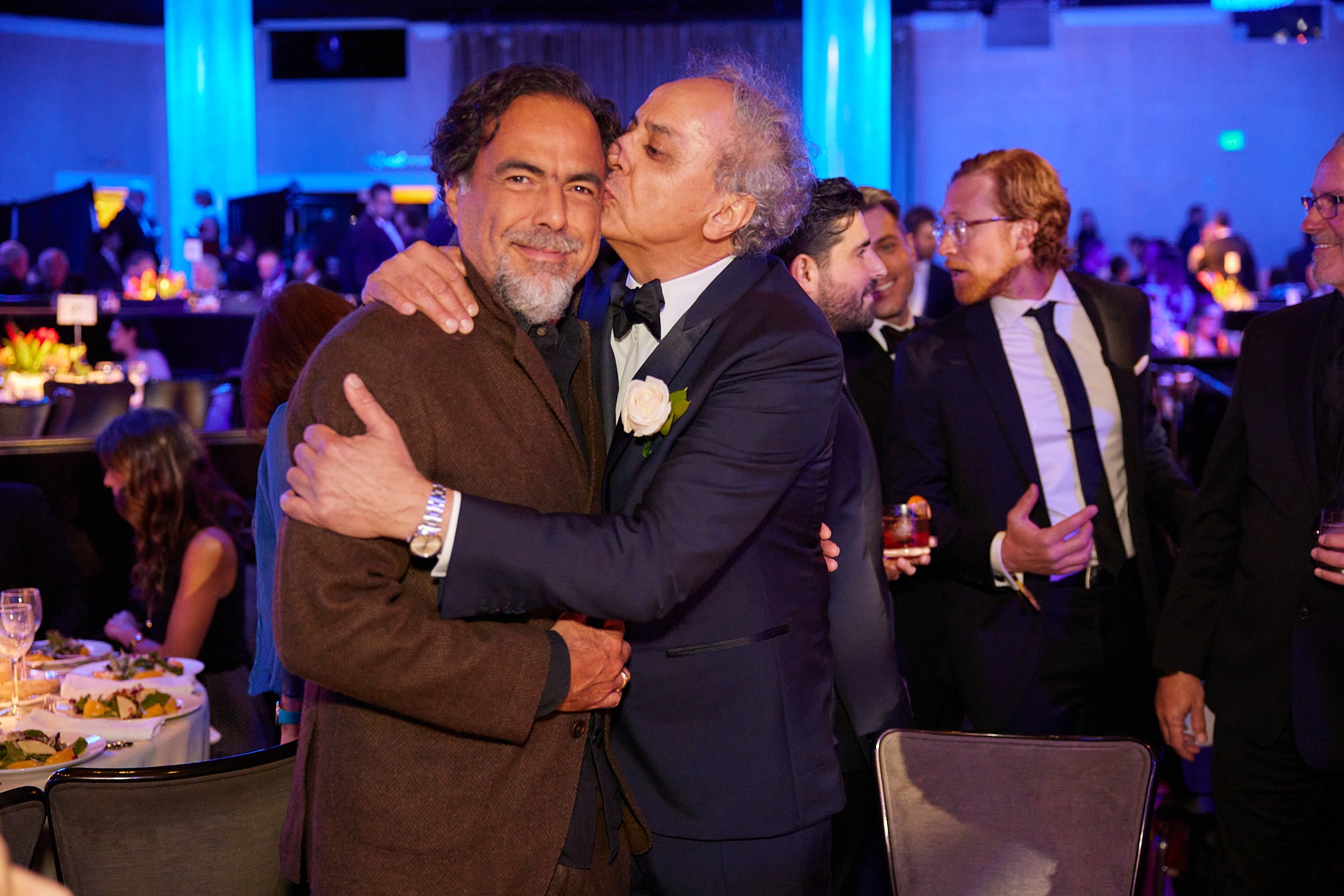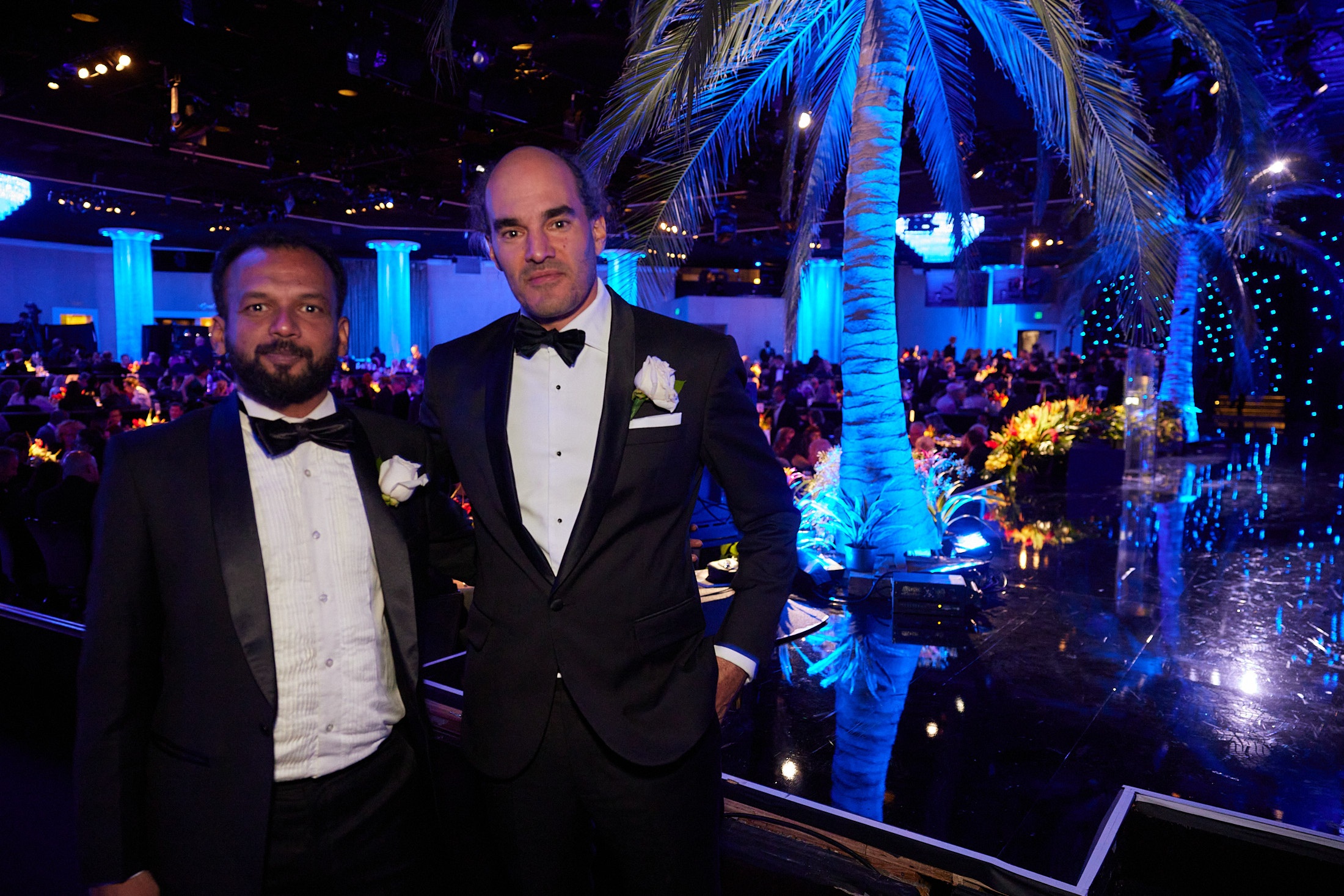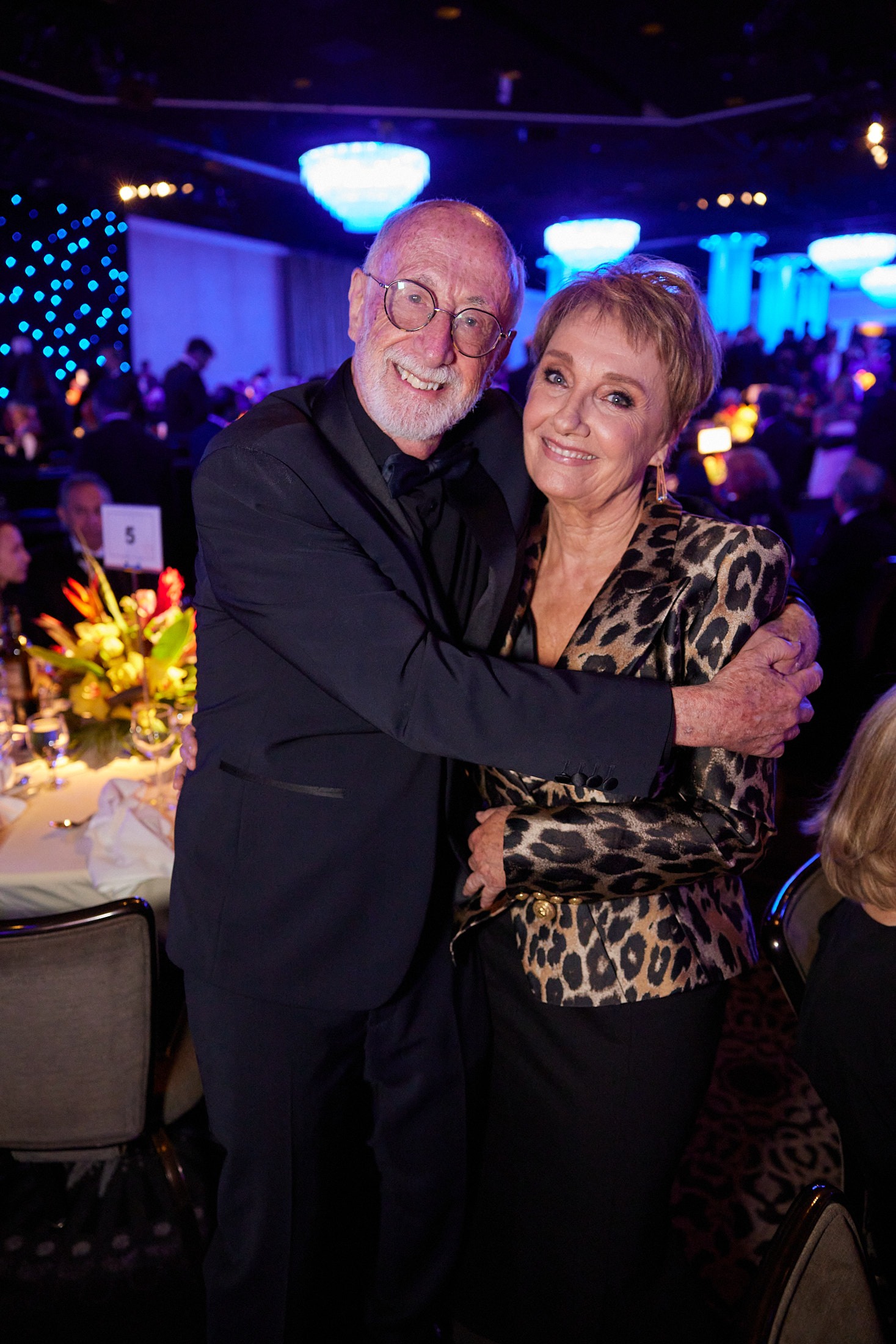 You'll find further gallery of photos from the entire ASC Awards weekend here.