ASC and ICG Collaborate to Offer Insight at NAB Show
Join us on April 9 for a discussion regarding the future of cinematography in prep, production and post.
ASC Staff

The annual National Association of Broadcasters Show takes place April 6-11 in Las Vegas, and ASC members and International Cinematographers Guild Local 600 will be taking part in portions of the event programming.
One event is a component in the "Birds of a Feather" panel series (which addresses a variety of cinematography, visual effects and postproduction issues and developments):
The Cinematographic Imaging Process: Where Does it Begin and End?
Tuesday, April 9, 11:30 am-12:30 pm
Location: North Hall Meeting Rooms, N243, Las Vegas Convention Center
Organized by ICG Local 600 and the ASC
With the advent of previz, on-set compositing, virtual production, photoreal VFX, and DI finishing for multiple output formats, a project's "look" is often manipulated far from the set. Join Jim Berney, visual effects supervisor; Andrea Chelbak, senior colorist, Deluxe; Ryan McCoy, senior previs/postvis supervisor, Halon, and ASC President Kees van Oostrum in a discussion about where the art of cinematography begins and ends today, and about how the cinematographer's role is no longer fixed, but evolving. Who should attend: Cinematographers, filmmakers working in previs, VFX, editorial and post; directors and producers; manufacturers of content creation tools and technologies.
BOF panels are free to attend with any NAB Show pass. Don't have one? Use the Code: BoF19 for a free Exhibits Pass.
The ASC/American Cinematographer booth is located in the Central Hall at booth C8644 (blue dot):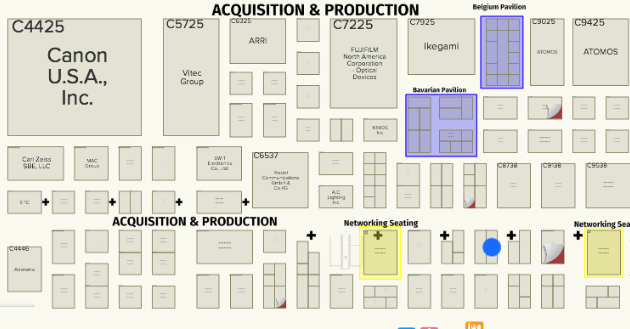 You can register for the NAB Show here. (The ASC's registration promo code is BR01.)