ASC Hosts Sigma For Clubhouse Lens Demo
On Thursday, October 6, the ASC Clubhouse in Hollywood was visited by the Sigma lens company to present their new line of Cine lenses to members and event attendees. The afternoon was peppered with delicious catering on the sunbathed patio along with a full house of cinematographers and lens professionals. Matthew and Paul Duclos and their Duclos Lens team were also on hand, co-hosting the event and providing impartial information on the lenses. Additionally, several areas were set up with "scenes" where the lenses could be demoed on a variety of cameras in a variety of lighting situations. Finally, the ASC boardroom was turned into a lens projection workshop where visitors could see any of the lenses through a lens projector.

Sigma's chief executive officer, Kazuto Yamaki, was on hand to introduce the new Cine lenses to a packed house. "It's a great honor for us to have so many people here today," he welcomed the crowd. "I know that a CEO's presentation can be boring, so I'll go as fast as possible," he quipped to heartfelt laughter.

Yamaki told of Sigma's inception, formed by his father, Michihiro Yamaki, in 1961, who was an executive for a small optics company in Japan. "One day the owner of that company disappeared, suddenly... With the company money... and his mistress," Yamaki explained to another laugh. "My father was an executive at that time, so he had to close down the office, but clients of that company asked my father if he would complete the business to support them and he re-opened the company as Sigma.

"He passed away four years ago," Yamaki continued. "And this idiot," he said, pointing to himself, "I'm a typical second-generation idiot, and this idiot took over his business."

Aside from the sincere comedy, Yamaki continued to explain that all of Sigma's lenses are made wholly in Japan. Although other manufacturers have followed trends to outsource components off shore, Sigma has decided to keep all of their manufacturing steps in-house at their factor in Aizu, Japan — from polishing to metal processing, injection molding, coating, anodizing, painting, assembly and inspection — to preserve the jobs of their workforce. The CEO explained that their main philosophy is "Small office, big factory, which means that we always prioritize the investment of R&D, engineering and manufacturing over administration, sales and management."

The concept of their new Cine lenses is "100% Retained / 100% New," which might seem contradictory, but Sigma has taken the glass from their extremely popular still lenses and rehoused them in 100% newly designed Cine housing.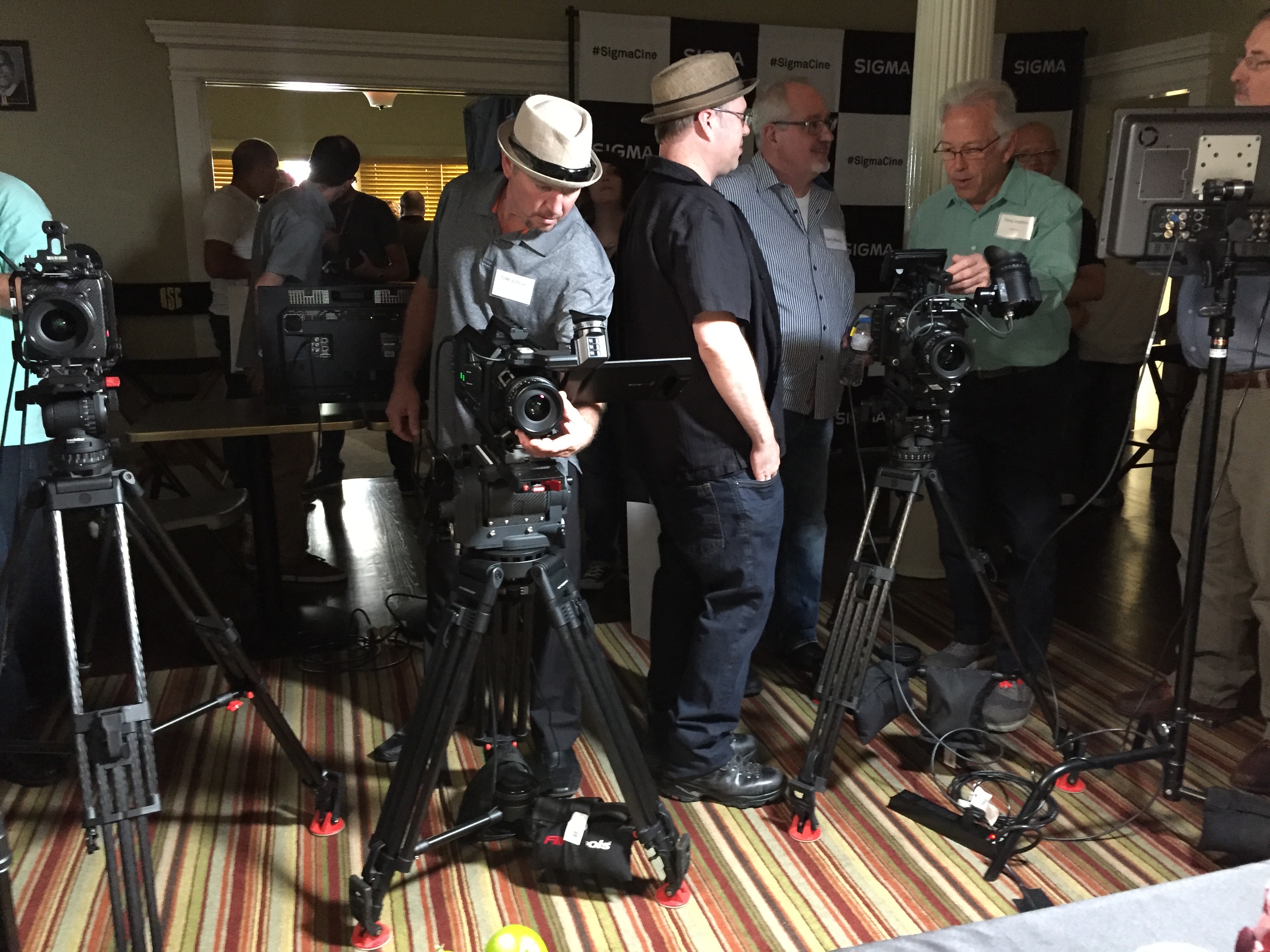 Sigma showcased eight lenses in three categories: a high-speed zoom line for Super 35-sized imagers, a full-frame zoom line and a full-frame, high-speed prime line.

In the first category, the Japanese lens manufacturer offers two options: an 18-35mm T2 and a 50-100mm T2 zoom. In the second category, Sigma offers one lens thus far, a 24-35mm T2.2. But in their third category, they are offering five T1.5 primes: 20mm, 24mm, 35mm, 50mm and 85mm. There are plans to expand all three lines of optics in the near future.

All eight Cine lenses have focus, iris and zoom gears in exactly the same location to ease lens changes in the field, with a standard gear pitch of 0.8M. Full-frame lenses cover a 43.3mm image circle and their Super 35 zooms cover a 28.4mm image circle.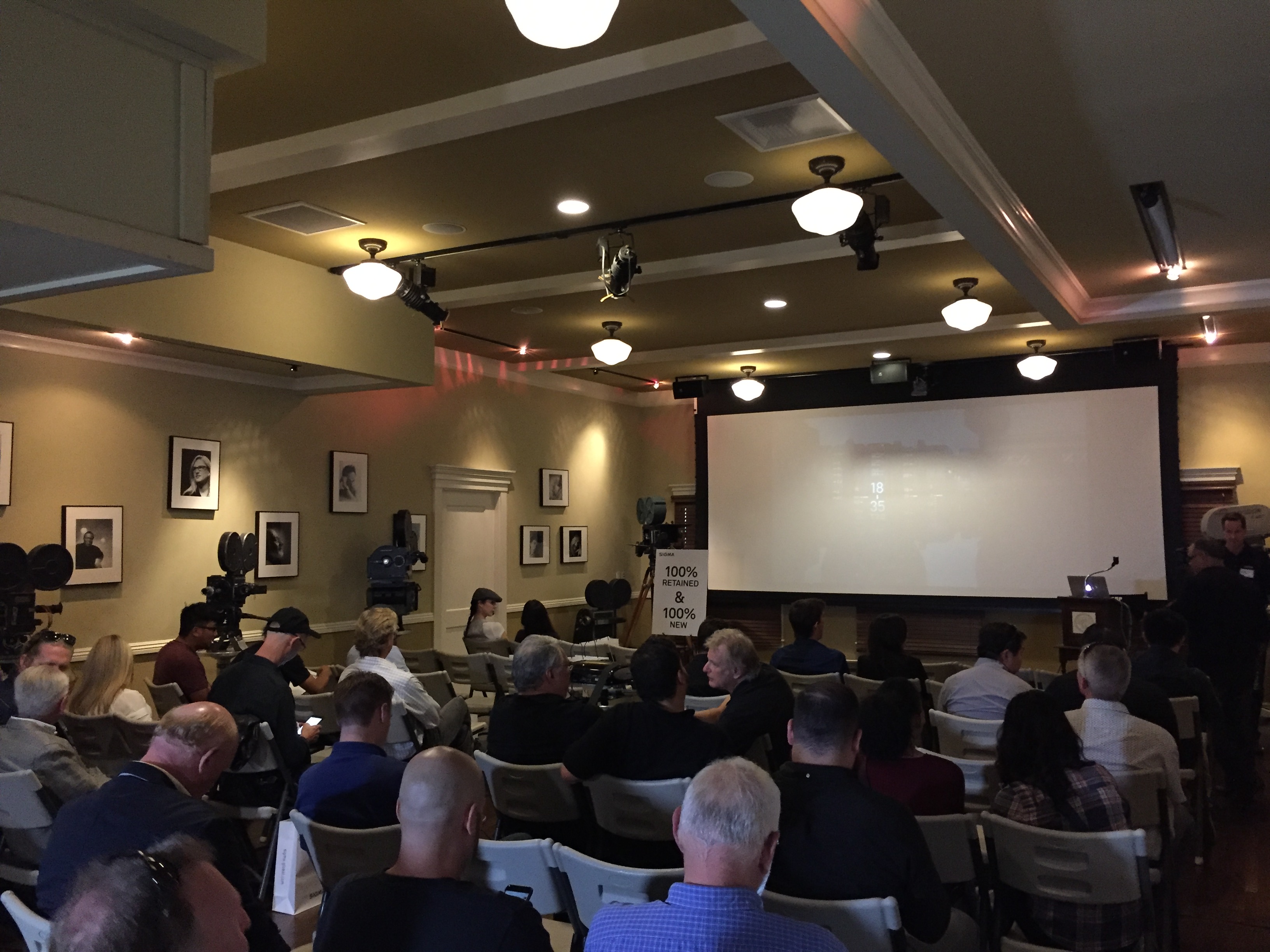 In addition, Yamaki presented two short films, a wonderfully poetic visual tour through their Aiku manufacturing facility and an emotional narrative short film called Blur that was shot with the their set of Super 35 zooms.

"Moving forward, we will expand the product line for each of the series in the future," he attested. "All of these lenses are very sharp, enough to support 6K to 8K resolution and all of our Cine lenses are weather resistant."

With respect to resolution, which is often misinterpreted to merely be a representation of pixel or photosite count, Sigma has been in the forefront of lens resolution dealing with high-pixel still camera counts of 50+megapixel (by comparison 4K cinema is only 8.5 mega-pixel). This means the actual resolution reproduction of their lenses far surpasses the majority of cinema lenses on the market today. Other addition features include the popular consistent outer diameter of 95mm (front filter thread size of 82mm), extended focus (180o) and zoom rotation (160o) that is competitive with other lens manufacturers as well as a 100% metal body.

As far as the look of the lenses, this author noted that they're very clean and sharp. There's almost no flaring, very little breathing and very minimal distortion — although it did seem like most had a slight barrel distortion. On a couple of the zoom lenses that I was able to see on the lens projector, there is some slight chromatic aberration at the very fringe of the image circle, but the resolution and contrast reproduction is really stellar. This puts them in the same class, conceptually — without actual side-by-side testing — as the Arri Master Primes, Leica Summilux-C and Panavision Digital Primo lenses, for what is reported to be a very "reasonable price." The actual price will be announced at the end of October, but we're told it will be less than $5,000 per lens. All of the lenses are incredibly lightweight and compact — each between 2.4 and 4.2 pounds and between 4.8" to 7.9".

EF (Canon) and E (Sony) mount lenses will be available in early November and PL lenses, except the 24-35mm T2.2, for which there is no planned PL mount) will be available in early Spring of 2017, before NAB.
| | | | | | |
| --- | --- | --- | --- | --- | --- |
| Lens | T | Close Focus | Image Circle (mm) | Front Diam | Filter (mm) |
| 20mm | 1.5 - 16 | 11" | 43.3 | 95 | - |
| 24mm | 1.5 - 16 | 10" | 43.3 | 95 | 82 |
| 35mm | 1.5 - 16 | 1' | 43.3 | 95 | 82 |
| 50mm | 1.5 - 16 | 1' 4" | 43.3 | 95 | 82 |
| 85mm | 1.5 - 16 | 2'10" | 43.3 | 95 | 86 |
| 18-35mm | 2.0 - 16 | 11" | 28.4 | 95 | 82 |
| 50-100mm | 2.0 - 16 | 3'2" | 28.4 | 95 | 82 |
| 24-35mm | 2.2 - 22 | 11" | 43.3 | 95 | 82 |