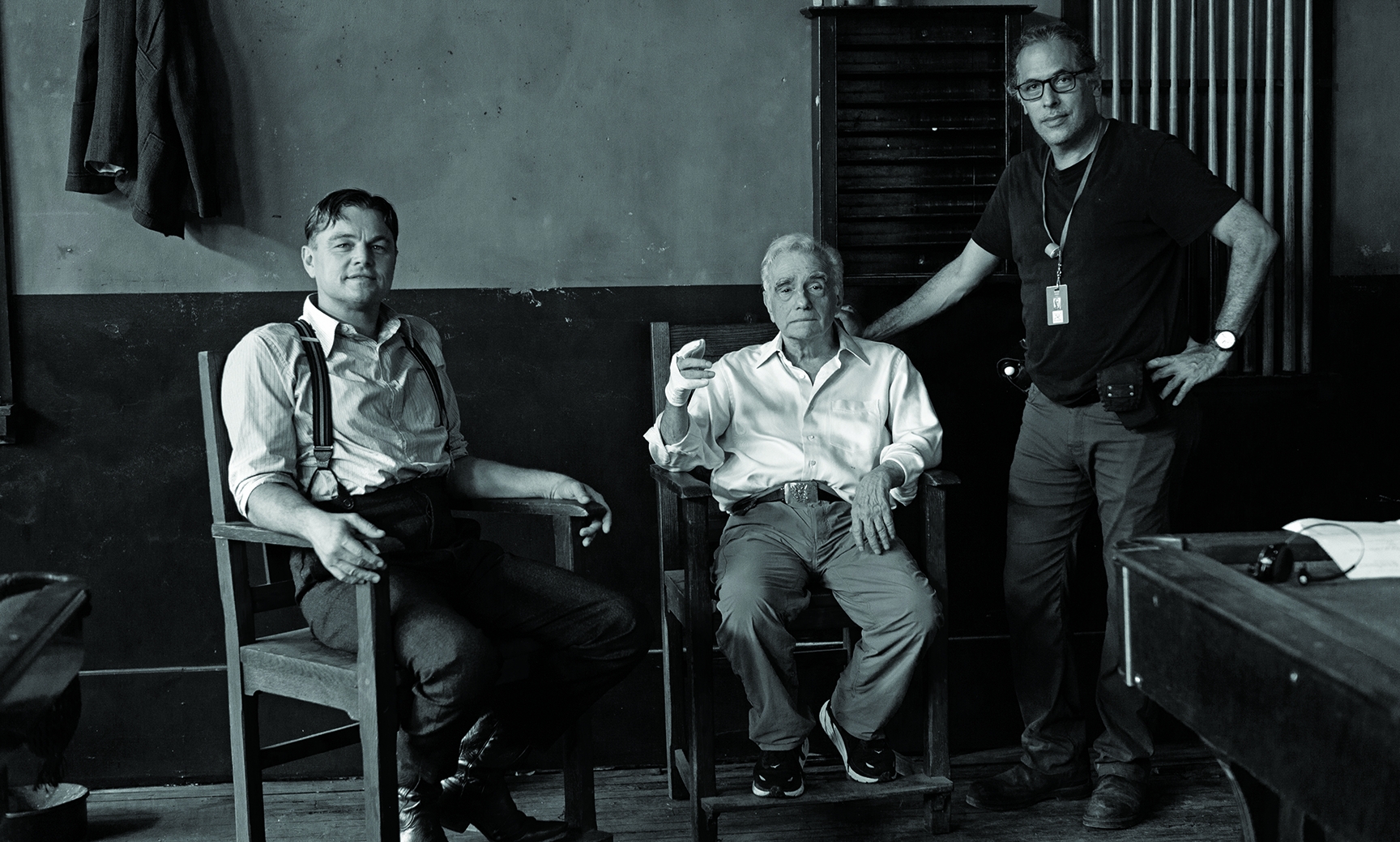 Leonardo DiCaprio, Martin Scorsese and Rodrigo Prieto, ASC, AMC on the set of Killers of the Flower Moon. (Photo by Melinda Sue Gordon, SMPSP)
December 2023 Issue of AC Closes Out Year
Our new edition of American Cinematographer features coverage of Killers of the Flower Moon, Saltburn, The Color Purple and The Zone of Interest.
ASC Staff
Subscribers will soon be receiving their print copies of this edition — Vol. 104 No. 12 — or an alert that our digital edition is live.
Inside this issue:
Rodrigo Prieto, ASC, AMC details his creative strategy on the period drama Killers of the Flower Moon — and director Martin Scorsese discusses his evolving work with Prieto and why "every picture should be a challenge."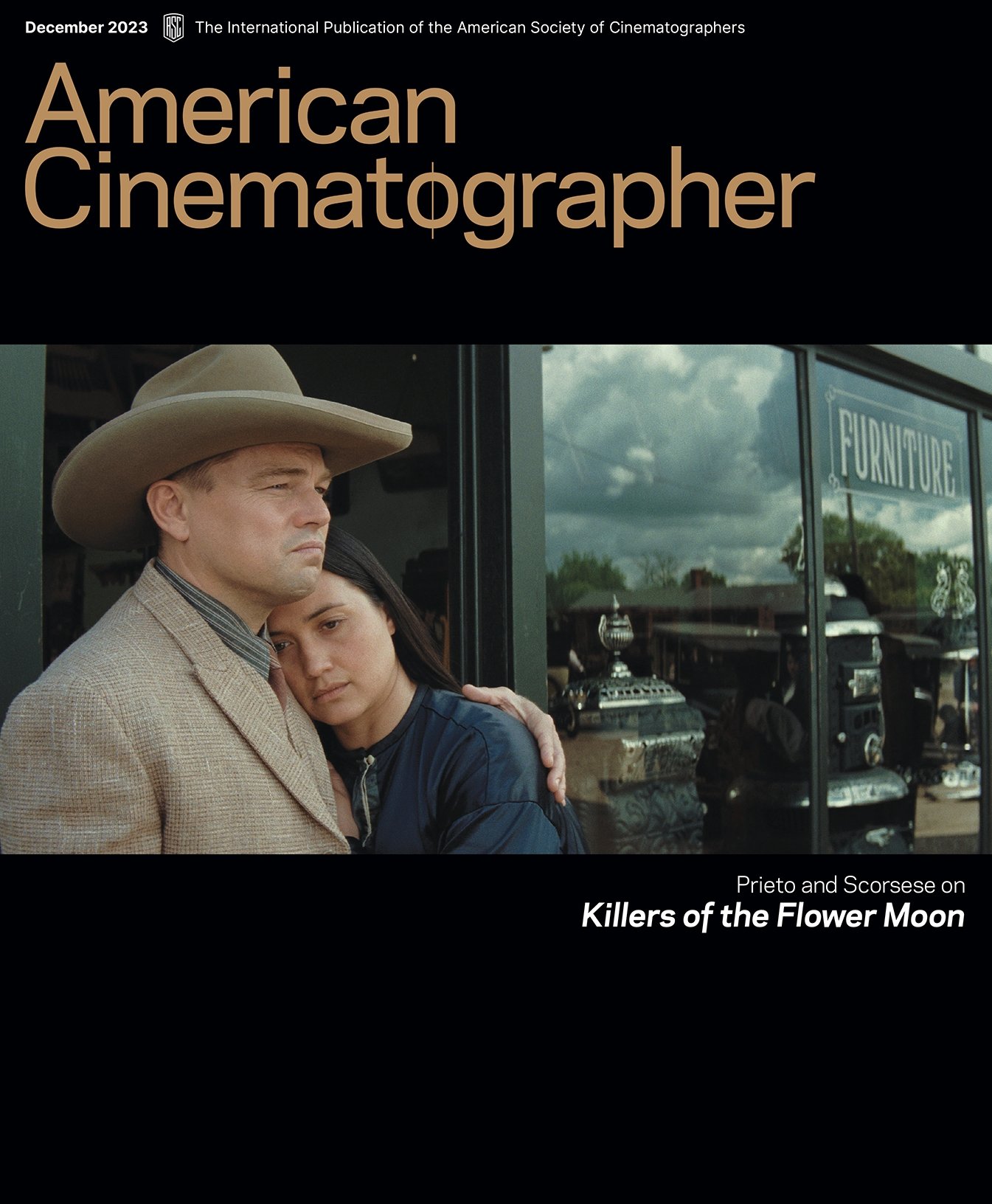 Linus Sandgren, ASC, FSF and director Emerald Fennell discuss the Gothic drama Saltburn, including why they strove to incorporate "a bit of ugliness" into the visual scheme — and producer Josey McNamara shares how the team approached shooting at a 14th-century estate.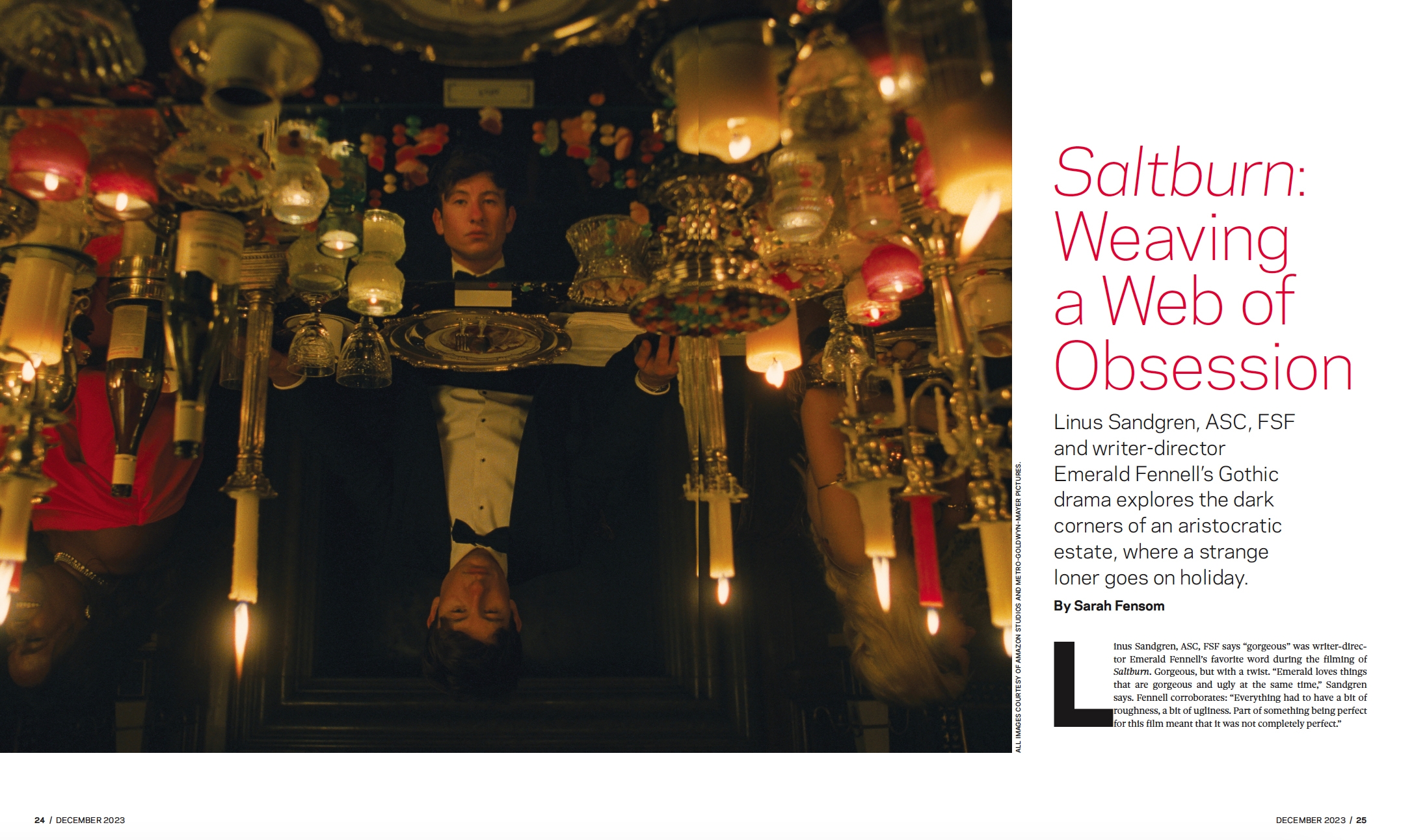 Dan Laustsen, ASC, DFF and director Blitz Bazawule illuminate their collaboration on the period musical The Color Purple — and producer Scott Sanders explains why Laustsen was a great fit for the project.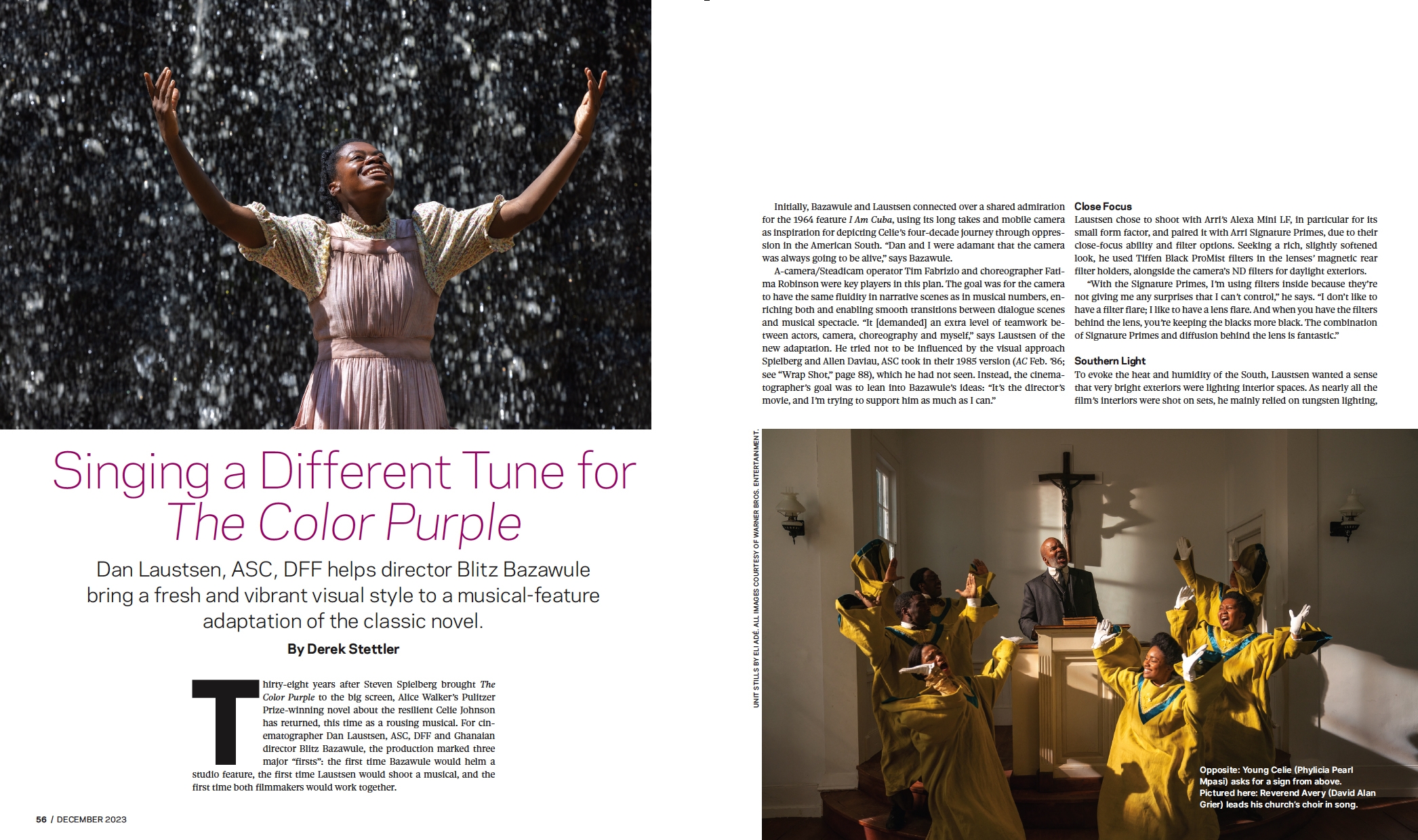 Lukasz Zal, PSC discusses creating a clinical perspective for the World War II drama The Zone of Interest — and director Jonathan Glazer and producer James Wilson offer their perspectives on the production.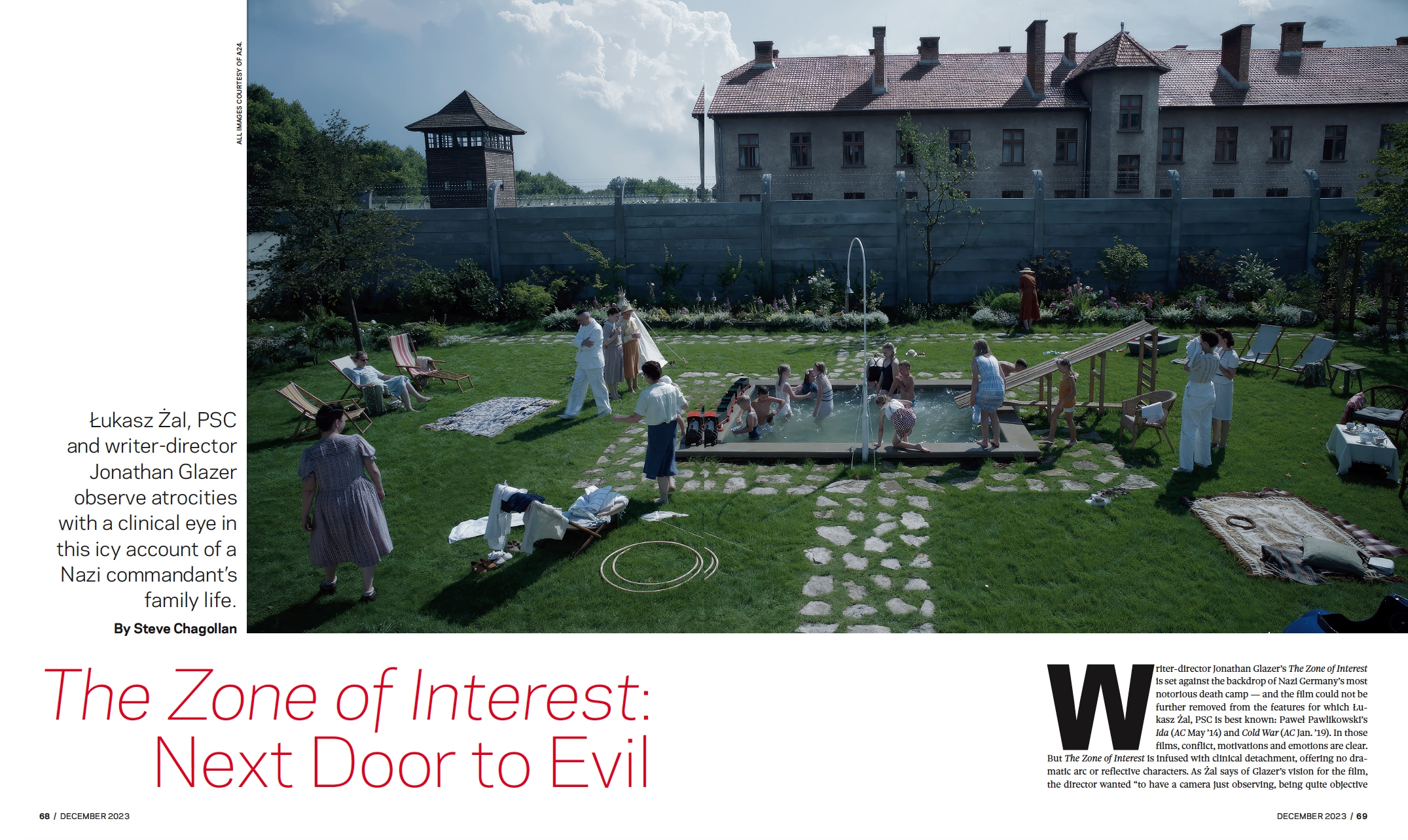 President's Desk: ASC President Shelly Johnson considers the importance of being adventurous with creative choices, especially in the digital era.
Shot Craft: Sixteen books that have much to teach about cinematography in particular and filmmaking in general.
The Virtual World: A look at the advances in artificial intelligence that are enabling more efficient motion capture.
Clubhouse News: The latest bulletins from the Society feature a showcase of members' still photography; the winners of the 2023 ASC Student Heritage Awards; new members Gavin Kelly, ASC and Luc Montpellier, ASC, CSC; an ASC Film Heritage Series presentation; an ASC panel at NAB New York; and an in-person Clubhouse Conversation.
In Memoriam: Pete Kozachik, ASC
Wrap Shot: The Color Purple (1985), shot by Allen Daviau, ASC and directed by Steven Spielberg.
Not an AC subscriber yet? Do it today.