Kodak Announces Deals with 6 Studios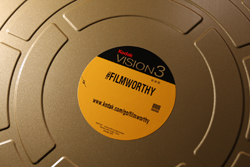 Kodak announced Feb. 4 that it has finalized new agreements with 20th Century Fox, Walt Disney Co., Warner Bros., NBC Universal, Paramount Pictures and Sony Pictures to continue supplying motion-picture film for movie and television productions.

The contracts with individual studios are for multiple years, according to Christopher K. Veronda, manager of corporate communications for Eastman Kodak Co. In an email interview with American Cinematographer, Veronda also clarified that the contracts cover all Kodak film products, including camera negatives and intermediate film stocks.

"This is great news for cinematographers everywhere, and I hope it opens some eyes across the industry," said ASC President Richard Crudo. "The world needs to know that film should always be a viable choice for image makers — that it's not a question of film or digital, but film and digital."

Kodak's press release about the agreements noted that current Academy Award nominees Boyhood, The Grand Budapest Hotel, The Imitation Game, Interstellar, Foxcatcher, Into the Woods, Leviathan, Inherent Vice and The Judge were all produced on film.

While film-processing facilities have shut down all over the world, Kodak has "maintained a close dialogue with the remaining labs," Veronda told AC.

He added, "Evidence of the interest in the long-term sustainability of film can be seen in the recent move toward mobile film-processing laboratory operations. Alpha Grip in the U.K. just announced such a plan."

Alpha Grip, which is based at Shepperton Studios, announced at the BSC Expo last week that it will launch a "lab in a lorry" by mid March. The mobile lab will include a darkroom, 4K-scanning capabilities and two trained technicians.