Lubezki Wins Oscar, Independent Spirit Award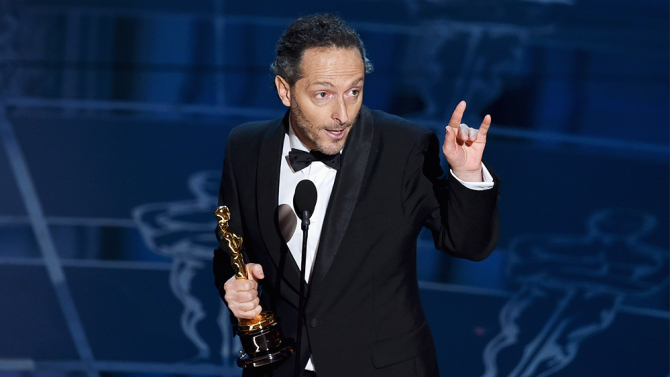 Emmanuel "Chivo" Lubezki, ASC, AMC, completed his run of awards-season triumphs last weekend by winning top honors for Birdman or (The Unexpected Virtue of Ignorance) at the Academy Awards and the Independent Spirit Awards. For his work on the movie, crafted to look like a single take through the use of handheld camera, Steadicam and carefully disguised transitions, he has also won an ASC Award, a BAFTA Film Award and a string of prizes from various film critics' associations.

Upon examining his Spirit Award onstage at the Feb. 21 ceremony, Lubezki observed, "It actually looks like a little Birdman. This is such a great honor. Thank you to the Spirit Awards. Of course, I want to share this with the cast and crew of the movie, especially … our actors, our fantastic producers and my friend, the director, [Alejandro] González Iñárritu, for your genius. You're a pain in the ass, but you're absolutely one of the greatest directors I've ever worked with."

The next evening, Lubezki won his second consecutive Academy Award. (He won last year for Gravity.) "It's much worse the second time because you know how horrible it is to go up there onstage — I was so nervous!" he admitted at Fox Searchlight's Oscars party. Winning back-to-back Academy Awards for cinematography is a feat last accomplished by John Toll, ASC, for Legends of the Fall and Braveheart.

Lubezki said he was a bit "baffled" by the avalanche of accolades Birdman triggered. "I have no idea why this movie did so well," he mused. "It was one of the most difficult movies I've ever shot, but I saw it as an arty project that might not connect with mainstream audiences. Who knows why these things happen?"

Asked to compare working with Iñárritu to working with Gravity director Alfonso Cuarón, Lubezki said, "Cuarón visualizes everything before we start shooting. He's very specific, and we do a lot of planning. Iñárritu prefers to see everything in front of him, and then we work things out from there."

Lubezki confessed he was a bit exhausted by awards season, noting that he'd flown to Los Angeles from the set of Iñárritu's The Revenant, a 19th century Western thriller shooting in Alberta, Canada. "We're doing a lot of exterior work with natural light and Steadicam," he said. "The lenses are very wide and close to the actors. It's extremely visceral. The temperature has dropped as low as -30°C [-22°F], and we've been experiencing some difficulties with the equipment. At one point, it got so cold our monitors froze!"