All Videos
Clubhouse Conversations — 2020 Amazon Studios Emmy Nominees Roundtable
In this 85-minute video, cinematographers M. David Mullen, ASC (The Marvelous Mrs. Maisel); Jeff Cronenweth, ASC (Tales from the Loop) and Jas Shelton (Homecoming) are joined by interviewers Larry Sher, ASC  and Eric Steelberg, ASC. During this in-depth dialogue, the subjects discuss their Emmy-nominated cinematography in their respective Amazon Prime series and the state of shooting for television with all its inherent challenges — including the art of collaboration with other cinematographers who may be contributing to their series and how to maintain a consistent overall look to the show.
Participants
Once onboard the Tales From the Loop production, director Mark Romanek wasted no time in approaching longtime collaborator Jeff Cronenweth (below, on far right) to photograph the pilot episode, "Loop."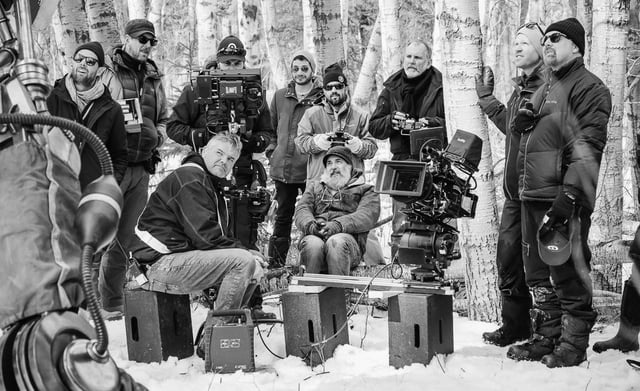 The filmmakers first worked together on Michael and Janet Jackson's 1995 Scream video, photographed by Harris Savides, ASC. Cronenweth was the B-camera operator on that project, and he went on to shoot many music videos for Romanek, as well as One Hour Photo, the director's 2002 feature. The cinematographer's other feature credits include Down With Love, Fight Club, The Social Network, The Girl with the Dragon Tattoo and A Million Little Pieces.

You'll find a previous Clubhouse Conversation interview with Cronenweth focused on Tales From the Loop here.
Born in Texas, Jas Shelton (below, left of monitor) served as an electrician and gaffer before shooting the comedy drama feature Cyrus. He followed this by photographing the comedies Keanu, The House and Like a Boss. His other television credits include Dating Rules from My Future Self, Togetherness and the pilot of Jean-Claude Van Johnson.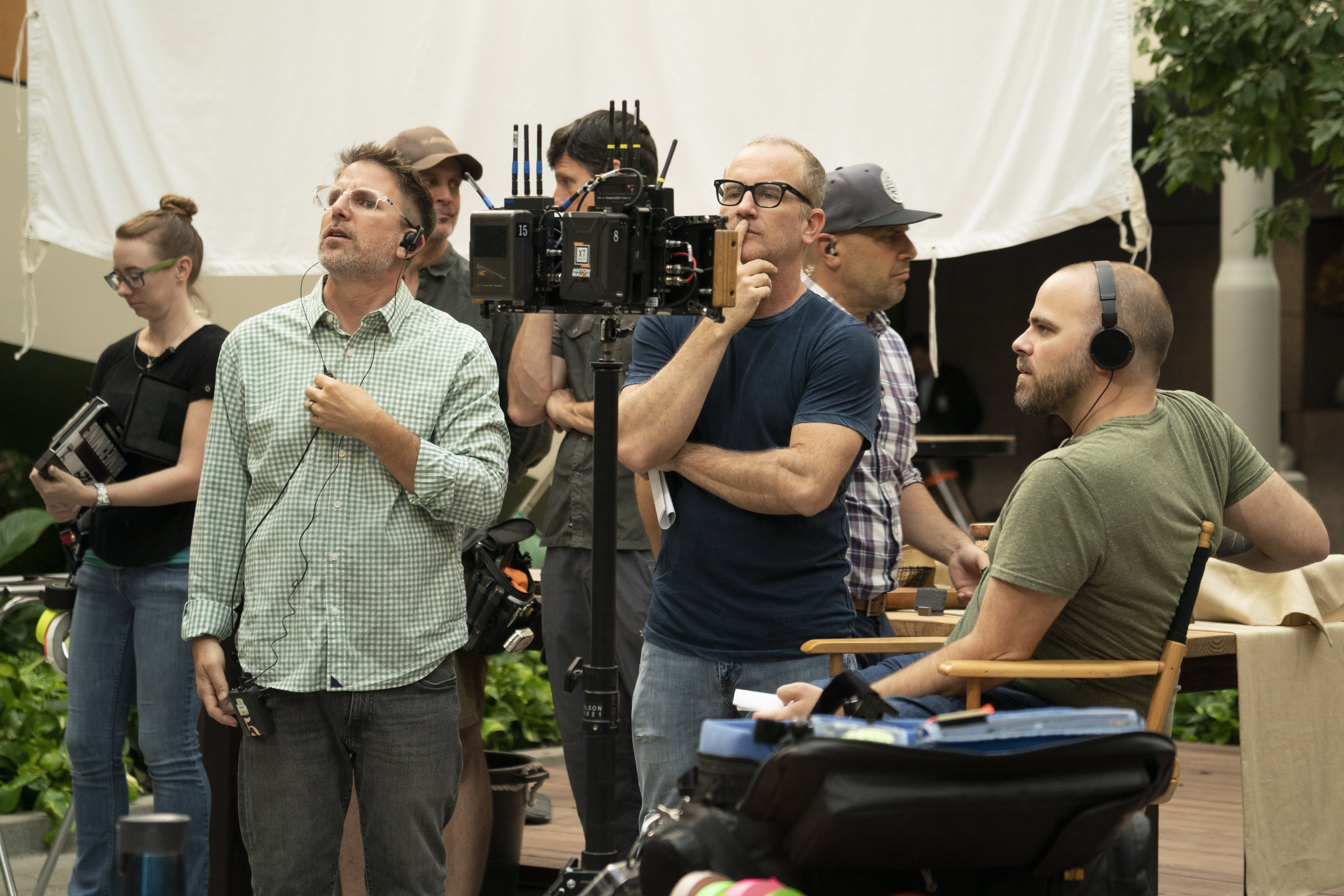 You'll find a previous Clubhouse Conversation interview with Shelton focused on his work in the second season of Homecoming here.
M. David Mullen (below, far left) studied filmmaking and cinematography at the California Institute of the Arts (CalArts), where he received his Master's Degree. Since then, he has shot almost 40 independent features, plus several television series and pilots.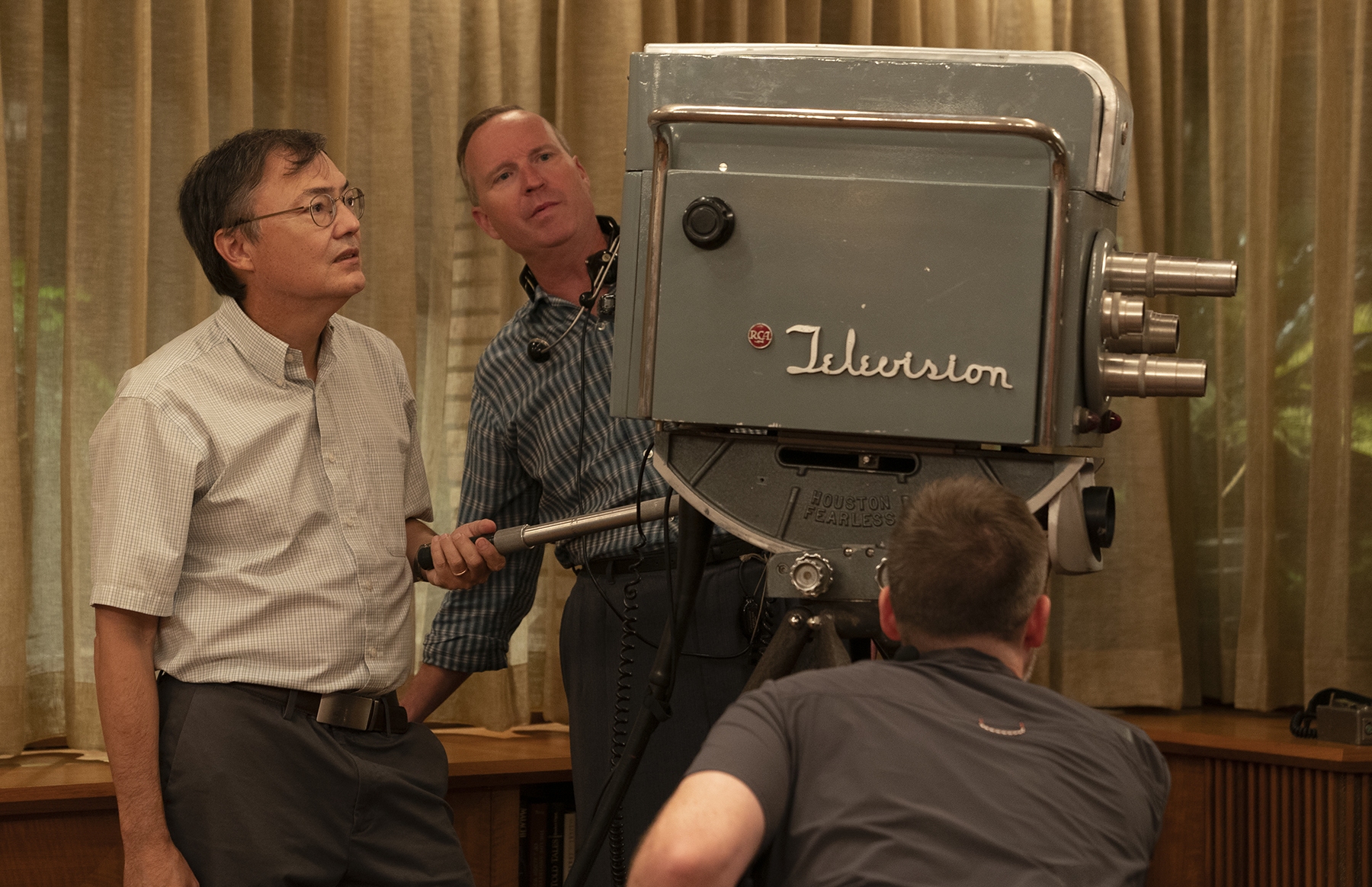 He was nominated for the IFP Independent Spirit Award for Best Cinematography in 2000 for Twin Falls Idaho and again in 2004 for Northfork. Mullen won the Dublin Film Critics Circle Award for Best Feature Cinematography in 2017 for The Love Witch. He was twice nominated for an Emmy and ASC Award for The Marvelous Mrs. Maisel, winning the Emmy for Outstanding Cinematography for a Single-Camera Series (One Hour) for the series' second season. His other recent television work includes Get Shorty, Westworld and the pilot episode of Designated Survivor.

You'll find a previous Clubhouse Conversation interview with Mullen focused on The Marvelous Mrs. Maisel here.
Interviewers
Born in New Jersey, Larry Sher attended Wesleyan University, where he studied economics. During the program, he took a course in film history, which sparked his passion for cinema. After graduating, Sher relocated to Los Angeles, where he served as a camera assistant and gaffer before working his way to director of photography. His credits include Kissing Jessica Stein; Garden State; I Love You, Man; Paul; The Dictator and Godzilla: King of the Monsters. His most recent feature, Joker marked the sixth collaboration between Sher and director Todd Phillips, following The Hangover trilogy, Due Date and War Dogs. For his camerawork on Joker, Sher earned the Golden Frog at Camerimage and Academy and ASC Award nominations.
A native of Los Angeles, Eric Steelberg's upcoming 2021 supernatural comedy Ghostbusters: Afterlife is the cinematographer's eighth feature film collaboration with director Jason Reitman, following The Front Runner; Tully; Men, Women & Children; Labor Day; Young Adult; Up In the Air and Juno. His other credits include 500 Days of Summer, Baywatch and the period biopic Dolemite Is My Name.

You'll find more episodes in this discussion series here.