All Videos
Clubhouse Conversations — Halo
In this 49-minute episode, cinematographer Karl-Walter Lindenlaub, ASC, BVK discusses his work in this Paramount Plus sci-fi series, based on the popular video game trilogy, as interviewed by ASC associate member and American Cinematographer technical editor Jay Holben.
"What I also really find attractive about these bigger projects like Halo are the world-building aspects, when all the departments are working together to create something unique to the story," Lindenlaub recently told AC. "You have to create almost everything from scratch."
In the Halo game, players can take on the role of a supersoldier "Spartan" named Master Chief, who serves on the front lines against an alien alliance called the "Covenant" that's bent on total interstellar domination. The streaming series casts actor Pablo Schreiber as the genetically engineered champion, and sees him tearing off to various planets — worlds that are well-known to players of the video games — in his dual (and sometimes conflicting) missions to save the human race and the humanity within himself.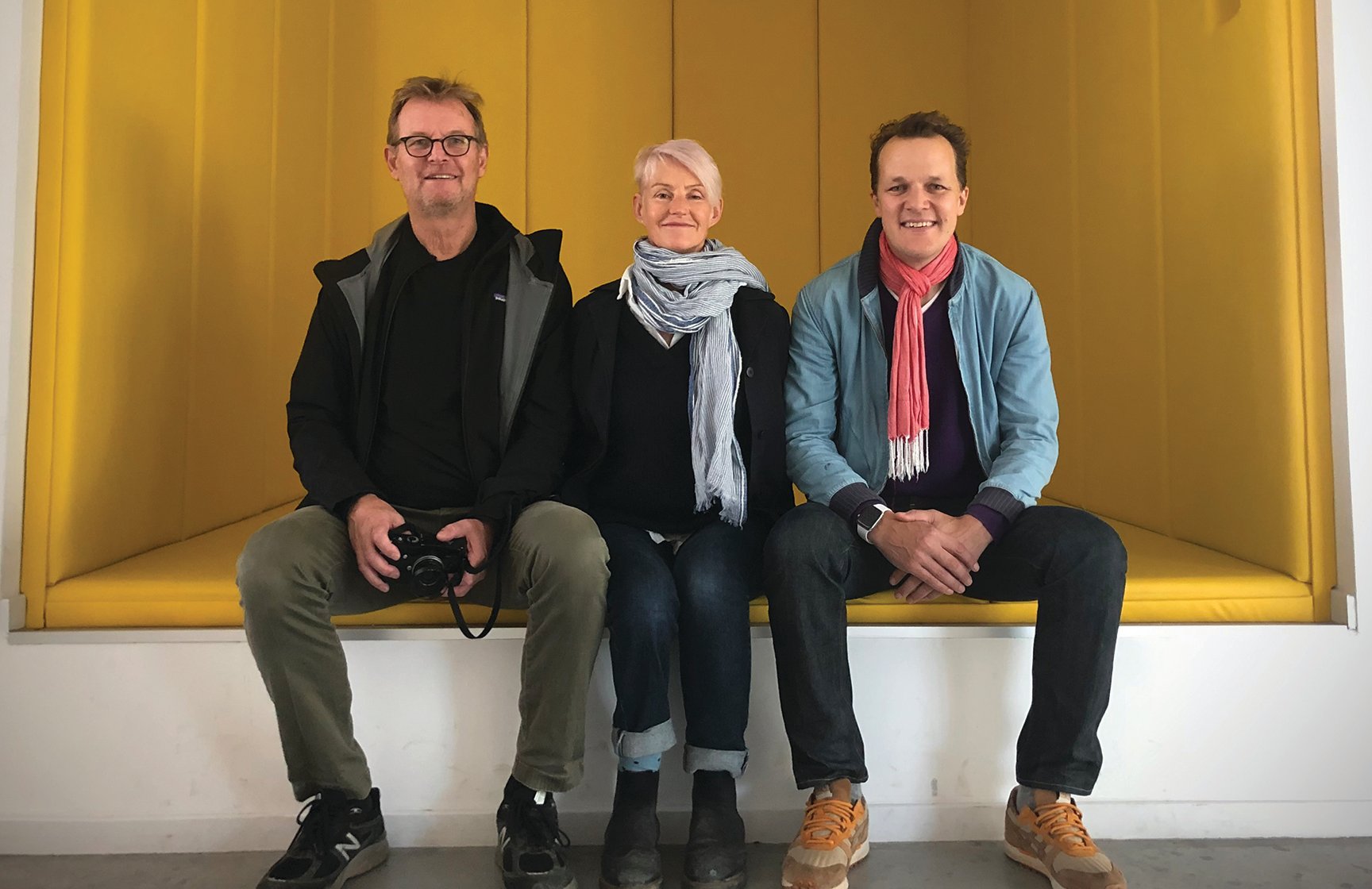 Two of Lindenlaub's key visual collaborators on Halo were production designer Sophie Becher and director Otto Bathurst (the trio seen together above during a scout), who started their design work on the series a few months before the cinematographer was brought aboard.
The project was shot at Korda Studios — a state-of-the art film-studio complex outside of Budapest, Hungary, where Halo occupied seven of the facility's largest stages. Here is an example of one set, a temple built on Stage 6 (click on diagram to enlarge).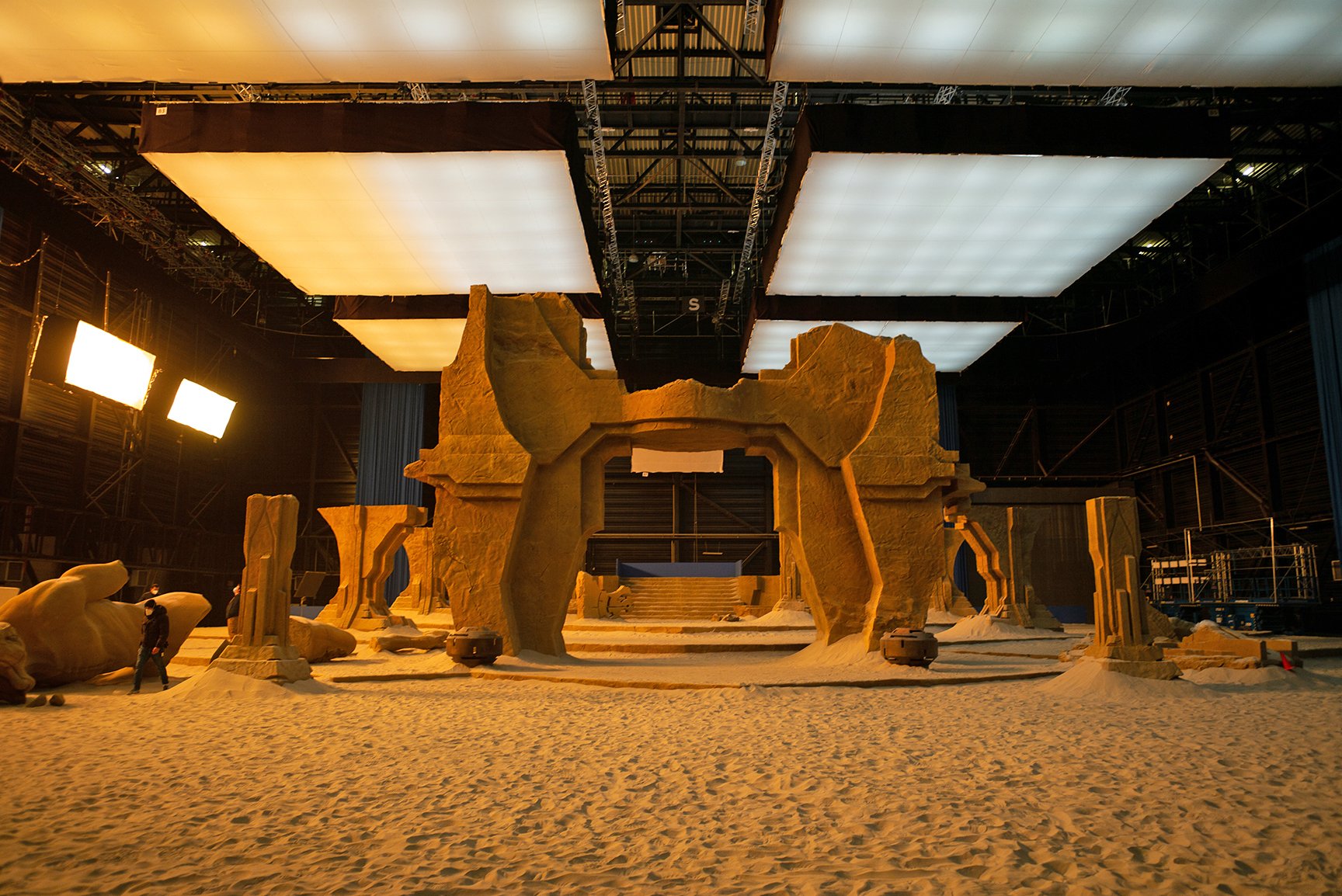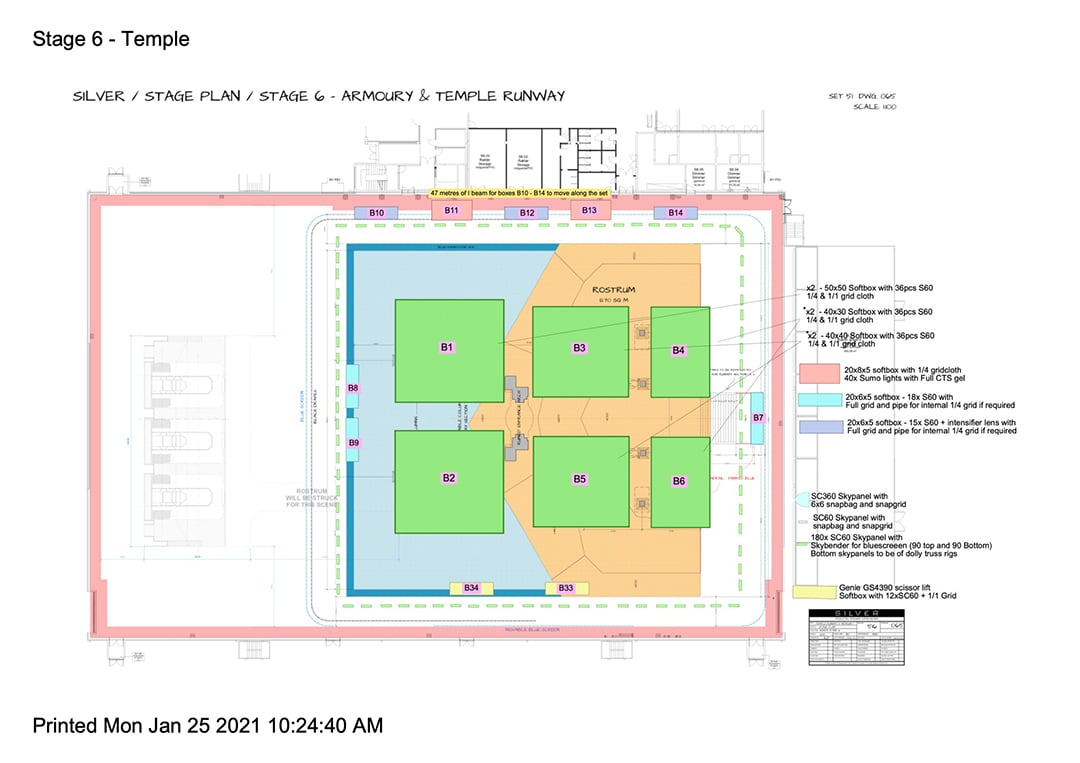 The cinematographer primarily relied on Arri Alexa LF and Mini LF cameras paired with Arri Signature and Arri Rental Munich DNA primes (the latter of which were used for flashback sequernces), while Blackmagic Design Pocket Cinema Camera 6Ks and Sigma fp units with Venus Optics Laowa Zero-D primes were used as helmet cams. (A Sigma fp is seen below, mounted within a Smallrig cage.)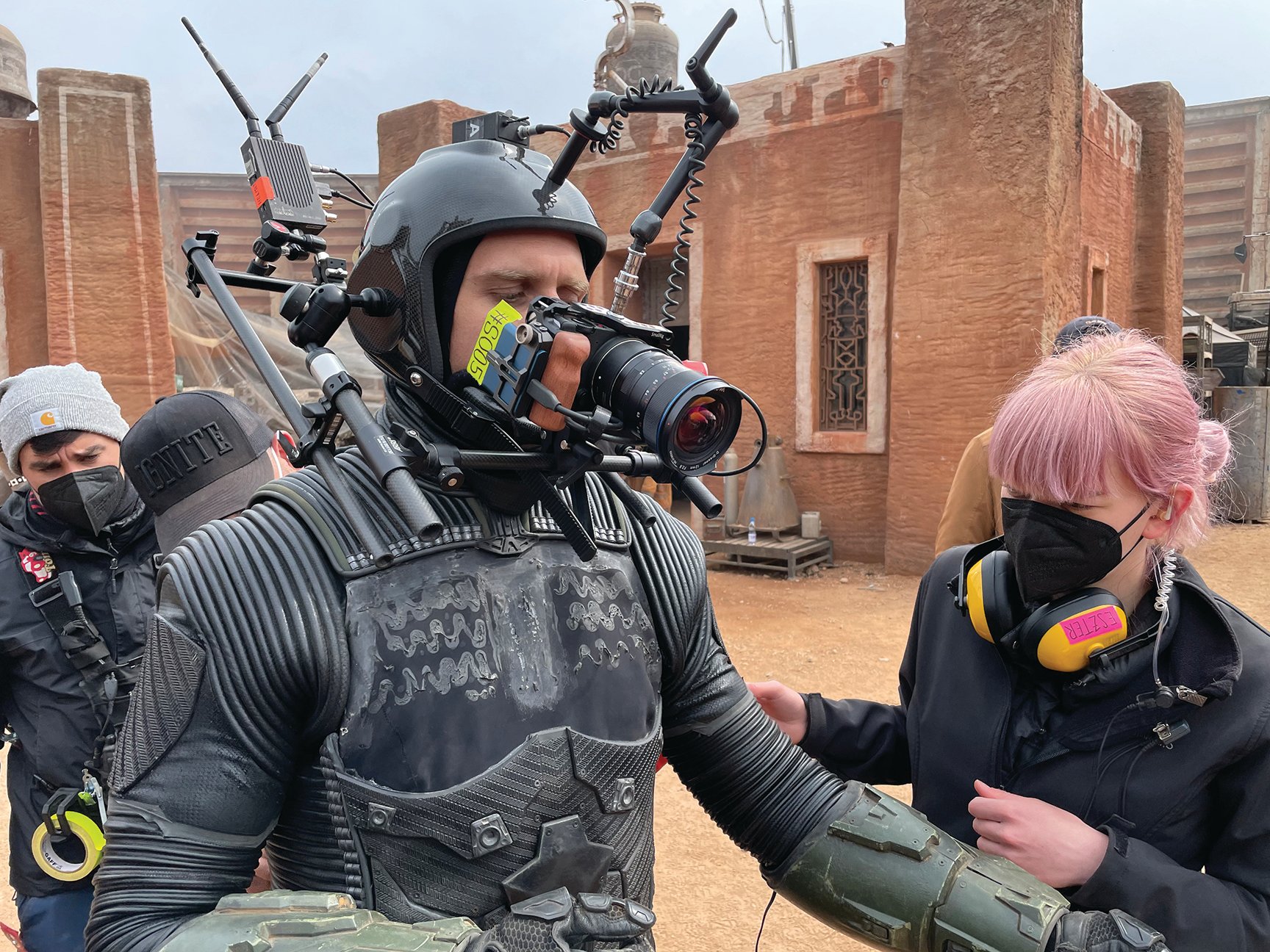 Lindenlaub served as cinematographer on Episodes 5, 6, 8 and 9, as well, with director Jonathan Liebesman. Additional episodes were shot by Eric Kress and Ed Wild, BSC (the latter of whom also shot portions of Episode 9).
A native of Germany, Lindenlaub studied his craft at the Academy of Television & Film in Munich (HFF), before earning a scholarship to further his studies at England's renowned National Film and Television School. Following early cinematography credits on student films he established ongoing associations with such filmmakers as Michael Caton-Jones (Rob Roy, The Jackal and City by the Sea), Wayne Wang (Maid in Manhattan, Because of Winn Dixie), Garry Marshall (The Princess Diaries, Georgia Rules), Jon Avnet (Up Close and Personal, Red Corner) and fellow German filmmaker Roland Emmerich, with whom he has collaborated seven times. His work with Emmerich includes the sci-fi epics Independence Day and Stargate, as well as Universal Soldier and Moon 44 (for which he earned a German Camera Award).
Lindenlaub has also worked with such directors as Jan de Bont, ASC (The Haunting), Paul Verhoeven (Black Book) and Bob Dolman The Banger Sisters). Other notable credits are The Chronicles of Narnia with Andrew Adamson directing for Disney, and Ninja Assassin, produced by the Wachowskis and directed by James McTeigue. A Dolphin Tale with Charles Martin Smith directing, was shot in 3D.
His other recent credits include Houdini, directed by Uli Edel and starring Adrien Brody (for which the cinematographer earned an Emmy nomination); Driven, directed by Nick Ham; the 13-part Season 2 of the science series Cosmos with Neil deGrasse Tyson; and director Anna Foerster, ASC's Underworld: Blood Wars, starring Kate Beckinsale.
Lindenlaub is currently working on the Apple+ series For All Mankind.
Holben is an independent director and producer in Los Angeles. A former ("recovering") cinematographer, he is an associate member of the American Society of Cinematographers, the chair of the ASC Motion Imaging Technology Council's Lens Committee, and a technical contributing editor for American Cinematographer. He has authored over 500 articles on the art and science of cinematography and is an international lecturer on the subject as well as serving as a faculty instructor for the Global Cinematography Institute, a school stated by the late Academy Award-winning cinematographer Vilmos Zsigmond, ASC, HSC.
He is the author of three books on cinematography: A Shot in the Dark: A Creative DIY Guide to Cinematic Lighting on (Almost) No Budget, Behind the Lens: Dispatches from the Cinematographic Trenches, and the newly released reference The Cine Lens Manual (co-authored by Christopher Probst, ASC).
He is also the director and producer of Before the Dawn.
Reporting by Iain Marcks. His complete feature story on Halo will appear in the July 2022 issue of American Cinematographer.
---

You'll find all episodes in our ASC Clubhouse Conversations discussion series here.