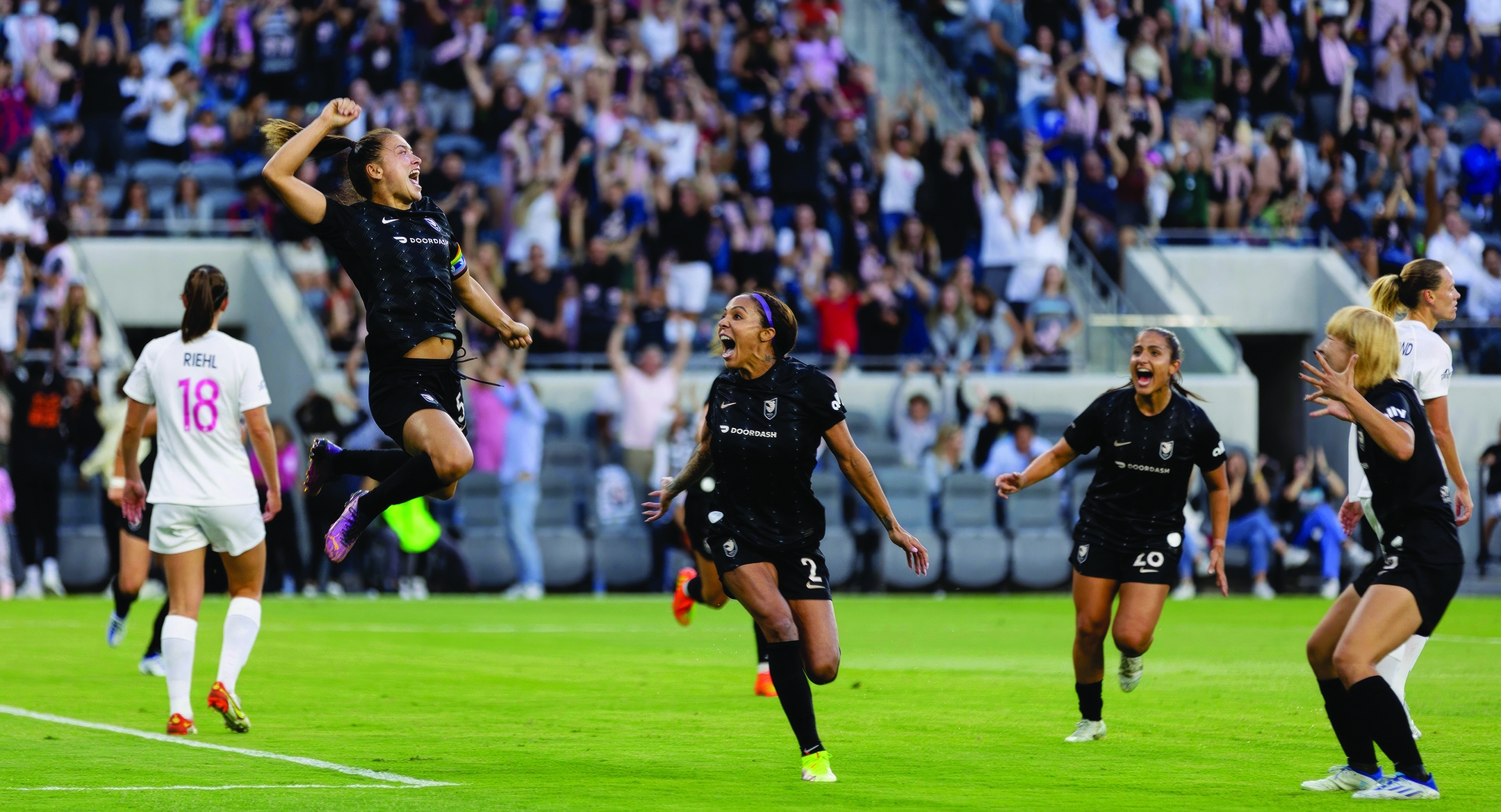 Angel City Football Club players (from left) Ali Riley, Sydney Leroux, Lily Nabet and Jun Endō celebrate Riley's goal against the San Diego Wave Football Club.
Angel City: Purpose on the Pitch
Director-cinematographer Arlene Nelson, ASC leads the filmmaking team capturing the kickoff of a new National Women's Soccer League club.
Sarah Fensom
All images courtesy of Angel City Football Club and Max. Photos by Will Navarro, Tenesha Sanders, Vanessa Elliott and Sean Mullens.

The docuseries Angel City tracks a brand-new expansion team as it navigates its early days, when neither its players nor its front office — nor the film crew documenting it all — are ever quite certain of the challenges that await them. "The unpredictable nature of a vérité sports documentary requires nimble flexibility," says Arlene Nelson, ASC, who served as director and cinematographer for the HBO series' first three episodes. "This story required a massive scale shift throughout the season, from 'fly-on-the-wall' single camera to upwards of eight camera crews."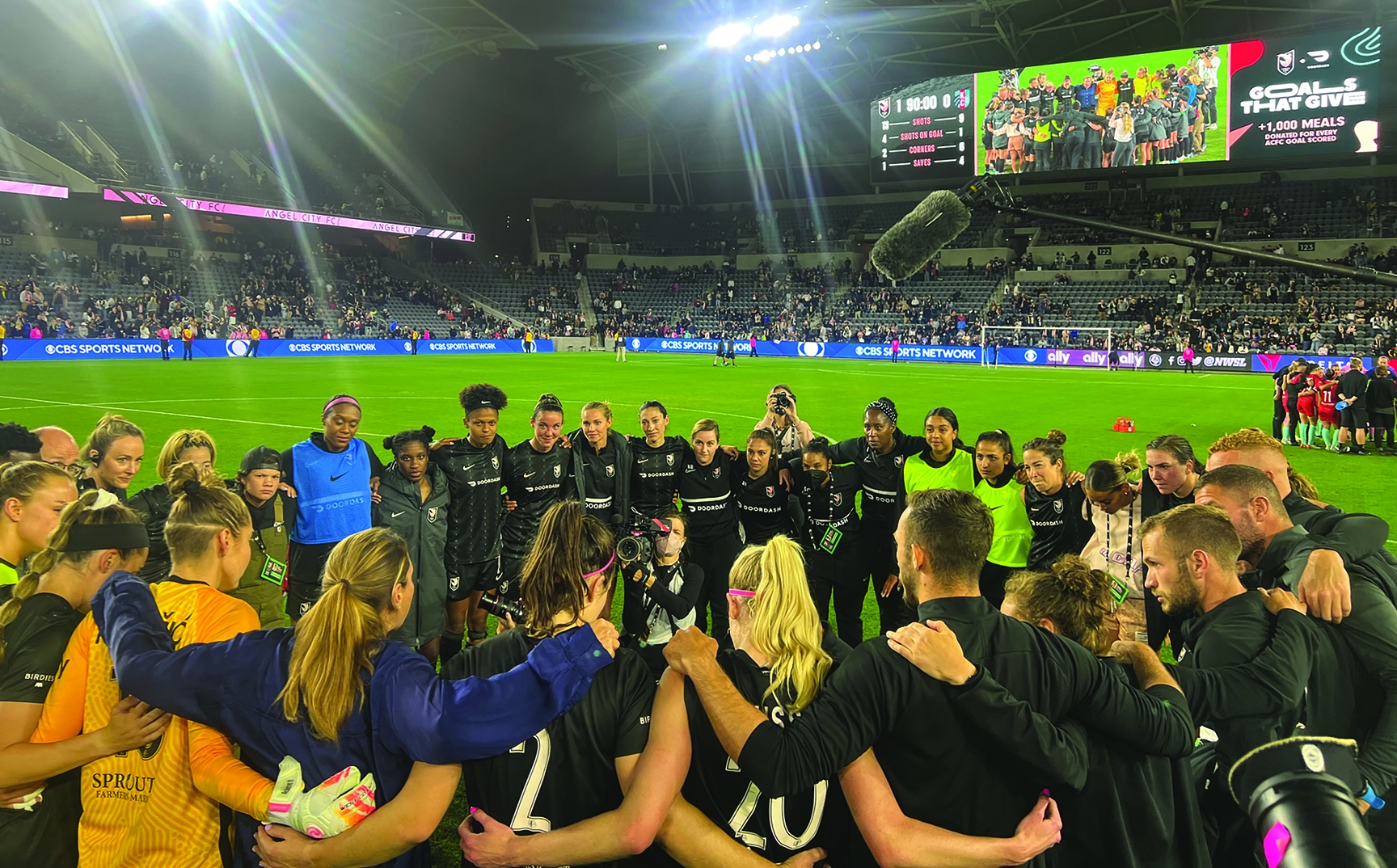 Nelson, a documentary veteran with extensive cinematography and directing credits, met this challenge with cinematographers Emily Topper (Pretty Baby: Brooke Shields), Turner Jumonville (Changing the Game), Yamit Shimonovitz (Sex, Love & Goop) and Sherri Kauk (LOEV; see Filmmakers' Forum, AC April '18), as well as camera operators Domenic Zanghi and Austin Porter, whom Nelson tapped for their sports-cinematography expertise.
"This story required a massive scale shift throughout the season, from 'fly-on-the-wall' single camera to upwards of eight camera crews."
A Sports Startup
Led by founders Natalie Portman, Kara Nortman and Julie Uhrman and leading investor Alexis Ohanian — with support from investors including Jennifer Garner, Eva Longoria, Jessica Chastain and Christina Aguilera — the club's formation was rooted in Hollywood's Time's Up movement. Its mission is to not only win, but to also make a substantial impact on the community, and it appears to be succeeding on both counts: Angel City finished its inaugural season with the second-best on-field record of any expansion team in National Women's Soccer League history, and its corporate partnerships have fueled L.A. initiatives in education, food security, sports equity and gender equality.
Angel City takes shape around ACFC co-founder Uhrman, a media/gaming entrepreneur who serves as club president, and the excitement of building a business from scratch is matched by the suspense on the pitch. Nelson and her team of cinematographers were continually inspired by the drama as they moved in and out of stadiums, locker rooms, offices, airports, practice fields and players' apartments.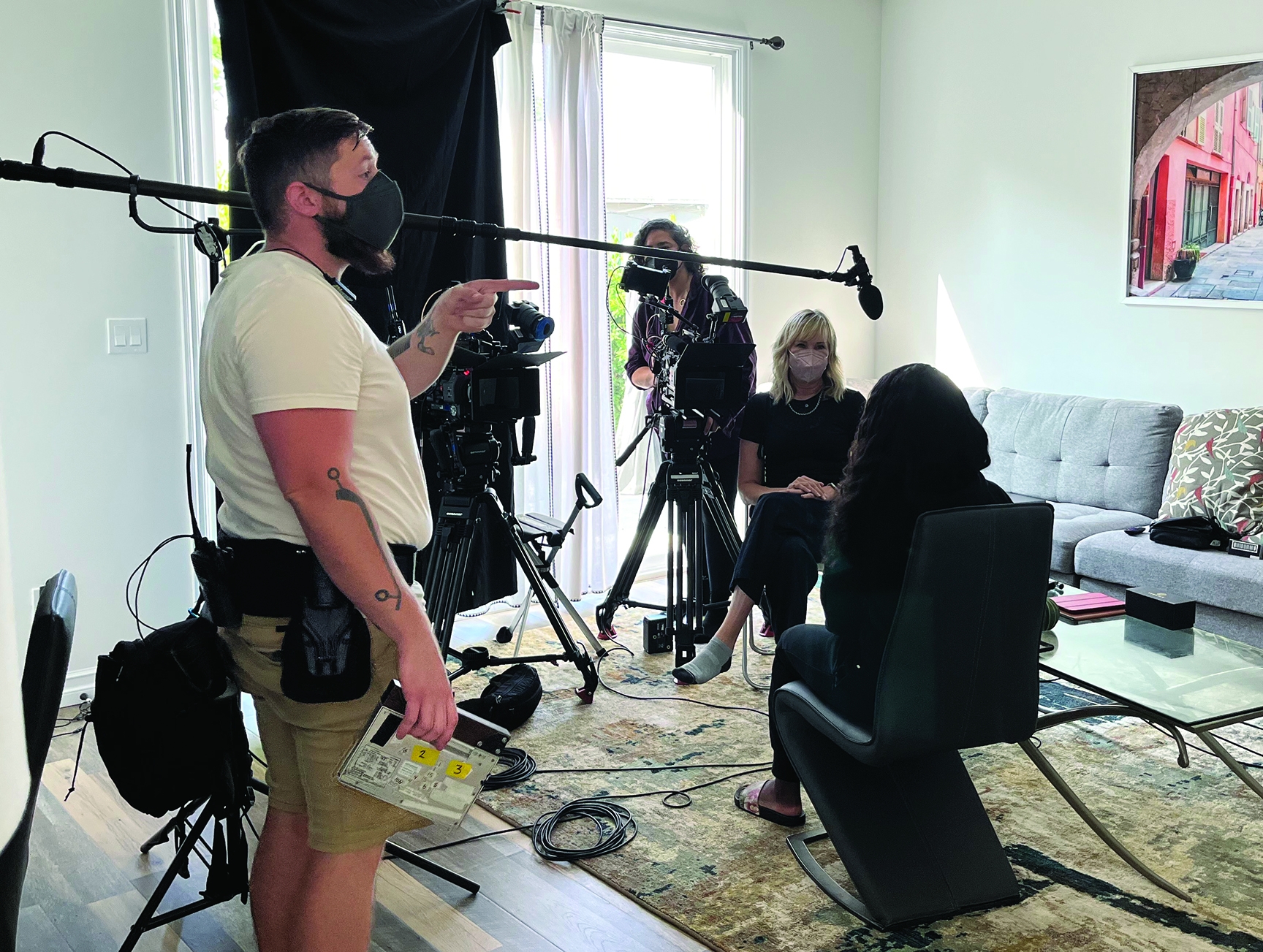 Pivotal Moments
Topper began picking up shots in 2021, working alongside producer Christine O'Malley and sound recordist Theresa Radka before Angel City officially became a series and Nelson signed on. It was "total indie-doc style," Topper says. She captured some pivotal meetings — including the hiring of ACFC sporting director Eni Aluko and head coach Freya Coombe and the drafting of players — and some slice-of-life moments around Uhrman's house and office, establishing the executive's energetic personality.
Keeping gear minimal and out of the way was essential. "It was all about being able to disappear in the rooms, staying really small and quiet," says Topper, who used Canon EOS C500 and C300 cameras paired with Canon CN-E primes for this material.
To capture the team's first string of practices, Topper expanded her package, adding a Canon CN-E 30-300mm (T2.95-3.7) zoom lens. "We'd often use an IB/E 2x optical extender, too," she adds. "Because of how windy the practice field was, we had to have a really heavy pair of sticks and two people, so I was working with a camera assistant during the team practices. Using that really long lens, I could be on the sidelines and still get interesting stuff, not just wide shots."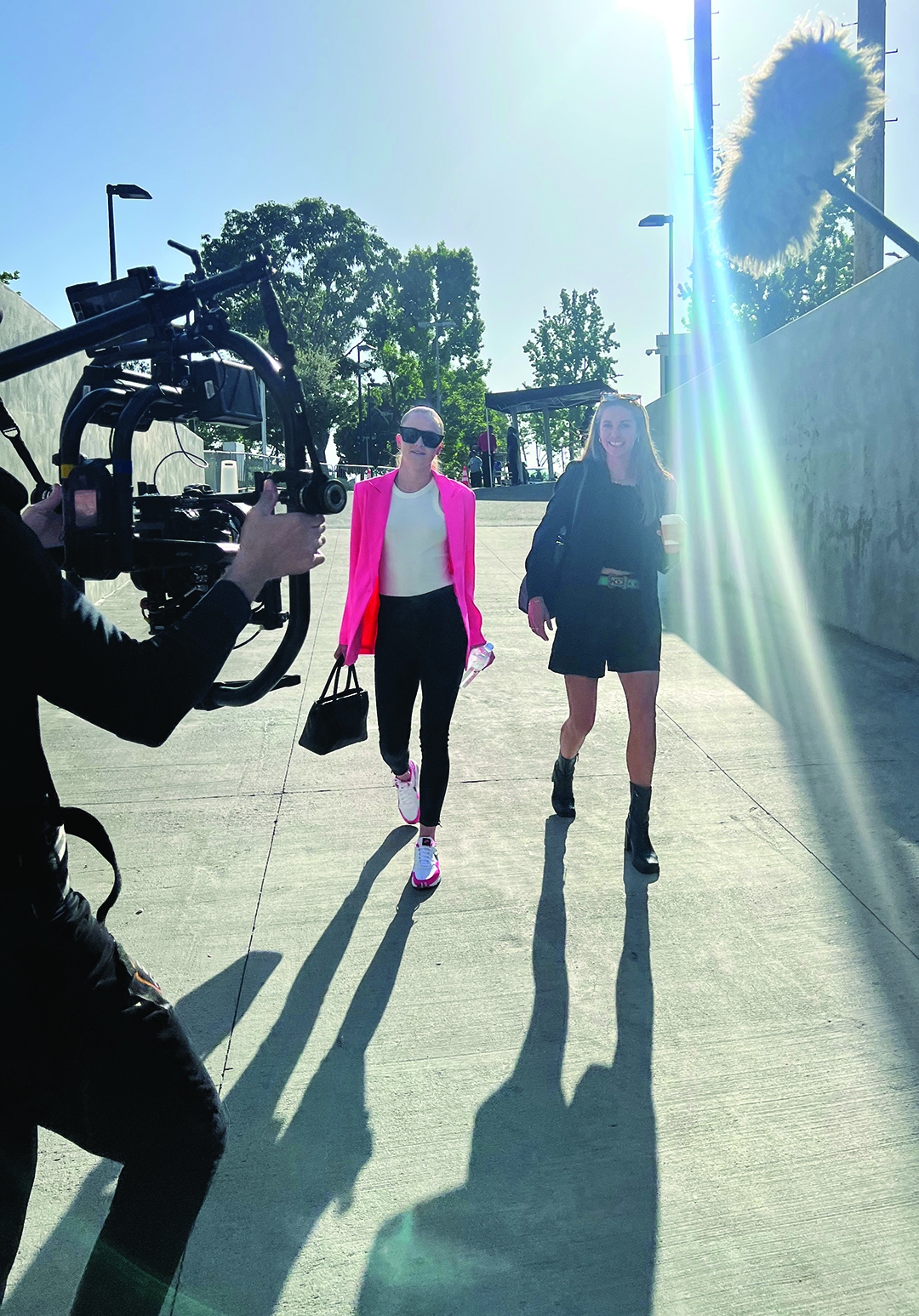 An Expanded View
Nelson came onto the project as the 2022 preseason got underway — necessitating the growth of the production's scope as the regular season was about to take off.
"There were only four characters when I started," Topper says, "[and by the time] you add the players, coaches and fans, there are 60-70 potential characters and so much story around you." Nelson adds, "Not only were we filming the soccer side of things, but this story is about a grand experiment of building a soccer club from the ground up and doing it differently — which means they are writing the playbook as they go."
For principal photography, Nelson carried two Sony PXW-FX9s and one Sony ILME-FX6 at all times, along with a set of TLS-rehoused Canon FD primes, and Angénieux EZ-1 45-135mm and EZ-2 22-60mm T3 Full Frame zooms. For matches, she usually deployed three or four camera teams with additional FX9 and Arri Amira cameras. "We needed to cover the locker room, the games themselves, the multitude of supporters in the stands, the leadership in [the front office], and specific players we would be following depending on story," Nelson says.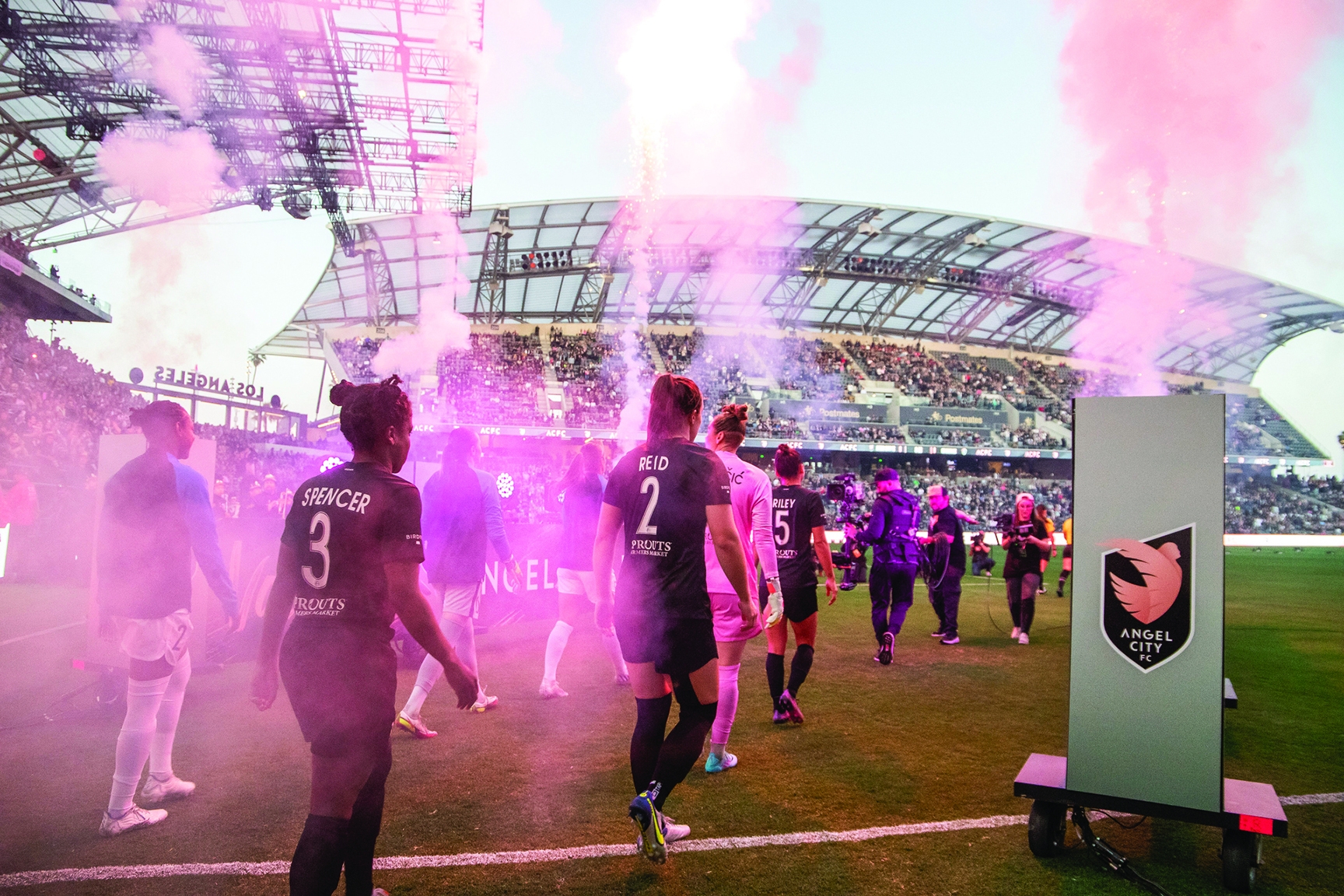 Expert Eyes
Zanghi and Porter, whose pro-sports experience includes shooting for NFL Films, were essential for the game coverage. "I wanted viewers to be able to see the sweat coming off the athletes, to see bodies clashing, and to give the players the heroic treatment they deserve," Nelson says. "It was really important to us to make sure these pro women's soccer players were being covered in the way that male athletes and their games are. [Zanghi and Porter] brought this visceral cinematography, and they got so much dynamic, rich footage."
Encouraged to choose their own gear, Zanghi and Porter opted for Arri Alexa Mini LF and Amira cameras. "The Arri viewfinder system is the best that exists for shooting fast-action sports, because of almost no latency with the image," says Zanghi. "Split-second delays make a big difference when you're shooting players running full speed at 120 and 200 fps. For on-field action, I used a Canon [Cine-Servo] 50-1000mm [T5.0-8.9], giving me the ability to get as tight on the action as possible and allowing us to show the emotions on the players' faces."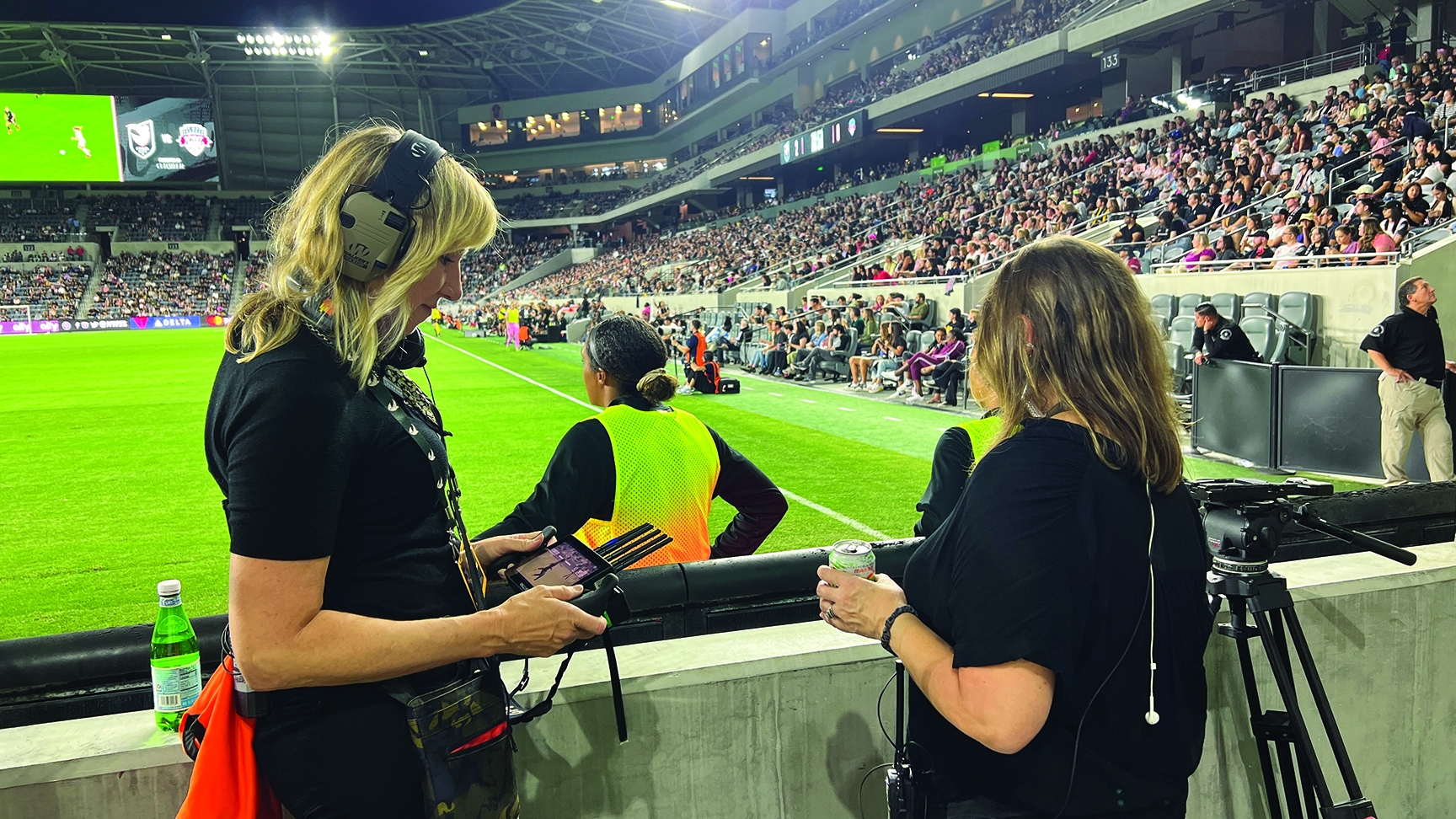 Going by Instinct
Some games, like an away match against Racing Louisville FC, were smaller shoots. "We weren't scheduled to cover the game, but being a director who can also shoot, I had this instinct that I needed to be there," Nelson says. "It was just me, a sound person and an AC."
Her hunch paid off. During that match, Christen Press, Angel City's lead striker, was injured, drastically altering the trajectory of the season. "It would have seemed daunting if I stopped and thought about covering a regular-season game with a single camera and so many moving story parts," Nelson says, "but I just put my eye to the eyepiece, got into the moment and followed the story — and Christen Press getting injured became the story."
Not long after, Nelson received word that Press' replacement, Sydney Leroux, was flying into LAX, so she got in her car with her FX6, which she kept in her home studio, and was able to capture the striker's first few moments in Los Angeles.
Vérité With a Movi
During practices and games, Jumonville often used a Freefly Movi Pro with an FX6 to get dynamic shots of the action. "Turner is a master at Movi," says Nelson, using a chef's-kiss gesture, "and he's able to do vérité with a Movi, which is a rare ability."
Jumonville frequently paired the Movi with a Ready Rig GS stabilizer vest so he could shoot for longer intervals. "Otherwise, I can give you a minute or two," he says with a laugh. "But with the vest on, I can shoot for — I don't want to even admit this — 45 minutes or an hour if it takes that. I've embraced Movi in the doc space. It's a great tool as long as you're moving."
Jumonville used prime lenses with the Movi. "We weren't using any zooms, and we were using the 55mm and the 35mm [vintage Canon FD primes rehoused by TLS] the majority of the time." Shooting outside, he also used polarizers with a Wooden Camera Zip Box Pro matte box to minimize weight. "You can get a polarizer on there, a diopter on there, and it's super easy, especially for a Movi or gimbal situation when you don't want to put a ton of weight on the front with a matte box," Jumonville explains.
All About Optics
Nelson remarks that the 50-1000mm Cine-Servo used by Zanghi and Porter is "an incredible, far-reaching lens." Shimonovitz notes that she also employed it during the home opener, when she was positioned on the field. "It allowed me to immerse myself in the heart of the game, capturing the players in action as they unleashed their skills and determination," Shimonovitz says, adding that she was able to shoot a range of "epic slow-motion shots to the high-energy regular-speed sequences."
Throughout the shoot, Nelson most often paired the main FX9 and FX6 cameras with the Angénieux EZ-1 and EZ-2 zooms. Camera operator Janette Staub found the FX9 and EZ-1 zoom lens particularly effective during games, especially when teamed with an Easyrig. "With the lens so lightweight, I found myself being incredibly mobile and versatile," Staub says. "Filming in such a fast-paced scenario, this was pretty key. Whether it was backtracking with Natalie Portman throughout the stadium and into the fan section to lead a cheer, or on the field capturing players postgame, I had the right tools at my disposal to capture their story efficiently."
Topper agrees that the Angénieux zooms were essential for multi-camera games such as the home opener. "Primes aren't going to work for an eight-camera day," she says. "When it's just a single camera, primes are fine, but once it turns multicam and you're dancing around with other operators, you need zooms so you don't get in each other's shots."
Players Up Close
The aesthetic for player interviews was spare and intimate because the filmmakers usually had about an hour of a player's time for this purpose. "One of the first interviews took place in Vanessa Gilles' room, which was practically empty except for the bed," recalls Shimonovitz. "Despite the minimal setup, I managed to find a delicate balance, allowing the light to gracefully wrap around her and create a visually pleasing frame. Utilizing the [FD Primes wide open], I achieved a shallow depth of field and embraced the stunning way the whites bloomed with those particular lenses."
This setup became a guide for subsequent interviews. Kauk — who "joined the Angel City DP team deep into their 'shooting season,'" she says — shot many of these interviews, alternating between the FX9 and the Mini LF. The cinematographer used a Canon FD 35mm or 55mm prime for medium-wide shots and a Canon FD 85mm or 100mm prime for close-ups.
Says Kauk, "I also carried a Rota-Pola in the matte box. Arlene and I referenced a Flanders Scientific BM210 21" during lighting and framing setup for visual integrity. The FD lenses have a gentleness to them in their contrast and a satisfying texture in their visual rendering, and they bring out the unique beauty and character quality of every individual we interviewed. They also open to a 1.2. I grew up photographing with these lenses on my Canon AE-1 Program. There is a sense of legacy imbued in the FD image, a strong build and integrity that mirrors the story of Angel City. I loved the choice to shoot interviews and some 'reality' on the FD Primes."
Kauk notes that the FX9s were chosen for handheld vérité and game days "because of their ability to switch sensor sizes on the fly, [and their] ND and Kelvin settings. The FX9 also captured the bulk of the interviews to support both the budget and the dynamic schedule involving talent availability." She adds that the Arri LF was used in specific cases, such as when multiple interview subjects or "marquee" interviews were filmed.
To light the interviews, "we stayed nimble, utilizing LiteMats and Astera Titan Tubes," Kauk continues. "Our visual approach was to shoot toward the natural light source — the window or the patio — and make that source our 'visual key.'" After a number of interviews, she arrived at an ideal setup, comprised of "a 4'-by-4' LiteMat 8 through bleached muslin, a Titan Tube bounced into beadboard over camera, and a 4'-by-4' gray floppy on the fill side, providing some muted lighting return while also carving out our fill-side contrast. When we couldn't fit the 4'-by-4', we'd booklight [a LiteMat Plus 2 or 4]. And when possible, I would add lighting texture and accent in the far background, using the Aputure 1200 Pro."
A hair light was occasionally added, but in general, says Kauk, "each frame was really purposefully composed to look as if we just sat down on the couch, or if someone invited us to their dinner table and we pulled up a chair to have a conversation."
One of the central messages of Angel City is women's empowerment, and Nelson is proud that the production is such a shining example of it. "There were so many women in leadership roles in the series, and we wanted the crew to reflect that," she says, "so when you see the credits rolling, you see how many women were on our team, from our executives to our PAs."
TECH SPECS
1.78:1
Cameras | Arri Alexa Mini LF, Amira; Sony FX9, FX6; Canon EOS C500, C300
Lenses | Canon CN-E prime and zoom, Cine-Servo, FD (rehoused by TLS); Angénieux EZ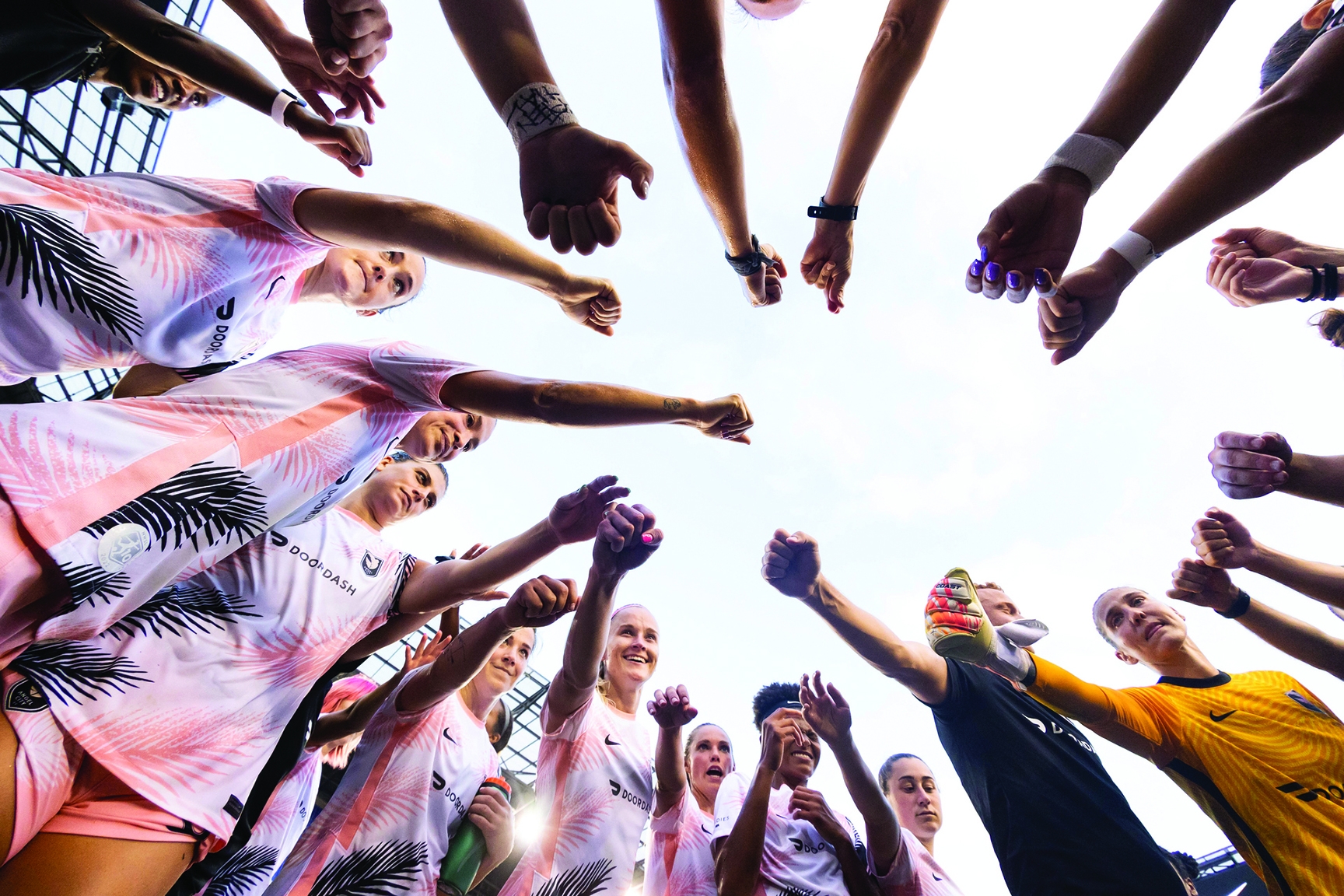 Camera Spotlight | Boons to Vérité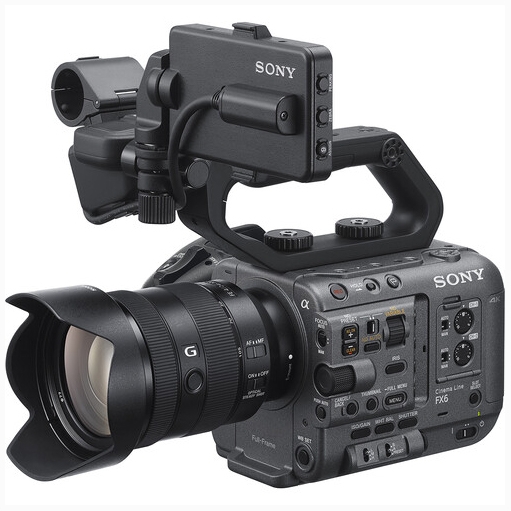 Arlene Nelson, ASC has great affinity for the full-frame aspect of Sony's FX cameras and calls their internal variable-ND filter a "game changer" for camerawork. "You can be in the middle of filming, and because there's an internal variable ND, you have the ability to keep your T-stop as wide open as possible and just roll in and out," Nelson says.
She also commends the cameras' eyepiece — a sentiment echoed by Angel City cinematographer Emily Topper, who notes, "It's such a simple thing, a light-protected eyepiece."
On Angel City, Nelson recalls, "I shot with my FX6 at airports, in and out of cabs, crowded locker rooms and team buses. There is such a lightness of being with the FX6 and its beautiful full-frame sensor. The highest compliment I can receive is when subjects say they forgot I was there!"
In addition, Nelson praises the "usability" of the slightly larger FX9, calling it a "vérité workhorse." Cinematographer Turner Jumonville notes that because the FX9 fits well on the shoulder, it's highly conducive for handheld work. Cinematographer Yamit Shimonovitz — who paired the FX9 with TLS-rehoused Canon FD vintage primes and a set of Angénieux EZ lenses for vérité shots throughout the shoot — adds, "This lightweight setup provided the flexibility to capture moments on the go while maintaining a pleasing color profile and a shallow depth of field, adding a touch of cinematic quality to the footage."
— Sarah Fensom