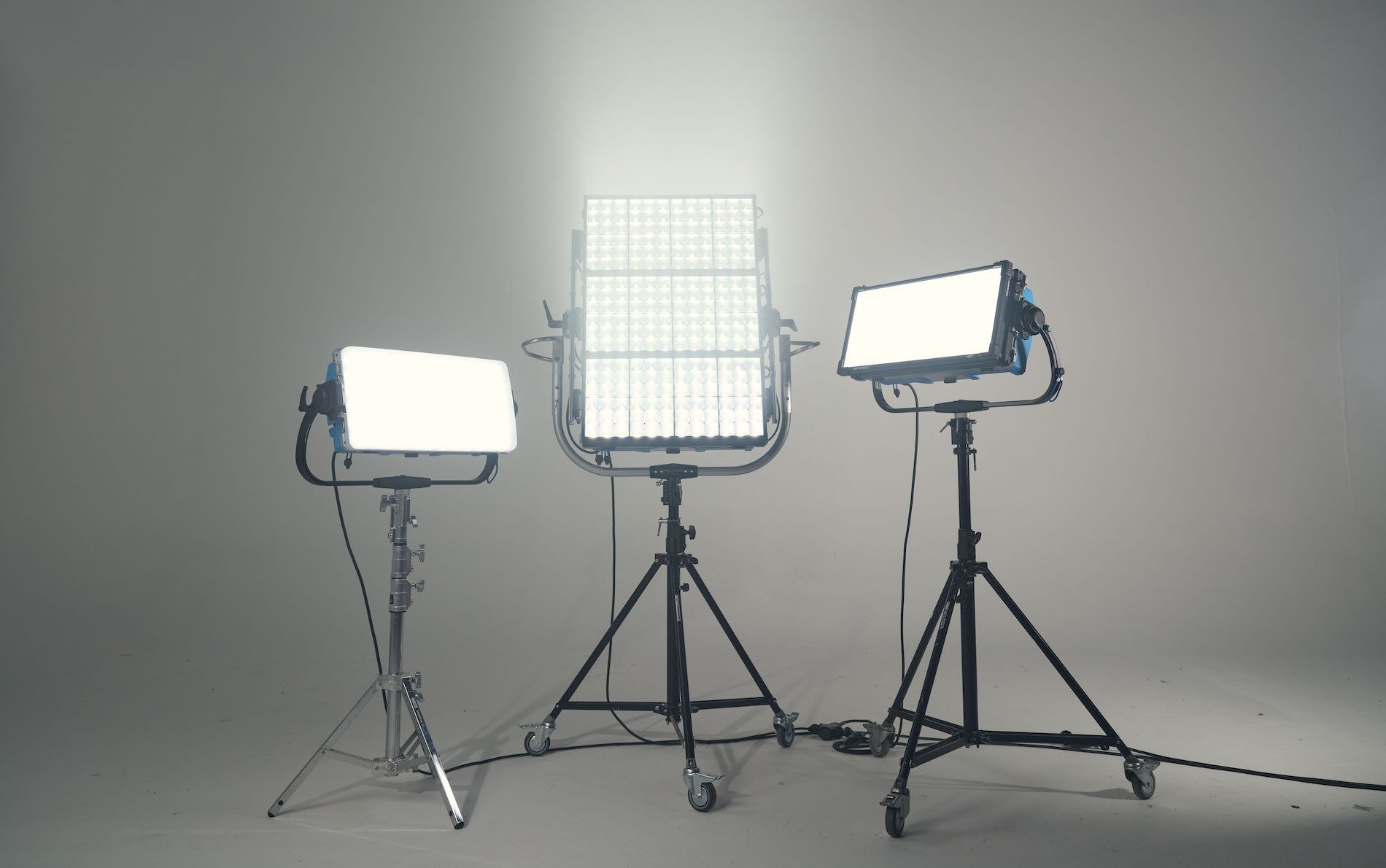 Arri Launches SkyPanel X
The solution offers native soft, native hard and open-face lighting via three attachments.
ASC Staff
Arri has launched the SkyPanel X, the latest addition to the SkyPanel family.
Offering native soft, native hard and open-face lighting, SkyPanel X connects advanced LED technology with increased flexibility. The solution provides low-end dimming with flicker-free operation from 100 to 0 percent for direct, close-distance key lighting. With a dynamic CCT range from 1,500-20,000K, it can emulate the characteristics of sodium lamps or cloudy sunlight. The RGBACL full-spectrum light engine enhances skin tones and achieves deep color reproduction. Eight pixel zones per LED panel meet the requirements of advanced console programming, visual effects and virtual-production environments.
SkyPanel X is certified with IP66 rating for all weather conditions and offers wireless control, advanced networking possibilities and integrated power supply. Multiple units can be combined via the X Modular Yoke.
Three front attachments are available for SkyPanel X: the X21 Dome, the S60 Adapter and the Hyper Optic.
The included X21 Dome provides native soft light. The hot-swappable, rounded diffuser can be quickly mounted and dismounted from the lamphead's front. The X21 Dome is fully compatible with third-party accessories and modifiers.
Via the optional S60 Adapter, SkyPanel X users can apply the same techniques and choose accessories used on the established SkyPanel line.
The Hyper Optic — named after its lux output — is an optional, hot-swappable lens with eight individually controllable pixel zones that can be quickly mounted and dismounted from the front of the X21. With it, SkyPanel X facilitates medium and long throws and collimates multiple single lenses into a single beam.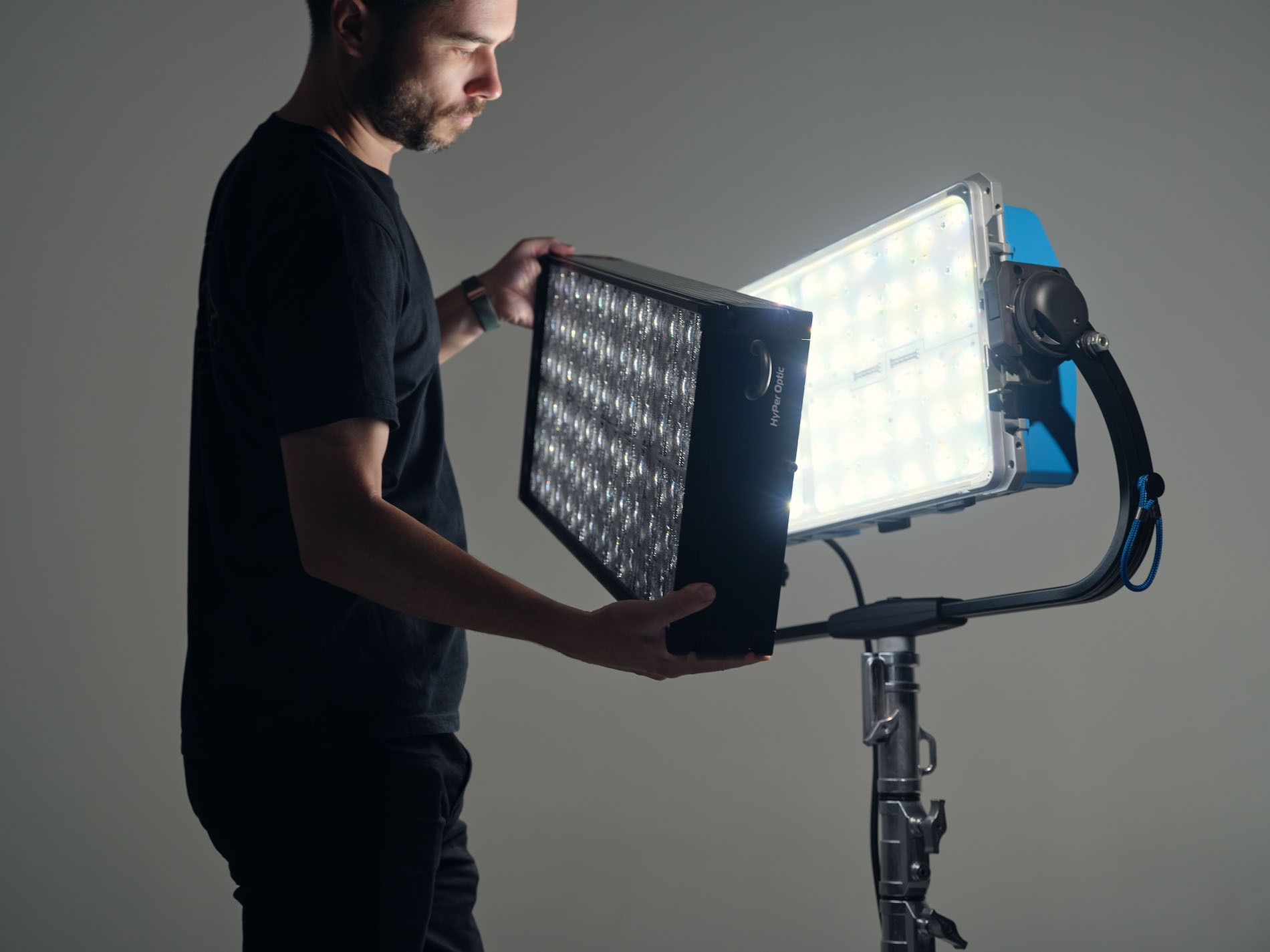 Users can choose between, swap or combine the X21 Dome and the Hyper Optic to create soft, semi-soft, semi-hard or native hard light.
SkyPanel X includes built-in wireless control, two Ethernet ports, LumenRadio CRMX2 and Bluetooth 5.0. The IP66 rating also applies to the control panel.
The fixture runs on the new LiOS3 software. Highlights of LiOS3 in SkyPanel X include DMX Mode Spec. 6.0, DMX User Presets, array setup for multi-unit control, and three Alexa modes, supporting the color science of Alexa 35 and previous Alexa and Amira camera systems.
The new Arri LiCo app will support direct remote communication via Bluetooth between SkyPanel X and mobile devices. The lighting settings can be directly adjusted via phone or tablet. The app is free for iOS and Android devices and will be available soon at the App Store and Google Play Store.
SkyPanel X is available in blue-silver and can be pre-ordered as single products or in kits. Additional colors and accessories will be released soon.
Follow Arri on Facebook, Twitter and Instagram.
Keep up with American Cinematographer on Facebook, Twitter and Instagram.