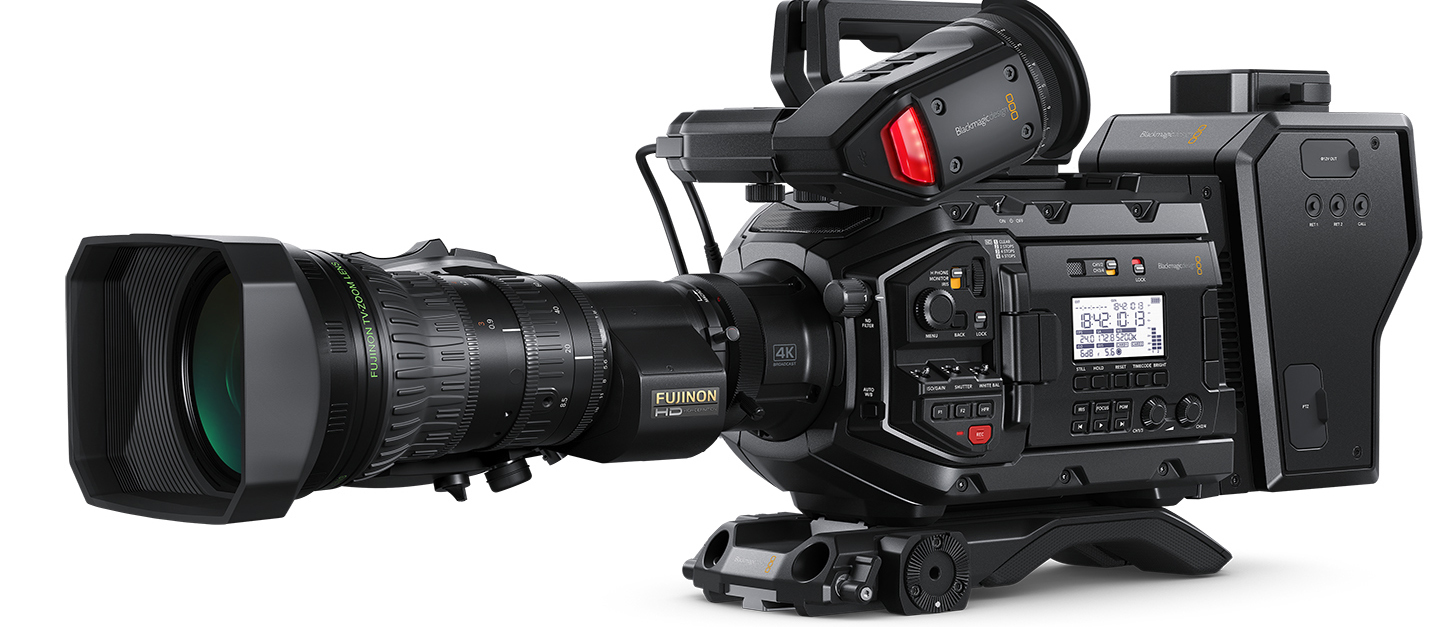 Blackmagic Design's Ursa Broadcast
Announcing a new 4K camera, in addition to new fiber converters and live-production switcher gear.
David Alexander Willis
Announcing a 4K camera, in addition to new fiber converters and live-production switcher gear.
Available now at $3,495, the Blackmagic Ursa Broadcast camera has been announced alongside several new products for studio and live productions to support the system, including the Blackmagic Camera Fiber Converter, Studio Fiber Converter and ATEM Camera Control Panel.
The Ursa Broadcast has a 12-pin Hirose connector for analog and digital broadcast zoom lens control. With full electronic lens communication for control over focus, iris and zoom, remote operations can be run from Blackmagic ATEM switchers or the Blackmagic's ATEM Camera Control Panel.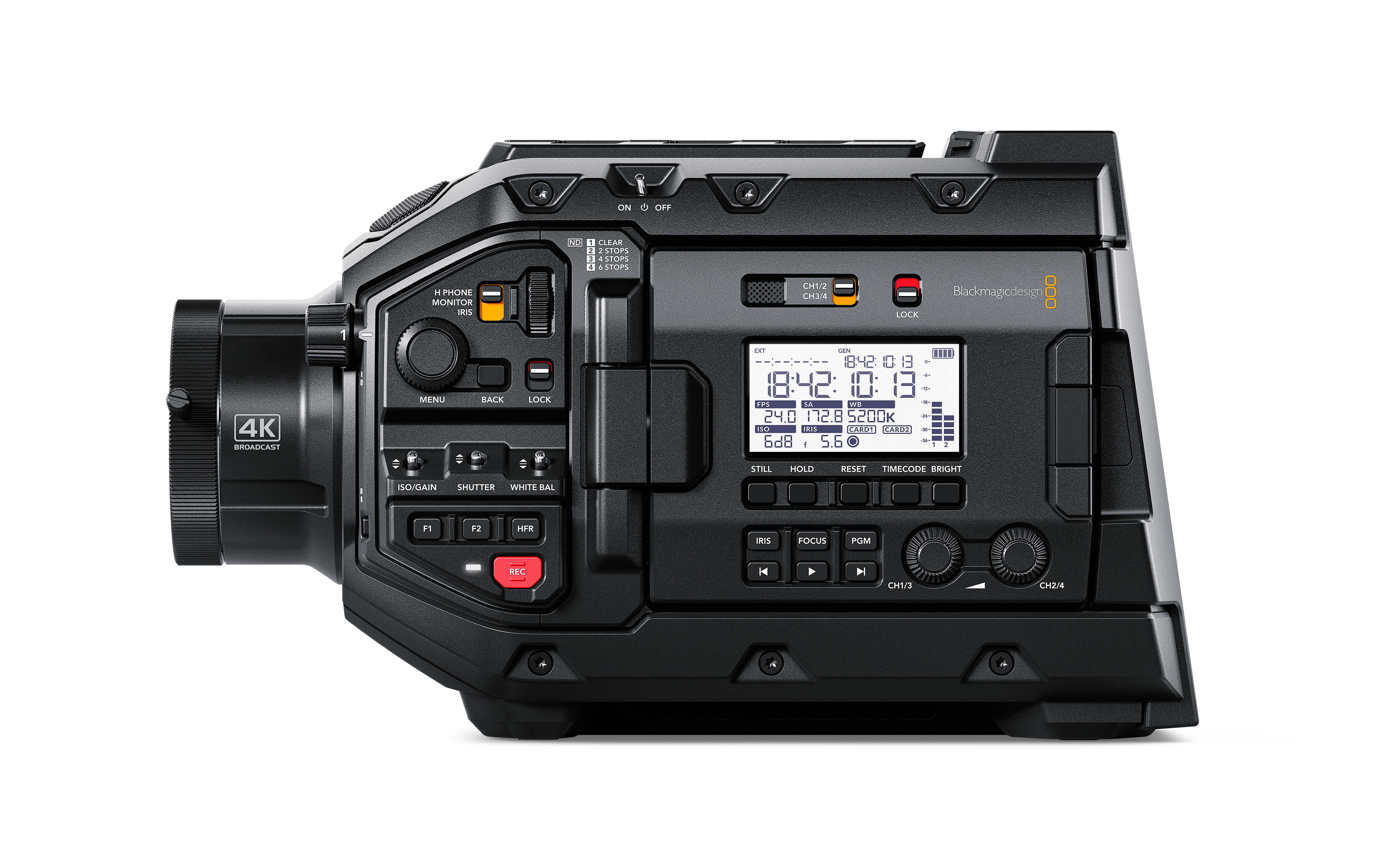 With IR filtration, Blackmagic "specifically designed" optical ND filtration in ¼, 1/16th and 1/64th stops to match the exact colorimetry of the Ursa Broadcast. The B4 2/3" lens mount lets fits HD lenses or Ultra HD lenses, and features optics with spherical aberration specifically designed for the Ursa Broadcast's sensor. It can also be swapped out for optional PL mount, Canon EF and Nikon F, available from Blackmagic and other sources. To shoot without monitor, the backlit LCD display gives fast access to camera status and critical shooting info, including timecode, shutter, battery and audio levels.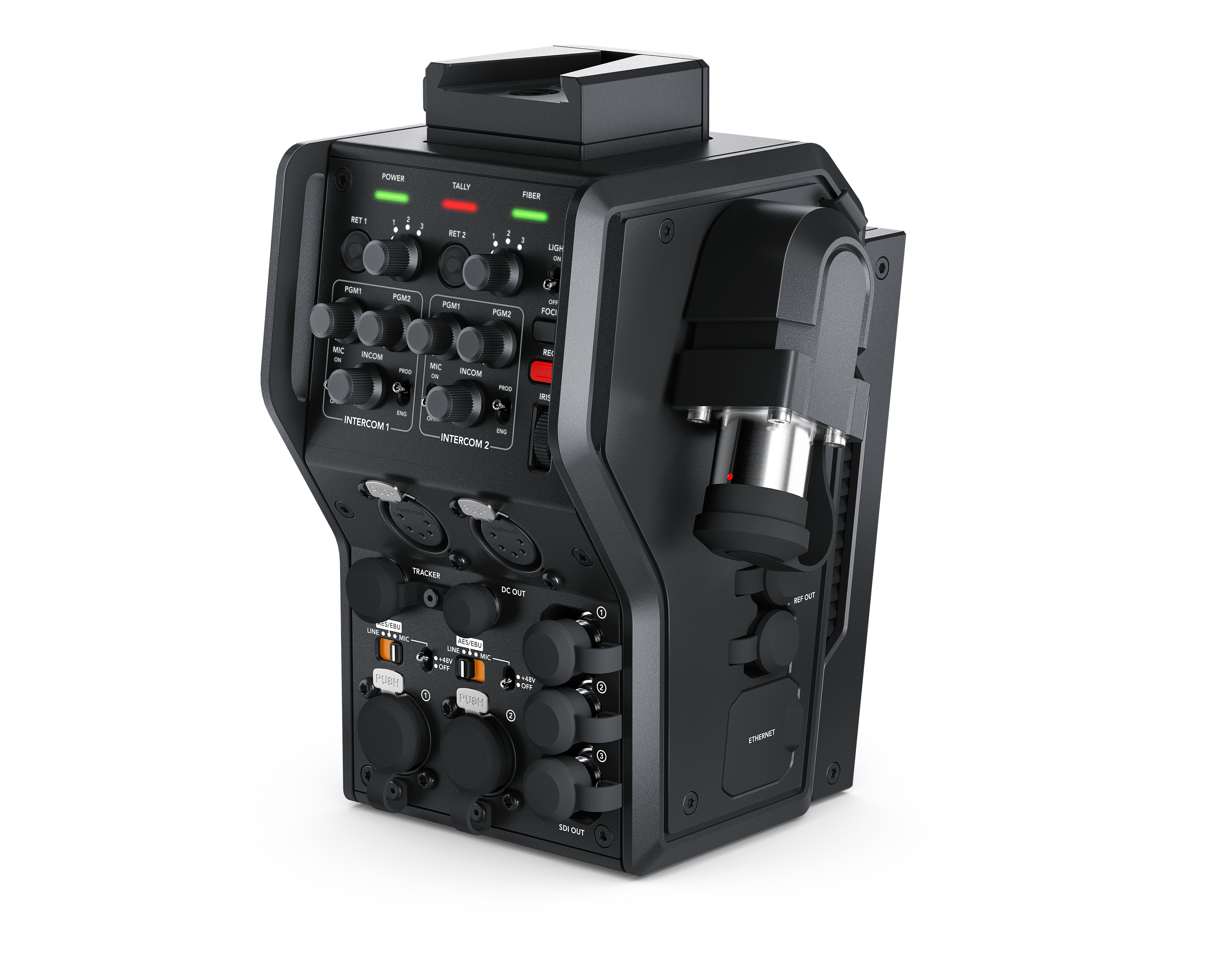 Compatible with the Blackmagic Ursa Viewfinder or the 7" Blackmagic URSA Studio Viewfinder, as well as other monitoring solutions, HD-SDI monitoring out, two LANC inputs, balanced XLR audio with phantom power and timecode/reference input are included in external connections with microphone mounts and standard V-Lock and Gold battery plates. Multi-rate 12G‑SDI connections provide video output and return program feed input. Both connections automatically switch speeds for HD and Ultra HD formats at up to 2160p60 over a single cable.

Capable of capturing 1080i or 2160p video as standard .mov files — as well as .mxt in a future update — dual CFast plus dual SD cards support relay and redundant capture at up to 12-bit Cinema DNG Raw files, also offering 10‑bit for broadcast quality, including metadata. DNxHD 220X, DNxHD 145, Apple ProRes 4444 XQ QuickTime, ProRes 4444 QuickTime, ProRes 422 HQ QuickTime, ProRes 422 QuickTime, ProRes 422 LT QuickTime and ProRes 422 Proxy QuickTime, CinemaDNG RAW, CinemaDNG RAW 3:1 and CinemaDNG RAW 4:1 are supported.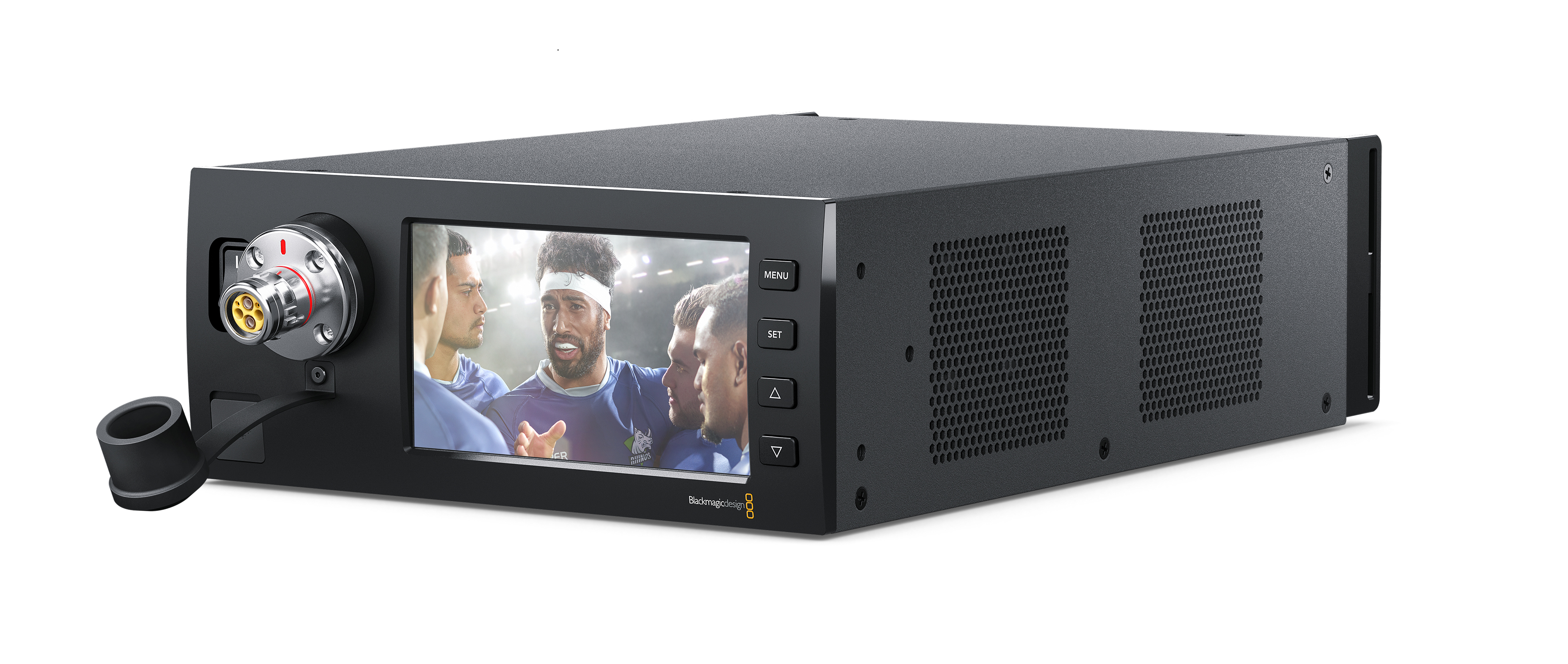 The Ursa Broadcast's magnesium-alloy body houses external controls, including redundant operations elsewhere on the camera for each, including powering. To flesh out the system, a Ursa Broadcast Shoulder Kit comes with built in rosettes, rail mounts, viewfinder mount, integrated tripod quick lock release and top handle. An extended video mode, exclusive to the Ursa Broadcast, is a new addition to the Blackmagic line, offering a gamma curve for skin tone and color saturation to color-correct images right from camera.
"Ursa Broadcast lets customers get the most out of their investment in cameras and lenses because it can be re-purposed and used on every type of project, whether it's out in the field or in the studio. It's like getting two cameras in one," explains Grant Petty, CEO of Blackmagic Design, in the press release. "Ursa Broadcast is exciting because it makes high-end broadcast camera technology available to everyone from AV and web producers all the way up to professional broadcasters, for the same price as a common DSLR!"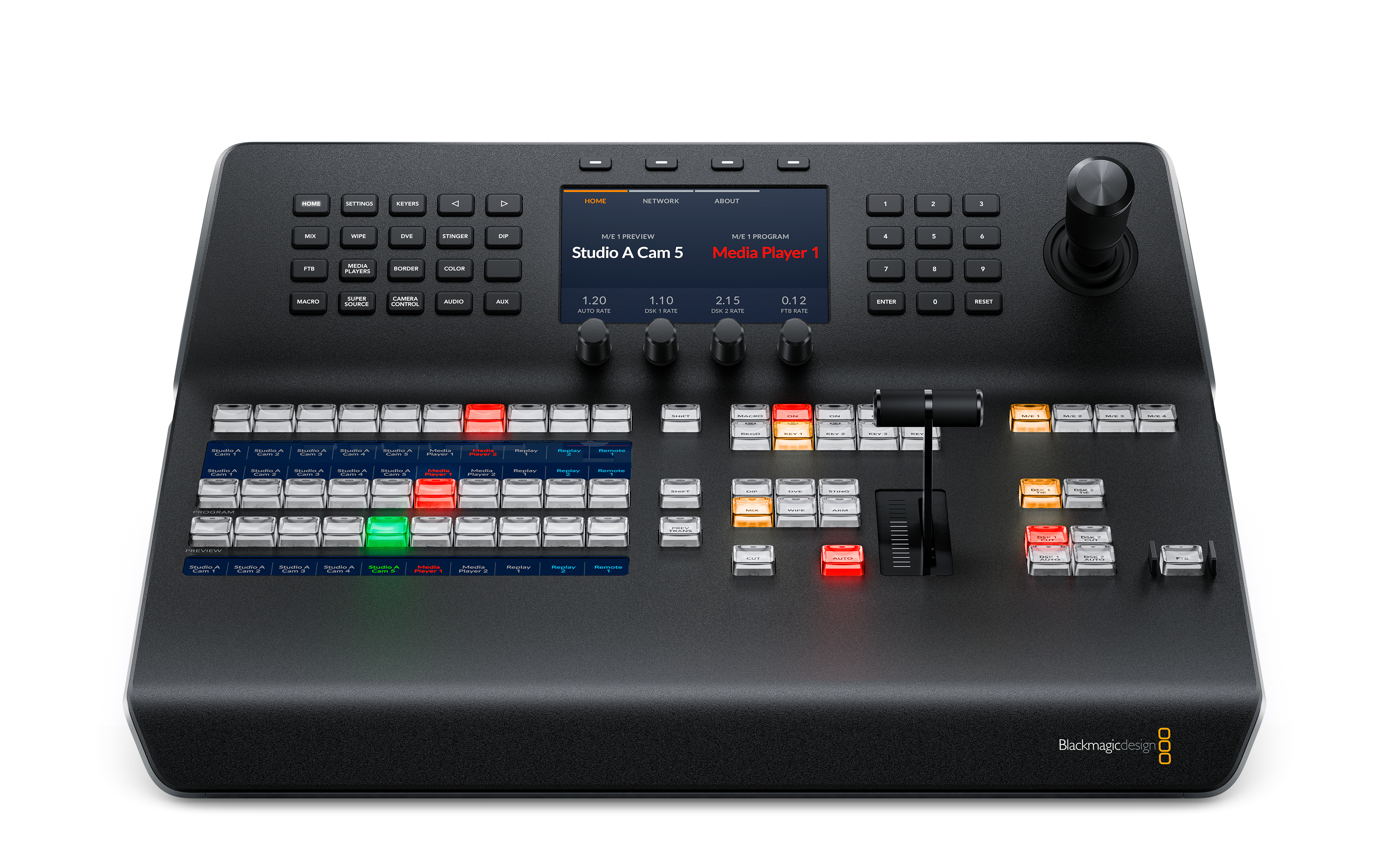 Both priced at $2,995, two new Blackmagic fiber converters extend and power Blackmagic cameras and signal transmission by up to 2 km over standard SMPTE fiber cables. With Ultra HD feed and three HD return feeds, the Camera Fiber Converter and Studio Fiber Converter have common controls for live camera operations, including multiple channels of talkback and standard talkback headset connections in an IP-video-based design that can be connected and controlled remotely from live production switchers.

Attaching extra controls to the back of the camera, the Camera Fiber Converter will convert standard video and audio connections — including audio, power, talkback and tally — into a single standard SMPTE 311M hybrid electrical and fiber optic cable, which comes with standard SMPTE 304 connectors on each end for power regulation and safety. Customers get control for return feeds, dual intercom controls with the ability to mix in program audio, record, focus and iris controls, headset connectors, audio and more. The camera converter comes with a V mount plate on the top for accessories.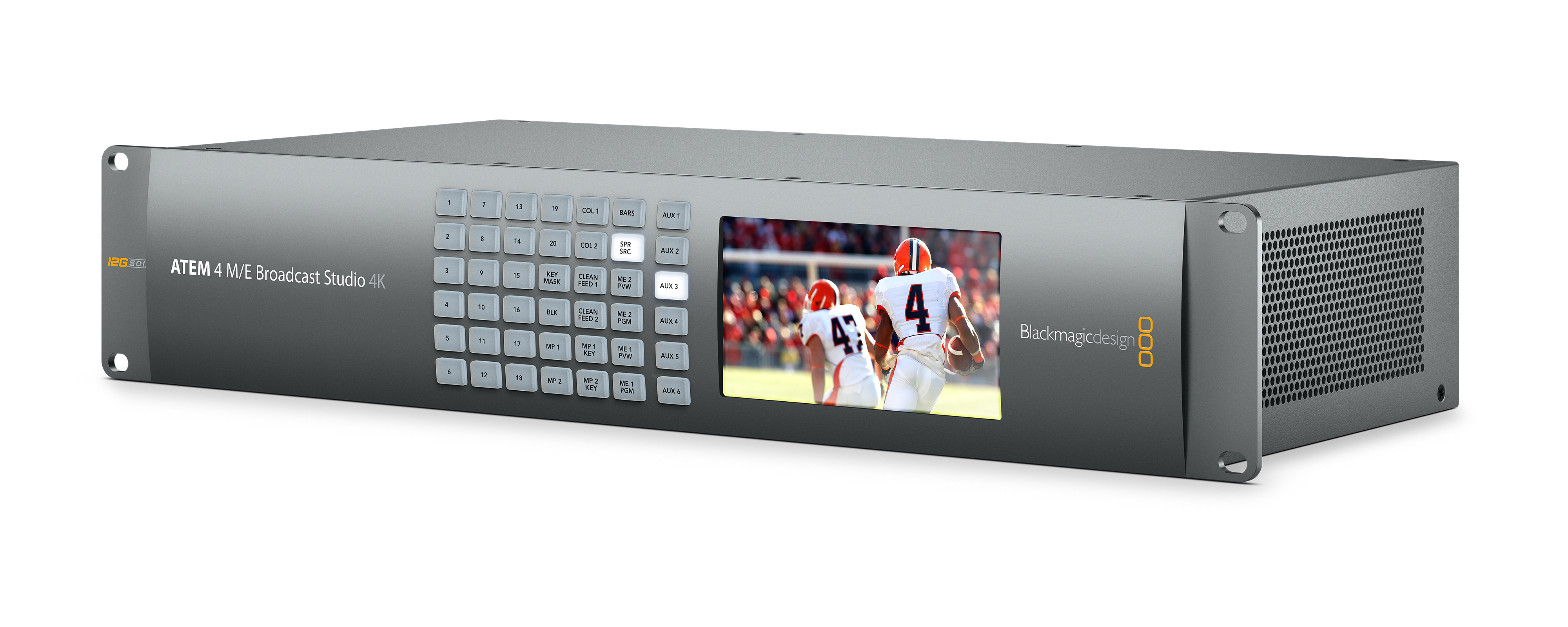 Automatically converting camera signals into standard television industry connections for camera control units, live producing switchers, audio mixers, and more, the Blackmagic Studio Fiber Converter, in contrast, is a rack-mountable solution for situating on the other end of the camera chain, near broadcast trucks, or in the studio. With 5" LCD and optical fiber converter, it offers plug-n-play camera playback of live feeds.

Slated for release later in the year, also at $2,995, the Blackmagic ATEM Camera Control Panel is a compact remote control unit capable of running up to four Blackmagic URSA Broadcast, URSA Mini, Studio or Micro Studio cameras. Leaving camera operators free to focus on the live production, it comes with large LCD screen, professional joystick, and control buttons for single operators to adjust black level, gain, color balance, shutter speed and more.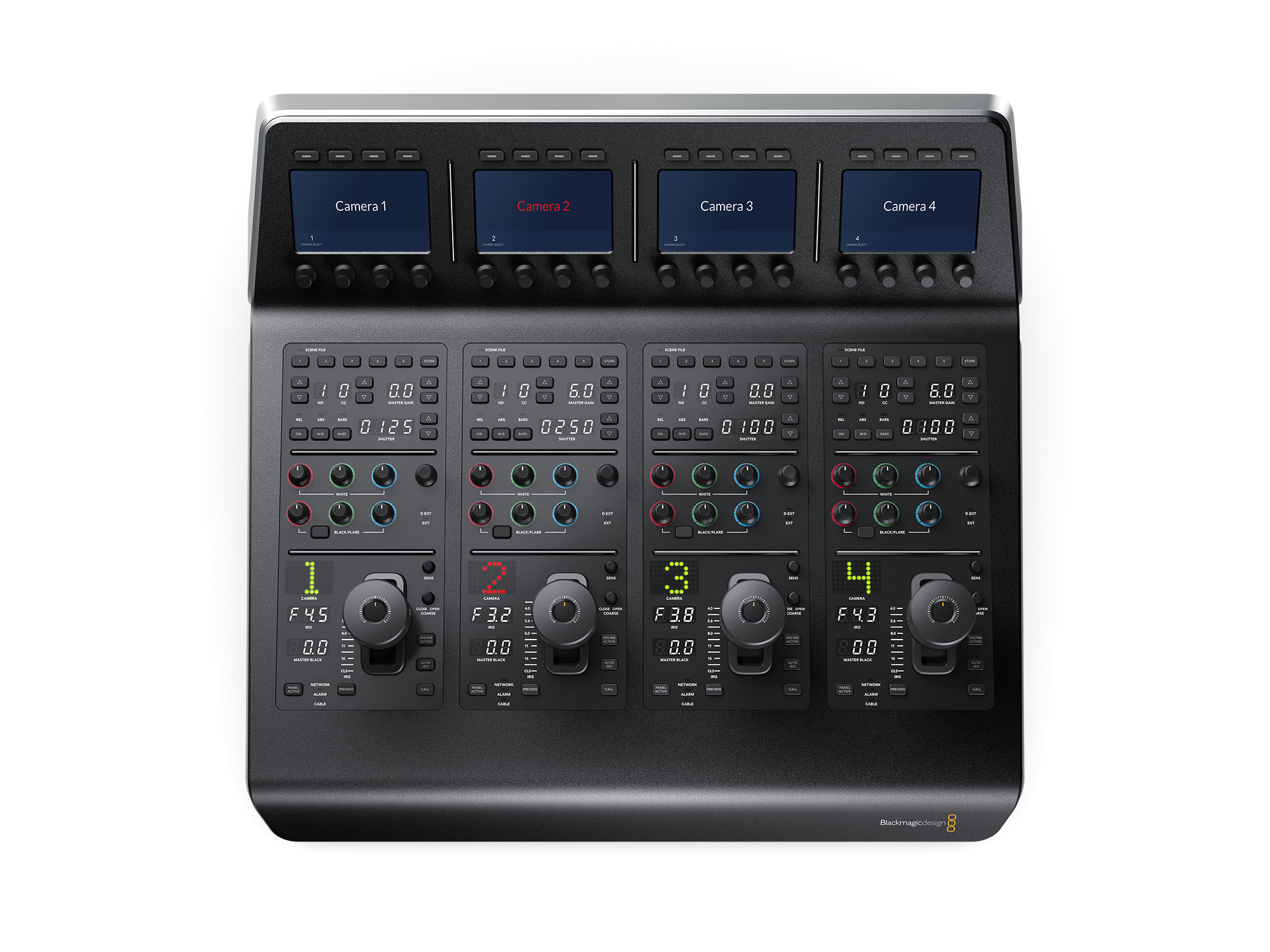 Additionally, the $2,995 ATEM 1 M/E Advanced Panel is now available. As an optional control panel for Blackmagic ATEM switchers, M/E selection buttons control up to 4 independent channels on a single panel to switch between and control up to 4 mix effect rows, effectively enabling control of a 4 M/E switcher from a 1 M/E hardware panel.
Lastly, the $5,995 next generation ATEM 4 M/E Broadcast Studio 4K for live productions is a production switcher with 4 M/E and 16 ATEM Advanced Chroma Keyers for creating HD and Ultra HD programs. The 2160p60 switcher has twenty inputs, two Ultra HD multi viewers, SuperSource compositing engines running four picture-in-picture, full re-synchronization on each input, and more. The previous iteration, the ATEM 2 M/E Broadcast Studio 4K, will run all of the same features through a free software upgrade.
Follow Blackmagic Design on Facebook, Twitter and Instagram.
ATEM 4 M/E Broadcast Studio 4K Key Features
• Full 4 M/E switcher with each M/E featuring 4 ATEM Advanced Chroma Keyers.
• Switcher can be switched between HD and Ultra HD video formats instantly.
• 2 x built in Ultra HD multi view allows 16 sources, 2 x previews and program.
• 20 x inputs for a total of 20 x 12G-SDI. All inputs feature auto re‑sync.
• 1 x down converted program output.
• Built-in media pool graphics storage for 64 RGBA Ultra HD stills and 360 frames of Ultra HD clips.
• Built-in full motion 2D DVE with position, scale, resize and rotate features.
• Built- in SuperSource allows 4 DVEs and 4 keys layered as an independent video source.
• 4 media players allow graphics to be connected to keyers for fill and key layering.
• Transitions include cut, mix, dip to color, SMPTE wipes and more.
• 16 new ATEM Advanced Chroma Keyers (4 per M/E row).
• 2 downstream keyers.
• 6 auxiliary outputs include front panel aux switching buttons and LCD screen for viewing.
• Built-in audio mixer live mixes embedded audio from all video inputs and independent audio inputs.
• Balanced XLR stereo analog audio inputs and 1 HiFi RCA stereo audio input into built in audio mixer.
• Audio mixer main and preview outputs onto balanced XLR audio outputs and on all video outputs.
• Internal sources include black, color bars, two color generators and media pool.
• Ethernet connection for control panel connection. Mac and Windows control panel software included.
• Compatible with all ATEM Broadcast Panel control panels when hardware panel is required.
• Black Burst and HD-Tri-Sync genlock input for integration into large systems.
• Compact 2 rack unit size is perfect for when a lot of power is required in a portable solution.