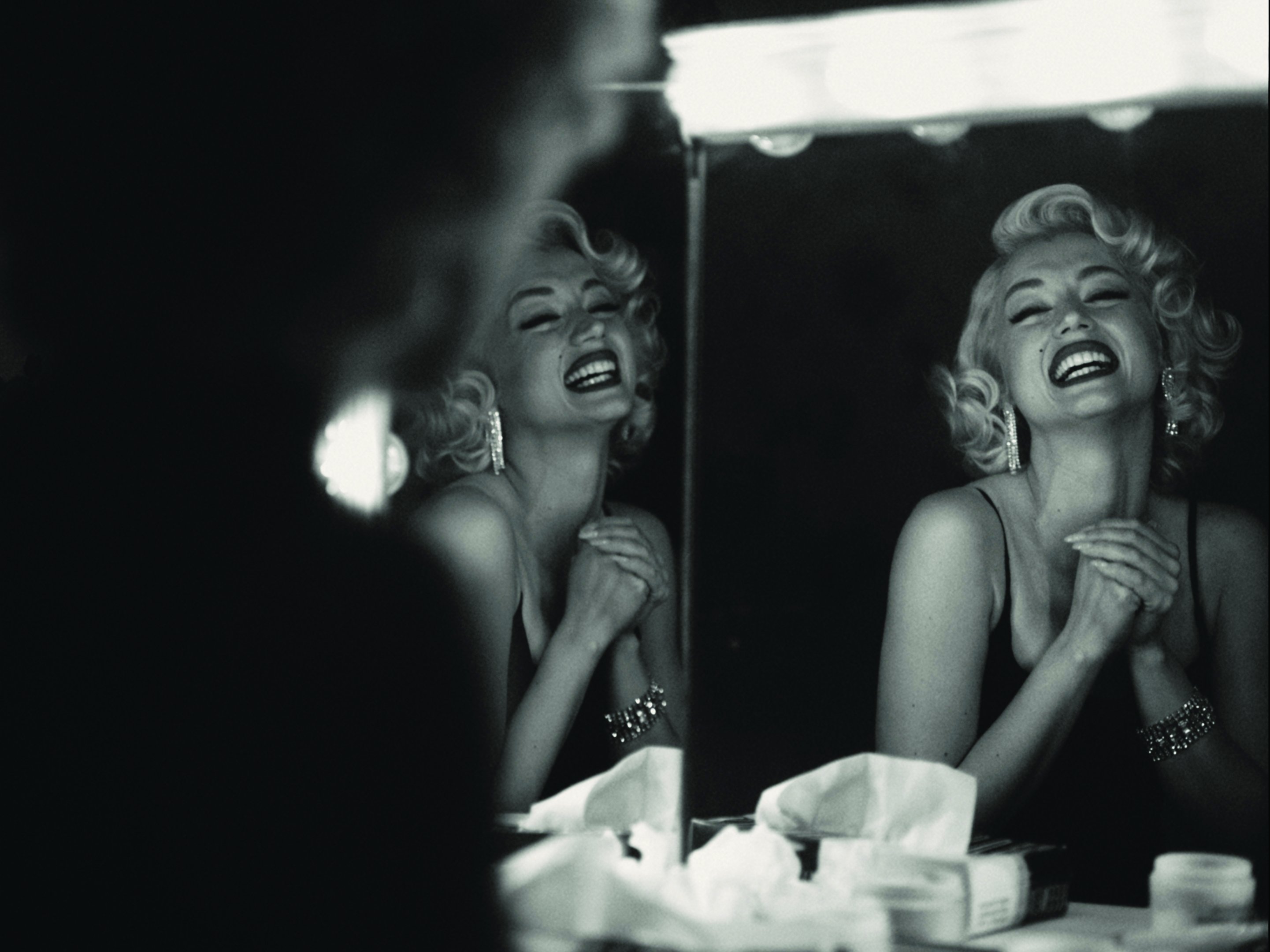 Norma Jeane summons her "Marilyn" persona in front of a mirror.
Blonde: A Chaotic Canvas
Chayse Irvin, ASC, CSC lends his skills to an imagining of a Hollywood icon. 
Rachael Bosley
Andrew Dominik's Blonde, adapted from Joyce Carol Oates' novel, embraces a kaleidoscopic form to convey a fictionalized version of Marilyn Monroe and her mercurial mental state. Norma Jeane/Marilyn (Ana de Armas) often struggles to articulate her feelings, but they are fully expressed onscreen in images that mingle present and past, misery and happiness, ghastly private moments and famous public appearances — sometimes like quicksilver within the same scene.
"Many years before this movie was produced, Andrew described it as 'an avalanche of images depicting Marilyn Monroe's life,' and I loved that metaphor," says cinematographer Chayse Irvin, ASC, CSC. "I harnessed that as best I could."
Kindred Spirits
Working with Dominik for the first time, the cinematographer discovered a kindred spirit, albeit one with his own way of distilling creative intent. Says Irvin, "Some directors have a strong bond with actors and know exactly how to work with them; others are more comfortable with the writing process; and some work in an almost Eastern way, where the film is actually creating itself. Andrew is all of those directors mixed together. It's really the way he is, and the way he wanted to make this film was unique. The production was, intentionally, quite chaotic. Andrew and I share the idea that the way a film is executed informs what it is."
During Irvin's 10-week prep, he says, "we'd watch films and discuss ideas for hours — and as I was leaving, he'd say, 'Chayse, I don't want to do any of that.' The next day, he'd come into the office and say, 'You gotta know, there are no ideas in this movie.' The next day, he'd say, 'Gimme all your tricks!' There were a lot of contradictions, but I think the core of what he was saying was that he wanted to re-create some images from Marilyn's life without interpreting them, and he also wanted to find ways to render her psychological experience. It's hard to know how she would be diagnosed today, but at the time, she was labeled 'manic depressive.' We wanted to create an image that felt fragile."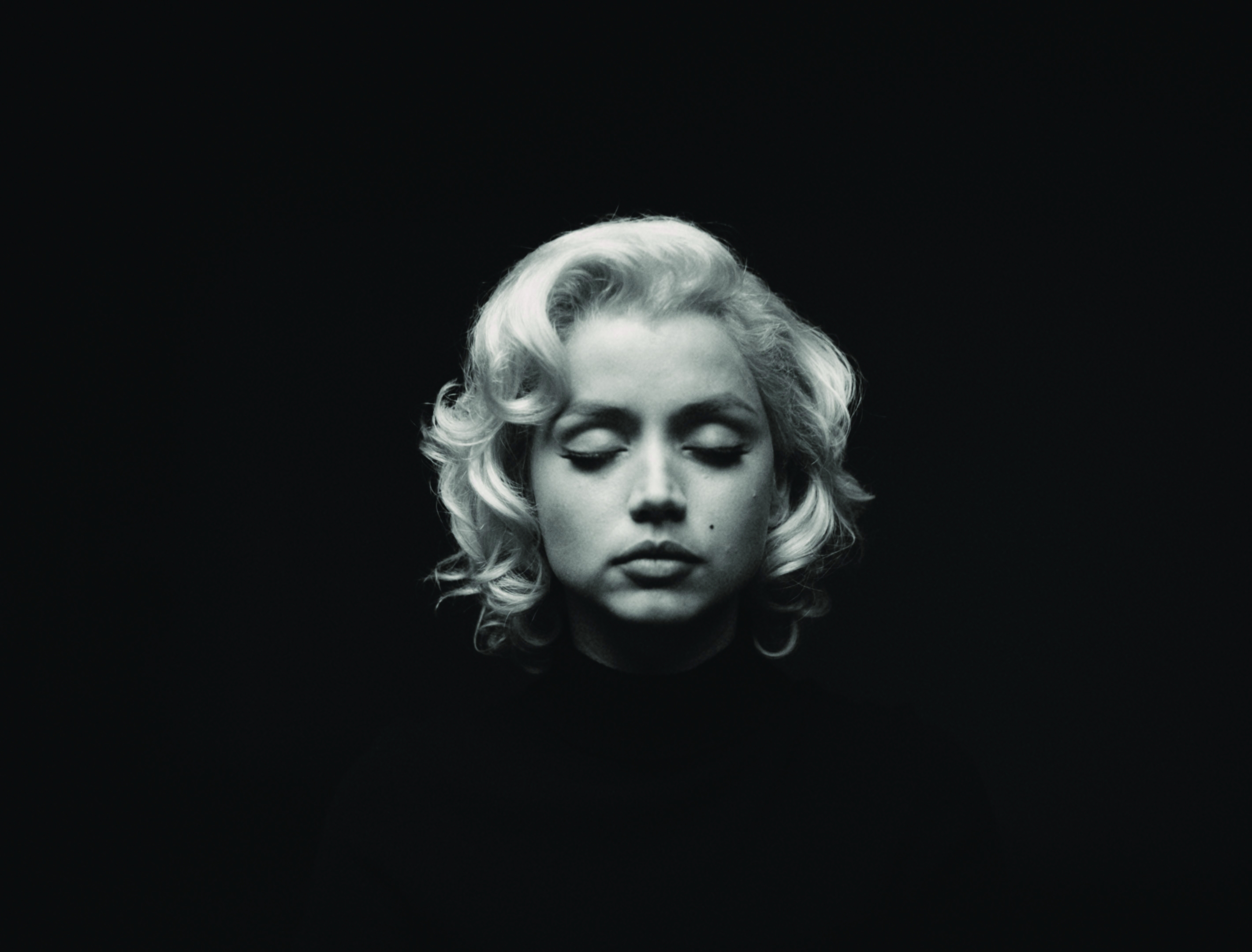 Although the structure of Oates' novel is not re-created beat for beat in the film, Irvin says his approach was inspired by one of its key details. "The book opens with abstract images of a special delivery hurtling toward Marilyn's house [on the day she dies], and it returns to that moment at the end. I think everything that happens in between — all the strong, sudden emotion and instances of brutality, humor and humiliation — are Marilyn re-rendering those experiences and letting go of them as she dies. When we remember events, everything starts to distort, inevitably, based on the sentiments we associate with them. I was always reflecting on that."
Going Digital
When Dominik declared he wanted to shoot digitally, Irvin was initially disappointed. But he understood that the flexibility to shoot extra takes would support de Armas — who hails from Cuba and would be working with a dialect coach on set.
Mulling it over today, Irvin notes that he had been testing out techniques for Blonde using 35mm film until just weeks before the start of the production. "I did [initially] see the film on 35mm, but now I fear that would have been too elegant," he says. "Moments in Marilyn's life were elegant and others were obscene, and we wanted to harness both and have them mingle in a chaotic way."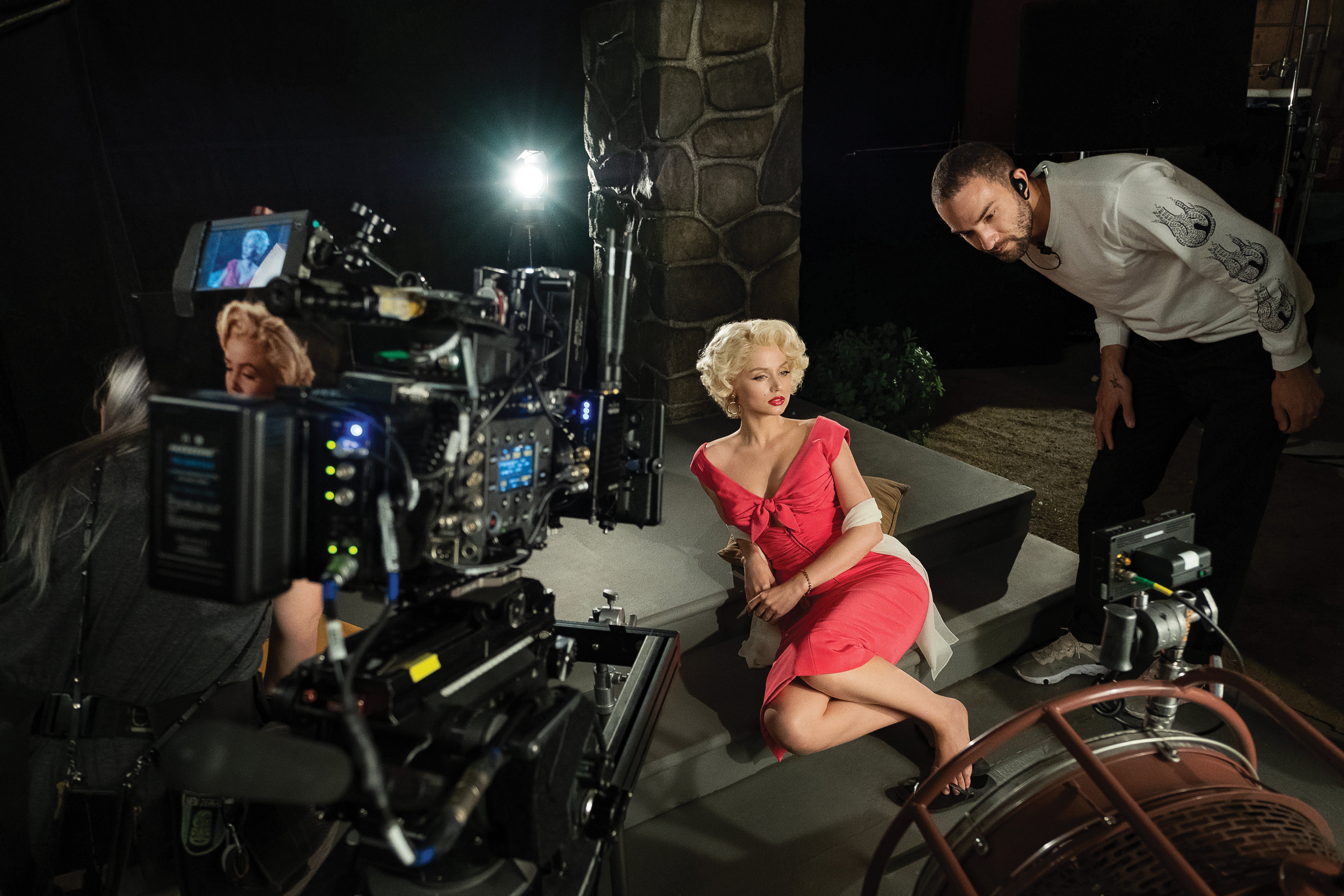 Working with a Sony Venice and an Arri Alexa XT B+W, Irvin resolved to "exploit digital's virtues to the point of hyperbole," chiefly in his operating. He points to a scene in which Secret Service agents carry a semi-conscious Monroe away from John F. Kennedy's hotel room: "It was a very narrow hallway, and I was handheld with the Sony [Venice] Rialto. I ran down the hall, spun around to find the actors and started doing circles around them, bumping into the agent's chest before backing away."
Irvin shot all but a few monochrome sequences with the Alexa, and he swapped out the camera's BG39 filter (which allows visible spectrum and long-wavelength infrared to reach the sensor while attenuating short infrared and ultraviolet) for the BG87C infrared filter (which attenuates all visible spectrum and only allows short infrared wavelengths to reach the sensor) for a surreal scene in which Monroe imagines government agents have invaded her home. "I put a $10 LED infrared emitter on top of the camera and just tracked Ana around the house, which was pitch black," he recalls.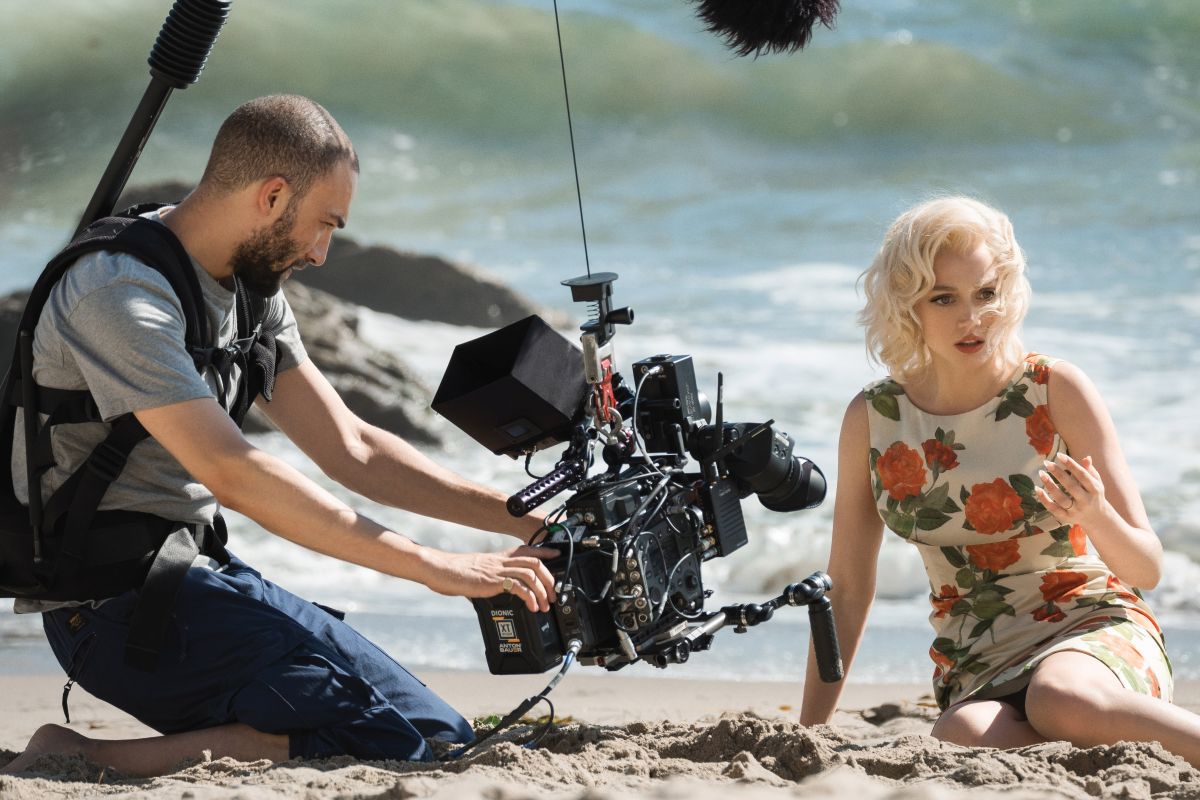 Look Management
LUT development and dailies for Blonde — which was shot in Los Angeles over 45 days in 2019 — involved teams at EFilm, which handled most of the front-end lab work, and Company 3, which absorbed EFilm in 2020 and handled the film's final grade in 2021.
Joachim "JZ" Zell — color scientist, ASC associate member and EFilm's former vice president of technology — helped Irvin develop "Tri-X" and "Double-X" LUTs for the monochrome material. "JZ showed me a black-and-white LUT that was tinted slightly warm," Irvin says, "to reflect the fact that black-and-white movies were projected with an incandescent bulb — and I loved it. Modern black-and-white has a very cold white point, and I didn't want a contemporary look. The curve in my Tri-X LUT has bubbles near the low end that created this grainy texture. Double-X was basically a color LUT with all the saturation removed and a couple points of blue subtracted.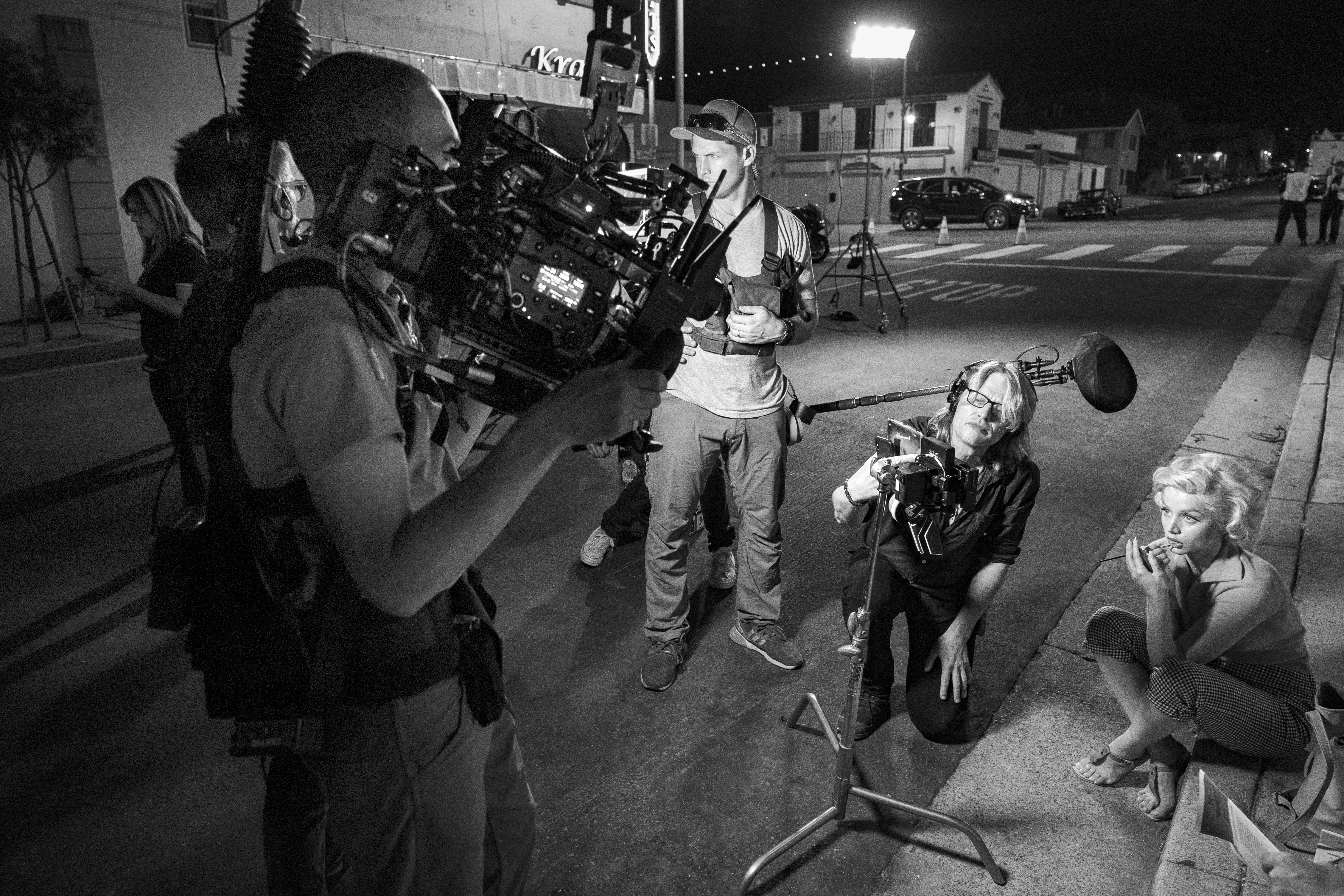 "The color LUT I used was one I've modified over the years," Irvin adds. "I tested it indoors and liked how it rendered the skin tones and the highlights. It was the closest I could get to [the look of Kodak's classic reversal film stock] Kodachrome. When I compared it to LUTs provided to me by supporting vendors, I observed saturation in the skin that didn't create a creamy image. My observation was that it looked 'crunchy.' I value [the] kind of image [that has] a homogenous quality throughout, where the highlights in the skin aren't specular and white, but relatively soft and tinted in the same hue the skin naturally is."
Working mostly on location, the filmmakers shot 6K 3:2 with the Venice and 2.8K ArriRaw with the Alexa, extracting 1.33:1 or 2.39:1 images most of the time. "For the first few weeks of production, I graded dailies on the camera truck and sent the [Blackmagic Design DaVinci] Resolve file to [EFilm dailies colorist] Benny Estrada, and he'd apply LiveGrain and halation until we got the look where we wanted it," Irvin recalls. "Once we figured out a rhythm, Benny took that over. As we shot, we'd indicate on the slate what we intended the framing to be, the aspect ratio, and the LUT, and the EFilm team did an incredible job keeping track. We jumped around numerous times, even within a scene.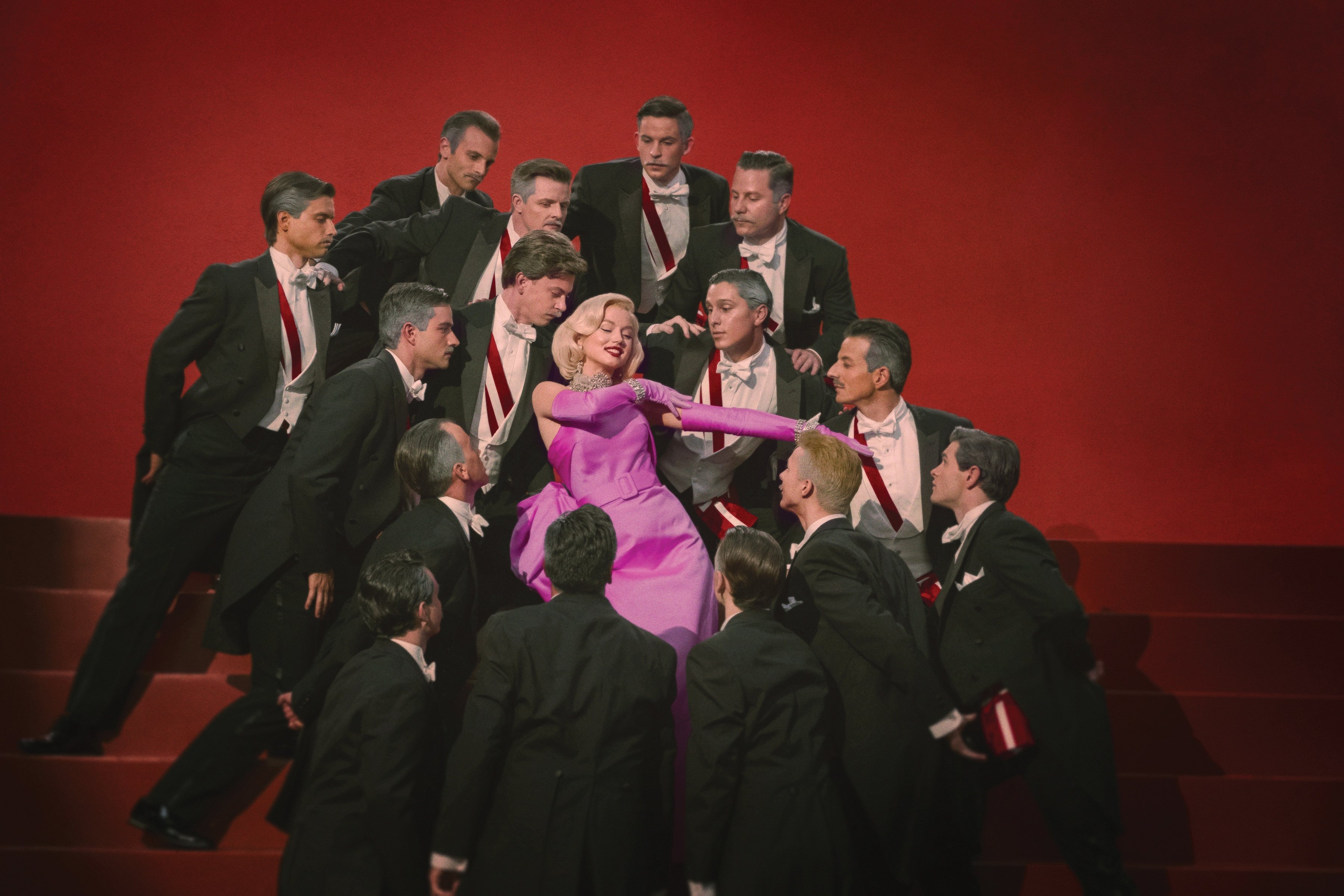 Company 3 senior colorist and ASC associate member Tom Poole graded the dailies for re-creations of three-strip Technicolor productions (such as Gentlemen Prefer Blondes) that were projected practically with a Christie 4K projector, to be seen onscreen — and to essentially serve as a giant backlight as the camera captured the movie-theater audience from behind.
"Company 3 colorist Dustin Wadsworth supported me while we shot some of those interiors, because we had to re-grade the projections by looking at the monitor in order for them to render correctly on camera," Irvin says. "The camera has a LUT, so we needed to do it by eye. It was challenging, and when I didn't have Dustin's support, because we could only afford the one day, I was leaning into my understanding of Resolve and running from the camera to my computer."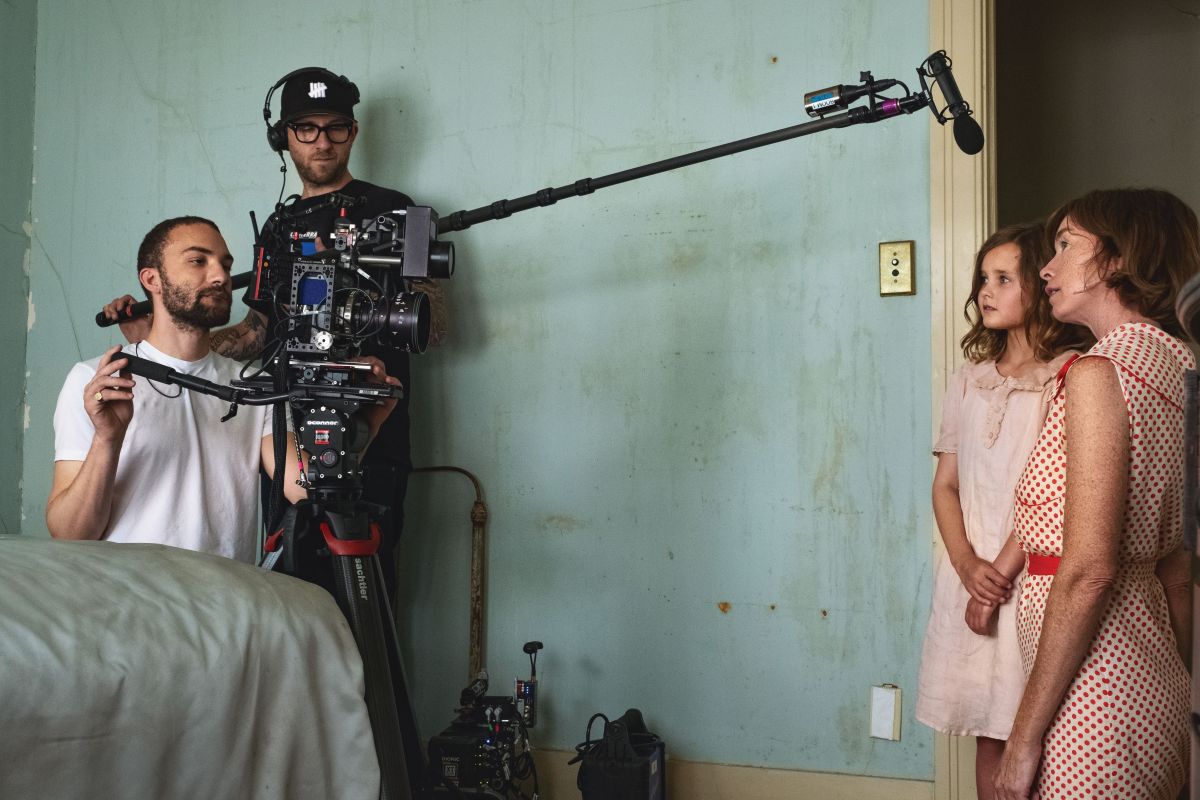 A Window for the Spectator
Irvin shot most of Blonde with Panavision PVintage primes, along with some additional Ultra Speeds. "I wanted to limit the edge sharpening and homogenize the transition between selective focus and background, and these lenses also had a flare, glare and coma that felt right," he says. "I like to restrict myself to a few focal lengths because I want to create a particular 'window' for the spectator to travel through, and on this movie, Andrew and I were usually arguing over whether to use a 50mm or a 40mm." Exceptions included a 90mm T2 Close Focus Super Macro Special and a 50mm T1.4 high-speed Auto Panatar 1.3x anamorphic, which Irvin favored for certain close-ups; 58mm and 85mm Petzval lenses, which helped suggest an altered mental state; and a 12mm Panavision H Series used with a Doggicam Bodymount.
The filmmakers also used a 24-275mm Primo Zoom "for the big zoom-out shot at the premiere of Gentlemen Prefer Blondes," Irvin says — as well as a "40mm D Series, [which] is similar to the C Series, but T2. We used it in some flashbacks where I rotated the lens 90 degrees on the mount and de-squeezed vertically, rather than horizontally, to give a vertical aspect ratio of 2:3. It created a uniquely distorted image that reminded me of some of Bill Brandt's photography.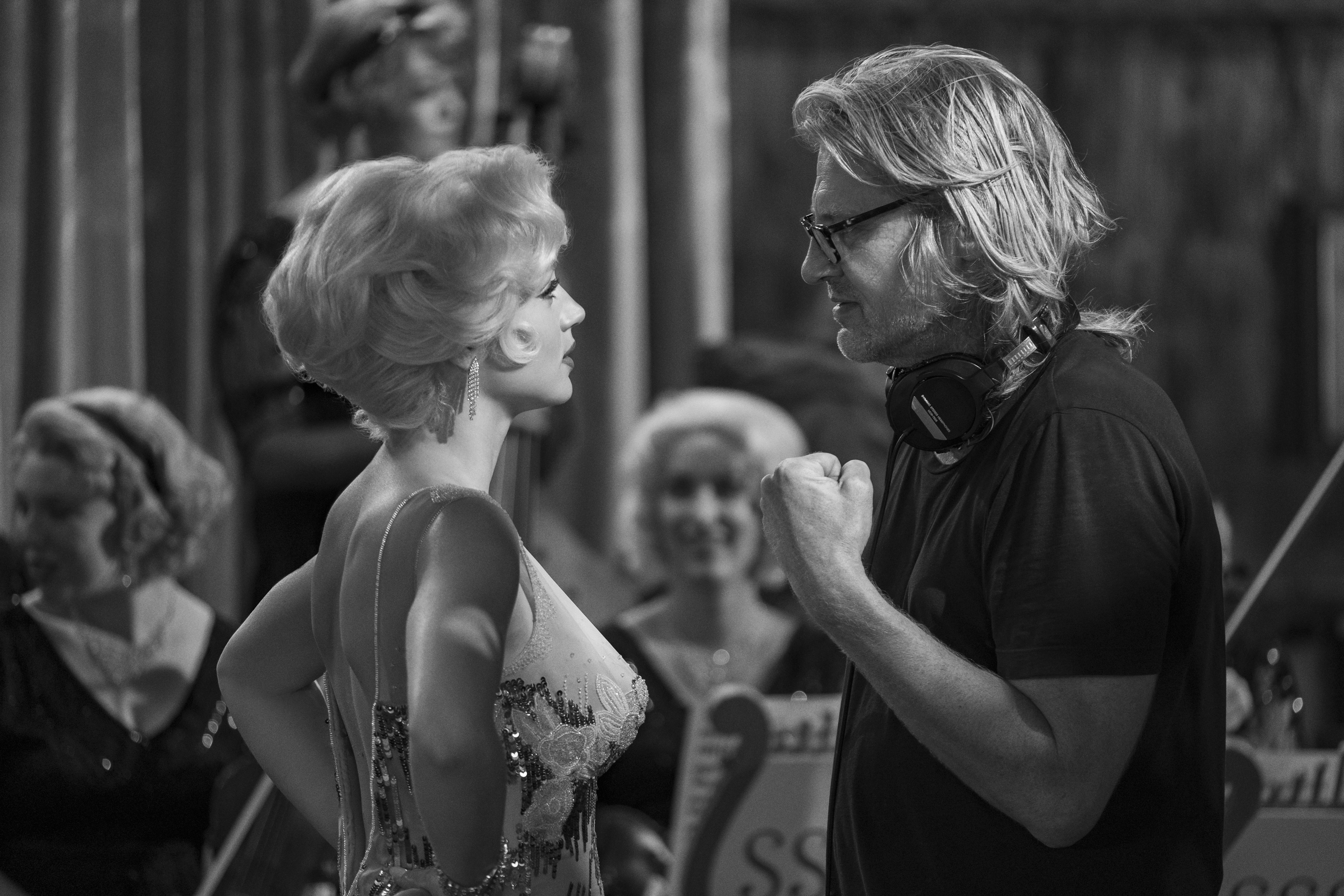 "[Photographer] Weegee was another influence for me on the film," he adds. "I studied his life. I didn't remember until this moment, but when I watch the film, I see his influence as more significant to me now. That influence, I can see now, operated on my subconscious because it wasn't my intent or consideration when pre-conceiving scenes — and I never discussed his work with Andrew. In some way, the chaos in my life at that moment metastasized into a similar, perverse version of myself and my identity as an artist."
Irvin shot the majority of the re-creations of Monroe's iconic public appearances full-frame on the Sony Venice, with a 50mm PVintage and strong frontal light to emulate press photography of the era. "Andrew had assembled a bible of images from Marilyn's life that was more than 700 pages and in script order, and if we had a scene at one of her premieres, we'd re-create an image of her at that event," Irvin says. "If the photo was black-and-white, we'd shoot the scene in black-and-white with the Alexa XT B+W."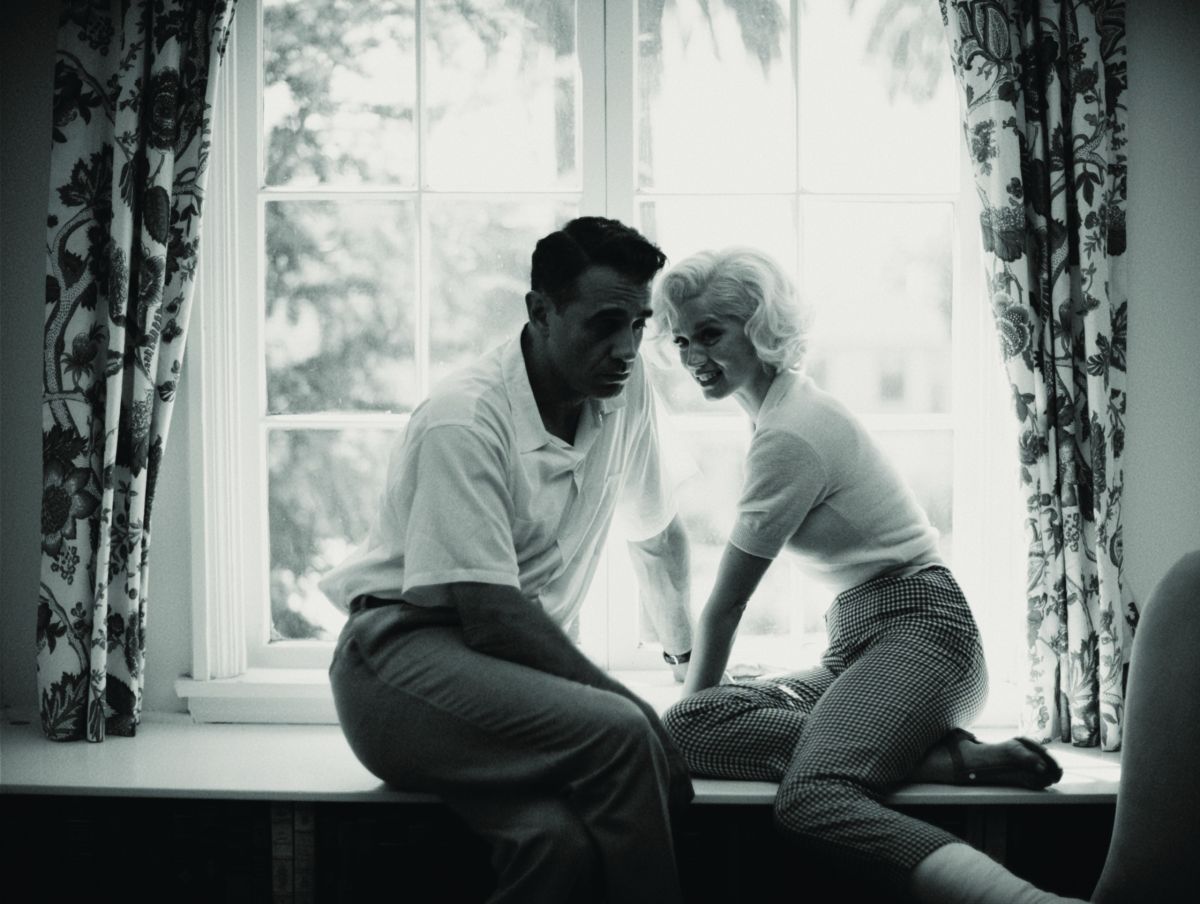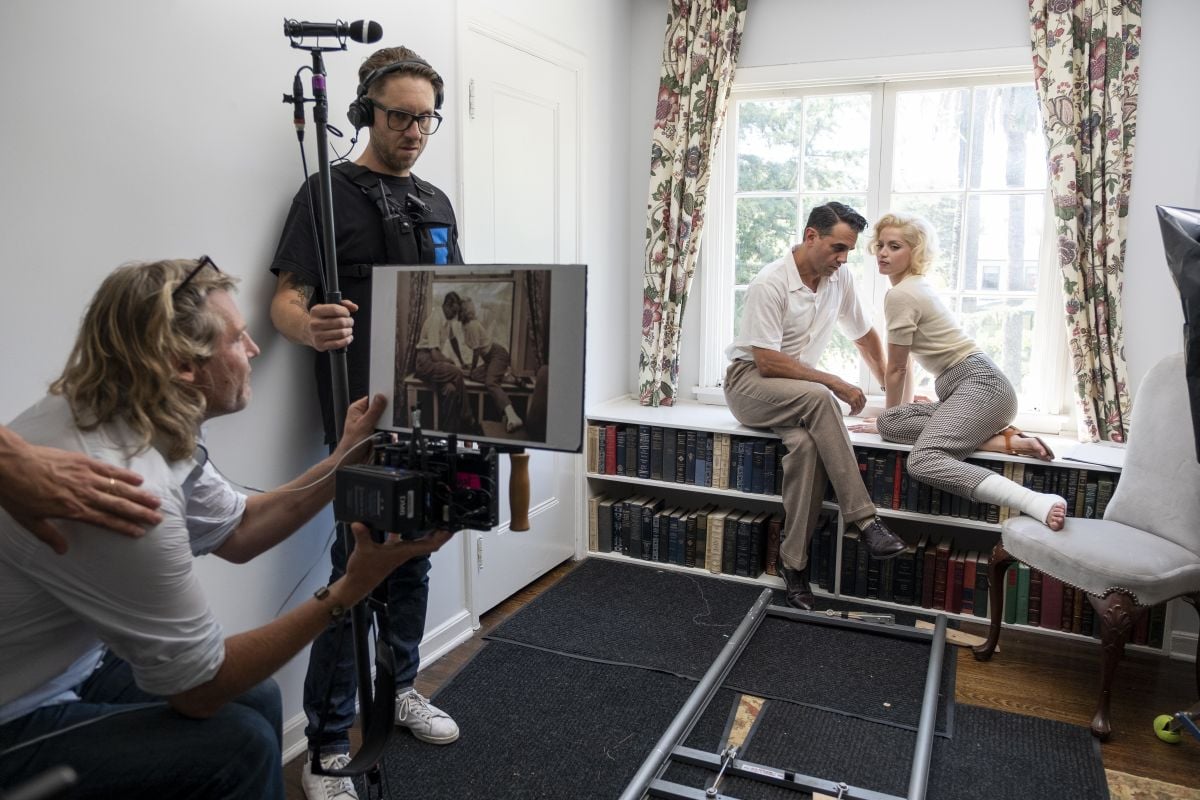 To the Woodshed
Irvin's search for techniques to visually support the story — a process he calls "woodshedding" — extended well into the shoot. "I come from a family of jazz musicians, and in jazz, woodshedding means isolating yourself to rehearse so you can come up with a harmonic device to pull out of your pocket during a set to take you out of the ordinary. I woodshedded on weekends during the shoot, creating devices to try to provoke a response in myself. I wanted to listen and learn."
One result of these woodshedding sessions is Irvin's incorporation of bold lens flares, which rend the frame like horizontal lightning bolts when Monroe is highly agitated. "I ordered some cheap audio cables online, stripped out the fiberoptic piece and stuck it behind the lens to create this flare that I call 'astigmatism," he says, which emulates the effects of astigmatic irregularity in the human eye. He adds that ASC associate member Dan Sasaki at Panavision "gave me that label when describing certain characteristics he implements into lenses."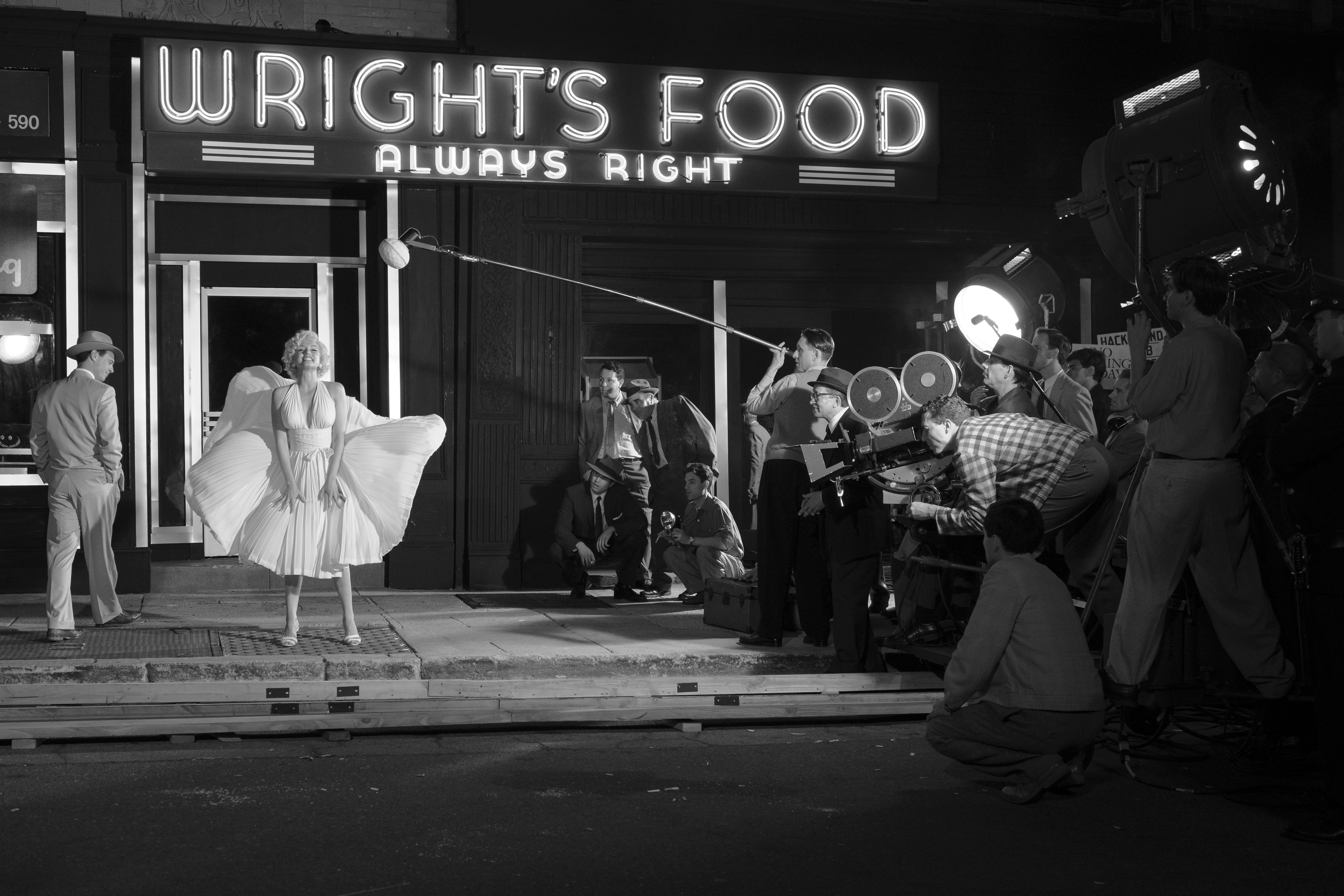 Another is the abstract imagery that enlivens Monroe's first tryst with Hollywood nepotists Cass (Xavier Samuel) and Eddy (Evan Williams). Irvin achieved the effect by shooting handheld at 120 fps into a curved, concave mirror positioned in front of the actors. "I'd found the mirror while woodshedding and decided to put it on the grip truck," he says. "As we were setting up that sex scene, I sensed it could be useful, so I asked [key grip] Joey Dianda to get it. When we started rolling, Andrew started shouting, 'That's amazing!' I used a high frame rate [with the Venice] because I wanted to take out all the micro-vibrations you get with handheld. The angles were just me trying to avoid all the scrapes and scratches the mirror had picked up on the grip truck! We were in a small hotel room with one window, and I don't remember using any additional lighting."
Irvin made another discovery while filming this scene. "We were setting up a single of Cass, a close-up with the 90mm, and when [1st AC] Jimmy Ward pushed the calibration button on the Preston, I saw the focus go far and then close, [and the significant drop in exposure at the close end] was like getting sucked into a void. So as we were rolling, I just pushed the button and Andrew started screaming with excitement.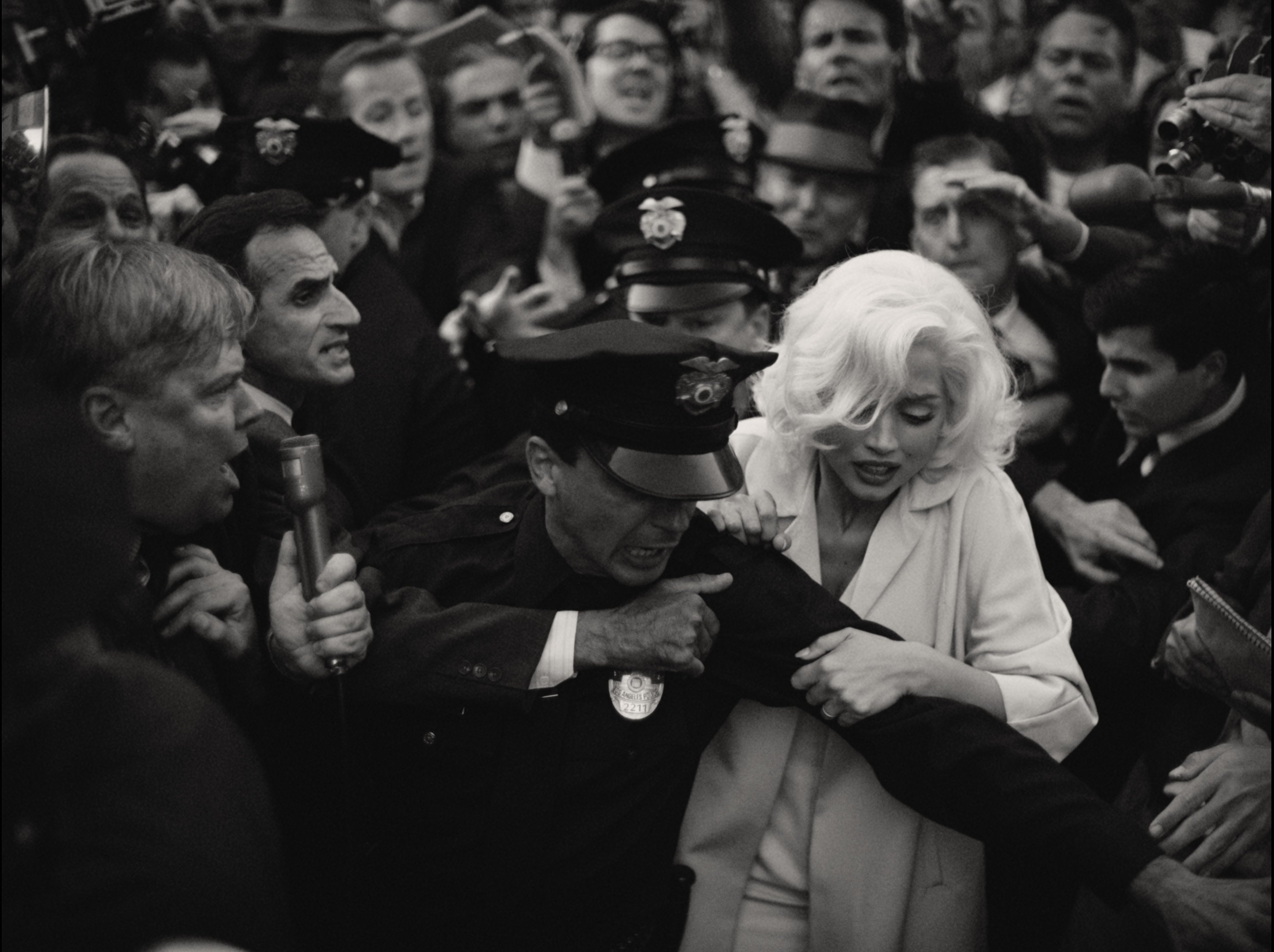 "It was just an intuition, and I'm not sure I would've calibrated the focus motor during an actor's performance on other shoots," he continues with a laugh. "I didn't know if Andrew would use it, but later in the movie, when Marilyn gets the call telling her Cass is dead, it cuts to that shot. I was so glad Andrew found a place for it. It reaffirmed for me that in some ways, these ideas I've been developing work."
Irvin describes Blonde's evocative final shot as "another one of those gifts." The handheld camera pulls back from Monroe's bed, where she has collapsed, and holds on her feet hanging off the bed as it backs away and comes to rest on the floor. The shot slowly fades to black.
"We'd planned a much more complicated move that would have started with her dog going under the bed and then pulled back through the house, out the front door and up into the sky," Irvin recalls. "But Andrew got frustrated working with the dog, and when he left the room, we kept rolling. I started on the dog and backed away, around the bed, and just intuitively went down on my knees. Jimmy was still holding focus at a particular point, so it went out of focus, and as I put the camera on the ground, I said, 'Grab focus.' To me, it felt like the POV of a lost soul or somebody who had passed.
"I waved to digital utility Iain Trimble to bring over my Cinefade [VariND], and as I held the camera on the ground in my right hand, I started twisting the Cinefade down and down with my left. Andrew called 'Cut,' came up to me and said, 'That's the ending.'"
​Tech Specs
1.33:1, 2.39:1, 1:1.33 (vertical)
Cameras | Sony Venice, Arri Rental Alexa XT B+W
Lenses | Panavision PVintage, Ultra Speed, Close Focus Super Macro Special, Auto Panatar, H Series, D Series, Primo Zoom; Petzval