On Thursday, November 3, Canon filled the ASC Clubhouse in Hollywood with Society members, cinematographers and other production professionals for the unveiling of their new flagship digital cinema camera, the EOS C700. November 3 is a significant day for Canon, noted Elliot Peck, the company's Senior Vice President and General Manager of the Imaging Technology and Communications Group, Chairmain and CEO of Information and Technology Services. It was exactly five years ago, in 2011, that Canon first unveiled their EOS C300 and pledged a commitment to the cinematography community to collaborate, listen and evolve new technology designed for filmmaking.

Peck joked with Tim Smith, Canon's Senior Film and Television Adviser, that his hair was a lot darker five years ago. Smith quipped back, "It was actually 18 percent gray," which earned a full-audience belly laugh.
Canon followed the EOS C300 with the introduction of the EOS C500 at NAB in April of 2012, and just a few months later, at IBC, they unveiled the EOS C100. Since that time, more than 40,000 Cinema EOS cameras have shipped worldwide.
"We came to Hollywood and this business with the understanding that we had to listen to you," offered Peck from the podium. "This is an industry of collaboration. No one manufacturer can stand alone, and we took that approach when we entered this business. It's about everyone contributing to create something beautiful. The C700 is the embodiment of what we've learned from you, our professionals. Five years ago, when we came here, we considered the DPs and 1st ACs who use, and rely on, our equipment and it was critical that we listen to you to deliver a product line that can help tell your story."
Smith took to the podium next with a very brief PowerPoint presentation on the technical specs of the new camera.
The EOS C700 is a Super 35-sized sensor with internal 4K XF-AVC recording, as well as an integrated Codex uncompressed raw recording option. The photosites are 6.4 microns large and the sensor is 26.2mm x 13.8mm (29.6mm diagonal) in 4K and 28.9mm x 15.2mm (32.6mm diagonal) in 4.5K raw. The camera utilizes three DIGIC 5 processors. The camera will be available in PL or EF mount (interchangeable by Canon). It features a 15-stop dynamic range and the ability to shoot HDR, as well as integrated anamorphic de-squeeze for 2x and 1.3x. Another model, the EOS C700 GSPL, will be available early 2017 and will feature a global shutter. The GS model will feature a 14-stop dynamic range and a slightly higher price point.

The C700 has a magnesium alloy body that weighs just under 8 pounds. The EF version features the Canon Cinema Lock EF mount in which the lens doesn't turn (as it does with a DSLR camera) but rather a rotating locking ring, just like a PL or PV mount, securely holds the lens in place.

The Codex CDX-36150 was specially designed to integrate with the C700. It attaches to the back of the body in place of the onboard battery with a battery plate on the back of the recorder and integrates directly with the camera's menus. With the CDX-36150 in place, the camera is capable of recording 10- or 12-bit 4K or 4.5K uncompressed raw up to 120fps and 2K ProRes up to 240fps. The recorder uses a Codex Capture Drive 2.0 (1 TB or 2 TB options). Recording is possible is Canon Log 2 and 3. The C700 supports ACES 1.0 through the use of Canon IDTs.
An optional accessory is the 1920x1080 OLED Viewfinder (EVF-V70) that features an integrated waveform, HDR simulation, peaking, menu access and a host of other advanced features.
Internal ND filters offer 0.6, 1.2, 1.8, 2.4, 3.0 and clear options.

Without the optional Codex recorder, the camera has a CFast slot that can record 4K ProRes and XF-AVC up to 59.94 in 4K at 10-bit.
When using Canon EF autofocus lenses, the camera features Dual Pixel CMOS AF Technology. Each photosite in the camera's sensor features two sensels. Two independent image signals can be detected at each photosite and through the use of phase-difference AF, focus is automatically accomplished. The autofocus system also integrates face detection technology.
In the PL model, the lens mount integrates the Cooke Optics' /i intelligent metadata contacts.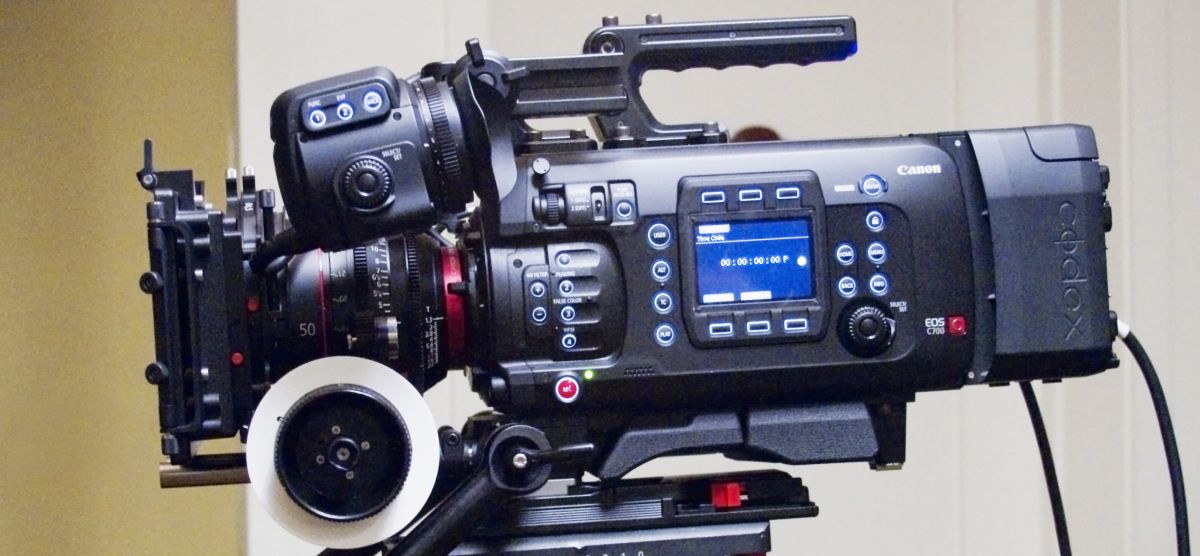 The body features built-in cheese plates with 3/8"-16 and 1/4"-20 threaded holes on the top and bottom to easily attach accessories. Both sides of the camera can have redundant main displays with menus and controls. The main controls are on the operator side of the camera, but a second module can attach to the opposite side of the camera to give full menu control.
During the evening, Canon also showed off their new 4K UHD reference monitors. The DP-V2420 is a 24-inch 4K model designed for HDR viewing in a mastering suite or mobile truck grading environment. The display qualifies as a Dolby Vision mastering monitor (supporting SMPTE ST 2084) as well as the proposed Hybrid Log-Gamma (HLB) broadcast HDR standards. It is a 4096x2160 10-bit IPS panel with 100,000:1 contrast ratio and a 17:9 picture ratio. Side-by-side viewing is possible for HDR and SDR signals. The monitor also features two sample interleave and four split-screen display, peaking, 4K waveform and vector scope, still capture, false color, audio level meter and area markers.
The second monitor is the DP-V1710, a 17-inch 3840x2160 monitor equipped with 6G-SDI terminals, 4K 60P capability and the same assistant features as the larger model.
The technical presentation was followed by a short behind-the-scenes look at The Calling, a short film directed by Tyler Stableford and shot by Russell Carpenter, ASC, which was followed by the film itself. The project is a look at three different lives in the American Southwest, complete with hard, direct sunlight and bright skies, deep contrast and heavy shadows:
"The Canon C700 represents the next evolutionary step in digital capture," Carpenter said during the following Q&A moderated by Smith. "It's got a sensor that is tremendously sensitive in the toe of the curve — and I just love that. I love having all that information down there and knowing that it's going to come up without bringing up any color noise. The menu system is really well thought-out in that there are certain changes that we make all the time in terms of ISO, white balance, frame rate changes all of that is very easy to access.
"My first question is why are you rating this at 800 ISO," the cinematographer continued. "I felt that I could totally rate this at 1600 or 2000 ISO all day and I'd never see any noise in the blacks. That was pretty astonishing. What I learned when I went into HDR was that, 'Oh my god there's tons of information in the shadows and tons of information in the highlights.' It was a very easy grade. The biggest question for me, being a neophyte with HDR, was realizing that, as cinematographers, we can't get away with the tricks that we used to do. The idea of 'Ah it'll just blow out... you don't have to worry about that' just won't work."
Carpenter's 1st AC, Craig Grossmueller, offered, "The one disadvantage was when the camera goes into high-speed mode the output signal changes to 60p and that becomes a problem for monitoring on set. Most monitors and transmitters aren't able to handle that signal."
Canon's Smith quietly returned, "In my defense, the new Canon monitors can handle it." That resulted in another full-audience laugh.
The C700 will ship sometime in December at an estimated price point of about $35,000 and the global shutter model will ship in early 2017 with an estimated price of $38,000.
TECHNICAL SPECS




3 Models


EOS C700 / EOS C700 PL / EOS C700 GS PL




Sensor


Super 35 SMOS sensor with 6.4 micron sensels




Total Photosites EOS C700/C700 PL


4622 x 2496 (11.54MP)




Total Photosites C700 GS PL


4374 x 2496 (10.92 MP)




Effective Image Area


EOS C700 / C700 PL: 28.9 mm x 15.2 mm (32.6 mm diagonal) raw




EOS C700 GS PL: 27.3 mm x 15.2 mm (31.3 mm diagonal) raw




All models: 26.2 mm x 13.8 mm (29.6 mm diagonal) in 4096 x 2160 or 2048 x 1080




Effective Sensels EOS C700/C700 PL


4096 x 2160 in 4K (8.85 MP) or 4512 x 2376 in raw (10.72 MP)




Effective Sensels EOS C700 GS PL


4096 x 2160 in 4K (8.85 MP) or 4272 x 2376 in raw (10.15 MP)




Lens Mounts


EF (Cinema Lock type), PL




ISO


160 - 25,600 (and 100 - 102,400 with expanded sensitivity)




Size


Approx. 6.6 x 6.1 x 12.9 inches (167 x 154 x 327 mm)




Weight


Approx 7.6 lb (3.4 kg)




Internal ND Filters


Clear, 2, 4, 5, 8, 10 stop




Viewfinder


OLED Electonic View Finder EVF-V70 (sold separately)




Menu Display


3-inch (7.66 cm) color liquid crystal approx 1.036 million dots




Recording Media


CFast cards (s slots) for XF-AVC and ProRes




SD card for XF-AVC proxies and JPEG photos




Codex Capture Drive 2.0 for raw




Video Formats


XF-AVC/MPEG-4 AVC/H.264




ProRes Apple Codec




raw uncompressed




Audio Recording


Linear PCM (24-bit 48kHz) 4-channel




XF-AVC on Internal CFast Cards


XF-AVC 4096 x 2160 / 3840 x 2160 4:2:2 10-bit up to 60 fps




XF-AVC 2048 X 1080 / 1920 X 1080 4:2:2 10-bit up to 120 fps




XF-AVC 2048 x 1080 / 1920 x 1080 4:4:4 10-bit and 12-bit up to 60 fps




ProRes on Internal CFast Cards


ProRes 422 HQ 4096 x 2160 / 3840 x 2160 10-bit up to 30 fps




ProRes 422 HQ 2048 x 1080 / 1920 x 1080 10-bit up to 60 fps




ProRes 444 2048 x 1080 / 1920 x 1080 12-bit up to 60 fps




Raw and ProRes onto Codex Capture Drive


4k raw 4096 x 2160 12-bit up to 120 fps




4.5k raw 4512 x 2376 12-bit up to 100 fps




ProRes 422 4096 x 2160 / 3840 x 2160 10-bit up to 60 fps




ProRes 422 and ProRes 422 HQ 2048 x 1080 / 1920 x 1080 10-bit up to 240 fps




ProRes 444 and ProRes 444 XQ 2048 x 1080 / 1920 x 1080 12-bit up to 60 fps




Gamma Modes


Canon Log 3 / Canon Log 2 / Canon Log / Wide DR / etc.




Color Space


Cinema Gamut / BT.2020 / DCI-P3 / BT.709




LUTs


BT.709 / BT.2020 / DCI / ACESproxy / HDR-ST2049 / and others




Slow & Fast Recording


Slow motion up to 240 fps




White Balance


AWB, 2000K - 15,000K, 20CC to +20CC, Daylight, Tungsten, Presets A and B




Time Code


Drop frame in the 59.94 Hz mode, non-drop frame, rec run, free run, regen




Rear Connectors - Input


Timecode In/Out, Genlock/SYNC OUT, Remote (A/B), MIC, 2x XLR Audio




Rear Connectors - Output


2x MON, 4x SDI-OUT, HDMI OUT, headphones, Genlock/SYNC OUT, TIME CODE in/out Video




DC Power In


12V DC XLR 4-pin on camera body / 24V DC (10-34V) via Fisher 2-pin on Codex CDX-36150 recorder