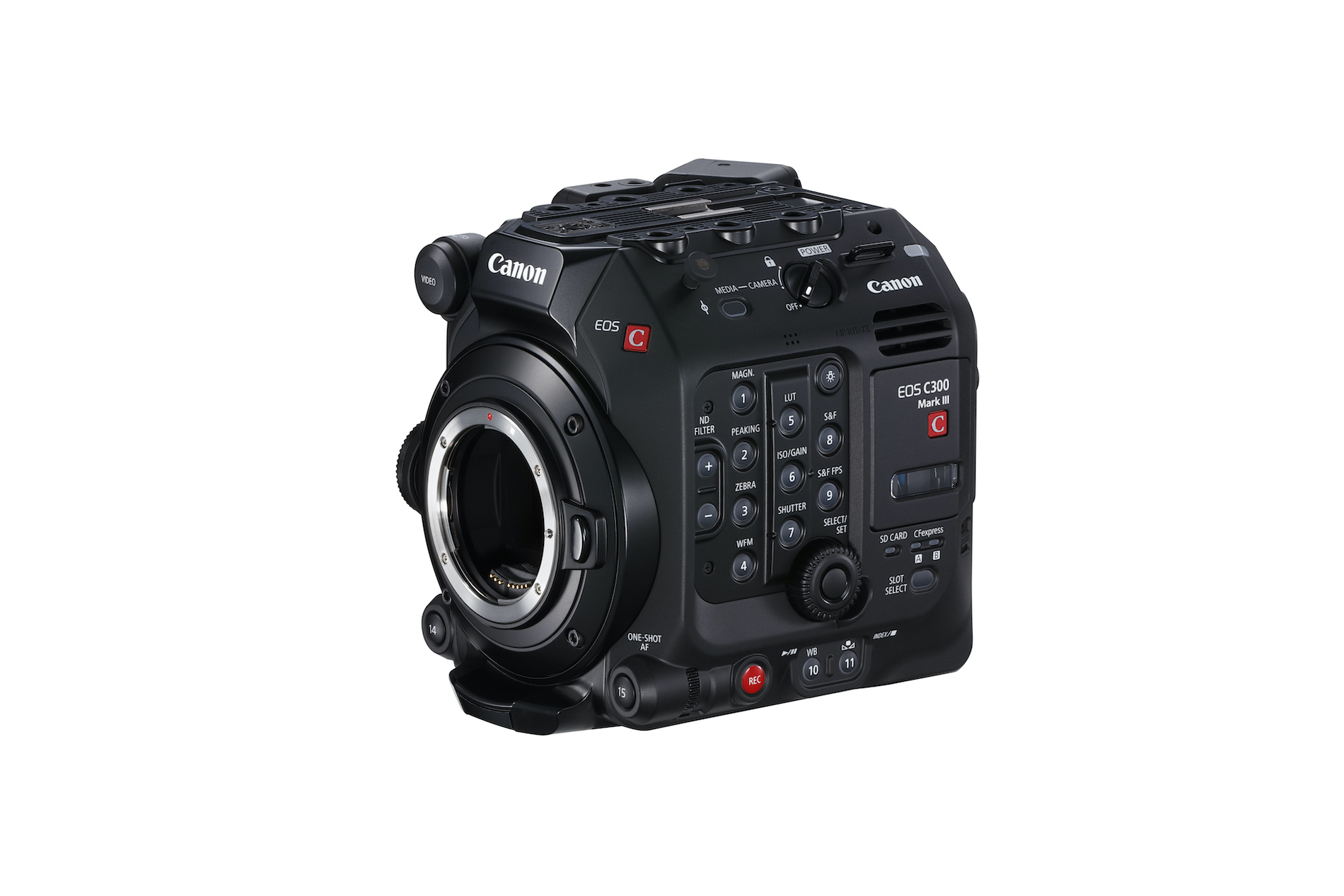 Canon Unveils EOS C300 Mark III, Cine-Servo 25-250mm
The company's latest product announcements also include a new portable zoom lens for the UHD-broadcast market and new lens-control accessories.
ASC Staff
The company's latest product announcements also include a new portable zoom lens for the UHD-broadcast market and new lens-control accessories.
Canon U.S.A., Inc., has unveiled the EOS C300 Mark III digital-cinema camera and the Cine-Servo 25-250mm (T2.95-3.95) cine lens.
The C300 Mark III features a new Dual Gain Output sensor and employs a modular design and an interchangeable-lens-mount optional accessory that allows users to easily customize the camera according to their needs. The camera weighs approximately 3.9 pounds.
"Creativity should never be hampered by a lack of choice, and Canon understands that, which is why we continue to expand and build upon our award-winning lineup of Cinema EOS cameras," says Tatsuro Kano, executive vice president of the Canon U.S.A., Inc. Imaging Technologies and Communications Group. "The C300 Mark III will seamlessly integrate into a creator's toolbox, providing users with an imaging solution that delivers a myriad of possibilities and potential. We look forward to seeing the visionary content created with it."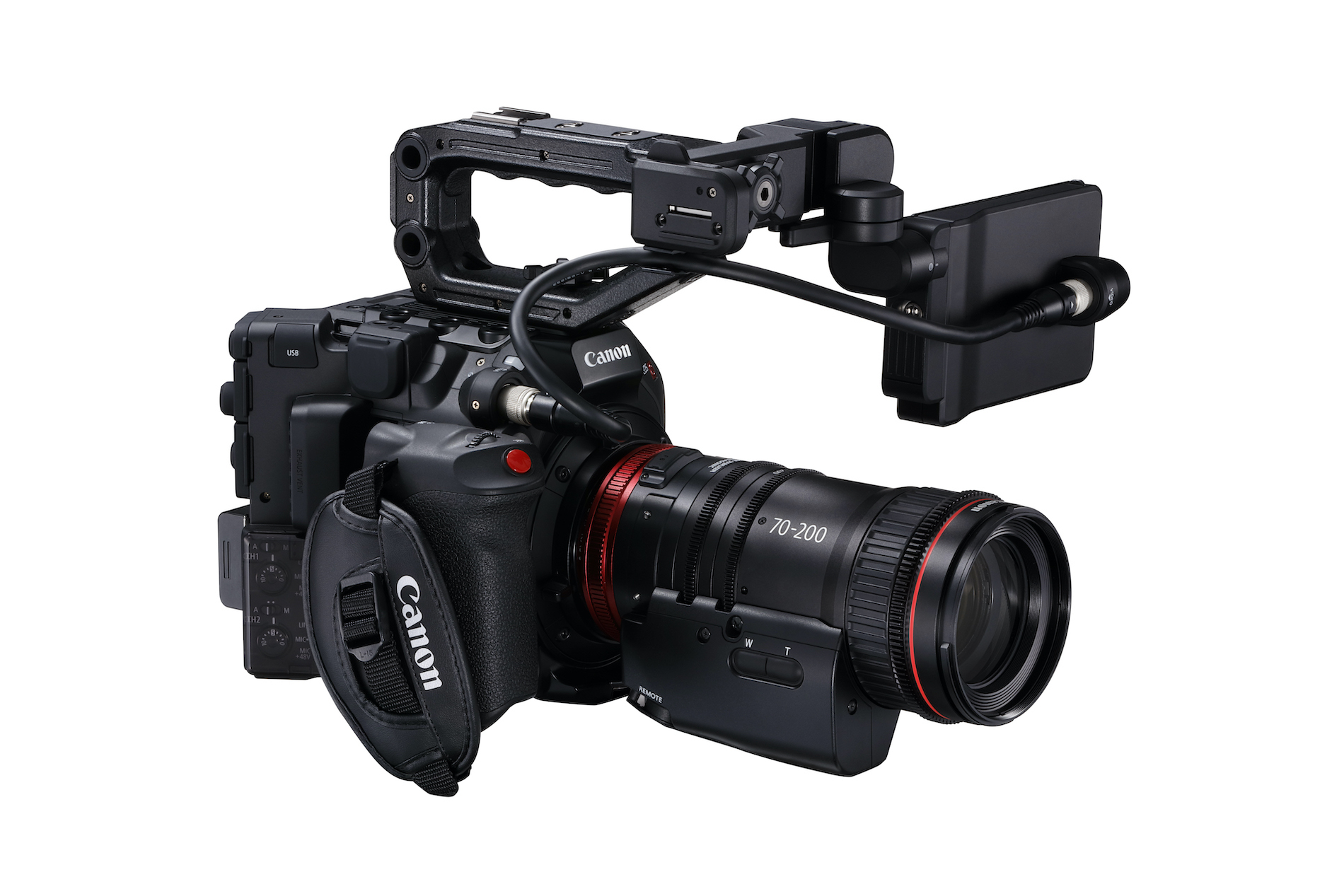 The 4K Super 35mm DGO imaging system captures high-dynamic-range content by reading out each pixel through two separate gains; one gain prioritizes saturation in highlight areas while the other suppresses noise in the shadows. The result is an image with up to 16+ stops of dynamic range, clean shadows and vibrant highlights in up to 4K/60p. In 2K recording mode, the camera features recording speeds up to 180p. Equipped with Canon's latest video-imaging processor, the Digic DV 7, the camera achieves more fluid and efficient recording of 4K and HDR and can process high-speed video recording, including 4K, at up to 120p.

The C300 Mark III utilizes Cinema Raw Light, which helps to cut the data size of a file to 1/3-1/5 of a similar Cinema Raw file without affecting grading flexibility. In addition to being able to record 4K and 2K raw data internally, the camera supports XF-AVC (with a choice of Intra or LongGOP), offering flexible options in recording durations.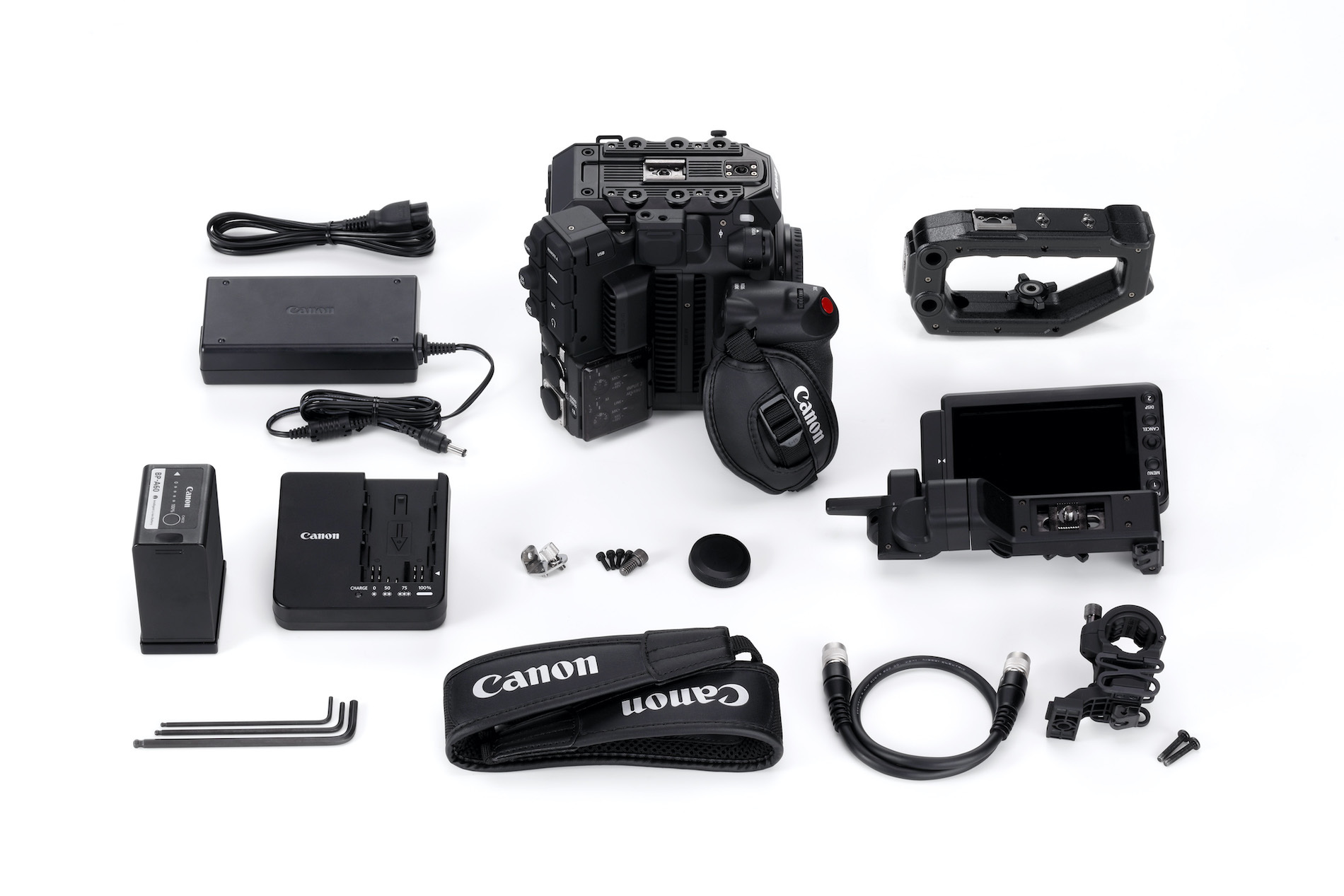 Included with the camera are 13 accessories, among them a 4.3" LCD monitor and the GR-V1 grip. Users can also choose from a wide range of optional accessories, including the EVF-V70 electronic viewfinder, the SU-15 shoulder-support unit and EU-V1 and EU-V2 expansion units. The EU-V1 allows for gen-lock, sync out, remote use and ethernet connection; the EU-V2 features those functions plus a V-mount battery connection, two analog XLR audio ports and 24v DC Out. Additionally, the mount kits (sold separately) allow users to exchange the EF mount with an EF cinema lock mount or PL mount.

The camera's features include: 4K DCI/UHD up to 120 fps and 2K/HD up to 180 fps with 4:2:2 10-bit XF-AVC recording; two CFexpress media-card slots; compatibility with EF and PL lenses (with optional mount kit) as well as anamorphic and spherical lenses; dual-pixel CMOS AF, up to 120fps; five-axis electronic image stabilization, which can be utilized even without the use of a lens with IS functionality; support for Canon Log 2 and 3; four-channel recording that supports 4 XLR inputs with the use of the EU-V2, and User LUT, which allows users to upload and apply custom LUTs.
The C300 Mark III will be available later this year for a list price of $10,999.
The Cine-Servo 25-250mm lens is designed for use with 4K cameras and is available in both EF and PL mount. Weighing 6.7 pounds, it features a 10x optical zoom, a built-in 1.5x extender and a removable servo-motor drive unit, providing broadcast-friendly shoulder operation for ENG/EFP and documentary-style shooters.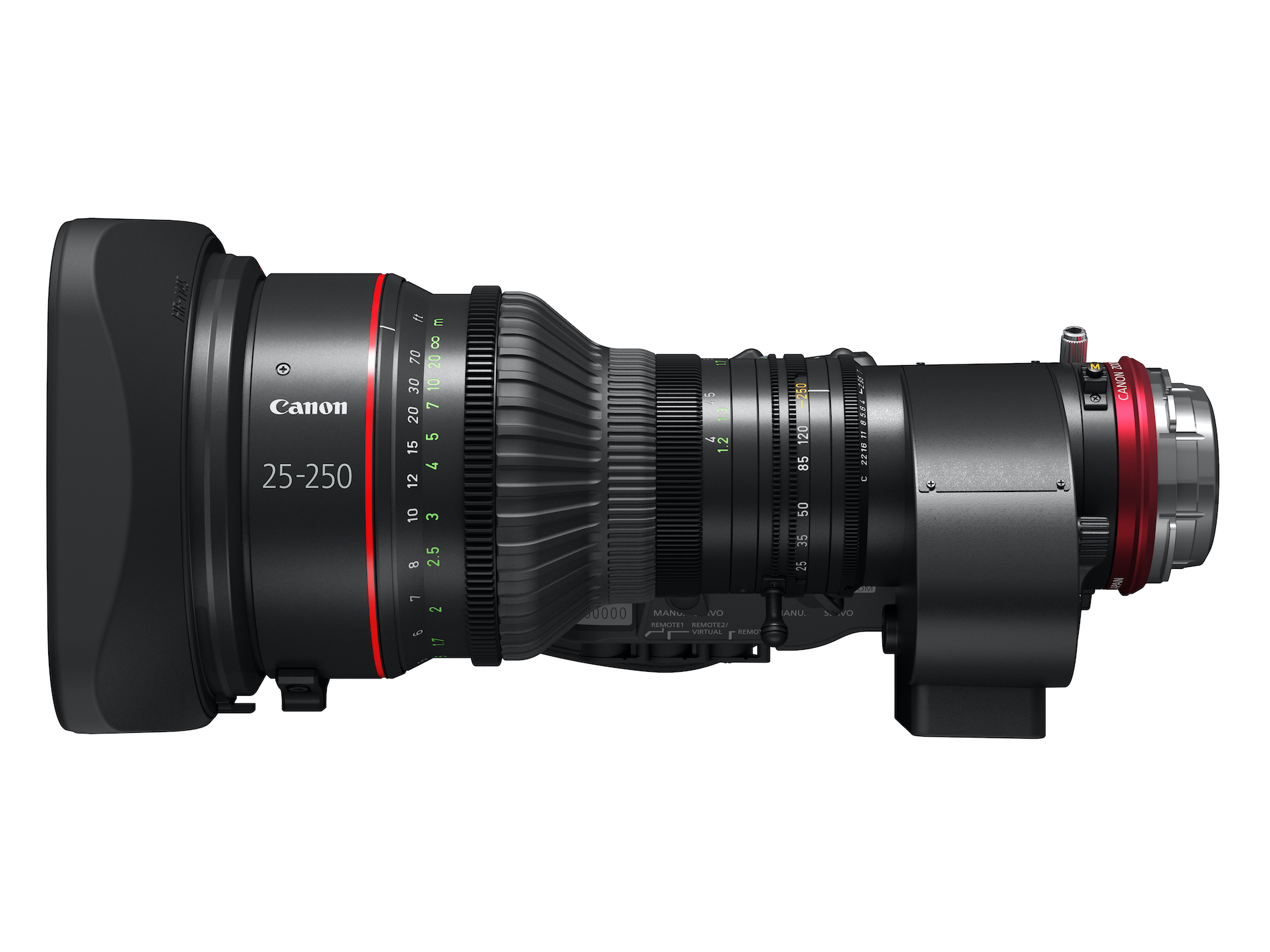 "As the lines between broadcast, cinematic and commercial productions continue to blur, it becomes more important to have a seamless product line that can provide solutions across a broad scope of applications," notes Kano. "The Cine-Servo lens family combines outstanding performance and an unmatched focal range from 17mm up to 1500mm in the three-lens family. The new 25-250mm lens adds a great deal of versatility to the lineup and will soon be a favorite of productions large and small."

The Cine-Servo 25-250mm is ideal for cameras with a Super 35mm sensor. The 10x zoom covers a focal range of 25-250mm, and the built-in extender stretches that range to 375mm with an added benefit of allowing for full-frame sensor coverage with only a stop of difference in light loss.
The servo drive unit can be easily removed to allow for manual operation, and the gear pitch is compatible with standard cinema controls of zoom and focus. The EF-mount version of the lens allows for the utilization of Canon's proprietary Dual Pixel CMOS AF, which provides users with smooth AF operation and high-speed tracking performance, and the PL-mount version supports Cooke/i Technology. The lens also features a macro function to enable close-up shooting.
The Cine-Servo 25-250mm will be available later this year for a list price of $29,999.
Separately, Canon also announced its latest 4K UHD-broadcast portable zoom lens, the CJ18ex7.6B Kase S, and two new G-Series lens-control accessories, the ZDJ-G01 Zoom Demand and the FDJ-G01 Focus Demand.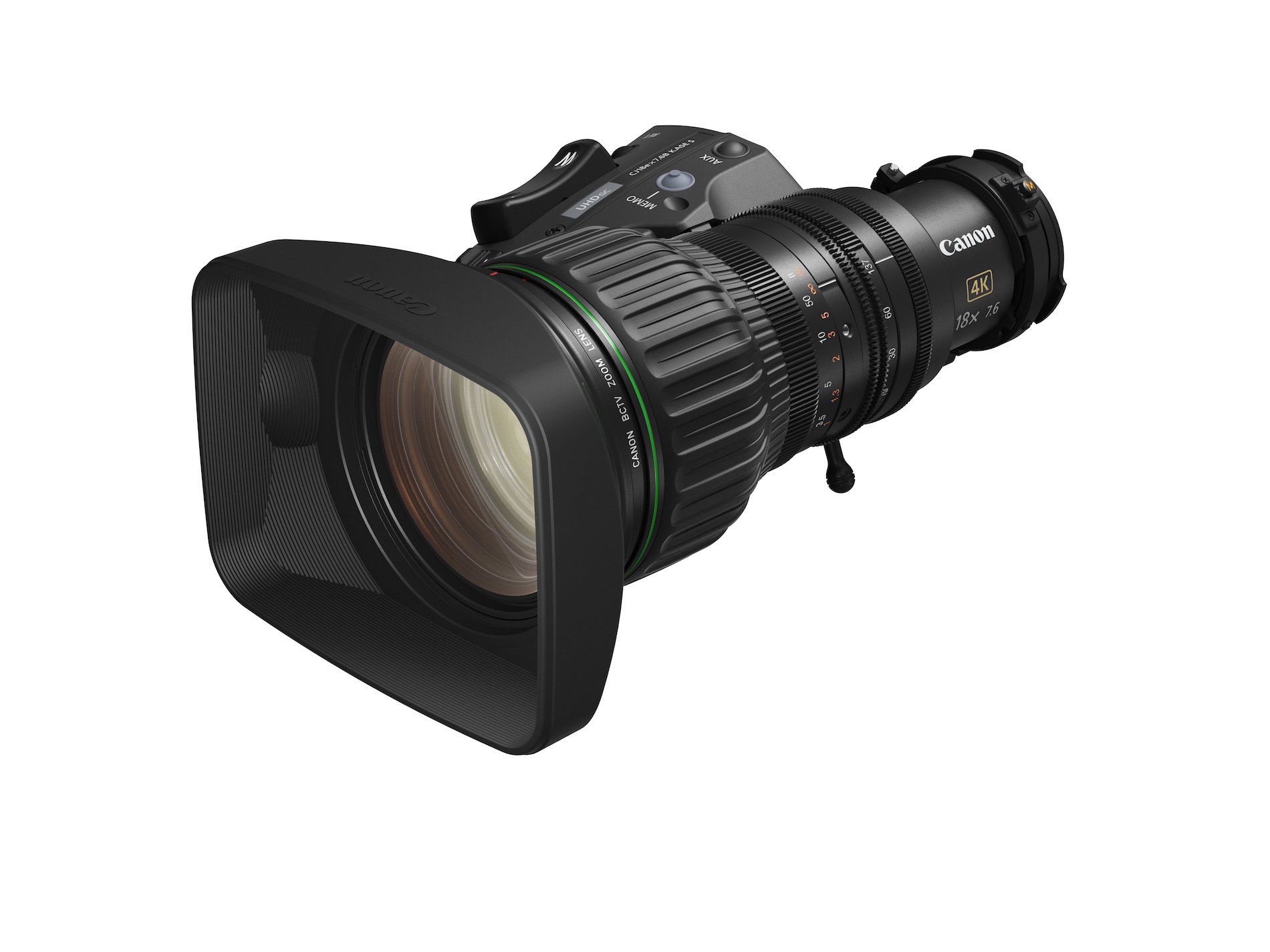 Featuring a zoom range of 7.6-137mm, the CJ18ex7.6B Kase S is designed for 4K cameras with 2/3" sensors. It has the same optical specs as the CJ18ex7.6B IRSE/IASE but lacks an optical extender, enabling it to maintain a compact, lightweight design. The lens is compatible with the new Canon ZDJ-G01 Zoom Demand and FDJ-G01 Focus Demand accessories, which provide operators with enhanced functionality and operational control of the lens.

Weighing 3.7 pounds, the CJ18ex7.6B Kase S achieves high-level 4K UHD performance across the entire zoom range thanks to Canon's proprietary optical-design technology, which incorporates materials such as fluorite and Ultra-Low Dispersion glass. In addition, the lens supports the wide color gamut approved by the ITU-R BT.2020 UHD broadcasting standard.
The CJ18ex7.6B Kase S will be available later this year.
The ZDJ-G01 and FDJ-G01 accessories, which are available now, incorporate digital control processing, displays and new control switches, empowering the user to add new creative operational capabilities to meet the disparate needs of sporting events, televised stage shows and opera broadcasts. The accessories support a wide range of Canon field, studio and portable broadcast lenses.
Follow Canon U.S.A. on Twitter, Facebook and Instagram.
Keep up with American Cinematographer on Facebook, Twitter and Instagram.