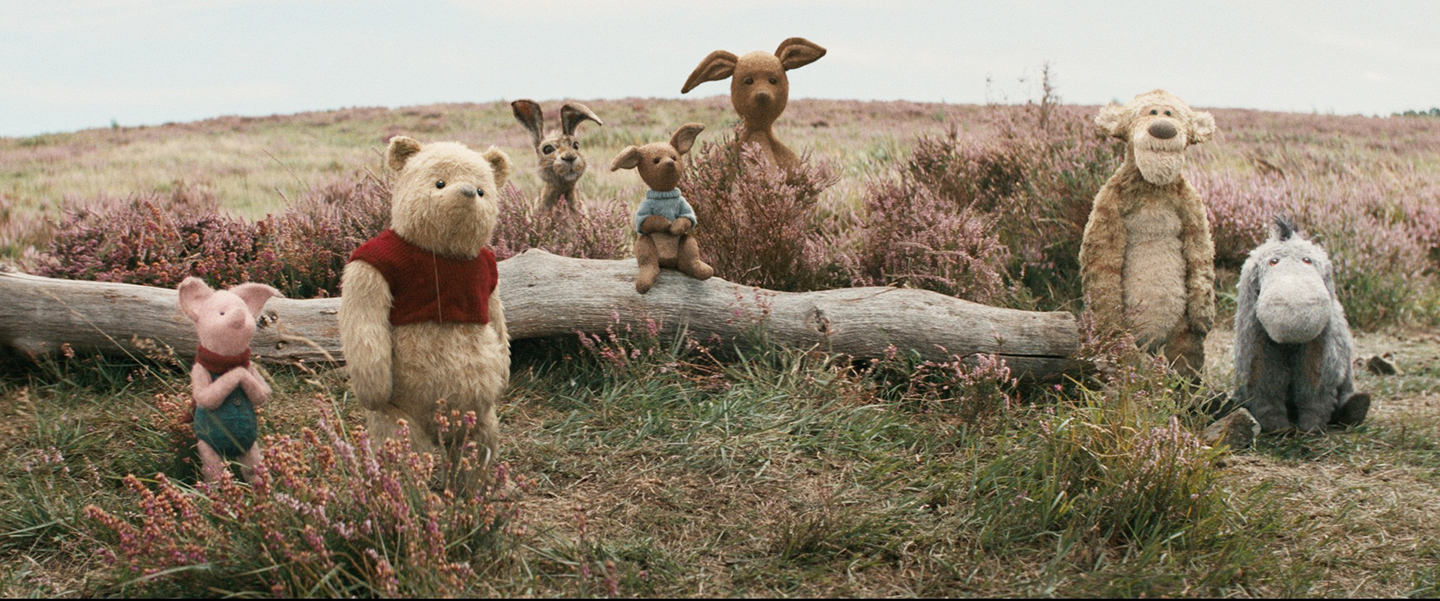 Christopher Robin: Making Magic with Mixed Formats  
Online Exclusive: Cinematographer Matthias Königswieser on how he combined 35mm and 65mm film with digital capture to create nostalgia in a fresh perspective on beloved characters. 
Samantha Dillard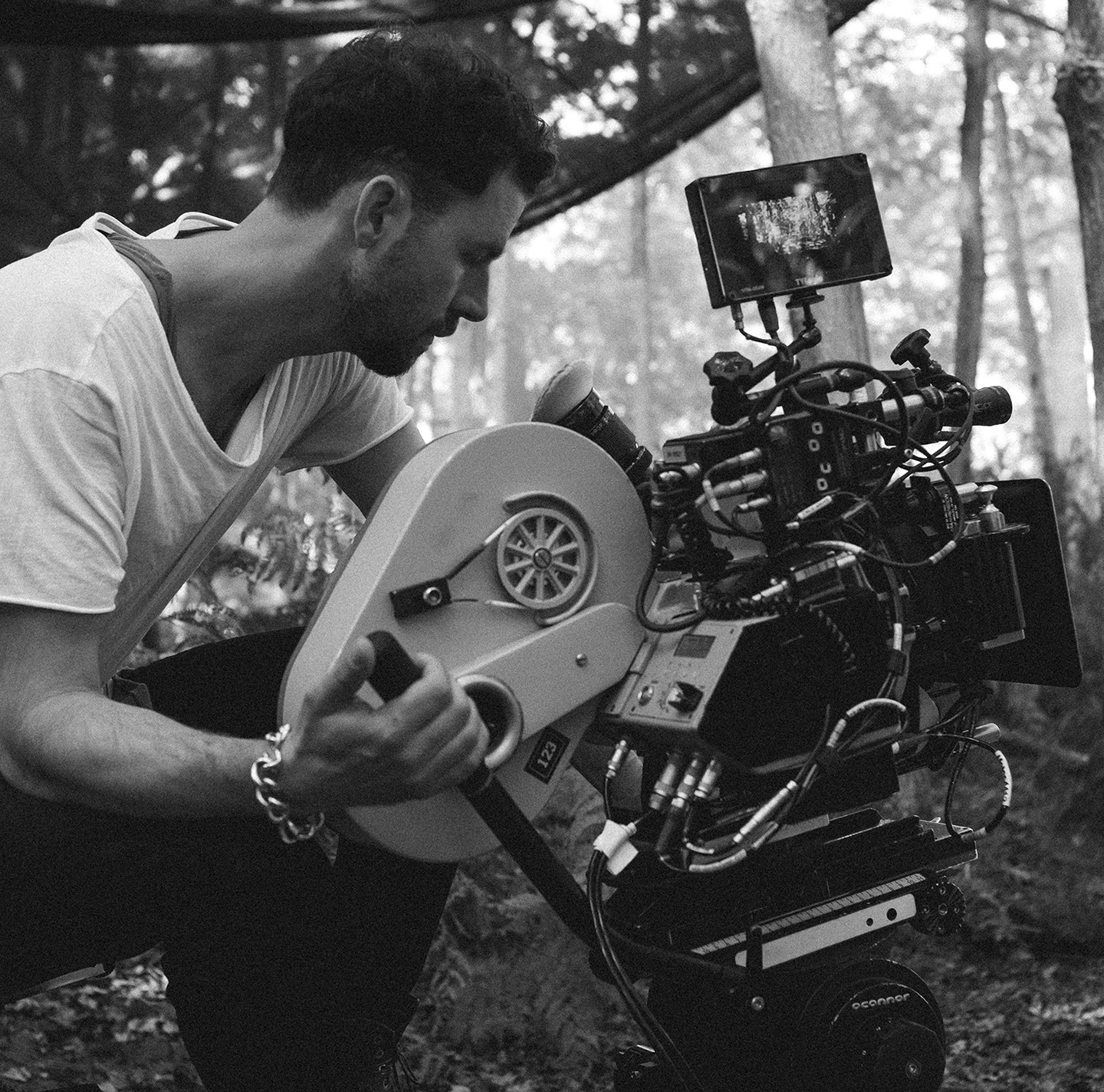 Online Exclusive: Cinematographer Matthias Königswieser on how he combined 35mm and 65mm film with digital capture to create nostalgia in a fresh perspective on beloved characters.
There's a party, and all of your childhood friends are there. It's a sunny, gorgeous day in the middle of the Hundred Acre Wood, and at the table, there's tea, cake and, of course, honey. It's a farewell party for young Christopher Robin as he leaves his home in Sussex (with a portal to the Hundred Acre Wood) and heads to boarding school. Everyone is excited to celebrate and eat cake, but at the head of the table, there's an old friend who isn't quite ready to say goodbye. "What should happen," Winne-the-Pooh asks young Christopher with a heavy heart, "if you forget about me?"
Christopher Robin — the latest Disney live-action adaptation — follows the story of the titular character once he has left his childhood behind — along with his friends in the Hundred Acre Wood. As an adult, Christopher dedicates his life to work instead of play, which is a mindset he tries to instill in his daughter. But, after too many years of prioritizing work brings Christopher to a watershed in his relationship with family, his oldest friend makes his way out of the Hundred Acre Wood and into London, having spent the past 30 years waiting for Christopher to come back to the forest and play.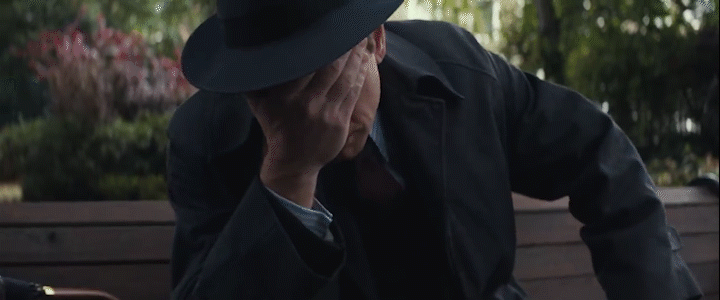 The Hundred Acre Wood and its inhabitants — Pooh, Eeyore, Tigger, Piglet, Owl, Rabbit, Kanga and Roo — look a bit different from what audiences have come to expect. Their colors are muted, and they look like actual stuffed toys rather than their traditionally animated character styles. For director of photography Matthias Königswieser — who was profiled as a 2018 American Cinematographer Rising Star — this visual departure is "a brave step" and part of what makes the film beautiful.
"We all wanted to make the same film," Königswieser says about the team of collaborators, which included director Marc Forster, visual effects supervisor Chris Lawrence, animation supervisor Michael Eames, production designer Jennifer Williams and costume designer Jenny Beavan, among others. "It became very clear from the beginning what the [story] was that Marc wanted to tell, and he collaborated with German concept artist Michael Kutsche, who drew the animals in the forest. They were backlit sitting in the shade, and they looked aged and a bit torn apart, like they'd been loved for 30-plus years — almost exactly like they look in the movie…. It was such a naturalistic approach and strong statement." Königswieser adds that everyone who worked on the project had a copy Kutsche's drawing in their office, and the visual acted as a "starting point" for every decision made. "I think that was a really good move because it aligned everybody. When I saw [the drawing], it was so much in tune with my aesthetic naturally that my conversations with Marc were very simple."
Christopher Robin is the third narrative collaboration between Königswieser and Forster, following the feature All I See Is You, the pilot for Hand of God and several commercials. On All I See Is You, Königswieser says, "I felt his love for experimentation, and he felt [mine]. I think we're both filmmakers who really love to try new things in terms of the visuals."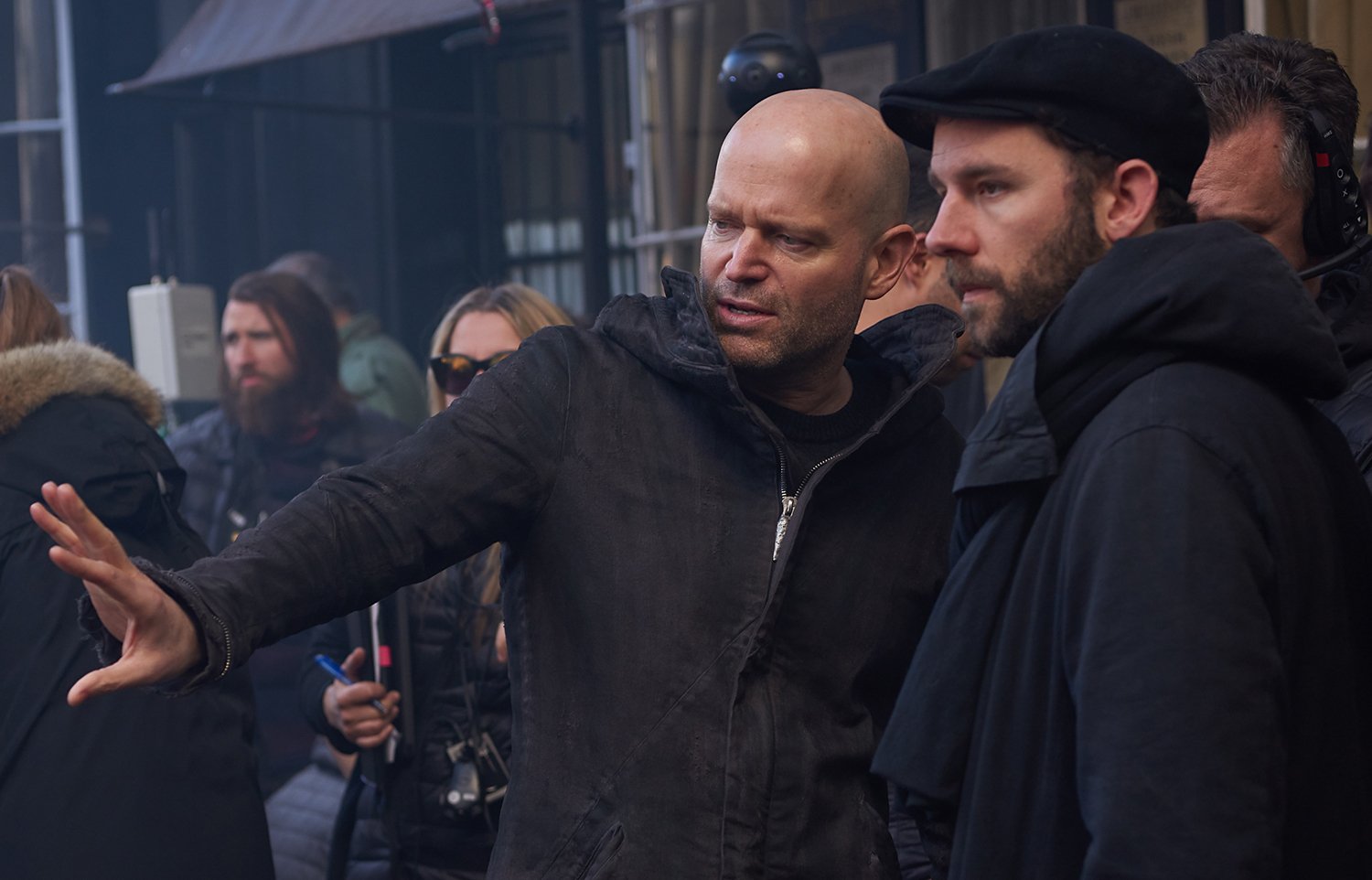 Because of this relationship, Königswieser explains, he essentially had "free reign" when shooting, but there were a few key elements that had to be in place. One was that nature — specifically the Hundred Acre Wood — needed to be "absolutely gorgeous." The cinematographer notes that nature is a character in the film and just as essential as Christopher Robin and Pooh. "I wanted to show nature almost larger than life," he says, "as if it was the spirit of nature — something supernatural." Another directive was that that the film must be a fully immersive experience, especially when filmming the animals. "[We didn't want it] to be an effects movie where you cut to the visual effects or the computer-generated character…. We wanted to be one of them."
These directives, along with Königswieser's vision of how he wanted to portray the time period, informed his choice of equipment. He determined that the most effective way to tell the visual story was through a mixed format — 35mm and 65mm film and digital capture. To blend the different formats together, Christopher Robin employed an aspect ratio of 2.40:1.
The cinematographer notes that there are three worlds in the film that he conveyed through the visuals: Christopher Robin's world (represented through London and Sussex), the point of view of Pooh and his friends and "nature's spirit."
London needed a cooler color palette, Königswieser explains, that differed from the warmth and vibrancy of the Hundred Arce Wood, so he chose digital for those sequences. He used the Arri Alexa SXT and Arri Alex Mini with Panavision C Series and E Series anamorphic prime lenses. Inspired by vintage photographs from the 1940s following the introduction of Kodachrome, the cinematographer wanted the London sequences to have a mix of tungsten lighting and daylight.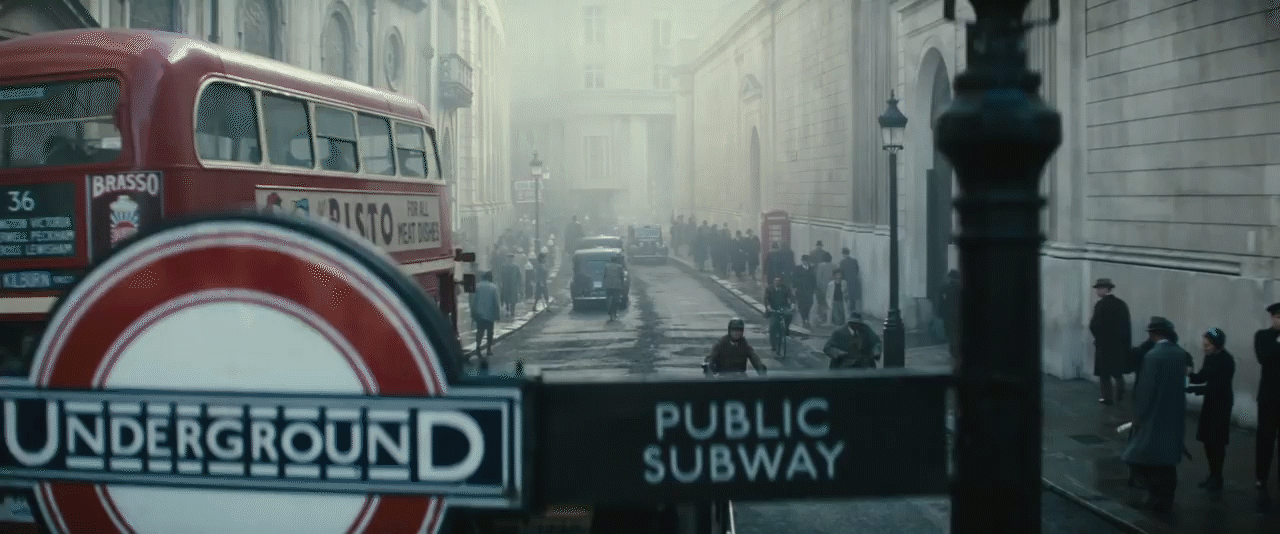 Königswieser calls the Luminys Systems 100K Linear SoftSun his "favorite weapon," and remarks that one sequence — when Christopher takes Pooh to Dover train station, Pooh wanders off and Christopher has to chase him down — utilized six SoftSun units. This sequence, which Königswieser describes as the "biggest scene of the movie in terms of technical execution" is also the one for which he is the proudest "from a technical, lighting and collaborative standpoint." In addition to the SoftSun units, the cinematographer employed two Arrimax lights on cranes, a mix of HMI and tungsten Helium Balloon lights and what he calls the "regular assault package" of a DP, including Arri 18K HMI, Mole 20K and 24K and Tungsten 18K, 20K and 24K fixtures. Königswieser adds that the sequence involved 500 extras, set extensions and Stabileye cable cams. "All the toys came out," he says, "and it was absolutely insane." This shoot was also a moment of personal pride as it was the day Königswieser's family visited and saw him work for the first time. "It was really special," he offers, "and absolutely spectacular to do."
The Hundred Acre Wood, in contrast to London, needed a warm, rich color palette. Königswieser filmed on location on private property near Pippingford Park in Sussex — close to Ashdown Forest, which was the original setting for the Winnie-the-Pooh stories by A. A. Milne — as well as Windsor Great Park in Windsor. Principal photography took place during the summer months when, Königswieser notes, nature is greenest. The team was also working with a lot of red — Pooh's iconic balloon as just one example — and the cinematographer explains that he was most comfortable shooting these colors on film. "To shoot color on film is very simple because film has infinite color depth. It just records everything and becomes what it is. On digital, it's a yes or no situation, and sometimes greens and reds can be problematic…. Hard sun hitting a green tree can be extremely difficult on digital because you're dealing with a big exposure difference [as well as] the color depth, bit depth and the chips being challenged. So, [for technical reasons], I felt film would be best."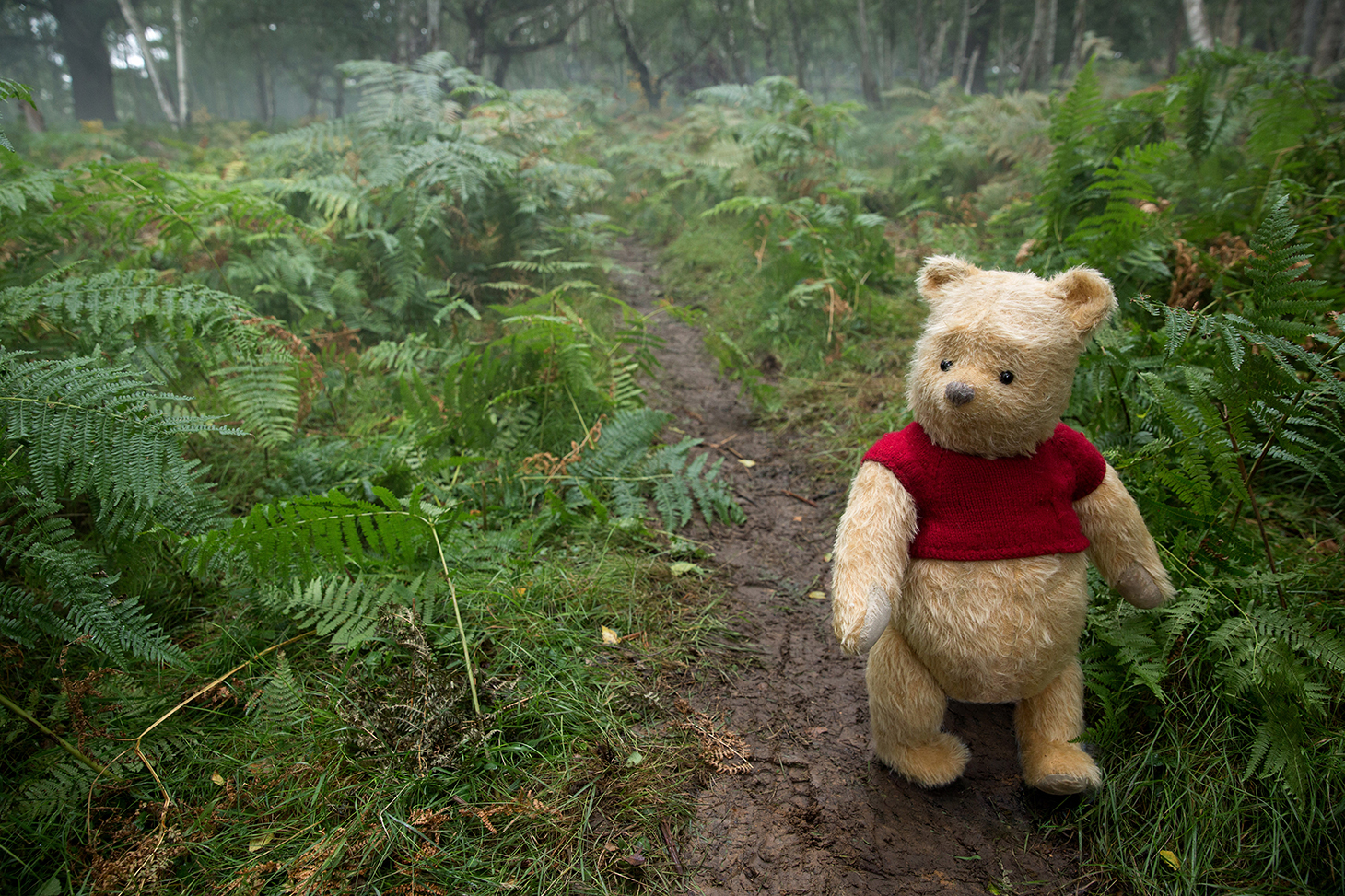 Film also felt like a natural choice, he adds, because "it was the truest to the time period," and — since the Winnie-the-Pooh stories have been an integral part of many people's childhood — he wanted to create nostalgia. "To me, 'film magic' is something that is added to reality and takes us away from it. I think in many ways we are watching a movie to escape reality, so when you have moving grain, it adds a layer to the image. The photochemical process adds a veil. Everything looks, in a way, askew. Maybe it looks more like a memory. Maybe it's the visual representation of me telling you a story. That's the look of film. And I think that [using film] was very appropriate for something that is, in many ways, a story that has been told to so many children for generations."
Königswieser filmed on Kodak Vision3 250D and 500T stocks and developed primarily at Pinewood Studios in Buckinghamshire, England, with most of the 65mm film developed at FotoKem in Los Angeles.
For the majority of sequences in the Hundred Acre Wood, Königswieser chose to shoot on 35mm. He utilized the Panavision Millennium XL2 with reoptimized Panavision G Series anamorphic primes.
"It's the most flexible," the cinematographer says of 35mm film. "You can make 35mm as rugged, grainy and full-on textured as 16mm, but you can also shoot it really clean and everything in between. You can go really high contrast; you can go low contrast." When it came to capturing "nature's spirit," however, he knew that he needed a different approach. "I wanted the forest to be dreamy — a place of escape. It was the place of joy and play for young Christopher Robin, and it [still] is for Pooh. It's the place Pooh calls home — the place he loves."
For these larger-than-life moments, Königswieser found that 65mm film was the ideal option after extensive testing with large-format digital cameras: "I felt like I was departing too far from the 35mm testing. The image stood out for being something different, and I wanted everything to melt…. When we tested 65mm film, it quickly became apparent that it was the perfect way to heighten the visuals yet be subtle enough that it wouldn't stand out. [When looking at the 65mm test footage], all of a sudden, I was looking at the most beautiful thing I've ever seen. At the same time, [65mm] would cut seamlessly with 35mm as well as some of the digital." The 65mm sequences were shot on Panavision System 65 and employed vintage Ultra Panavision 70 Auto-Panatar anamorphic lenses as well as Panavision System 65 sphericals.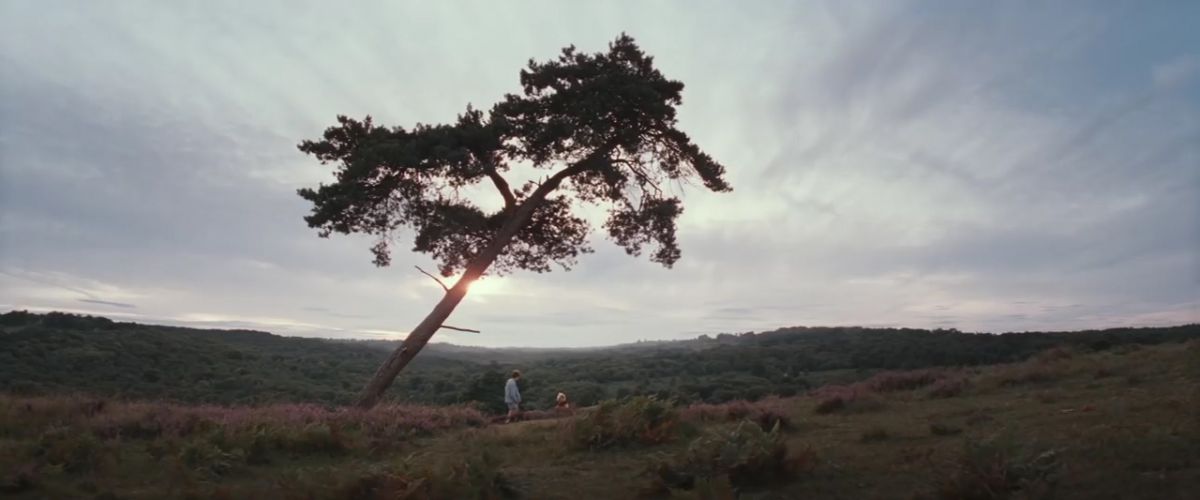 Most of the 65mm work was done by Königswieser, with additional capture performed by second-unit director of photography
Peter Talbot
. These shots were supplemented by 35mm textural nature shots filmed by
Callan Green
, ACS, NZCS, who provided additional photography. Green's work was captured at 60fps because, as Königswieser says, when slowed down, "it gives the audience a moment to really appreciate it and take it in…. When you enter the Hundred Acre Wood, it becomes a meditation — another world." Königswieser asked Green to go into the forest, lie down and take in all the visuals, and after a few minutes, to zone into a certain area and film. The cinematographer adds that 60fps was the best pace for these moments because "it almost feels like you're savoring that moment as you're experiencing it."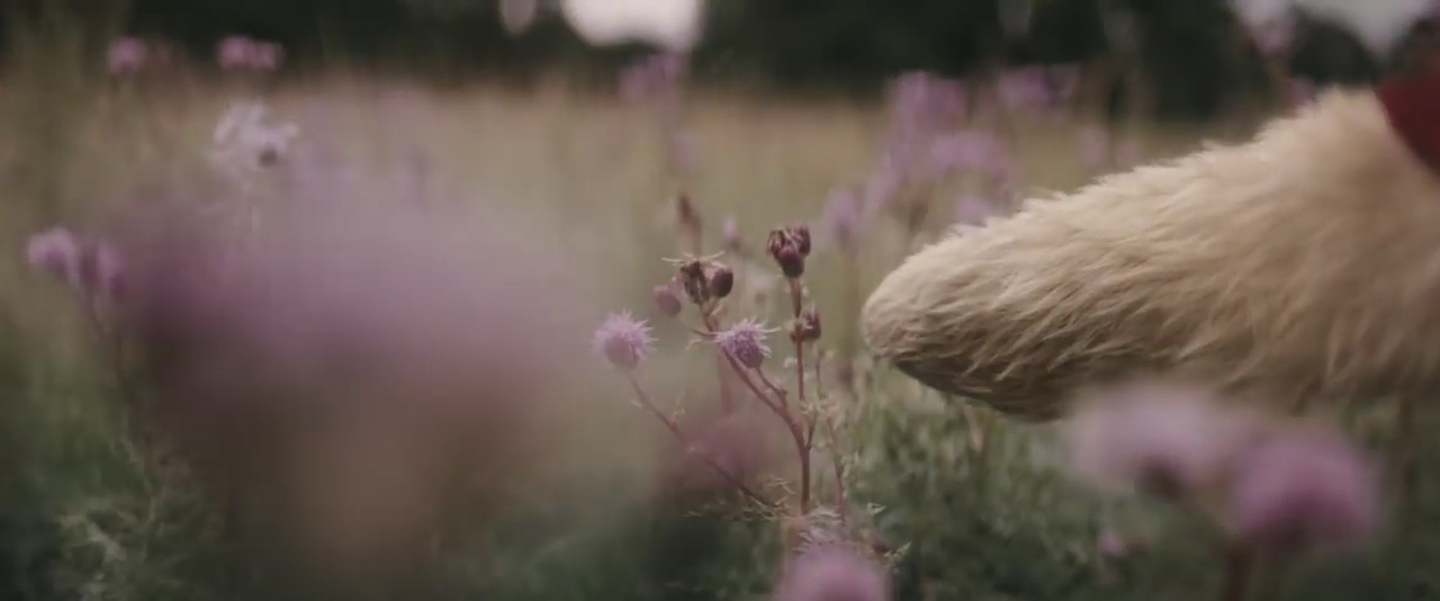 Lighting was another fundamental component in portraying nature in its most spectacular form, and it was important to Königswieser to use as much natural light as possible. "When we shot the forest, we mainly used available light, and that very much had to do with the feel that I wanted to achieve because I felt it would be the most emotional to shoot at the right time and capture nature as it was at its most beautiful," he says. For the exception of one shot that utilized a number of Arri HMI 6K and 4K fixtures and soft book light — at Pooh's stick bridge, which paid homage to a specific drawing by Winnie-the-Pooh illustrator E. H. Shepard — Königswieser solely filmed natural light for sequences in the Hundred Acre Wood and created negative fill with camo nets and a helium cloud balloon that was turned 180 degrees with the black side behind the camera.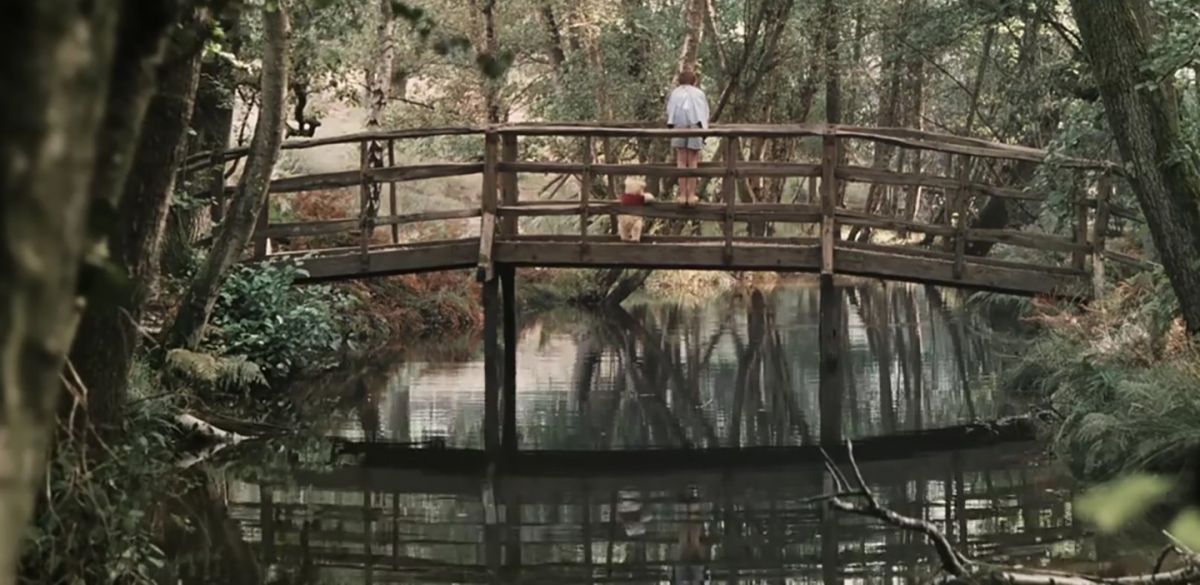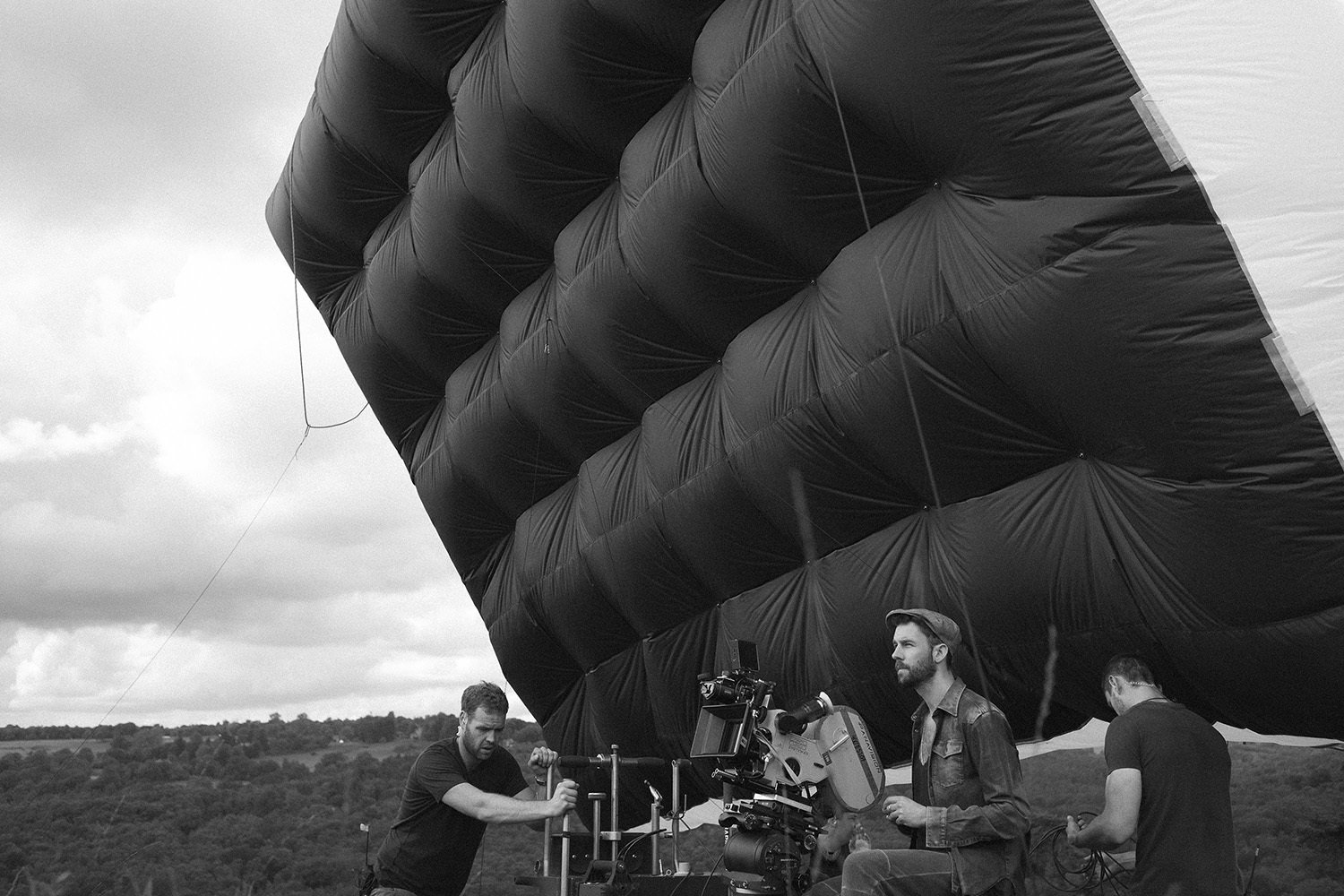 The cinematographer heavily utilized light and shadow to push the story, which was especially significant within the film's climax: Christopher takes Pooh back to Sussex, reenters the Hundred Acre Wood and abandons him. When Christopher steps through the portal for the first time since he was a child, he sees the forest shrouded in deep, foreboding fog. He asks, "Was it always this gloomy?" This was the moment in the film, Königswieser says, that needed to be entirely uncompromised. "This grown man reentering his childhood was the biggest moment to me, and [such a moment] informs 65mm…. For all departments, it was very clear that this was the darkest, gloomiest, most desaturated, coldest moment of the entire film. The weather and the forest at that point represent his current state of mind. That's his soul — his mind is the Hundred Acre Wood."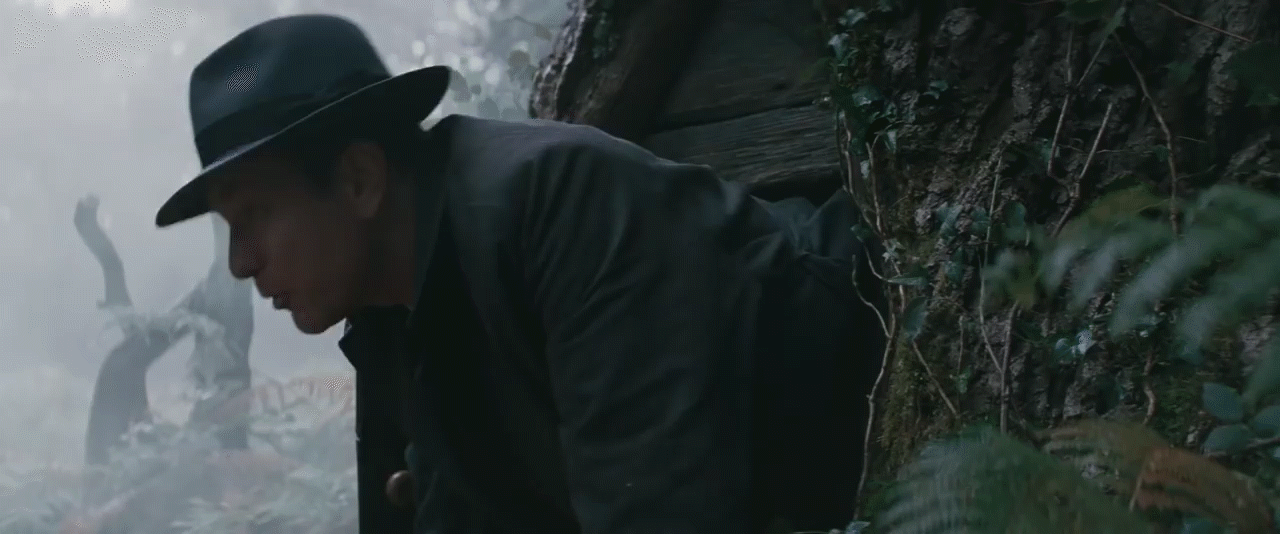 When Christopher confronts the film's antagonist — the feared "Heffalump," which turns out to be himself — the sun comes out. After playing and using his imagination, Christopher's childhood friends recognize him, and he is able to find and reconcile with Pooh. "It's always a sunny day," Winnie-the-Pooh muses while the two watch a late afternoon sunset, "when Christopher Robin comes to play."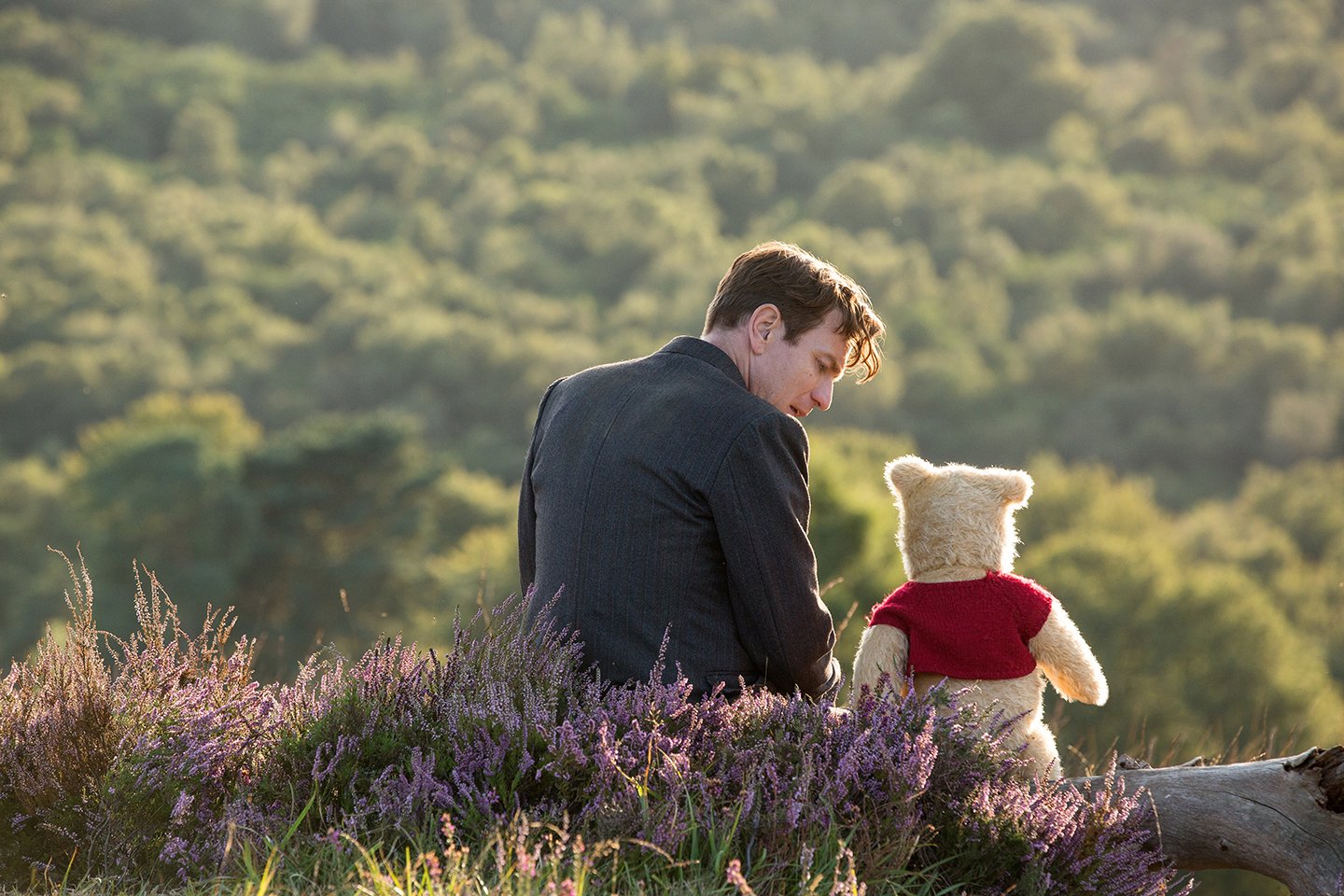 Königswieser describes his lighting technique as chiaroscuro, and the "subtleties of the storytelling come with how much or how little I make use of it…. Without shadow, you don't appreciate the light, and the other way around. [My approach in Christopher Robin] was very much about taking light away, and the absence of light would heighten the moment. Whether we're in London or nature, it was about subtracting light — taking it away in the right places. Turning lights off. Making faces go dark at times."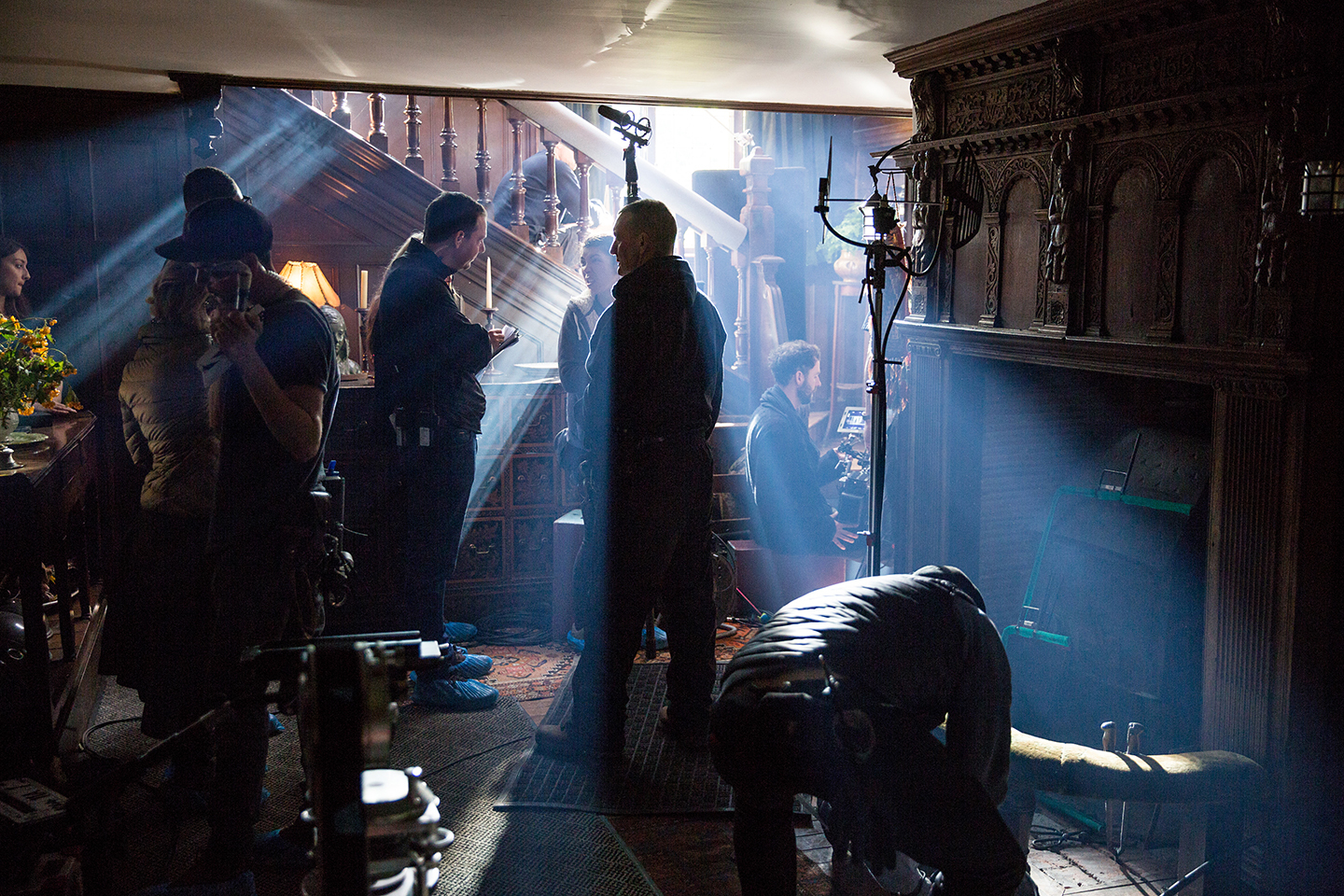 To satisfy the film's other major directive — that it needed to be a truly immersive experience, especially when filming Pooh and friends — required a great deal of collaboration between Königswieser and visual effects supervisor Chris Lawrence and animation supervisor Michael Eames. "With Chris and Michael, [the teamwork] was very special because they are crucial factors to the visual success of this movie. Pooh is the other main character. His performance is absolutely key — that's Michael Eames. The integration of the computer-generated characters in this world we are creating needs to be seamless — that's Chris Lawrence."
There are more than 1,400 visual effects shots in the film, and in order to best execute their collective vision, Königswieser states that communication was vital. "I really wanted to shoot the way I 'normally' shoot and incorporate CG into this kind of style. Every decision I made — every time I would set up a shot — I would talk about it. [I would ask], "Is it okay that I leave the fern in the foreground?' 'Is it okay that the sun is flaring the lens?' 'Is it okay that now I'm pushing through something that might interfere?' Sometimes we had to shoot a plate for the foreground, but sometimes we could leave it. Sometimes we had to take the flare away, but sometimes we could we shoot a flare plate or [find another solution]." He adds, "It was incredible [to see] how much you can do now — how uninhibited you can film and still integrate CG."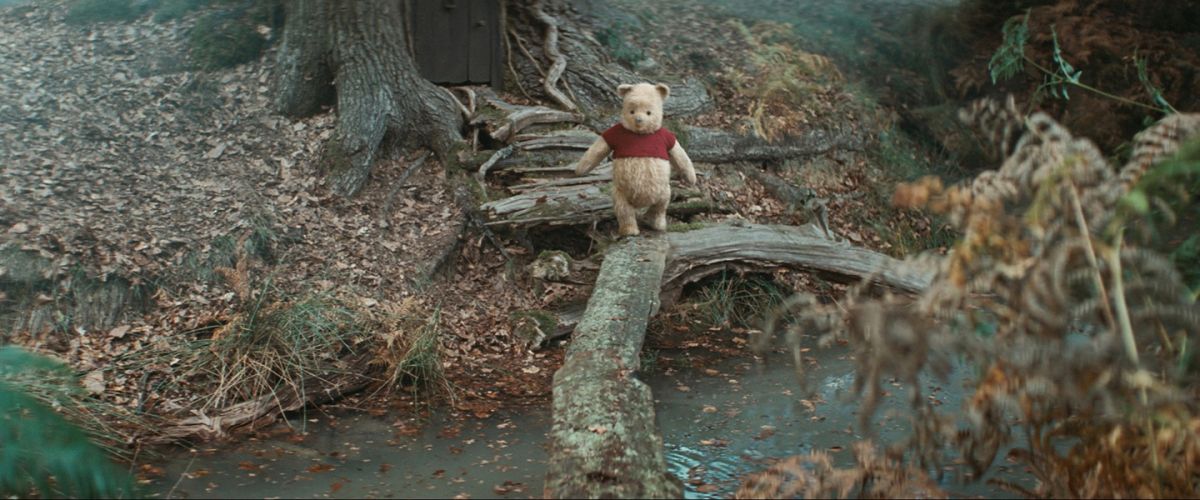 It was important to Königswieser that in shots with Pooh and friends, the camera would showcase the world from their perspective. To achieve this, the cinematographer primarily employed a hand-held, documentary-style technique. When in the Hundred Acre Wood, he says, he wanted to "see the world from the animals' perspective and be amongst them — not just look down at them."
This was especially important in a sequence that proved to be Königswieser's personal favorite. Piglet stands with Pooh at the base of the tree that acts as a portal between the Hundred Acre Wood and Christopher Robin's world, and despite knowing that he needs to go through the portal to help Christopher, Piglet can't help but be afraid and want to stay behind. Pooh reassures his friend that they need him — they always need him — and this gives Piglet the courage to walk through the door. "It is such a small moment that is so powerful and beautiful and really tells in a nutshell what this movie is about. It's about love, trust, friendship and adventure, but also being open to these things in life. And that moment was one that we had to figure out how to shoot because I wanted to be there with Piglet. I wanted to look up at him and have the camera react and move between gestures. We experimented with a bunch of different techniques of how to be subtle with the camera movement and yet be stable enough that it's not jarring. And, ironically, after all the testing of different grip support, different camera systems, snorkel cam or spherical this and that, I stayed anamorphic with diopters, stopped down Alexa Mini, stayed hand-held, and — boom — I was in it.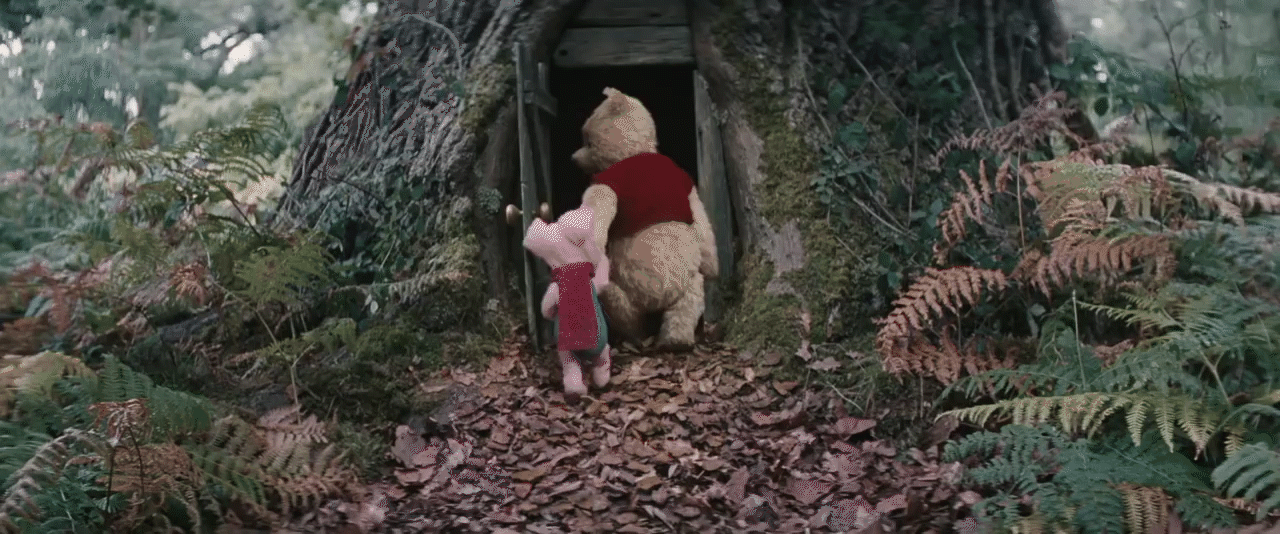 "I think that moment really shows Chris Lawrence's and Michael Eames's prowess. That is, to me, full movie magic right there. I'm completely lost when I see it. I forget about the technique. I am there with them — I understand them. It's just a wonderful thing, and I'm really proud of that one."
This collaborative relationship continued through color correction — conducted at Company 3 in New York by Königswieser and Sofie Borup — and postproduction, which involved Lawrence, Eames, editor Matt Chessé and post producer Steve Gaub.
Christopher Robin — in every sense — is the product of synergistic effort, including the tools Königswieser employed to tell the visual story. Through "a little bit trial and error, a gut feeling and just aiming for the most natural-looking end product," the cinematographer blended together several formats to pull adults back into their childhoods and escape reality through "film magic." In many ways, Königswieser notes, the production of Christopher Robin and the integration of practical and computer-generated effects reminds him of the perennial "film versus digital" conversation. But, he argues that there is room — and need — for both.
"I love digital, but I also love film," says the cinematographer, who recently completed the sci-fi feature Perfect. "I love what a DI can do and also what photochemical can do. We have all these options now. It's such an exciting time to be a filmmaker because you can really go in and say, 'I'm using the right thing for the right moment.' You have full freedom [to achieve] the exact texture that you want, the right color and the right emotion for the audience. I think it's really powerful."