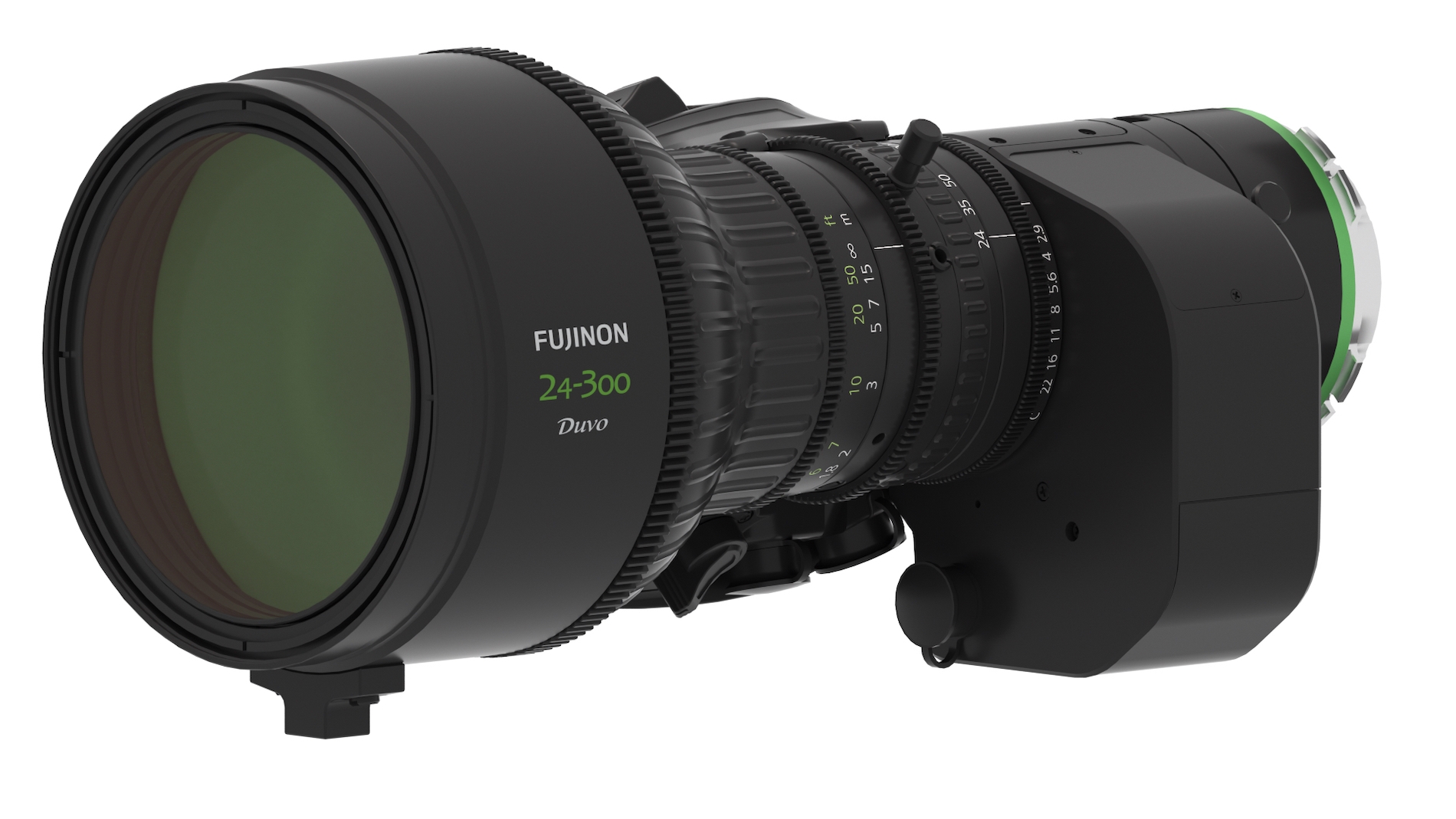 Fujifilm Unveils Fujinon Duvo 24-300mm
The dual-format T2.9 lens supports Super 35 and full-frame image sensors.
ASC Staff
Fujifilm North America Corp. has announced the Fujinon Duvo HZK24-300mm Portable PL Mount Zoom, a dual-format lens supporting two types of large-image sensors.
The Duvo 24-300mm delivers 12.5x zoom, covering 24-300mm; use of the built-in expander shifts the focal length by 1.5 times to 36mm-450mm. At 10.6" long and 6.5 pounds, the lens is easily portable for all types of live production. It can be operated in the same style as a broadcast lens using zoom and focus demands, used with accessories specifically designed for portable Fujinon lenses, and utilized for shoulder-mounted operation, as well as with a Steadicam or on a crane.
"Duvo 24-300mm gives handheld positions in live production the opportunity to take advantage of that classic Fujinon cinema look … bringing that unique color space, latitude and shallow depth of field to the show," says Stosh Durbacz, national sales manager, Optical Devices Division, Fujifilm North America Corp.
The lens natively works with the Super 35mm sensor and supports a sensor equivalent to full frame by engaging the built-in expander to expand the image circle by 1.5 times. When mounted on a camera equipped with a sensor equivalent to full frame, the lens delivers its maximum optical performance while maintaining the same angle of view as when used on a camera with a Super 35mm sensor.
It has a maximum aperture of T2.9 at the wide angle, enabling filming in low-light conditions. It can be connected to a third-party wireless lens controller to remotely control focus, aperture and zoom. This also supports focusing by a dedicated focus operator. The focus ring has a gear pitch of 0.8M, which allows the use of all standard, third-party accessories for film production.
The Duvo 24-300mm also features Remote Back Focus, which enables control of the flange focal distance from either the control panel of the camera or the robotic system that supports the RBF feature. It allows for precise adjustment with a large, high-resolution monitor and controlled lighting in a studio control room or in an OB van/production truck as opposed to via the onboard viewfinder.
The lens is compatible with the Zeiss eXtended Data system.
The Fujinon Duvo 24-300mm will be available in spring 2024.
Follow Fujinon Lenses on Facebook, Twitter and Instagram.
Keep up with American Cinematographer on Facebook, Twitter and Instagram.