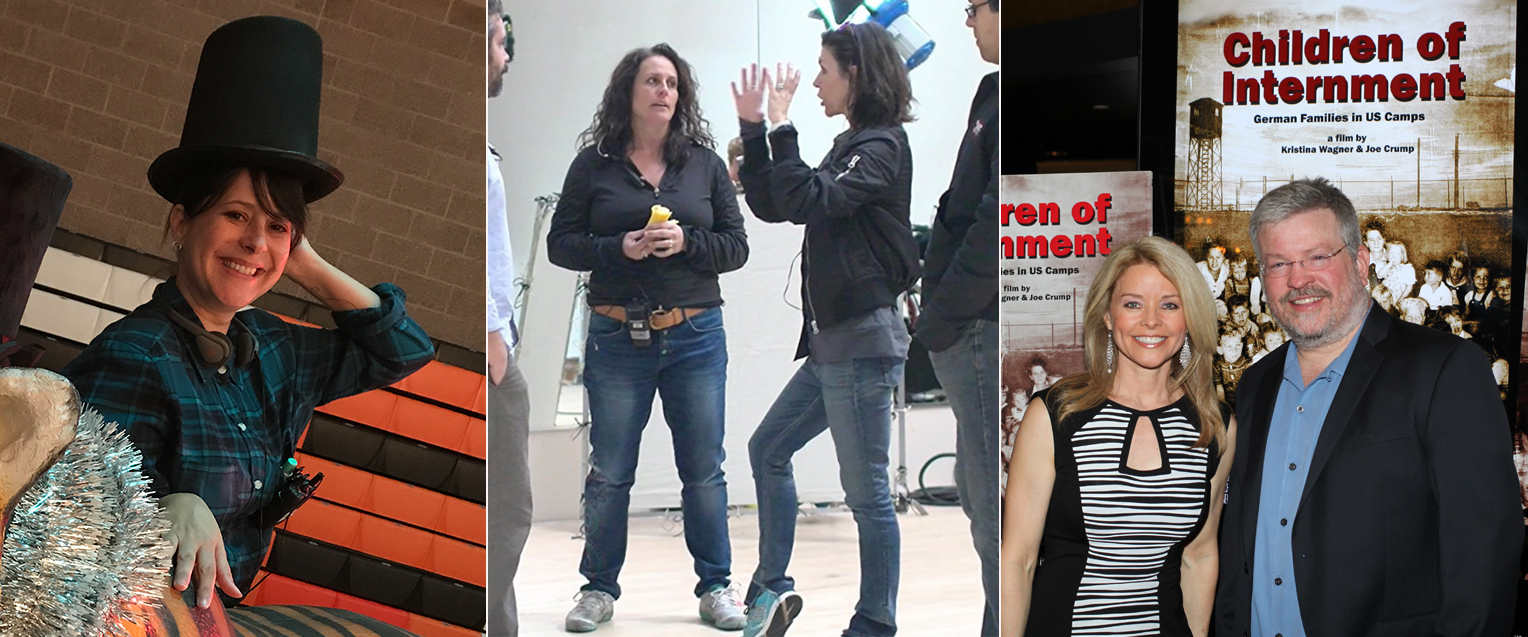 General Hospital: Soap Operas as a Training Ground
Kimberly McCullough, Finola Hughes and Kristina Wagner share how their experiences on General Hospital prepared them for working as directors and collaborating with their crews.
Kelly Brinker
Kimberly McCullough, Finola Hughes and Kristina Wagner share how their experiences on General Hospital prepared them for working as directors and collaborating with their crews.
Photos of Finola Hughes working on set by Cady McClain from the film Seeing is Believing: Women Direct. Images courtesy of the filmmakers.
For daytime dramas, production schedules run at a marathon pace in order to keep the shows airing with five episodes a week, 52 weeks a year. Using a multicamera setup, cast and crew complete upwards to 150 pages a day, capturing scenes in one or two takes. Given those conditions, General Hospital executive producer Frank Valentini notes, "Soap operas are an excellent training ground not just for actors but for anyone wanting to work in any area of production. From the lighting director to the technical director to a wardrobe person to a director, it is a great experience because you are shooting over a hundred pages per day and working all year round. Whatever time you spend working on a soap, you are getting a tremendous amount of experience in a very short period of time."
Actor Kimberly McCullough, who portrays Robin Scorpio-Drake — and who started on General Hospital in 1985 at the age of 7 — agrees with Valentini but adds, "I want to propose that it is a great training ground for directors, which is something that people maybe wouldn't expect.

"On a soap, you get to practice your craft every day," she continues. "If you think about it, Finola [Hughes], Kristina [Wagner] and I have been on the show for over 30 years, which is very different from being on a series for two years, or doing one movie every five years. We get a crazy amount of practice all the time, not to mention the amount of pressure we have to deal with working at such a fast pace. Whenever I go on meetings for directing, they always say, 'On our show, we have to move really fast.' Every single show, in every single meeting, they say that, and I always tell them I come from a world where we shoot 150 pages a day — and then they look at me like I am crazy."

McCullough further notes that numerous sitcoms, primetime series, and features implement multicamera shooting styles similar to those used for soap operas. "They call it 'cross-shooting,' but it is really just shooting two people talking at the same time, which soaps do every day," she says. "It is pretty interesting to see the melding of different mediums. For example, Youth and Consequences used two cameras, and on Pretty Little Liars they used two cameras every day and three cameras on some days."
General Hospital shoots four or five cameras simultaneously. Growing up in such a shooting environment provided McCullough with a solid foundation for directing multicamera shows, and she further reinforced her production education by participating in the directing programs at ABC and Warner Bros. She is currently in the DGA mentorship program.

"The intention of all of these programs is to get a more diverse [group of] directors working in television," McCullough explains. "The programs are really wonderful because they introduce us to directors in the industry, connect us with showrunners and provide shadowing opportunities so we can be exposed to producers and potentially get episodic work."

McCullough's first shadowing opportunity came on the ABC Family series The Lying Game. She then went on to shadow director Lesli Linka Glatter on the series Homeland. McCullough notes that she spent about two years shadowing before getting her first directing job.

Recently, McCullough directed the 10th episode of the second season of the Netflix series One Day at a Time, titled "Storage Wars," and she will be directing two more episodes for the series this summer. She also directed two episodes of the YouTube Red series Youth and Consequences. "I directed my first finale for that show," she notes.
McCullough just wrapped two episodes of All About the Washingtons, a new comedy series with Joseph "Rev. Run" Simmons and Justine Simmons launching on Netflix this summer. She is also slated to direct an episode of Fuller House and is in talks to direct her first feature.


---
Finola Hughes, who portrays McCullough's on-screen mother, Anna Devane, started on General Hospital in 1985. Like McCullough, she has also had television shadowing opportunities, going out twice on the ABC Family drama The Fosters with directors Jann Turner and Silas Howard. For Hughes, making the transition from actor to director "felt very natural," she says.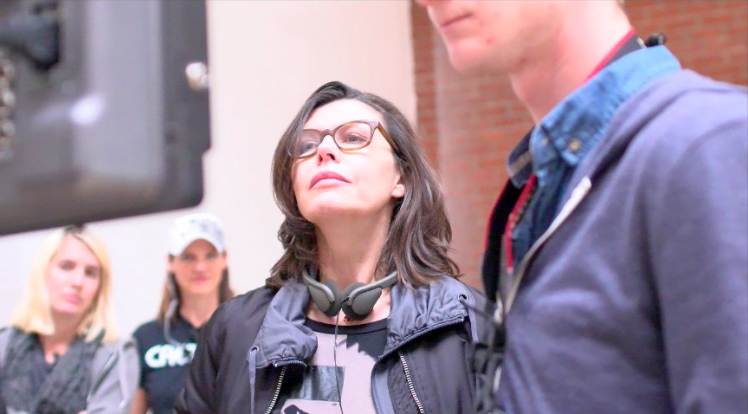 "Working on a soap opera, you just soak it up," she explains. "You are there every day, so you know how a set works and it becomes second nature to you. It is such a collaborative environment."
Hughes points out that directing television presents a unique set of challenges because "you are stepping into someone else's barbecue." Unless you are directing a pilot episode, television shows have an established look and a crew that knows how to achieve it.

"It is a whole other beast than if you are helming a movie that you started from scratch," she says. "You are there to maybe give it something that is just a little of you. As a director [who's also acted], you go in and talk to the actors in a certain way because you know what an actor would like to know, or feel, or how they would like to be spoken to."
Prior to the start of production for her directorial debut, the low-budget independent feature The Bet, Hughes spent a great deal of time working with the kids in the film who had no previous experience acting on camera. Drawing on her own background as an actor, Hughes conducted weekend workshops with the kids where they talked about acting and worked on character development. "By the time these newbies came to set, they were very relaxed," she reflects.
Hughes invited AC to accompany her to "Women in Creative Leadership," a reception and screening hosted by Pepperdine Graziadio Business School in partnership with Pepperdine Center for Women in Leadership and the Pepperdine Institute for Entertainment, Culture and Media. Following a screening of fellow soap opera actor and director Cady McClain's documentary Seeing is Believing: Women Direct — for which McCullough and Jon Lindstrom (portrays Kevin Collins on General Hospital) served as producers — Hughes participated in a panel discussion alongside fellow directors McClain, Bethany Rooney, Lizzie Borden and Carla Garapedian.
During the discussion, the participants stressed the importance of a good working relationship between the director and the cinematographer. "It is like a marriage," Hughes says. "There has to be a lot of trust and understanding and communication between a director and the cinematographer."

Hughes credits AC as a way to start a dialogue and explain the desired visuals. She explains, "We can say, 'read this. See what they did here, and this is the effect.' Or you can ask, 'How can we achieve this effect on a budget?'

"I had a lot of sleepless nights before I started my first film," Hughes continues. "I was sitting up with the script and just staring at it, turning page after page. I would go over my shot lists and my storyboards. You think you are on your own — but you are not at all on your own. You are constantly talking to your cinematographer, and they will come up with ideas that fit your vision and improve things you were thinking about but couldn't put into words. It's so collaborative, and I love it."

For her next feature, the romantic comedy How to Climb a Tree, Hughes will be partnering with cinematographer Roberto Schaefer, ASC, AIC. The film was written by Thorsten Kaye and produced by Katherine Kelly Lang, both of whom are fellow soap actors. They recently shot a teaser to use for crowdfunding, and they hope to begin production in Italy this year.
---
For Kristina Wagner, who portrays Felicia Scorpio and started on General Hospital in 1984, filmmaking is a family affair. Wagner partnered with her brother Joe Crump, who studied film at Columbia College in Chicago, to co-direct and produce the feature-length documentary Children of Internment.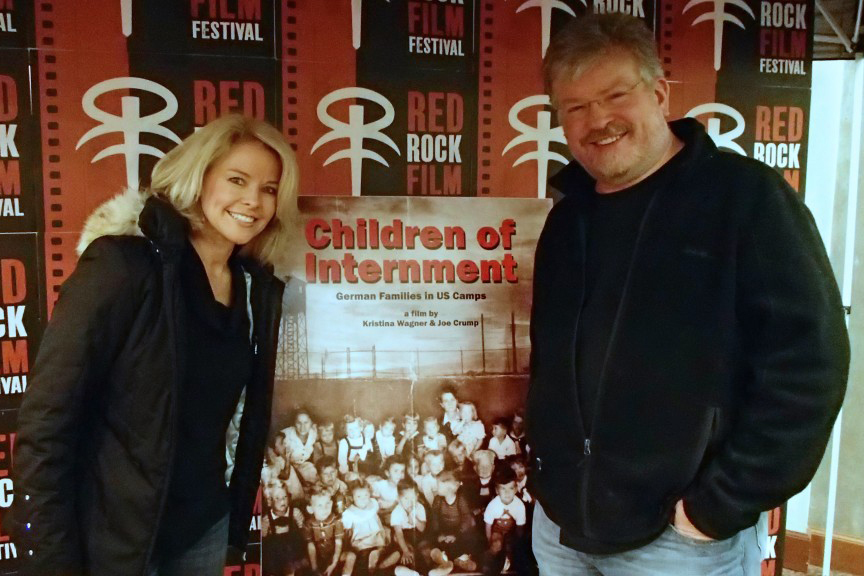 It all started when Wagner left General Hospital after 22 years to return to college. She graduated from California State University Northridge with a degree in history in 2012. "My final thesis paper was about the internment of Germans and German-Americans in America during World War II," Wagner explains. "This seemed like a great topic because it was overlooked by historians everywhere. There weren't many primary sources on this except some testimonials. The grown children of German internees were eager to tell their stories and [talk about] the violations of their civil rights and how due-process issues are repeating themselves in the world today."

Wagner gave her final paper to her brother, who suggested they make a documentary on the subject. Wagner upped the ante by proposing they "go all out and make a full-length feature documentary," she recalls.

Brother and sister traveled the country interviewing former internees and their families. With Crump also serving as cinematographer, the duo conducted their first interview in May 2012, at the Ellis House in Chicago, where Eberhard Fuhr and his brother Julius were detained in 1943. Wagner and Crump completed their interviews by December 2012, then edited the footage during 2013. The first screening of the completed documentary occurred in Los Angeles on Jan. 27, 2014, at the Chinese Theatres.
"An academic documentary wasn't exactly something I was trained for on the soap opera, but the experience I gained from working on a multicamera show gave me insight into how to tell a good story on the small screen," Wagner says. "Children of Internment was nominated for a regional Emmy in 2015. We were shocked. That was our first go at it." (The documentary is currently available for streaming on Amazon Prime.)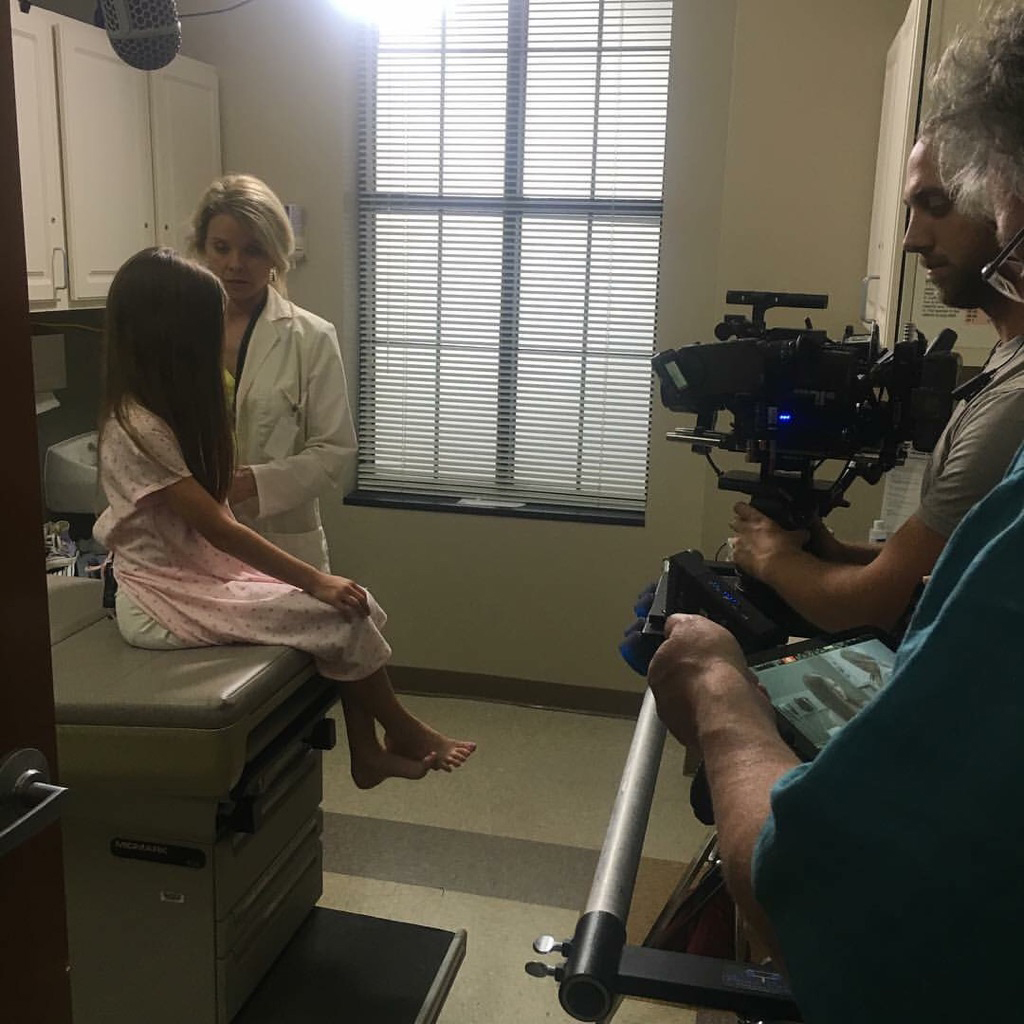 The siblings joined forces again for another project, The Storyteller, which began as a writing project. Crump co-wrote the full-length narrative script with Rachel Noll, and it received the 2015 Page International Screenwriting Award silver prize in the Family Film category. Additional family members were recruited to help with the production: Crump's wife, Nancy, stepped in as a co-producer, production designer and lyricist; Crump's daughter, Katherine, who is now a film student at Indiana University, served as a camera assistant and co-editor; and Wagner's son, Peter, had a small role portraying a radiologist in the film. Wagner also recruited members of her General Hospital family: Brooklyn Rae Silzer (who portrays Emma Drake on General Hospital) played the lead, Abby, and Constance Towers (Helena Cassadine) played the role of Rosemary. Wagner herself stepped in front of the camera to play Dr. Gordon.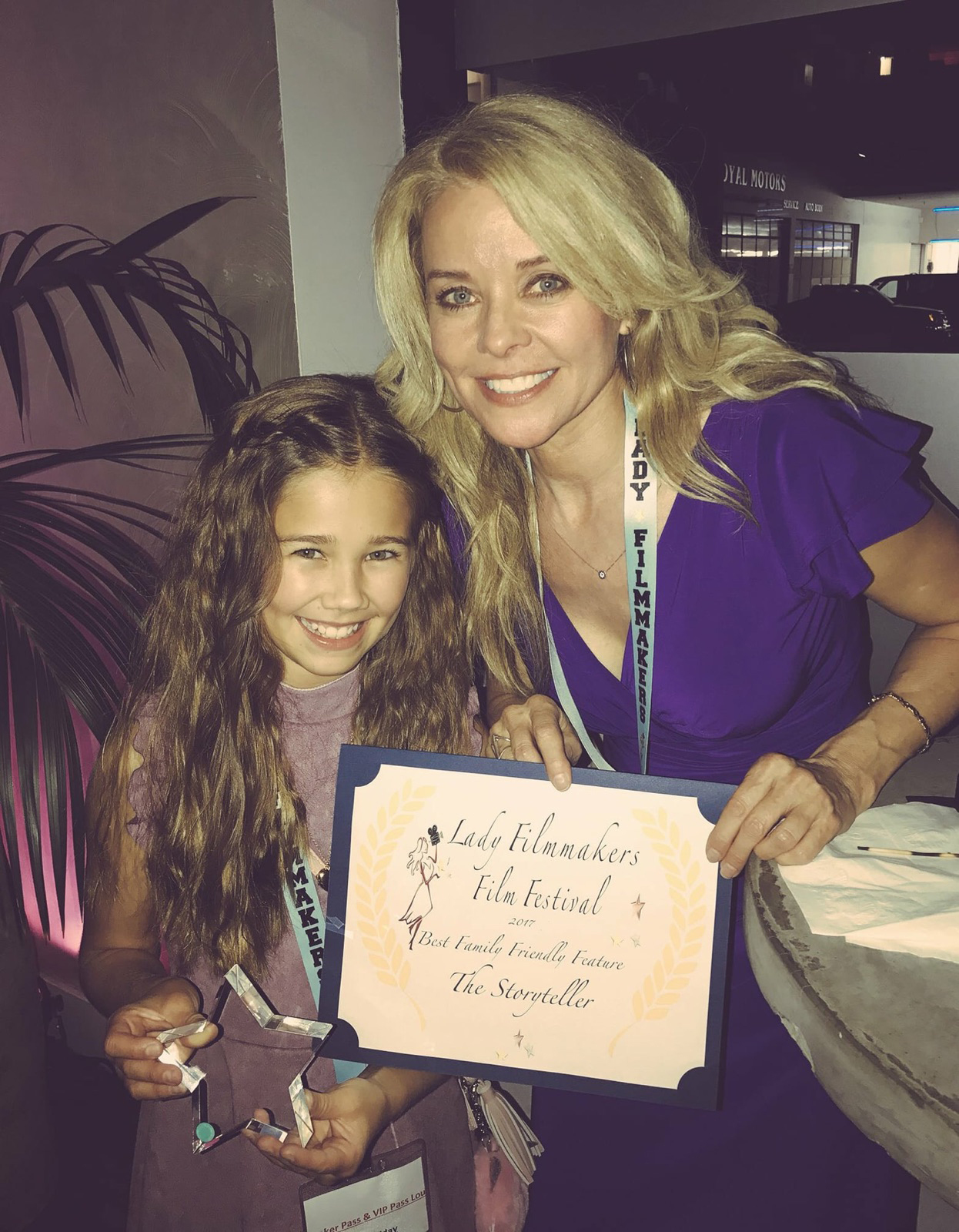 The Storyteller won Best Family Friendly Film at the 2017 Lady Filmmakers Film Festival. Actor Cassidy Mack also won Best Supporting Actress at the festival, and Silzer and James Snyder received Best Actress and Actor nominations, respectively. At the 2017 Heartland Film Festival, the film took home the Audience Choice Award in the Indiana Spotlight Competition. The feature is currently available on Hallmark's newly launched platform, HMNow.com.

---
For graduating film students or anyone looking to start a career working behind the camera, McCullough advises to consider starting off working on a daytime drama. "Watch a soap opera and learn from them," she says. "Watch it with the sound off and see the amazing things that they do knowing that each scene is shot in ten minutes. This business is leaning toward less money and higher production value. Hire soap actors or crew if you want to make your days when working on a tight schedule or a low budget. Those of us in soapland have been meeting those types of demands for a long time and we do it daily."

To read our in-depth behind-the-scenes article about the production of General Hospital, click here.