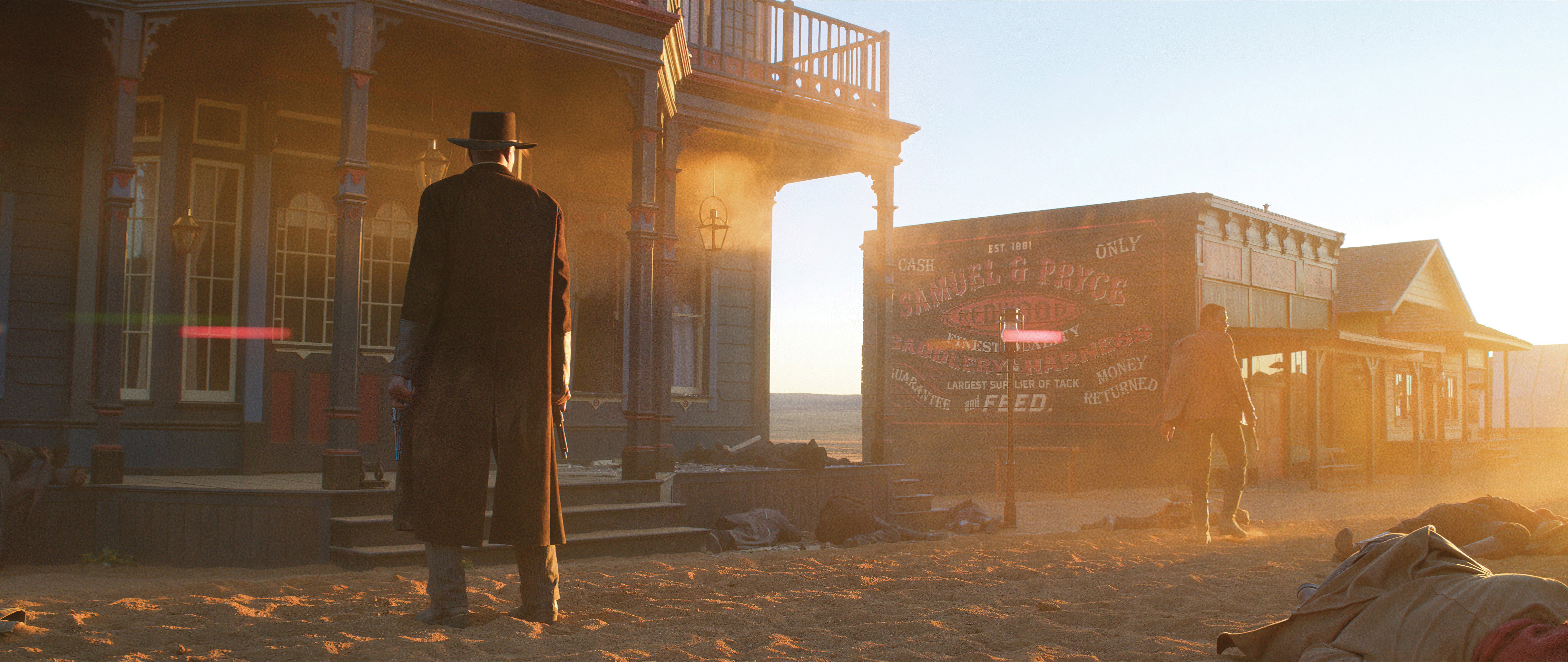 At top, Bass Reeves (Delroy Lindo) and Nat Love (Jonathan Majors) in Redwood City.
Bad Blood: The Harder They Fall
Cinematographer Mihai Malaimare Jr. and production designer Martin Whist help create a world of conflict and contrasts for this experimental Western. 
Rachael Bosley
Images courtesy of Netflix
The leaders of two outlaw gangs have bloody scores to settle. Set in the late 1800s in the American West, the Netflix feature The Harder They Fall follows Nat Love (Jonathan Majors), Rufus Buck (Idris Elba) and their respective cohorts as they head toward a final showdown. Director Jeymes Samuel did not want the movie to look like any other Western, and that was fine with cinematographer Mihai Malaimare Jr. and production designer Martin Whist.
In regard to the visuals, says Whist, "We sort of grin and say, 'It's not historically inaccurate, but it's not particularly accurate either. We had no interest in making a historical piece. If it felt right and somehow believable and appropriate for the setting, and it elevated the reality at hand, we went for it."
Illustrations by contemporary artist Kadir Nelson were key references for the look, especially Bright Star, which depicts a Black woman wearing sunglasses and holding a beach ball. "You'd never think of that as a reference for a Western set in 1870, but that was Jeymes' go-to in terms of light, vitality, clarity, mood and color," says Whist.
"If you don't shy away from extremes, you end up getting a great scene!"
— cinematographer Mihai Malaimare Jr.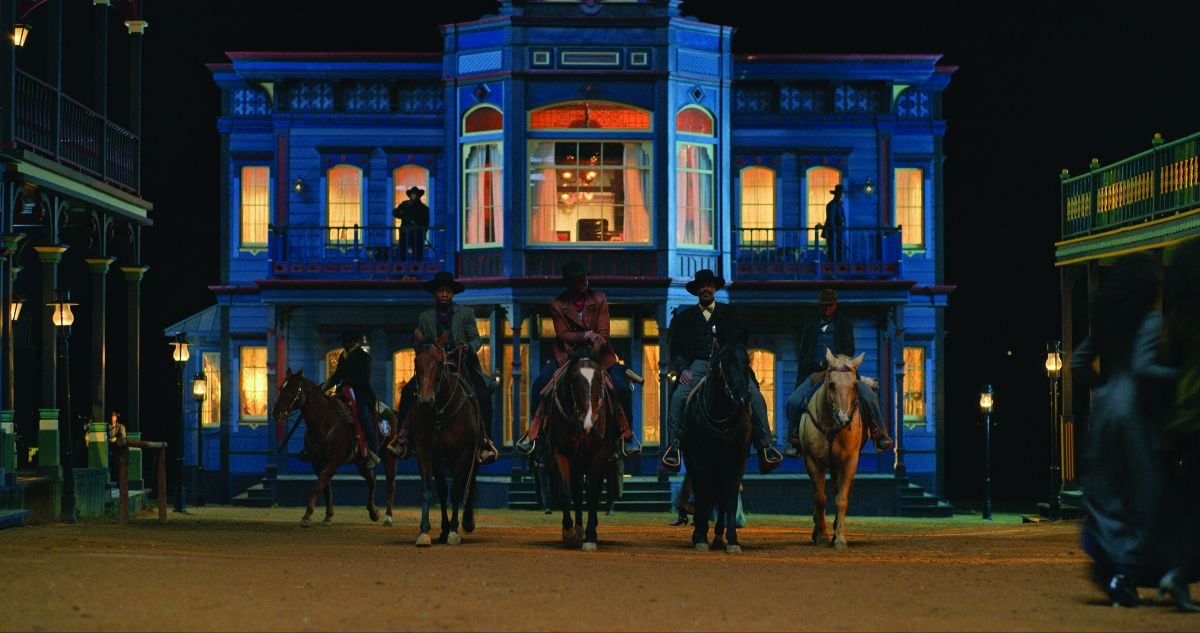 Designing Towns
Malaimare had two months' prep with Samuel and Whist on location in Santa Fe, N.M., before shooting commenced in September 2020. An immediate priority was visually emphasizing the contrast between Redwood City, a prosperous town with predominantly Black residents, where most of the action takes place, and the other towns in the film: Douglastown, a drab mining outpost where Love reconnects with Stagecoach Mary (Zazie Beetz), and Maysville, a wealthy white enclave where Love's gang robs a bank.
"When I saw what Martin had created for Redwood, I could see we were going for maximum color saturation everywhere," says Malaimare, whose work includes The Master (AC Nov. '12) and Jojo Rabbit. "Jeymes said, 'Imagine if this were a photograph printed on really high-gloss paper.' We immediately agreed we should overdo the street lighting in night scenes. In fact, for the shot when Mary rides into Redwood alone, I joked with [gaffer] Jay Kemp that it was the most lights I'd ever used in a night scene!"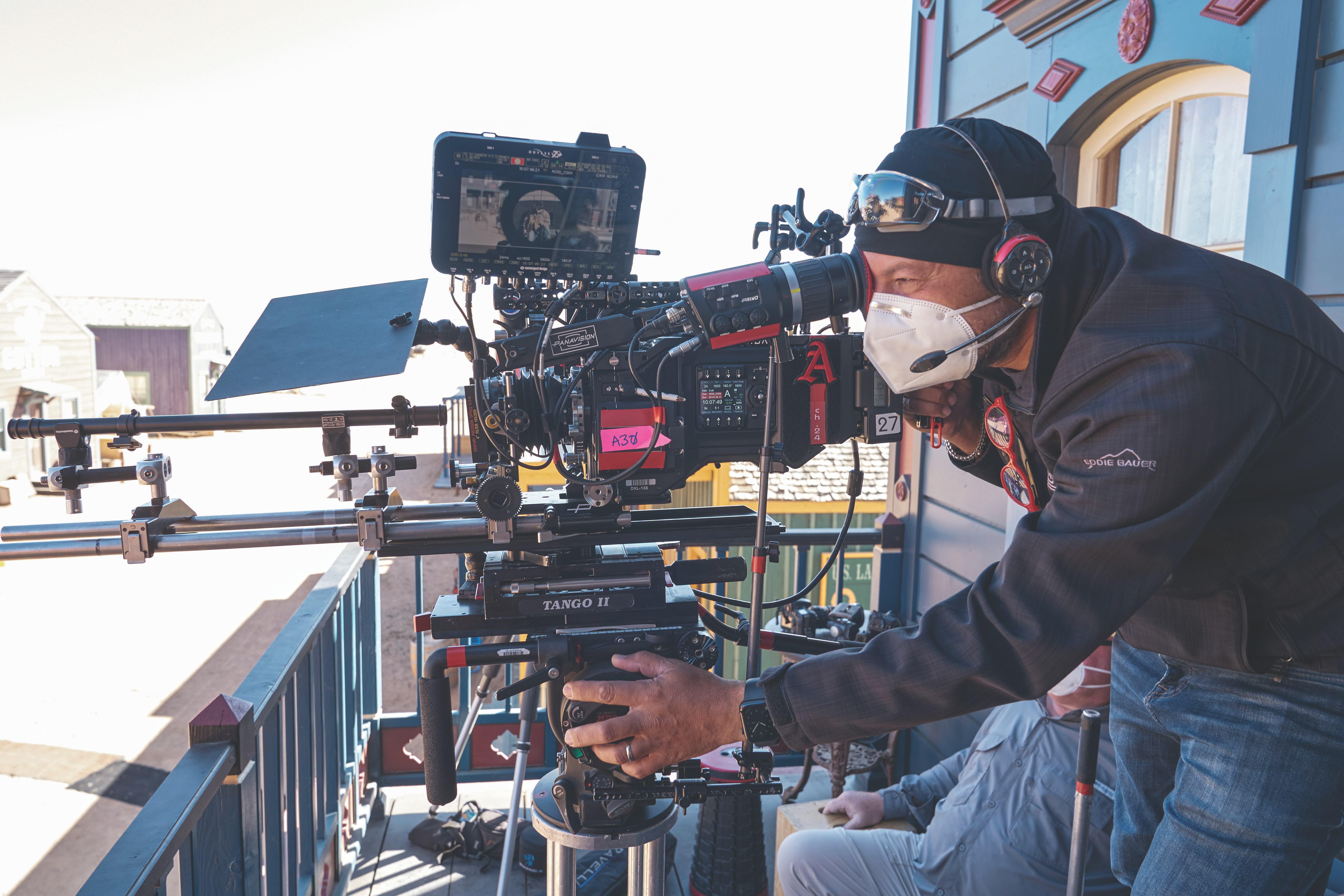 Working with Panavision Millennium DXL2s, Malaimare and B-camera/Steadicam operator Dave Chameides typically shot night scenes and wide shots on Panavision Panaspeed lenses, though they used Panavision T Series anamorphics on most of the picture. "I think the Western genre asks for anamorphic widescreen," Malaimare says, "but sometimes I feel the wides distort a little too much, so I always carry a set of sphericals as well. The Panaspeeds are very interesting, and I've used them in conjunction with anamorphics for different projects."

Whist, whose credits include such features as Cloverfield (AC March '08) and Bad Times at the El Royale (AC Nov. '18), dressed the central street on the Redwood set with period street lamps. Malaimare's crew retrofitted these lamps, as well as practical lanterns, with modern bulbs that were wired to a dimmer board and programmed to flicker, emulating the gas lamps of the period.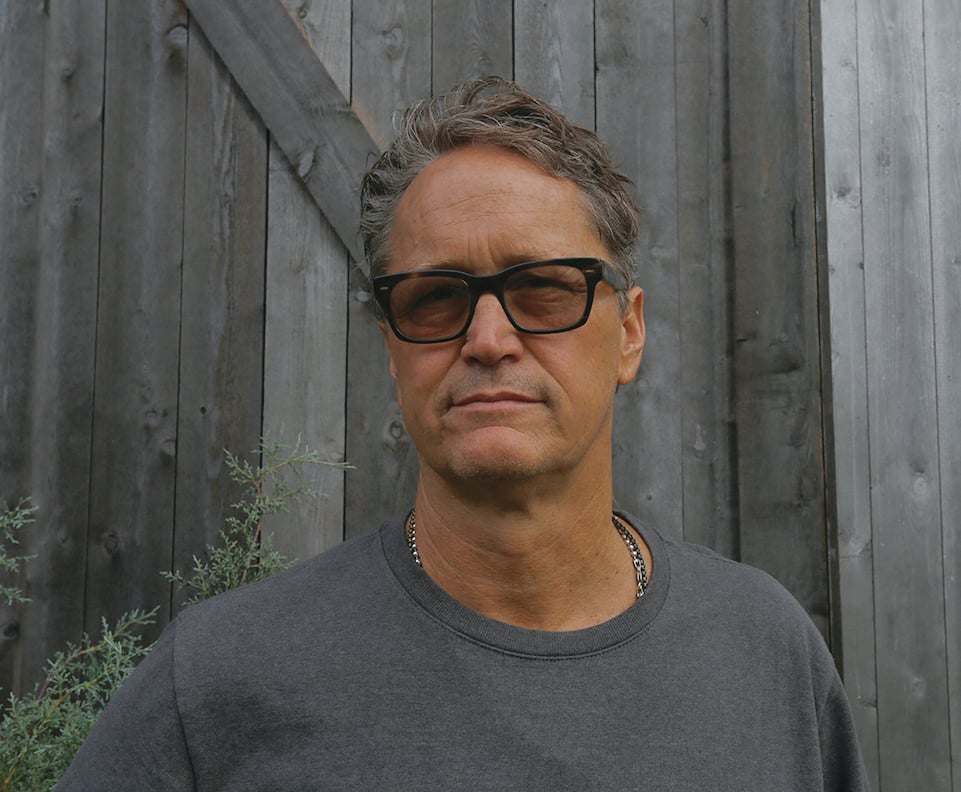 A large soft source comprising 53 SkyPanel S60-Cs was mounted to a construction crane and suspended over the street for general ambiance. "All the [storefront] windows were lit up, too," says Whist. For the windows, Malaimare says, "We had about 125 tungsten Fresnels — a mix of Arri 650s, 1Ks, 2Ks and 5Ks — some projecting onto sheers or into the street, and some bouncing or directly painting bits of background, depending on the situation."
"Redwood was pretty spectacular at night, and it needed to be," Whist adds. "These people are not hurting."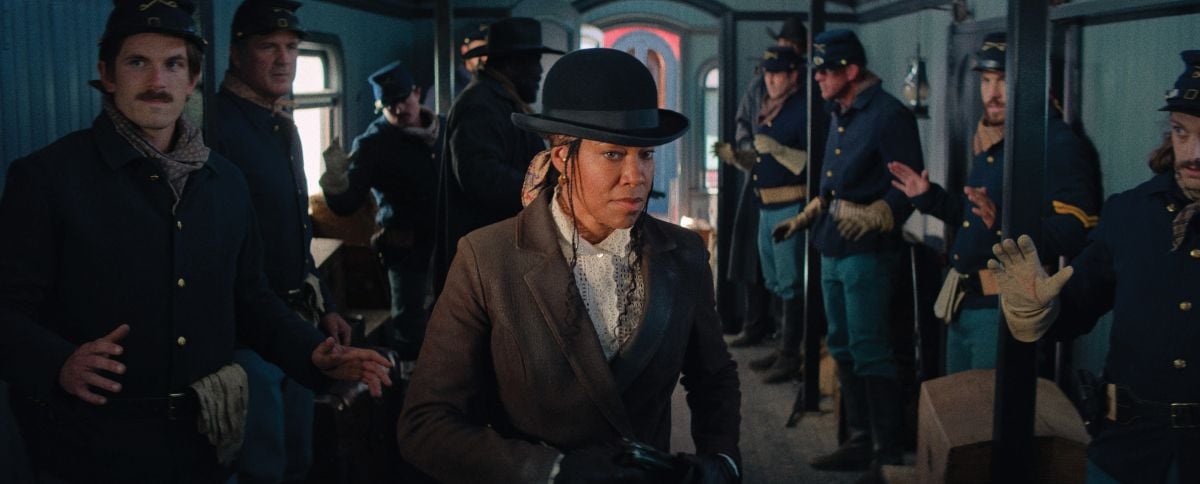 All Aboard
Buck's gang settles in Redwood after they liberate their leader by holding up a train transporting him from one prison to another. The jailbreak scene was shot in three period train cars, which were placed on a small section of track adjacent to the Redwood set. To show Cherokee Bill (LaKeith Stanfield) and the rest of the gang making their way from a dining car full of passengers to the car where Buck is held, Malaimare and Chameides worked in tandem to capture a variety of angles, including a few unusual ones that Samuel had storyboarded.
The 10'-wide set "was like any small environment," says Malaimare. "It was exciting, but challenging, too, especially when you're trying to fit two cameras with anamorphic lenses and a lot of actors into the same space — and all of that during Covid! We did a few Steadicam shots, and when we wanted things more static, we used dollies or tried to find the best tool for putting the camera in the corner. When a great operator like Dave is on your side, you can be sure you'll get something interesting."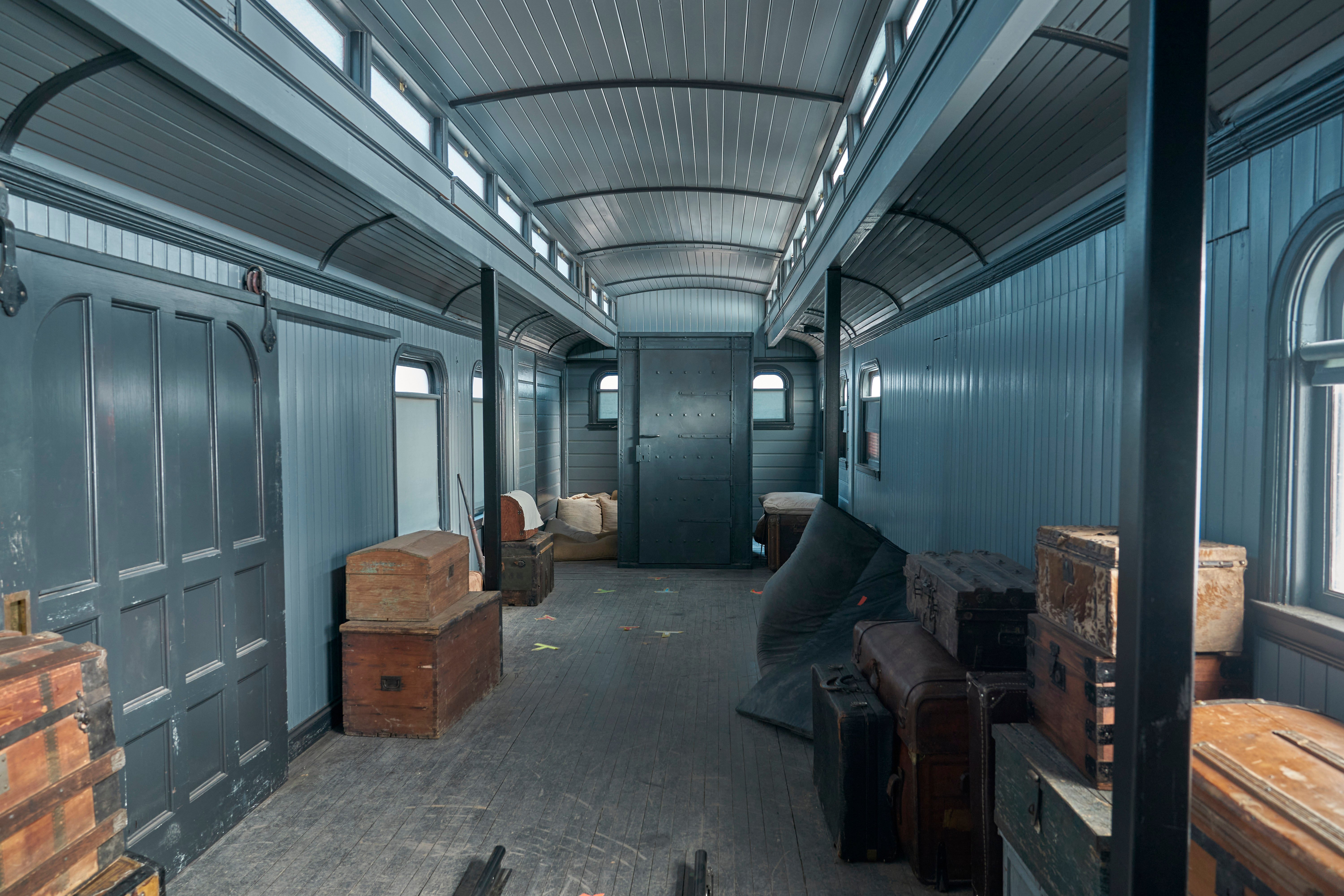 As the gang moves into the next car, the camera briefly assumes an overhead angle, looking straight down. "I always like to have a specialty camera, and I gravitate toward a small body, which in this case was a Red Monstro 8K VV," Malaimare says. "I build it really small, with the accessories away from the camera, so I can find all sorts of crazy ways of mounting it. The overhead shot was in Jeymes' storyboards, and to get it we put the Monstro on an overhead track, cut a hole above the doorway, and used a 12mm Panavision H Series that allowed us to be that wide." Whist adds, "The set dressers worked very closely with the camera department to make sure the practicals hanging from the ceiling were a certain height so the camera could pass through them."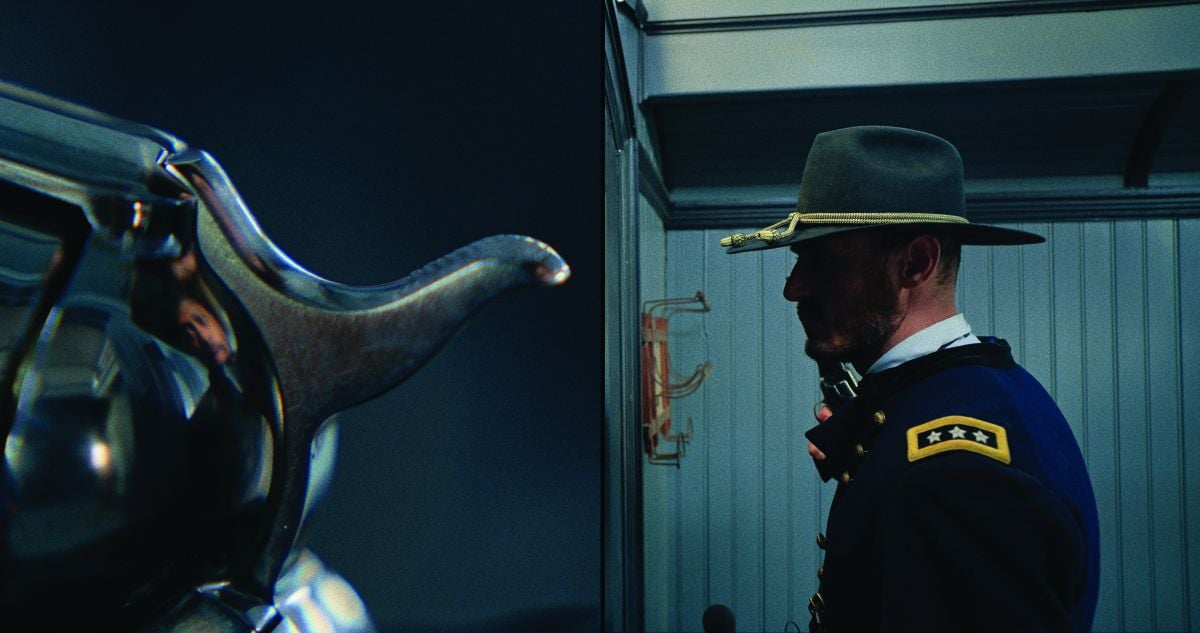 Split Screen
When Bill arrives at the locked door of the car that's holding Buck, he negotiates with the officer behind the door in a split-screen shot, another image in Samuel's storyboards. "Jeymes wanted to see and feel the split screen rather than try to hide it," says Malaimare. "Today it would be very easy to frame [each side of the screen] dead center and add a split screen [in post], but I think our approach was better for everybody."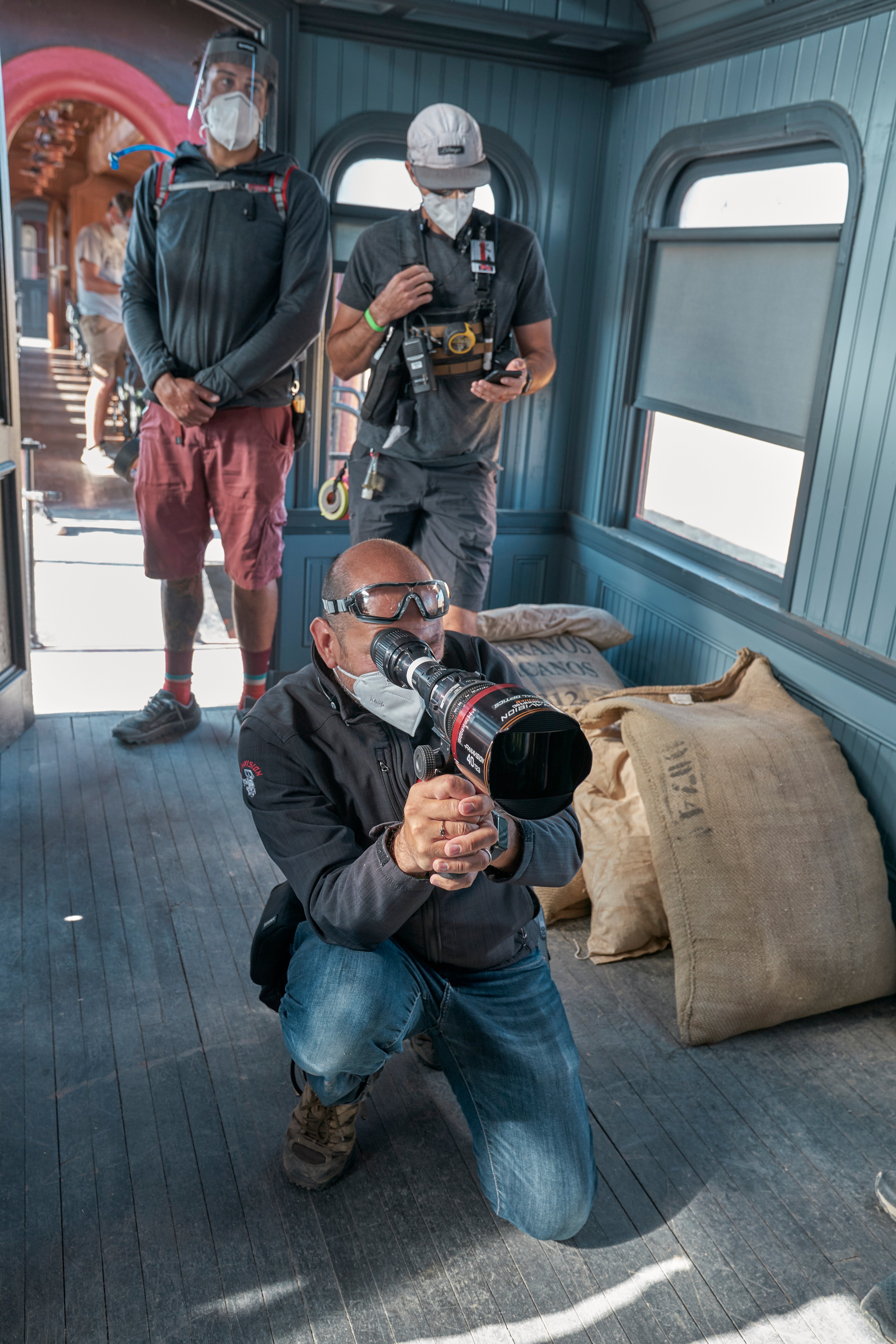 Tape was applied to the director's monitors to create "custom guidelines for the cameras," the cinematographer says. For a wider shot of action appearing on the right side of the split, the A camera would capture it only on the right side of the frame, while B camera would capture tighter shots of the simultaneous action happening on the left side of the split. This led to "that awesome [tight] shot of the gun with Cherokee's reflection in it," Malaimare notes. The filmmakers also shot the inverse, with the A camera capturing the wider left-hand shots on the left side of the frame, while B camera captured tighter shots to the right of the split. Malimaire adds that the sets on either side of the split were indeed "right beside each other."

Whist recalls, "Many ideas for that shot were discussed, but Mihai figured out how we could make it work without too much labor. I just gave him half a wall and half a door, which were cut vertically so the camera could be positioned at the edge."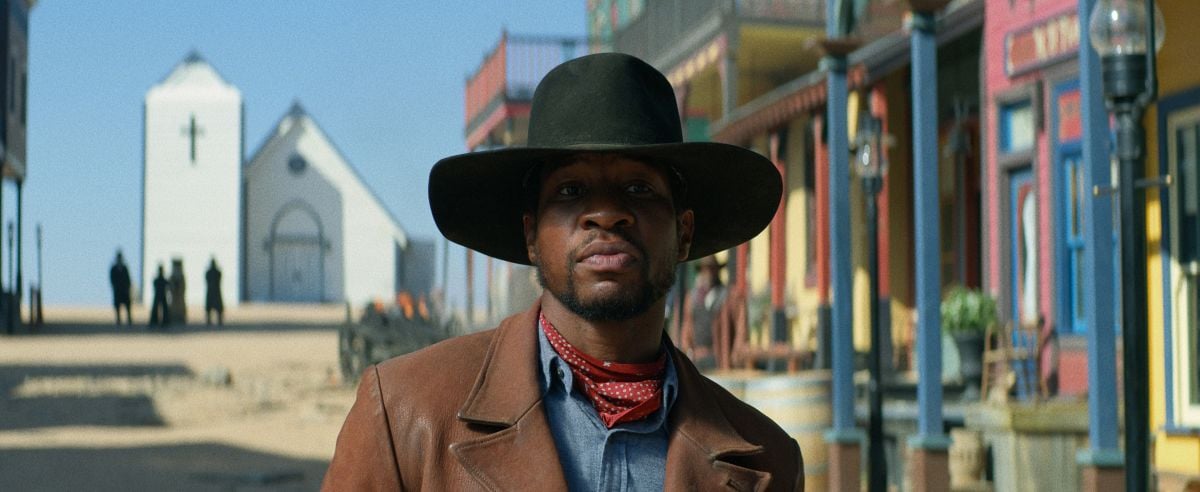 Surreal Contrast
Maysville, which Whist designed in dozens of shades of white, poses a surreal contrast to the colorful bustle of Redwood. "It was described as the town where the rich, white people live, and as I developed it, I thought it should be literally all white — the buildings, the ground, the people, the horses," says Whist. "By then I knew Jeymes pretty well and thought he'd be game, and when I approached him with an illustration, his eyes lit up. It's a testament to Mihai, too, that when I showed him the pictures, he said, 'I love it!'"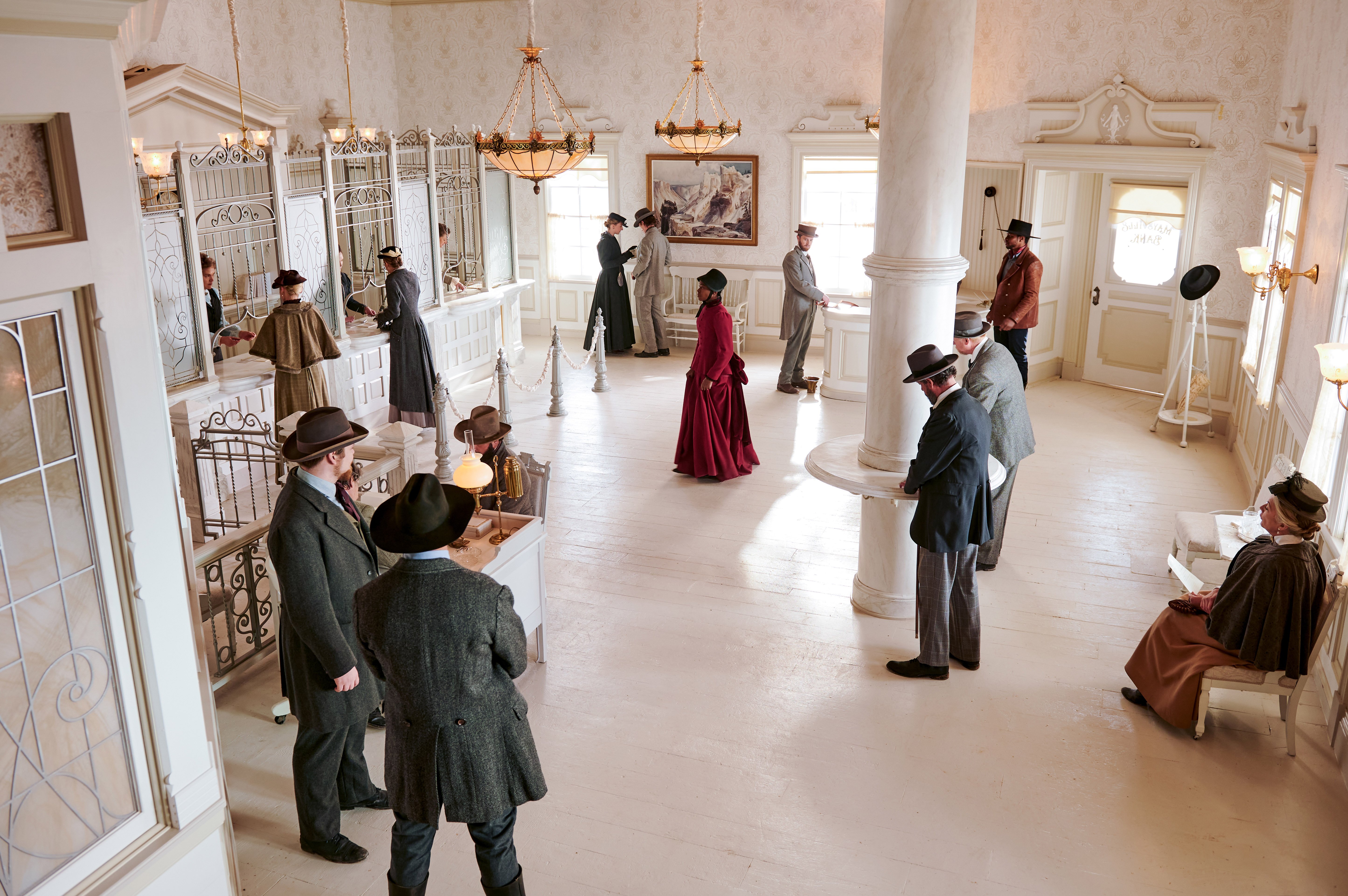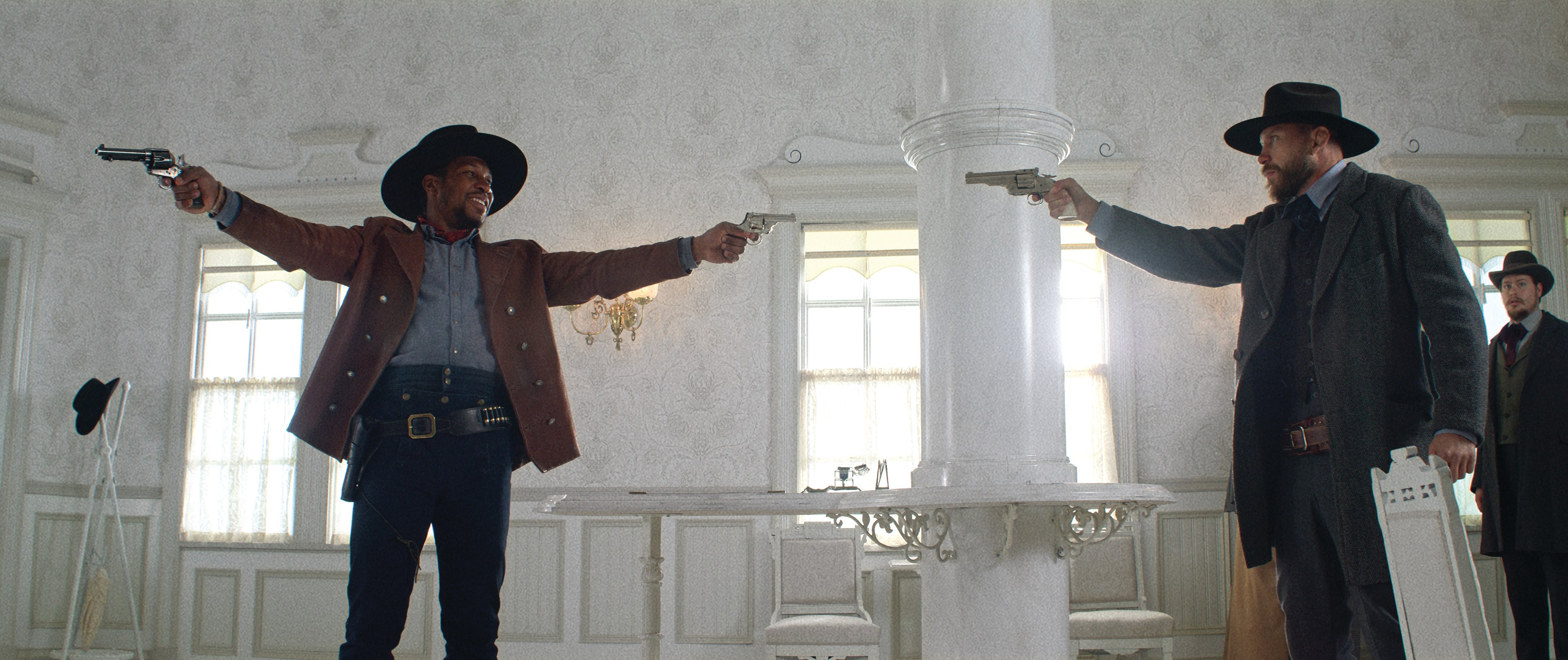 Says Malaimare, "I started laughing because I thought it was such a great idea. And then I realized we'd probably be shooting there in full sun! I knew it would be a struggle to preserve all those highlights, especially with digital, but we did it with help from my trusted DIT, Eli Berg. We've been working together for 12 years now; he knows I like to take risks, but he keeps me in a safe spot.
"If you don't shy away from extremes, " the cinematographer adds, "you end up getting a great scene!"
TECH SPECS
2.39:1
Cameras: Panavision Millennium DXL2, Red Monstro
Lenses: Panavision T Series, H Series, Panaspeed, Ultra Panatar