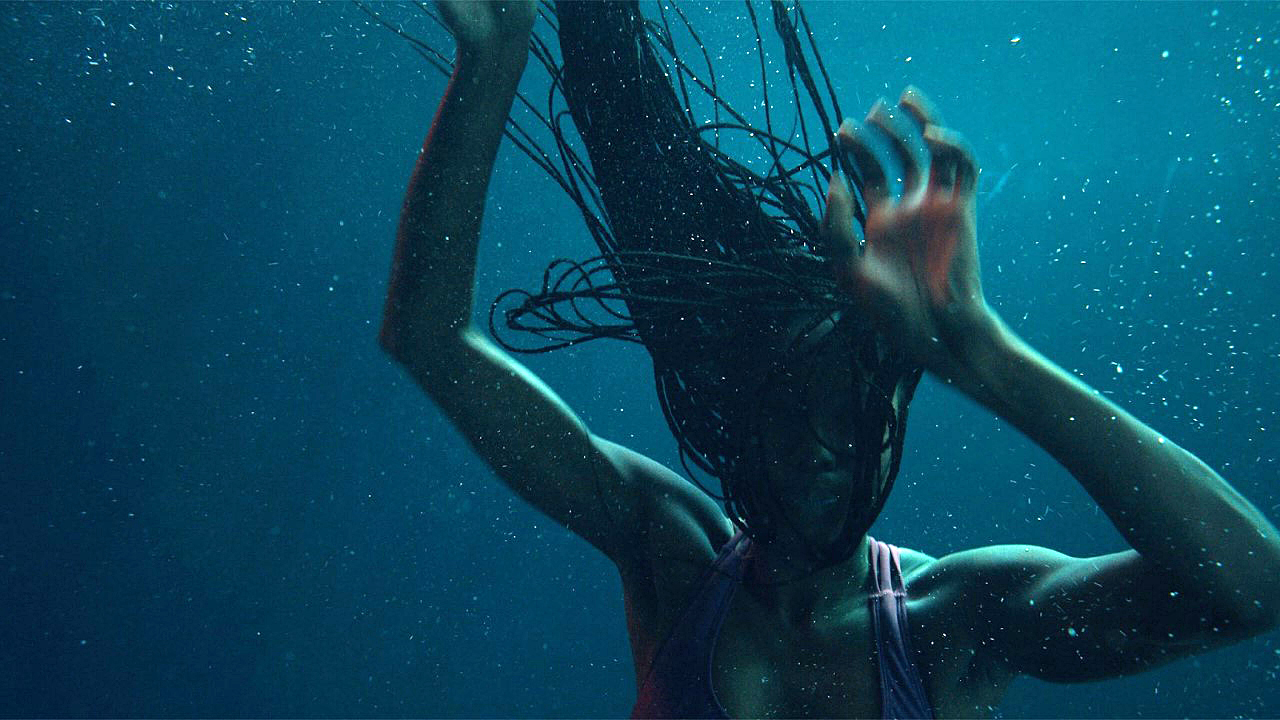 Nanny — An Immigrant's Dripping-Wet, Waking Nightmare

In their feature debut, cinematographer Rina Yang and writer-director Nikyatu Jusu depict the American dream as slowly drowning. 
Max Weinstein
Unit photography by Makeda Sandford
Nanny, the debut feature from writer-director Nikyatu Jusu, opens in a bedroom, that place where many take solace and feel at their safest and most secure. But within its four walls, there's little comfort to be found. As Aisha — the caretaker of the title, played by Anna Diop — attempts to get some sleep, a swell of cacophonous strings suggests some nearby menace, until a slow zoom on her face reveals a spider creeping out of the dark crevices of white sheets and crawling across her cheek, jolting her wide awake.
"It's satisfying to see how it came together," says London-based cinematographer Rina Yang of the film's ominous opening sequence. "But it's really different from the script." Initially, she shot a oner that she says "had quite a different vibe," but Jusu elected not to include it in her final cut.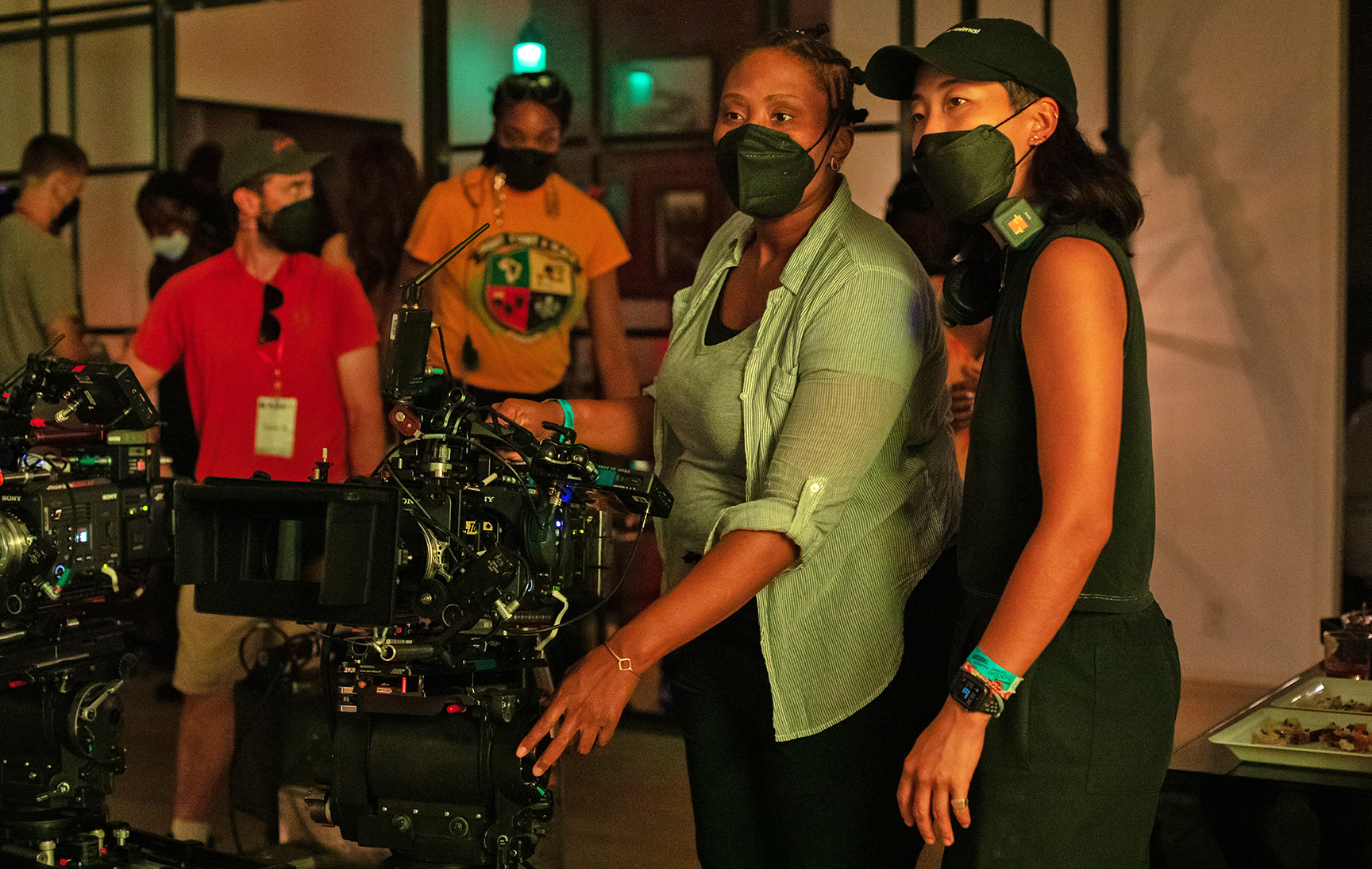 "That was the right decision," Yang continues. "The oner would've felt gimmicky and made the beginning too heavy on horror." Jusu's genre influences are unmistakable, but Yang is right to point out that Nanny's character study, more than its supernatural elements, is what fuels its emotional core.

An undocumented Senegalese immigrant living in New York, Aisha is hired by wealthy white yuppies Amy (Michelle Monaghan) and Adam (Morgan Spector) to care for their young daughter, Rose (Rose Decker). The bed in which Aisha sleeps as the film begins is not hers, but theirs — reserved for her stay in the guest room of their cushy condo on the Upper East Side. She carries out her domestic work with quiet dignity, saving every penny for when her own son finally joins her from West Africa. But the more time she spends in their home and away from hers, the more her American experience becomes one of angst and alienation.
These characters' interior states are accentuated by the film's interior spaces. To cast Amy's condo, Yang joined Jusu in the very early stages of location scouting. Although they decided to work together in April of 2021, Yang couldn't leave for Manhattan until a month later, so she vetted locations from her home in London, sorting through photographs taken by the location scout.
"The condo was hard to find, and we almost didn't get the one we ended up using," Yang recalls. "But I was quite adamant that we had to use the one we used. New York City condos are quite dark, but I wanted a space that would have clear lines and big windows. The condo we used was on the seventh floor of a building in the middle of the city, so I knew we wouldn't be able to light the daylight scenes from the outside. The condo had good ambient light coming through the windows, so all I would have to do is add in a bit of fill and pockets of light, and control the contrast by flagging and diffusing that ambient light."
As Yang developed a visual language for Nanny, both Amy's condo and its polar opposite — Aisha's apartment — were assigned their own sets of rules and restrictions. Whereas "Amy's world," as Yang describes it, was shot solely with Panavision Ultra Panatar anamorphic lenses, "Aisha's world" was shot exclusively with Panavision H-series sphericals. "We wanted to subtly heighten the visuals when Aisha is in Amy's world," Yang explains. "Ultra Panatars are only x1.3 anamorphic, so that's a very subtle effect. The focus fall off and the flare felt like the right choice for that world. And I wanted Aisha's everyday life to have a more grounded and spontaneous feel, which was brought out by the H-series and a more handheld approach." The optics — supplied by Panavision New York — were paired with Sony Venice cameras (sometimes employing the Rialto extension system).
"This process made me realize that you need to see the potential — the bigger picture of what a project can be."
— cinematographer Rina Yang
Yang says she lit the film's two worlds with a similar stylistic dichotomy in mind, with Amy's given lots of LEDs and other modern sources to imbue its "clinical and linear" feel, and Aisha's given mostly tungstens and some fluorescents to make it feel "warm, cozy, and comfortable." For the condo, the crew primarily used Arri SkyPanels, a LiteGear LiteMat, and Astera Titan tubes. For Aisha's bedroom window, they opted for a 24-light Maxi Brute or a Skypanel S360-C that could be hung on a condor just outside.
When Nanny does veer into darker territory, it's often when tensions between Aisha and Amy reach their boiling point. As Aisha becomes increasingly overworked and underpaid, she's haunted by frightening fever dreams, and visions of the Mami Wata — a malevolent mermaid of African lore.
In one of Aisha's nightmares, she hears the creature's cries coming from outside the guest room door, looking up in terror as a torrent of water crashes down from the ceiling, leaving her drenched and distraught as the floor begins to flood.
Shooting the scene was "quite lo-fi," Yang says, because "we couldn't afford a Hydrocrane or fancy underwater kit." Working on a guest room set built inside a small studio in Brooklyn, she, key grip Stratton Bailey, gaffer Andrew Hubbard and their crew "didn't use a [standard] telescopic crane because the camera had to move through the water [coming from the ceiling]," she continues. "So, it really was as simple as putting an arm on our dolly and then our SFX team, which built pipes into the ceiling, poured water on Anna while the camera was in a splash bag."
To capture the sense of shakiness and disorientation that the scene demanded, Yang opted for a 24-275mm Panavision SLZ11 Primo zoom lens. Without a stabilized head, she expected movement through the scene to be a little shaky — but she says that one of her favorite shots from Steve McQueen's Hunger served as an example of how she could pull it off. "I remembered watching Hunger and really liking this one shot," she recalls. "Then, when I went to this master class with its cinematographer, Sean Bobbitt [BSC], he explained how he had filmed a top shot over a bed, in which the main character — Bobby, played by Michael Fassbender — was dying. The shot was really wobbly because he had an awful crane grip, so he thought it would be unusable. But McQueen loved its shakiness, which served the scene's emotional impact.
"When I knew that we wouldn't be using a stabilized head and that I'd be shooting on a long zoom, moving through water, I was worried at first. But then I thought that maybe this shot would have a similar emotional impact as that shot from Hunger. And I think it did."
In another hallucinatory horror sequence, Aisha is accompanying Rose at one of her swimming lessons when, suddenly, everyone in the pool around her vanishes, the lights go out, and the Mami Wata surfaces to drag her down into the water's murky depths.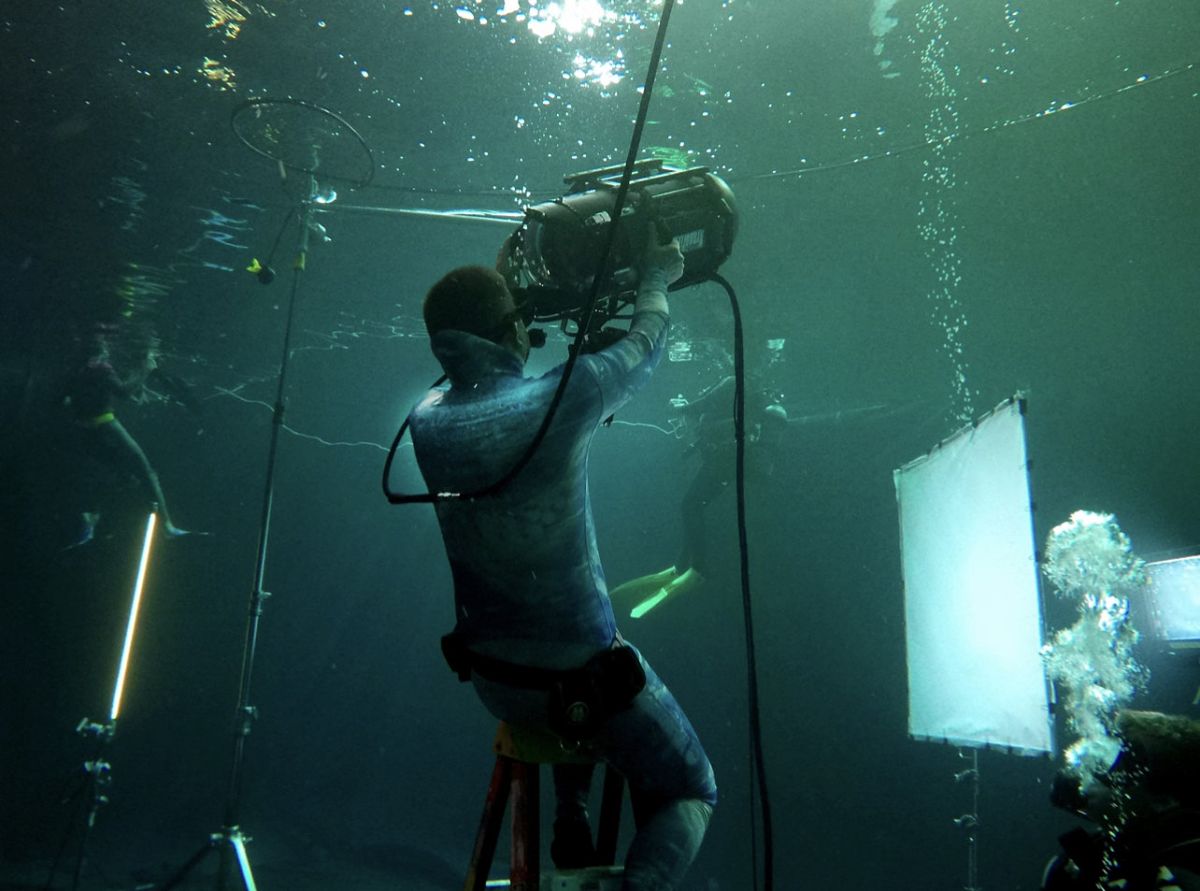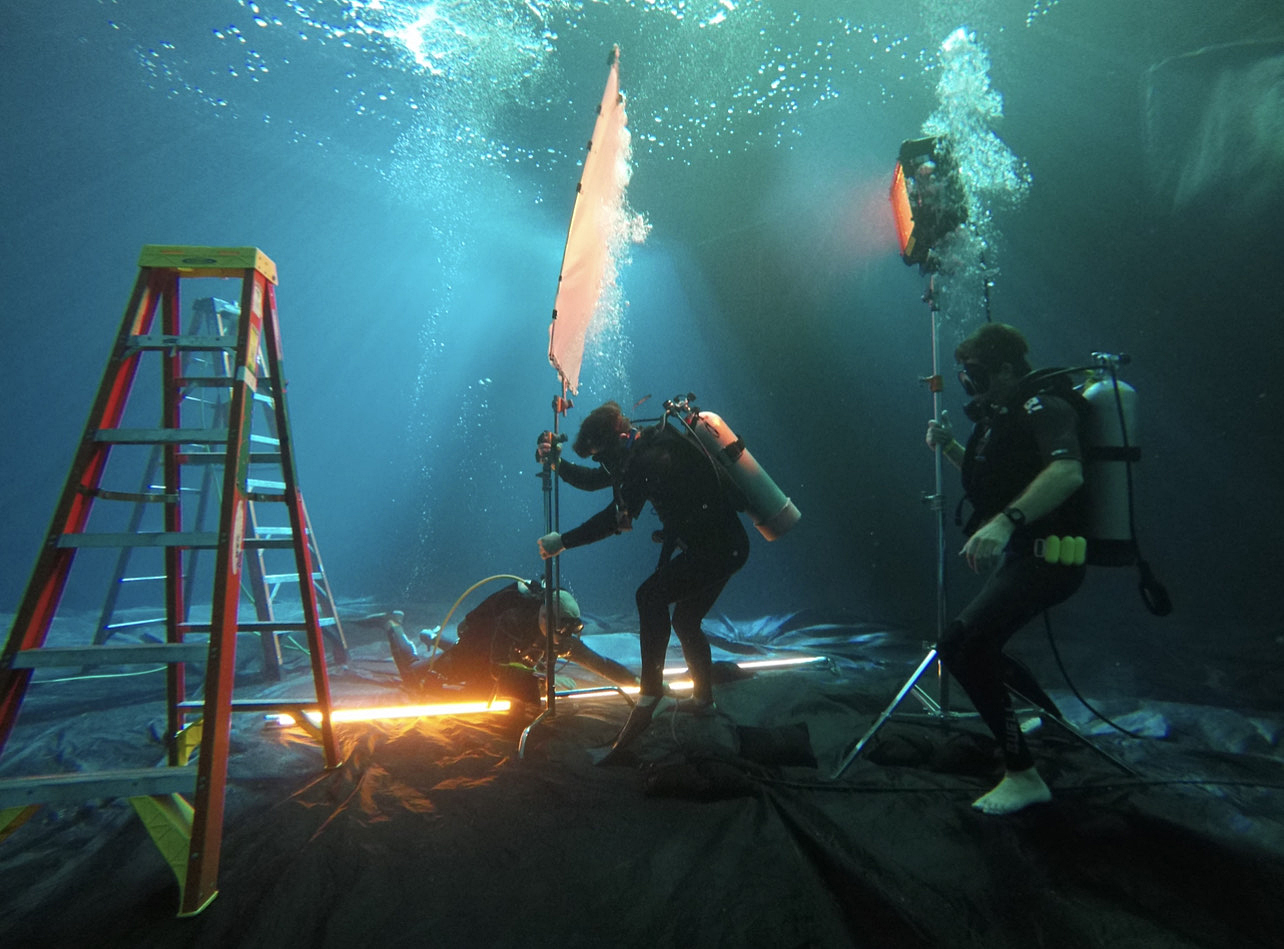 Making the pool shootable proved to be one of the crew's most daunting tasks. Yang, Bailey, and Hubbard were joined by underwater camera operator Ian S. Takahashi, who flew in from Los Angeles to shoot the material. To ensure that the wides they filmed underwater would enshroud the actors in murky darkness, Bailey and his team spent an entire weekend blacking out the pool, and also rigged a 40'x40' silk above it as a bounce.

The crew lit the scene mostly from above water, using Arri M90s and M40s and SkyPanel S360-Cs and S60-Cs. Underwater, they used Titan tubes and a HydroFlex SeaSun SkyPanel S30-C.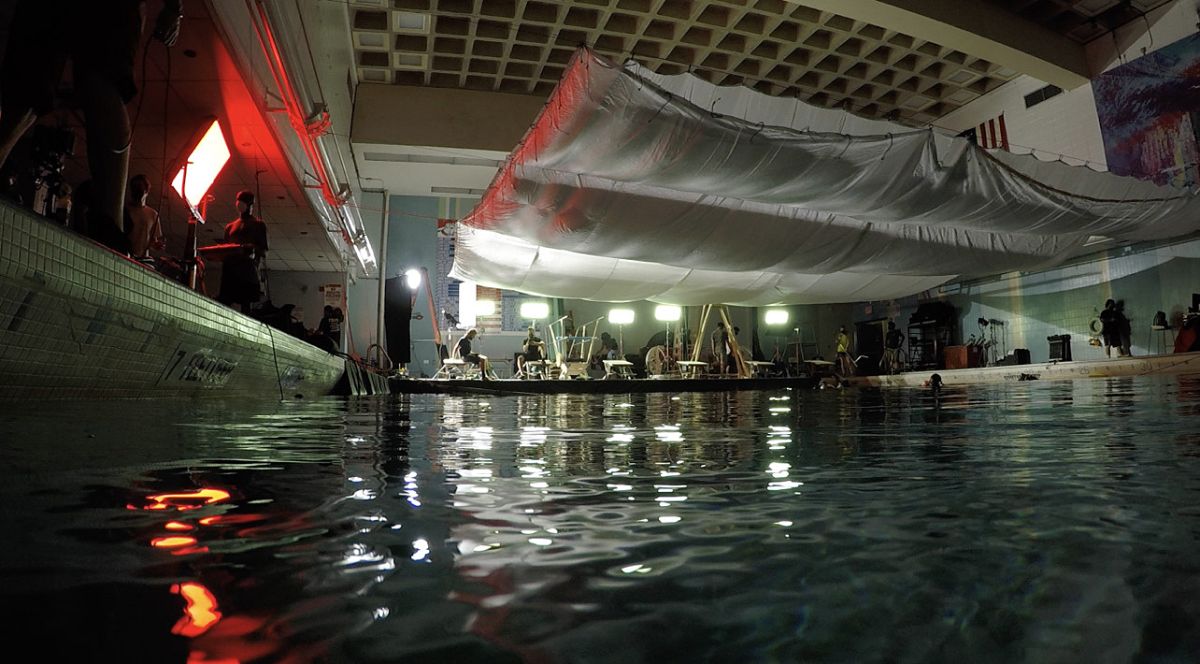 "Any underwater shots take a long time to get just right," Yang adds, "but we had to do it on an indie schedule with only had a few long takes." Other days posed similar challenges — from a lack of air conditioning at most locations amidst the sweltering summer heat, to the filming of child actors, which required Yang to use two cameras in situations she otherwise wouldn't.
"I'm not a fan of using two cameras," she says. "But there are a lot of low-angle shots in the condo that were shot with two cameras. And I do like using low-angle shots… but part of the reason there are so many is because I'd have to hide the B cam while shooting something else, and the only way to hide it was to get low."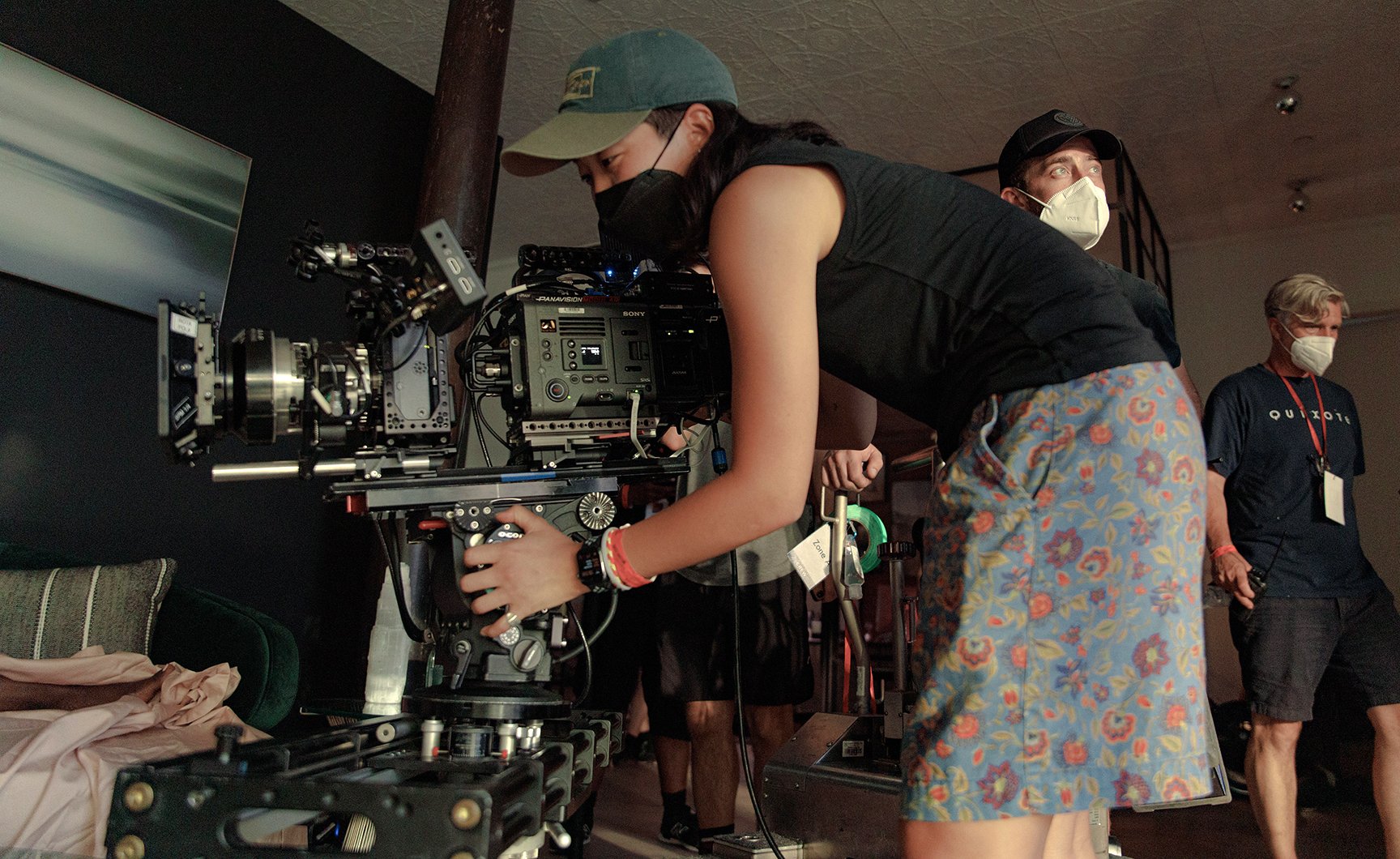 Just as Nanny's opening deviates from what Jusu originally scripted, so too does its ending. Seeing how the material she shot was reshaped in post was an eye-opening experience for Yang. "Since this is my first feature, that was my biggest takeaway: Don't judge any project by its script too much," she explains. "A lot of times, you'll end up shooting something that's quite different from the script, and that might change it in the edit, in pick-ups, or with re-shoots. So, you shouldn't always say no to a project just because you don't like the version of the script you get at the time.

"I really like what came from those final edits," Yang says. "This process made me realize that you need to see the potential — the bigger picture of what a project can be."
---
Nanny had its world premiere at Sundance Film Festival 2022 and was honored with the U.S. Grand Jury Prize: Dramatic.
Noted category juror Chelsea Bernard, "We celebrate a movie that flooded us with its compassionate and horrifying portrayal of a mother being separated from her child. This film cannot be contained by any one genre — it's visually stunning, masterfully acted, impeccably designed from sound to visual effects, and the overall vision, expertly guided by Nikyatu Jusu comes together offering its audience an electrifying experience."
You'll find further coverage on standout Sundance films here.
Yang subsequently spoke about the project in this episode of ASC Clubhouse Conversations: