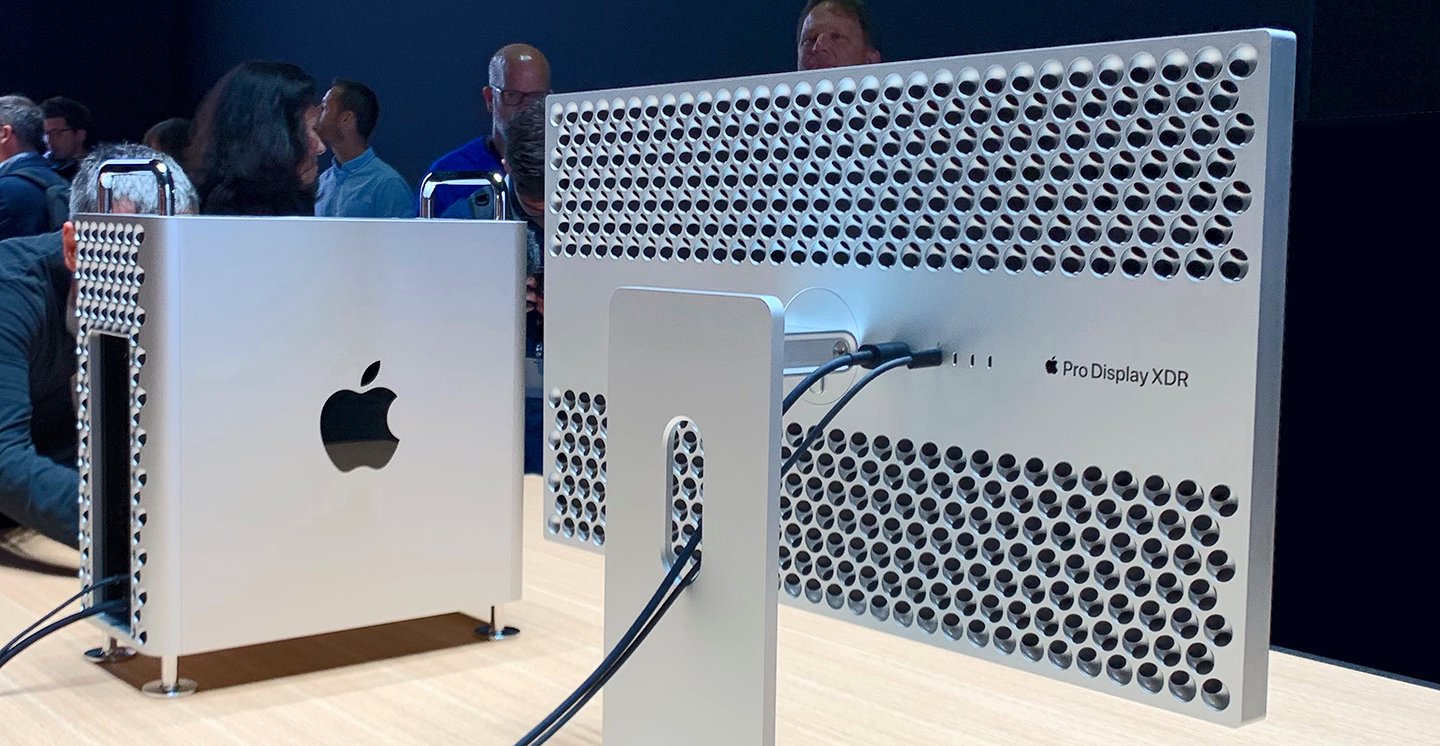 Apple Intros New Mac Pro Desktop and 6K Display
With this, the company makes a new commitment to the professional-grade market.
Noah Kadner
With this, the company makes a new commitment to the professional-grade market.
On June 3, 2019, I was invited to the Worldwide Developers Conference (WWDC) in San Jose, the yearly event where Apple unveils its latest software and hardware. (Two years ago my attendance led to AC's Set Tour AR app.) This year proved especially relevant to filmmaking as Apple chose to reassert itself back into the professional world with a completely redesigned Mac Pro desktop and the Pro Display XDR, a 32" 6K HDR monitor. With robust support for high-end audio post, editorial, and color grading workflows, Apple has reset the bar for itself at a high level.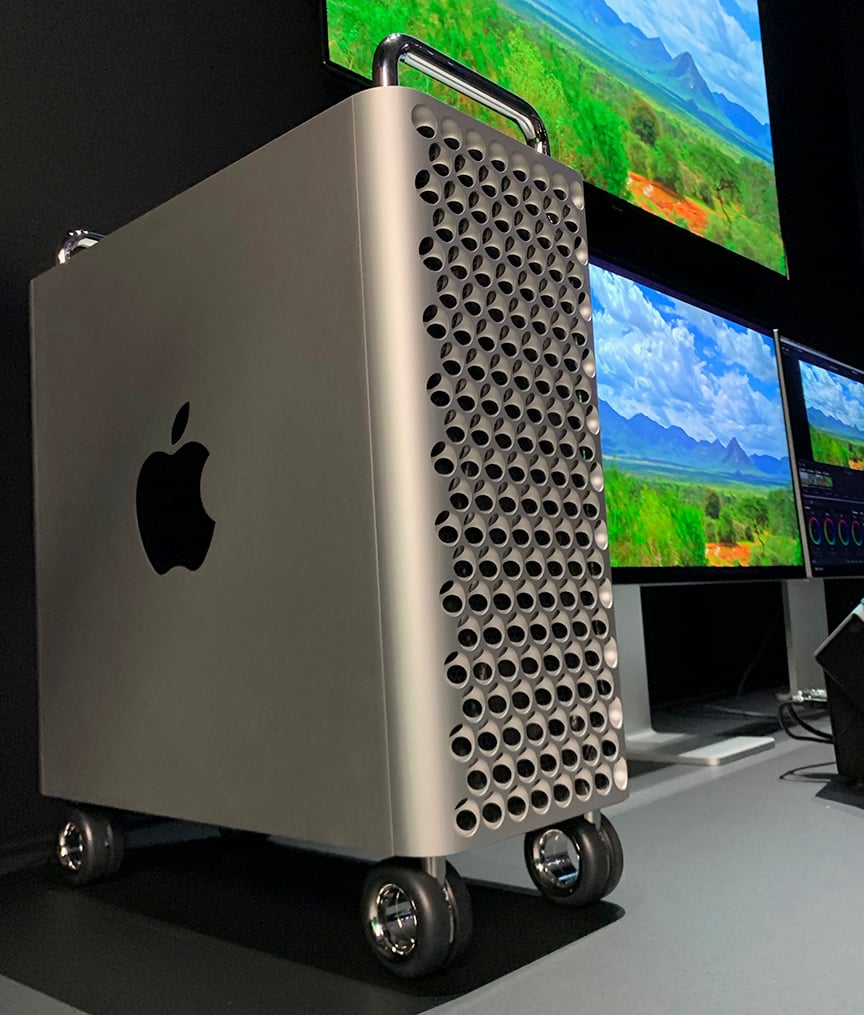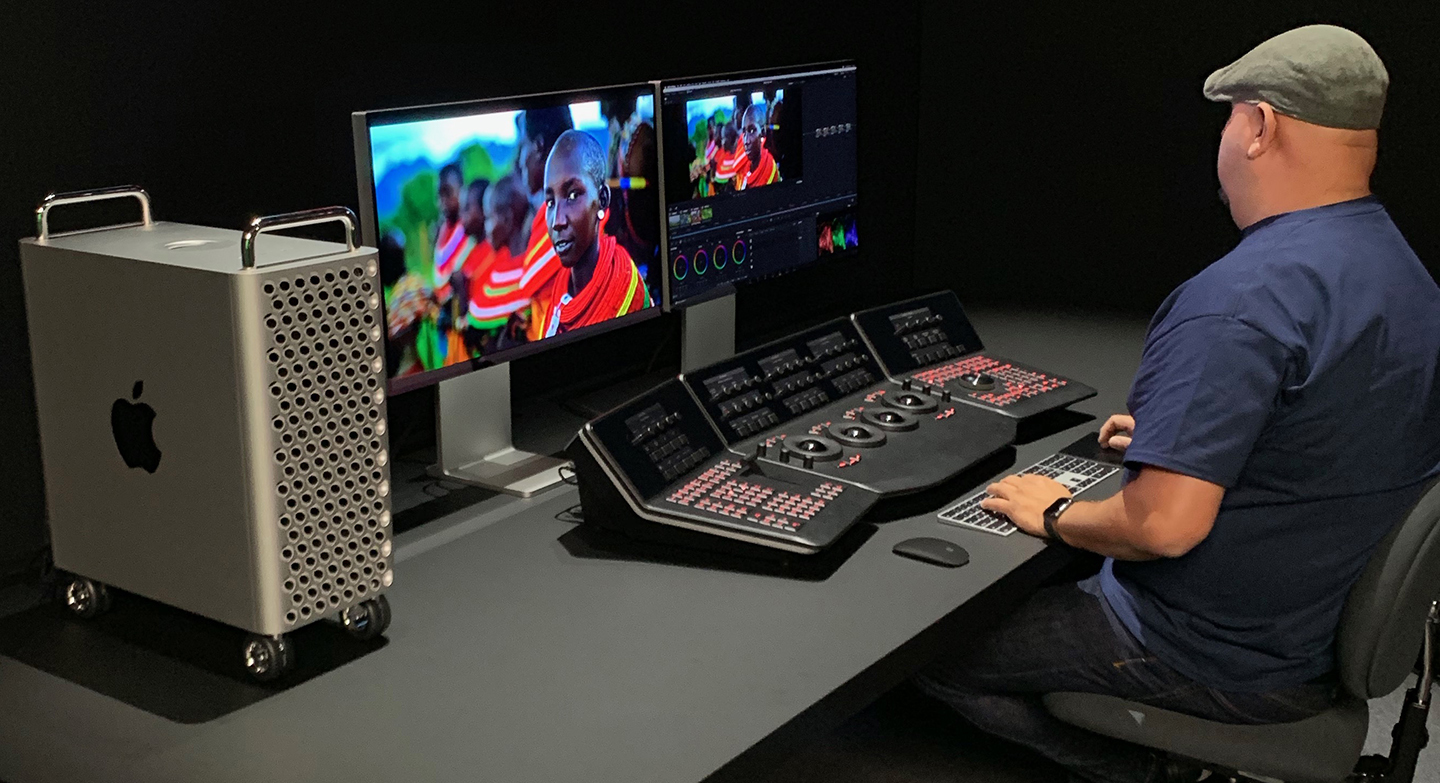 To fully appreciate the significance of this moment, we need to first go back some years. During the early 2000s, Apple made significant inroads into Hollywood. Long the hardware platform of choice for creatives, Apple's Final Cut Pro software charmed professional editors on features including David Fincher's The Social Network and the Coen Brothers' No Country for Old Men under its belt.

In the 2010s, Apple made some moves that appeared to indicate a retreat away from the high-end post-production market to a more mainstream approach. In 2011, Apple introduced Final Cut Pro X, a massive rethink of their professional editing software which many professionals found too radical or lacking in essential features to continue using. As a result, Apple ceded much of the desktop post-production market it helped create to competitors such as Adobe and Avid.
The introduction of the 2013 cylindrical Mac Pro desktop proved additionally controversial as its unique design greatly curtailed expansion possibilities. Previous models permitted users to configure nearly any aspect of the system from memory and hard drive upgrades to PCI graphics cards for high-performance 3D content creation and color grading. The 2013 design removed much of that expandability in favor of a more compact and aesthetically oriented design. Reaction from the professional community was apprehensive and a narrative ultimately emerged that Apple no longer cared about the professional market.
In 2017, Apple uncharacteristically opened its design studio doors to journalists to discuss the future of the Mac Pro. "The current vintage Mac Pro does not address the full range of customers we want to reach," said Craig Federighi, Apple's Senior Vice President of Software Engineering at the time. "We designed ourselves into a bit of a corner. We [now] need an architecture that can deliver across a wide dynamic range of performance and that we can efficiently keep it up to date with the best technologies over the years."
To supplement its internal engineers, Apple hired a group of professional artists and filmmakers to consult on the design. According to TechCrunch's Matthew Panzarino, "these are award-winning artists and technicians that are brought in to shoot real projects. They then put the hardware and software through their paces and point out sticking points that could cause frustration and friction among pro users." The team toiled at this work for the next few years.
It's now 2019 and the redesigned and modular Mac Pro is finally here. The CPU is available up to a 28-Core 2.5GHz Intel Xeon W with space for up to two Vega II GPUs, each with 64 compute units, eight internal PCI slots, and a whopping maximum 1.5 TB of possible RAM.
"We designed the Mac Pro for users who require a modular system with extreme performance, expansion, and configurability," said Phil Schiller, Apple's senior vice president of Worldwide Marketing. "With Xeon processors, massive memory capacity, GPU architecture, PCIe expansion, and Afterburner accelerator card, the new Mac Pro is a monster that will enable pros to do their life's best work."
In order to help me get my head around how all of this beefy hardware translated into the real world of film production, Apple invited me to a special Pro Studio set up at the Civic Theater across the street from the main WWDC action at the San Jose Convention Center. Inside, Apple created several demos for professional workflows cutting across editorial, color grading, music/sound mixing, photography, and augmented reality creation.
On the post side, one area showcased DaVinci Resolve running off a single Mac Pro powering three Pro Display XDRs. A setup played out 8K ProRes RAW via fiber channel from an attached Quantum SAN. The colorist could grade 8K in real-time in Resolve, even as an EXR sequence in HDR 2020 PQ color space. The Pro Display XDR can be set to the standard 1,000 nits or up to 1,600 nits.
Pro Display XDR holds much potential for cinematographers as they continue the push toward HDR for cinema production and Dolby Vision for the home. During a panel I moderated at this year's NAB for the Production Equipment Rental Group, which included ASC president Kees van Oostrum and a number of other DPs, I heard the lament that just getting HDR monitors onto sets was very difficult due to their high cost. The Pro Display XDR starts at $4,999 and is meant to compete with the Sony Trimaster HDR OLED displays (which cost around $40,000).
Across the room, another workstation featured Final Cut Pro X and another Mac Pro driving three Pro Display XDRs. This system could smoothly playback three streams of 8K ProRes RAW mixed with In addition to the stock Mac Pro, each system also contained the Afterburner PCI accelerator card, which takes over the decoding of ProRes RAW material for increased throughput to allow the system to focus on other tasks. If 8K is not required for a project, the Afterburner can achieve up to 12 streams of ProRes RAW in 4K. This should allow even the most complex projects to be graded in real-time RAW, eliminating the bottlenecks of proxy workflows.
The next rooms showcased audio content creation and augmented reality development. One Mac Pro setup showed a ProTools session. According to the operator, the session was a set of composer John Powell's orchestral mix stems from How to Train Your Dragon: The Hidden World, which previously required three systems to play together in sync. He could load everything onto a single new Mac Pro and play all 384 tracks simultaneously in real time.
At the audio demo area, I overheard a group from a very well-known sound design and mixing facility chatting excitedly with the Apple engineers about the possibilities of revamping their dubbing stages. They had been using the pre-2013 era Mac Pros for years due to their reliance on PCI cards. They weren't able to use the 2013 Mac Pros without that capability. So they were very pleased to see the restoration of PCI slots in the new machine and already making plans to finally upgrade their systems.
The last demo room showcased virtual production and augmented reality techniques, an area Apple has been keen on for some years now. A newly released tool called Reality Composer enables developers to easily create 3D/AR scenes and test them in the real world via linked iPads and iPhones. Finally, yet another Mac Pro system had the entire city from the Toy Story loaded up and navigable in real-time at high resolution.
In all, it was a lot to take in, but I was happy to see that Apple's apparently been listening to the laments of professional users (including our own Benjamin B) all these years. Apple aimed its new machine at critical pro workflows including motion picture soundtrack mixing, 3D animation and visual effects, virtual production, as well as editorial, DIT workflows, and color grading. It remains to be seen how strongly professionals will adopt this new heavy-duty hardware when it ships later this year. But for the moment, Apple's reinvigorated commitment to pros and the potential of these new Mac Pros couldn't come at a better time.