Indian revolutionary Komaram Bheem (N.T. Rama Rao Jr.) wields a water hose as a weapon
Shooting Stars for RRR
K.K. Senthil Kumar, ISC details the filming of India's ultimate (fictionalized) historical fairy tale about real-life revolutionaries Komaram Bheem and Alluri Sitarama Raju.
Iain Marcks
Cinematographer K.K. Senthil Kumar, ISC seeks a delicate balance when working with major actors. "When I'm dealing with big superstars, I have to keep in mind that people are coming to the movie to see them, so I have to present them in the best possible light," he says. "At the same time, my job as the cinematographer is to help my director tell the story in the best possible way, so I need to balance both throughout the film. I always try to keep the audience's attention on the story and not distract them."
When a new film starring the likes of Ram Charan or N.T. Rama Rao Jr. is released, "the crowds in the theaters must be seen to be believed," adds the cinematographer, who worked alongside director S.S. Rajamouli on the feature RRR (Rise Roar Revolt) — which happens to showcase both actors. "It's absolute chaos. Everyone's whistling, shouting, clapping."
"When people go to the movies, they want their stars to look like stars. They want cinema to be like cinema."
Charan and Rao are two of the biggest screen idols in Telugu cinema — or "Tollywood," the immensely popular southern Indian film industry whose growing box-office performance has brought it toe-to-toe with Bollywood, and whose fans tend to take movies and their stars very seriously.
Senthil (who prefers to be referred to by his first name) and Rajamouli bear some responsibility for the audiences' expectations, having produced a string of hits over their 20-year collaboration, including the 2007 feature Yamadonga (starring Rao), the 2009 film Magadheera (starring Charan), and Baahubali: The Beginning and Baahubali 2: The Conclusion in 2015 and 2017 — with each production more expensive, ambitious and successful than the last. Set in 1920, RRR continues that tradition as the most expensive Indian film ever made, telling a fictionalized account of two real-life revolutionaries, Komaram Bheem and Alluri Sitarama Raju (Rao and Charan, respectively), who join forces to overthrow the colonial rule of the British Raj.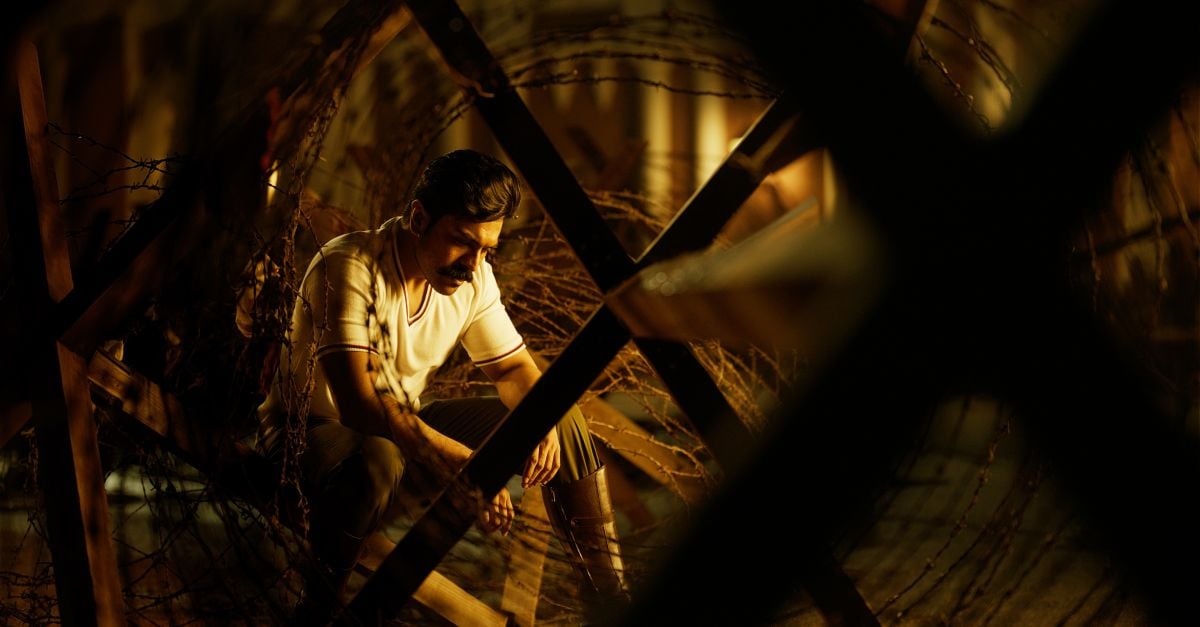 Freedom to Explore
Senthil avoided the use of overt stylization — such as extreme color palettes and unrealistic camera moves — in favor of a more classical cinematographic approach. The filmmakers developed this look in preproduction, examining documentaries and features from the film's period setting, adopting techniques that were germane to the period and discarding the ones that weren't. "We did lots of test shoots, which helped us understand our visual style," the cinematographer says.
That visual style emerges in part from an openness to improvisation. "When you don't fix yourself with rules, you tend to come up with your own unique language," Senthil continues. "For instance, we didn't have a standard approach to lenses, like designating a lens only for close-ups or things like that. During the abduction of the Gondi girl, Malli (Twinkle Sharma), at the beginning of the film, I used extreme close-ups to capture the characters' emotions and to get the audience into the minds of the characters. We made those decisions in the moment."
This flexibility was made possible through a previsualization and storyboarding process for some of the film's biggest sequences, "where lots of people have to be on the same page to understand the director's vision, and words will not be enough," Senthil explains. "It's the starting point for production design, costumes, action and visual effects — and then we improvise from there." A few examples of the sequences previsualized in Unreal Engine by John Griffith at his visual effects studio, CNCPT, include Bheem's introduction in a forest, where he attempts to catch a tiger with his bare hands; Raju and Bheem's first encounter, where they cooperate to save a young boy from a train wreck on a bridge; and a menagerie of wild animals unleashed at an imperial fête. "These are big, action-heavy sequences, so we had to be sure about what we wanted to convey in every shot," Senthil says. "We needed a very collaborative effort between different departments to get our desired result."
The scene in which Raju single-handedly defends an imperial police outpost from a mob of Indian anti-colonialists was planned and developed through a process called stunt visualization — or "stuntvis" — by which complex action sequences are choreographed and test-filmed before the start of principal photography. Says Senthil, "We filmed the stunt team on a rehearsal stage, and sometimes on location, as the actors performed suggested shots — [either] on multiple cell phone cameras, Canon 5Ds or Red cameras."
Practical Sets and Locations
While RRR featured an immense roster of visual-effects artists and technicians — more than a dozen supervisors across 11 companies are credited — Senthil maintains that most of what's on the screen can be considered practical because so many of the elements originated in-camera.
He cites the riot at the police outpost as one example: A practical set was constructed and close to 3,000 extras were brought in, with digital crowd extensions used only for the far background. For the sequence in which Ram and Bheem save the boy, Senthil shot miniature effects plates for the bridge and exploding train. Even at a distance, characters seen flying through the air are played by live stunt actors.
"We did not believe in 'create it in post' or 'fix it in post,'" Senthil says. The one exception to this rule involved animals — hence the title card before the film assuring the audience that many of the creatures are digital creations. "Otherwise," he notes, "we always tried to achieve the maximum amount of work on location and then enhance it with VFX."
Much of RRR's action takes place in Delhi, but most of it was shot in Hyderabad, Telangana, the epicenter of Tollywood. Sets were constructed at Alind Aluminum Industries Limited — an industrial complex repurposed for film production — as well as Ramoji Film City and on location in Gandipet. Other locations included Siddhpur; Gujarat ("a place preserved in time," says Senthil); and a forest in Sofia, the capital of Bulgaria. "We shot the most energetic dance number, for the song 'Naatu Naatu,' in Kyiv," Senthil adds.
"We needed lots of foreigners for the scene, but getting them into India was too difficult because of the Covid restrictions. One of the first countries to open for filming was Ukraine, so we found a great set of dancers there and got to shoot at Mariinskyi Palace, the home of the president. It's a beautiful place and we had a wonderful experience shooting there."
Lighting for Realism
RRR was designed for release in Imax and Dolby Vision, which led Senthil to select the Arri Alexa LF and Arri Signature Primes for his camera and lens package. "The Signature Primes gave me a sharp, clean and extremely naturalistic image, with this magical, cinematic look," he says. "What I like about the Alexa LF is the organic quality that it gives to the image, and the shallow depth of field is very much like film, so if the light looks right to me, it will look right on camera." For Senthil, "looking right" meant the imagery should feel realistic, so he lit in a manner that was "majorly source-inspired," aiming to make the shots "feel like they are lit by the source in the frame — with light through onscreen windows, or lampposts or fire, etc., as motivation."
The cinematographer was more concerned with enhancing the mood than being bold, but often found ways to do both. "There's a courtroom sequence where the imperial police are trying to figure out who has come to take the kidnapped girl," he says. "It had to feel like it was actually happening, but we also wanted lots of drama, so I added alternating shafts of light and shade. I put the officer in charge of the search in direct sunlight, so he gets lots of attention."
Lighting the courtroom was especially tricky, Senthil adds, because "the sun is very far from us, and getting parallel beams of light to simulate sunbeams inside the studio was challenging. I lit the courtroom by reflecting Arrimax lights, using mirrors that added distance to the [source] and helped [create] those parallel beams."
Traditional tungsten and HMI units were used as larger sources, but closer in, the actors were lit with Arri SkyPanels. "I'm a fan of the big, soft source, and I diffuse the light a great deal, especially when I'm filming people," Senthil says. "Soft diffusion requires a lot of light, and HMIs and tungsten lights also generate a lot of heat, and that can wear out the actors' makeup. LEDs are easy on actors; they don't generate heat, so I can pump as much light as I want onto the actors. And using LEDs greatly reduced our power consumption."
Format and Finishing
Senthil operated for the production's single photography unit, shooting in Open Gate mode with an eye for Imax's 1.90:1 aspect ratio, but protecting for 2.39:1 D-Cinema, the principal release format in India. "We wanted to release the movie in as many formats as possible, so people would have the opportunity to see it in their favorite format," he says. "We even did a release in 3D." In a first for an Indian film, RRR was also released in Dolby Cinema, a format that incorporates Dolby Vision and Dolby Atmos. "We still don't have Dolby Vision theaters in India, but we thought this would be the best way to preserve the film for the future," Senthil notes.
The finishing work for RRR was performed in Hyderabad, at ANR Sound & Vision at Annapurna Studios, by colorist Bvr Shivakumar, who delivered a 4K master. During production, Senthil had monitored his work in Rec 709, without the use of a LUT. "I try to start with as clean an image as possible, knowing that it will be improvised in the grade," he says. "I like deep blacks, and we didn't have to tweak the contrast much, because we took everything into consideration during the shoot."
Senthil is delighted with RRR's global success and attributes it to cinema's universal resonance. "When people go to the movies, they want their stars to look like stars," he says. "They want cinema to be like cinema."
Tech Specs: RRR

1.90:1, 2.39:1

Camera | Arri Alexa LF

Lenses | Arri Signature Prime