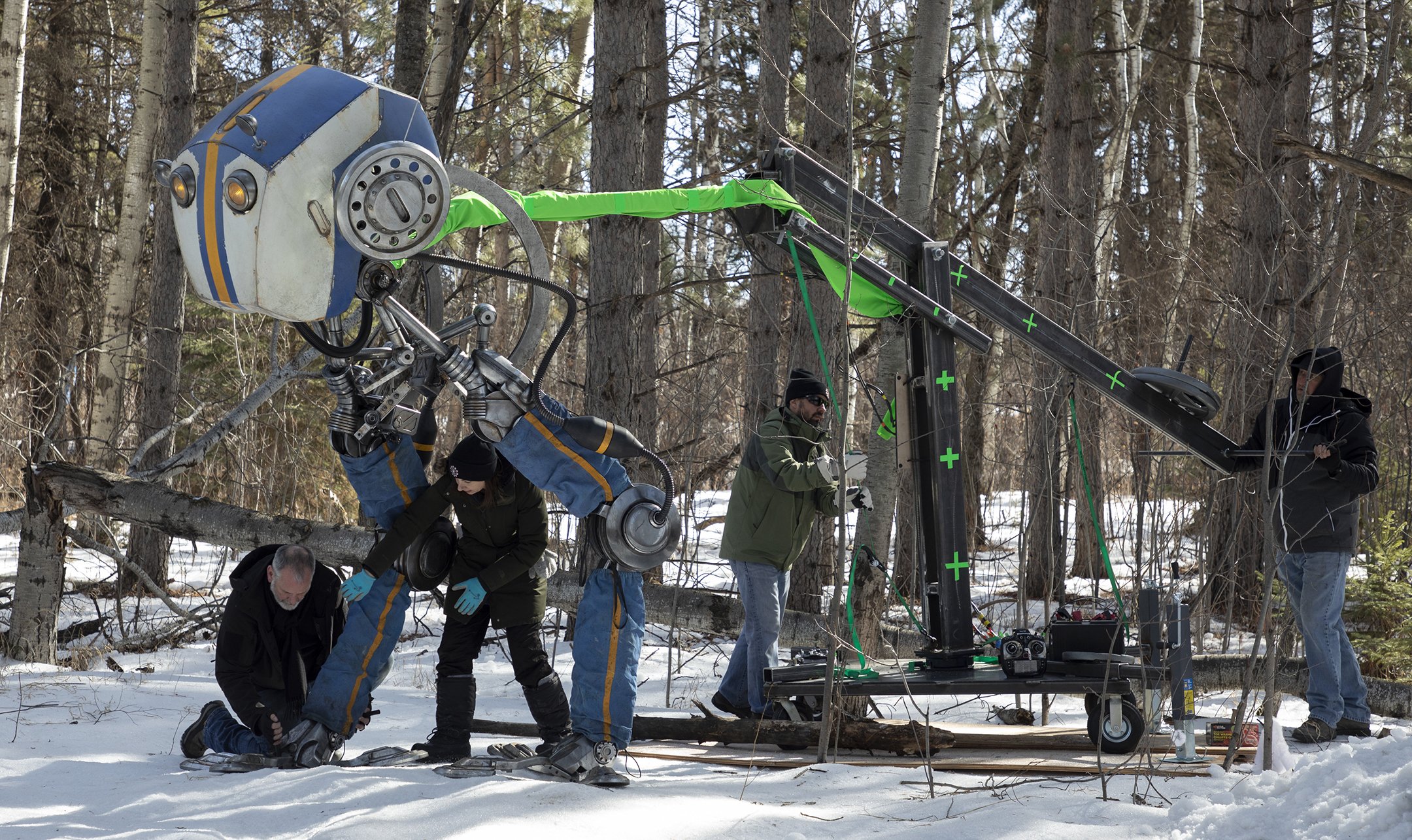 the crew sets up a large robot featured in the pilot. The support equipment is marked to be removed in post.
Tales From the Loop: Strange Machines
Jeff Cronenweth, ASC and Mark Romanek bring an artist's surreal sci-fi digital paintings to life for the pilot to this Amazon series.
Jamie Stuart
Unit photography by Jan Thijs, courtesy of Amazon Studios
Tales From the Loop is a true product of modern media. The process began without fanfare in 2013, when Swedish artist Simon Stålenhag posted his first paintings to the internet: digital illustrations based on original reference photos that combined mundane, naturalistic settings with bizarre, science-fiction elements. Following the viral success of those images, a Kickstarter campaign was launched to fund a book collection of the artwork, and it ultimately raised $321,680, even though the goal was only $10,000.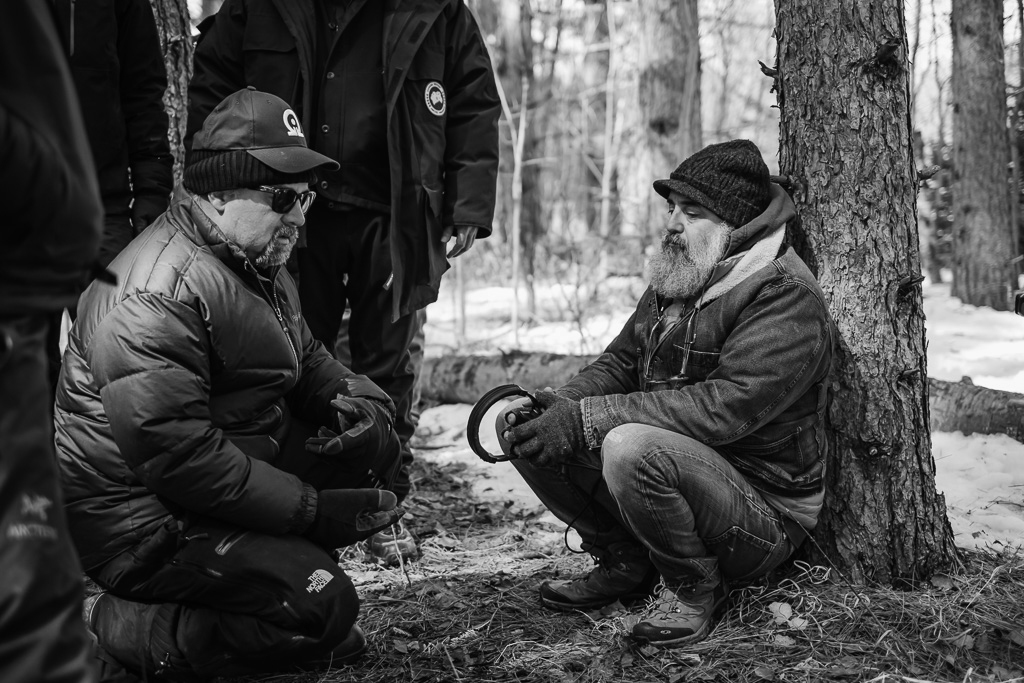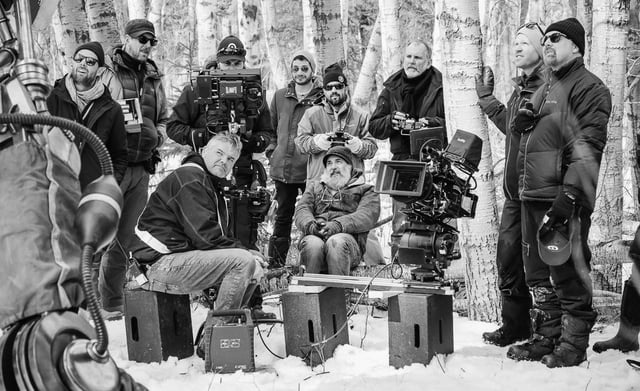 The book was designed as an alternate-reality take on childhood nostalgia. Its protagonist reflects on growing up during the 1980s in the small, country town of Mälaröarna, where work on a gigantic, underground particle accelerator nicknamed "the Loop" is responsible for littering the landscape with giant robots and rusted, decaying industrial machinery. Two subsequent books, Things From the Flood and The Electric State, followed.

Eventually, the world created by Stålenhag caught Hollywood's eye. Moving the story's setting to Mercer, Ohio, showrunner Nathaniel Halpern developed an eight-part television series with producer Matt Reeves — which explores the strange, surreal, sci-fi-infused tales of the town's denizens, who are all "connected" to the Loop — and the project was greenlit by Amazon Studios. To helm the pilot of Tales From the Loop, which premiered on April 3, they turned to legendary music-video director Mark Romanek, who also directed the features Never Let Me Go and One Hour Photo (AC Aug. '02).
Romanek, an art connoisseur who had previously found inspiration in the work of Marina Abramovíc, Edward Gorey, Joel-Peter Witkin and Erwin Wurm, among others, was already well aware of Stålenhag's illustrations. "What I liked about the paintings was how little you knew about them, and how there was a big narrative going on that you could fill in for yourself," says Romanek. "It became my job to fill it in, but we wanted to keep that enigmatic quality."
Building on Stålenhag's artwork, Halpern constructed the series' narrative tone by referencing the films of Ingmar Bergman, Andrei Tarkovsky and Krzysztof Kieslowski — hardly typical choices for an American sci-fi TV show. But they were ideal points for Romanek, who says of his initial meeting with Halpern, "I liked him immensely. He's in his thirties, but he's got a deep knowledge of cinema. I was like, 'Okay, I'm down with that stuff.'" Other references Romanek ultimately brought to the show's aesthetic were Ang Lee's The Ice Storm (shot by Frederick Elmes, ASC; AC Oct. '97) and the photography of Cristina Coral.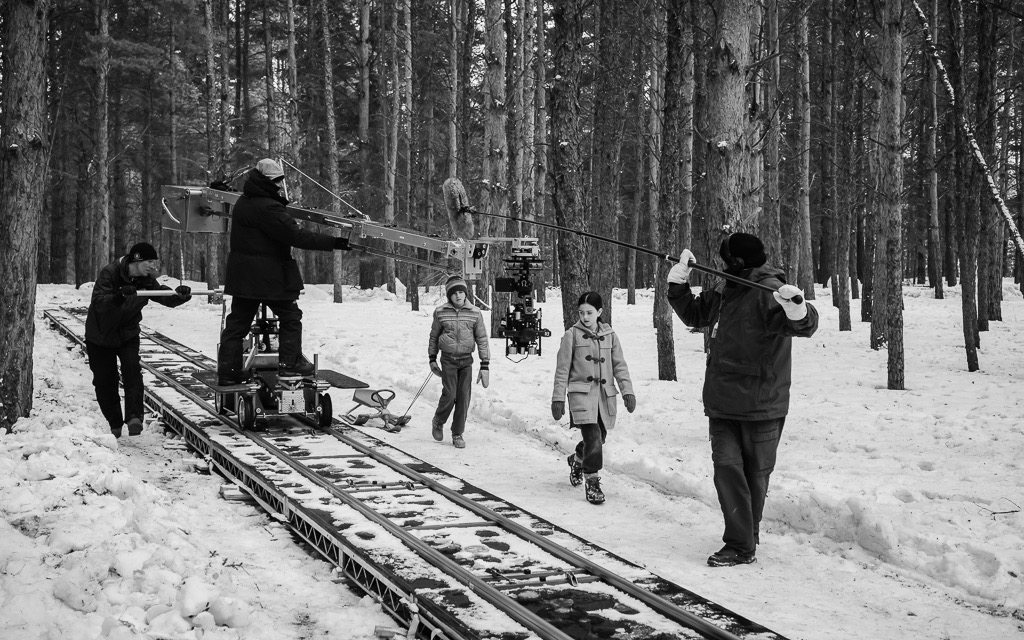 Once onboard, Romanek wasted no time in approaching two-time Oscar-nominated cinematographer Jeff Cronenweth, ASC, with whom he has collaborated for 25 years. "Jeff always comes to mind immediately," says the director. "I've had the greatest experiences with him. He's the chillest, most poetic guy. He comes across as a patient suburban dad, but he's an artist — a sculptor of light. We vibe together really great."
Romanek and Cronenweth first worked together on Michael and Janet Jackson's 1995 Scream video, photographed by Harris Savides, ASC.
Cronenweth was the B-camera operator on that project, and he went on to shoot many music videos for Romanek, as well as One Hour Photo, the director's 2002 feature. "I've known Mark a very long time," says Cronenweth. "We've done a lot of music videos, and those videos were always pushing the boundaries. We were always doing something unique, trying to create something new."
Cronenweth grew up in the industry learning from not only his father, Jordan Cronenweth, ASC, but also such cinematographers as John Alcott, BSC; Conrad Hall, ASC; and Sven Nykvist, ASC. His experiences with Nykvist, with whom he worked as 1st AC or camera operator on seven features, came in particularly handy on Tales From the Loop because Winnipeg's light is so similar to Sweden's. "I channeled Sven a lot on this," says Cronenweth.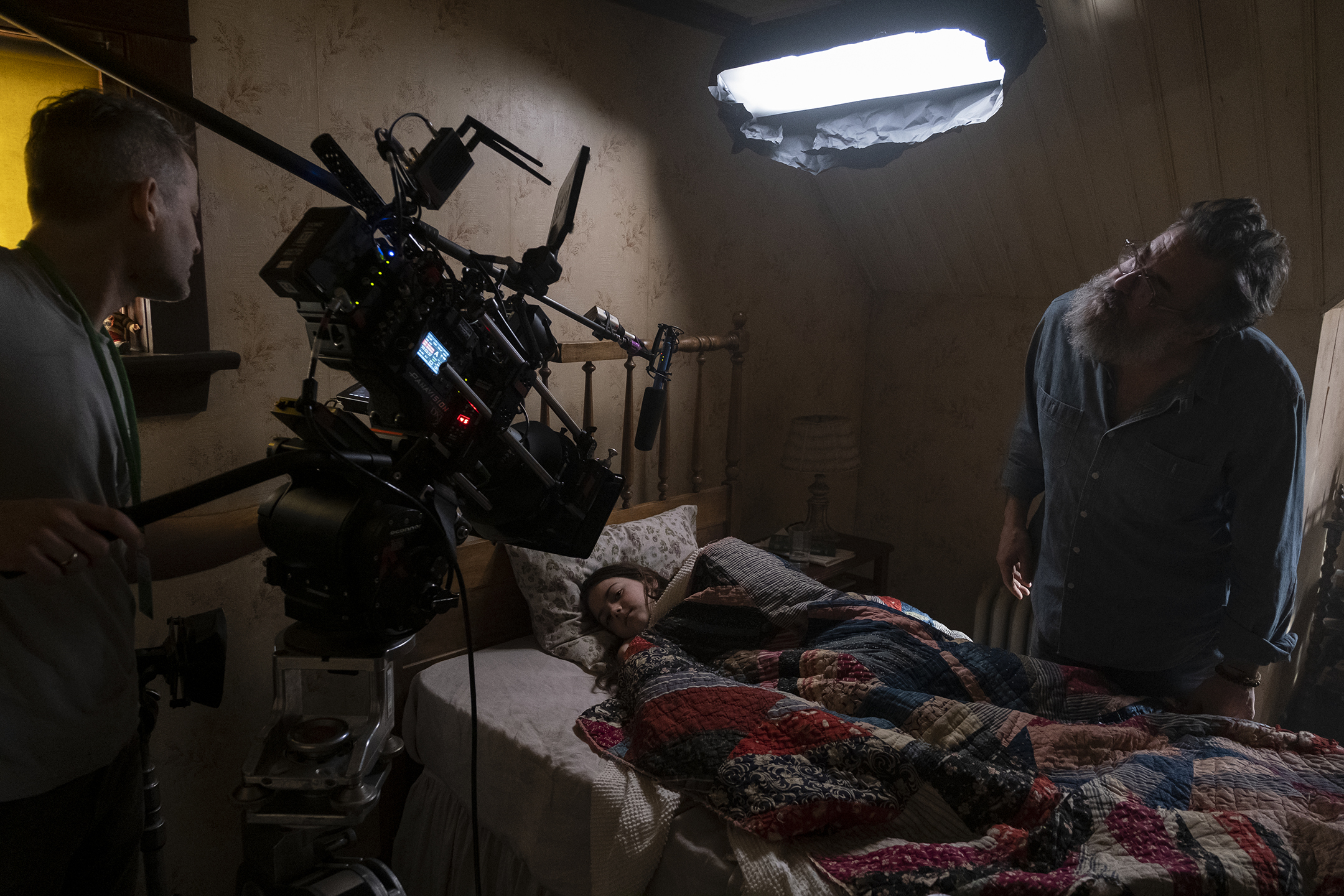 Cronenweth first met Nykvist as a child, and recalls him talking about wanting to bring his version of soft light to the United States. "Sven used to joke that he didn't [light] anything — he would just adapt to what the Swedish weather was doing. It was always overcast. There was always a window with soft light coming through."

Nykvist's mastery of natural light served as a primary model for the exteriors on Tales From the Loop. According to Cronenweth, "We were very careful about where we were at what time of the day. We were trying to always get the long shadows, to create drama photographically as much as we could to add weight to the story."
Romanek had previously directed an episode of Vinyl (AC March '16) and an unaired pilot for Locke & Key, but Cronenweth was new to the TV-series world. Neither was interested in creating something that looked like a typical TV show, however. "My mantra was, 'I'm not making a TV pilot, I'm making a film that I would want to see on a big screen,'" says Romanek.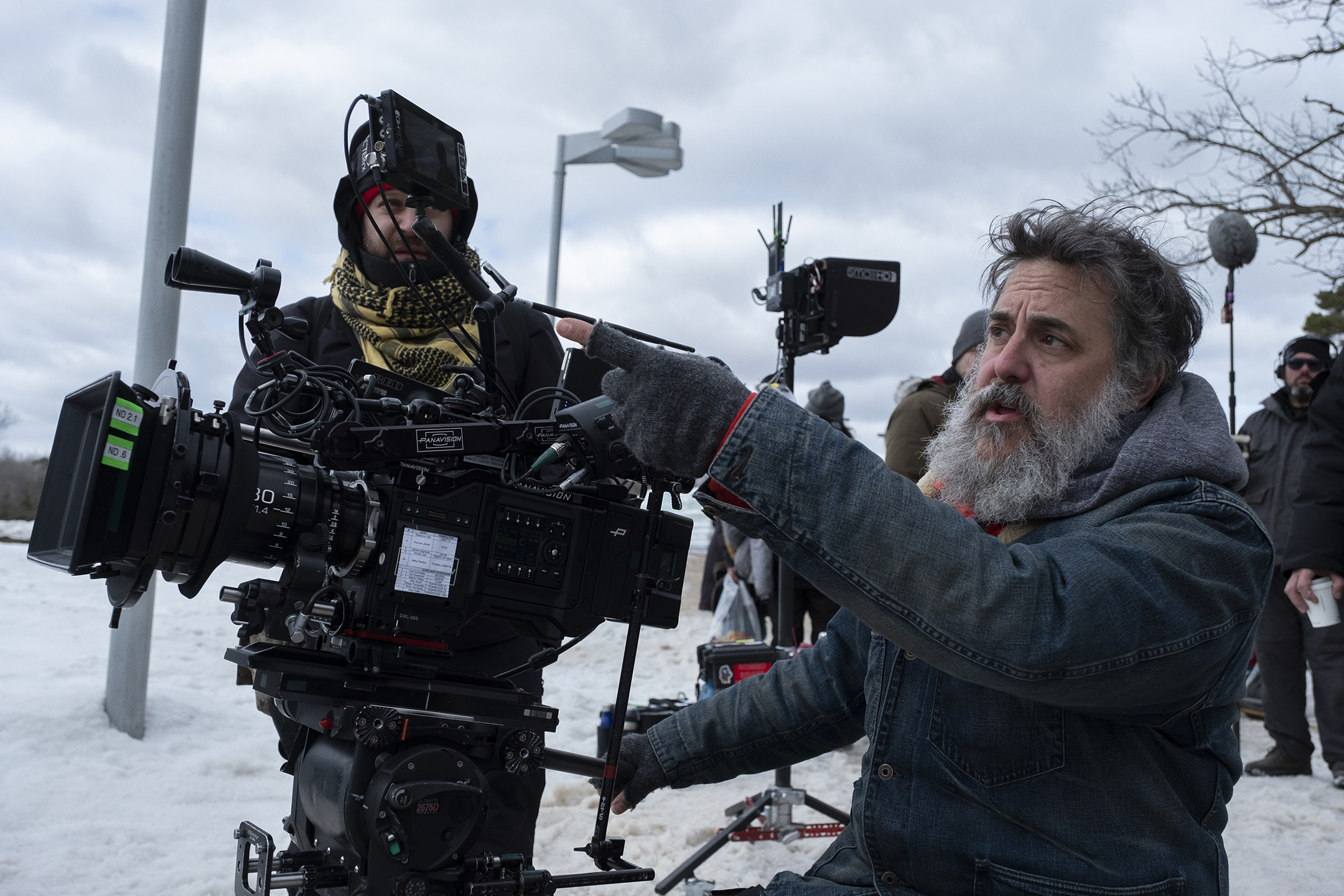 Production on the Loop pilot began in early 2019 in Winnipeg. The location, chosen for its pristine winters, presented a host of logistical problems, including subzero temperatures, which were as low as -30°F when shooting commenced, as well as short daylight hours and the challenge of replacing snow (both practically and digitally) that was destroyed during the construction of sets. Camera equipment was often transported across the snow using toboggans.
Another concern was the dynamic range of the digital cameras, given that so much material would be shot outside during the day, with sun reflecting off the snow. Romanek says, "Two or three years ago, we probably couldn't have shot this digitally. [Digital] has arrived only just now, thanks to large-format cameras and the quality of the sensors. I am overjoyed with the way this pilot looks. Might it have looked somehow more tactile or more emotional or richer on film? Maybe a little, but I'm happy because the advantages of [digital] are now outweighing the disadvantages. I do feel somewhat converted."
Whereas Romanek is a slow convert to digital, Cronenweth is an exclusive practitioner. "It's been 15 years, and it's been a learning curve — a trusting curve, following it all the way through," says the cinematographer.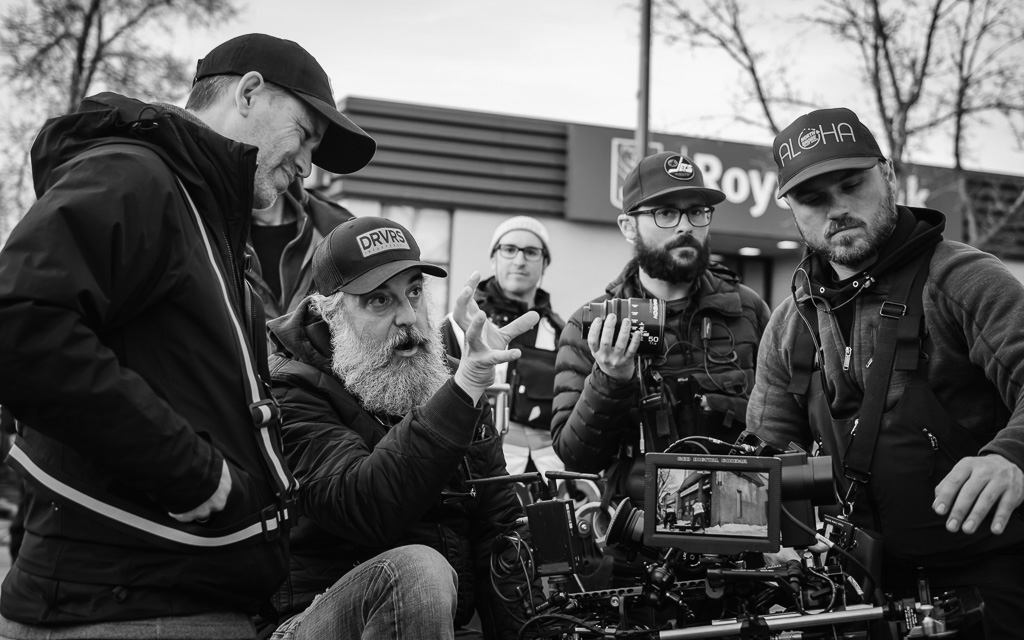 "The Social Network [AC Oct. '10] was the first [digital] movie I dove into," Cronenweth continues. "Before that, I'd been going back and forth [between film and digital] with commercials and music videos. It was a novelty back then. People would say, 'Let's do something different — let's shoot Red One or the [Arriflex] D-21 or the [Sony] F900.' New technologies were being introduced, but [shooting digitally] was in its infancy. The [Arri] Alexa hadn't come out yet; it was before the Mysterium-X chip on the Red. I had the benefit of testing everything with [director David] Fincher for Social Network; we tested different cameras all the way to the end, which you don't always get to do. "We adapt," Cronenweth adds. "If you're intuitive and you keep pushing as far as you can with whatever technology you happen to have in your hand at the time, you'll push that technology as far as it will go and see where you end up."
Where he ended up on Tales From the Loop was with Panavision's Millennium DXL2, recording in raw at 6K. "6K was both an aesthetic and an economic consideration," says Cronenweth. "We wanted to exploit the depth of field — or lack thereof — and also stay within our means."
The cinematographer has shot almost exclusively with Red cameras since The Social Network and was keen to employ Red's 8K Monstro sensor, around which the DXL2 is built, but he notes that the decision to use Panavision's new large-format camera was motivated mainly by the lens options it afforded him. He explains, "Mark and I wanted to shoot 70mm glass, and the lens choices Panavision had were considerably more grand than what anybody else had."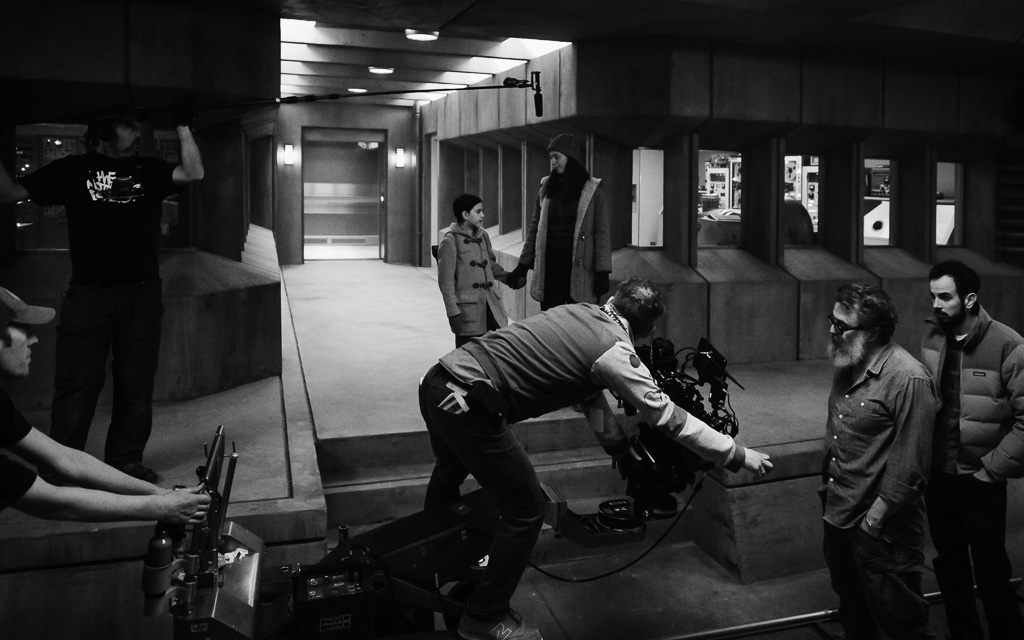 Cronenweth initially chose the Primo 70 (T2.0) series of lenses for Tales From the Loop, but early on in production, ASC associate member and Panavision senior vice-president of optical engineering Dan Sasaki offered him the very first Panaspeed lenses retrofitted for digital large-format cameras: Panaspeed 70s. These allowed him to shoot at T1.4. "Dan initially made three lenses for me — a 24mm, a 50mm and an 80mm — and sent them up for us to test," recalls Cronenweth. "They were kind of bastardized and had a weird 54mm iris. We needed a complete set because it was a two-camera show, and Panavision made sure we had one by the time we started shooting."
"That's another advantage of working with Jeff Cronenweth: they treat him like a prince!" Romanek says. "You get access to things other people might not have access to."
"I've never received a lens from anyone with serial No. 00001 before," adds Winnipeg-based A-camera 1st AC Jeffrey Hammerback.
Throughout the 21-day shoot, the Primo 70s came into play mainly for plate work and 2nd-unit work, but Cronenweth also used them when a specific focal length was not available in the Panaspeed 70s. Hammerback recalls, "The 65mm, 125mm and 200mm Primo 70s were used often."
On Tales From the Loop, two specific aesthetic decisions were made that put Panavision's lenses and the DXL2's sensor to the test: Cronenweth almost always shot wide open or close to wide, creating an extremely shallow depth of field, and, upon witnessing Winnipeg's gorgeous extended magic hour — "manna from heaven," says Romanek — the filmmakers decided to convert all of the script's night exteriors to late day, taking advantage of the Monstro's full dynamic range.
Regarding the shallow depth of field, Cronenweth explains, "Most of my career, I've subscribed to that. Depth of field is a creative storytelling tool [wherein] we get to decide where we want the focus to be. It helps you focus on the humanity of the story, which was especially important for this story. "It becomes incredibly complicated for the camera assistants, though," the cinematographer adds. "I had two amazing focus pullers in Winnipeg, Jeff Hammerback and [B-camera 1st AC] Pascal Boisvert. They did an outstanding job."
Hammerback admits he was often worried he'd get it wrong and upset Romanek, a notorious perfectionist. "Mark is kind of intimidating — he's had this famed career — and I'd see him coming over, and it was like, 'Oh, God, is this the moment when I get fired?' And then he'd say, 'That was a really good shot. Thank you.' He was quite appreciative."
Cronenweth used the DXL2's built-in Light Iron Color Film LUT throughout the shoot. With a laugh, he recalls, "I really enjoy the way it falls off, and the texture, and when I called Michael Cioni [formerly of Light Iron and Panavision] to tell him how much I liked the color science, he said, 'Well, you created it — it's based off [the LUT developed for] The Social Network.' I had no idea. Maybe that's why I was so comfortable with it; it fit my sensibilities."
Light Iron colorist Ian Vertovec, one of Cronenweth's longtime collaborators, recalls that when Cioni was developing the DXL in his capacity as Panavision's senior vice president of innovation, Cioni "reached out to me and asked me to design a look that would be unique to Panavision, and I built two LUTs. One was just a good-looking digital look, and that became Light Iron Color, and the other was a more cinematic, vintage, filmic look, and that became Light Iron Color Film. And I built [the latter] off my experience working with Jeff."
Most of the interiors were sets, and Cronenweth designed his lighting strategies around practical sources, adding fill where needed. "I tried when possible to use tungsten-filament bulbs in all relevant practicals, as it's a period piece, per se, and justified — but my fill sources varied," he says. "The fill was always driven by practicals or ambient sources, and ranged from [Arri's] LED SkyPanels, to fluorescent and LED tubes, to tungsten globes."
Many images make full use of the Monstro sensor's wide dynamic range, stretching from clean highlights to crisp blacks. Recalling one of his influences, Cronenweth says, "Conrad [Hall, ASC] used to say a funny thing: that there should always be something that's too hot, or overexposed, and something that should be underexposed, but nothing should be properly exposed.'
"The picture is a cerebral experience," he adds, "and the visuals give the audience a palette so they can then fall into and be seduced by how clever the writing is and be led along this journey. To showboat and do overtly dramatic things [visually] would have taken away from the subtlety of the story."
Although the overall approach was minimalistic, one very specific choice stands out: the recurring use of slow motion. Sections of the pilot were shot at 48 fps so the filmmakers could adjust the timing in post. "There were dramatic moments where we wanted to elongate the experience or slow down reality a bit to either extend the motion or give it an awkwardness, an off-pace quality, some kind of visual tension," Cronenweth says. Romanek adds, "There are flashbacks, and I knew that some of it needed to be dreamy. I had this idea that because the Loop facility was exploring space and time, and Nathaniel was playing with that in the storytelling, the filmmaking grammar should perhaps play with space and time, too."
Back in Hollywood, Vertovec spent three days grading the pilot, working with FilmLight's Baselight. The camera files were recorded in raw, which allowed the completion of an HDR finish, as mandated by Amazon. "I tried to incorporate a rich, soft quality," says Vertovec. "[We wanted] these contradictory concepts of having contrast, but also an overall soft feel. Normally, contrast makes everything seem harsher and sharper. We were trying to ride that line where there's a lot of contrast, but then there's also this soft, painterly quality that we were trying to preserve."
Other episodes of Tales From the Loop were shot by cinematographers Ole Bratt Birkeland, Craig Wrobleski, CSC and Luc Montpellier, CSC. The show's directors include Jodie Foster and Charlie McDowell.
Reflecting on the experience, Cronenweth notes that Tales From the Loop is "something different — something people have to think about when they watch it."
---
TECH SPECS
1.78:1
Digital Capture
Panavision Millennium DXL2
Panavision Panaspeed, Primo 70