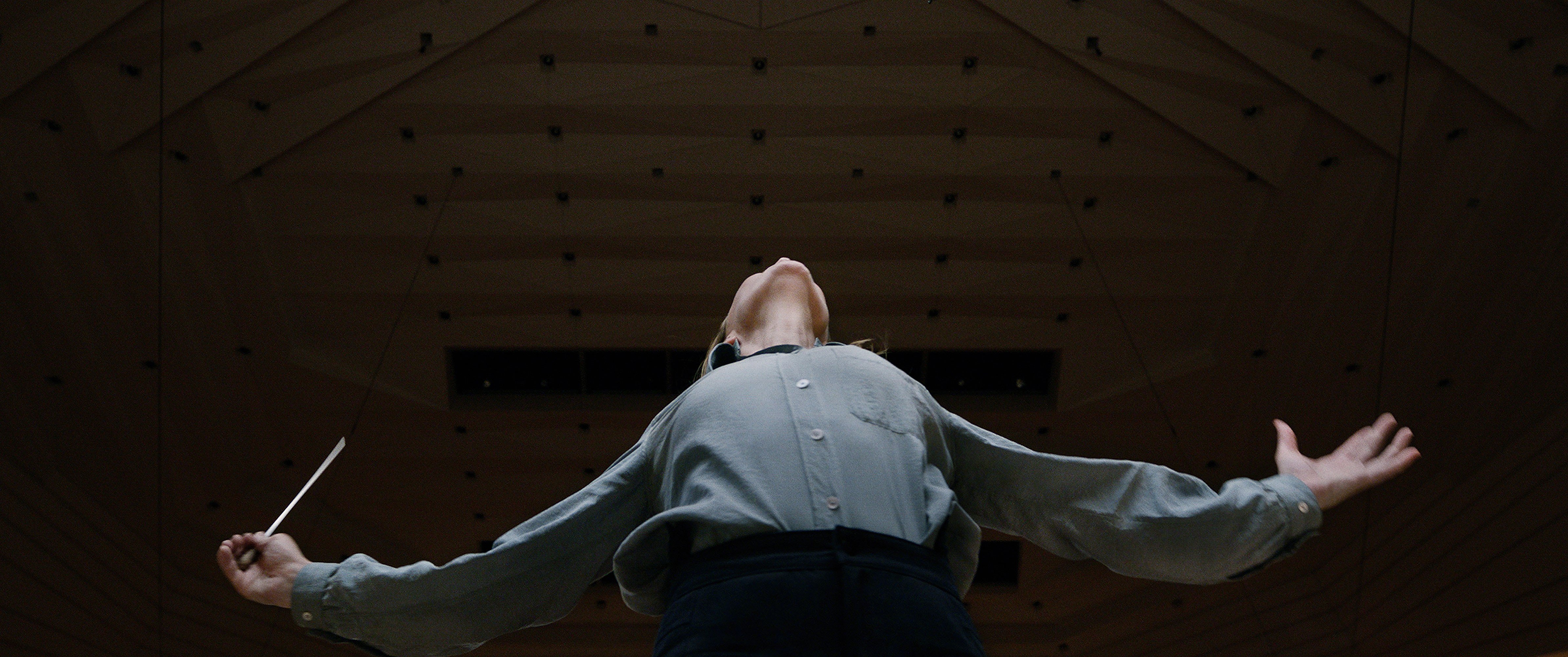 Renowned composer-conductor Lydia Tár (Cate Blanchett) commands the room.
Tár: A Musical Icon's Descent
Florian Hoffmeister, BSC traces the downfall of a world-class composer in director Todd Field's psychodrama.
Patricia Thomson
All images courtesy of Focus Features
Tár is all about restraint, both in its storytelling and its visual style. Writer-director Todd Field's narrative is largely about abuse of power and how celebrity can create an entitled sense of immunity — and cinematographer Florian Hoffmeister, BSC notes that the filmmakers' biggest challenge was to resist tipping it over into melodrama. "I have this phrase," he says, "'Putting a hat on a hat.' Todd uses the phrase 'gilding the lily.' In other words, we train ourselves to beautify things, which is precisely what Todd didn't want."
The film begins with Lydia Tár (Cate Blanchett) — the first woman conductor of a major German orchestra — at the pinnacle of her career. The iconic musical director is promoting the upcoming release her book, Tár on Tár, while also preparing to conduct a live recording of Mahler's Fifth Symphony. Over the next three weeks, however, Lydia's past missteps with female students catch up with her, jeopardizing the conductor's career and her privileged lifestyle.
Tár is Todd Field's third film as a director and his first feature in 16 years. Partly due to this long hiatus, the film generated a great deal of excitement at the major trifecta of fall festivals— Venice, Telluride, and New York — before its theatrical release last October.
Hoffmeister was impressed with the script's intimate and precise knowledge of the conducting world, and its somewhat oblique handling of Lydia's transgressions. The conductor is not a person who is self-aware, and the camera sticks close by the character, so only gradually does it dawn on her — and the audience — the damage she's done to herself and others.
"If you start to amplify that which remains in the gray zone of a story, then it isn't in the gray zone anymore," says the Berlin-based cinematographer. "Todd and I spoke at length about camera movement, and it was clear that we would only move the camera when the actor was moving. When Lydia is rehearsing with the orchestra, there shouldn't be any camera movement whatsoever. Once a classical orchestra starts playing, there's nothing more tempting than to move the camera, so it was all about holding back.
"During production," he adds, "we sometimes thought of moving the camera during certain shots, but when we started setting up the camera, the movement got smaller and smaller. We would do the first rehearsal and look at each other like, 'Just stop — just be there, be still.' Todd is very meticulous about everything that's in the frame.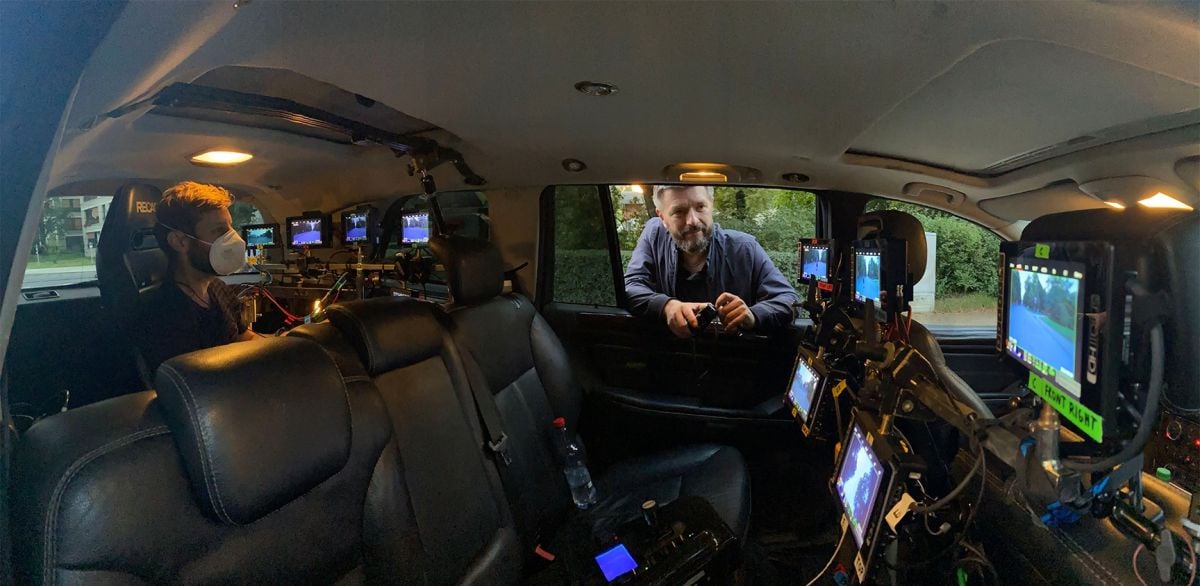 "Appearance" and "Being"
Field first appeared on Hoffmeister's radar as an actor. A few years after graduating from film school in Berlin, the cinematographer was living in a small village in France, where he occasionally paid a nighttime visit to the town's only movie theater. He vividly recalls seeing Eyes Wide Shut — in which Field played a key supporting role as a jazz pianist — about 20 times. "It left a real imprint," he says. Two years later, Hoffmeister saw Field's 2001 directorial debut, In the Bedroom, which hit him as "a reminder that there's a form of independent cinema that's really worth fighting for." By the time Field approached him about Tár, he says, "Todd could have asked me to photograph the New York phone book and I would have said yes."
Hoffmeister sums up Tár's visual design in four words: "appearance, being, detachment and intimacy. They're big words, but they carried me through the film."
For the cinematographer, "appearance" and "being" represent two sides of Lydia. In the concert hall and in public spaces, she dons her celebrity persona: hard-edged, imperious and highly articulate. At home in private with her partner, Sharon (Nina Hoss), or in her music studio, "she just 'is,'" he says. "I tried very consciously to distinguish between these two elements with the lighting.
"Lydia 'appears' when she's in front of an audience," Hoffmeister explains, "whether it's an audience of a thousand," as in the film's opening scene, "or an audience of one," as in situations like her dinner with Eliot Kaplan (Mark Strong), the financial backer for her conducting fellowship for women. "In those moments, I tried to accentuate that feeling of a constructed appearance by using a strong key light," he says. "The light had a clear 'attitude'; even if there is shadow, the key light prevails. "On the other hand, when Lydia is with Sharon or her daughter, Petra [Mila Bogojevic], and she just 'is' — fragile, doubtful, anxious — I avoided any clear key and instead tried to keep her in a soft open shadow. The light was to be as fragile and soft as she was. The orchestra rehearsal presented an interesting intersection of those two approaches, as she is standing there with a clear understanding of her role, while also bringing all of her deepest passion and emotions to the podium. Hence, she is shaped by a clear key light, but with more transparency, hence less contrast, than in moments where she decidedly 'appears.'"
Production designer Marco Bittner Rosser also distinguished between the two sides of Lydia's character. "In her public appearance, there's no personal detail, and even in her office, there's no space for personal stuff. The art was hung by someone else and the furniture was chosen by other people," he says. On the other hand, her private space is "a mix of cultures and experiences that manifest in the art and design pieces, as well as the photographs that surround her. It's a very eclectic mix of mid-century modern furniture, but also mixed with antiques that give her character a certain texture.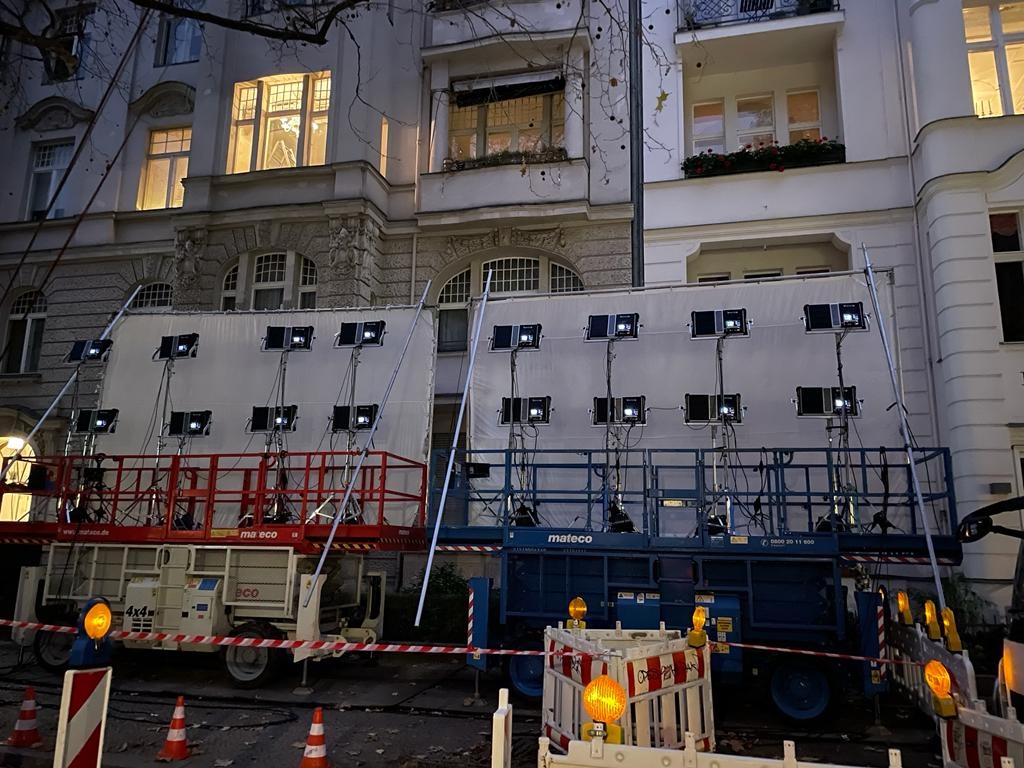 "Production designers usually try to analyze the background of the character and visualize it as architecture," he adds. He admits, though, that "for me, reading the script and trying to grasp this character of Lydia was hard because she's very unapproachable. It led to the choice of working with scale and with a certain coldness in her personal sets."
As for visual references, "astonishingly, we never once watched a film in prep," Hoffmeister says, explaining that the filmmakers just didn't have time. However, he notes, "we had long conversations about 'detachment' —trying to avoid over-stylization, trying to encourage ourselves not to be precious about things, trying to establish a form of immersive observation and daring to let things just play."
In conversations during prep, Hoffmeister was reminded of Germany's "new objectivity" art movement of the 1920s. He notes, "It was a very conscious movement away from expressionism and romanticism and a return to describe that which can be seen." The cinematographer was also reminded of the "withdrawn precision" of contemporary German photographers Thomas Struth and Andreas Gursky.
After months spent testing a multitude of lenses, Hoffmeister recalls the director telling him, "They all have their strengths, but they're either too clinical or they feel like 'movie' with a capital 'M.'" Ultimately, the duo turned to Arri Rental Berlin's head of camera department, Christoph Hoffsten, who created a completely custom set of glass for them built upon the architecture of Arri's Signature Primes, which were paired with all the production's cameras. (See 'Bring Truth to Light,' below.)
They filmed in various formats. "We shot a bit of [Arri Rental] Alexa 65; we shot Arri Alexa Mini LF. We also shot some things in more standard formats, like Super 35, with the Mini LF," Hoffmeister says. "At times, we would use the large format for the depiction of space, or sometimes for psychological situations — two characters, maybe in a small room. Then, for portraiture or other stuff, we would often default to standard Super 35." The overall finish was 4K.
Working in Concert
Hoffmeister estimates that 90 percent of the film was shot either on location or on sets built into locations. The filmmakers were fortunate to find a real concert hall in Dresden — along with their house orchestra, the Dresdner Philharmonic, which performed live with Blanchett conducting and orchestra members acting in supporting parts.
Regarding filming in the concert hall, the production designer notes, "We thought it would be a challenge, but because of the amazing efforts of the Dresdner Philharmonic, we were able to take out seats to make space for the crane build and allow for a setup of mini sets that we created in there. We used the backstage area for film logistics. [From a design perspective,] it was super easy to work there."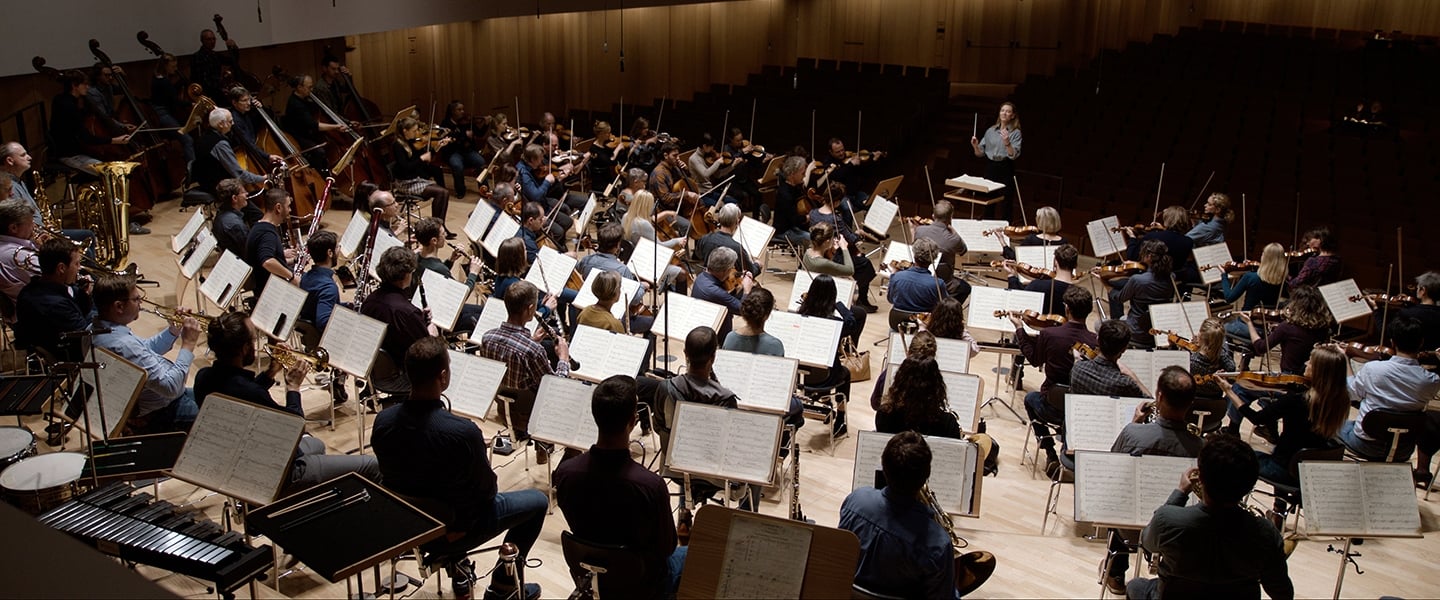 Bittner Rosser does acknowledge that the hall created logistical hurdles for Hoffmeister, commenting, "It was a challenge to create the kind of lighting that was desired, because there's limited space to hang rigs, and we also had to remove rigging for specific shots where you would see the whole space."
Hoffmeister notes, however, that the hall's existing acoustical panels, hung about 3 meters above the musicians, were also used to light the stage — which posed a particular dilemma for the production, as they essentially could not be removed. The cinematographer explains that the panels "have an acoustic function. The musicians can only hear themselves with the right intensity if these panels are at a certain height — so, you cannot just walk in there and say, 'We have to raise them and hang our own rig.' The second thing about the panels is that they light the sheet music with a certain luminance so that the performers can read the sheet music at the pace at which they're playing." To avoid re-rigging, Hoffmeister and his crew tried gelling the music-stand lights, but "if we went too thick on a gel, it was like, 'Movie time!' It was almost like cooking: The smallest ingredients would change the overall flavor." Ultimately, Hoffmeister says "inventive gaffer Florian Kronenberger came up with a magnet system and just clipped pieces of black duvetyne into the light.
Class Act
One tricky scene was Lydia's master class at Juilliard, where she relentlessly vivisects one student's opinion. The filmmakers sought to inject the sequence with energy and movement, which also helped to counterpoint the two relatively static scenes that precede it: Lydia's interview with New Yorker writer Adam Gopnik (playing himself), and her lunch with Kaplan.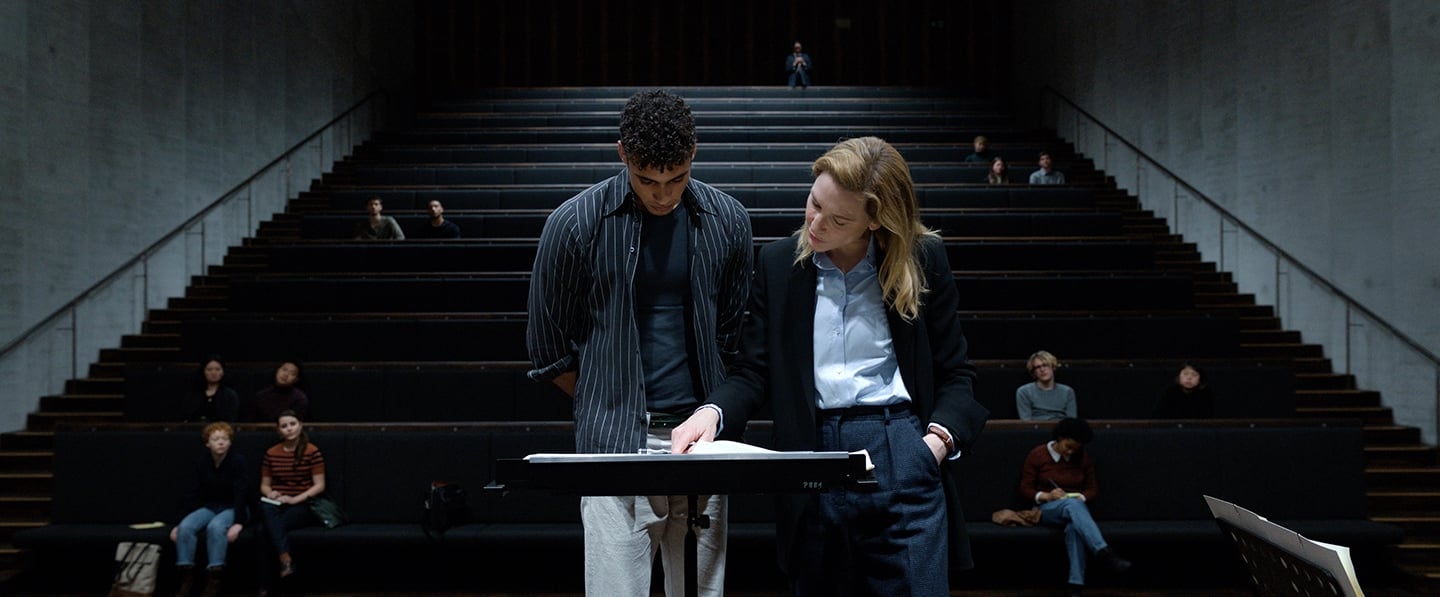 "At times, we would use the large format for the depiction of space, or sometimes for psychological situations — two characters, maybe in a small room."

The filmmakers decided to capture the Juilliard scene in a single shot. Says Hoffmeister, "It was a long scene of more than 10 pages. Originally, Todd and I discussed 35 camera setups. We kept talking about the driving force of this scene being Lydia herself — and how important it was that at this point in the film, the audience is squarely in her POV. These discussions led to the natural conclusion of shooting in one take while still utilizing those 35 camera setups. The only difference would be that there would be no cut. It wasn't designed as a bravura piece of cinematography, and our hope was that viewers wouldn't notice — or that if they did, it would be at the point in the scene where they're so involved that it wouldn't become a distraction. Todd's guiding principle for this scene, and all others, was to make sure that we didn't 'get caught.'
"At first, we wanted to do the shot with a crane, because Todd and I really loved the precision of movement," Hoffmeister continues. "For a moment, we thought about hanging a camera from the ceiling, which would have been a complete nightmare." In the end, key grip Bernd Mayer built his own rig, which allowed him and three of his grips to carry DJI's Ronin 2 three-axis head as they were followed by 1st AC Alexis Kostudis and boom operators Thomas Wallis and Tim Müller. "There was no place to hide in that room," says Hoffmeister, "so Todd, camera operator Danny Bishop and I were tucked away in a tiny backstage hallway where Danny operated from a remote gearhead. I still remember the first take, because it ran for more than 10 minutes and it was almost perfect. The performance was just breathtaking, but there was a slight technical issue on our end. So, unfortunately, that take was unusable."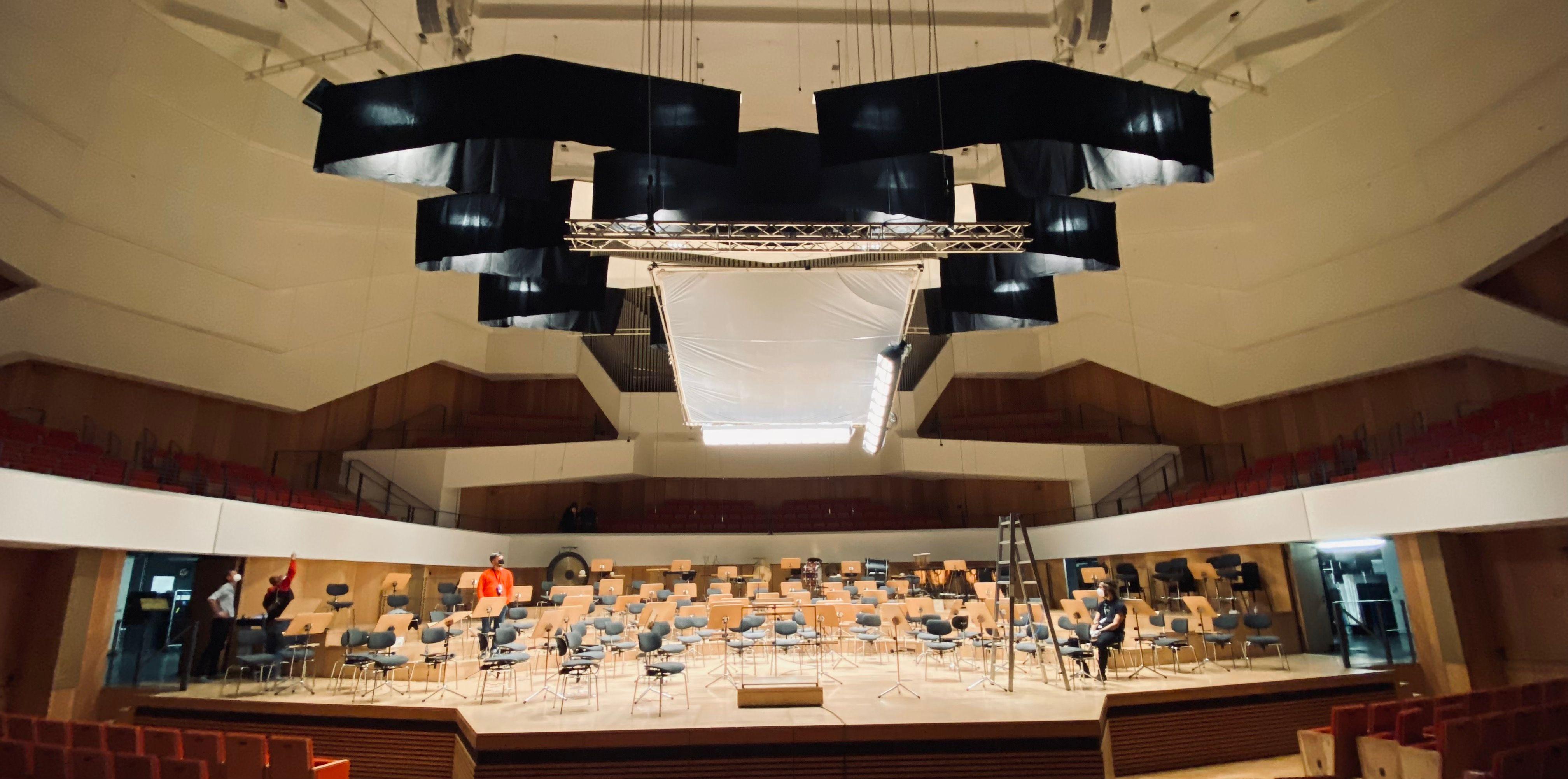 Hoffmeister gives credit to Field and Blanchett for their esprit de corps. "It was nobody's fault — it just happened, and we did it again," he says. "It was clear we were all part of this adventure." Over the next two days, they did 12 more takes. "It was a huge commitment for all of us, but in the end, we got precisely what Todd wanted.
The Little Things
Asked about other demanding shots, the cinematographer replies, "Sometimes, it's the little things that are the most challenging." He explains that while "we can talk for hours about the crane shot when Lydia kicks [her replacement conductor] off the stage, or about the 10-minute single-shot sequence," the film's spareness and subtlety are its defining qualities.
Hoffmeister paraphrases Russian writer Isaac Babel, author of the famous short-story collection Red Cavalry, who once said about his own work, "'A story is finished when you can't cut a single word out of it anymore.' That compression is the way Todd made the film."
---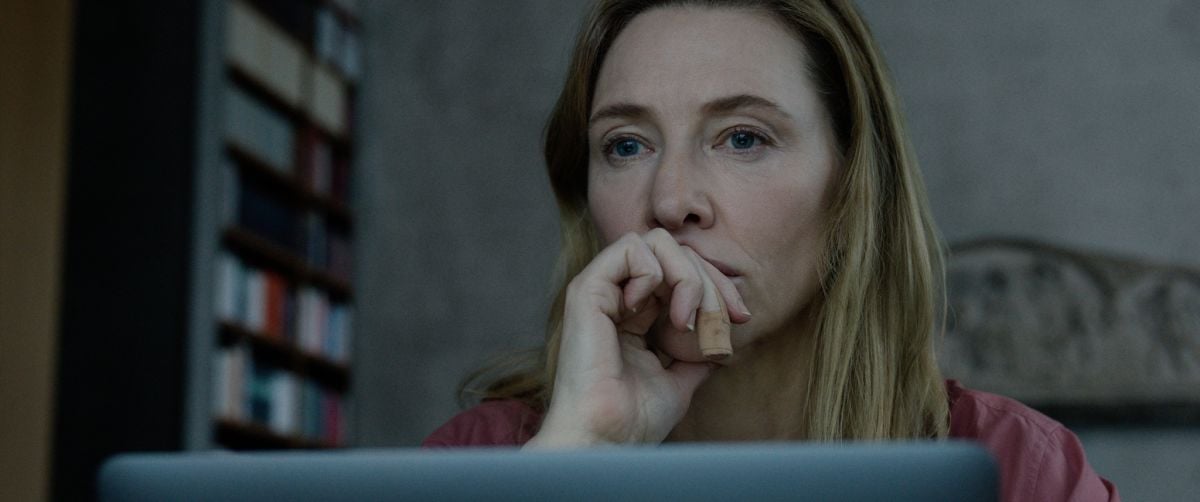 Bringing Truth to Light

By Todd Field
Over the past 30 years, I've had the great privilege of being on the floor with many extraordinary cinematographer. While each goes about their work differently, they share a common gift, the ability to create light that is truthful. Now, how does one define truth? There are endless, and unique, approaches to narrative filmmaking, and certainly not one "truth." I suppose what I mean is staying true to a shared understanding of what the light is meant to accomplish for the film at hand. That understanding begins as a conversation long before prep and continues through the final grade.
Though I've been fortunate to be in conversation with artists confident enough in their art to allow me to test and prep alongside them, I've never enjoyed the breadth of that process in the manner I did with Florian Hoffmeister, BSC for Tár. Over the course of months, we tested countless cameras and dozens of lenses by all manner of manufacturers, and projected hours of lighting tests before settling on the "truth" for the light of this film.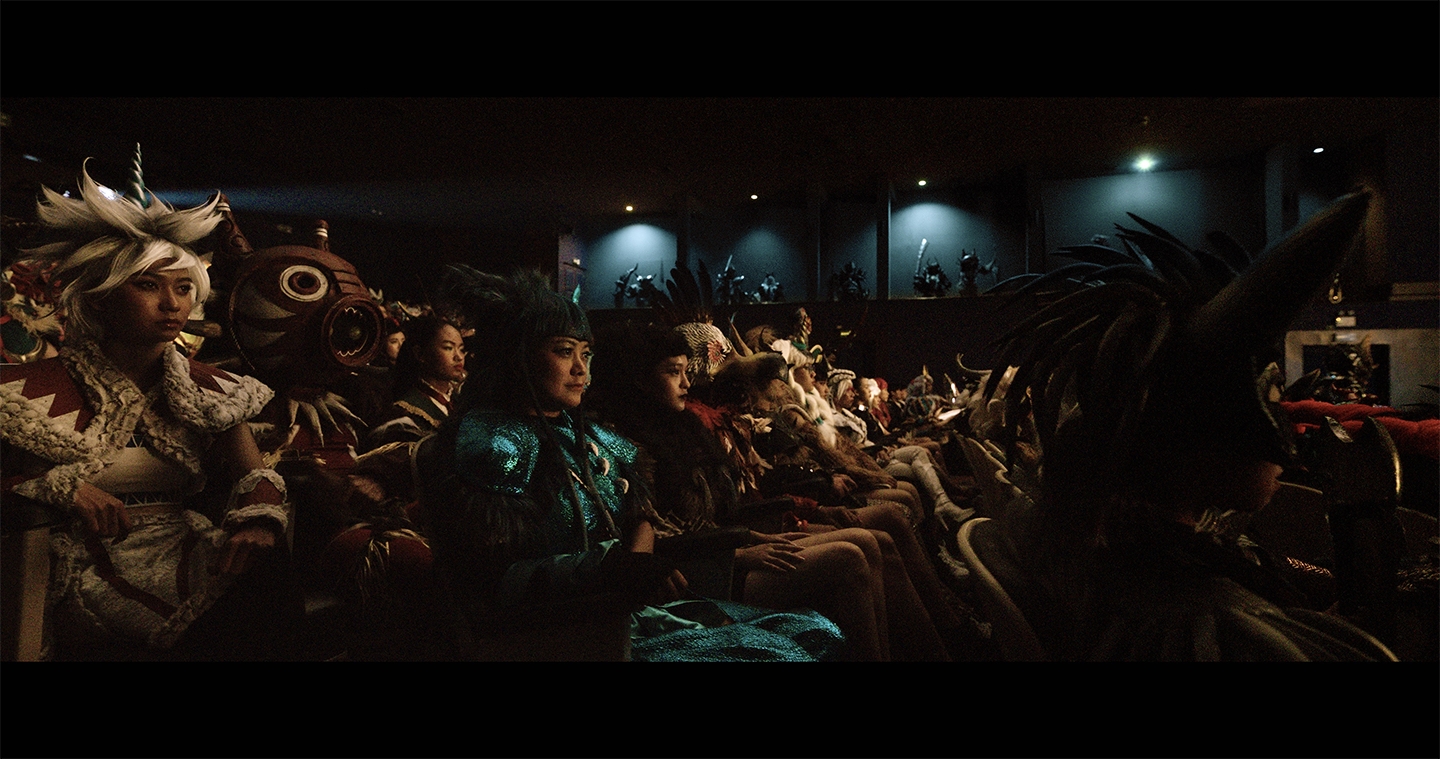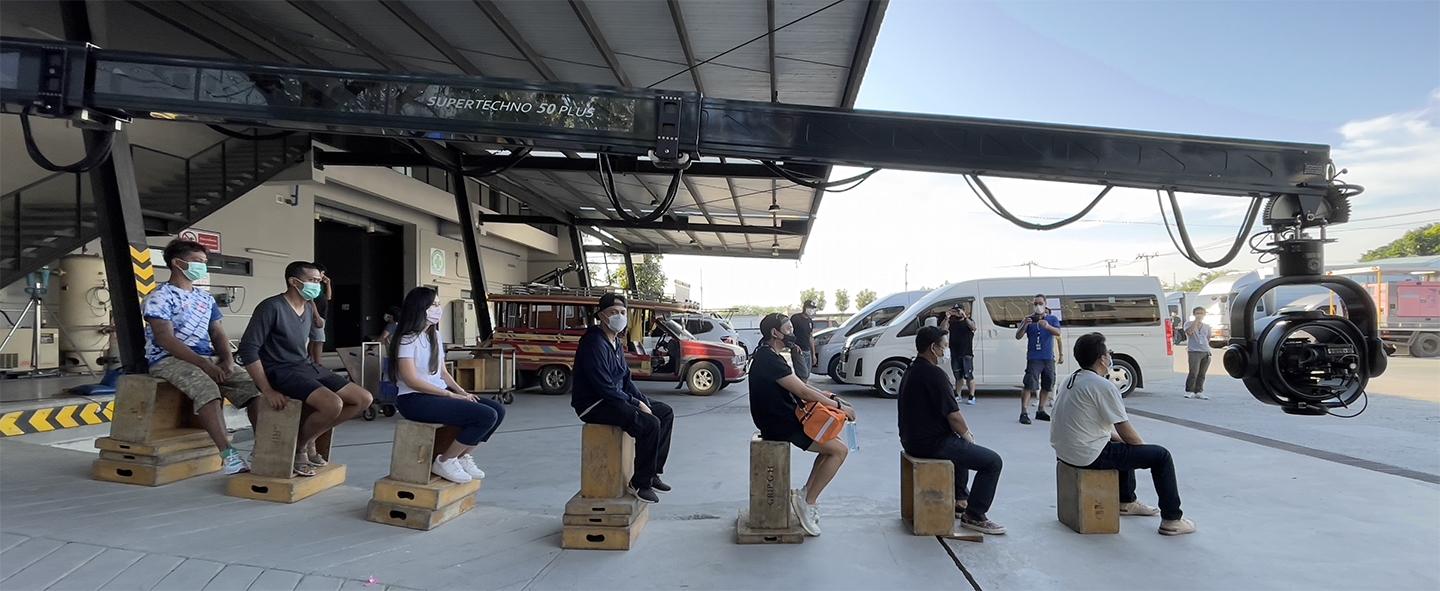 This was accomplished in concert with superb key grip Bernd Mayer, gaffer Florian Kronenberger, DIT Lorenzo Zama, Company-3 colorist Tim Masick and Arri's lead colorist Traudel Nicholson, and also included early lens tests shot by Darren Lew and Minka Farthing-Kohl in New York City. We kept returning to a single lens: a first-series MK. This felt "true" to the faces for this film. However, that lens can be eccentric to say the least, famously prone to depth-of-field issues. But Florian was undeterred.
Ultimately, Arri Rental Berlin's head of camera department, Christoph Hoffsten, was able to satisfy Florian by repurposing optics from the Signature line, with custom tuning that led to two variations: Lowres and Lowcon that we could choose from, along with several variations of flare control through interchangeable rear elements. These new lenses possessed the first series MK quality we were after, while offering both serviceable depth-of-field and the practical utility necessary for large format.
From our first conversations together, Florian pointed out the necessity for an industry-standard photochemical base reference — not just in the back end, but in real-time, the same way as if one were shooting tungsten, daylight or monochromatic emulsion.
The legacy of Arri is legendary and, though for all intents and purposes they invented the first practical digital motion-picture camera, their color science is firmly grounded and informed by artists at the company who began their professional lives in the laboratory. This is something Florian had intimate knowledge of and suggested we utilize.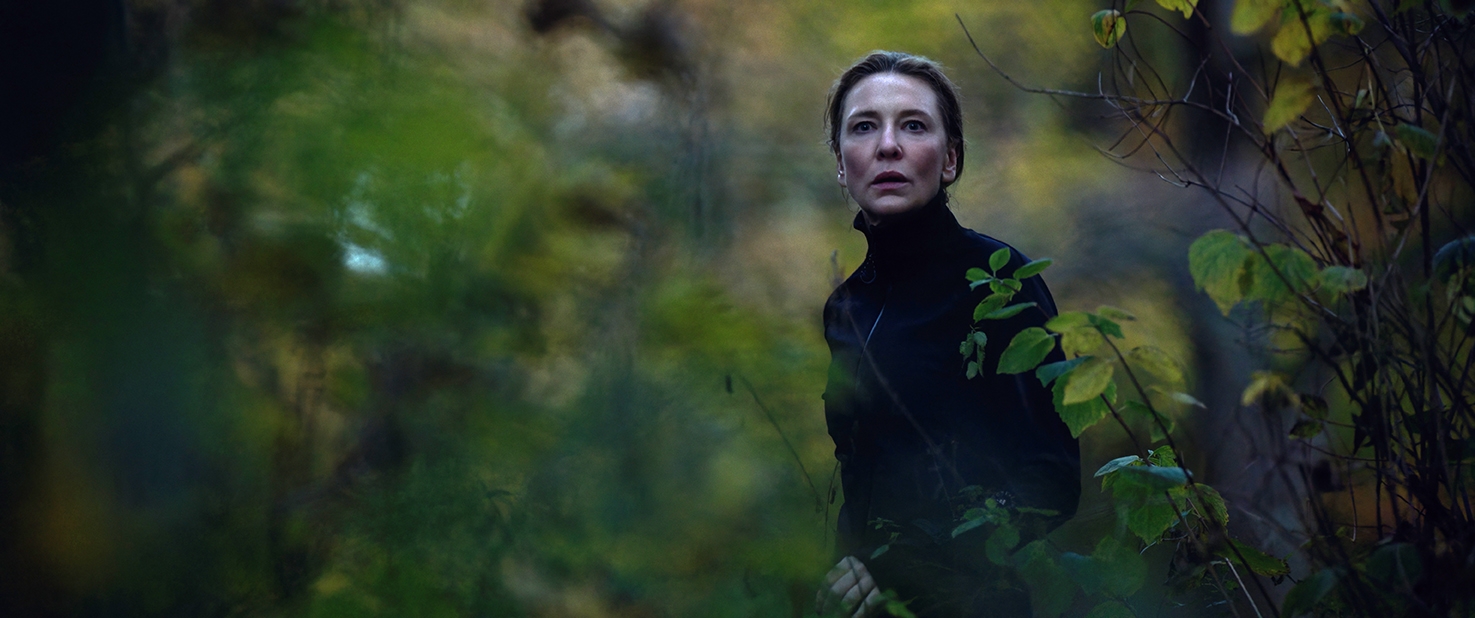 Arri's Florian Martin (yes, there are three — count 'em — Florians in this piece) and Nicholson are both at the forefront of that color science, and collaborated with Florian Hoffmeister utilizing the Arri Print Emulsion System (APES). This became the guiding light for Zama's on-set workflow and of course a strong reference point for the final grade with Masick.
Martin is now in the process of pulling APES into their new camera system to be utilized on the front end. In essence, what this means for the cinematographer is the restoration of Droit Moral: the ability to make images with the same integrity enjoyed when exposing emulsion, and a basic right restored to a craft in the midst of exciting but speed-of-light technological change, where all too often someone besides the artist is making grading decisions. Florian Hoffmeister wanted to restore that right, and the art of cinematography is the better for both his and Florian Martin's vision.
---
Variations on a Theme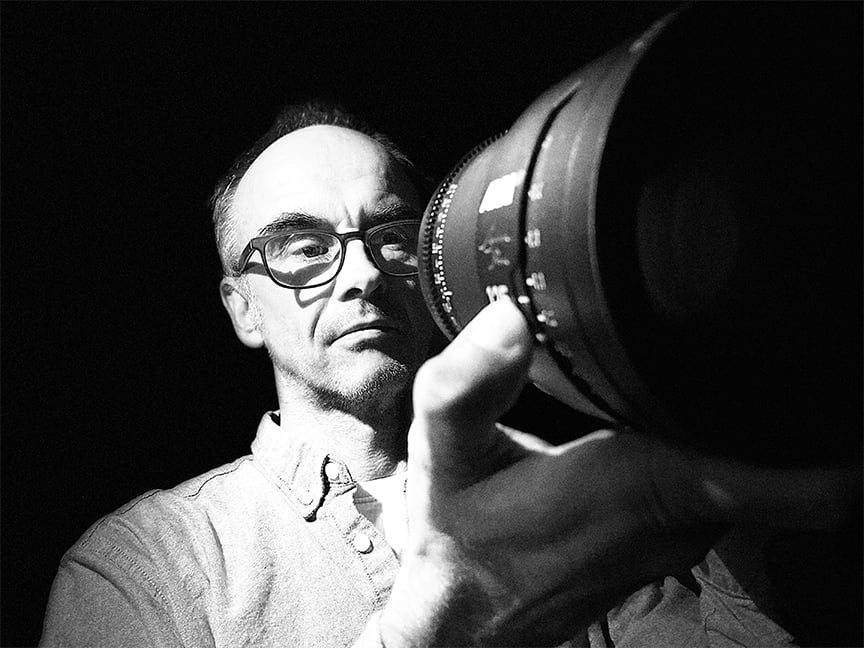 For Tár, Christoph Hoffsten, head of camera department for Arri Rental Berlin, customized two variations of Arri Signature Prime lenses. During their testing period, Florian Hoffmeister, BSC and Todd Field found a particular affinity for the quality of the Arriflex/Zeiss Super Speed MKIII (referred to by Field in his sidebar as the "MK" series), but the nature of under- and over-corrected spherical aberration depending on the out-of-focus image in front of or behind the focal plane wasn't something they liked. It created what Field refers to as "depth-of-field issues." The filmmakers asked Hoffsten to tune the Signature Primes to give the overall feel of the classic Super Speeds, but with a consistent nature of bokeh throughout the image. He created two primary versions of the series, a "Lowres" and a "Lowcon."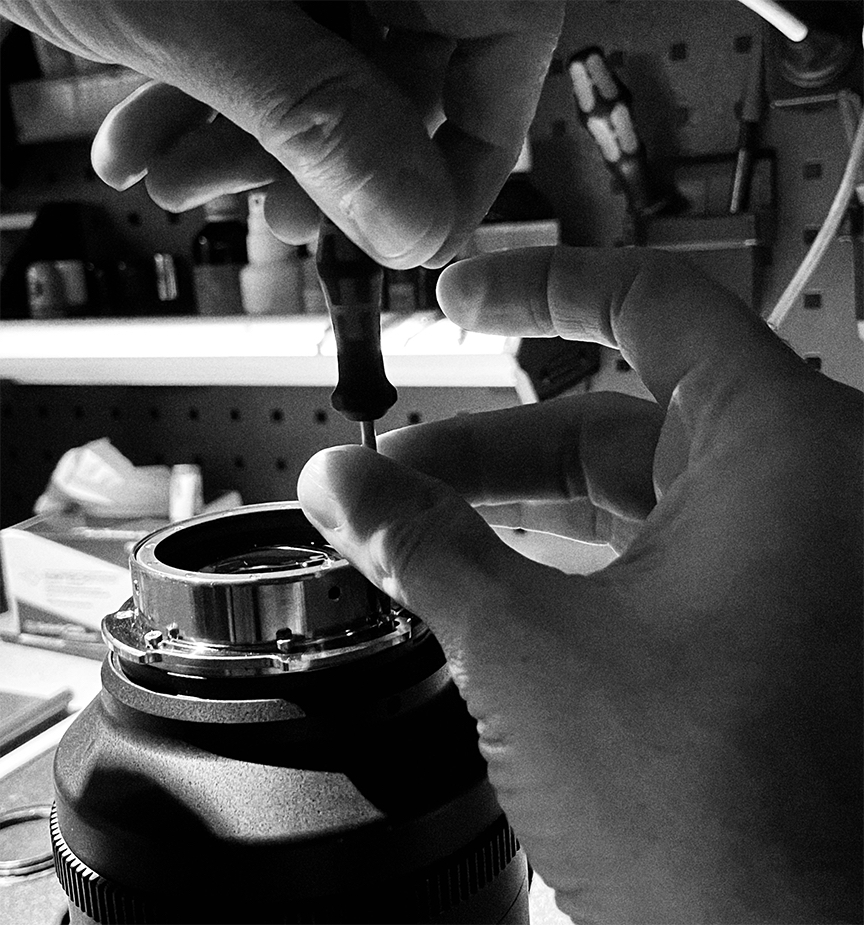 For the Lowres variation, Hoffsten reduced the lens' resolution while maintaining contrast, and added a slight curvature of field with the edges pulling forward (under-corrected). Resolution dropped even more toward the corners of the image without induced coma or astigmatism, but a slight under-corrected spherical aberration.
Hoffsten first tested modifications on the Signature Primes that created astigmatism and broke up the symmetry of the bokeh, like the Super Speeds, which he called the "M" variation, but the filmmakers wanted more consistency in the bokeh.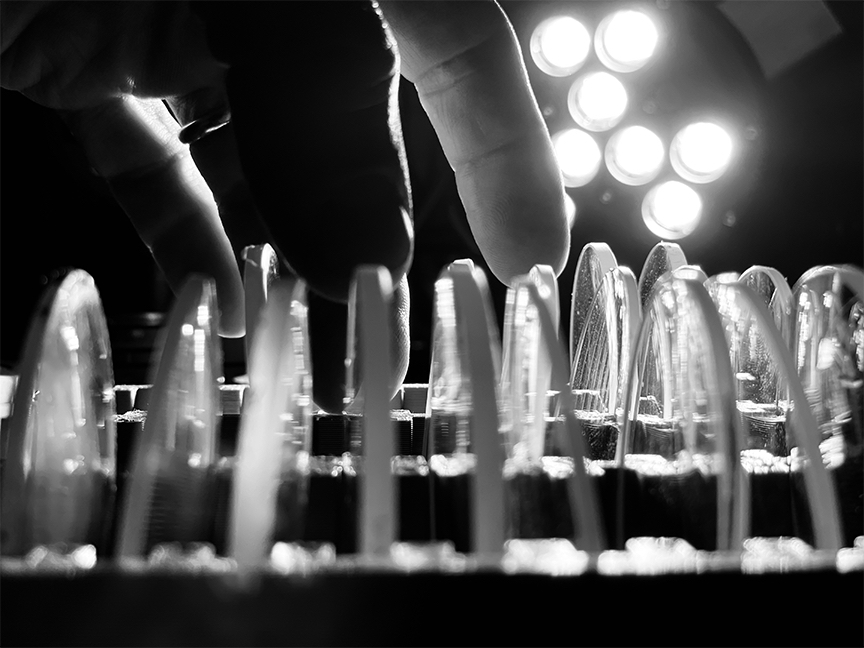 Additionally, Hoffsten provided the filmmakers with three options for flare control, starting with the Signature Primes normally and then providing two variations of rear elements that specifically affected image halation: "Halo" and "Diet Halo." These additional modified-coated elements could be attached to the rear of the lenses via the incorporated rear magnetic system.
— Jay Holben
---